This Is the Real Difference Between Pinot Noir, Cabernet, and Other Red Wines
Learn the differences between six popular red wines and which foods pair best with each.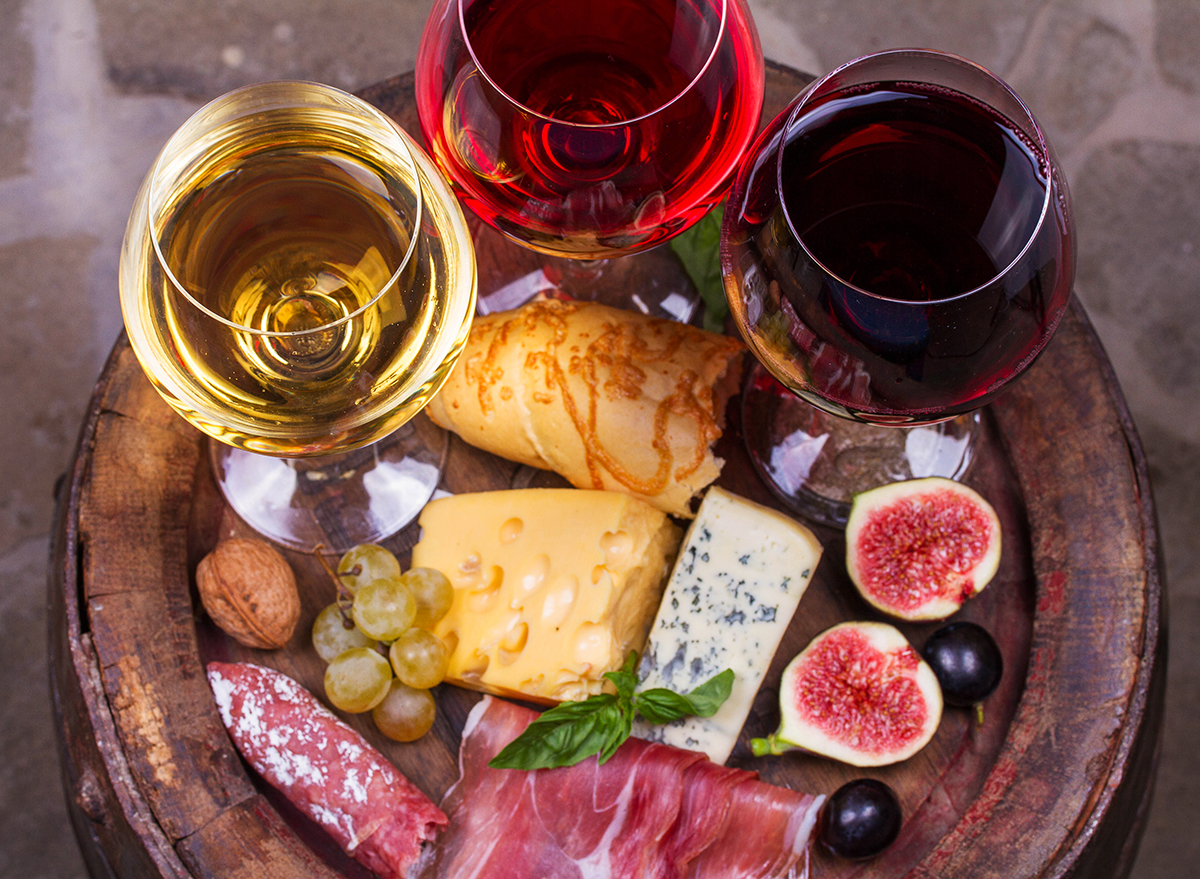 Sipping on a glass of smooth red wine is a relaxing experience, and wouldn't it be great if you could learn more about the different types of red wine so you could pick a better bottle for an even better experience? Wine aficionados are some of the few individuals, aside from sommeliers, who are well-versed in the flavor profiles of the types of red wine out there and their best food pairings. However, Cameron D. Lincoln, a sommelier at Fisk & Co. in Chicago, Illinois, says that a layman shouldn't be afraid to take a deeper dive into learning the differences and origins of the types of red wine.
"Wine shouldn't be daunting or irreconcilable in the way it is represented; like anything else worth liking, it has history, origin stories, and even laws governing the way it should be made," he says.
Also, Wes Narron, Chief Wine Ambassador of City Wine Tours, says red wine can pair with anything from high-end cuisine to even fast food—if you pick the right type.
"Red wine can bring so many different attributes into play, from lively acidity to playful fruitiness to a more robust and austere experience," says Lincoln. "Wine changes how we experience food and how we experience the dynamics of a meal based on its profile."
Learn the different types of red wine here, and get ready for even better food pairings and dinner parties. And for more tricks, don't miss these 15 Clever Ways to Use Leftover Red Wine.
Cabernet Sauvignon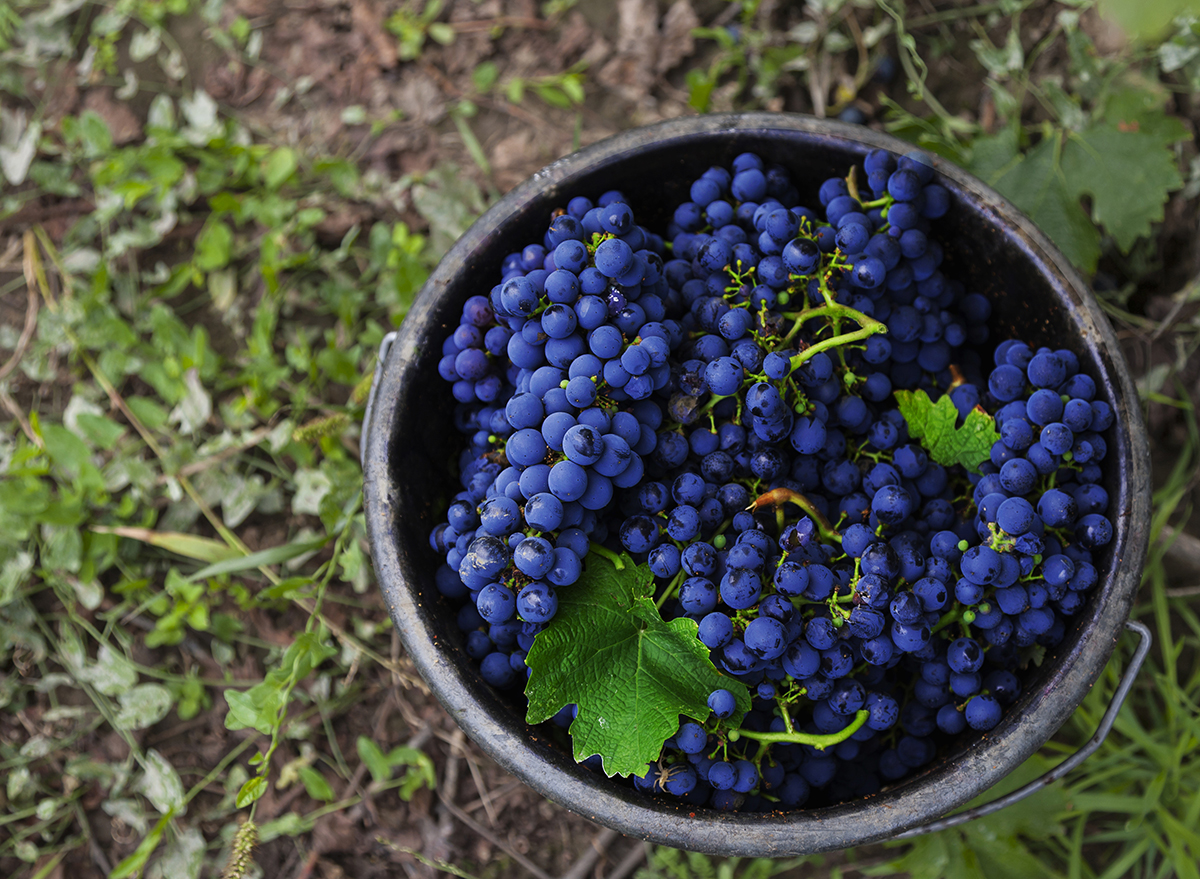 Cabernet Sauvignon is derived from a special kind of grape: the hybrid of a red Cabernet Franc grape and a white Sauvignon Blanc grape, which naturally occur in the Bordeaux region of France.
"Cab Sauv can be made in as many ways as a winemaker can dream, but much of the Cab we drink sees some oak, and the best have been bottle-aged," Lincoln says.
Pairs best with: Steak and any grilled food
Narron says that Cabernet Sauvignon is often paired with steak or other fine (expensive) cuts of beef. However, the wine ambassador says that shouldn't deter you from pouring a glass to go with your Burger King Whopper or a Shake Shack Double Cheeseburger.
"Cabernet Sauvignon, with its high tannins—the-naturally occurring preservatives that add body and structure to the wine—is the best accompaniment to anything grilled," he says.
Merlot
In French, Merlot means The Little Black Bird. The Merlot grape is also a sibling of the Cabernet Franc grape.
"Merlot, however, leans toward more purple and red fruits, where the profile in Cabernet is generally more about the spice and mineral notes," says Lincoln. That's exactly why when the combination of the two grapes makes for a balanced wine blend.
Pairs best with: Seafood
"Try a Merlot with tuna tartare. Fresh, raw fish with sesame seeds and ginger soy sauce go splendidly with the smooth, fruity elements of Merlot," says Narron.
Pinot Noir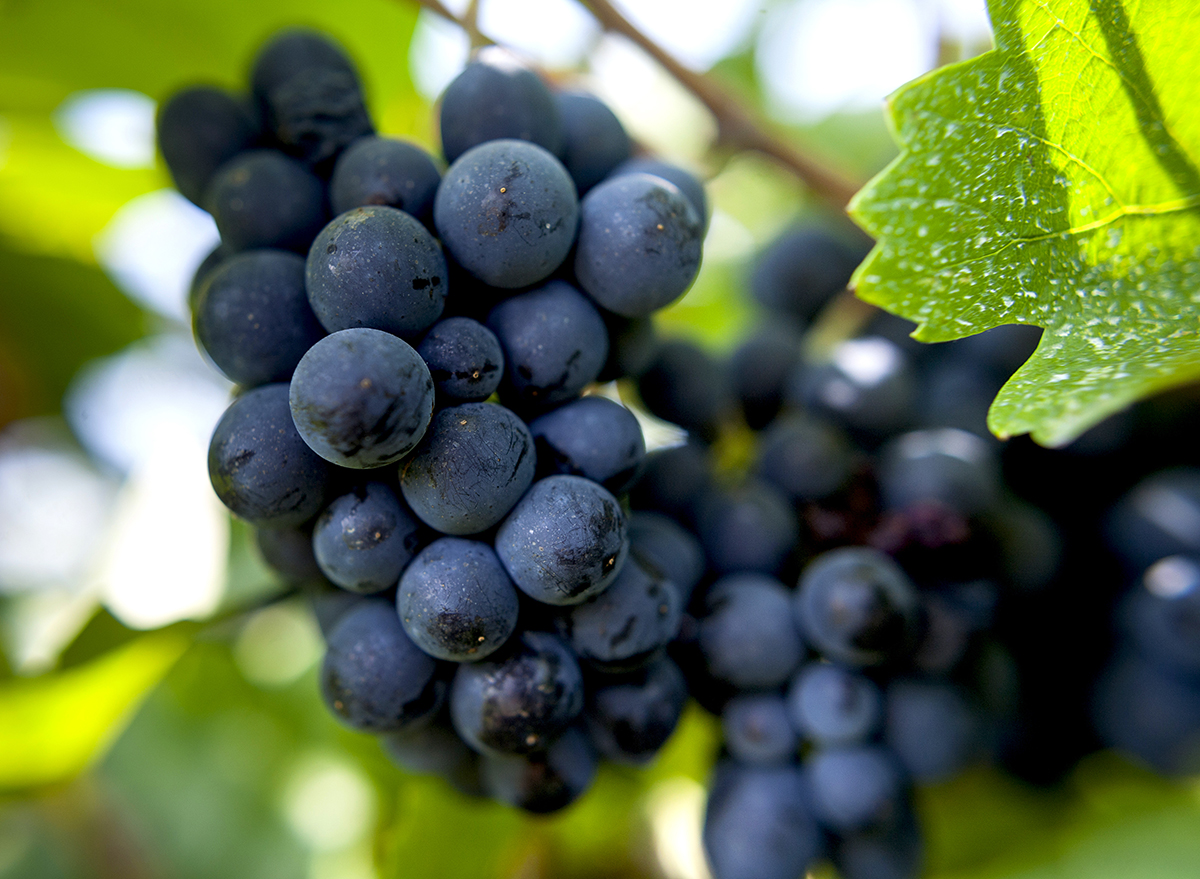 "Pinot Noir is one of the most difficult wines to grow, as it is thin-skinned and therefore prone to many types of maladies or minor natural disasters," says Lincoln.
Pinot Noir is one of the most versatile grapes to work with, giving the winemaker the freedom to create several different styles of wine.
"Pinot can be whimsical and bright like the wines from the newer generations in France's Loire region, or austere and thought-provoking like more traditional Burgundian wines," says Lincoln.
Pairs best with: BBQ chips
Narron suggests pairing Pinot Noir with quality BBQ chips such as Cape Cod Kettle-Cooked Sweet Mesquite, Lay's Mesquite Kettle Cooked BBQ, or Kettle Backyard BBQ.
"The earthy spiciness of Pinot Noir and the umami-like BBQ seasoning is the most classic of wine and junk food pairings," he says. "Almost as good as fried chicken and Champagne!"
Malbec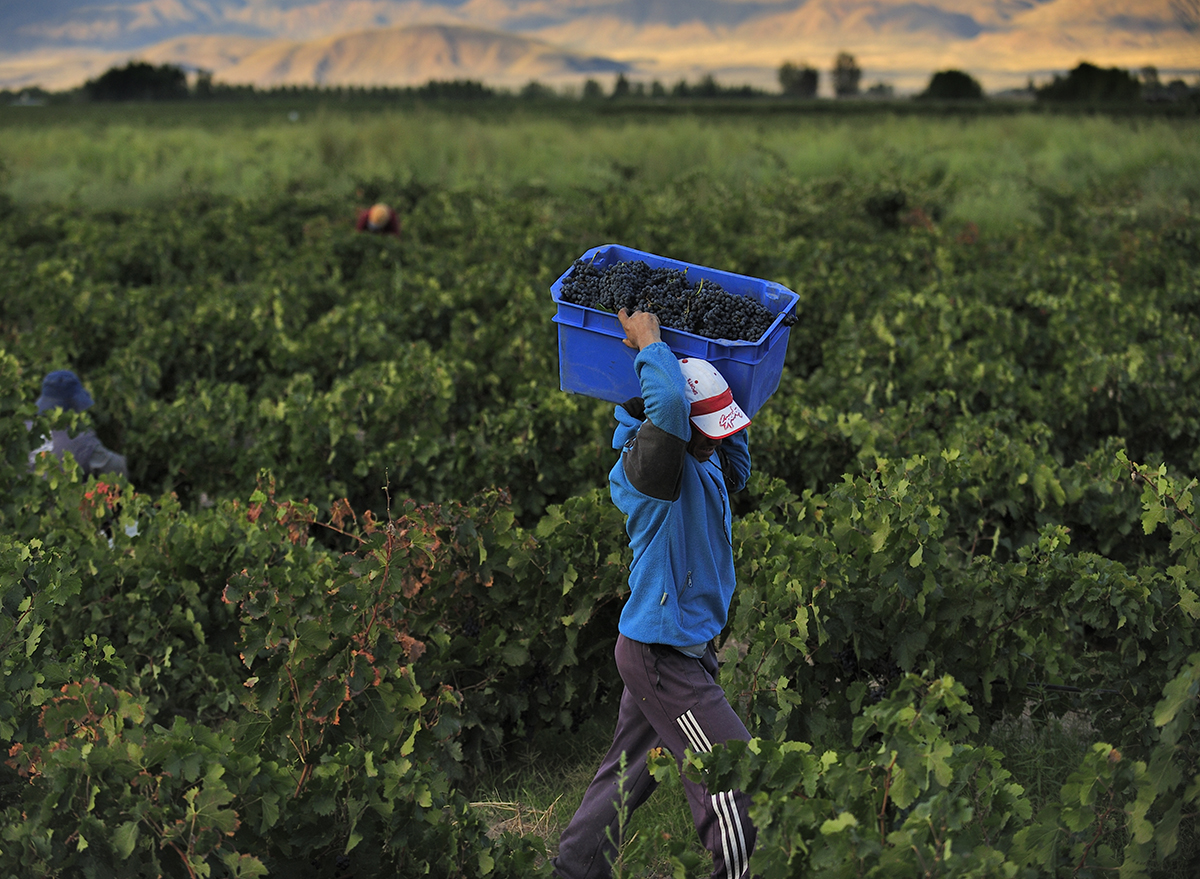 Similar to Cabernet Sauvignon and Merlot, Malbec has origins within the Bordeaux region of France. Lincoln says Malbec is now largely harvested in Argentina because the roots of the grapevine did not respond well to France's climate.
"Traditionally, Malbec from France has a great high-acid profile and moderate, prickly tannins. However, the style from Argentina that we see more often now is quite lush and full, bursting with dark purple [and] red fruits," he says. "Most of these wines will also see moderate-heavy oak-aging, lending itself to more nuanced flavors like tobacco and vanilla."
Pairs best with: Chocolate cake
"Molten chocolate cake, chocolate lava cake, flourless chocolate fudge cake…call it whatever you want, but get yourself a Malbec to go along," says Narron. "Malbec shows plump flavors of coffee, spice, and smoke, the crux of all good chocolates. The darker, the better."
Syrah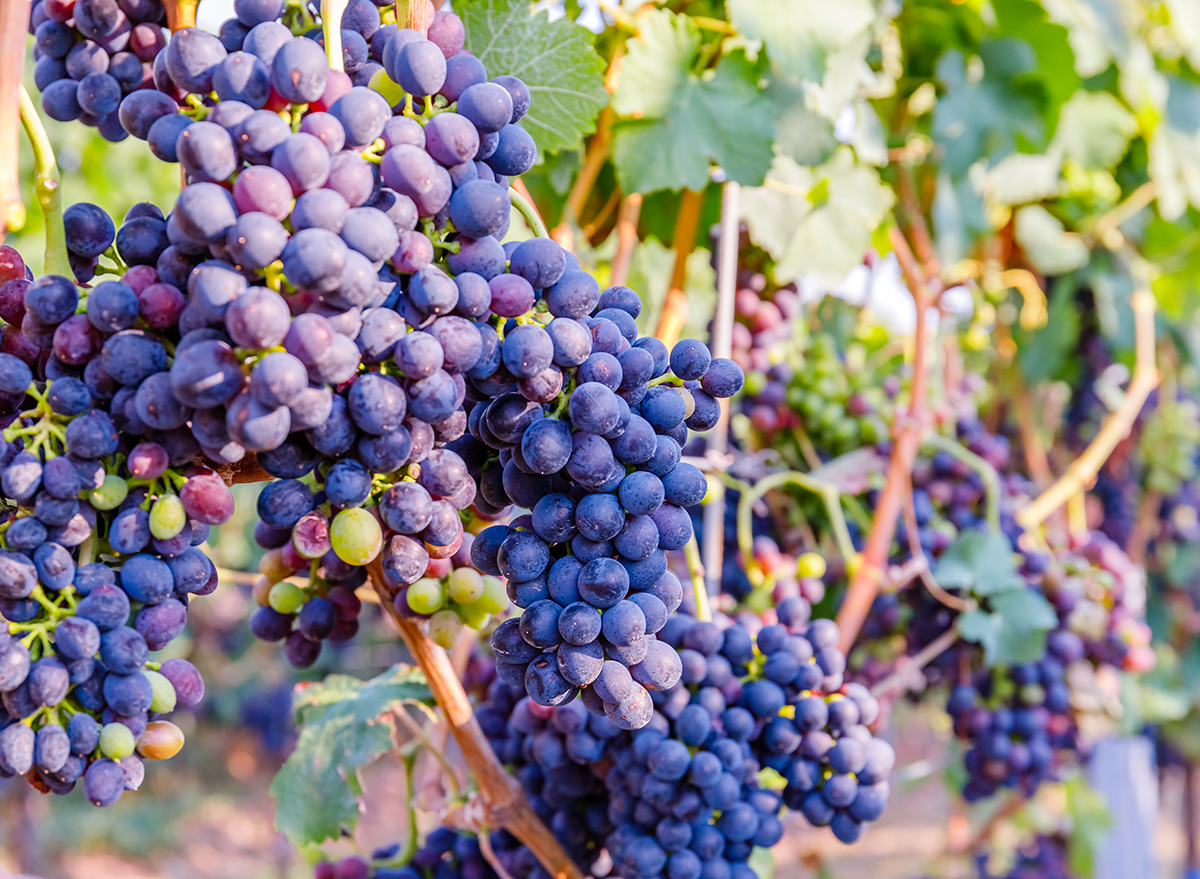 "Syrah is another of those split-personality wines that have immensely different structures and flavor profiles [and] aromatics depending on the region in which they were made," says Lincoln. "Regardless of the region, that personality is a bit of a bully. Syrah is a hugely bold, robust wine that is most often seen coming from Australia as Shiraz."6254a4d1642c605c54bf1cab17d50f1e
When sourced from its birthplace in France, the wine is referred to as Syrah.
Pairs best with: Short ribs
"I recently had beef short ribs cooked in maple and aged balsamic vinaigrette, matched with a Cote du Rhone Syrah, and I thought my head was going to explode. I was smacking the table, stomping my feet, and praising my time on this mortal coil, as I wolfed it all down," says Narron.
And for some budget-friendly options, don't miss the 30 Best Wines You Can Buy at Costco.
Zinfandel
Lincoln says Zinfandel is "the only wine on this list whose rise to prominence is almost entirely of the new world, California to be more specific. Zinfandel is generally a medium to very full-bodied wine with high alcohol [content] and sweet ripe berries bursting through with each sip."
Pairs best with: Seafood/fish stew
"Zinfandel goes so well with fish stew," says Narron. "The wine flavors accentuate the seafood textures and cover up any unnecessary fishy aromas."
How do you choose the correct red wine?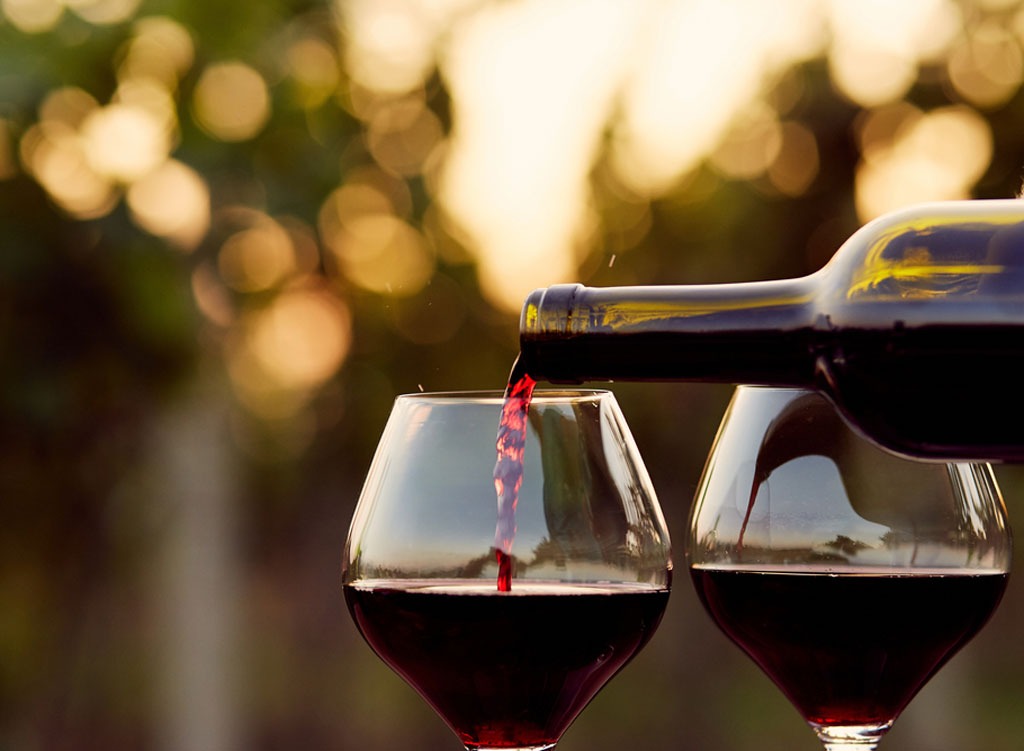 Lincoln says that wine enhances anything from a homemade meal, an evening dining at a restaurant, an episode of your favorite show on Netflix, and something intangible like a current mood or feeling.
"For example, for a simple, fun picnic in the park on a beautiful, sunny day with friends, I might choose a fresh, tart Gamay served chilled to boost that idyllic mood of upbeat-nonchalance," he says. "Or, on the other hand, I might choose a deep, almost foreboding bottle of Northern Rhone Syrah when drinking in a dimly-lit steakhouse, having a serious conversation about Descartes vs. Casuistry."
You don't have to be an ethics buff or even a philosophical thinker to enjoy a glass of Syrah, but you get the idea of the tone it can help set. Hopefully, now you can waltz into a wine shop with utmost confidence that you'll select the red wine that best fits your outing or event. Cheers!
For more, check out these 108 most popular sodas ranked by how toxic they are.