The Worst Fast Foods for Your Health, According to RDs
These unhealthy items just aren't worth it.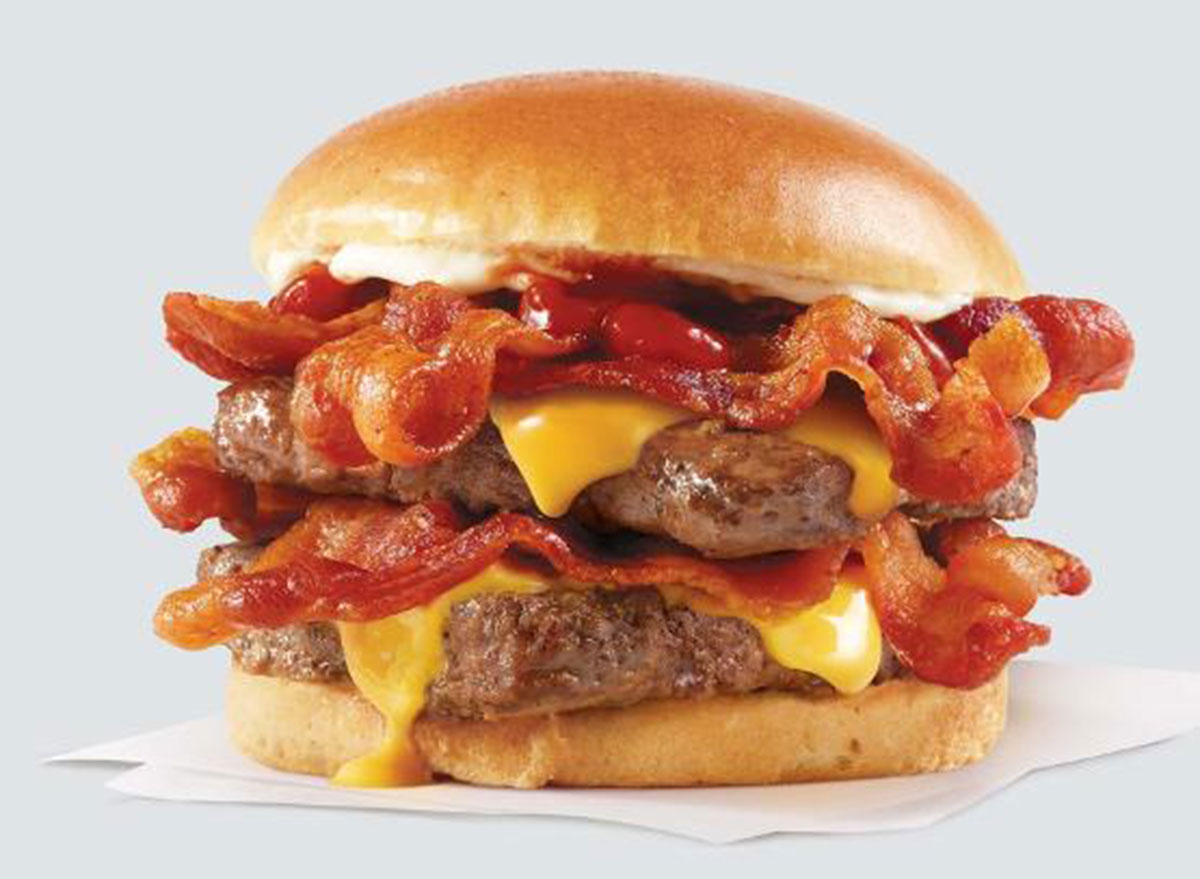 This post contains affiliate links. If you use these links to buy something, we may earn a commission.
Fast food is an American obsession, fueled by a convenient mix of salt and grease that's sure to fill up even the biggest appetite. And it's cheap—where else can you get two cheeseburgers, fries, and a Coke for just $4.89? The problem comes with the nutrition information.
While an occasional fast-food frenzy won't get you into too much trouble, if you have a pre-existing condition, you may find yourself really affecting your health. We asked some registered dieticians to weigh in on the worst fast foods for diabetes, heart disease, and high blood pressure. Here are the foods to steer clear of if you want to avoid or maintain these conditions.
And for more, don't miss these 15 Classic American Desserts That Deserve a Comeback.
The Worst Fast Foods for Diabetes
Taco Bell Wild Strawberry Freeze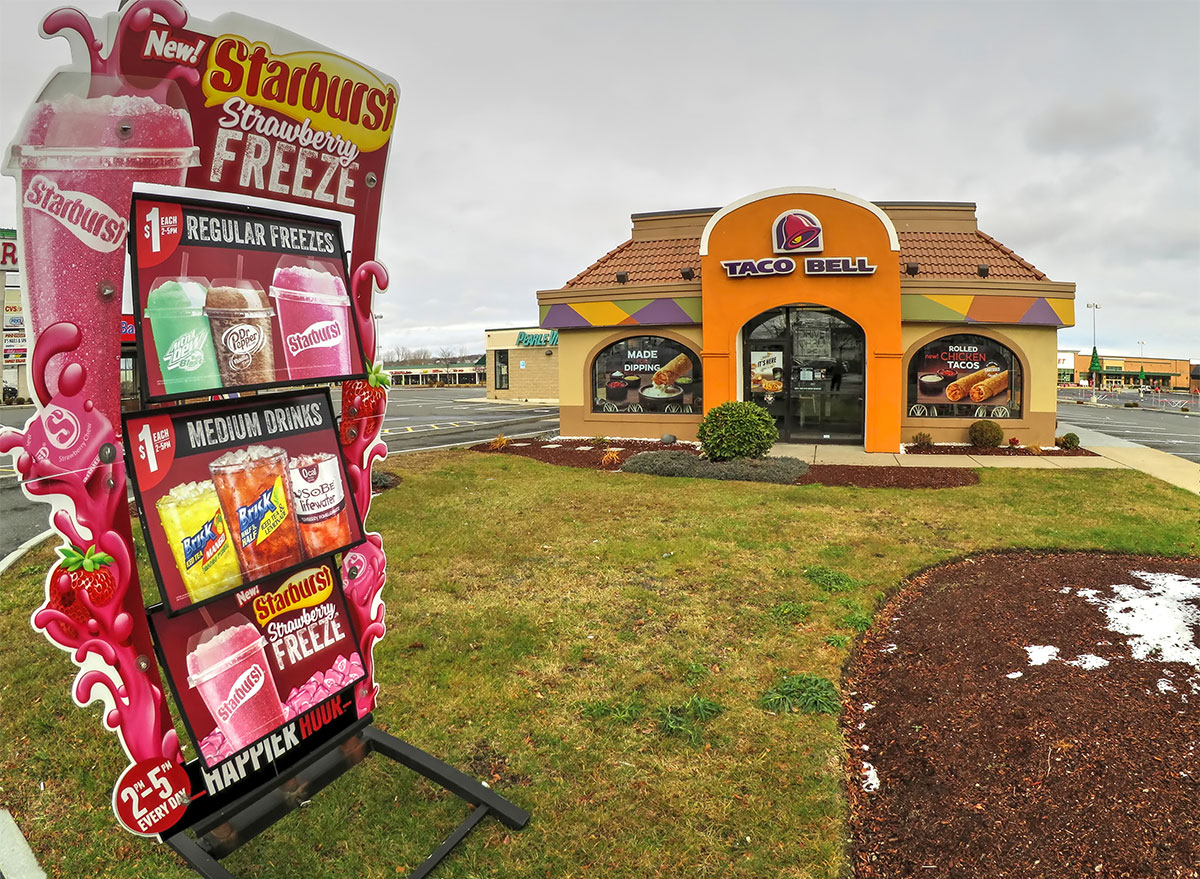 Per 16-ounce drink
: 150 calories, 0 g fat, 40 mg sodium, 41 g carbs (0 g fiber, 41 g sugar), 0 g protein
New York City-based registered dietitian Natalie Rizzo, MS, RD, labels Taco Bell's freezes as bad choices, citing the drinks' ingredients. "You might think a dessert is the worst thing for diabetes, but this sugar-filled drink is sure to spike your blood sugar," Rizzo says. "A 16-ounce frozen drink has basically no nutritional value." Combine that with the fact that the first ingredient is high-fructose corn syrup, and you've got one drink to avoid at all costs.
Jack in the Box Oreo Cookie Ice Cream Shake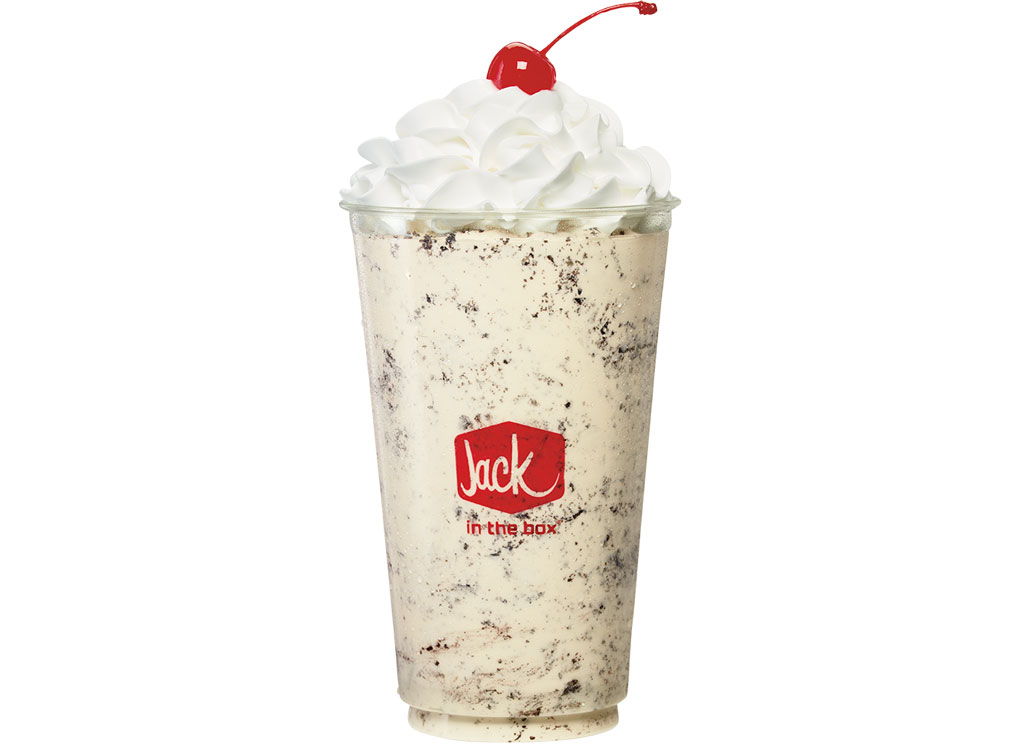 Per 16-ounce regular-size shake
: 796 calories, 42 g fat (28 g saturated fat, 1 g trans fat), 361 mg sodium, 92 g carbs (1 g fiber, 74 g sugar), 12 g protein
Along the same lines as the Taco Bell fruit freezes, fast-food milkshakes can be a punch of added sugar. The regular size of this blended beverage, a 16-ounce serving, packs in 796 calories and an astonishing 74 grams of sugar. That's about three times the recommended daily allowance (RDA) of added sugar. No one needs that much!
Baskin Robbins Warm Cookie Sundae Double Scoop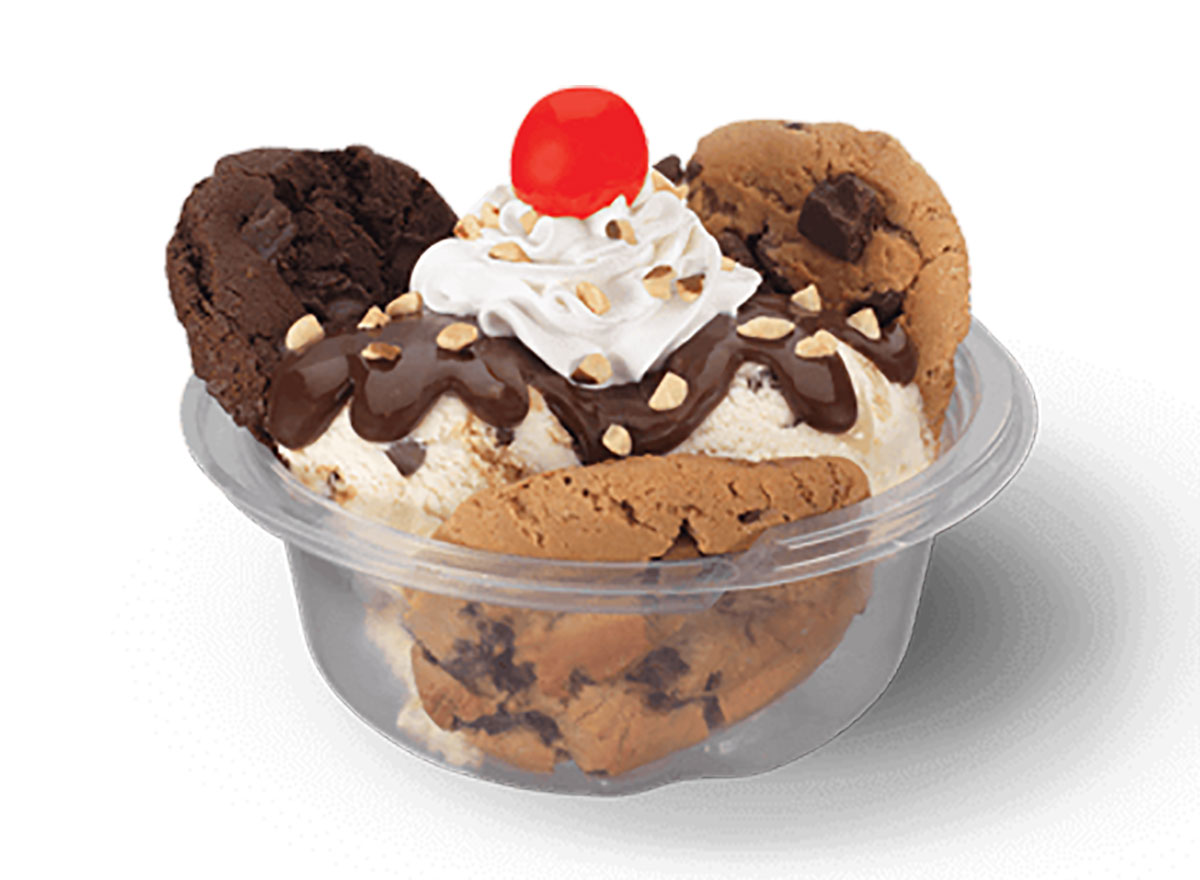 1,150 calories, 59 g fat (31 g saturated fat, 1 g trans fat), 610 mg sodium, 144 g carbs (6 g fiber, 94 g sugar), 17 g protein
Three warm cookies topped with two scoops of ice cream, whipped cream, and a cherry on top sounds like the perfect treat for a hot summer day. But the dessert gets a little less exciting when you look at the nutrition information. A whopping 1,150 calories that include 155% of your saturated fat daily allowance is bad enough. But if you have diabetes, the sugar content that makes 166% of your RDA functions like a sugar bomb.
Cinnabon Strawberries and Cream Chillata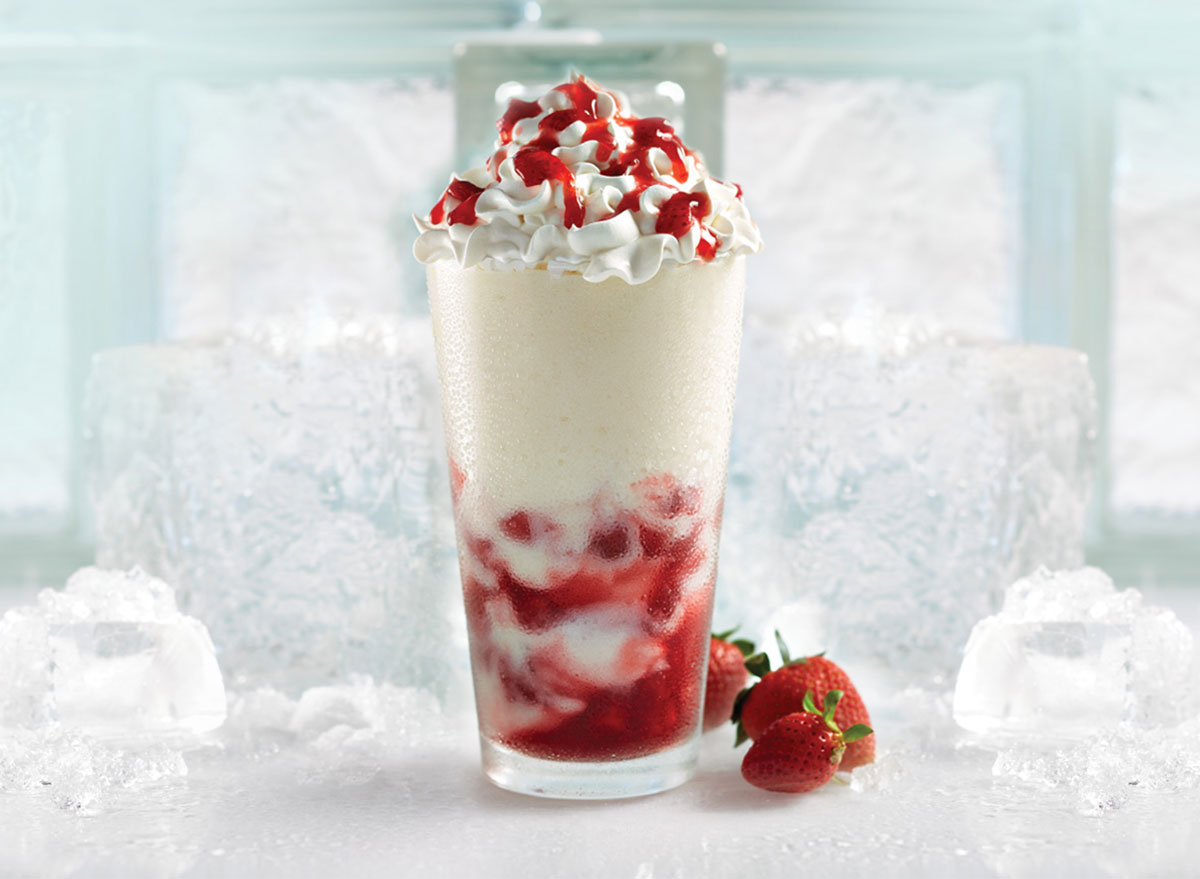 Per 16-ounce drink
: 540 calories, 18 g fat (12 g saturated fat, 0 g trans fat), 250 mg sodium, 89 g carbs (1 g fiber, 81 g sugar), 9 g protein
While Cinnabon's rolls certainly have their fair amount of sugar, this blended drink at the restaurant has an incredible 102 grams of sugar in a 24-ounce serving. If you must, opt for the 16-ounce version, still containing 81 grams of sugar, or better yet, just drink some water with your snack.
Samantha Cassetty, MS, RD, nutrition and wellness expert and co-author of Sugar Shock, recommends not getting pulled into the extra drink add-ons at any fast food spot. "Without question, one of the best things you can do for your health is to skip the sugary drinks, like soda and shakes, that are often part of the value offering," Cassetty says.6254a4d1642c605c54bf1cab17d50f1e
Dunkin' French Vanilla Swirl Frozen Coffee with Whole Milk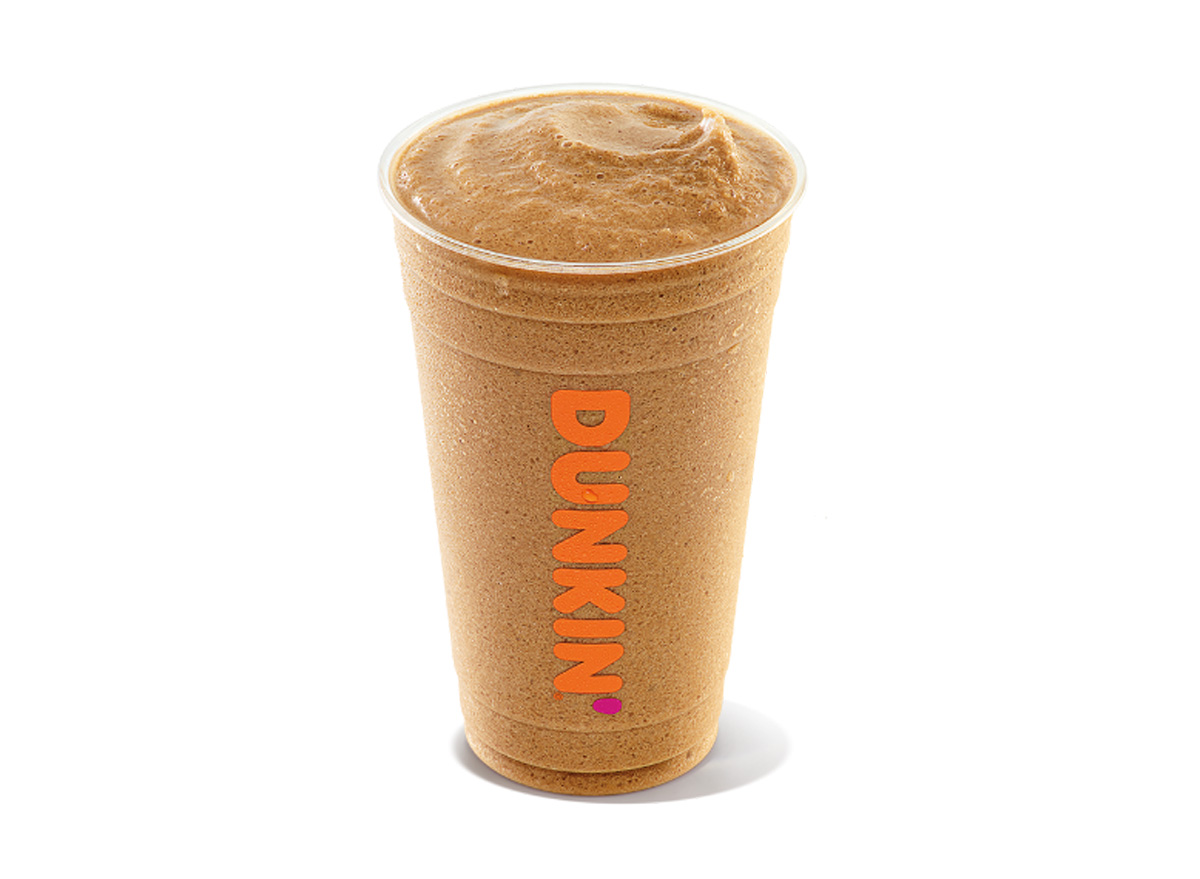 Per medium
: 680 calories, 9 g fat (6 g saturated fat, 0 g trans fat), 250 mg sodium, 141 g carbs (0 g fiber, 132 g sugar), 8 g protein
You wouldn't think a coffee drink would make this list, but 680 calories and 132 grams of sugar make this drink a bad choice for anyone with diabetes.
The Worst Fast Foods for Heart Disease
McDonald's Double Quarter Pounder with Cheese
Per 1 sandwich
: 740 calories, 42 g fat (20 g saturated fat, 2.5 g trans fat), 1,360 mg sodium, 43 g carbs (2 g fiber, 10 g sugar), 48 g protein
The iconic hamburger is a fast, easy way to be done with dinner, but at what cost? Rizzo sums up the facts: "With half a pound of ground beef and cheese, this burger has 740 calories, 20 grams of saturated fat—or 98% [of] the daily value—and 1,360 milligrams of sodium, 59% DV. Even more alarming, it has 2.5 grams of trans fat, which has been associated with an increased risk [of] heart disease."
Per 1 sandwich
: 960 calories, 66 g fat (26 g saturated fat, 3 g trans fat), 1,540 mg sodium, 36 g carbs (1 g fiber, 7 g sugar), 57 g protein
Sigh. We love bacon, but alas, it's a food that promotes heart disease. The baconator has 66 grams of fat total, with 26 grams of saturated fat and three grams of trans fat, making it a very unhealthy choice.
Burger King Double Sausage, Egg & Cheese Croissan'Wich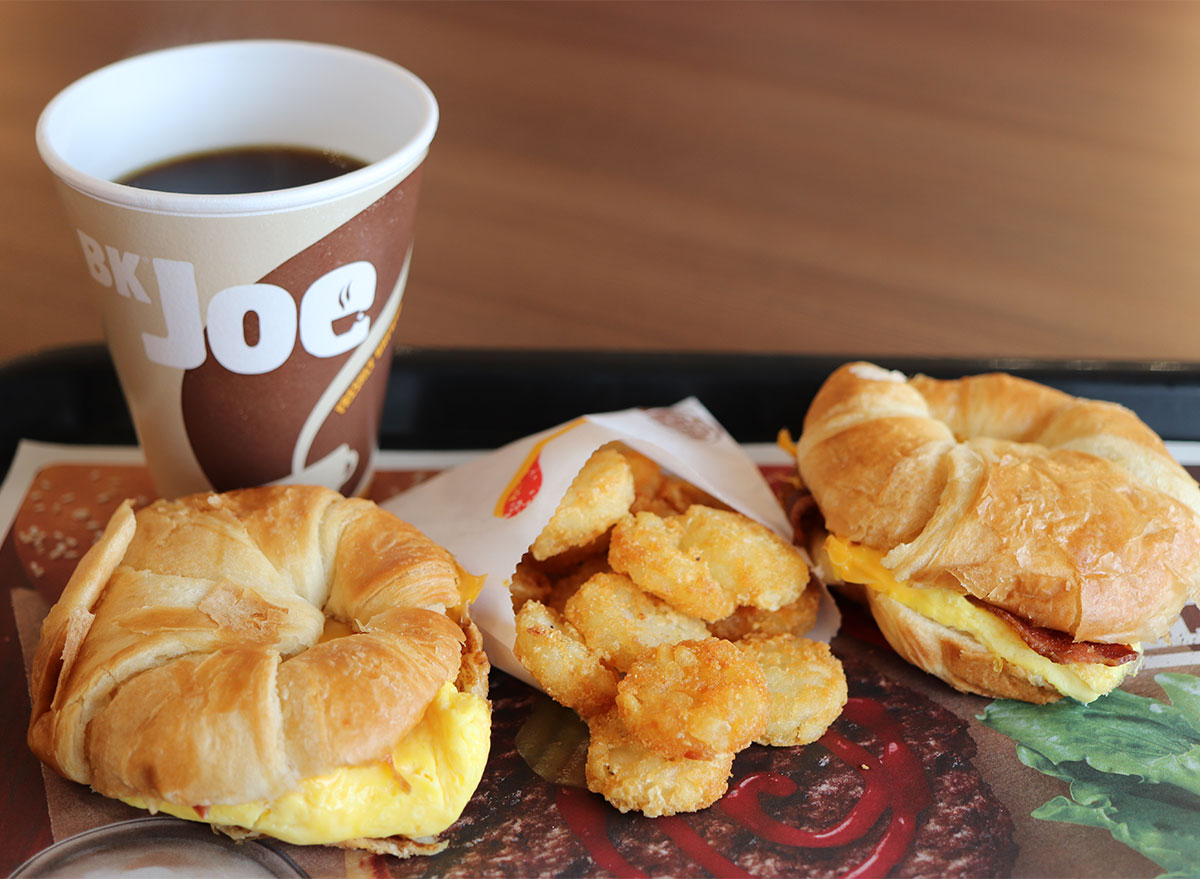 Per 1 sandwich
: 793.1 calories, 58.5 g fat (24.4 g saturated fat, 0.9 g trans fat), 1,778.6 mg sodium, 32.2 g carbs (1.3 g fiber, 5.1 g sugar), 32.9 g protein
"Fast food meals are notoriously high in sodium and heavily processed refined grains and low in whole grains, fruits, and vegetables," says Cassetty. "As a whole, they're high in foods that promote diet-related disorders, like heart disease." Because trans-fats are a super contributing factor to an unhealthy heart, diners should be warned about the 0.9 grams found in this breakfast sandwich, along with the 24.4 grams of saturated fat.
Checkers Fully Loaded Fries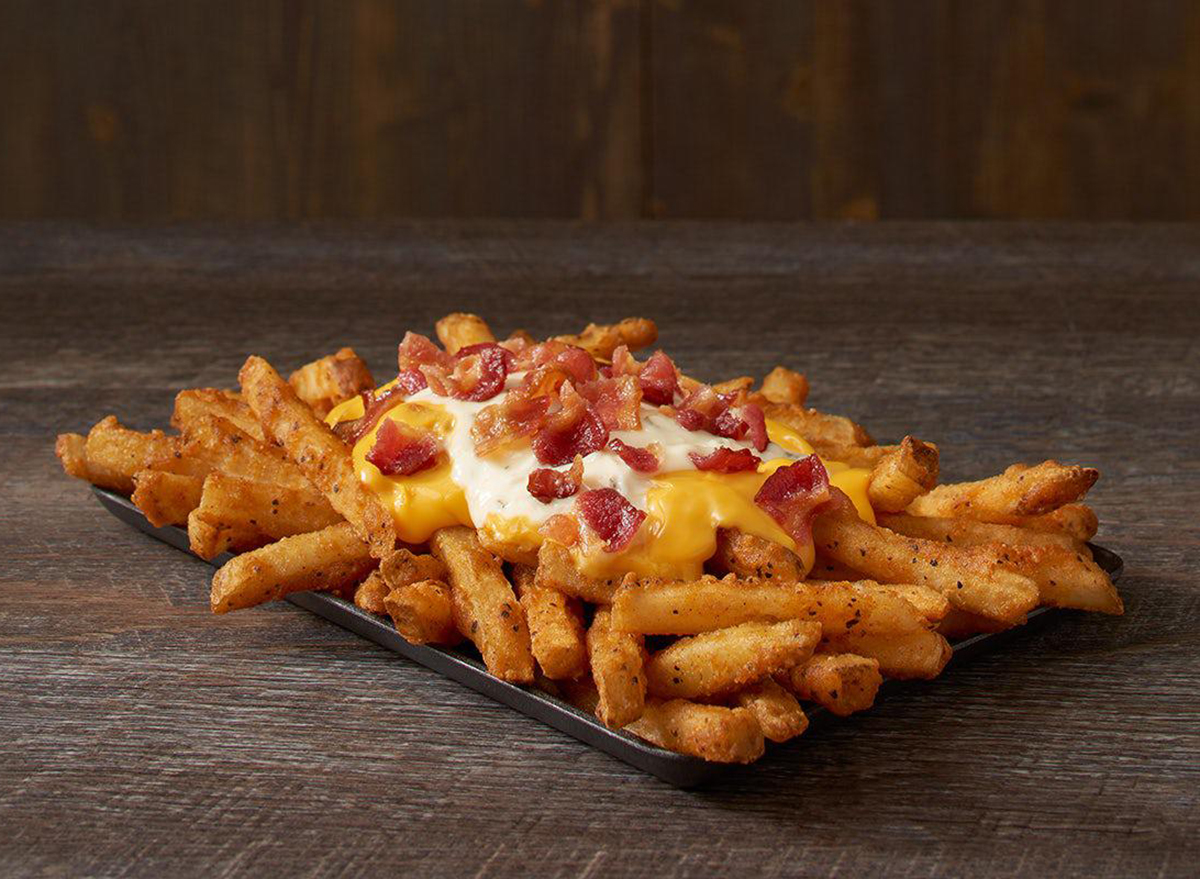 870 calories, 56 g fat (15 g saturated fat, 1.5 g trans fat), 2,190 mg sodium, 72 g carbs (7 g fiber, 3 g sugar), 19 g protein
Cheese, ranch dressing, and bacon top a pile of fries in this fast food dish. It's also full of 870 calories and 56 grams of fat. For a healthier heart, skip these at the drive-thru!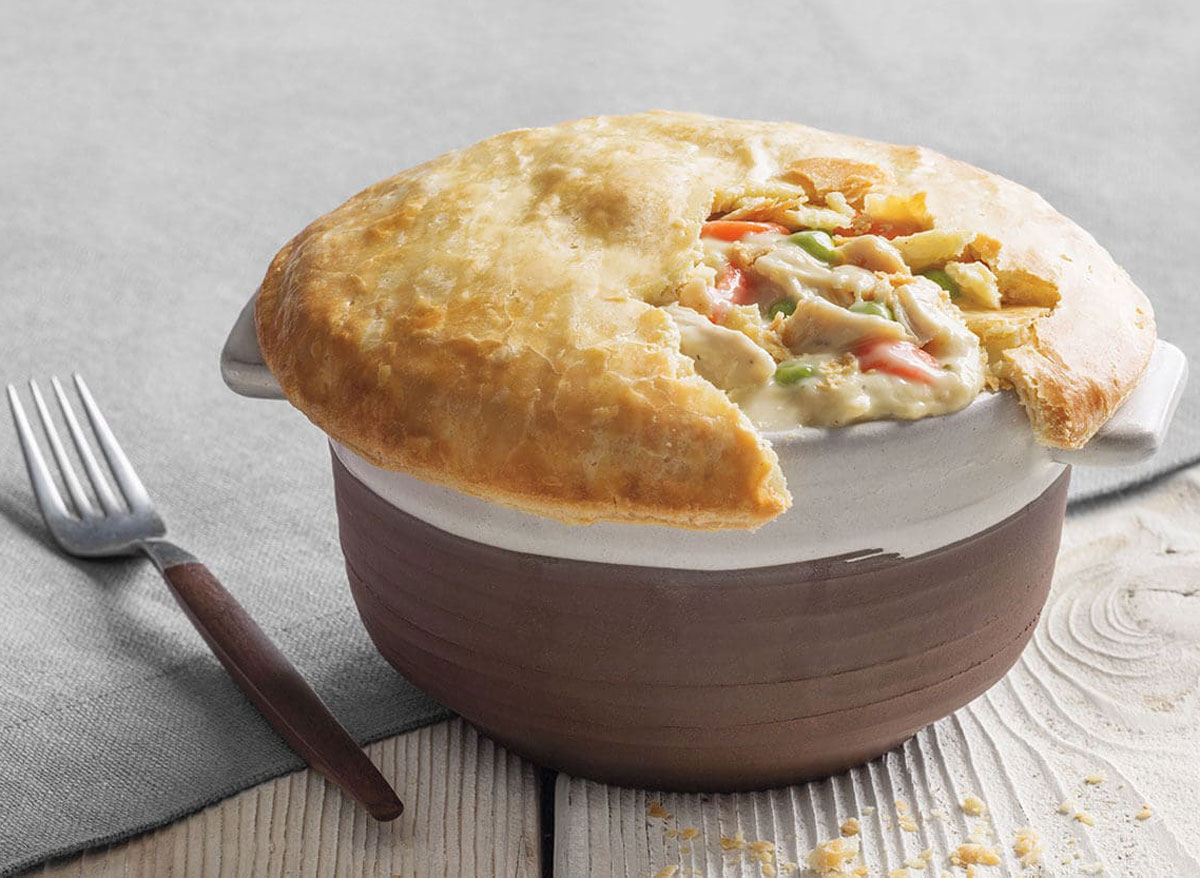 720 calories, 41 g fat (25 g saturated fat, 0 g trans fat), 1,750 mg sodium, 60 g carbs (7 g fiber, 5 g sugar), 26 g protein
You may think that the veggies found in this pot pie are a healthy choice, but the nutrition information says differently. Saturated fats raise cholesterol, increasing the risk of stroke or heart disease. And with 125% of your recommended daily value, this meal has way too much fat. Top that with a lot of sodium and 720 calories, and you've got a choice that is likely to hurt your heart.
The Worst Fast Foods for High Blood Pressure
Per 4 pieces (165 g)
: 460 calories, 23 g fat (9 g saturated fat, 0.5 g trans fat), 1,570 mg sodium, 41 g carbs (2 g fiber, 6 g sugar), 20 g protein
"For anyone with high blood pressure, watching your sodium intake is the key to keeping blood pressure levels under control," says Rizzo. The recommended daily allowance of sodium is under 2,300 milligrams per day, and just four of these fried cheese pieces with marinara provide 1,570 milligrams. That's a pretty big serving of sodium for just a snack.
Panera Chicken Noodle Soup
Per bowl
: 170 calories, 4 g fat (1 g saturated fat, 0 g trans fat), 1,490 mg sodium, 21 g carbs (3 g fiber, 3 g sugar), 13 g protein
Sometimes, meals don't appear high in sodium, but they can fool you. You might think of Panera's food as a healthy choice, but for people with heart disease or high blood pressure, this dish is a risk. A bowl is only 170 calories, but it has 1,490 milligrams of sodium in a small size.
Popeyes 5-Piece Handcrafted Tenders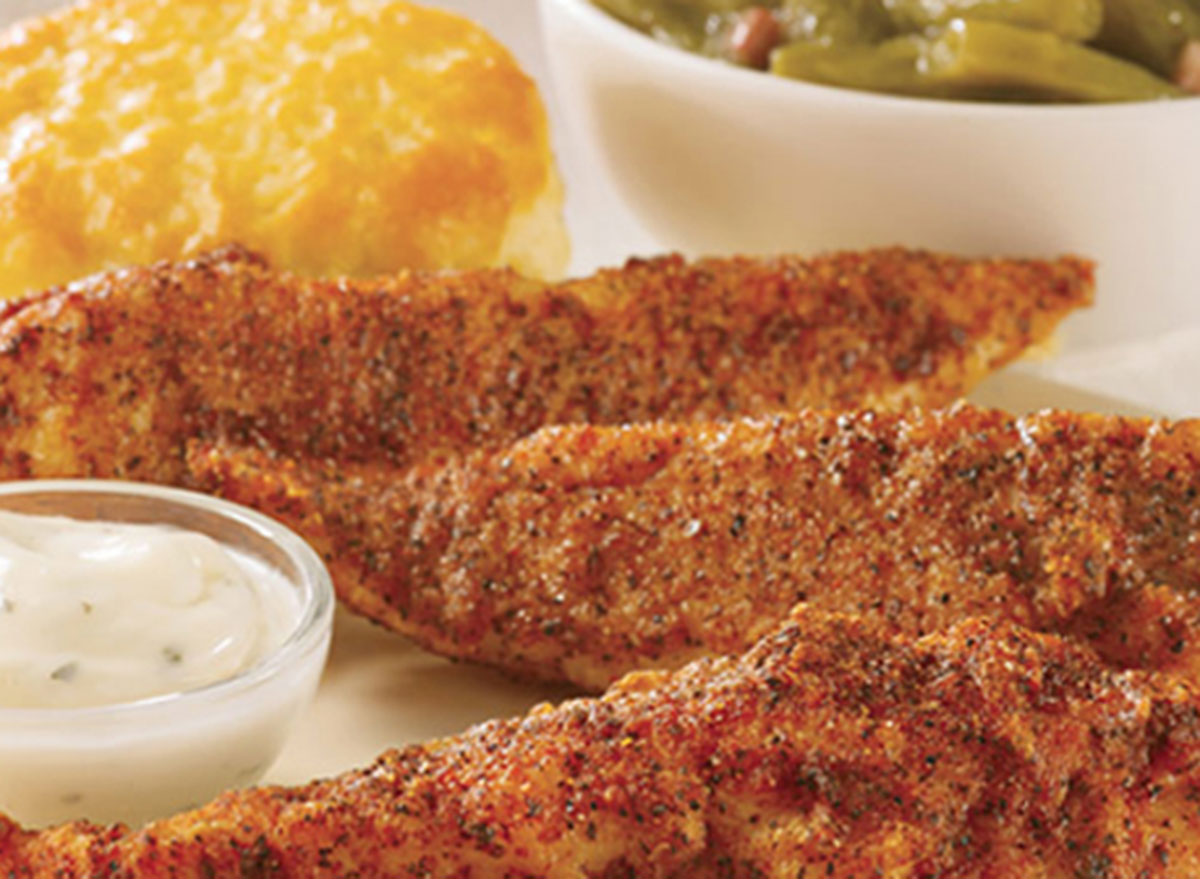 741 calories, 34 g fat (14 g saturated fat, 2 g trans fat), 3,035 mg sodium, 48 g carbs (3 g fiber, 0 g sugar), 63 g protein
Five Popeyes tenders contain a horrifying 3,035 milligrams of sodium. That's before you add any sides or maybe the Bayou Buffalo Sauce, which has 450 milligrams of sodium for just a one-ounce serving. While most Americans eat too much sodium, this amount seems pretty excessive.
If you slip, though, don't despair. "If you want to drop by a fast-food restaurant, balance out your choices for the rest of the day," Cassetty says. "For instance, if your meal was low in veggies, have a heaping portion at another meal. Fruits and veggies are rich in potassium, which, along with water, help flush out the extra salt."
400 calories, 20 g fat (7 g saturated fat, 1 g trans fat), 2,010 mg sodium, 41 g carbs (1 g fiber, 13 g sugar), 11 g protein
Nothing says sports and summer like a Chicago dog, but this version at Sonic is filled with 2,010 milligrams of sodium, making it a bad choice for those with high blood pressure. Sonic uses beef in its hot dogs, a choice high in saturated fat as well. The best hot dog option on the menu, sodium-wise, is the pretzel dog. Try the plain pretzel dog, not the cheesy bacon version.
Papa John's Fiery Buffalo Chicken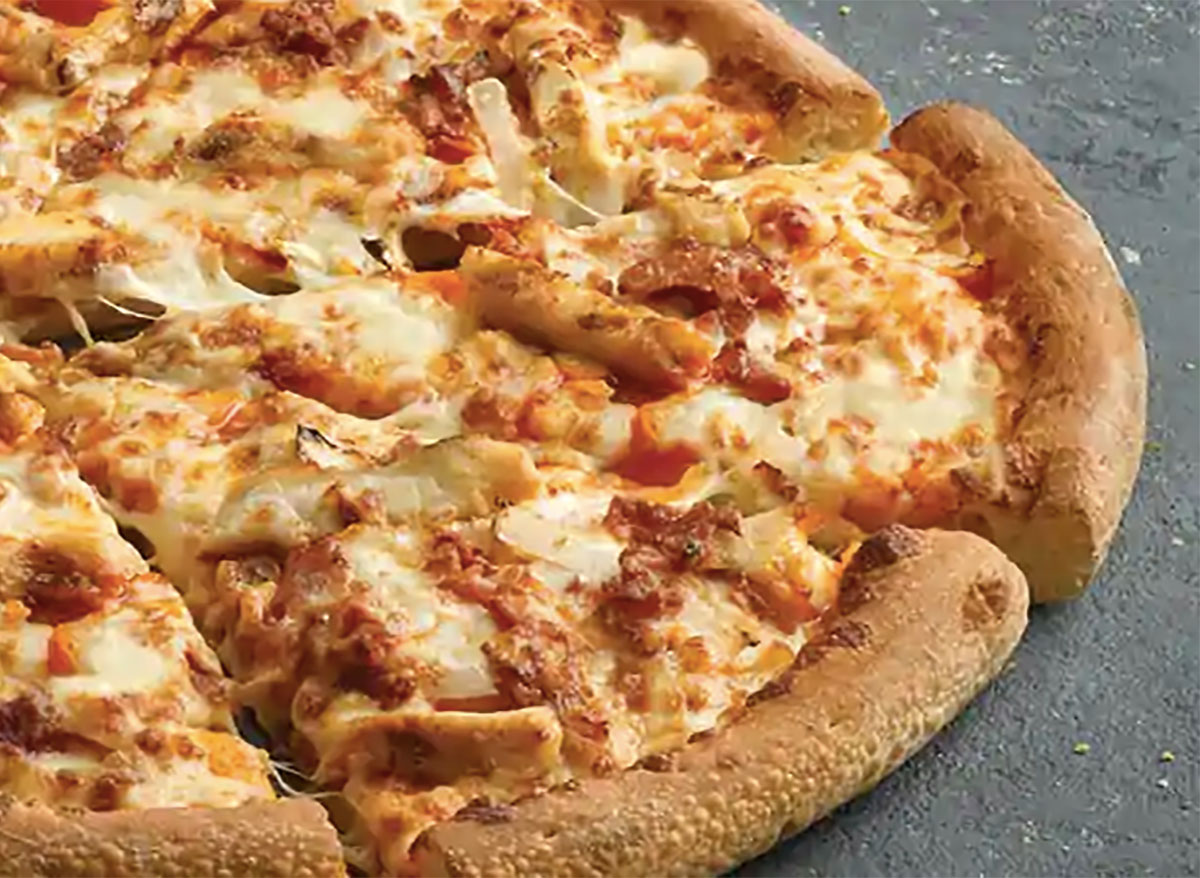 Per medium slice
: 230 calories, 8 g fat (3.5 g saturated fat, 0 g trans fat), 890 mg sodium, 27 g carbs (1 g fiber, 3 g sugar), 11 g protein
Out of all of the pizza types at Papa John's, this has the highest sodium content. It does include bacon and buffalo sauce, which may be the culprits for the higher sodium level. Regardless, there are other choices on the menu that are better for high blood pressure.
For more, check out these 108 most popular sodas ranked by how toxic they are.