The #1 Order to Never Make at an Italian Restaurant, According to Chefs
"When you go to a supposedly Italian restaurant and smell this, just run away."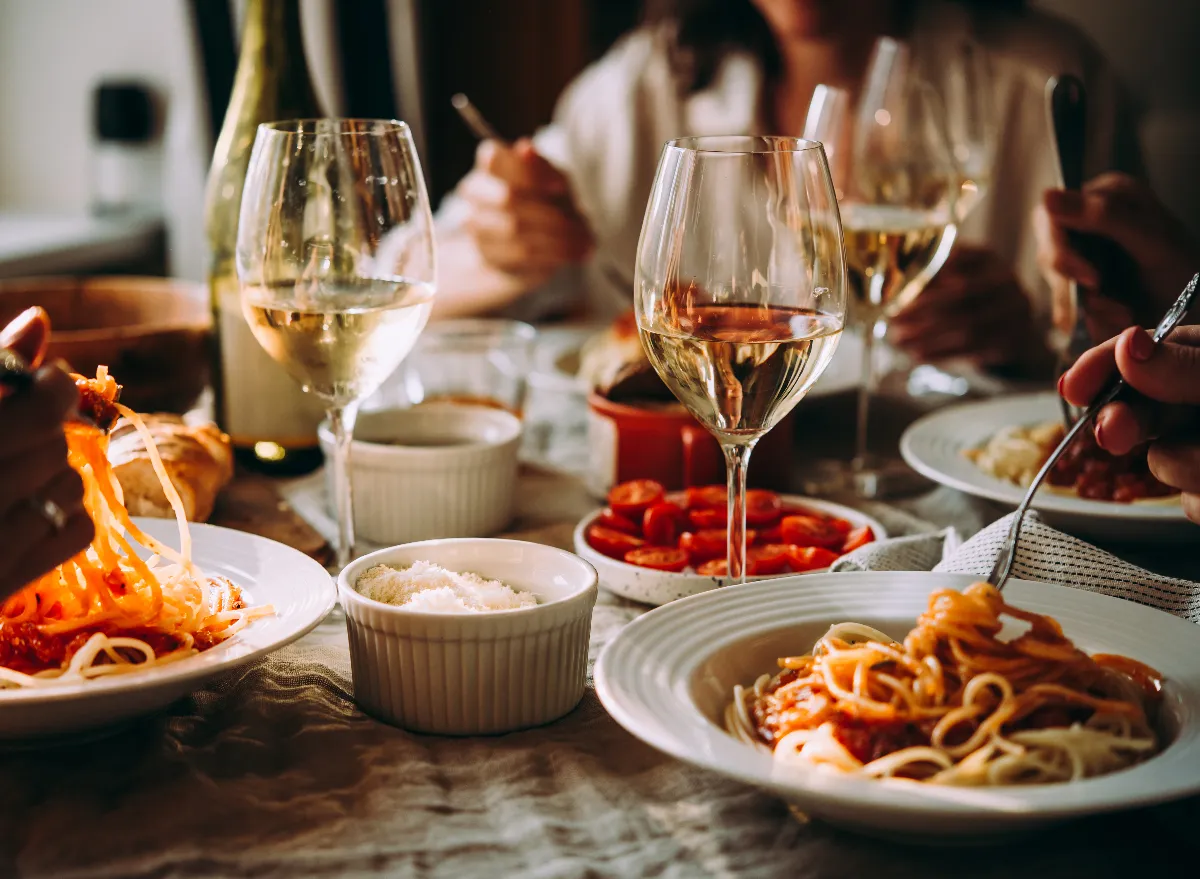 When it comes to quintessential comfort foods, Italian cuisine is right up there with burgers, fried chicken, and cookies. After all, there's a reason Italian food is the most popular cuisine in the world. From handmade pasta to fluffy focaccia, there's a lot to love at Italian restaurants. Unfortunately, there's also a lot to avoid.
Italian cuisine is one edible genre that tends to get pretty over the top when it's Americanized. Just as Americans add pepperoni to pizza, there are many Italian-American menu items that just aren't authentic, definitely skewing more toward American than Italian. And if you're gonna go out to an Italian restaurant to scratch that comfort food itch, you might as well do the cuisine justice.
As tasty as garlic bread or mozzarella sticks can be, the fact of the matter is they're neither authentically Italian nor good for you. While there's certainly no harm in treating yourself, you can also do a lot better than Americanized carbs and cheese. That's the ethos for chefs and experts who take their Italian food seriously. So whatever you do, don't order an Americanized dish at an Italian restaurant—and there are certainly plenty of those lurking on menus.
"For Italians, food is more sacred than the Madonna," proclaims Gianni Russo, brand ambassador of Corleone Fine Italian, the official culinary collection inspired by The Godfather. "I'm a New Yorker but my family is from Naples so I spend a lot of time over there, and nothing bothers me more than imposter Italian food."
Case in point: carbonara made with cream ("all the creaminess you need comes from good aged parm, and it better be the real thing, Parmigiano Reggiano"), seafood salad ("unless the restaurant guarantees they're serving fresh scungilli and calamari"), and lackluster olive oil ("I can tell when a kitchen gets cheap with oil"). With a godfather-like diligence for authentic Italian food, Russo is a staunch advocate for the real deal, right down to the Sicilian olive oil he imports.
Americanized Italian food can be alluring, but there are still certain dishes that are big no-nos—like fried cheese. "While I am a total sucker for Americanized Italian food, there are a few dishes I typically avoid," says Sedona Kusler, chef of Montelupo in Portland, Ore. And chief among the sacrilege is mozzarella sticks. "I have the cynical view that most restaurants are just buying frozen breaded mozzarella sticks and throwing them in their deep fryer, and I don't like to pay for something I could prepare in my air-fryer at home."
Similarly, the excessive use of garlic is much more of an American thing than an Italian thing. Chef Barbara Pollastrini has some choice words for the allium. A Rome native and Ambasciatori Del Gusto (Ambassador of Taste), she recalls walking into an Italian restaurant in America for the first time and feeling utterly lost.6254a4d1642c605c54bf1cab17d50f1e
"I didn't recognize the smell that we usually have in an authentic Italian restaurant, a fresh scent of tomato sauce simmering on the stove or a broth slowly cooking," she recounts. "All I was smelling was tons of garlic." In Italy, she says, they don't use much garlic. "So when you go to a supposedly Italian restaurant and smell it, just run away. This is the first sign that you are eating fake Italian food."
Although certain breads (ahem garlic bread) are best avoided in Italian restaurants, others are almost taboo not to eat. Especially if you're in an authentic Italian restaurant worth its salt, then shunning a good pizza crust is basically an insult to the cuisine.
So says Benjamin Lambert of Modena in Washington, D.C., "Don't order a pizza if you aren't going to eat the crust! If you go to a good restaurant that takes the time to serve artisan pizza, I know the person making it has taken a lot of time to get the dough to the proper fermentation level, meaning they have developed a lot of good flavor in the dough which tastes really good."
At the end of the day, Americanized ingredients and dining habits are the things that tend to give real-deal Italian food a bad rap, whether that entails overdoing it with garlic or underdoing it with artisan pizza crust.
"I think Italian food is often seen as unhealthy because of items like fried cheese and garlic-butter-soaked bread, which, don't get me wrong, usually tastes delicious, but I don't love the way it represents Italian food to the masses," explains Kusler on the bastardized iterations of food served in some Italian restaurants.
Instead, keep it simple and pure. "The Italian food I grew up loving and appreciating was manifested in lighter items like pasta alla vongole, fresh tomato salads with olive oil, or marinated zucchini. The simple dishes, the uncomplicated dishes."
Matt Kirouac
Matt Kirouac is a travel and food writer and culinary school graduate, with a passion for national parks, all things Disney, and road trip restaurants.
Read more about Matt