The 15 Worst Low-Sugar Groceries
In an effort to shed belly fat, Americans are reaching for low-sugar foods. But, beware: not all of these groceries are actually healthy.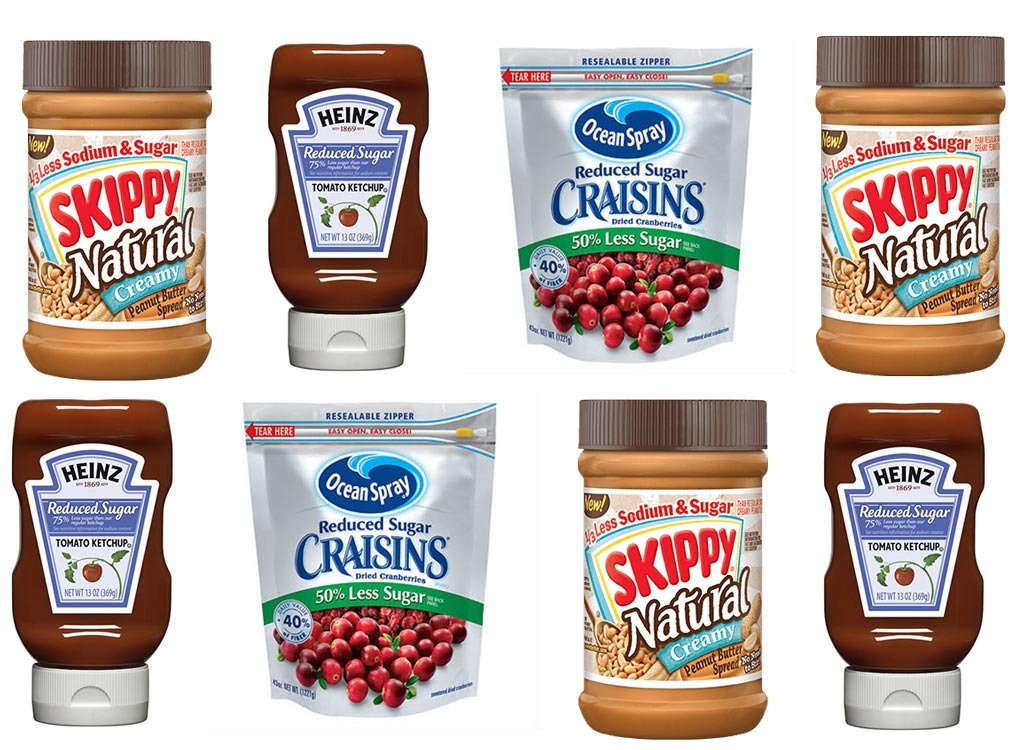 It may be clichéd, but history really does repeat itself. After seeing what a mess the food industry made of our collective health in an effort to capitalize on the low-fat craze of the 80's, you'd think the same thing wouldn't happen again. Unfortunately for our waistlines, that's not the case. Now decades later, it's sugar that's on the chopping block, with a growing number of Americans trying to stay away from the stuff.
Generally speaking, this is a move in the right direction. Consuming too much sugar has been connected to everything from obesity and diabetes to high blood pressure. While some companies have formulated some truly genius—not to mention, delicious—products in response larger companies like Skippy and Quaker are yet again, taking the lazy route, putting profits before our nation's collective health. Read on to find out which low-sugar products don't deserve a place in your diet and which wholesome low-sugar options you should be stocking on up instead. And while you're thinking about ways to dial back on the sweet stuff, don't miss these 30 Easy Ways to Stop Eating So Much Sugar.
Light & Fit Carb & Sugar Control Strawberries & Cream
1 container, 45 calories, 1.5 g fat, 11 g saturated fat, 30 mg sodium, 3 g carbs, 2 g sugar, 5 g protein
This yogurt may be low-cal and low in sugar, but that's only because the serving size is minuscule and it's sweetened with sucralose, an artificial sweetener the Center for Science in the Public Interest says is best to avoid.
Eat This Instead: Plain Greek yogurt with fresh fruit. If you're looking to keep sugar to a minimum even when it's the natural kind, add raspberries to your bowl. According to our special report, 25 Popular Fruits—Ranked by Sugar Content, a quarter cup of them has less than 2 grams of sugar!
Quaker Chewy 25% Less Sugar Granola Bars
110 calories, 3.5 g fat, 1 g saturated fat, 75 mg sodium, 17 g carbs, 3 g fiber, 5 g sugar, 2 g protein
It may be advertised as a low-sugar option, but that doesn't change the fact that Quaker Chewy bars are straight-up junk. Nine different forms of the sweet stuff are used to make the snack, as are hydrogenated oils and high fructose corn syrup, an additive that increases levels of appetite-inducing ghrelin and decreases the activation of brain satiety centers.
Eat This Instead: You're bettter off with any of these 12 Best Protein Bars for a Flat Belly. Order some today!
Skippy Natural Creamy Peanut Butter 1/3 Less Sodium & Sugar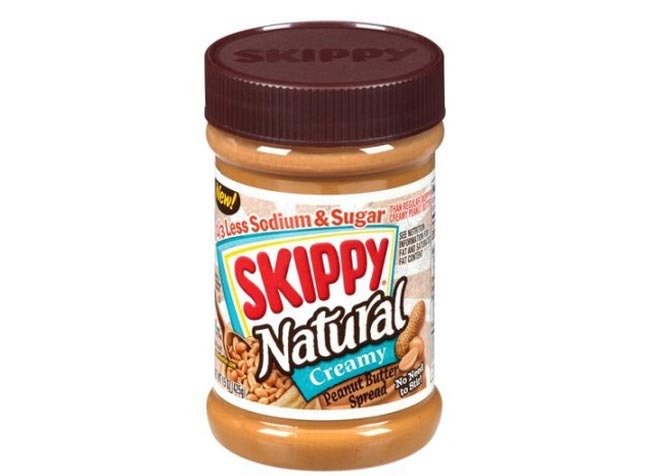 210 calories, 17 g fat, 4 g saturated fat 75 mg sodium, 6 g carbs, 2 g fiber, 2 g sugar, 7 g protein
Low-sugar nut butters are our favorite. But this particular Skippy product comes up short in terms of nutrition, by adding sugar—yes, sugar!—and palm oil to their jars. The European Food Safety Authority issued a report last year warning consumers about the high levels of potentially carcinogenic contaminants in palm oil. That said, this spread isn't the best bet for your PB&Js.
Eat This Instead: The best nut butters contain nothing but nuts and maybe a bit of salt. Look for a jar that fits these parameters or dig into our report, The 36 Top Peanut Butters—Ranked for some Eat This-approved options.
Welch's Reduced Sugar Mixed Fruit Fruit Snacks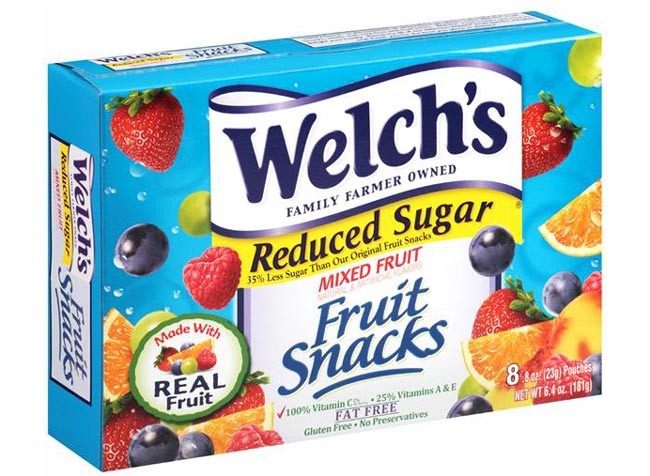 1 pouch, 70 calories, 0 g fat, 0 g saturated fat, 5 mg sodium, 18 g carbs, 0 g fiber, 8 g sugar, 1 g protein
This product may contain less sugar than it has in years past, but that doesn't change the fact that corn syrup and sugar are the second and third ingredient in this product. It also doesn't change the fact that this lunch-box favorite is spiked with aspartame to ensure the product doesn't lose its sweet flavor.
Eat This Instead: Fresh fruit is always a delicious and safe bet. But if you definitely want something packaged, check out our report The 22 Best & worst Fruit Snacks to discover some better-for-you options.
Heinz Reduced-Sugar Tomato Ketchup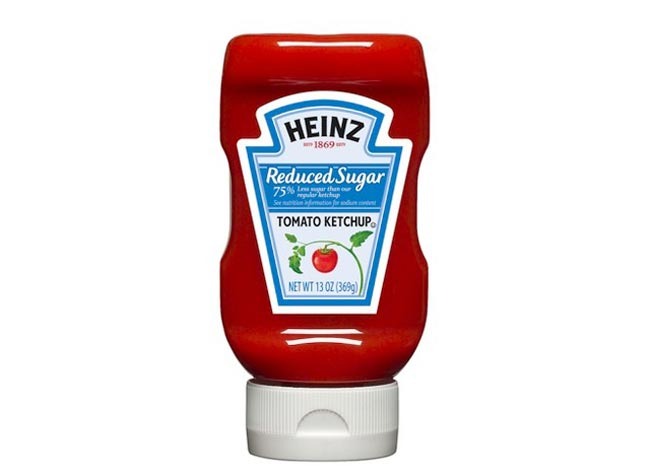 1 Tbsp., 5 calories, 0 g fat, 0 g saturated fat, 190 mg sodium, 1 g carbs, 0 g fiber, 1 g sugar, 0 g protein
Normally, a tablespoon of Heinz ketchup contains 4 grams of sugar, so we can see why consumers would think this version, with just 1 gram, is a healthier pick. But essentially, it's the same sauce. The only difference: this one uses sucralose (an artificial sweeter we're not fans of) to get its sweet flavor while the traditional rendition is sweetened with high fructose corn syrup. Frankly neither option is that great.
Eat This Instead: We like Annie's Naturals Organic Ketchup which has 15 calories and 4 grams of sugars (from tomato paste and cane sugar) per tablespoon. For more insight into our favorite burger and hot dog toppers, don't miss our report The 25 Best and Worst Condiments.
Jell-O Sugar Free Low Calorie Lemon Gelatin Dessert
1/4 package, 10 calories, 0 g fat, 0 g saturated fat, 55 mg sodium, 0 g carbs, 0 g sugar, 1 g protein
Artificial dyes and colors do not a healthy snack make. There's absolutely no reason to indulge in this jiggly junk.
Eat This Instead: Try some of these 25 Nutritionist-Approved Ways to Satisfy Your Sweet Tooth, instead.
Ocean Spray Light Cranberry Juice Drink
6254a4d1642c605c54bf1cab17d50f1e
8 fl oz, 50 calories, 0 g fat, 0 g saturated fat, 40 mg sodium, 11 g carbs, 0 g fiber, 11 g sugar, 0 g protein
Since it's sweetened with sucralose, this drink is less sugary than original Ocean Spray. But that doesn't mean it's Eat This-approved. Any product that's free of fiber yet still contains 11 grams of sugar shouldn't make it's way into your shopping cart. Without the fiber to slow down its absorption, the sweet stuff will spike your blood-sugar levels leaving you feeling lousy and run down.
Drink This Instead: If you love a mix of sweet and tart flavors but hate the excess sugar, replace cranberry juice with cranberry-infused detox water. To make a batch, add slices of blood orange and lemon into a pitcher of water, along with a handful of fresh cranberries. Let the flavors mingle for twenty minutes before enjoying a cup of it served cold.
NutiLight Hazelnut and Cocoa Spread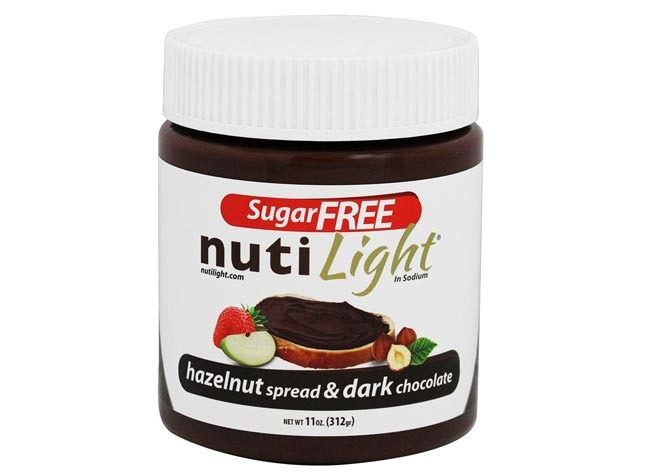 2 tbsp, 140 calories, 13 g fat, 4.5 g saturated fat, 5 mg sodium, 17 g carbs, 12 g fiber, 0 g sugar, 1 g protein
This skinny Nutella knock-off is high in fiber and made with two harmless sweeteners: erythritol and stevia. But the fact of the matter is, there are better hazelnut spreads on the market which much cleaner ingredient lists. In our book, the fewer things that are shoved into a jar, the better.
Eat This Instead: We like Windy City Organics Dastony Hazelnut Spread ($13 from Vitacost.com) because it's free of sugar, sugar alternatives, cocoa, and palm oil. That said, the taste will be a bit different than what you may be used to—but it's a far healthier spread. Worth it? We think so!
PowerBar ProteinPlus Reduced Sugar Chocolate Peanut Butter
1 bar, 200 calories, 7 g fat, 3.5 g saturated fat, 210 mg sodium, 24 g carbs, 5 g fiber, 2 g sugar, 20 g protein
At first glance, this bar actually looks like it has a sound nutrition profile. But don't be fooled. The only reason the sugar count is so long is that it's filled with all sorts of fake sugars. As a result, it contains 17 grams of sugar alcohol, which is is downright stomach-churning. You'd be hard pressed to find someone who can ingest that much of the stuff without getting a stomachache.
Eat This Instead: Read up on The 16 Best Nutrition Bars for Every Goal to find your new favorite.
Smucker's Reduced Sugar Uncrustables Spread Sandwiches Peanut Butter & Grape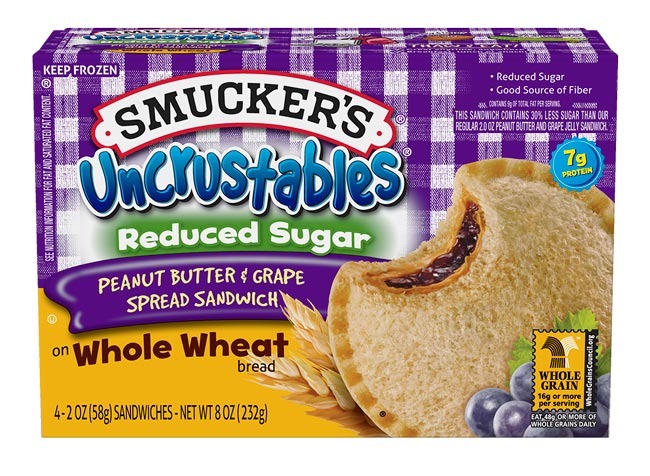 1 sandwich, 190 calories, 9 g fat, 1.5 g saturated fat, 180 mg sodium, 22 g carbs, 6 g sugar, 7 g protein
Whenever high fructose corn syrup and vegetable oils are on the ingredients list, take that as a sign that a product is not worth your cash.
Eat This Instead: Spread natural peanut butter on Ezekiel bread and add sweetness with mashed banana or blackberries. If you're looking for a better-for-you, grab-and-go solution, consider Annie's Pea B&J Pockets. They're contain more sugar than the Smucker's rendition, but the quality of the ingredients is much better.
Pillsbury Sugar-Free Deluxe Cinnamon Swirl Quick Bread & Muffin Mix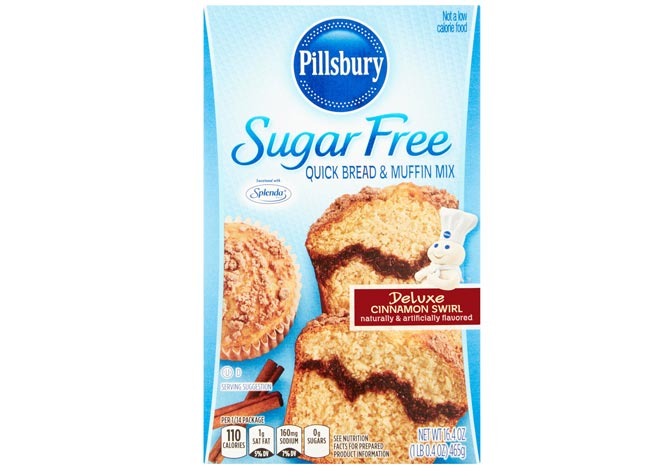 1/14 package, 110 calories, 2 g car, 1 g saturated fat, 160 mg sodium, 27 g carbs, 1 g fiber, 0 g sugar, 1 g protein
By definition, muffins are just mini cakes in a healthier-sounding name, so any muffin mix that's totally sugar-free should raise a few red flags. This mix relies on three different artificial sweeteners to retain its sweet flavor. The one used in most abundance, maltitol, was found to cause abdominal pain, excessive internal gas and flatulence. It also contains aspartame, a sweetener that causes glucose intolerance, and weight gain. In fact, it's just one of these 50 Little Things Making You Fatter and Fatter.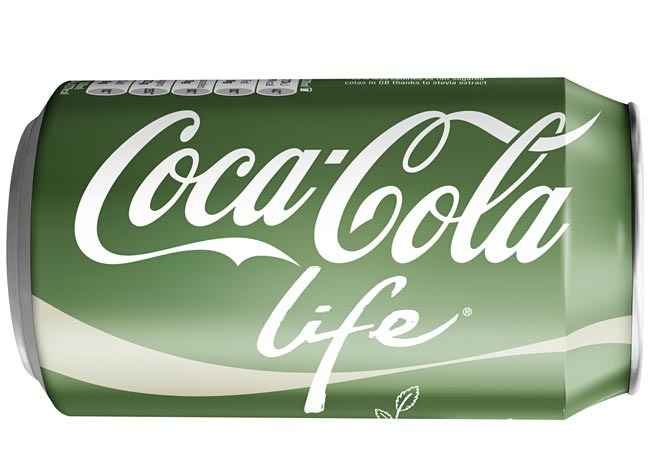 12 fl oz, 90 calories, 0 g fat, 35 mg sodium, 24 g carbs, 24 g sugar, 0 g protein
If you think you're doing yourself a favor by opting for Coca-Cola's sugar- and stevia-sweetened beverage over the traditional red can, you might want to take a closer look at the nutrition label. When you do, you'll realize that its natural packaging is just there to distract you from the cold, hard facts: A 12-ounce can of the stuff contains 24 grams of sugar! Yes, opting for the green can over the red will save you 50 calories and 15 grams of sugar but marking the beverage as a healthy alternative to full-calorie cola is a stretch. In fact, the green can packs in as much sugar as you'll get from downing three Apple 'n' Spice Donuts from Dunkin'.
Eat This Instead: Leave the sodas on the supermarket shelf and stick to water, or unsweetened tea or coffee..
Ocean Spray Craisins Dried Cranberries Reduced Sugar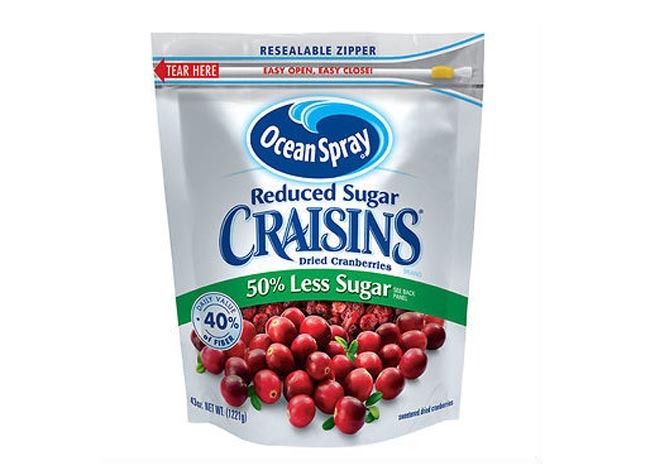 1/4 cup, 100 calories, 0 g fat, 0 g saturated fat, 0 mg sodium, 31 g carbs, 10 g fiber, 14 g sugar, 0 g protein
Dried cranberries are naturally a bit sweet, so there's really no need to buy the kind covered in sugar, or in this case, sucralose.
Eat This Instead: Mixed with nuts or added to oatmeal, unsweetened dried cranberries are a delicious and nutrient-packed option that's free of added sugars. If you've had trouble finding this kind in your supermarket, you can pick up a big 1-pound bag on Amazon.com for $20.
Quaker Lower Sugar Instant Oatmeal, Maple & Brown Sugar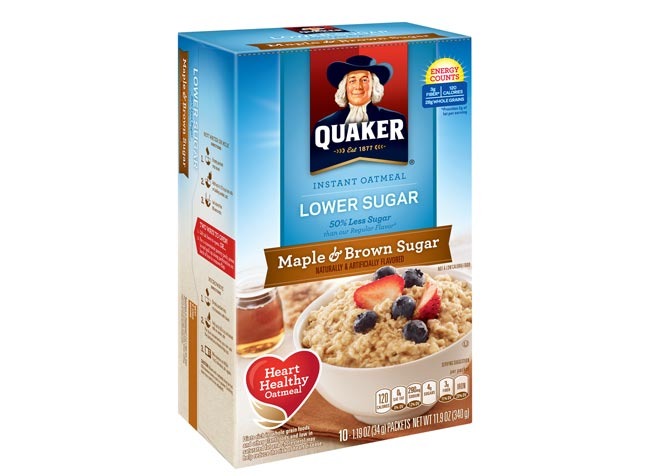 1 packet, 120 calories, 2 g fat, 0 g saturated fat, 290 mg sodium, 24 g carbs, 4 g fiber, 4 g sugar, 4 g protein
You're doing your body a disservice every time you start your day with a bowl full of caramel color (a potential carcinogen) and sucralose. With so many oatmeal products in the supermarket, there's no need to choke down a chemical-filled cereal.
Eat This Instead: Have a bowl of oatmeal topped with nuts and fresh fruit ,or opt for a better Quaker packet with the help of our report All 25 Quaker Instant Oatmeal Packets—Ranked!
Maple Grove Farms Sugar Free Low Calorie Maple Flavor Syrup
1/4 cup, 15 calories, 0 g fat, 0 g saturated fat, 105 mg sodium, 6 g carbs, 0 g fiber, 0 g sugar, 0 g protein
This bottle is filled with little more than chemicals and fake flavors. Considering maple syrup tapped from a tree contains health-promoting antioxidants, it seems silly not to use a light drizzle of the real thing.
Eat This Instead: The best syrup for your taste buds and waistline is a Grade A Medium Amber pure maple syrup. (We like Maple Grove. It's $24 on Amazon.com.) Grade A syrups have a concentrated sweet maple flavor, so a little bit goes a long way in terms of flavor. And the less you need to pour on, the fewer calories and teaspoons of sugar you'll take it.