8 Dishes to Avoid at Texas Roadhouse
The next time a craving for steak strikes, try to go easy on these Texas-sized staples.
Texas Roadhouse is a chain that has found fans across the country thanks to its Texas-sized portions, a wide selection of steaks, and affordable prices. But while the restaurant always promises to offer up a good time, many of the chain's entrees, appetizers, sides, and even salads come loaded with fat, carbs, and sodium. And, while the chain's steaks are generally a good value, some of the little extras, are not worth the calories or price.
With 580 locations in 49 states Texas Roadhouse provides a fun, family-oriented atmosphere. If you know how to dodge the crowds, this steakhouse chain is a solid option that owes its low prices to a consistent menu and shorter hours than many of the other chains. Just be sure to educate yourself about some of the chain secrets for keeping its check averages high, and know how to defend against servers who are trained to aggressively upsell at the expense of your health.
Here are some items to steer clear of and a few other things to try instead.
2,250calories, 135 g fat (26 g saturated fat), 5,000 mg sodium, 236 g carbs (19 g fiber, 36 g sugar), 25 g protein
If you want to indulge in a massive fat bomb before your actual meal makes it to the table, Texas Roadhouse's Cactus Blossom has your name on it.  The starter comes loaded with a ridiculous amount of salt and carbs, not to mention a calorie count that easily exceeds your daily recommended amount. Even if you share this with a few other people, the calorie cost is too high if you also intend to get a full entree.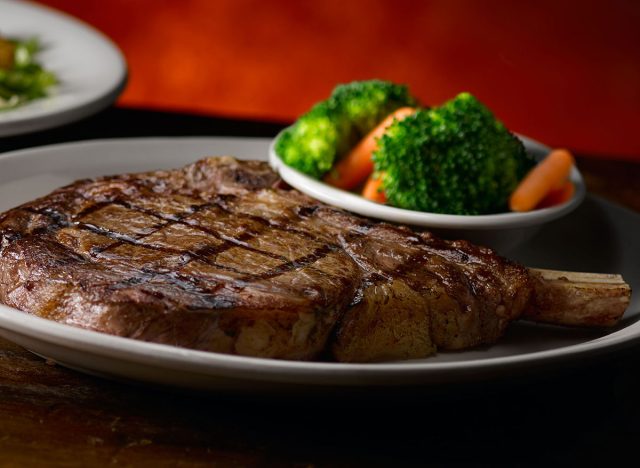 1,480 calories, 101 g fat (44 g saturated fat), 1,720 mg sodium, 20 g carbs, 4 g fiber, 4 g sugar), 143 g protein
Texas Roadhouse prides itself on its range of red meat. Out of all of the options, though, the Bone-In Ribeye not only ranks as the least healthy cut of beef, but it also clocks in as one of the most calorie-packed options on the whole menu.
Each steak comes with over a day's worth of fat and about 75% of a day's worth of calories and salt. The ribeye is a very fatty piece of meat, to begin with, and even ranks as the unhealthiest steak to order, according to dietitians.
Fall-Off-the-Bone Ribs – Full Slab
1,450 calories, 102 g fat (41 g saturated fat), 2,260 mg sodium, 15 g carbs, 4 g fiber, 10 g sugar), 116 g protein
When you really want to go all-out at Texas Roadhouse, few entree items can compare to the full rack of ribs. While the massive meal can easily shock and awe any hungry customer who orders it, don't expect to dodge the calories that come along with it.
Anyone who finishes a full rack of these ribs in one sitting can expect to eat a day's worth of salt, over a day's recommended amount of fat, and about 75% of your daily calories.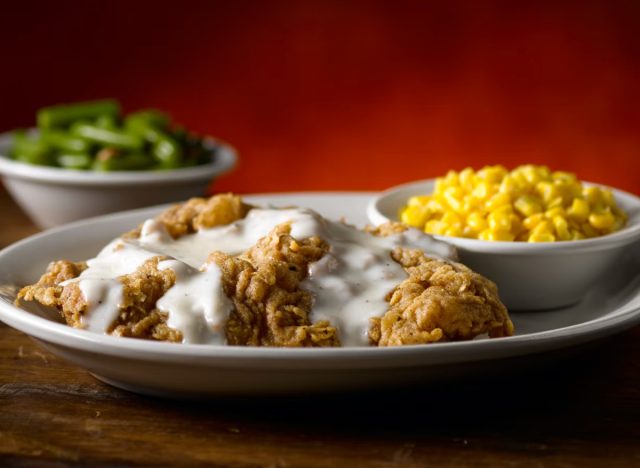 1,170 calories, 75 g fat (22 g saturated fat), 2,220 mg sodium, 72 g carbs, 2 g fiber, 9 g sugar), 52 g protein
Texas Roadhouse's version of Country Fried Sirloin may not contain as many calories as some of the chain's other entrees, but the crispy, fried dish has a lot of fat and a ludicrous amount of sodium.6254a4d1642c605c54bf1cab17d50f1e
This fried piece of steak already comes with a day's worth of fat and salt in each serving, but many diners may feel the need to go the extra mile and douse the protein with country gravy.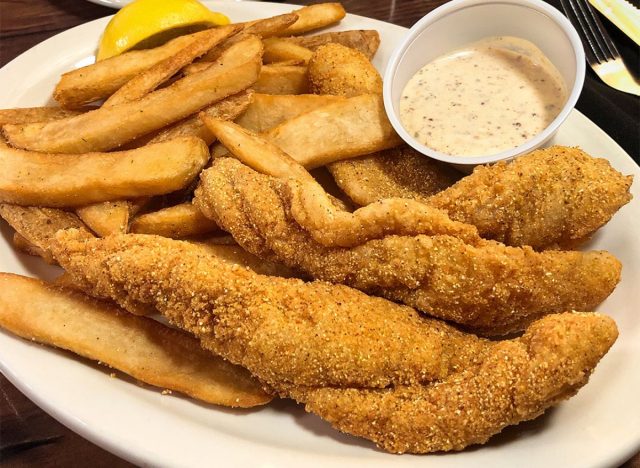 1,170 calories, 93 g fat (15 g saturated fat), 1,490 mg sodium, 45 g carbs, (1 g fiber, 1 g sugar), 40 g protein
On paper, fish should present a healthier alternative to many types of red meat, but when the chain's catfish comes deep-fried and covered in salt, you end up with one of the least healthy items on the Texas Roadhouse menu. Factor in a whopping 93 grams of fat.
If you're craving some seafood, the chain offers a selection of other healthier fish options (including a three-piece version of the same catfish meal). Even better, you can whip up a Southern-Style Cornmeal Catfish With Tomato Gravy at home.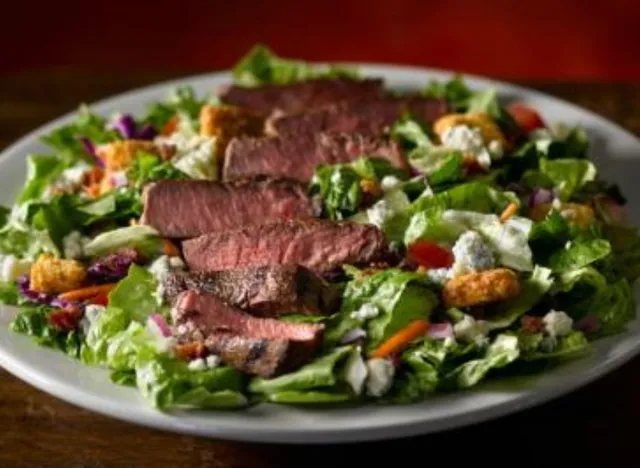 1,340 calories, 103 g fat (25 g saturated fat), 2,870 mg sodium, 42 g carbs, 8 g fiber, 21 g sugar), 71 g protein
Texas Roadhouse doesn't pull any punches when it comes to loading its meals up with steak, including its salads. Anyone who opts for the Steakhouse Filet Salad in hopes of ordering a healthy meal may not realize that it contains more fat, calories, carbs, and salt than many steaks on the chain's menu.
Instead, opt for the Chicken Critter Salad or the Grilled Salmon Salad for a healthier entree if you want to eat smart at Texas Roadhouse.
830 calories, 38 g fat (12 g saturated fat), 500 mg sodium, 120 g carbs, 10 g fiber, 270 g sugar), 6 g protein
Sure, choosing a baked sweet potato sounds like a healthier choice but, there are a few additions that can render this choice disastrous, nutritionally speaking. A simple baked sweet potato as prepared by Texas Roadhouse has about 350 calories and a moderate nine grams of fat, but the servers will try to sell you the Cadillac version. If you add the flashy toasted marshmallows, honey cinnamon butter, and honey cinnamon caramel sauce, you have more of a dessert on your plate. While you'll get a respectable 10 grams of fiber, you'll also get 70 grams of pure sugar.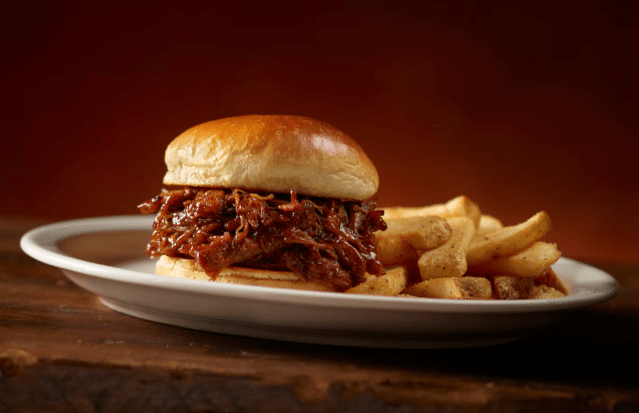 870 calories, 40 g fat (13 g saturated fat), 1,200 mg sodium, 62 g carbs, (4 g fiber, 22 g sugar), 68 g protein
If you're looking for a calorie and sodium bomb, this Pulled Pork Sandwich is all yours, but your body won't be happy with you in the long run. In the FDA's Dietary Guidelines for Americans, adults are recommended to limit their intake of sodium to less than 2,300 milligrams per day. The ramifications of consistently consuming high amounts of sodium can lead to high blood pressure, which can put you at big risk for both heart disease and stroke, according to the CDC. Barbeque can be enjoyable, but the sugary sauce, in addition to any other unhealthy, calorie-filled side dish options you may pick to go alongside it
A previous version of this article was originally published on July 20, 2022. It's been updated to include new information.