These 10 Nuts Are Making You Fat
Thanks to a plethora of nutrients that aid everything from weight loss to cholesterol management, nuts — in their natural state — are considered by many to be Mother Nature's original multivitamin.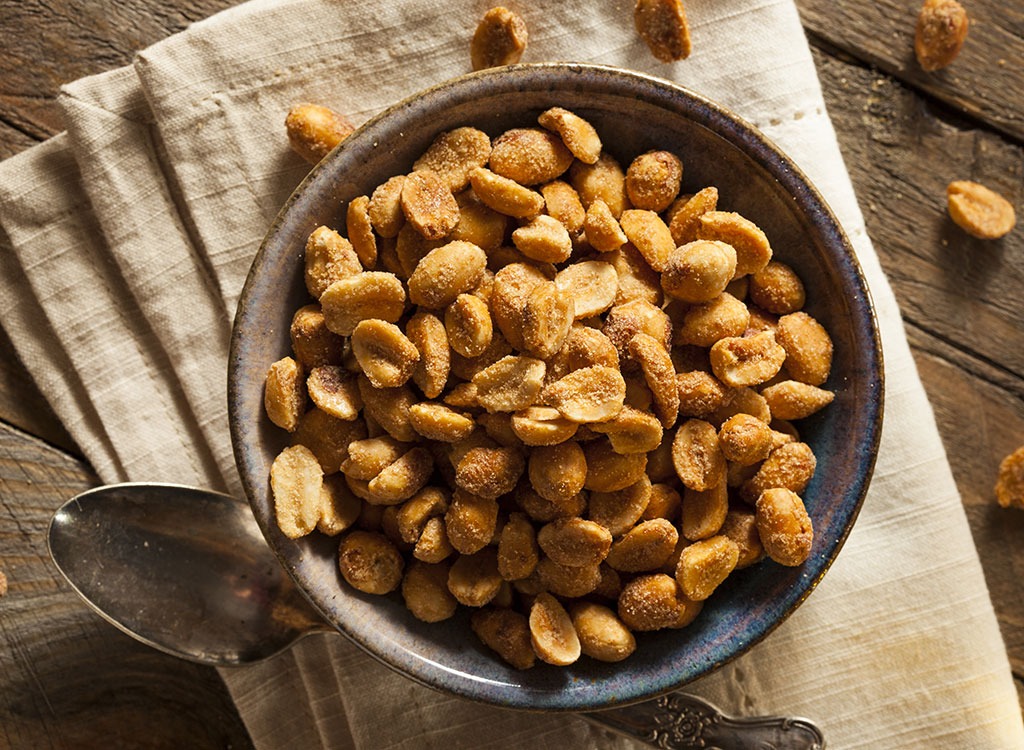 While nuts have been associated with a lower risk of heart disease, nut aisles stocked with different flavors and mixes are keeping most people from noshing on plain almonds and cashews. The trouble is, specialty nuts are filled with additives, sugar and excess calories—not what you want to be snacking on if you're trying to eat well and improve your overall health. Though there are many waist-widening offenders on supermarket shelves, the nuts below are among the very worst of the lot. Avoid them at all costs and stay far away from The 75 Unhealthiest Foods On The Planet while you're at it.
Emerald Breakfast On The Go, Berry Nut Mix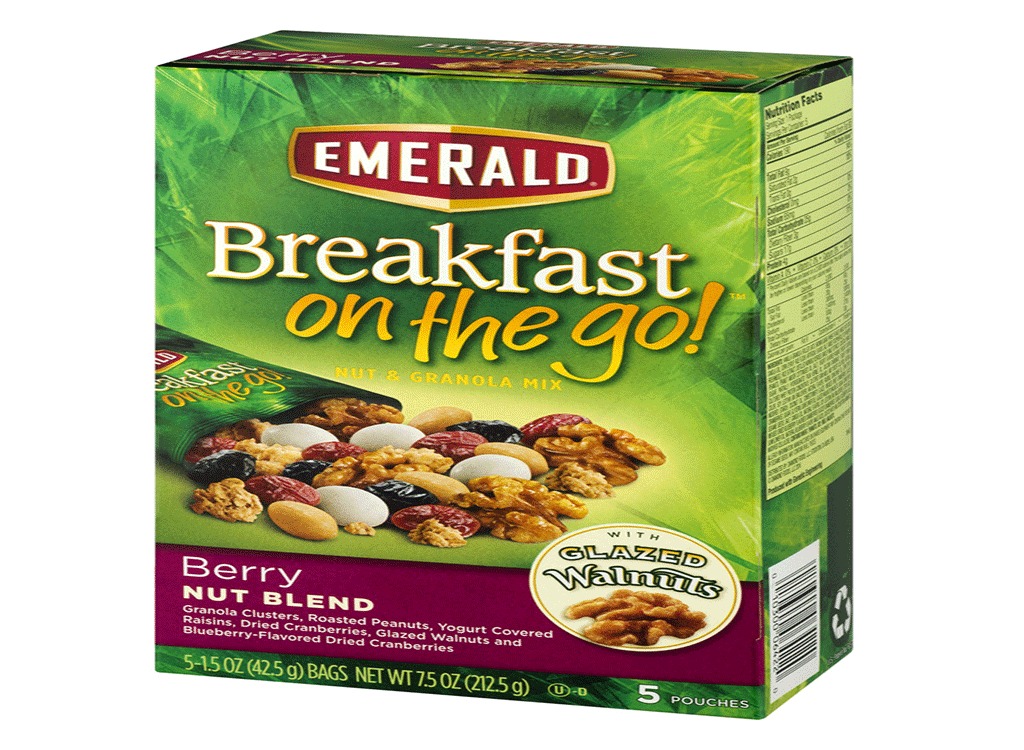 Per 1 package: 190 calories, 9 g fat (2 g saturated fat), 65 mg sodium, 25 g carbs (3 g fiber, 17 g sugar), 4 g protein
Besides the fact that every nut in this trail mix is coated with oil, sugar, or both, the yogurt clusters are encased in partially hydrogenated oils, the primary dietary source for artery-clogging trans fat. Unless you're hiking to a cardiologist's office, stay off this trail.
Planter's Regular Dry-Roasted Peanuts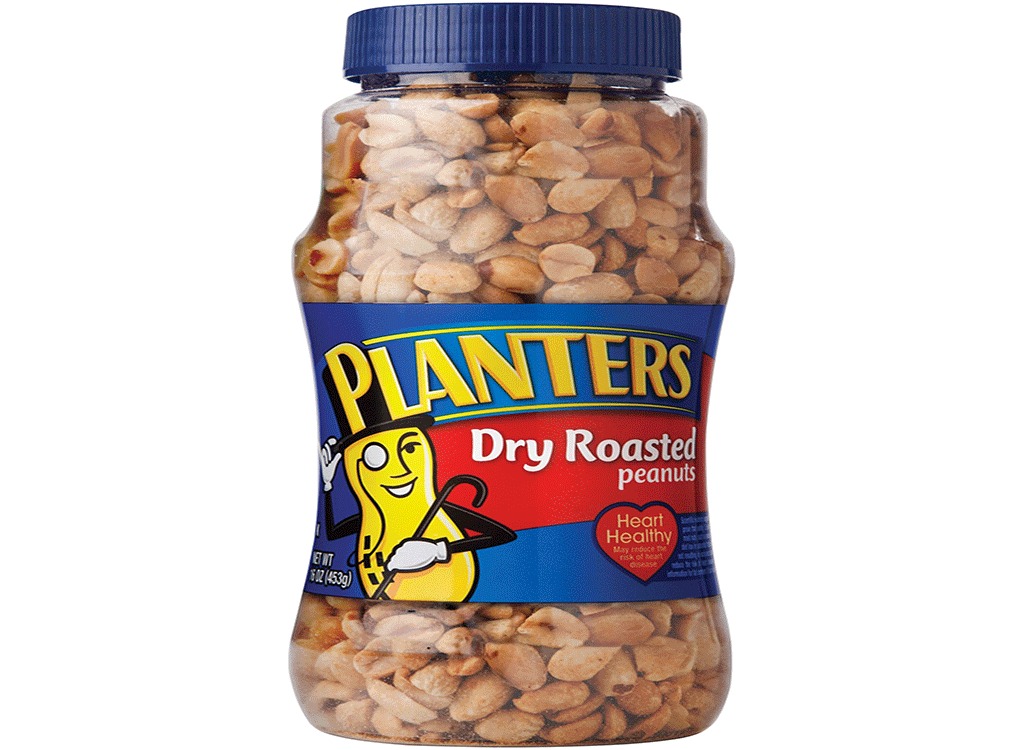 Per 1 serving (28 g): 170 calories, 14 g fat (2 g saturated fat), 160 mg sodium, 5 g carbs (2 g fiber, 2 g sugar), 7 g protein
These dry-roasted nuts are spiked with salt, sugar, corn syrup, and gelatin, a substance derived from animal cartilage, skin, tendons, and bones. That's not what you thought you were signing up for when you bought that container, was it? What's more, an ounce of plain peanuts is practically sodium-free, while these nuts are anything but. Though the amount of salt per ounce may not seem too high, few people wind up sticking to a single serving, so you're apt to take in two or three times the amount listed on the nutrition panel. You wouldn't want a salty snack to be The #1 Reason You're Not Losing Belly Fat.
Planter's Nut-rition Antioxidant Mix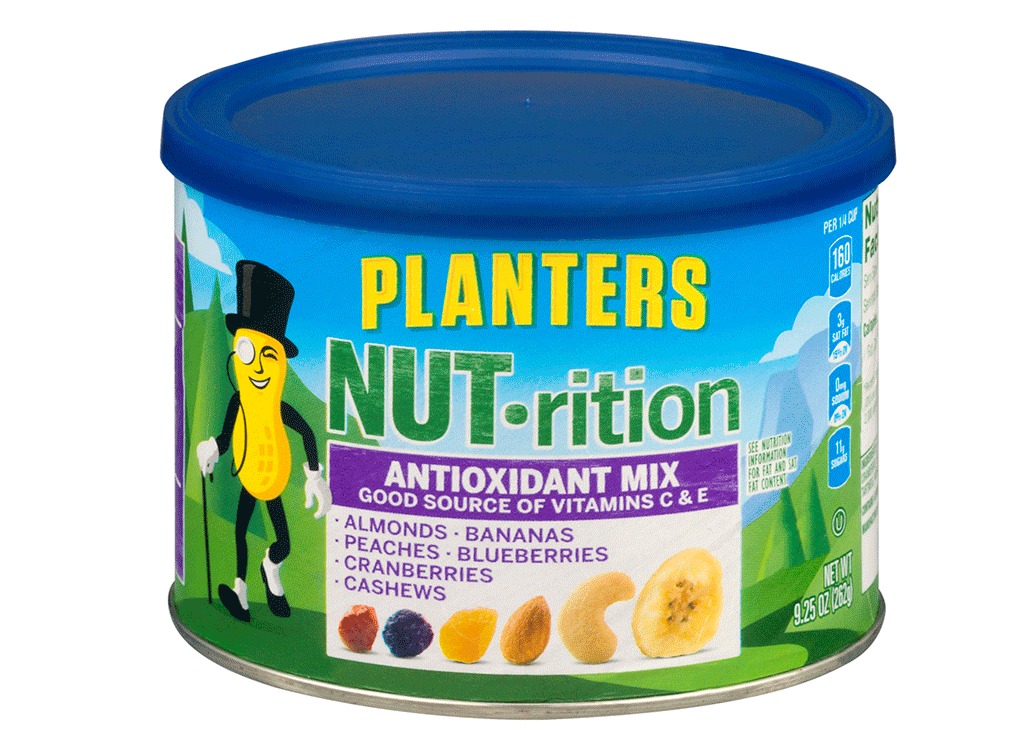 Per 1 serving (32 g): 160 calories, 11 g fat (3 g saturated fat), 0 mg sodium, 15 g carbs (2 g fiber, 11 g sugar), 4 g protein
Despite the health claims of Planters' special nutrition mixes, they're mostly loaded with vegetable oils and sugar—in fact, the latter ranks as the second ingredient on the nutrition label. You'd be better off getting your daily dose of disease-fighting antioxidants from lower-calories foods, free of sweeteners and additives like coffee, garlic, and pomegranate seeds.
Emerald Sweet & Salty Mixed Nut Blend Original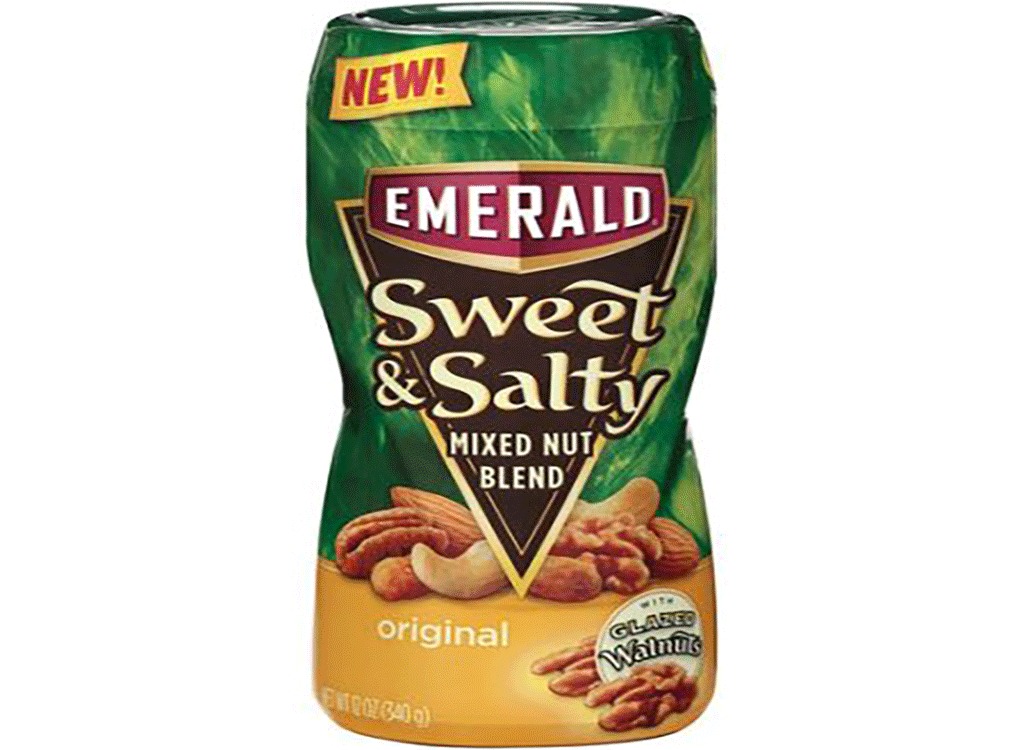 Per 1 serving (28 g): 150 calories, 11 g fat (1.5 g saturated fat), 120 mg sodium, 10 g carbs (2 g fiber, 6 g sugar), 5 g protein
Almost every honey- and dry-roasted nut in the container has been doused in sugar and oil. Ideally any nut mix you decide to buy should carry no more than three grams of the sweet stuff per serving.
Sahale Valdosta Pecans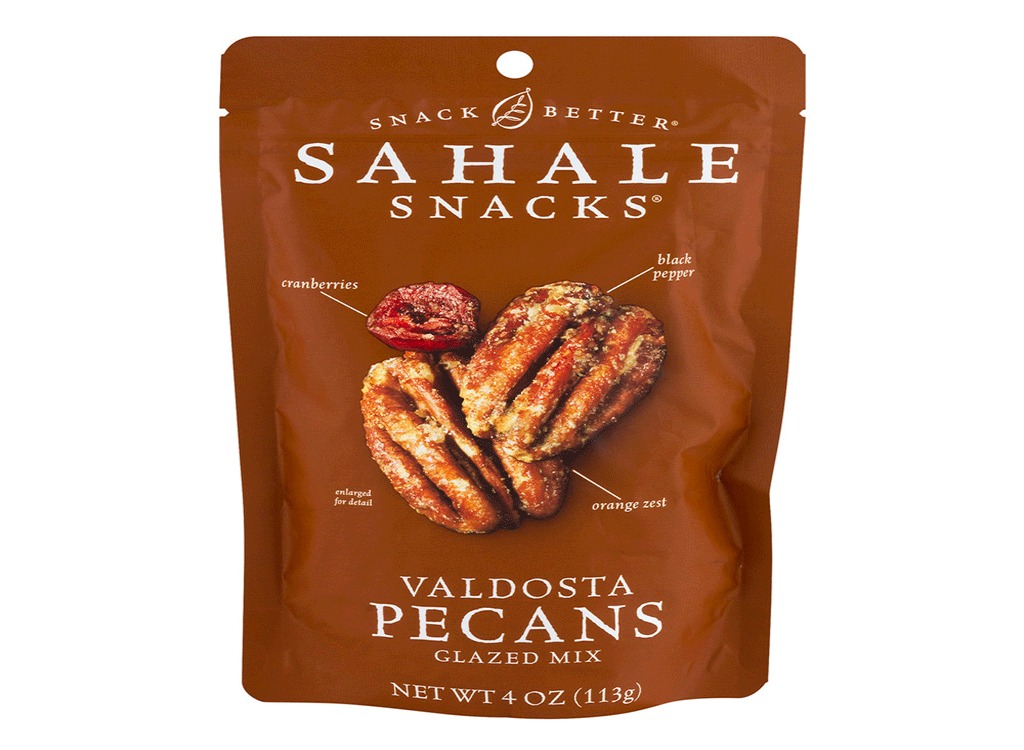 Per 1 serving (25 g): 130 calories, 10 g fat (1 g saturated fat), 60 mg sodium, 12 g carbs (2 g fiber, 7 g sugar), 1 g protein
With its black-peppered pecans, sweet cranberries, and orange zest, this fancy bag of nuts seems innocent enough. A closer look at the nutrition label, however, reveals its true colors. Sugar is in the ingredient list four different ways: sugar, organic cane sugar, organic tapioca syrup, and brown sugar. Stay away from this too-sweet snack and make your own flavored pecans at home instead. Simply toss pecans with fat-burning spices like chili powder, black pepper, and a pinch of cayenne and roast in a 400 degree F oven for 10 minutes, until warm and toasty.
Great Value Toasted Coconut Cashews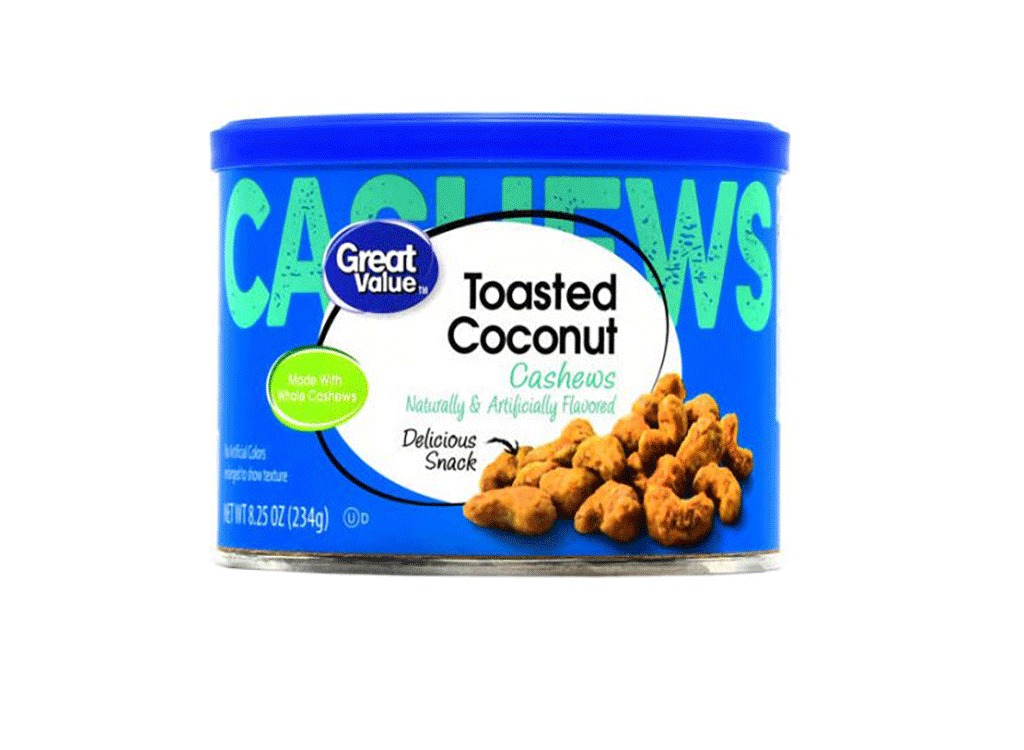 Per 0.25 cup: 170 calories, 10 g fat (2.5 g saturated fat), 80 mg sodium, 17 g carbs (< 1 g fiber, 12 g sugar), 3 g protein
We know anything made with toasted coconut sound delicious — the package even says so — but steer clear of these nuts next time you're at the grocery store. Cashews may be good for you, but their nutrients become almost unrecognizable when sugar, sweetened coconut, corn syrup, and butter is added to them. That's why there are 12 grams of sugar in each serving, and let's face it, sticking to just one serving takes willpower most of us don't have.
Blue Diamond Oven Roasted Blueberry Almonds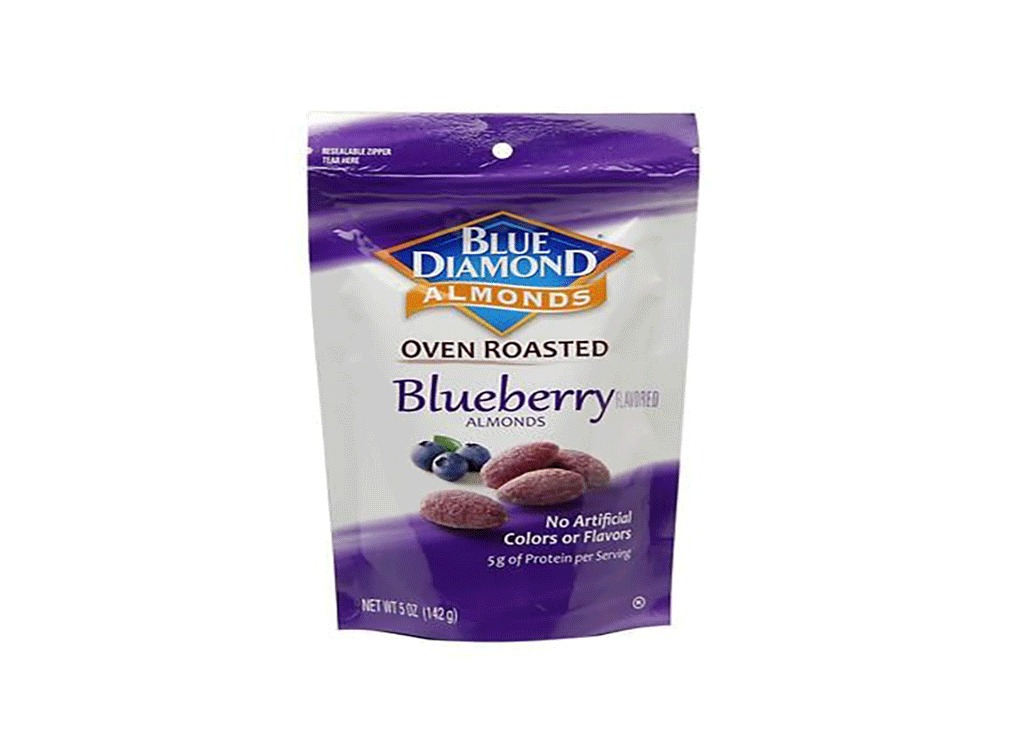 Per 1 oz (28 g): 160 calories, 12 g fat (1 g saturated fat), 25 mg sodium, 9 g carbs (3 g fiber, 6 g sugar), 5 g protein
Even though you won't find 'monosodium glutamate' written anywhere on this package, don't be fooled. There's modified cornstarch in these nuts, which can actually trigger MSG-reactions in highly sensitive people. Since you should minimize your intake of this appetite-increasing ingredient whenever possible, you'd be better off simply adding a handful of fresh blueberries to regular Blue Diamond almonds. Now that's smart snacking!
Sahale Raspberry Crumble Cashew Mix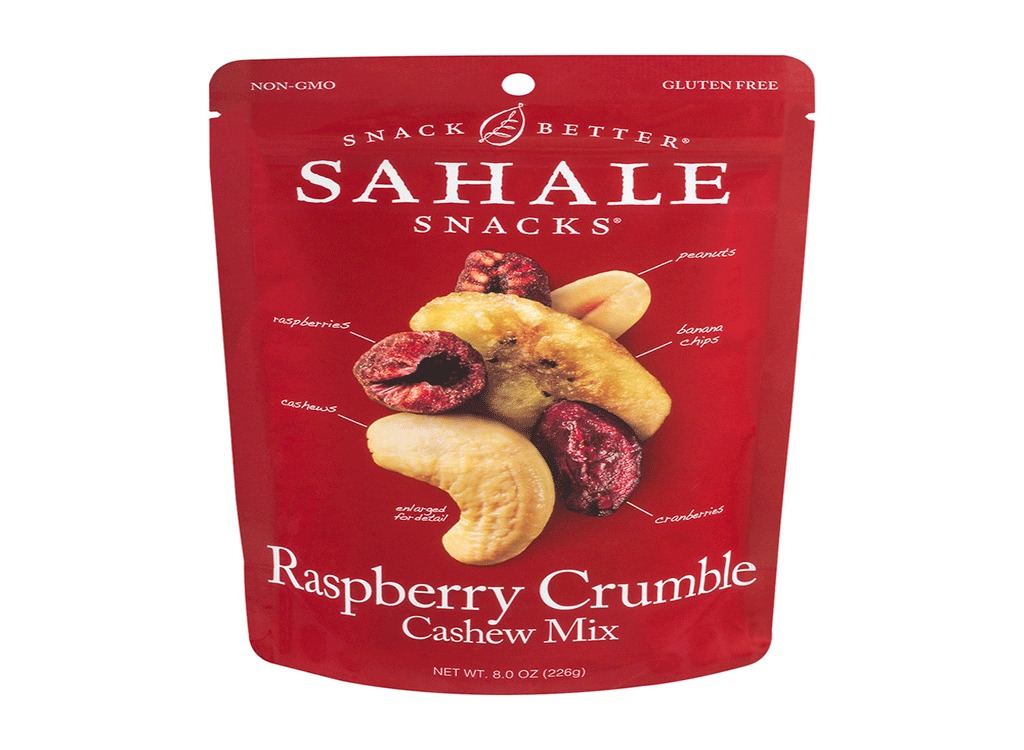 Per 1 serving (33 g): 160 calories, 9 g fat (2.5 g saturated fat), 245 mg sodium, 17 g carbs (3 g fiber, 9 g sugar), 4 g protein
If you've ever purchased one of these Sahale mixes and consumed just one serving, we don't believe you. This snack is addictive, and with triple-digit sodium, 160 calories, and 9 grams of sugar, it can lead to meal-worthy munching. Snacks are a smart way to boost your metabolism and squash your hunger, so don't let choices like this defeat the purpose.
Planter's Salted Caramel Peanuts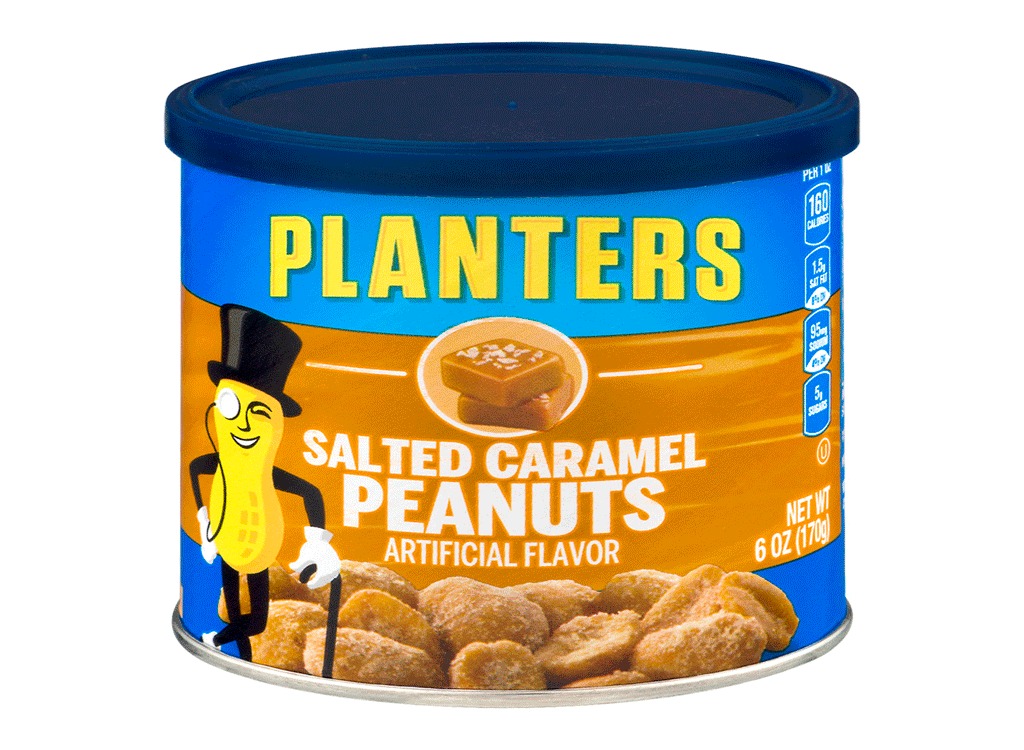 6254a4d1642c605c54bf1cab17d50f1e
Per 1 serving (39 g): 160 calories, 12 g fat (1.5 g saturated fat), 110 mg sodium, 9 g carbs (2 g fiber, 5 g sugar), 6 g protein
One look at the ingredients on this peanut package proves that salted caramel flavors should stay where they belong: on the dessert list. That's the only time you should be consuming a sugar, brown sugar, honey, corn syrup, and dried molasses combo. So save these candied nuts for sweet tooth satisfaction, not snacking.
Germack Pistachio Company Zesty Salt & Pepper Pistachios
Per 1 serving (30 g): 160 calories, 14 g fat (1.5 g saturated fat), 310 mg sodium, 8 g carbs (3 g fiber, 2 g sugar), 6 g protein
This bag of pistachios claims to be heart healthy, but one look at the nutrition panel proves otherwise. With 310 milligrams of sodium in each serving, a salty snack like this can push your salt intake way over the limit by the end of the day if you're not careful. Salt is all over our list of the 30 Worst Foods For Your Heart, so swap this for a pistachio mix lower in sodium.