The Absolute Worst Dish at 20 Popular Fast Food Chains
Meet the Terrible 20: A group of fatty, calorie-packed dishes vying to destroy your valiant weight loss efforts. Keep your fork far, far away.
It doesn't matter how religiously you diet. It doesn't matter if you try to make the smartest choices, pick the healthiest foods and watch what you eat at every meal. It doesn't matter because, in America, all it takes is one simple mistake to sabotage your entire order—especially at a fast food restaurant.
Today's greasy spoon establishments have loaded many of their offerings with so much fat sodium and calories that any of the single food items we've called out below can destroy all of your best intentions. Sure, some of them may seem obvious: Anything that has "Triple" in it's title is an obvious waist-widener, but a number of the items that made our Terrible 20 list sound like wholesome fare—the kind you might make for your family, the kind your mom made for hers. Frankly, the truth is enough to make your jaw drop. And then to make you want to close your jaw back up quickly and swear to never, ever let any of these foods pass your lips again. Not a fan of fast food anyway? Then don't miss our similar list for popular sit-down restaurants like Applebee's and more on our list of The Worst Option on the Menu at 20 Popular Restaurants.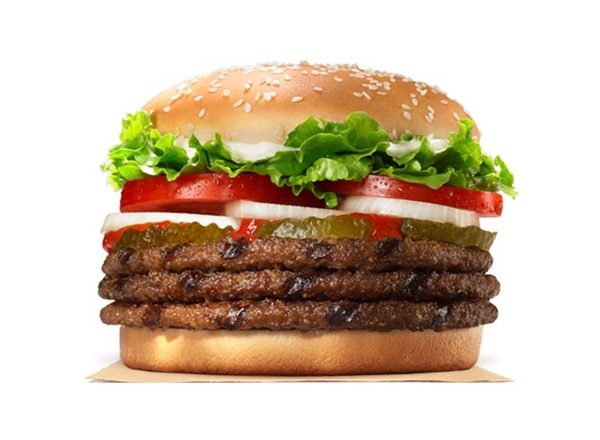 The Triple Whopper
1,160 calories, 75 g fat (27 g saturated, 4 g trans fat), 1,050 mg sodium, 50 g carbs, 2 g fiber, 12 g sugar, 49 g protein
The triple-stacked patty is by far the worst burger on Burger King's menu, surpassing all others in waistline-demolishing ingredients. The three-quarter-pound patties and mayo deliver a whopping 75 g of fat—worse than five of the King's classic hamburgers—with 4 grams of ultra-dangerous trans fat, which is two full days' worth. Eek! And speaking of fat, if you want less of it on your frame, be sure to avoid these 40 Habits That Make You Sick and Fat!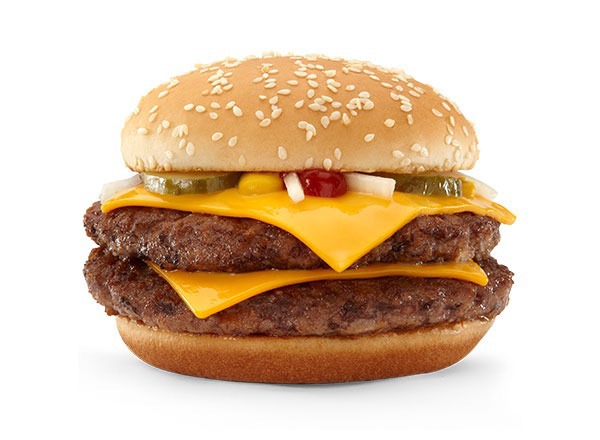 Double Quarter Pounder with Cheese
780 calories, 45 g fat (21 g saturated, 2.5 g trans fat), 1,310 mg sodium, 43 g carbs, 3 g fiber, 10 g sugar, 50 g protein
A remnant from the days when "super-sizing" was cool, this sandwich takes a perfectly fine burger and multiplies it by two. There's no reason to eat a half-pound of beef for lunch unless of course it's 2004 and you're making a documentary about getting fat. To see how your favorite McDonald's menu items stack up against this devilish dish, check out our exclusive report, Every Menu Item at McDonald's—Ranked!!
The Homewrecker with Steak
959 calories, 37 g fat (16 g saturated fat, 0 g trans fat), 1,693 mg sodium, 105 g carbs, 13 g fiber, 3 g sugar, 47 g protein
Homewrecker? More like an ab wrecker! This burrito has not one, not two, but three major sources of carbs (tortilla, rice and beans) and three major sources of fat (cheese, sour cream and guac), so it's really no surprise it has such a scary nutritional profile. And speaking of abs, make yours pop with the help of Eat This, Not That! For Abs! Test panelists got abs in just six weeks!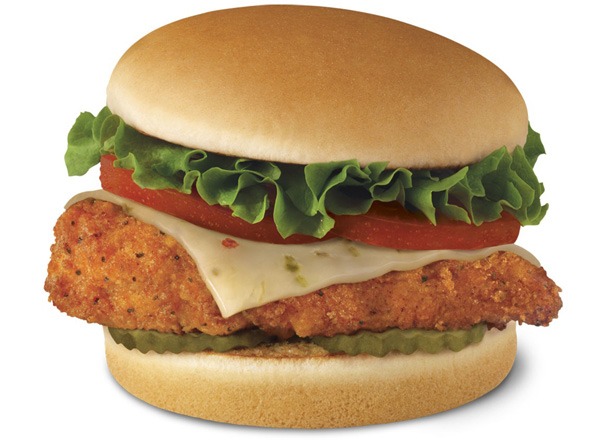 Spicy Chicken Sandwich Deluxe
570 calories, 27 g fat (8 g saturated fat, 0 g trans fat), 1,750 mg sodium, 7 g sugar, 35 g protein
It may not look too dangerous, but this is the absolute worst sandwich you could order at Chick-fil-A. The sodium count alone is clucking ridiculous—it has more than a day's worth! But we're even more grossed out by it's 84—yes, 84—ingredients, only a few of which are natural foods. One of the creepiest: Dimethylpolysiloxane. It's not that poses any major health risks, but it's a bit unsettling to knowingly eat something that's also used to make aquarium sealant. To see how other dishes at the chicken joint stack up, check out our exclusive report, The Entire Chick-Fil-A Menu—Ranked!.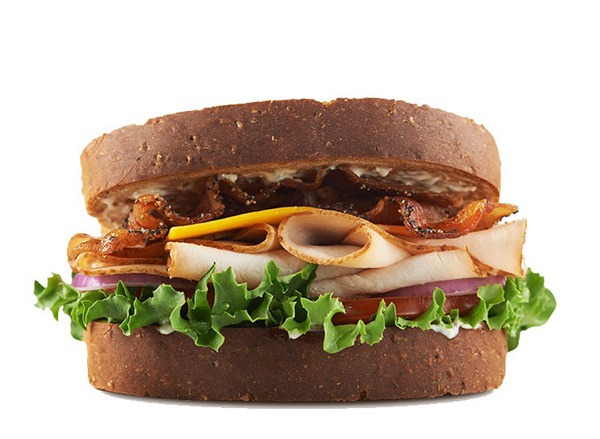 Roast Turkey Ranch & Bacon Sandwich
800 calories, 35 g fat (9 g saturated fat, 0.5 g trans fat), 2,250 mg sodium, 76 g carbs, 5 g fiber, 18 g sugar, 48 g protein
When made in the safety of your own kitchen, a turkey sandwich isn't a half-bad lunch option, but tread ye carefully in the land of greasy spoon finger foods. This sandwich is over-packed with carbs, fat, and sugar. Yes, sugar! Where's all the sweet stuff coming from? Most likely the honey wheat bread, which is just blood sugar-spiking junk in disguise. And speaking of the evil granulated stuff, if you're trying to cut back, check out these 30 Easy Ways to Stop Eating So Much Sugar.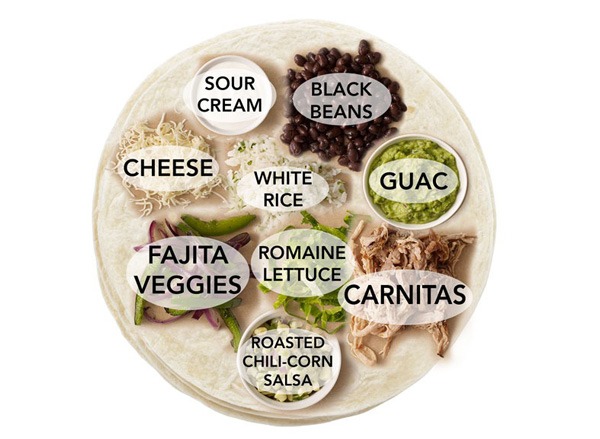 Carnitas Burrito with White Rice, Black Beans, Fajita Veggies, Roasted Chili-Corn Salsa, Romaine, Sour Cream, Cheese and Guac
1,390 calories, 67.5 g fat (23.5 g saturated fat, 0 g trans fat), 2,810 mg sodium, 143 g carbs, 27 g fiber, 10 g sugar, 54.5 g protein
This fully loaded burrito from Chipotle has just under two days' worth of salt and a stomach-churning six days' of saturated fat! Yes, seriously. But that's not all: This dinnertime disaster serves up more carbs than you'd find in nearly eight whole-grain dinner rolls! Although almost everything in this burrito is carb-heavy, the tortilla (46 grams) and white rice (40 grams) tip the scales. If you want to nosh on something starchy, make it one of these 25 Best Carbs for Weight Loss instead.
XXL Grilled Stuft Burrito
860 calories, 41 g fat (14 g saturated, 1 g trans fat), 2,200 mg sodium, 91 g carbs, 12 g fiber, 6 g sugars, 32 g protein
Watch out for terms like "XXL" and "Stuft"—they're both code for "far from diet-friendly." This particular meathead burrito may offer up 32 grams of protein but it also contains a whopping 91 grams of carbs (about what you'd find in 6 slices of Ezekiel bread) and you're also holding a whole day's worth of salt in one hand. These are just two of the many factors that make this dish a "Not That!" To discover even more flat belly no-go's—so you can steer clear—check out these 150 Worst Packaged Foods in America.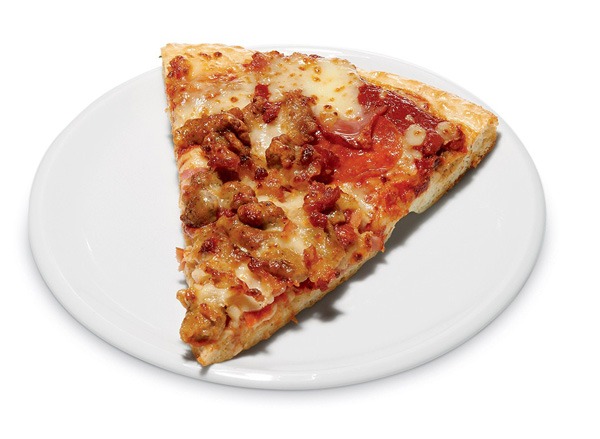 Meat Lover's 18" Large Pan Pizza
1 slice: 680 calories, 33 g fat (14 g saturated fat, 1 g trans fat), 1,580 mg sodium, 66 g carbs, 4 g fiber, 3 g sugar, 29 g protein
You can love meat without taking in half a day's saturated fat with one slice of pizza. Specialty pies are an excuse to go crazy with a ton of high-fat toppings that do virtually nothing for flavor and increase your calorie load considerably. At Pizza Hut, don't be a Lover, be a fighter with the less caloric pepperoni slice. Or better yet, make one of these Healthy Homemade Pizzas instead.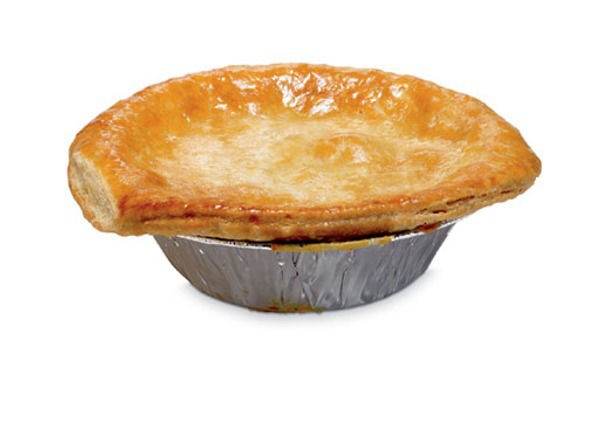 Chicken Pot Pie
790 calories, 45 g fat (37 g saturated fat, 0 g trans fat), 2,120 mg sodium, 66 g carbs, 3 g fiber, 7 g sugar, 29 g protein
Chicken pot pie: The dish your mom makes for your dad on his birthday and the meal your grandma loved whipping up for your mom when she was a kid. Word of warning: This isn't anything like the homemade variety you know and love. Despite the fact that this is one of the only dishes at KFC that's stuffed with veggies and never touches the deep fryer, it's still the worst option on the menu. The main calorie culprit is its buttery shell, but the creamy sauce that binds the filling together certainly doesn't help matters either. To save 250 calories, order an Original Recipe Chicken Breast with Mashed Potatoes, Gravy and Sweet Kernel Corn. Or if you'd rather just enjoy come poultry at home, whip up one of these amazing healthy chicken recipes.
6254a4d1642c605c54bf1cab17d50f1e
John's Favorite Extra Large 16" Pizza
1 slice: 410 calories, 19 g fat (7 g saturated fat, 0 g trans fat), 1,130 mg sodium, 41 g carbs, 2 g fiber, 5 g sugar, 17 g protein
Featuring pepperoni, sausage and six different types of fatty cheese, this pie is said to be Papa John's founder John Schnatter's favorite—but frankly, we're not buying it. Spend a few moments Googling Mr. Schnatter and you'll discover that he's surprising fit. There's no way a 410 calorie slice is his mainstay. And speaking of super trim dudes, steal their lean for life knowledge in our exclusive report 25 Weight Loss Tips From The World's Fittest Men.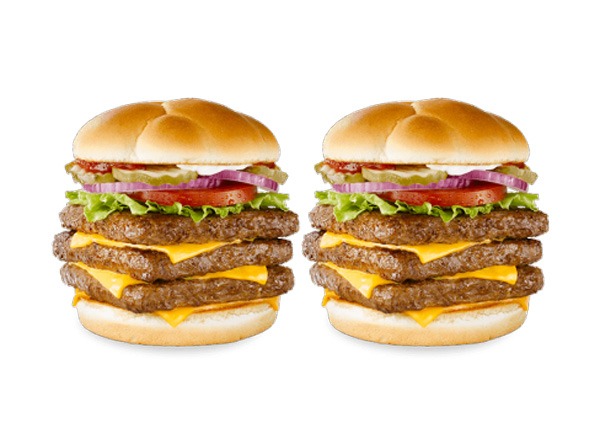 Dave's Triple
1,070 calories, 72 g fat (30 g saturated fat, 4 g trans fat), 1,930 mg sodium, 36 g carbs, 2 g fiber, 9 g sugar, 70 g protein
Dave's Triple is triple trouble! Start with three beef patties and you're already skating on thin nutritional ice. To make matters worse, this dish has three pieces of processed cheese and fatty mayo. The result? A burger that has two days' of heart-harming trans fat and as much fat as nearly five orders of small fries off the Wendy's menu.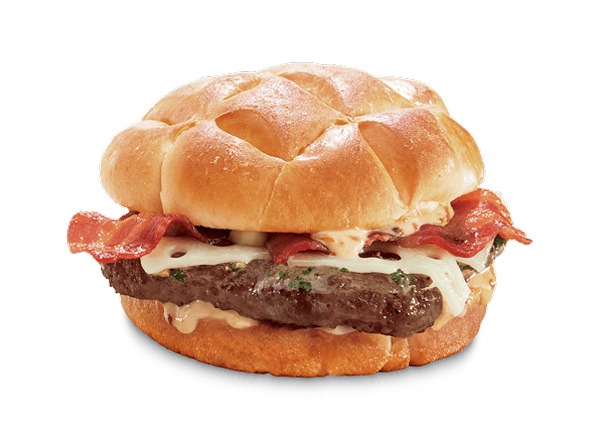 Bacon & Swiss Buttery Jack
887 calories, 59 g fat (25 g saturated fat, 2 g trans fat), 1,346 mg sodium, 48 g carbs, 3 g fiber, 11 g sugar, 42 g protein
Jack in the Box's menu has come a long way in the past few years, but a few major changes still need to be made, including banishing this bacon-topped beef burger. If the double helping of meat wasn't bad enough, Jack adds garlic herb butter, Swiss cheese and globs of bacon mayo to his signature bun—and your buns will pay for it if you indulge. Just say no to this rear-expanding dish. Trying to slim down and trim the fat? Check out these 50 Best-Ever Weight Loss Tips!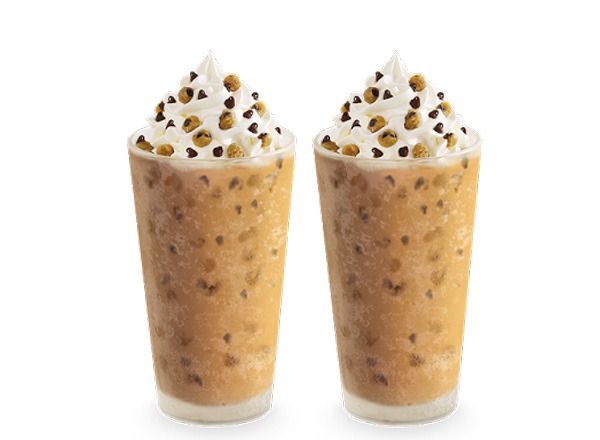 Large Peanut Butter Cookie Dough Dream Master Blast
2,300 calories, 144 g fat (72 g saturated fat, 0 g trans fat), 1,170 mg sodium, 232 g carbs, 3 g fiber, 196 g sugar, 37 g protein*
This super-sized sip has more calories than 29 chocolate chip cookies, more fat than 43 strips of pan-fried bacon and more sugar than 7 Snicker bars! Is any more explanation as to why it made this list really required? Didn't think so. Stay away if you want to protect your hard-earned flat belly!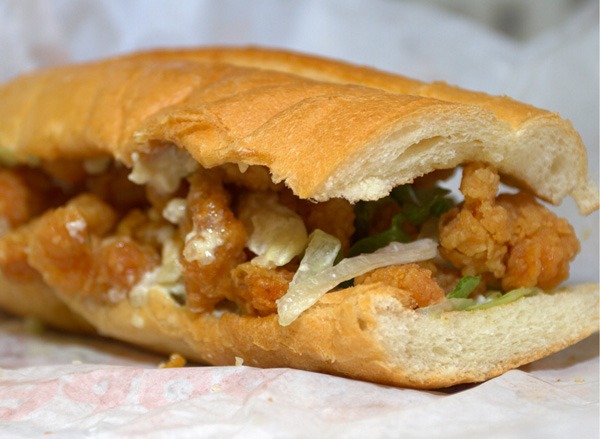 Shrimp Po' Boy
690 calories, 42 g fat (13 g saturated fat, 1 g trans fat), 2,165 mg sodium, 66 g carbs, 5 g fiber, 3 g sugar, 31 g protein
If you want something fried and starchy at Popeyes go with the Loaded Chicken Wrap and skip this crustacean-filled calorie bomb. With a day's worth of salt and half a day's trans fat—the most dangerous fat in all the land—this is one nutritionally poor Po Boy.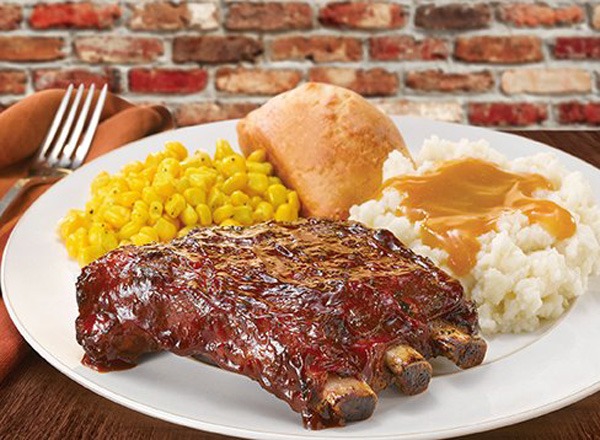 1/2 Rack St. Louis Style BBQ Ribs
990 calories, 75 g fat (24 g saturated fat, 0 g trans fat), 2,270 mg sodium, 22 g carbs, 0 g fiber, 20 g sugar, 50 g protein
You knew ribs weren't exactly healthy but did you realize that they are filled with so much fat and sugar?! To keep 400+ calories and 73 grams (!!!) of waist-expanding fat off of your plate, ask for the Quarter Skinless Rotisserie Chicken with Zesty BBQ Sauce, Fresh Vegetable Stuffing, Garlic Dill New Potatoes. Wouldn't you rather enjoy a big plate of variety instead of one lame rack of ribs? We know we would! For more insider info on all of your favorite eateries, check out these 25 Things Fast Food Chains Don't Want You to Know!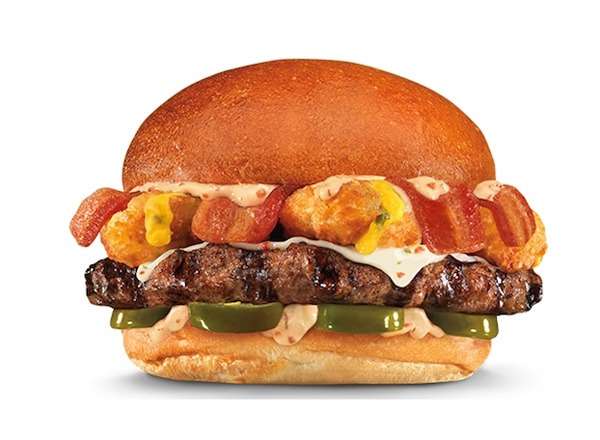 1/2 lb.Thickburger El Diablo
1,290 calories, 85 g fat (32 g saturated fat, n/a trans fat), 2,790 mg sodium, 4 g fiber, 14 g sugar, 50 g protein
Nine times out of ten we'd be on board with anything and everything spicy; mainly because capsaicin—the compound that makes your tongue hurt so good—is a known metabolism-booster. But this jalapeno, pepper-jack cheese, and habanero topped burger is most definitely an exception to the rule. Not only does it fill your belly with half a day's calories, but it also has more salt than 27 saltine crackers—which is more than an entire day's worth! Next time you're at Carl's, order the All-Natural Burger sans mayo instead, and raise the heat with an addition of jalapeno coins.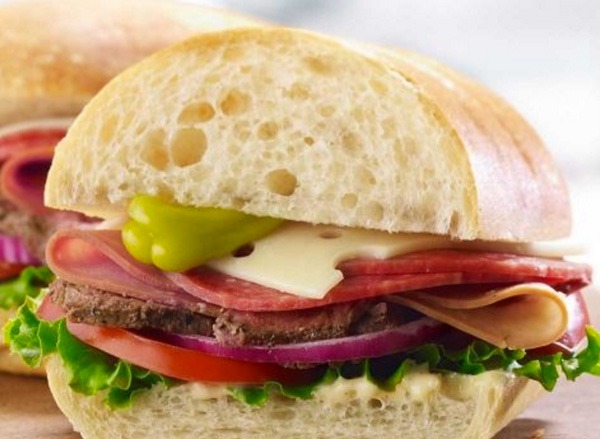 Italian Combo Sandwich on Ciabatta
Whole sandwich: 1,000 calories, 41 g fat (16 g saturated fat, 1 g trans fat), 2,850 mg sodium, 97 g carbs, 5 g fiber, 8 g sugar, 42 g protein
The combination of four types of meat skyrockets this sandwich's calorie, fat, and sodium count beyond reason. If you can't bear to part with this sad excuse for a lunchtime classic, at least order the half-portion and pair it with a house salad—your waistline and blood pressure with thank you. For even more ways to slim down and get fit, check out these 42 Ways to Lose 5 Inches of Belly Fat.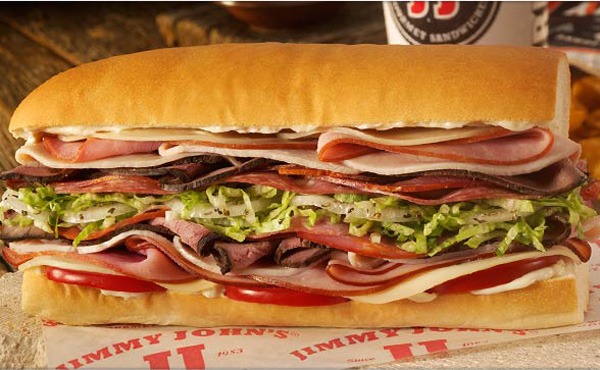 The J.J. Gargantuan
1,134 calories, 55.3 g fat (14.8 g saturated fat, n/a trans fat), 3,534 mg sodium, 83.1 g carbs, 5 g fiber, 72.4 g protein
Jimmy says that this sandwich is "huge enough to feed the hungriest of all humans!" And we think he hit the nail on the head—1,134 calories is a lot to down in one sitting. Thanks to the salami, sliced smoked ham, capicola, roast beef, turkey and provolone combo you'll also get a day and a half of fat—what a deal! (If you can't tell, we're being sarcastic.)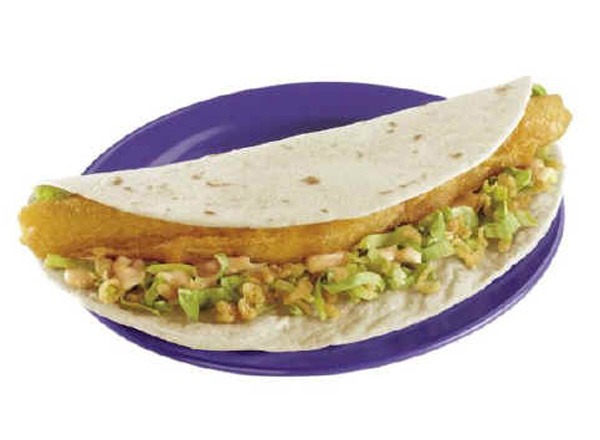 Baja Fish Taco
2 tacos: 1,160 calories, 78 g fat (20 g saturated fat, 0 g trans fats), 2,660 mg sodium, 82 g carbs, 4 g fiber, 4 g sugar, 32 g protein
Fat in the breeding, fat in the sauce, fat in the tortillas—and none of it's the healthy kind. It all adds up to a full day's worth of the stuff, plus nearly a full day's allotment of salt. While Long John Silver's has come a long way in recent years, there are still plenty of fried entrees that could sink your battleship. And speaking of fat, be sure to check out these 40 Bad Habits That Lead to a Fat Belly.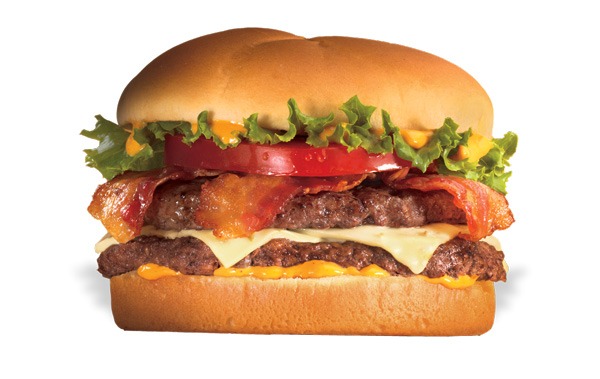 1/2 lb. FlameThrower GrillBurger
970 calories, 68 g fat (25 g saturated fat, 2 g trans fat), 1,580 mg sodium, 39 g carbs, 2 g fiber, 9 g sugar, 51 g protein
Picking the worst dish at DQ was pretty tough. Though a 970 calorie burger is borderline unethical, that's nothing compared to the chain's 1,250 calorie 6-piece Chicken Strip Basket. At the end of the day, though, the burger's massive trans fat count earned it a place on our Terrible 20 list. While the chicken has just a half-gram of the stuff, this bad boy burger packs an entire day's worth. Skip it at all cost. Now that you've met some of the worst kids on Fast Food Lane, why not team up with some of the best with the help of our exclusive report, 25 Restaurant Meals Under 500 Calories!