The Worst Peanut Butter and Almond Butter Brands for Weight Loss
It's easy to go nutty trying to pick out the right nut butter. While they're no doubt staples in the wellness world, not all butters are created equal.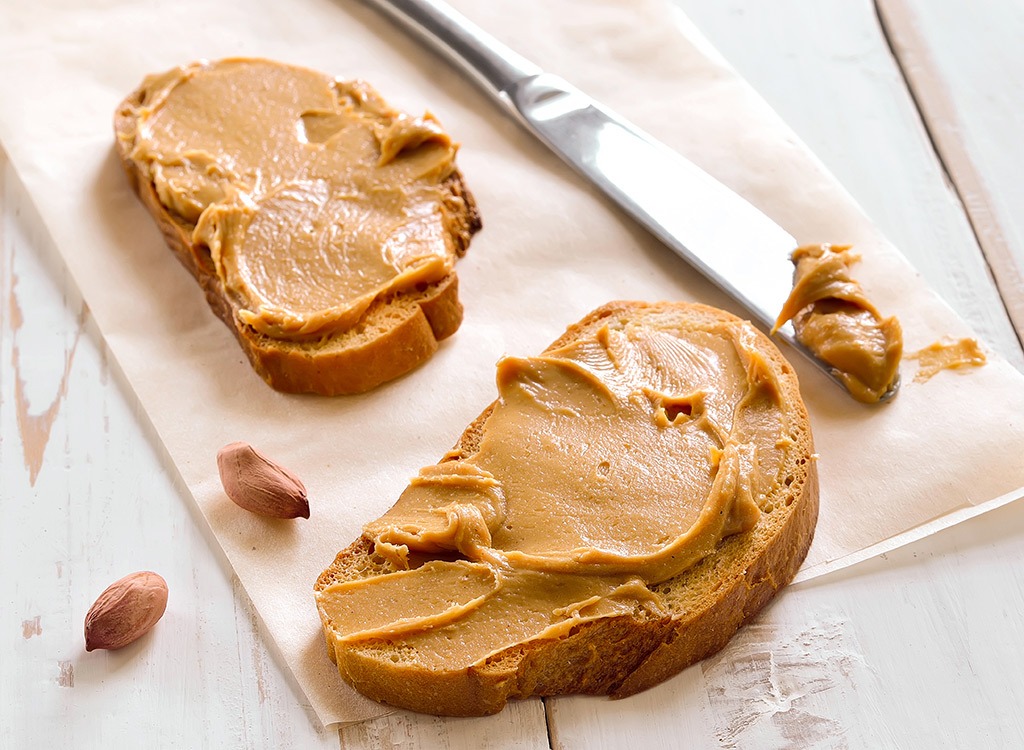 When it comes to nut butter, navigating your options can be overwhelming. It can be difficult to settle on the type of nut you want — peanut, almond, hazelnut, even macadamia nut can be found these days — and companies are now throwing in all kinds of add-ins from honey and chocolate to flaxseed and coconut to make your choice that much more challenging. Though all nuts offer similar health benefits, from reducing your risk for heart disease to promoting weight loss, they're caloric even when eaten in moderation. With the addition of sweet mix-ins, the calorie counts of new pimped-out varieties can easily get in the way of those healthy benefits.
Fear not. We've saved you from squinting from ingredient labels with our handy guide. Steer clear of these seven butters if you want to stay on track with your weight loss.
Not That!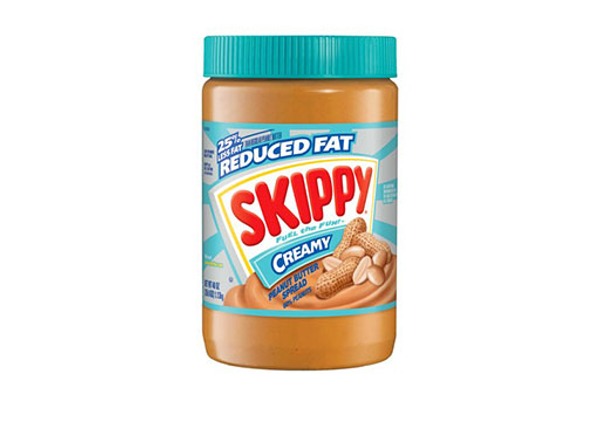 Reduced Fat Skippy Peanut Butter, 2 Tbsp
| | |
| --- | --- |
| Calories | 180 |
| Fat | 12 g |
| Saturated Fat | 2 g |
| Sodium | 170 mg |
| Carbs | 14 g |
| Sugar | 4 g |
| Protein | 7 g |
"Oddly enough, reduced-fat nut butters are generally not my preferred choice," says Angela Lemond , R.D.N., a spokesperson for the Academy of Nutrition and Dietetics. "Per serving, they're about the same in calories as full-fat varieties, but in order to compensate for the flavor loss in fat removal, they add in different carbohydrates. Some even add soy to bolster protein counts," she explains. Added carbs can negatively affect your blood sugar by causing spikes and dips, which can lead to increased cravings. Even worse, you're missing the healthy fat that could keep you feeling full, Lemond adds. Skip the reduced-fat and go for the real thing. The healthy fats in full-fat peanut butter will not only fight heart disease, but also help keep you from unhealthy snacks later in the day.
Not That!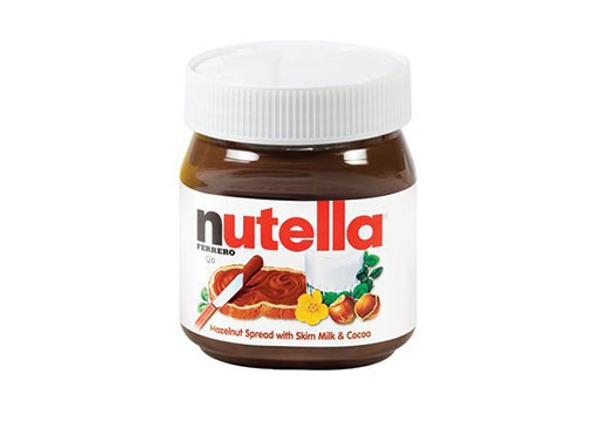 Nutella, 2 Tbsp
| | |
| --- | --- |
| Calories | 200 |
| Fat | 12 g |
| Saturated Fat | 4 g |
| Sodium | 15 mg |
| Carbs | 21 g |
| Sugar | 21 g |
| Protein | 2 g |
A container full of chocolate spread was bound to come with caveats. "Hazelnut spread is marketed as healthy, but it's loaded with sugar, packing a whopping 21 grams of the sweetener in 2 tablespoons," says Lemond. If you really enjoy hazelnuts, you're better off going for the nut in its whole form. On their own, hazelnuts offer healthy fats that increase feelings of satiety and are also rich in vitamin E, which can help reduce signs of aging. However, a 21-gram dose of sugar in a mere two tablespoons is sure to send your blood sugar and cravings for a loop. The added sugar can also contribute to weight gain if you're not careful. If you can't cut ties with this kind of spread, turn to a brand with less sugar like Justin's Hazelnut Spread, which has 8 grams of sugar per serving. But bear in mind that it's still considered high for a nut butter. Lemond recommends no more than three grams of sugar per serving. What it comes down to is: if you're really committed to your weight loss, it's best to move on.6254a4d1642c605c54bf1cab17d50f1e
Not That!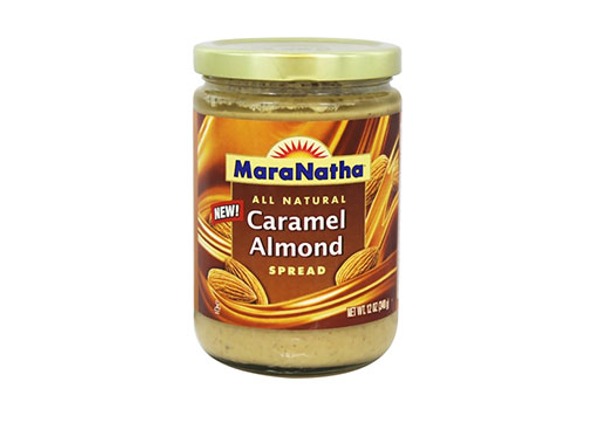 Maranantha Caramel Almond Spread, 2 Tbsp
| | |
| --- | --- |
| Calories | 190 |
| Fat | 14 g |
| Saturated Fat | 4 g |
| Sodium | 40 mg |
| Carbs | 13 g |
| Sugar | 11 g |
| Protein | 4 g |
Any food with "caramel" in the title probably won't fit into your healthy eating plan, unless it's considered a once-in-a-while treat. And with fancy nut butter, it's easy to need a reminder — we're used to thinking of them as a routine sandwich spread. A bare nut butter packs 160 to 200 calories without any add-ins, so calories to add up fast once the caramel is mixed in. Since your body turns excess sugar and calories into fat, relying on this jar as your go-to can easily lead to weight gain. Don't be swayed by its front panel, either. "It's easy to get caught up in health claims like 'organic', 'minimally processed', or even 'non-GMO', and overlook that there's something extra added — like organic cane sugar. Organic or not, it's still sugar," says Lemond.
Not That!
Roasted Honey Nut Skippy Peanut Butter, 2 Tbsp
| | |
| --- | --- |
| Calories | 200 |
| Fat | 16 g |
| Saturated Fat | 3 g |
| Sodium | 125 mg |
| Carbs | 6 g |
| Sugar | 3 g |
| Protein | 7 g |
Skippy peanut butters may evoke childhood memories, but most of them include unnecessary, unhealthy ingredients mixed in, too. "When companies add calorie- and sugar-laden ingredients that offer little nutrition like honey or chocolate, what potentially started out as a good nut butter can quickly go south," says Lemond. Roasted peanuts appear first on this jar's label, but they're quickly followed by two sweeteners: honey and sugar. You'll also find hydrogenated vegetable oil, a supposed stabilizing agent that actually prevents you from being your healthiest self. Hydrogenated oil is just a fancy word for trans fat, the unhealthy fat that can raise bad cholesterol levels and promote inflammation in the body. Save your sweets for dessert, and choose a nut butter that only contains nuts (and maybe a little sea salt) for the clean spread you can feel good about.
Not That!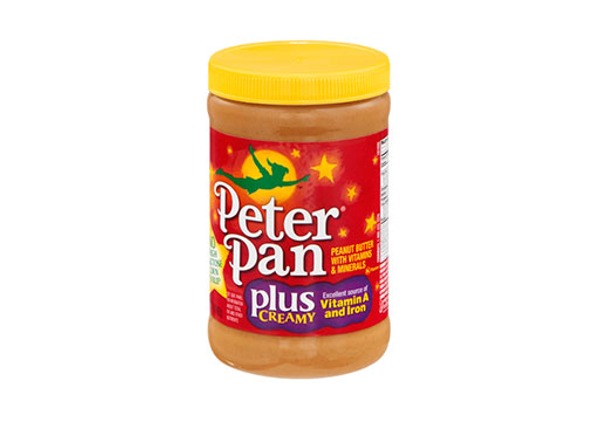 Peter Pan Creamy Plus Peanut Butter, 2 Tbsp
| | |
| --- | --- |
| Calories | 210 |
| Fat | 17 g |
| Saturated Fat | 3 g |
| Sodium | 140 mg |
| Carbs | 7 g |
| Sugar | 3 g |
| Protein | 7 g |
One serving, or two tablespoons, of nut butter should be no more than the size of a golf ball. Most nut butters clock in around 180 calories per serving, but this jar will bring you over the 200 mark for just one spoonful. When you're watching your weight, calories are crucial and every little bit adds up. It also hits the three-gram max sugar quota when it comes to nut butters, with sugar as the second ingredient. Plenty of options exist with two grams or less in the nutter butter aisle, so spring for those instead. Furthermore, while this jar boasts added vitamins and minerals on the label, it fails to highlight the fact that it also contains hydrogenated vegetable oils, and while the amount may be small, any added trans fats to your diet could negatively affect your health.
Not That!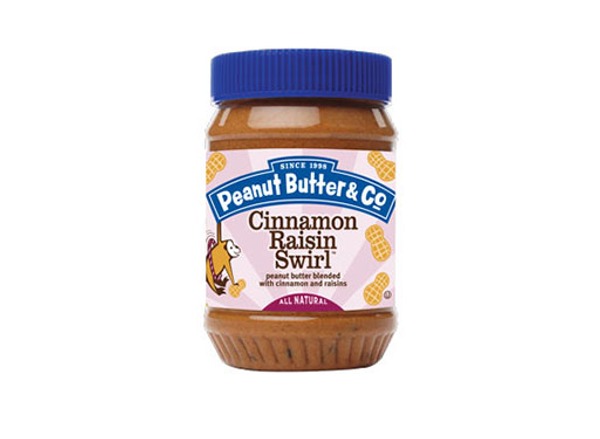 Peanut Butter & Co Cinnamon Raisin Swirl, 2 Tbsp
| | |
| --- | --- |
| Calories | 160 |
| Fat | 11 g |
| Saturated Fat | 2 g |
| Sodium | 35 mg |
| Carbs | 13 g |
| Sugar | 9 g |
| Protein | 6 g |
Though admittedly delicious, this PB spread has as much sugar as nearly three Oreo cookies and triple the amount Lemond suggests for a reasonable, healthy nut butter. The dead giveaway: the second ingredient on this jar's nutrition label is dried cane syrup — a fancy way of saying "sugar." So, while it may be non-GMO and be free of hydrogenated oils, trans fats, or high fructose corn syrup, this nut butter still packs too much sugar.