16 Worst Foods and Drinks at Starbucks
Beware: There are some hidden bad boys on your favorite coffee shop's menu...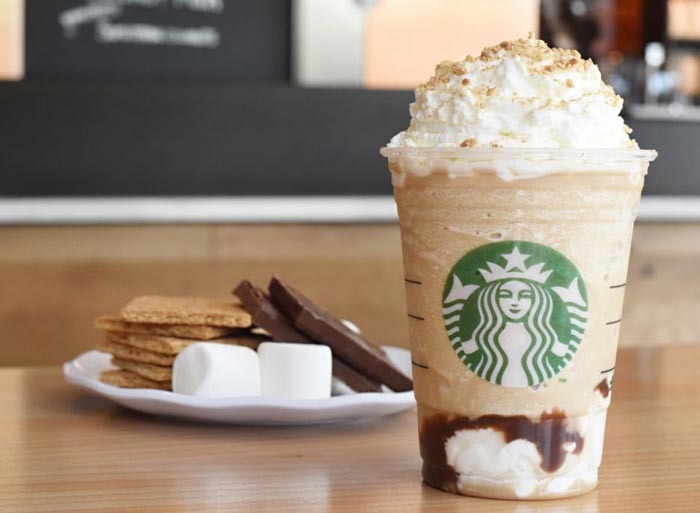 Years ago, you'd walk into a coffee shop and leave with, well, a cup of coffee—or maybe a green tea. But times have seriously changed. Now you can snag breakfast, lunch, dinner, and dessert in your neighborhood Starbucks—and you don't even have to get out of your car to place your order.
While we love that we can nab a KIND bar, a container of Siggi's, or a piece of fruit with our daily cuppa Joe, we can't say we love all the hidden calorie bombs lurking on Starbucks' ever-expanding menu. To help you steer clear of the sneaky saboteurs, we dug up the worst of the lot and are exposing them for what they truly are: pure junk. Read on to find out what they are and vow to steer clear—especially if you're trying to lose weight or improve your health. And if you're looking for even more ways to stay on track at your favorite java joint, don't miss our special report, 20 Easy Ways to Stay Slim at Any Coffee Shop.
FIRST, THE FOOD
Sausage & Cheddar Breakfast Sandwich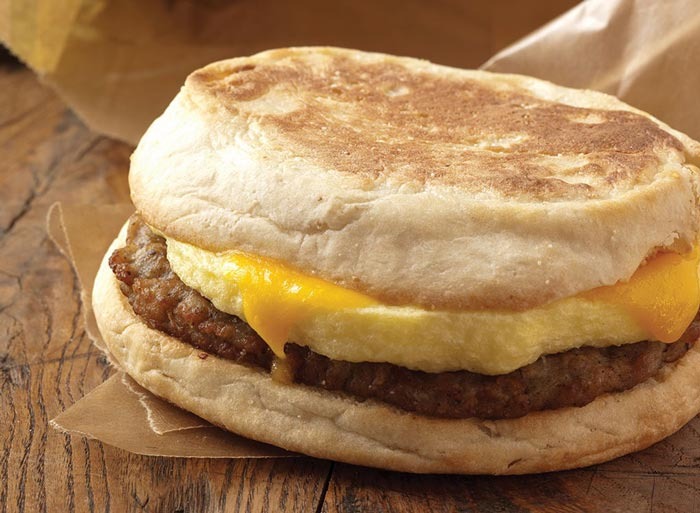 500 calories, 28 g fat, 9 g saturated fat, 920 mg sodium, 41 g carbs, 1 g fiber, 3 g sugar, 15 g protein
Of all the breakfast at sandwiches at Starbucks, this one contains the most belly-bloating salt and nutrient-void carbs. With worse nutritionals than any other sandwich, this should truly be your last choice from the many hot breakfasts you have available to you.
Spicy Chorizo, Monterey Jack & Egg Breakfast Sandwich
500 calories, 30 g fat, 9 g saturated fat, 860 mg sodium, 35 g carbs, 3 g fiber, 3 g sugar, 26 g protein6254a4d1642c605c54bf1cab17d50f1e
Another pass on the breakfast menu is this spicy Tex-Mex inspired offering. Get this: It actually has more fat than 17 slices of sizzling bacon! Since no one should consume that much pork in one sitting, consider this morning sammy a hard pass. And to find out how all of the coffee chain's breakfast offerings stack up, don't miss our report, The Entire Starbucks Breakfast Menu—Ranked.
All the Trimmings Breakfast Sandwich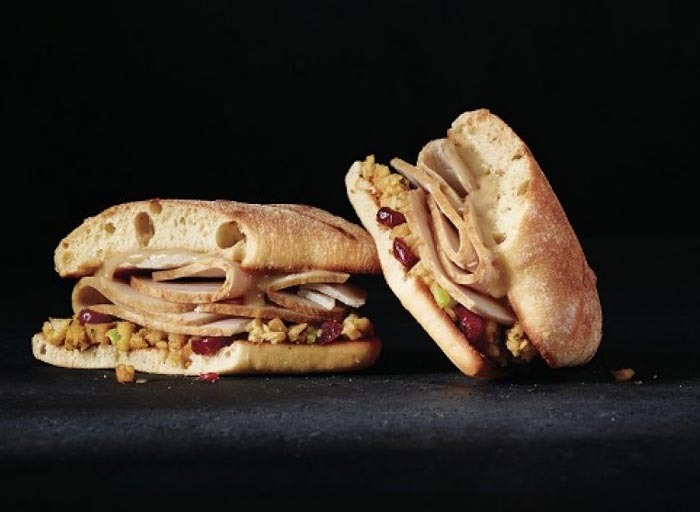 450 calories, 20 g fat, 6 g saturated fat, 780 mg sodium, 48 g carbs, 2 g fiber, 8 g sugar, 17 g protein
There's a reason the holidays only come once every 12 months: the food is far too rich and fatty to eat year round. Unfortunately for your gut, however, Starbucks never got that memo. They pack the very foods you shouldn't eat in excess—holiday ham, stuffing, and globs of butter—into a breakfast sandwich that contains more fat and salt than health-improving nutrients. To make matters worse, the ham is processed with sodium nitrite, which is one of these 23 Worst Additives In America. The preservative is added to food to prevent bacterial growth and maintain the pinkish color of meat—but it's far from safe. Once it joins with amino acids (which are abundant in meat), they can form cancer-causing chemicals called nitrosamines.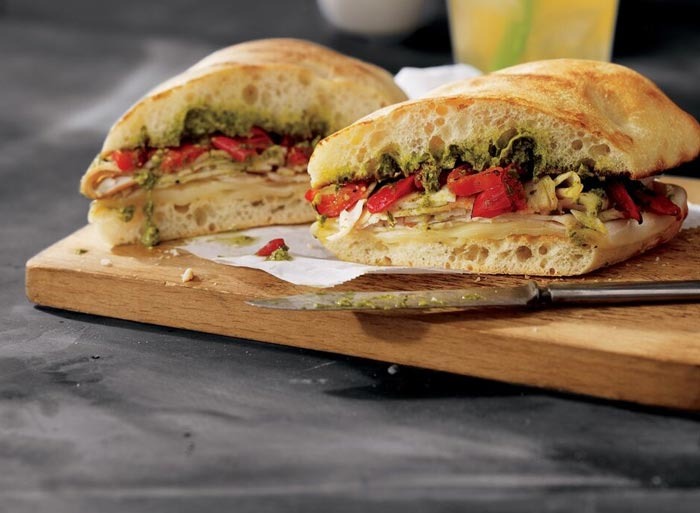 520 calories, 21 g fat, 6 g saturated fat, 1,180 mg sodium, 46 g carbs, 2 g fiber, 2 g sugar, 29 g protein
Salt is used five different times in the making of this option, which explains why the sodium content is sky high. To makes matters worse, this sandwich also contains more than 30 percent of the day's fat—without providing any filling nutrients in return. Two grams of fiber in a meal with 46 grams of carbs? That's hardly what we'd call a nutritious dish. If you can't help but indulge in this panini, consider saving half for the next day and pairing it with something that contains some fiber and vitamins—like the harvest blend fruit cup, a banana, or some fresh veggie sticks from home.
Ancho Chipotle Chicken Panini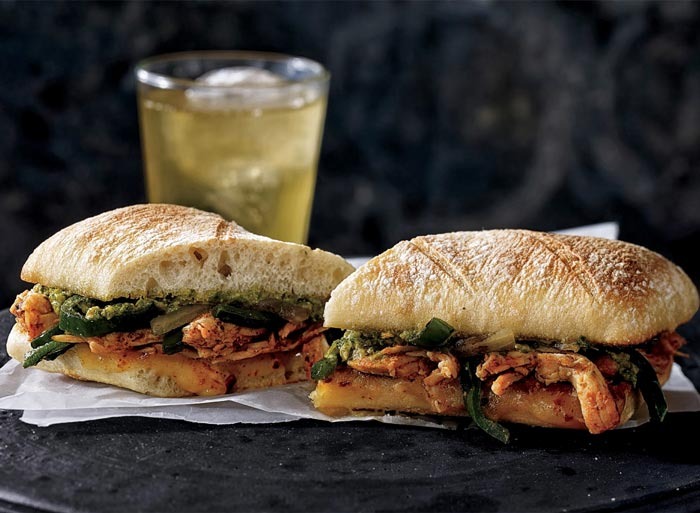 500 calories, 19 g fat, 7 g saturated fat, 1,030 mg sodium, 57 g carbs, 4 g fiber, 3 g sugar, 26 g protein
Apparently to the folks at Starbucks, Southwestern is synonymous with salt. This ancho-chipotle smothered panini contains more sodium than not 10, not 20, but 121 Cheez-Its! It also has a ton of fat (and we're not talking about the healthy kind) and so many empty carbs that you'll want to take a siesta as soon as you're done eating. Just say no; there are far better options on the S'bux lunch menu, like the Zesty Chicken & Black Bean Salad Bowl, which contains grilled chicken, black beans, roasted corn, jicama, tomatoes, feta, greens, and quinoa (one of these 25 Best Carbs for Weight Loss).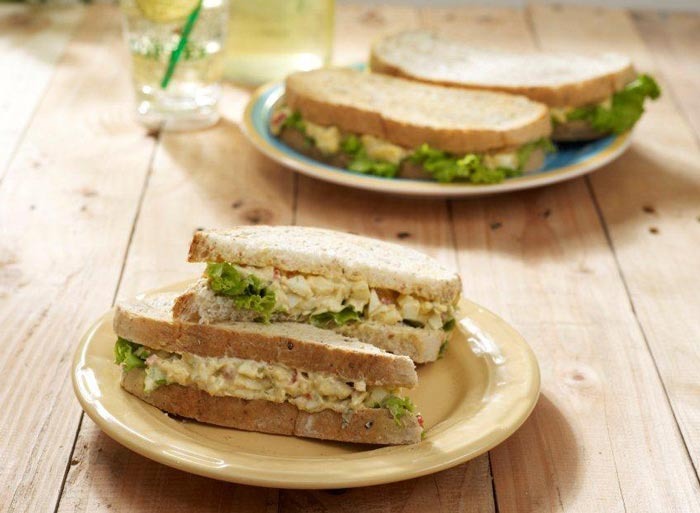 480 calories, 27 g fat, 5 g saturated fat, 860 mg sodium, 42 g carbs, 7 g fiber, 5 g sugar, 16 g protein
The bread this sandwich is built upon contains caramel color, an additive made by treating sugar with ammonia, which can produce some nasty chemicals. Many of which have been proven to cause cancer in animals. In 2011, the International Agency for Research on Cancer deemed the additive to be "possibly carcinogenic to humans." It's a killer sandwich, but not in a good way…
Chocolate Marble Loaf Cake
490 calories, 24 g fat, 13 g saturated fat, 1 g trans fat, 110 mg sodium, 64 g carbs, 2 g fiber, 43 g sugar, 6 g protein
Not only does this cake contain artery-harming trans fat, it also contains more calories than some of the sandwiches served at the chain. If that doesn't illustrate just how over-indulgent this sinfully over-the-top dessert, is we're not sure what will.
Reduced-Fat Cinnamon Swirl Coffee Cake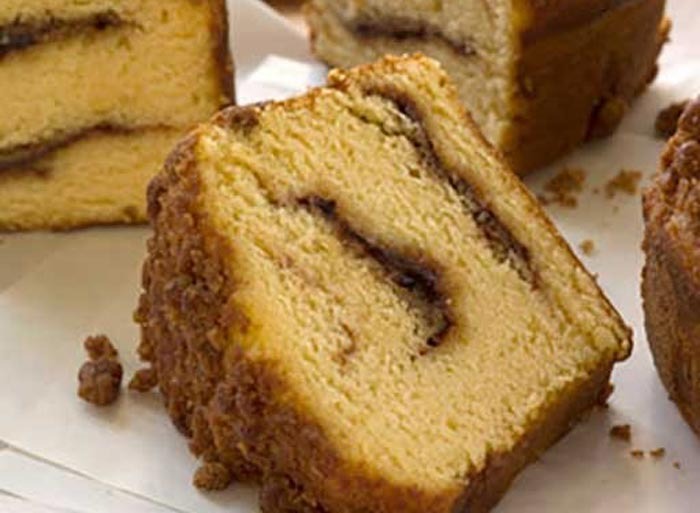 370 calories, 9 g fat, 5 g saturated fat, 280 mg sodium, 67 g carbs, 2 g fiber, 41 g sugar, 5 g protein
We know, we know; this one's a fan favorite! But don't let the reduced fat title fool you; it's still not a healthy pick. When food manufacturers remove fat from food, they often add extra sugar to make up for the loss of flavor. And that's exactly what's going on here. A whopping 41 grams of the sweet stuff on one tiny slice is far too much–that's what' you'd find in 10 Domino sugar packets! Surprising, right? For even more stealthy foods that are packed with the sweet stuff, don't miss our report, 25 Restaurant Foods with Crazy-High Amounts of Sugar.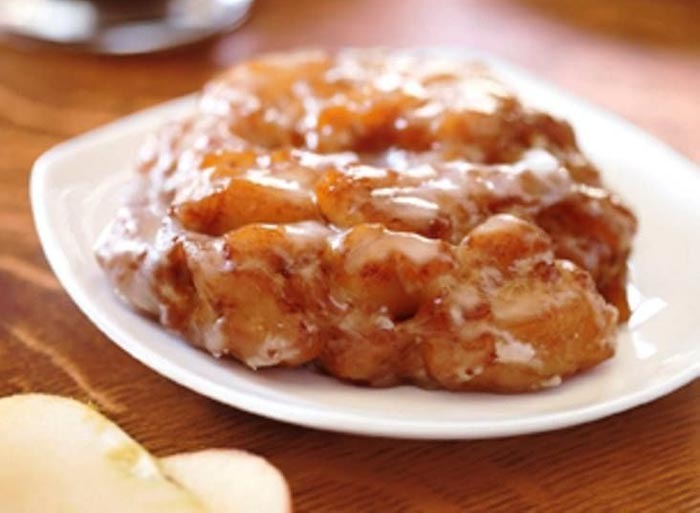 460 calories, 23 g fat, 11 g saturated fat, 420 mg sodium, 56 g carbs, 2 g fiber, 22 g sugar, 7 g protein
Fritter is just a fancy way of saying that something is fried. That said, it shouldn't come as a surprise that the apple fritter from your favorite coffee joint made the naughty list. Remember: No matter what your diet goals may be, globs of sugar, excess fat, and a truckload of calories do not make a healthy snack. Want to stock up on Eat This-approved bites? Don't miss our report, 20 Best Packaged, Low-Carb Snacks for Weight Loss.
470 calories, 20 g fat 9 g saturated fat, 0.5 g trans fat, 310 mg sodium, 68 g carbs, 1 g fiber, 42 g sugar, 6 g protein
The classic recipe for a pound cake is one pound each of butter, eggs, flour, and sugar—and this factory-made recipe is no exception. In fact, one slice contains the sugar equivalent of 15 yellow Starbursts!
NOW, THE DRINKS
S'mores Frappuccino Blended Coffee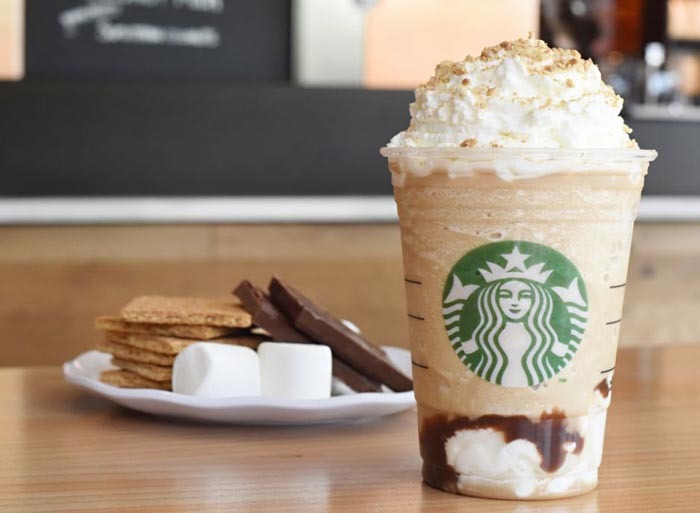 590 calories, 22 g fat, 12 g saturated fat, 0.5 g trans fat, 290 mg sodium, 94 g carbs, 0 g fiber, 88 g sugar, 6 g protein (venti, whole milk, whipped cream)
Frappuccino is the second worst F-word in our vocabulary—maybe even the worst—when you're talking about the S'mores Frappuccino. Even if you downed 14 Chips Ahoy cookies, you still wouldn't consume as much sugar as you would slurping this drink.
580 calories, 26 g fat, 17 g saturated fat, 0.5 g trans fat, 69 g carbs, 0 g fiber, 67 g sugar, 18 g protein (venti, whole milk whipped cream)
How'd you like to start your day with seven pastries' worth of sugar? That's what you'll be downing if you get to the bottom of a venti whole milk white chocolate mocha with whipped cream. Are your hands shaking yet? Next time you're craving something creamy, get a venti whole milk cappuccino instead. This simple swap will save you 390 calories and more than 50 grams of sugar.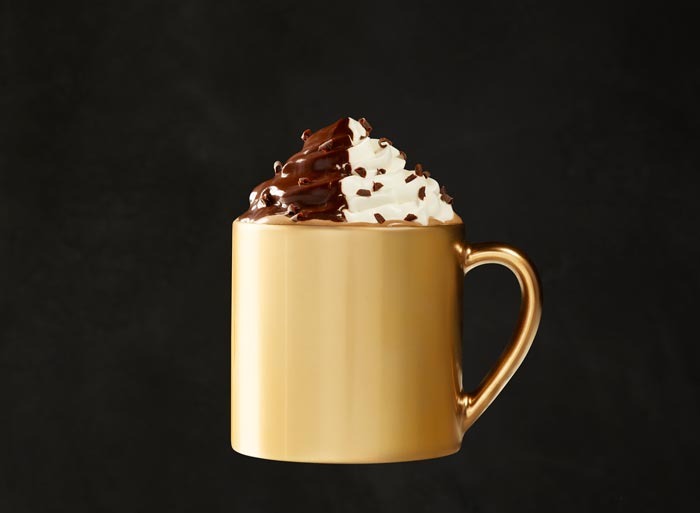 580 calories, 22 g fat, 15 g saturated fat, 0.5 g trans fat, 300 mg sodium 77 g carbs, 3 g fiber, 72 g sugar, 20 g protein (venti, 2% milk, whipped cream)
Dark and white chocolate swirl together along with a "mocha drizzle" to create a sweet hot cocoa beverage that has more calories than seven blueberry waffles! If you're looking to add an extra layer of fat to stay warm through the winter this drink can definitely help you reach your goal—as can these 50 Little Things Making You Fatter and Fatter.
Iced Salted Caramel Mocha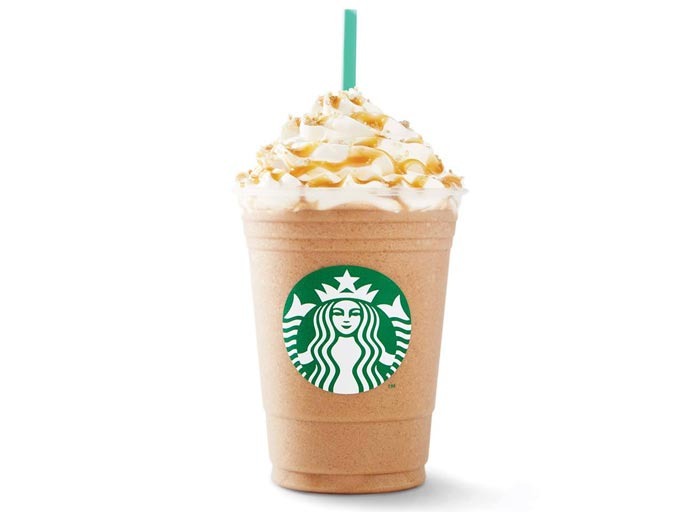 600 calories, 23 g fat, 13 g saturated fat, 0.5 g trans fat, 410 mg sodium, 88 g carbs, 0 g fiber, 75 g sugar, 12 g protein (venti, whole milk, whipped cream)
Espresso, milk, and loads of sugar-spiked flavor syrups are to blame for this caloric calamity. You could down three vanilla cones from McDonald's before you'd consume the same amount of calories and sugar that are found in this drink. If you wouldn't dare eat that much ice cream, you should stay away from this overly indulgent excuse for a beverage.
Cotton Candy Crème Frappuccino Blended Crème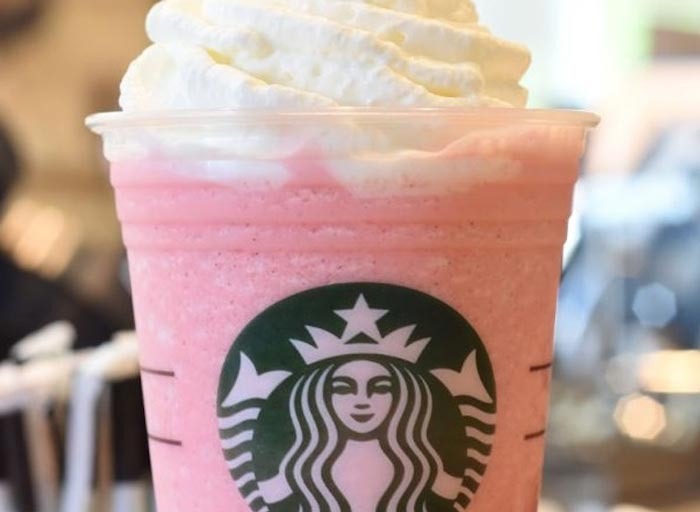 520 calories, 18 g fat, 11 g saturated fat, 320 mg sodium, 85 g carbs, 0 g fiber, 83 g sugar, 7 g protein
Considering this drink is named after a sugary fair food, you had to know it was going to be full of the sweet stuff, right?
Green Tea Crème Frappuccino Blended Crème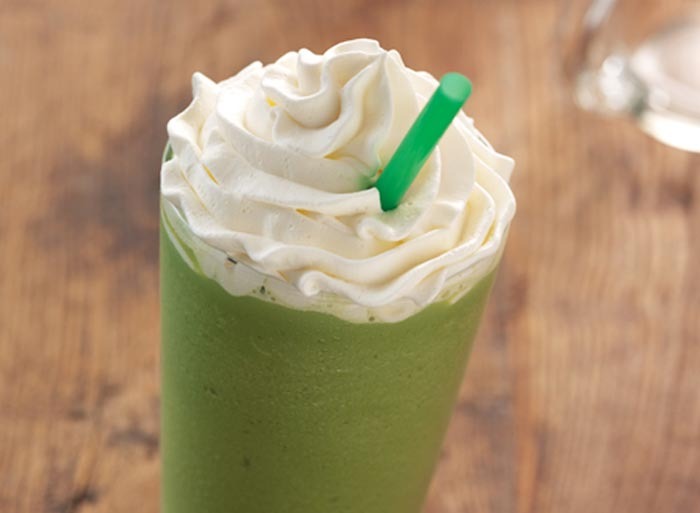 550 calories, 18 g fat, 11 g saturated fat, 320 mg sodium, 91 g carbs, 2 g fiber, 88 g sugar, 8 g protein
In its purest form, green tea is a potent weight loss ingredient. But once it's mixed with sugar, milk, and whipped cream, its health benefits become seriously diminished. Anything with 88 grams of sugar and more calories than a Big Mac (yes, seriously) isn't something we would ever recommend.