10 Worst Starbucks Drinks, According to Dietitians
These Starbucks drinks aren't always worth it when it comes to calories, fat, and sugar.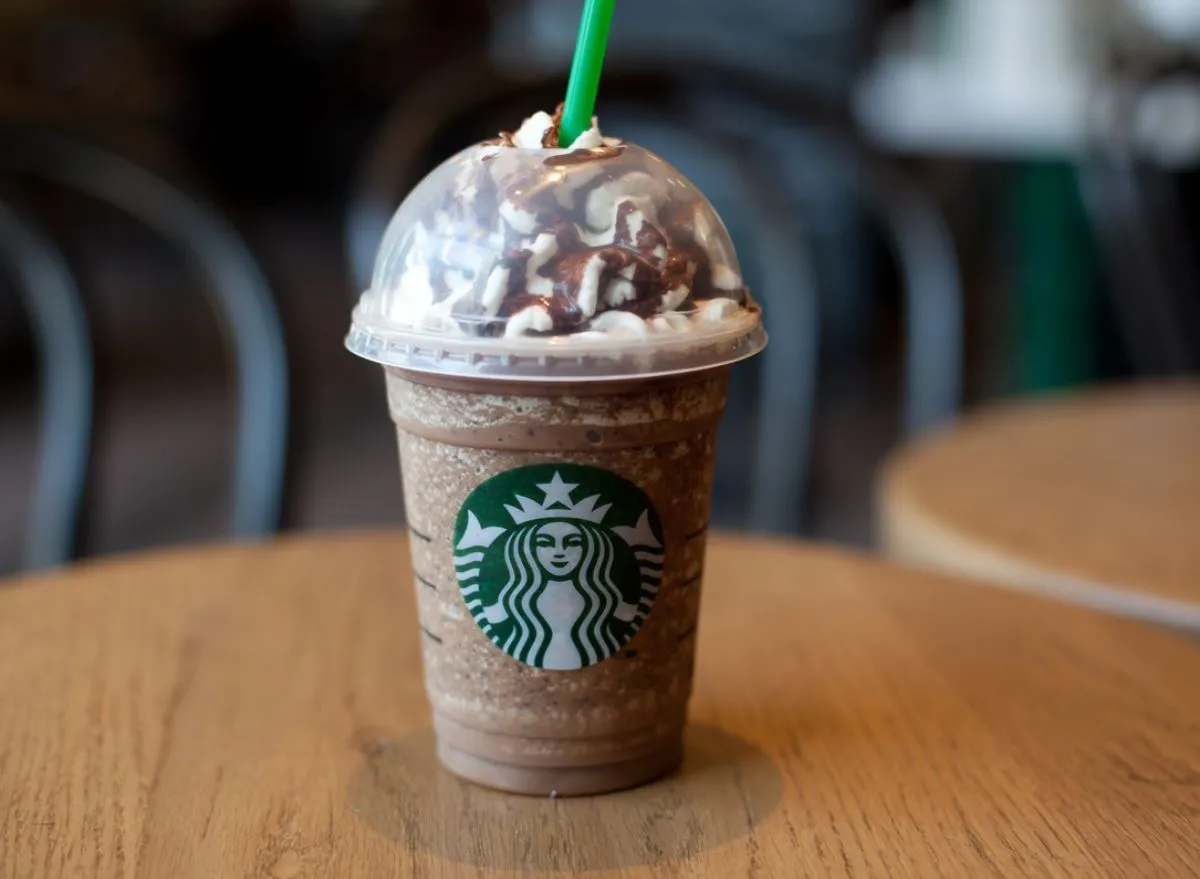 Are you a latte-loving lady or a fella who can't get enough of frosty frappuccinos? If so, there's a good chance that you regularly enjoy a drink from Starbucks. Even celebrities are fond of the popular coffee-peddling brand. That includes actor Pedro Pascal, whose preferred order contains more caffeine than you could likely imagine. But even if you don't opt for six shots of espresso like The Mandalorian star (yes, six!), there are certain Starbucks drinks that aren't exactly something you should be consuming on a daily basis. Frankly, there are some that dietitians consider downright unhealthy and the worst Starbucks drinks out there.
"Starbucks drinks often use ingredients that sound healthy—like dragonfruit, sea salt, and matcha cream," says Meghan Novoshielski MS, RDN, nutrition expert at Set for Set, while pointing out that these drinks can actually "be loaded with sugar and fat." She adds, "It's common for people to forget about the calories and sugar in beverages, as we're usually more focused on our food intake. But, one grande caramel frappuccino contains more than double the amount of sugar you should eat in an entire day."
On top of that, Michelle Rauch MS RD, registered dietitian in the NY/NJ metro area for the Actors Fund Home, tells us, "Starbucks offers a wide variety of beverage items—many of which are customizable. It is easy to turn a basic coffee into a high-calorie, fat-laden beverage." That's why it's important to be aware of what you're about to drink before you make your order and start adding on extras.
Novoshielski also notes that "No one's saying you can't enjoy a sweet treat once in a while, but here are a few Starbucks drinks you should avoid on your regular coffee run."
Mocha Cookie Crumble Frappuccino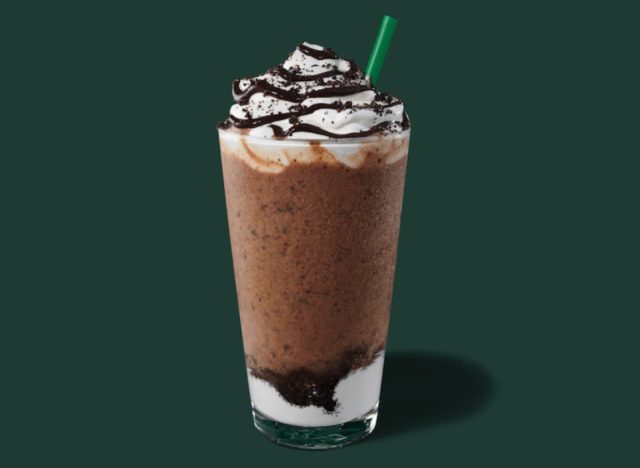 Per grande size
: 480 calories, 24 g fat (15 g saturated fat), 270 mg sodium, 62 g carbs (2 g fiber, 55 g sugar), 6 g protein
From the Vanilla Bean Creme Frappuccino to the Java Chip Frappuccino, not to mention the Double Chocolatey Chip Frappuccino and the Matcha Green Tea Creme Frappuccino, Starbucks seems to have a Frappuccino that suits any personal preference and palate. The range of options may, in part, be due to the fact that although it was once an incredibly popular option, people aren't drinking as many frappuccinos as they used to. In fact, after rising in popularity in 2015, sales of the drink were falling by 2018. The reason? They're so unhealthy. Starbucks CEO Kevin Johnson explained, "[H]ealth and wellness is not a new trend, but I think it's a contributing factor to why the category is declining, not just for us, but for everybody."
"The Mocha Cookie Crumble Frappuccino as listed contains 480 calories, 55 grams of sugar, and 24 grams of fat (Grande—16oz) without customizations," Rauch says, while mentioning one of the icy cool (but calorie-packed) choices. She also notes that "This is the same amount of sugar as eating almost nine Oreo Cookies and more sugar than two regular-sized (47 grams) Snickers bars." It's also "the same amount of fat as a large order of McDonald's french fries." She adds that the "15 grams of Saturated Fat is 'bad' fat when eaten in excess" and "can lead to high cholesterol levels."
White Chocolate Mocha Frappuccino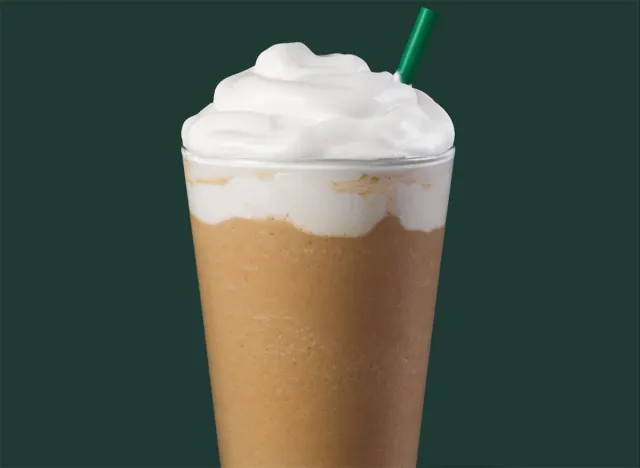 Per grande size
: 420 calories, 17 g fat (11 g saturated fat), 260 mg sodium, 61 g carbs (0 g fiber, 61 g sugar), 5 g protein
The White Chocolate Mocha Frappuccino is another item on the chilly side of the Starbucks menu and comes close to rivaling the Mocha Cookie Crumble when it comes to the number of calories it contains. Indeed, along with 420 calories, Rauch notes that "This drink has more saturated fat than a McDonald's Big Mac (8 grams) and more sugar than a 16-ounce bottle of Coke (44 grams)."
Novoshielski also mentions the White Chocolate Mocha Frappuccino while discussing drinks that you might want to be wary of, saying that "At 61 grams of sugar in a grande size, this is the highest-sugar Frappuccino on the Starbucks Menu."
Caramel Ribbon Crunch Frappuccino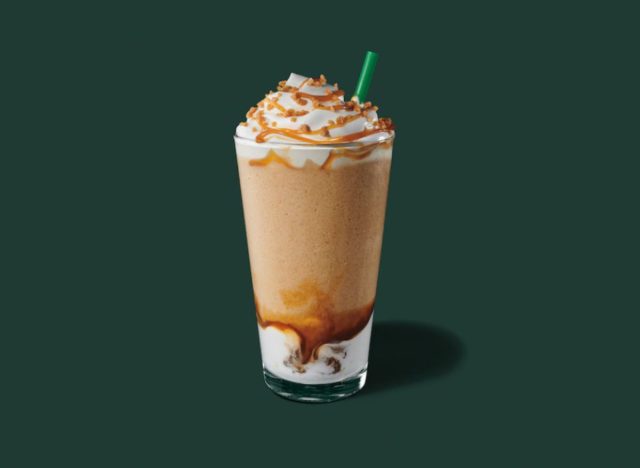 Per grande size
: 470 calories, 22 g fat (14 g saturated fat), 280 mg sodium, 65 g carbs (0 g fiber, 60 g sugar), 5 g protein
Starbucks describes its Caramel Ribbon Crunch Frappuccino as "oh-so-beautifully delicious." That's understandable when you realize it delights your tastebuds with coffee and milk that's combined with ice as well as "dark caramel sauce, whipped cream, caramel drizzle, and a crunchy caramel-sugar topping." Of course, it wouldn't be complete without the "buttery caramel syrup" that acts as the blended base for this rich dessert-like menu item.
"The Caramel Ribbon Crunch Frappuccino as listed (16-ounce grande) without customizations has 470 calories, 60 grams of sugar, and 22 grams of fat (14 grams of which are saturated fat)," says Rauch. To put this into perspective, she points out that "This Starbucks drink has the same number of calories as a Wendy's medium chocolate Frosty (470 calories), almost the same amount of sugar (65 grams), and almost twice the amount of fat (12 grams)."
Hot Chocolate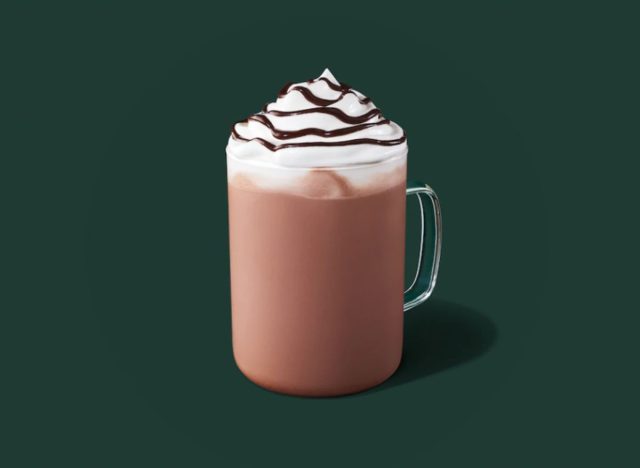 Per grande size
: 370 calories, 16 g fat (10 g saturated fat), 160 mg sodium, 43 g carbs (4 g fiber, 37 g sugar), 14 g protein
Hot chocolate is always a treat. However, the Starbucks Hot Chocolate might be too much of an indulgence, or rather, an overindulgence. That's because this particular version of the classic beverage has 370 calories, 37 grams of sugar, and 16 grams of fat. Although that might seem extreme on its own, those numbers don't factor in the fact that plenty of people want more than the basic version of the beverage.
Frankly, those amounts can change considerably when you start adding extras like sprinkles and drizzles. Starbucks customers will also be aware that you can opt for either (or both) of their caramel crunch and cookie crumble toppings, which boost up the number of calories, sugar, and fat. Because of this, Rauch says, "It's no wonder it tastes so decadent."
White Hot Chocolate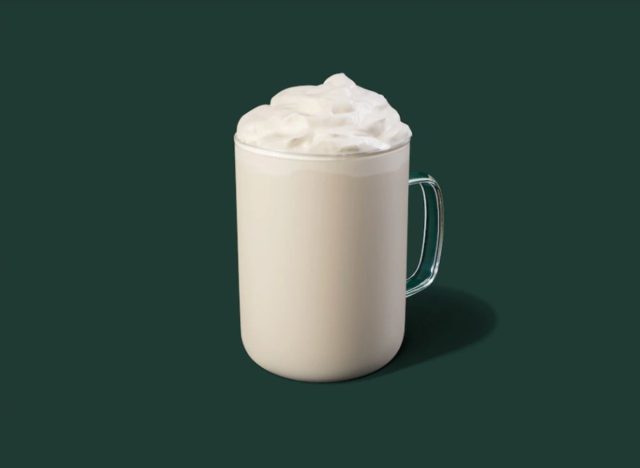 Per grande size
: 440 calories, 19 g fat (13 g saturated fat), 260 mg sodium, 55 g carbs (0 g fiber, 55 g sugar), 15 g protein
If you prefer white chocolate—which relies on cocoa butter instead of cocoa powder to create its temptingly sweet taste—then you might be hoping that Starbucks White Hot Chocolate is healthier than the classic hot chocolate. However, that's not the case at all. The drink, which is made with a white chocolate sauce and steamed milk before being topped with whipped cream, has even more calories, more sugar, and more fat than the darker version.
To be more specific, the hot chocolate has 370 calories compared to the white hot chocolate's 440 calories. The former also has 37 grams of sugar and 16 grams of fat, while the latter has 55 grams of sugar and 19 grams of fat. One is clearly a better choice than the other, although neither is ideal.
Iced Cinnamon Dolce Latte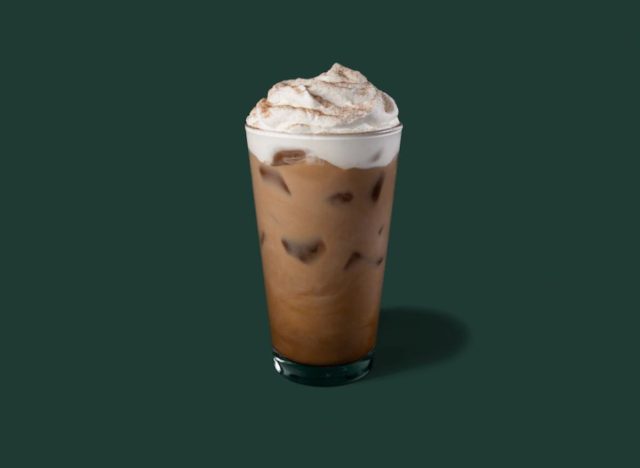 Per grande size
: 300 calories, 13 g fat (8 g saturated fat), 115 mg sodium, 38 g carbs (0 g fiber, 35 g sugar), 8 g protein
When it comes to Starbucks' Iced Cinnamon Dolce Latte, milk and espresso are combined with whipped cream and both cinnamon dolce-flavored syrup and cinnamon dolce topping to kick up the caffeine and sweet flavor that you expect, along with ice to keep things cool. On the other hand, the hot Cinnamon Dolce Latte offers you the same sweetly spiced flavor minus the ice.
Unfortunately for anyone who calls either one their favorite, Novoshielski says, "Both versions [hot and cold] provide 300 calories or more in the grande size, nearly 40% of which come from fat. Plus, each drink is packed with 35 to 40 grams of sugar."
Acai Lemonade Starbucks Refresher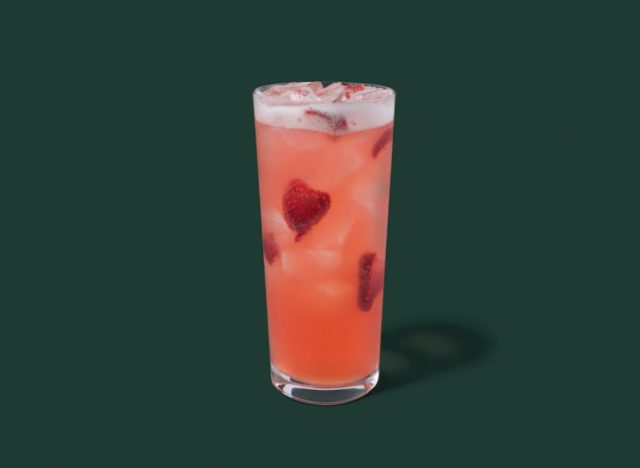 Per grande size
: 140 calories, 0 g fat (0 g saturated fat), 15 mg sodium, 35 g carbs (1 g fiber, 32 g sugar), 0 g protein
Starbucks offers a range of fruity refreshers, including a Mango Dragonfruit Refresher and the Pineapple Passionfruit Lemonade Refresher. As well as having deliciously enticing names and looking as good as they taste, opting for a drink that focuses on fruit may seem like a better option than one that relies on chocolate. However, this isn't necessarily true.6254a4d1642c605c54bf1cab17d50f1e
The same can surely be said about the Strawberry Acai Lemonade Starbucks Refresher. Strawberries are healthy, as are lemons, are they not? Yes, indeed. That's on top of the fact that acai bowls are a popular health dish, which would likely lead you to believe that it is also the kind of ingredient that will give your body a boost. However, Novoshielski says that while this drink "sounds light and healthy," she points out that "there is more than a day's worth of sugar in a 16-ounce size."
Caramel Apple Spice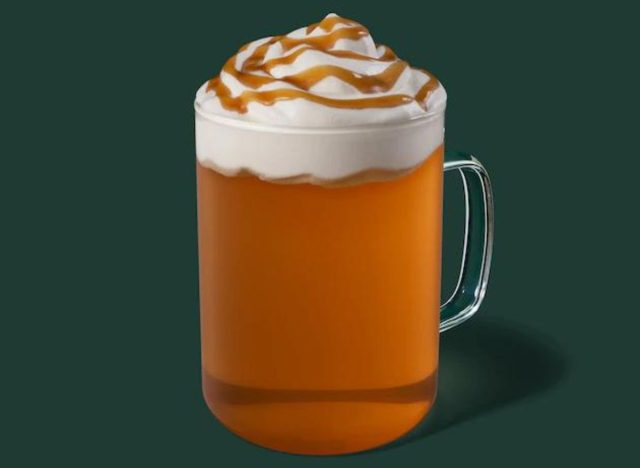 Per grande size
: 380 calories, 8 g fat (5 g saturated fat), 35 mg sodium, 77 g carbs (0 g fiber, 70 g sugar), 1 g protein
You might also assume that ditching caffeine is a way to make a drink healthier, and the Caramel Apple Spice from Starbucks is likely able to win customers over with its apple juice, vanilla syrup, cinnamon dolce syrup, caramel sauce, heavy cream, and whipped cream. Um, yum! Yet, Novoshielski says, "Sure, it's caffeine-free, but this steamed juice drink is flavored with sugar-laden syrups that deliver a whopping 70 grams of sugar in each grande order."
Pistachio Latte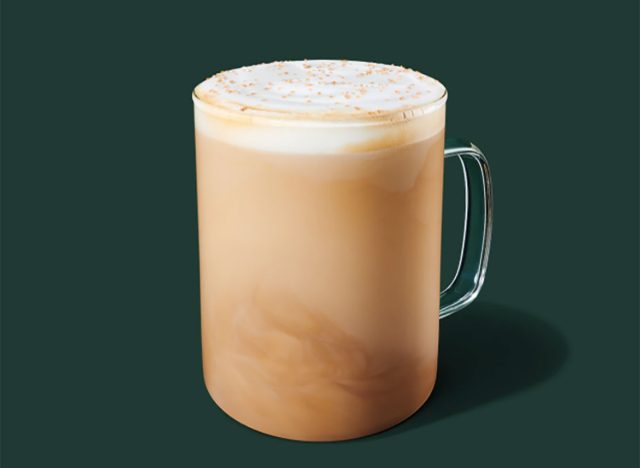 Per grande size
: 320 calories, 9 g fat (5 g saturated fat), 310 mg sodium, 48 g carbs (0 g fiber, 45 g sugar), 12 g protein
There are reasons why the Starbucks Pistachio Latte might not be the best choice for those who are looking for a healthier option.
If you tend to order a Pistachio Latte whenever you need a nutty pick-me-up,  you should be aware of the fact that, as Novoshielski tells us, "Four pumps of pistachio sauce plus a salted brown butter topping means this drink provides over 300 calories and nearly twice the sugar you should have in an entire day." That's right, for the entire day! Obviously, that's way too much to be drinking on a regular basis, or even in one sitting.
Pumpkin Spice Frappuccino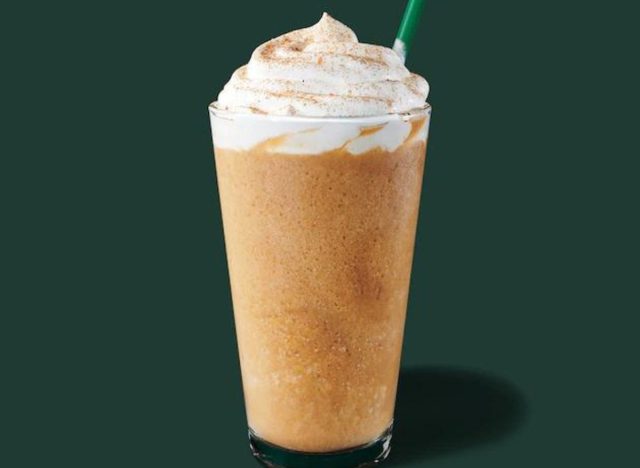 Per grande size
: 420 calories, 15 g fat (9 g saturated fat), 280 mg sodium, 66 g carbs (0 g fiber, 65 g sugar), 6 g protein
Pumpkin Spice Latte—or PSL if you're savvy when it comes to the kind of Starbucks lingo that lets others know you're a regular—first hit the scene back in 2003. In the following years, it came to dominate the seasonaly themed offerings from the brand. In fact, as it went on to become a fall flavor-fueled phenomenon, the brand had sold over 600 million of the wildly trendy beverages by August 2022, according to CNN Business.
Indeed, we know you love it so we hate to say it, but the Pumpkin Spice Latte isn't exactly the healthiest drink around and the same goes for the Frappuccino-ized version of this popular menu item. Although Starbucks tells you to "think of it as the ultimate fall care package," it's something that might make you feel good every once in a while, but not if you drink it daily, due to the 420 calories and 15 grams of fat in each drink.
Desirée O
Desirée O is a freelance writer who covers lifestyle, food, and nutrition news among other topics.
Read more about Desirée