13 Long-Lost Foods from the '80s That Will Stoke Your Nostalgia
From loose meat sandwiches to hot buttered cheerios.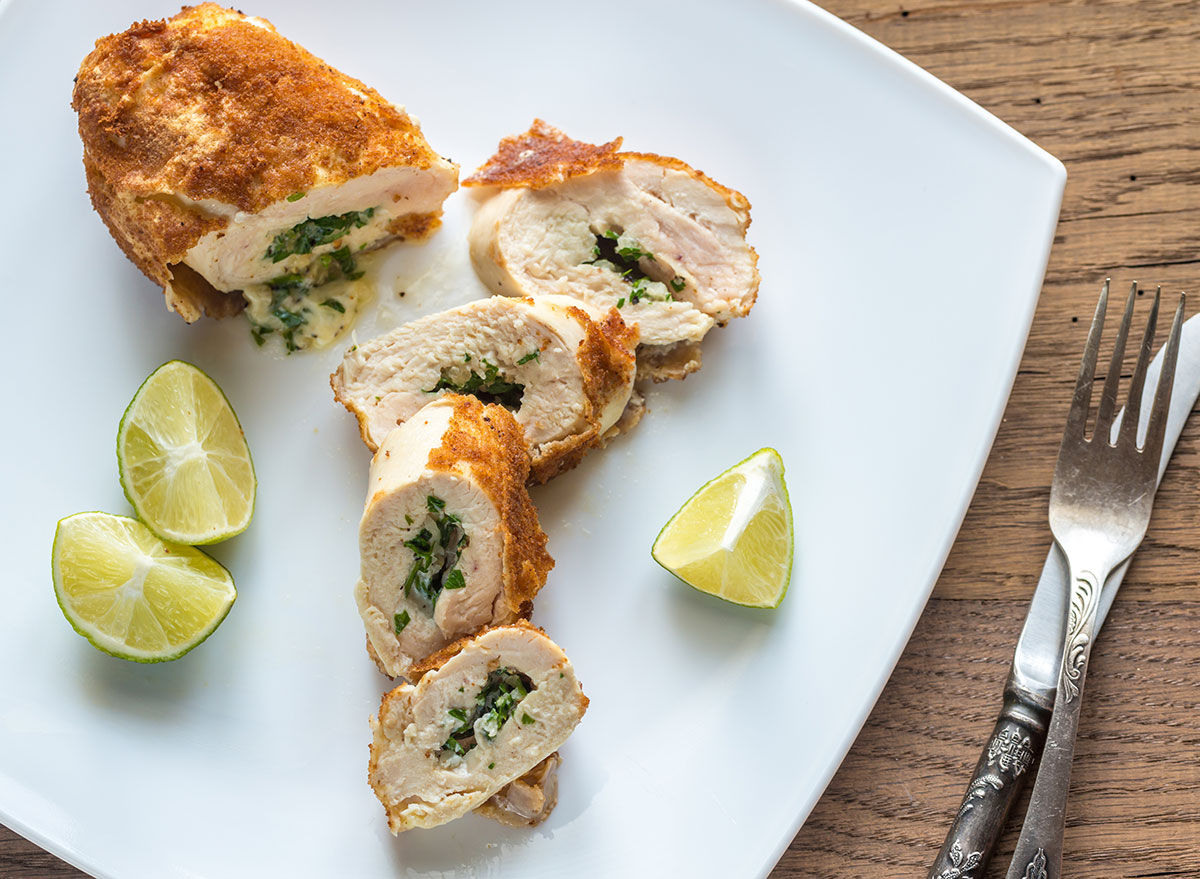 The 1980s gave us the first disposable camera, Dirty Dancing, and dozens of classic rock hits. Food-wise, it was at once the era of convenience-driven microwave dinners and the newly popular global-inspired fine dining. The latter kicked off some trends that are alive and well today (think sushi, quiche, and pesto). Put on your neon leg warmers and reminisce on these iconic home-cooked staples and restaurant staples from the 1980s.
It may not be the cover girl of sandwiches, but this combination of ground meat, onions, ketchup, and Worcestershire sauce was a staple in many American homes in the '80s. The origin is somewhat unknown, but legend has it that the current iteration evolved from an Iowa man's original sandwich enticingly called a "loose meat sandwich." Suddenly craving ground beef? Try our best ground beef recipes.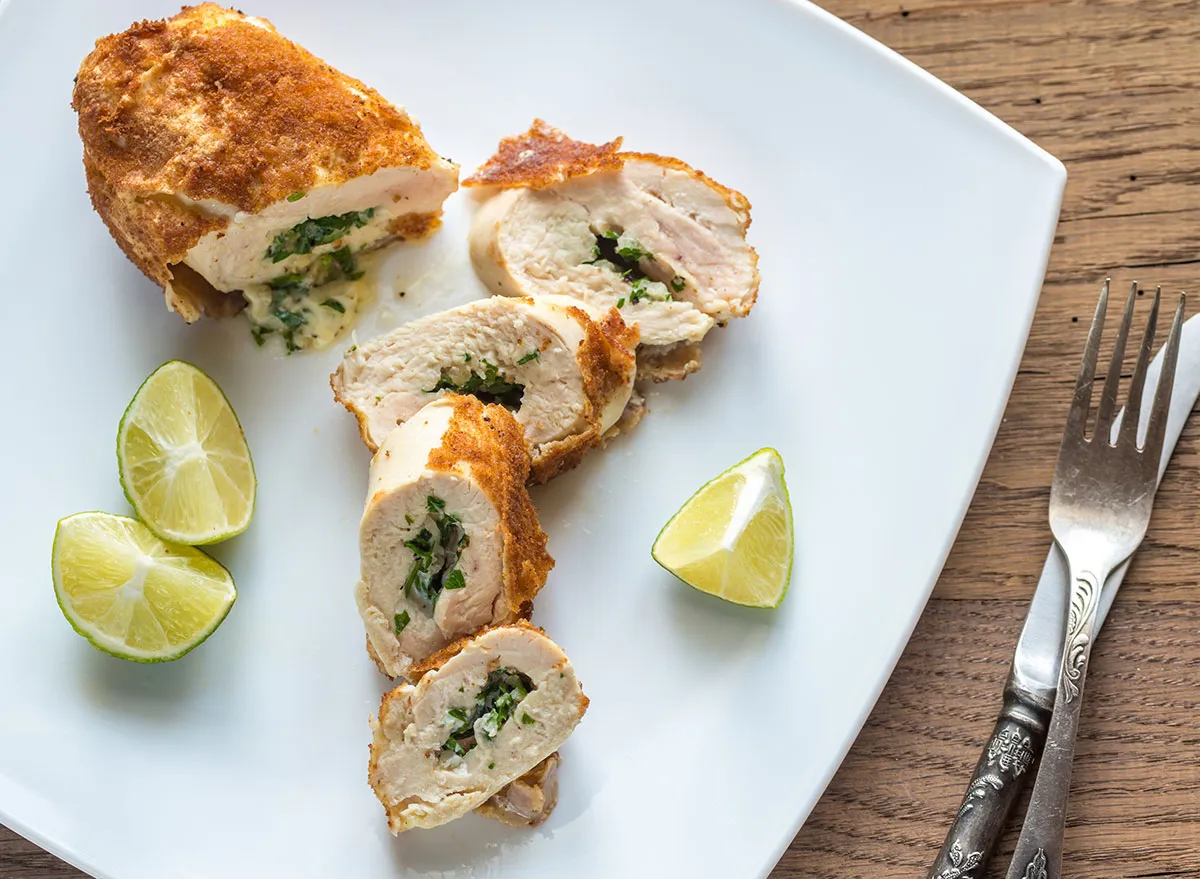 If you were at a catered event or fancy restaurant during the '80s, you likely would have encountered this delicious gut bomb of a chicken breast, which may or may not actually have Ukranian-Russian origins. The dish consists of pounded chicken breasts that are rolled and stuffed with herb butter, then breaded and fried. Try one of our healthy chicken recipes.
While not exactly extinct, this beloved dip was part of the sudden widespread craze over Tex-Mex cuisine. The first printed version (in a 1981 Family Circle magazine) was even called Tex-Mex dip. It was one of the many dips that saw a big rise to fame in this decade, including Hidden Valley ranch packet-based dips, spinach artichoke dip, and avocado dip (or, as we like to call it these days, guacamole). Try our best healthy Mexican recipes.6254a4d1642c605c54bf1cab17d50f1e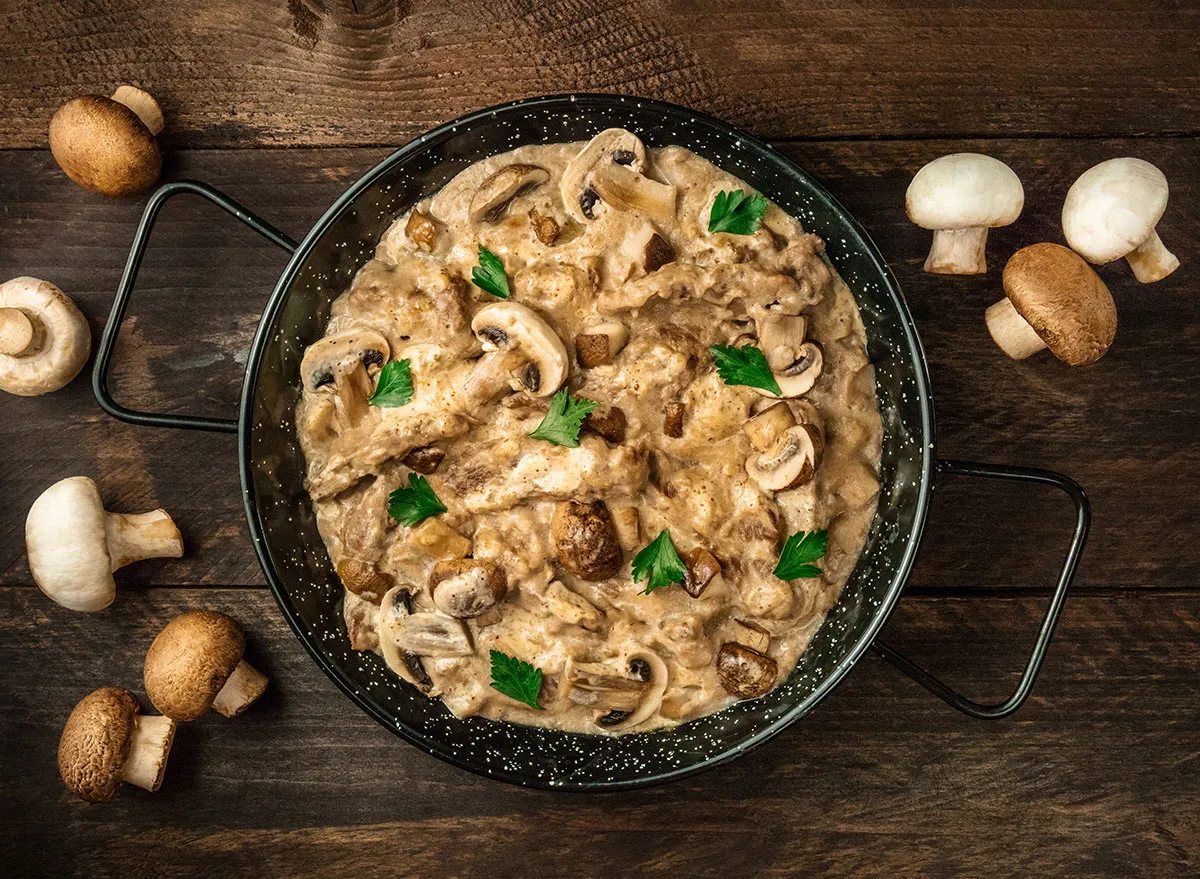 It may have a reputation of epitomizing bad cafeteria food, but this mushroom-laden stew deserves better than that. It consists of fragrant onions, sliced beef, and mushrooms, and while the fact that the cream sauce is made entirely out of sour cream may make you do a double take, it's that tanginess that gives the dish its signature taste. Try our beef stroganoff recipe and don't forget the wide egg noodles.
The concept of the formal cocktail party saw a resurgence in the second half of the decade, and with that came all the posh canapés and finger foods one would expect at such an event. Rillettes, a meat spread that's similar to pâté, and can be made with pork or salmon, is one of the most popular examples. Here are some delicious things you can make with a can of salmon.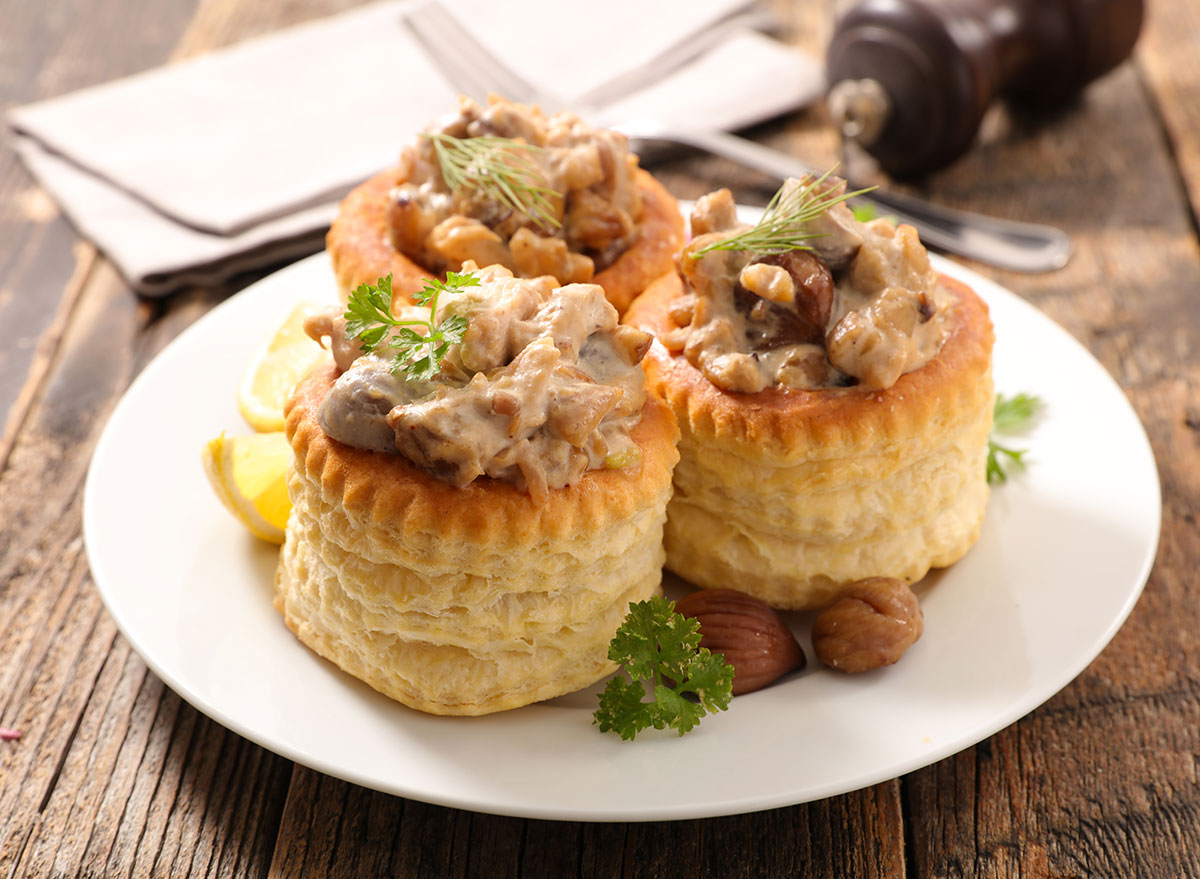 French cuisine was having a moment: This was the era of Joël Robuchon and Jean-Georges Vongerichten. So what better time to pay homage to yet another fancy one-bite wonder, the vol au vent? This dish was invented by Marie-Antoine Carême, who created the technique-driven, high-art form of French cuisine as we know it. It's an excellent way to consume a meat-filled pastry without the need for a knife and fork.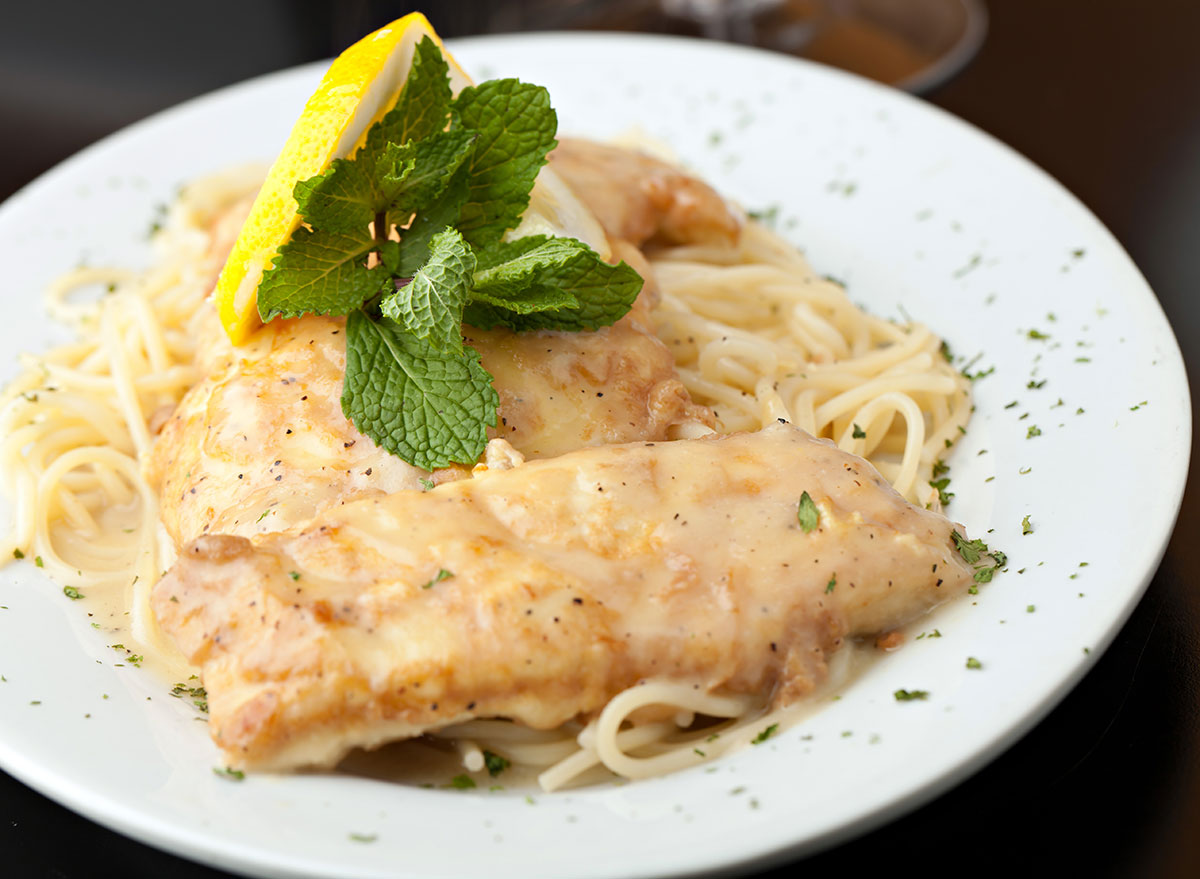 Pan-fried chicken in a lemon, butter, and white wine sauce was the poultry of the moment in restaurants around the country. It's a dish that surely nodded to the increased focus on global cuisine in the fine dining world. But while the ingredients come from Italian cuisine, it's a purely Italian-American creation.
Really, blackened anything, as long as it brought the bayou to mind with Cajun flavors. We have chef Paul Prudhomme to thank for the rise in America's interest in Cajun and Creole cuisines. He can be considered one of the country's first celebrity chefs, and his restaurant K-Paul's Louisiana Kitchen was a destination for many food lovers of the '80s. Fun fact: he also invented the turducken. Try our best vintage Southern recipes.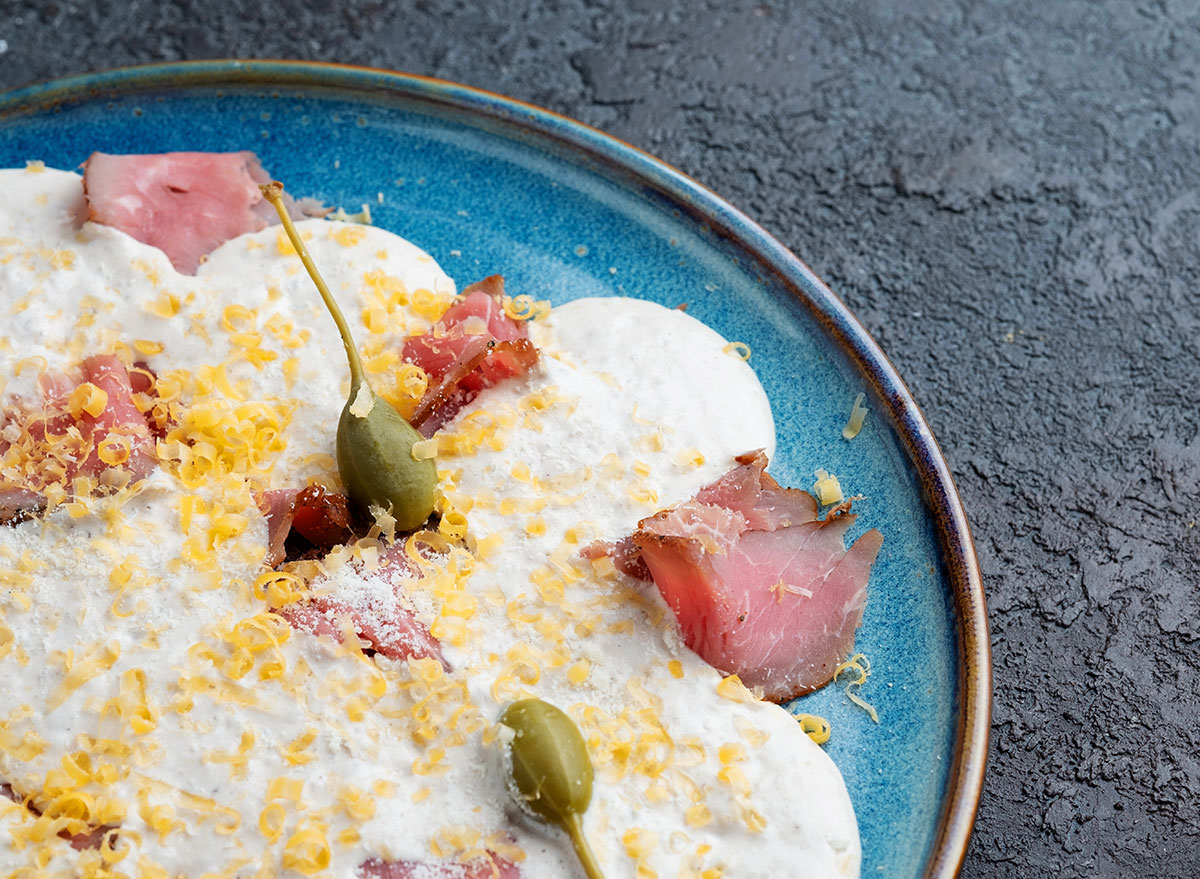 The controversial cut of meat saw a resurgence in this Italian dish with a creamy tuna-flavored sauce. It's served cold and is a classic summer dish. If you were trying to impress someone in the 1980s—or if you were at a fine dining establishment—this antipasto was the move.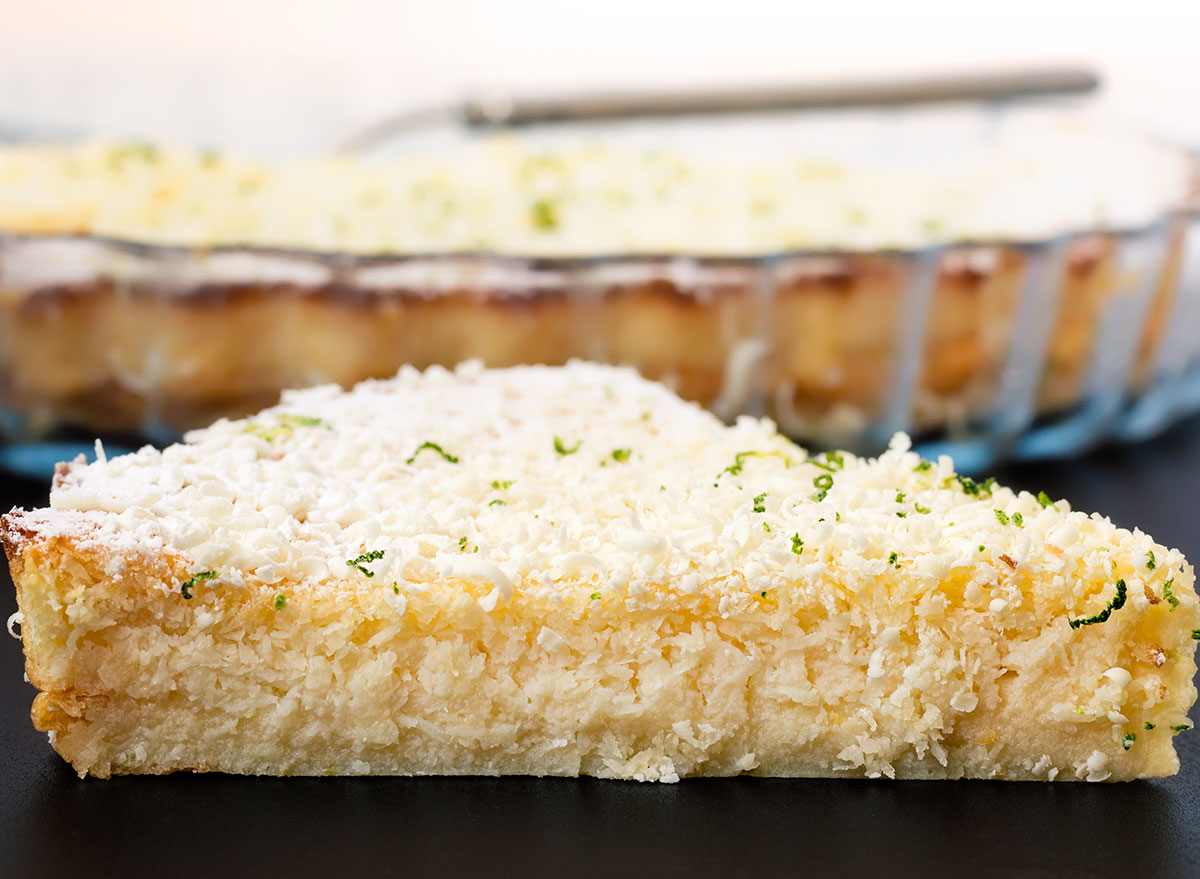 Rather than one elusive-sounding dessert, "impossible pie" was more of a catchall marketing phrase for anything that used Bisquick as a crust. The name comes from the fact that the pie is impossibly easy to make, where the crust appears as if by magic, without the need to fuss with or roll out the dough. It could be sweet (buttermilk pie, brownie pie, cheesecake) or savory (cheeseburger pie, bacon pie, quesadilla pie). Here are some other vintage dessert recipes we no longer make.
No actual dirt was harmed in the making of this dessert. Many will recall the classic childhood combination of crumbled Oreos, instant pudding, Cool Whip, and cream cheese—especially if you're from the Midwest, where it originated. While still making the rounds today, it was most popular in the 1980s after it was first printed in a recipe exchange column.
There are surely some dessert lovers who are still eating this fruit-studded cake 40 years after its first publication, but just in case you've moved on to trendier desserts like cake pops and rainbow donuts, it's worth it to learn about (and try) the New York Times' most-requested recipe. It was reprinted year after year; thankfully, the advent of the internet has made its discovery much easier.
Milk and cereal is fine and all, but have you tried your morning staple heated up in a pan with half a stick of butter and sprinkled with salt? If the answer is no, you probably weren't around in the '80s, when this was the snack of the moment. To really get in the spirit of the decade, use margarine instead of butter.
Abby Reisner
Abby is a food writer, editor, cook, and digital strategist living in Brooklyn.
Read more about Abby