12 Restaurants Only '90s Kids Remember
Rainforest Cafe was the bomb, OK?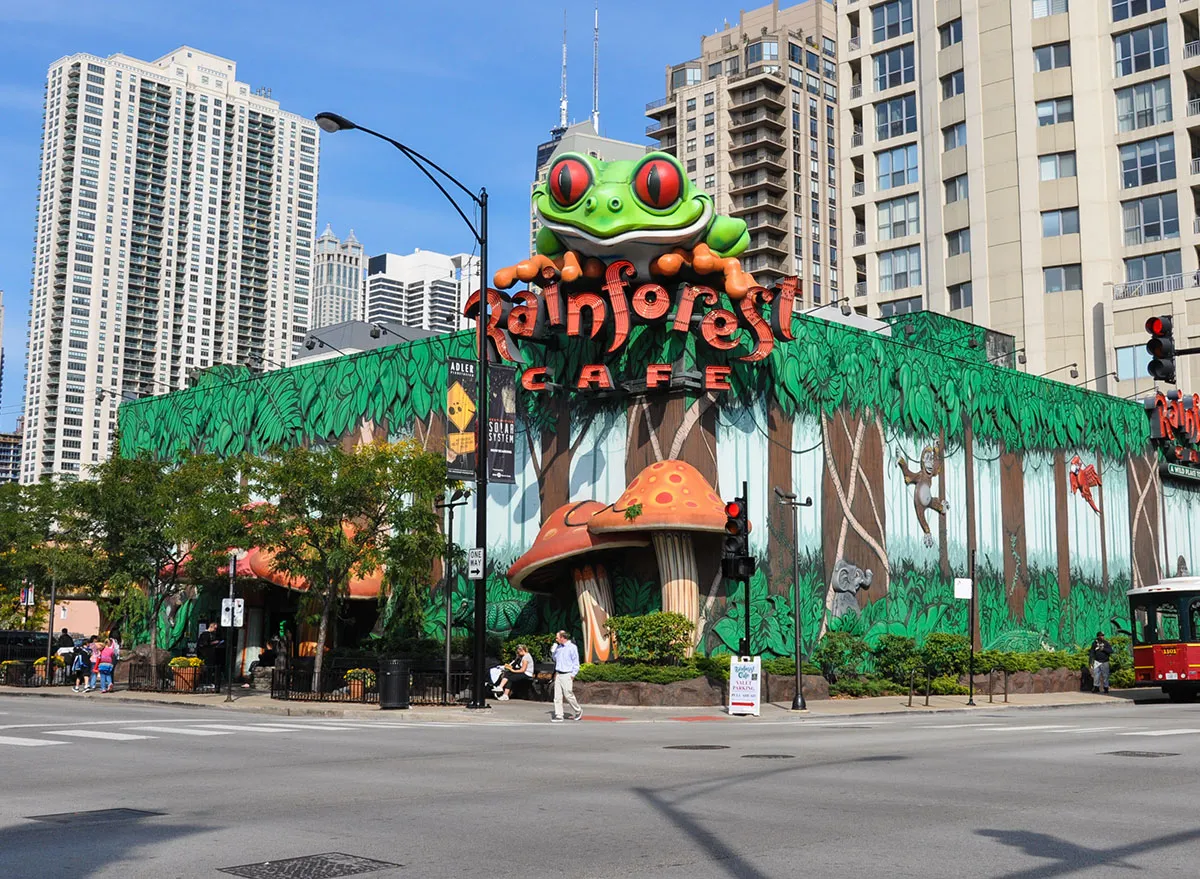 Ah, the 1990s. People were still using dial-up internet connections, frosted tips were in style, and boy bands were all the rage. But fast forward a few years, and you'll see that the decade wasn't always kind. These 1990s restaurants may be familiar to people who grew up in the decade, but they aren't what they were in their glory days.
The restaurant chains on this list are either out of business or have greatly reduced their number of stores since the '90s. Get ready for a serious wave of nostalgia. And for more, check out these 15 Classic American Desserts That Deserve a Comeback.
When country music star Kenny Rogers and former KFC CEO John Y. Brown, Jr. teamed up, what fans got was Kenny Rogers' Roasters, a popular '90s fast-food chain.
Sadly, the chain was short-lived. The first restaurant opened in 1991, and Roasters filed for bankruptcy in 1998. But the memory of its roast chicken lives on, thanks in part to the Seinfeld episode dedicated to Kramer's love of the chain.
Although defunct in the U.S., Kenny Rogers Roasters is still flourishing in Asia. Trip to Malaysia, anyone?
Right around the time that Cold Stone and Marble Slab were opening up their custom ice cream shops, MaggieMoo's opened in Kansas City in 1989. Like the other ice cream shops, MaggieMoo's would make made-to-order ice cream cones while mixing the ingredients in front of you.
In the '90s, there were dozens of MaggieMoo's stores. But in 2011, Marble Slab and MaggieMoo's merged, and the MaggieMoo's brand was folded into Marble Slab locations.
Ponderosa Steakhouse/Bonanza Steakhouse
There's nothing like an all-you-can-eat buffet, and there's nowhere that did it quite like Ponderosa Steakhouse (or Bonanza Steakhouse, depending on which location you went to).
In the '60s, Bonanza started in Connecticut, and Ponderosa launched in Indiana. The two chains continued to grow and add locations until they merged in 1997. A popular location in the '90s, the company went bankrupt in 2008. There are still a few dozen locations in the United States, but it's not the same (especially because the coronavirus pandemic has made us rethink buffet-style dining).
Still love buffets? Here's The Best Restaurant Buffet in Every State.
Founded in Minnesota in 1975, the popular spot offered "a celebration of food," which started with free chips and two salsas (one hot and one mild). The chain peaked in 1995 with 210 locations throughout the United States.
But thanks to bankruptcy and a Hepatitis A scare, it fizzled out in the early 2000s. All U.S. locations closed in 2004, but it's still operated internationally if you ever find yourself in Kuwait or Austria.
A restaurant where you can see Hollywood memorabilia seems like a '90s kids dream. And it was—the chain offered decent food, but you went there for the décor. With the first one opening up in New York City in 1991, they started popping up all over the place: Chicago, Cancun, London.
Even if you didn't have one in your hometown, you knew about them. At its height, there were 90 Planet Hollywood locations. Now, there are just seven.
And for more throwbacks, don't miss these 16 Beloved Restaurants Only '70s Kids Will Remember.
Sweet Tomatoes/Souplantation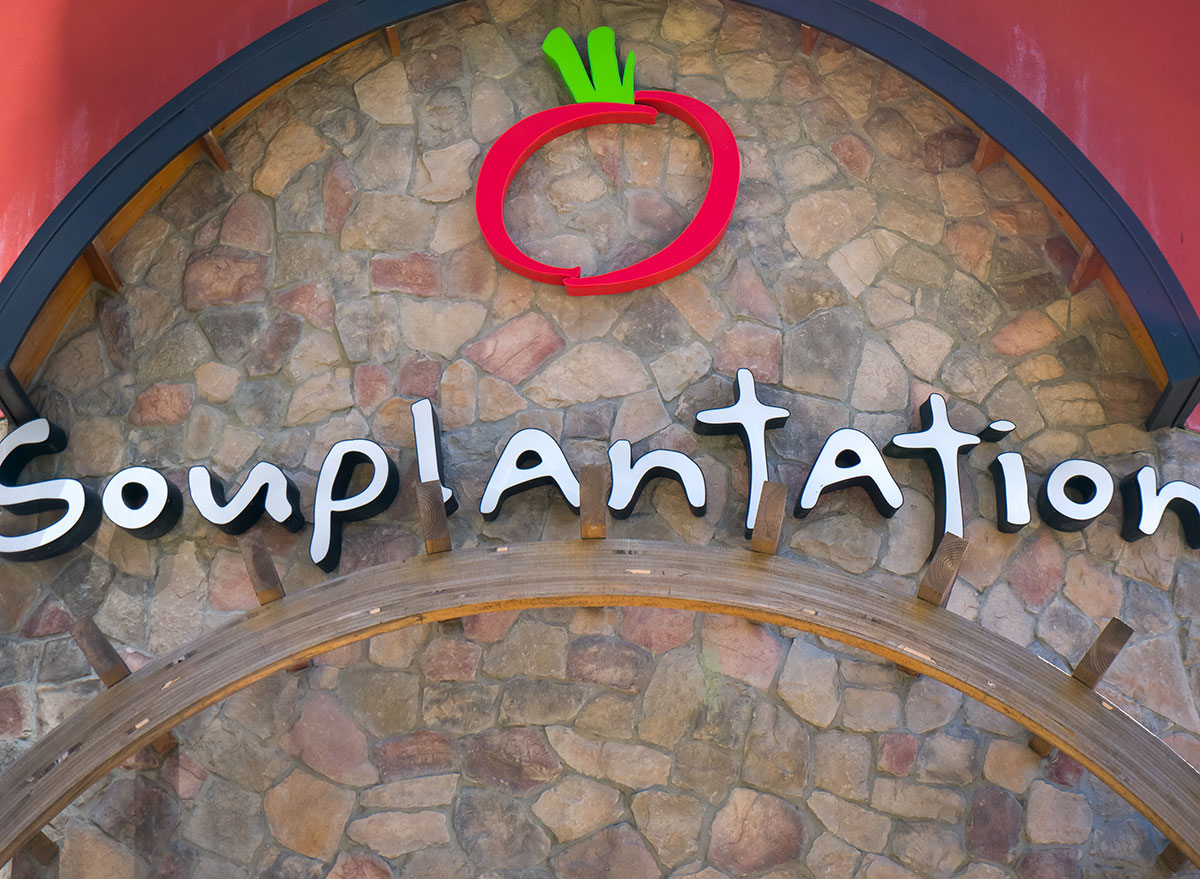 Founded in the early '80s, this chain specializes in a build-your-own salad bar, along with soup and pasta buffet options. At its height, there were more than 100 locations across the country.
But in 2016, Souplantation's parent company, Garden Fresh Restaurant Corp., filed for bankruptcy protection, which included plans to close around 30 of those stores. Then, Souplantation and Sweet Tomatoes closed all 97 remaining locations during the pandemic.
Mexican chain Chevys was founded in 1986 in California. The chain expanded across the country, with locations in high-traffic places like Times Square in New York City.
But in 2018, its parent company filed for bankruptcy. More than a dozen Chevys locations in California, as well as the Times Square outpost, have since closed.
For more, don't miss these 17 Failed Chain Restaurants From the 1980s That Will Make You Feel So Nostalgic.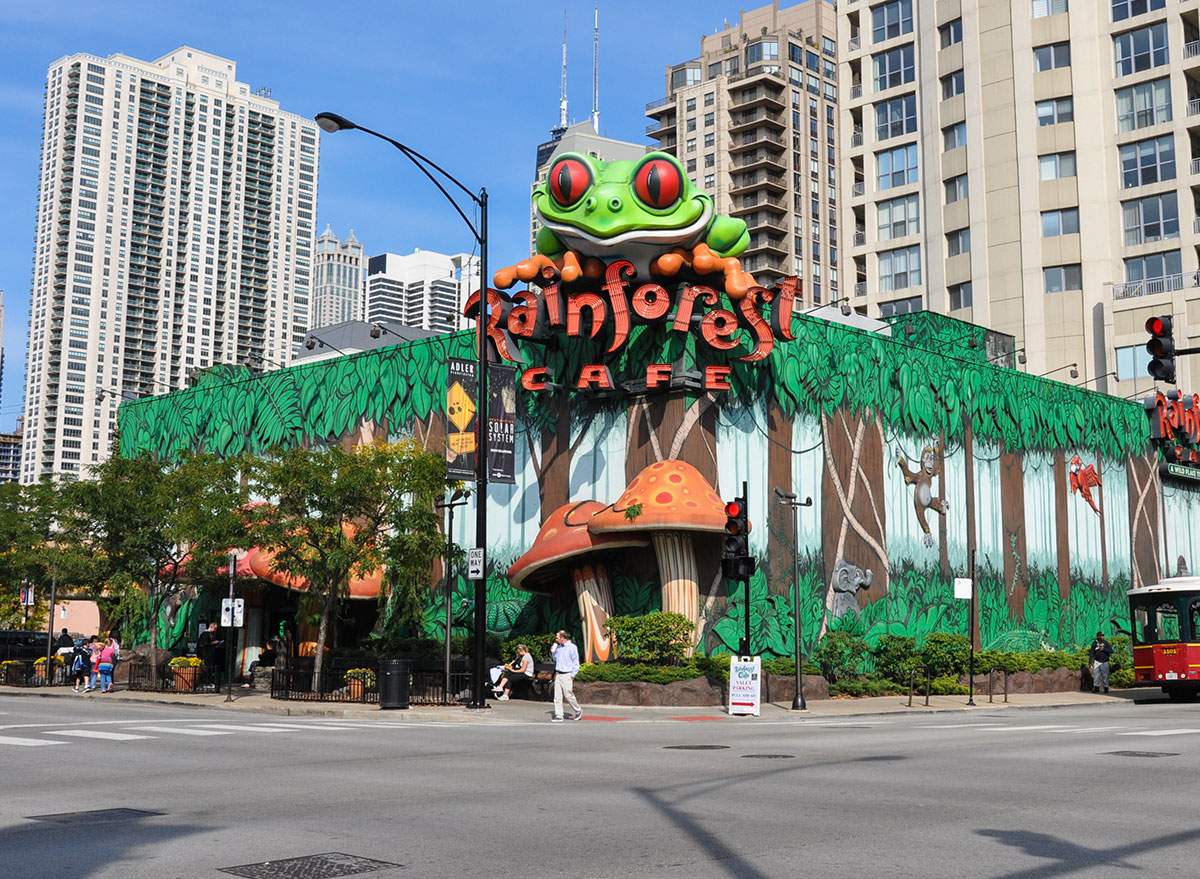 There are still 17 Rainforest Café locations in the United States. But as plenty of '90s kids will tell you, there used to be dozens more. The restaurant was a delight for kids, with animatronic animals and trees making sounds throughout the meal.6254a4d1642c605c54bf1cab17d50f1e
You can find a full list of former Rainforest Café locations on Wikipedia. But for nostalgic millennials still mourning the loss, the pain might be too much.
The Official All-Star Café
Owned by Planet Hollywood, this failed restaurant chain was a sports-themed take on the memorabilia-heavy chain. The theme restaurant, which first opened in 1995, featured sports memorabilia, and plenty of athletes were investors in the restaurant.
Like Planet Hollywood, The Official All-Star Café was prominent in tourist-heavy locations. But by 2007, the last one had closed.
And for more failed chains, Only 1980s Kids Will Remember These Restaurants.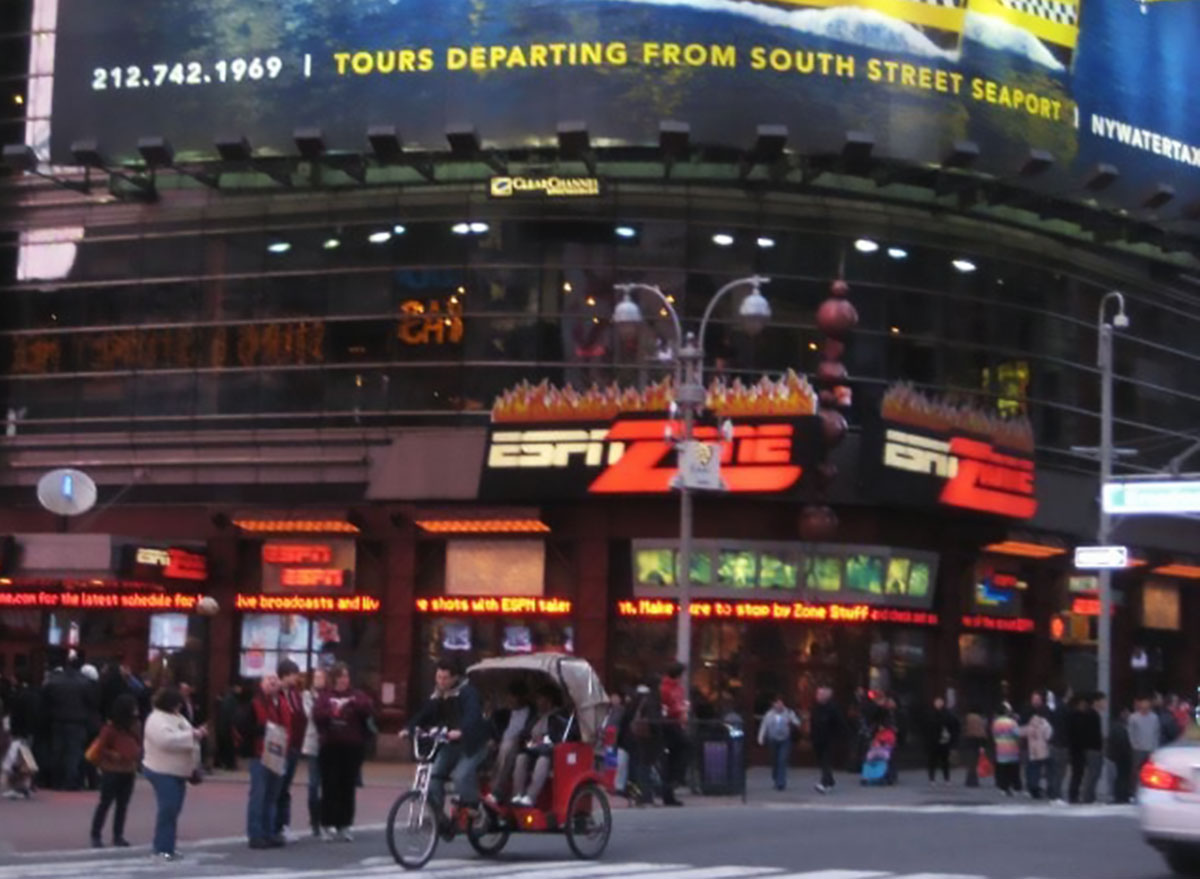 As with The Official All-Star Café, ESPN Zone thrived on the intersection of chain-loving tourists and sports-loving tourists. Launched in 1998, the chain featured "studio grills" for eating and "screening rooms" for watching sports games, according to a 2010 article from The New York Times. By that year, a majority of the chain's locations had closed, and the others weren't far behind.
Charlie Brown's Steakhouse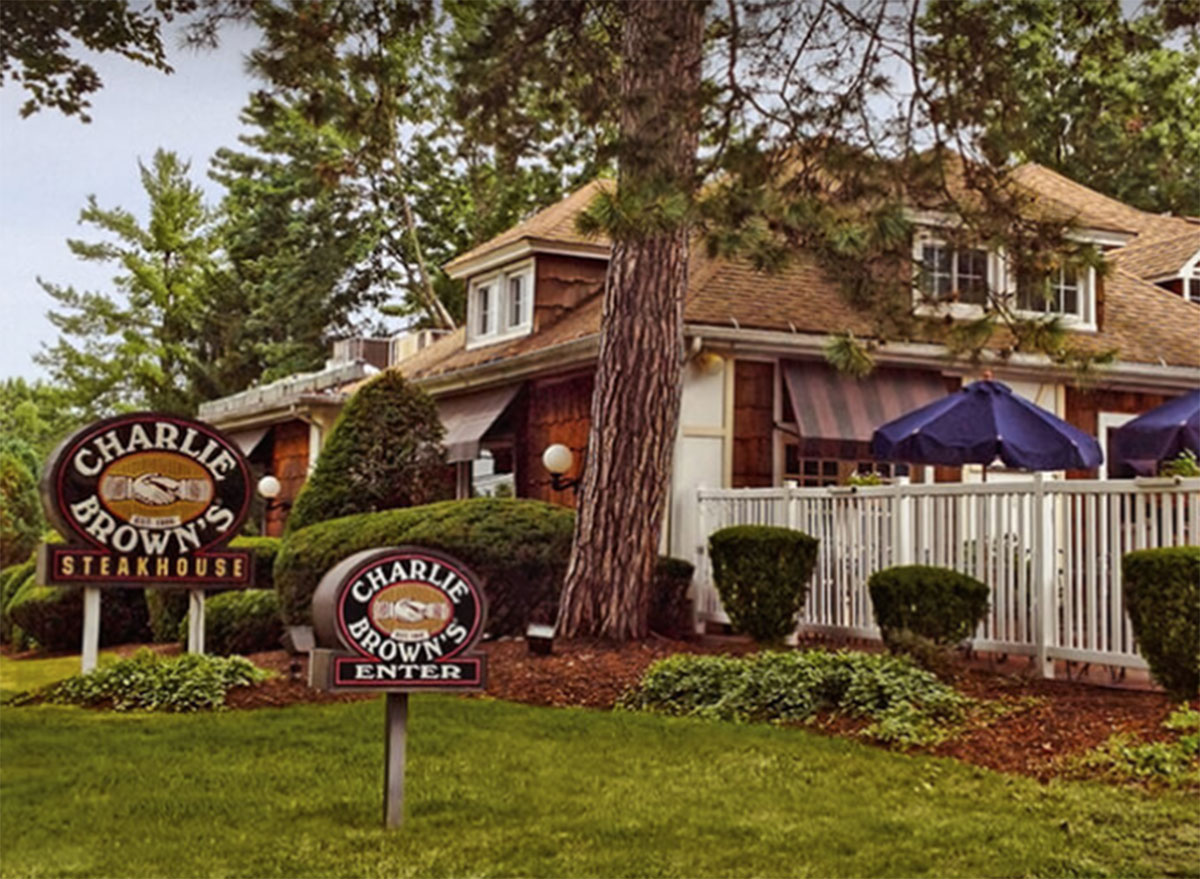 As beloved for its salad bar as it was for its steak, Charlie Brown's was a staple for kids living in the northeast in the '80s and '90s. There are still three locations in New Jersey, but many more have shuttered.
There's still one Casa Bonita location in Colorado—and it has official landmark status. But in the '90s, Casa Bonita was a Mexican chain that could be found in Oklahoma, Texas, and Arkansas.
Casa Bonita's parent company filed for bankruptcy in 2011, and all of the other locations have closed.
While these 1990s restaurants didn't stand the test of time, there are plenty of other chains that are still thriving today. And if you want to get nostalgic, many of these childhood snacks are still available, too.
For more, check out these 108 most popular sodas ranked by how toxic they are.
Dalene Rovenstine
A New York-based freelance journalist, Dalene Rovenstine often writes about food and drink and health, as well as entertainment, beauty, and other lifestyle topics.
Read more about Dalene