The Best Restaurant Buffet in Every State
We called on our friends at Yelp to help pinpoint the top-rated buffets in each state so you know where to get all-you-can-eat!
One of the appeals of a buffet is that you get to create your own plate of food. And another…and maybe another one after that. We wanted to track down the very best buffet in every single state, so you know where to go first when you want to chow down. In order to gather such a list, we relied on our friends at Yelp to pull the data, and then we did the research on what we thought makes each place special.
Methodology: This is a list of the best buffet places in the United States according to Yelp. All the businesses on this list are in the Buffet category on Yelp and are not part of a national chain. "Best" is measured using an algorithm that looks at the number of reviews and star ratings for a business.
Now, here is the very best restaurant buffet in every single state.
ALABAMA: Barb's Country Kitchen & Cakery in Eufaula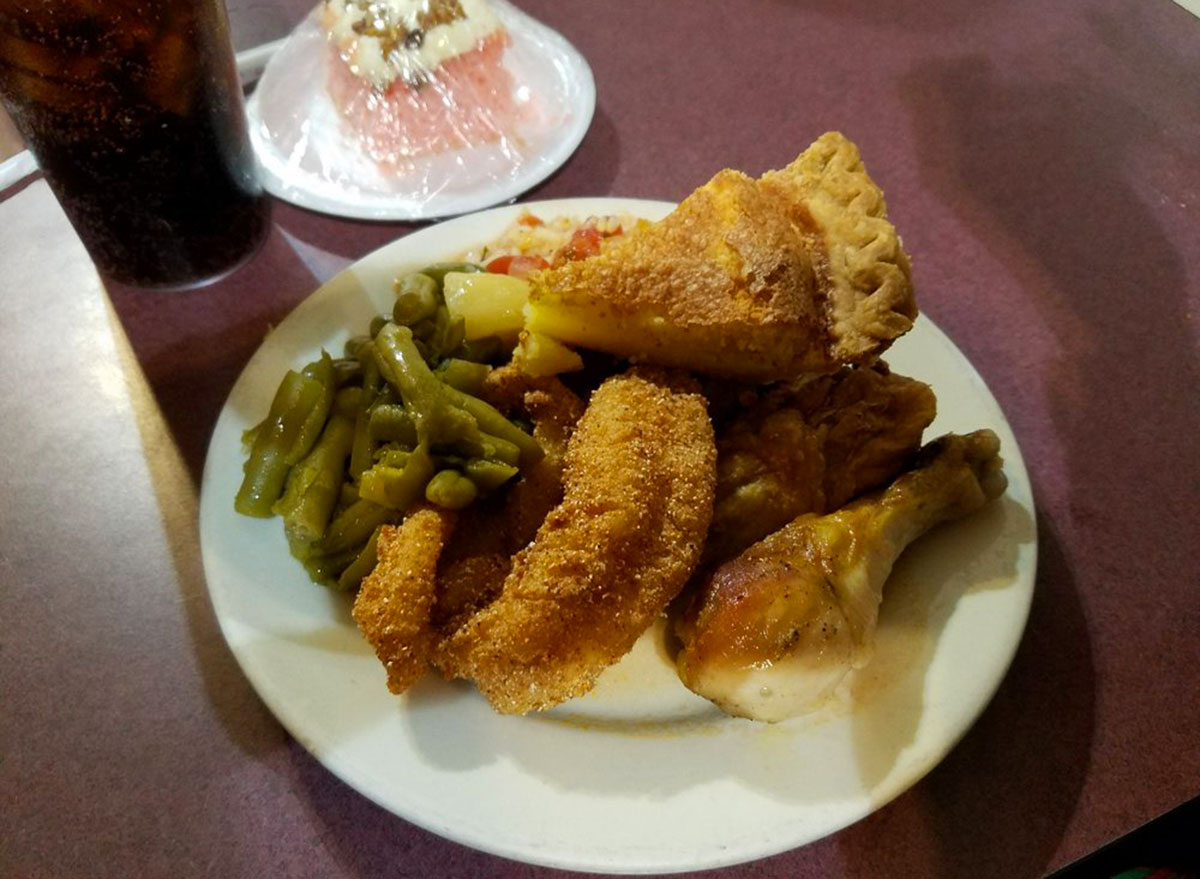 Head over to Barb's Country Kitchen & Cakery for a buffet stacked with all of your favorite comfort foods. According to Yelp users, the fried chicken, buttermilk pie, and banana pudding are all hits!
ALASKA: Ding How Mongolian BBQ in Anchorage
While the buffet at Ding How Mongolian is pretty tasty, the hospitality is what really makes this restaurant stand out among other buffets in this state.
"Ding How is an Anchorage staple. The chef at the Mongolian BBQ grill is absolutely THE BEST!! He always has a smile and conversation," wrote one Yelp user.
ARIZONA: Nandini Indian Cuisine in Tempe
Whether you stock up on chicken tikka masala, tandoori chicken, chicken vindaloo, or a mixture of all three, you're in for a delicious surprise. Pop into the lunch buffet at Nandini from 11:00 am to 2:30 p.m. on weekdays and until 3:00 p.m. on weekends.
ARKANSAS: Star of India Restaurant in Little Rock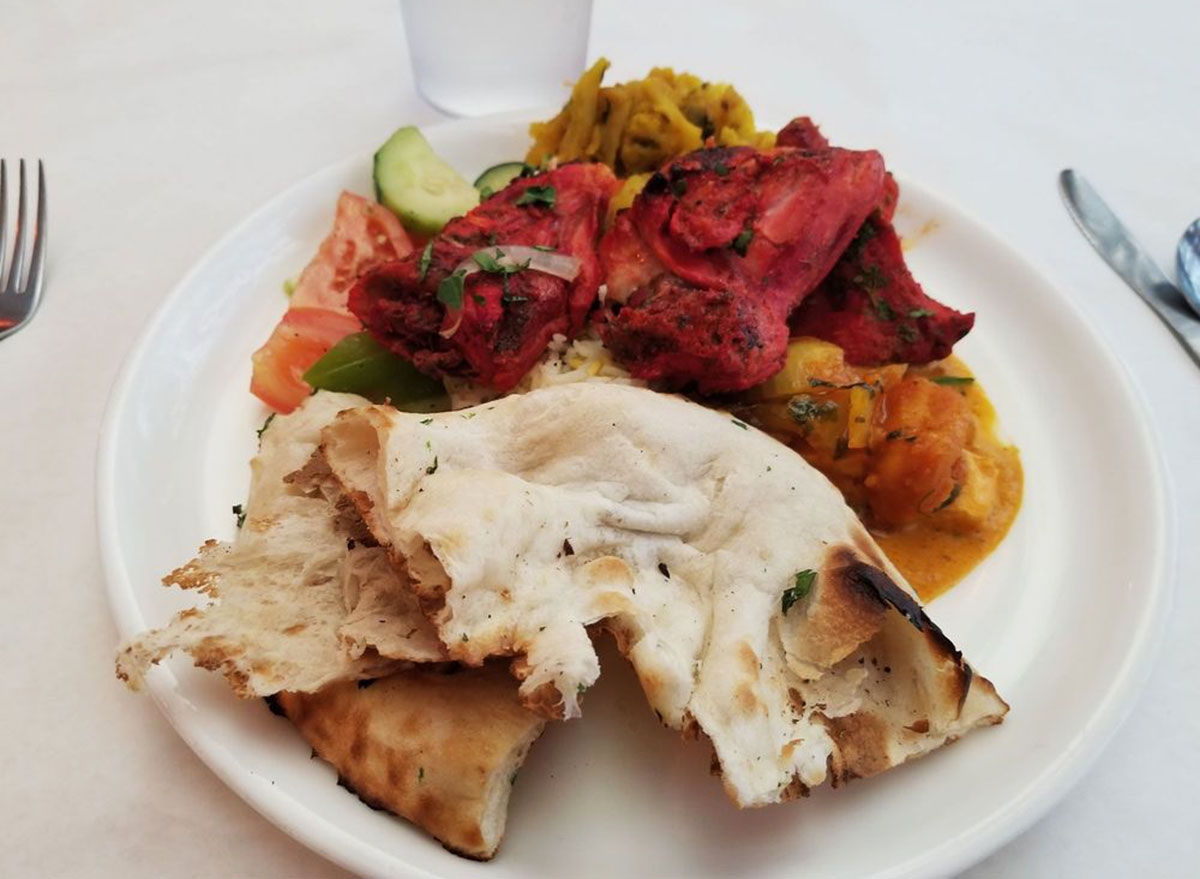 One user says Star of India Restaurant offers a good balance of mild and spicy foods, which means all tasters are welcome at this buffet. If you like foods with more spice, try the chana masala, a savory Indian chickpea dish.
CALIFORNIA: Royal Tandoor in San Francisco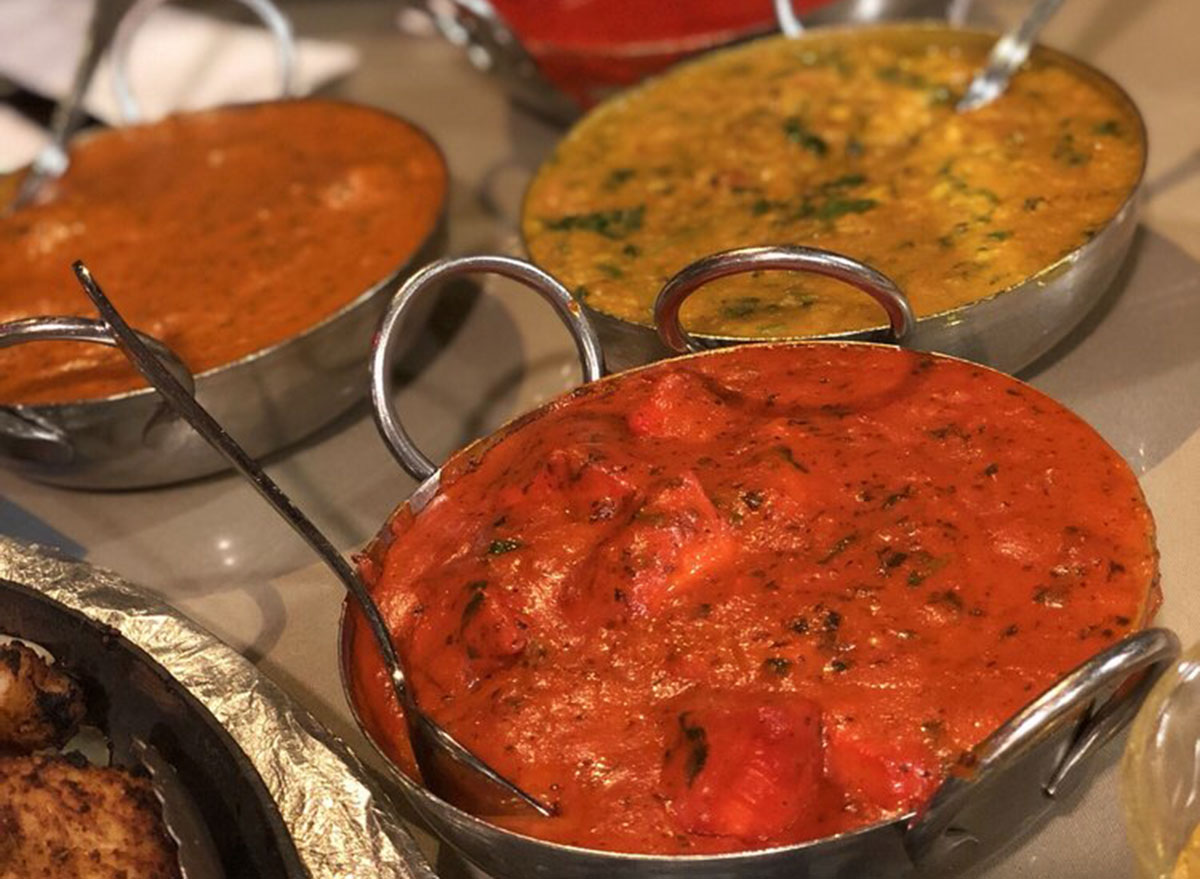 At Royal Tandoor, you always get a plate of toasty naan when you go with the lunch buffet route. For $11, you can eat all of the paneer and samosas you want—and get a soda!
COLORADO: Afghan Kabob in Westminster
For only $8.99, customers can add an extensive amount of traditional halal food options including shaved gyro meat, an assortment of both rice and lentil dishes, and sautéd greens.6254a4d1642c605c54bf1cab17d50f1e
CONNECTICUT: Baingan Indian Cuisine in Shelton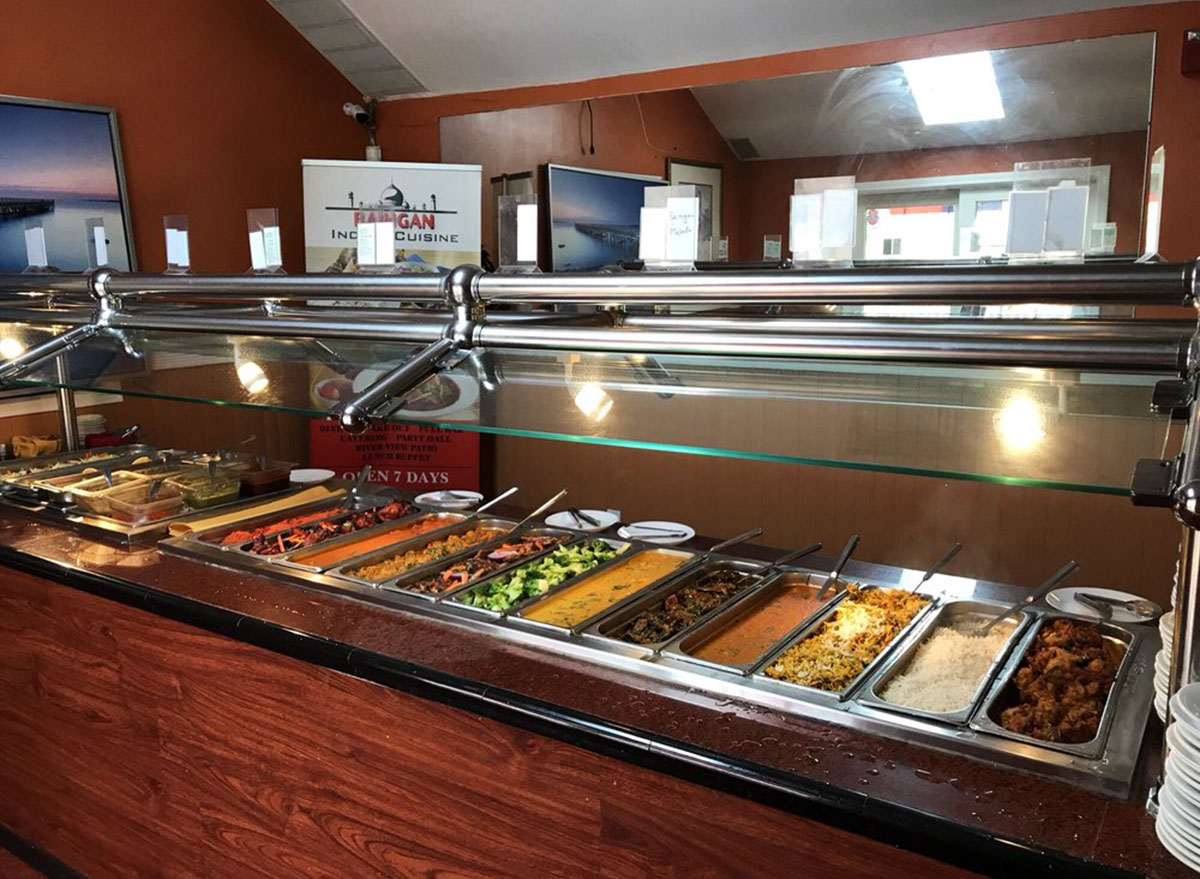 This buffet checks all of the boxes for one Yelp reviewer.
"Loved the buffet, which had madras chicken, chilly chicken, chicken tandoori, daal, sambar, and freshly made naan. There are several vegetarian dishes and desserts as well. The staff is very welcoming and courteous. The ambiance is amazing," they wrote.
DELAWARE: Hibachi Grill & Supreme Sushi Buffet in Wilmington
Sushi buffet? Count us in! Whether you want to take part in the sushi spread or other food items available on the buffet such as dim sum and an array of desserts, there's a slim chance you'll leave not feeling completely stuffed.
FLORIDA: Terra Gaucha Brazilian Steakhouse in Tampa
An all-you-can-eat Brazilian steak buffet? Sign. Us. Up. And succulent steak isn't the only tasty meal offered on the buffet spread.
"This is a big-time food extravaganza and a lovely and spacious interior. Cheese, charcuterie, salads, lobster bisque, bread, fruits, asparagus, grilled veggies, grilled pineapple, fejoida (black bean dish) and rice dish at the buffet table area," wrote one Yelp reviewer.
GEORGIA: La Nacional Mexican Buffet in Columbus
"La Nacional does not skimp on quality to serve buffet-style," wrote one Yelp reviewer. "Everything on the buffet is amazing, but the guacamole is the standout; yeah, this place has a buffet with unlimited guacamole."
HAWAII: Govinda's Vegetarian Buffet in Honolulu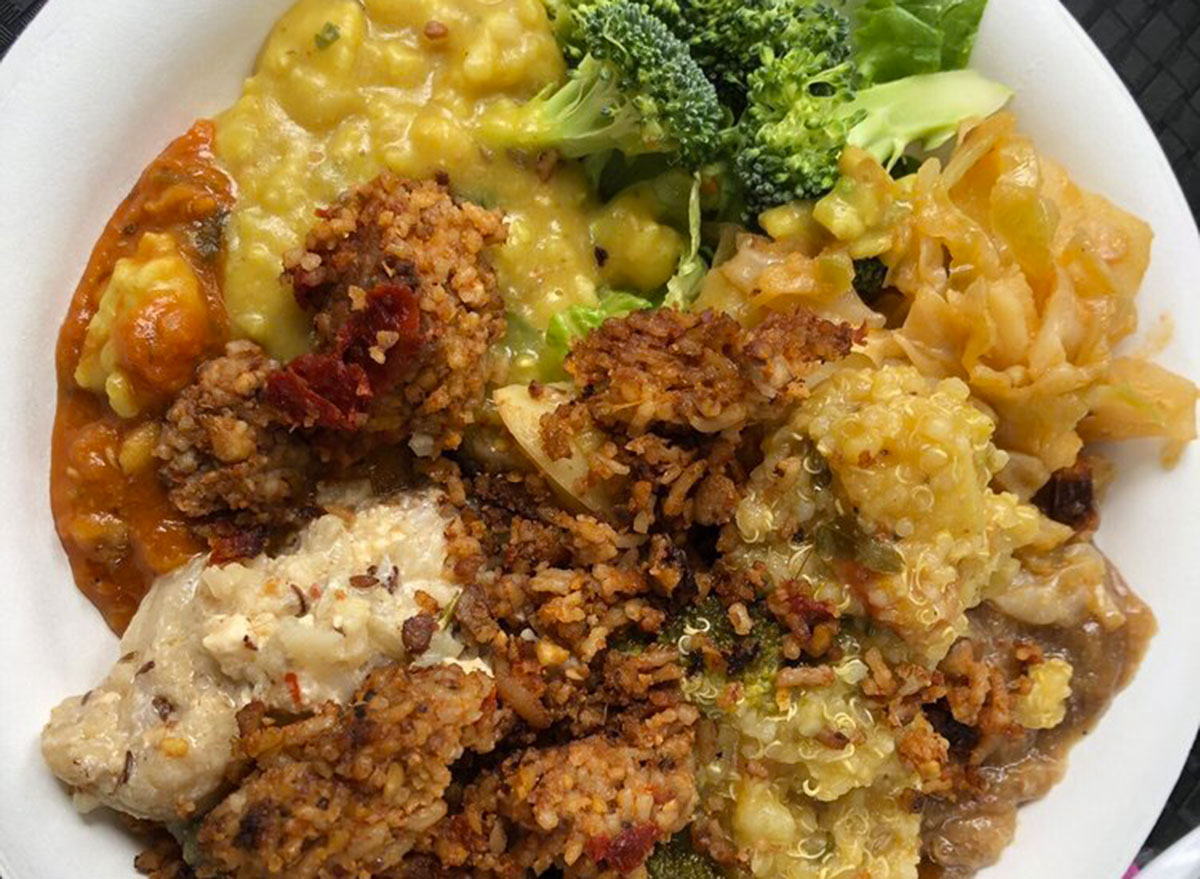 It is rare that you find a buffet devoted to serving only vegetarian and vegan options, but Govinda's Buffet in Honolulu, Hawaii, does just that.
"Not only is Govinda's an all-you-can-eat buffet for $13, but the food is actually homemade, delicious, and healthy," wrote one reviewer on Yelp.
We also read the ginger mint lemonade is a great beverage to pair with your meal, so make sure to grab yourself a glass—it's right next to the buffet line!
IDAHO: Bombay Grill in Boise
For around $12 you can indulge in all of your favorite Indian cuisine dishes including saag paneer (spinach and cheese dish) and vegetable korma (vegetables in coconut sauce).
ILLINOIS: India Delight in Marion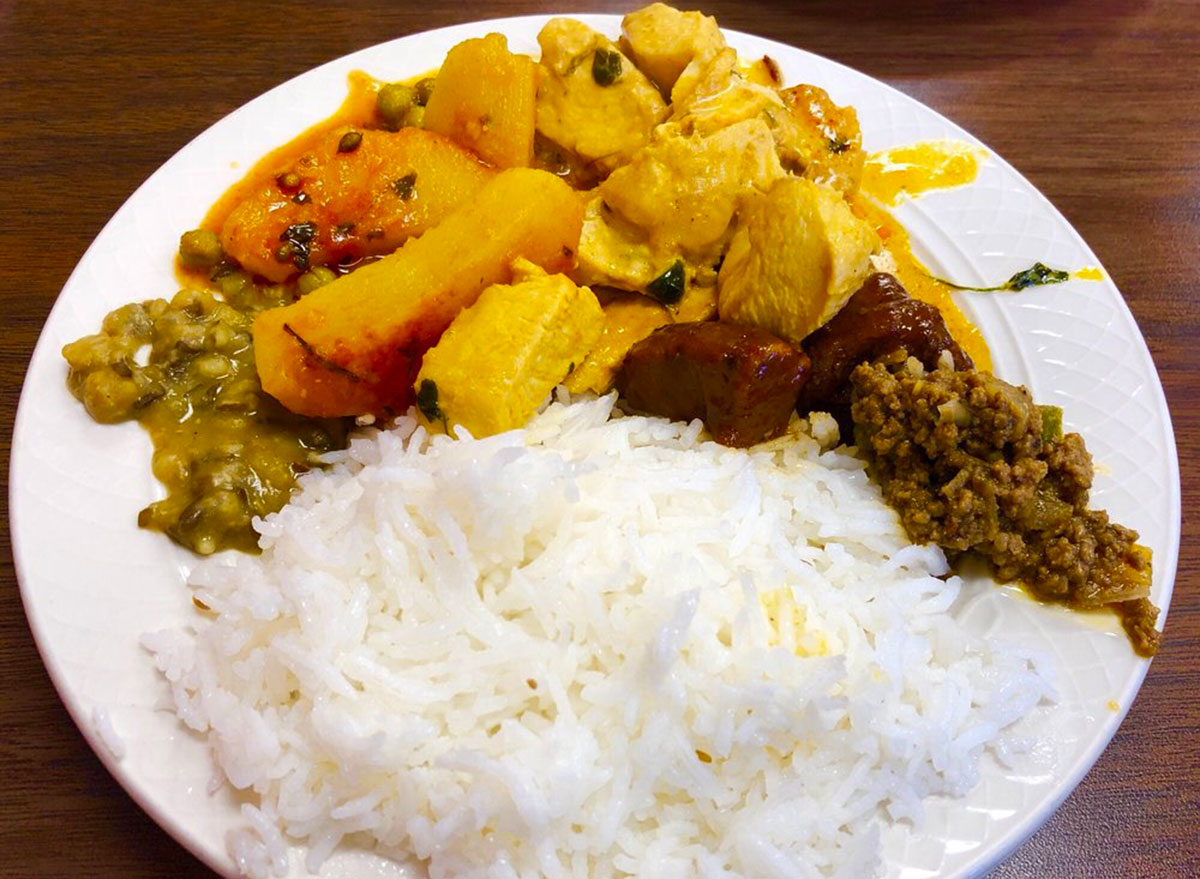 Chicken tikka masala, lamb boti kababs, garlic naan—what else could you possibly want?
INDIANA: Derby Dinner Playhouse in Clarksville
We hear the buffet at Derby Dinner Playhouse is on the smaller side, but the quality of the food served makes up for its limited options. Enjoy comfort-style foods just before the play begins!
IOWA: Tabooleh in Coralville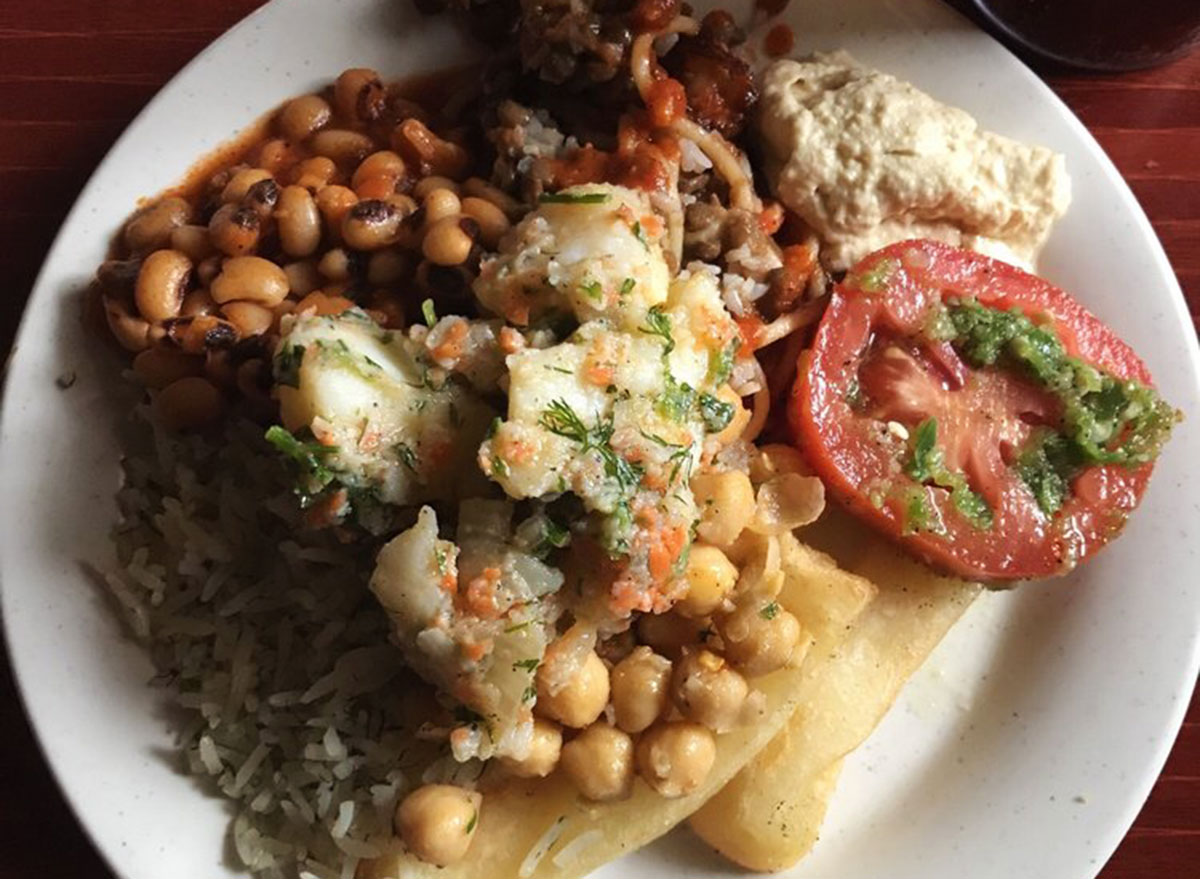 For the main meal, dish up on Middle Eastern and Mediterranean favorites including moussaka and baba ganoush. Then for dessert, sink your teeth into mini pieces of sweet baklava, also offered along the buffet line. Oh, and don't forget to order a Turkish coffee at the end of the meal!
KANSAS: Rajmahal Indian Restaurant in Olathe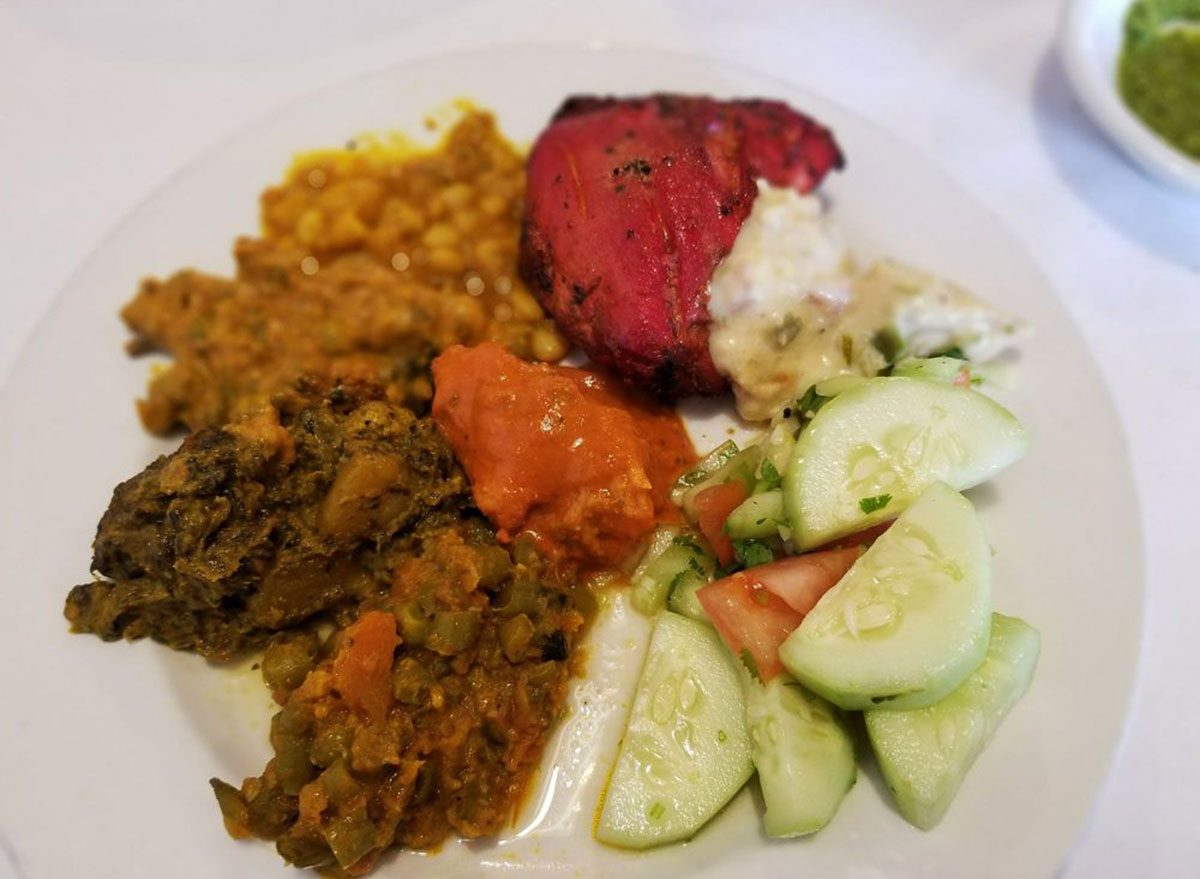 "Authentic North Indian food!! The naan was excellent as was the paneer kadhai and biryani," penned one Yelp reviewer.
KENTUCKY: Abyssinia Authentic Ethiopian Cuisine Restaurant & Bar in Louisville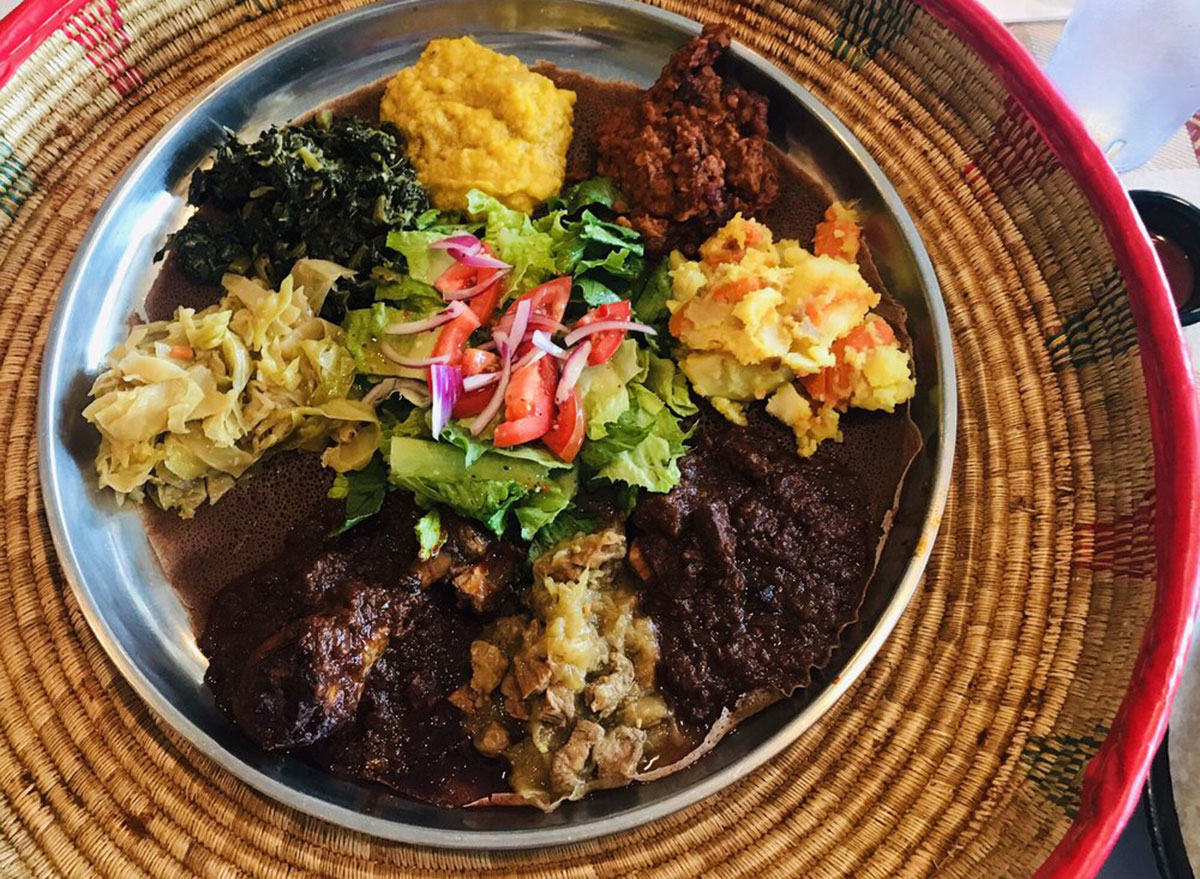 Can we just take a moment and admire how beautiful this plate of food is? If you have a craving for classic Ethiopian cuisine and also happen to be in or near the Louisville area, you have to swing by Abyssinia's. For just under $10, you can eat as much injera bread, Misir Wot (spicy lentil stew), and Fossolia (carrot and green bean medley) as your heart desires.
LOUISIANA: Thai Pepper in Baton Rouge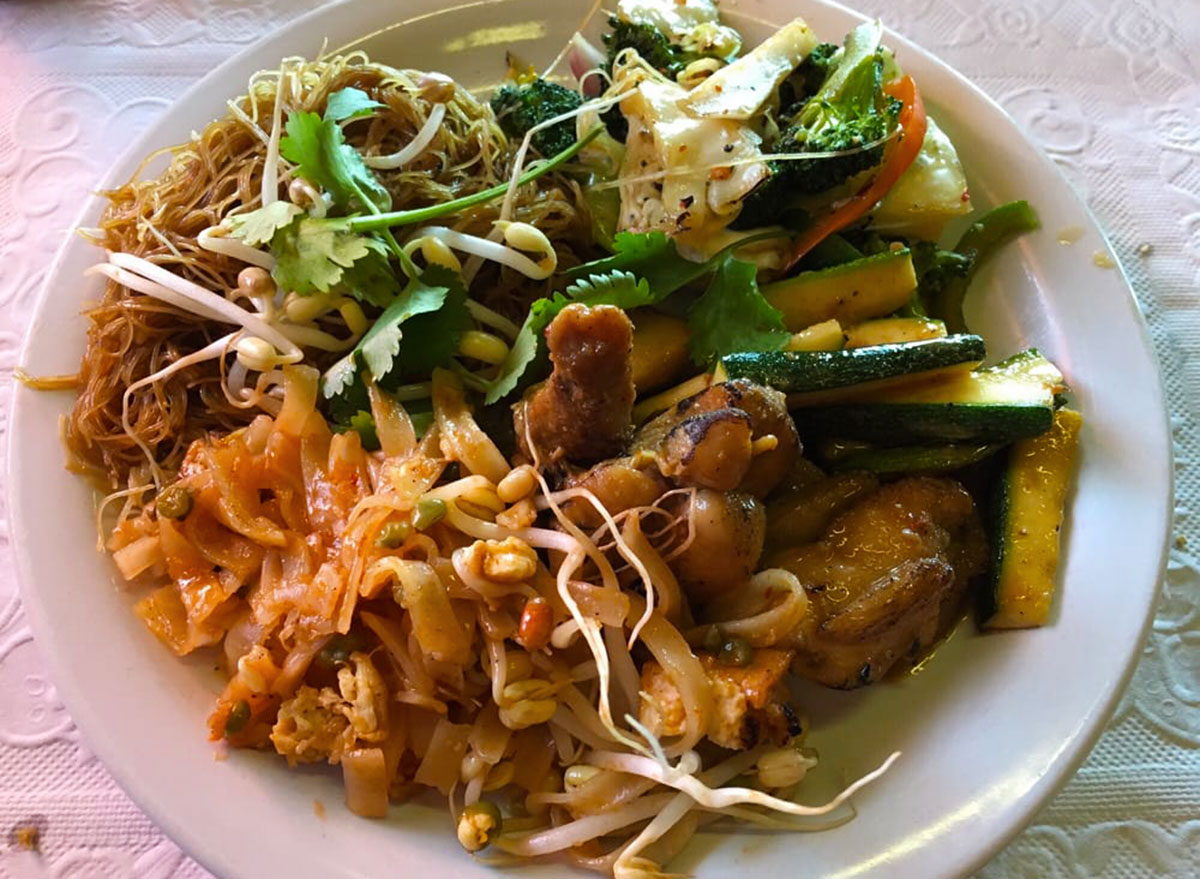 From Pad Thai to papaya salad, dish up on all of your favorites at Thai Pepper. And for dessert, enjoy a serving of their sweet black rice pudding.
MAINE: Taj Indian Cuisine in South Portland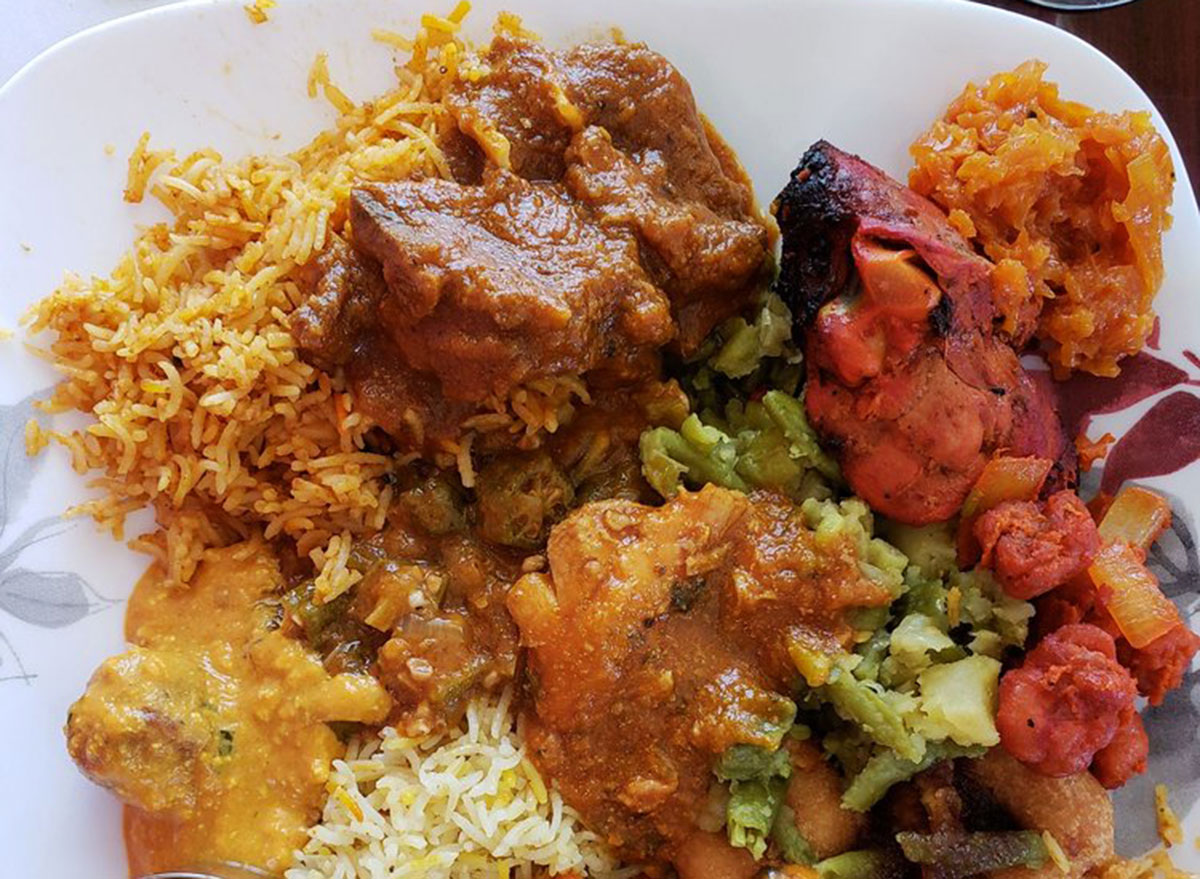 The lunch buffet menu changes constantly here, but someone who attended not too long ago said they chose from the following: onion pakora, tandoori roti, vegetable biryani, and, for dessert, mango mousse.
MARYLAND: Chutney Indian Restaurant in Columbia
One Yelp reviewer who stopped in while traveling said the lunch buffet offered an extensive amount of vegetarian options. There were plenty of classic dishes for meat-eaters, too, including chicken tikka masala and chicken biryani.
MASSACHUSETTS: Pruller Restaurant in Marlborough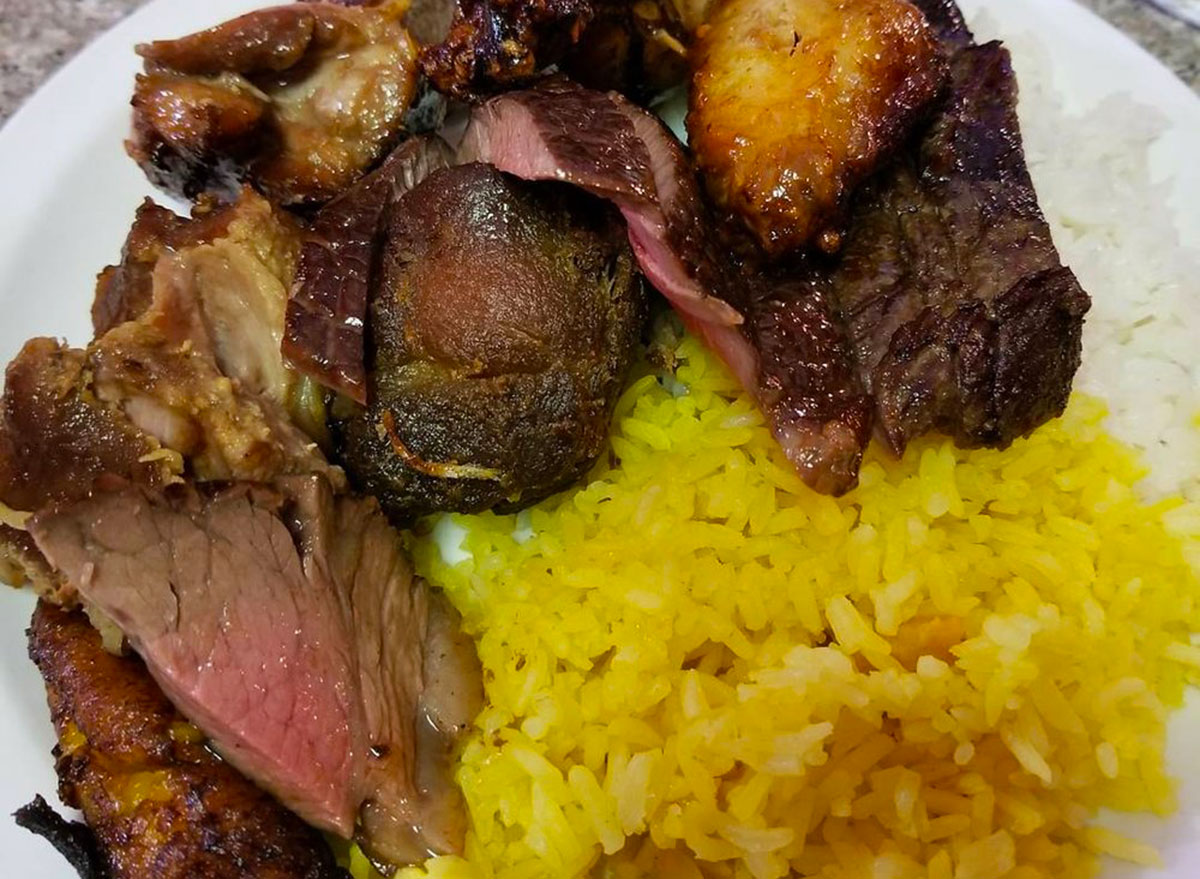 Bacon-wrapped chicken, garlic beef, and chicken hearts are just some of the most reviewed items from this Brazilian-style buffet.
MICHIGAN: Pizza Ranch in Muskegon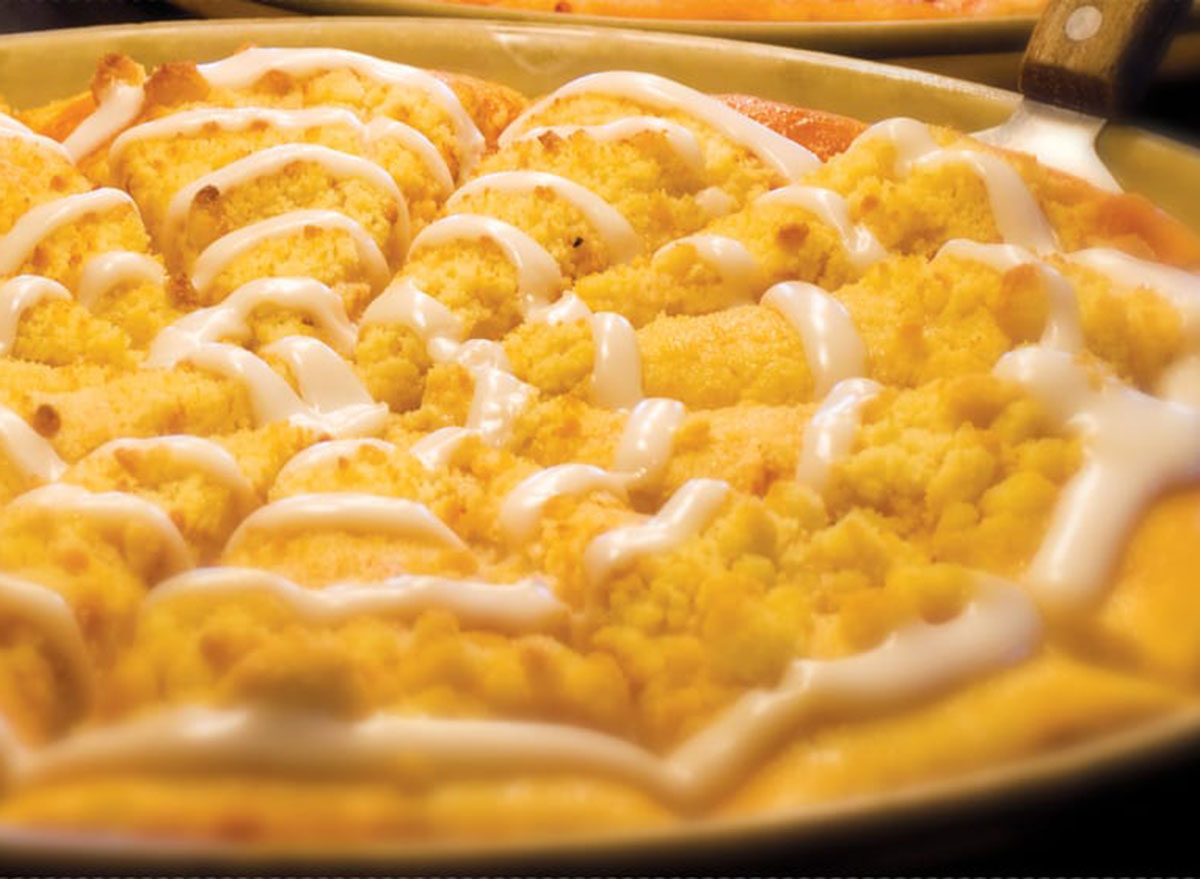 Finally, a pizza buffet! Does this place in Muskegon, Michigan, remind you of Cicis Pizza? At Pizza Ranch, though, pizza isn't the only main dish you can put on your plate. Fried chicken, mashed potatoes, biscuits, salad, and desserts can also be gobbled up!
MINNESOTA: Indian Masala in Maplewood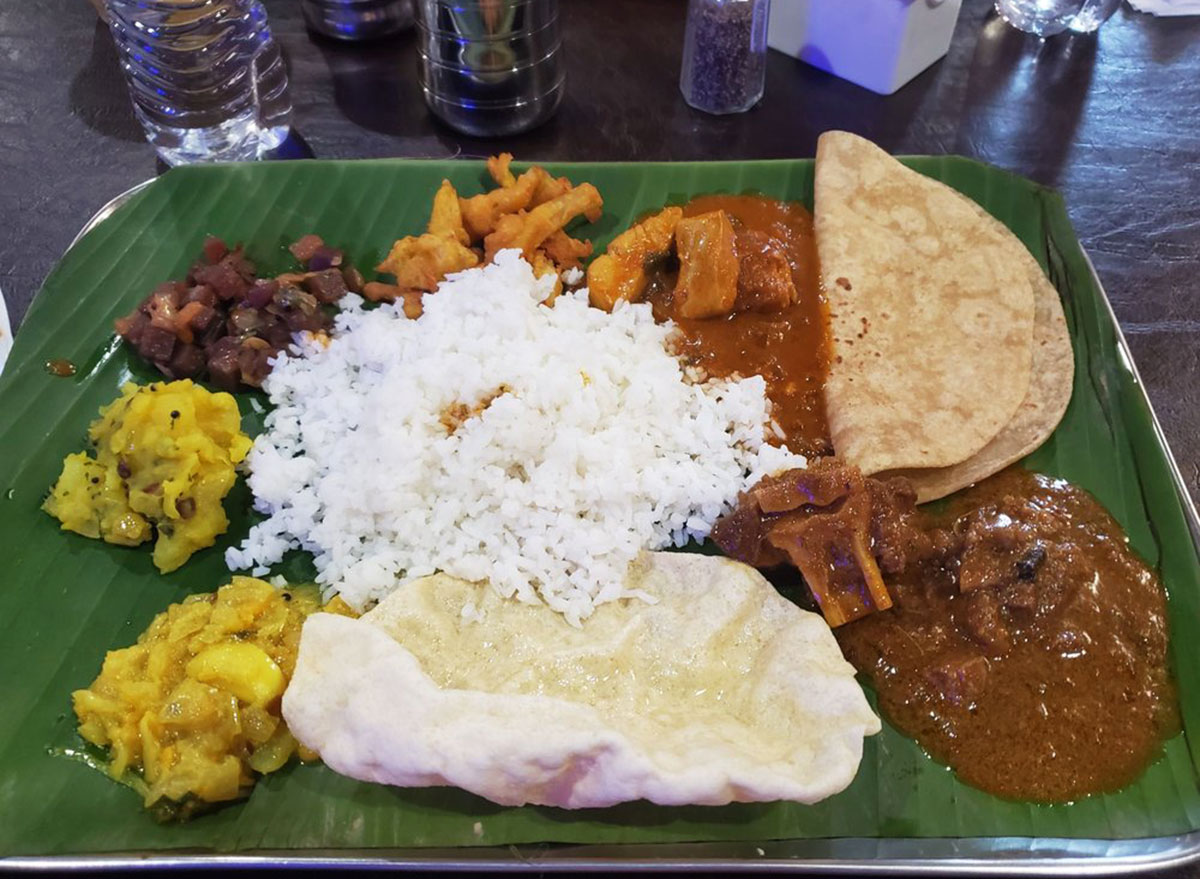 "I have been here a few times over the years for both their lunch buffet and dinner. Food is consistently good," wrote one Yelp reviewer. "One of the few Indian places in MN you could get South Indian food."
MISSISSIPPI: Mama Hamil's in Madison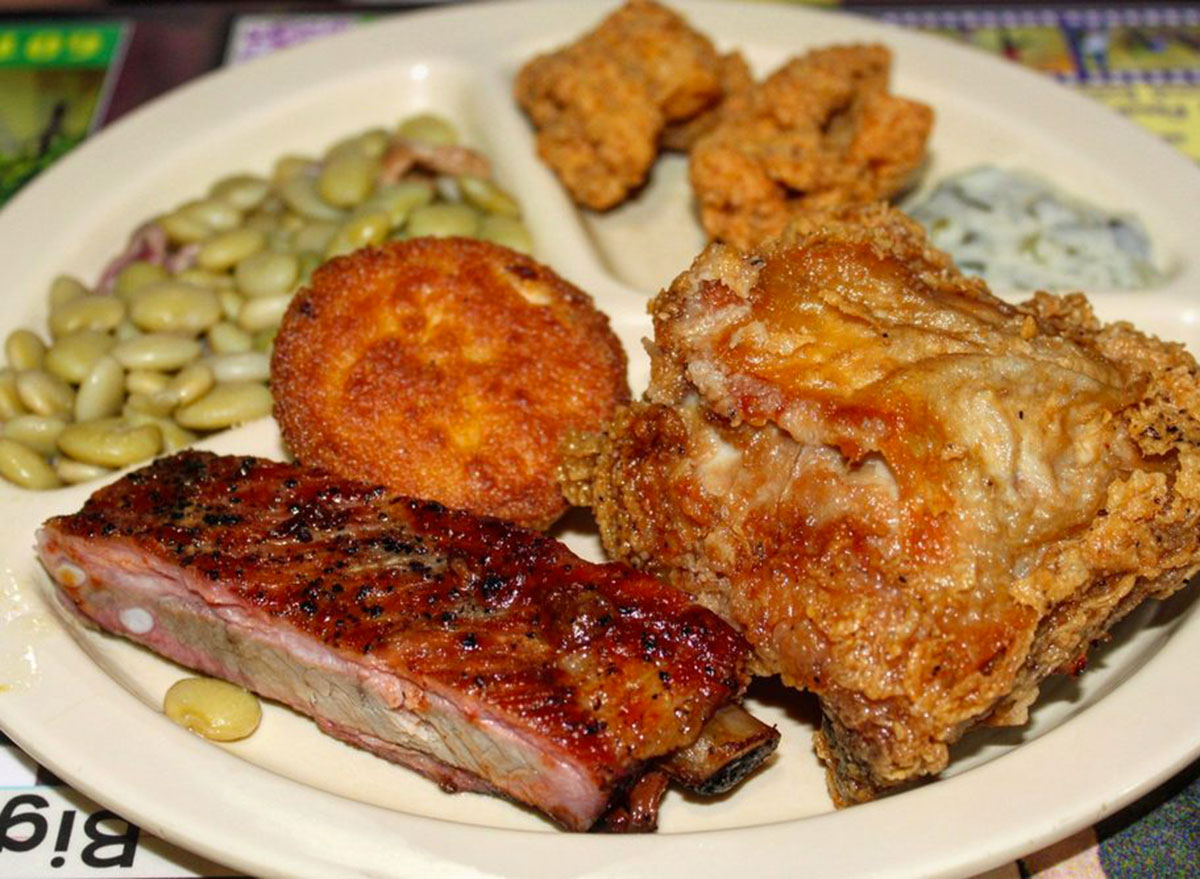 Southerners likely appreciate the spread served at this buffet. Mama Hamil's dishes up anything from pulled pork to chicken and dumplings to fried catfish.
MISSOURI: Zayka Indian Cuisine in Springfield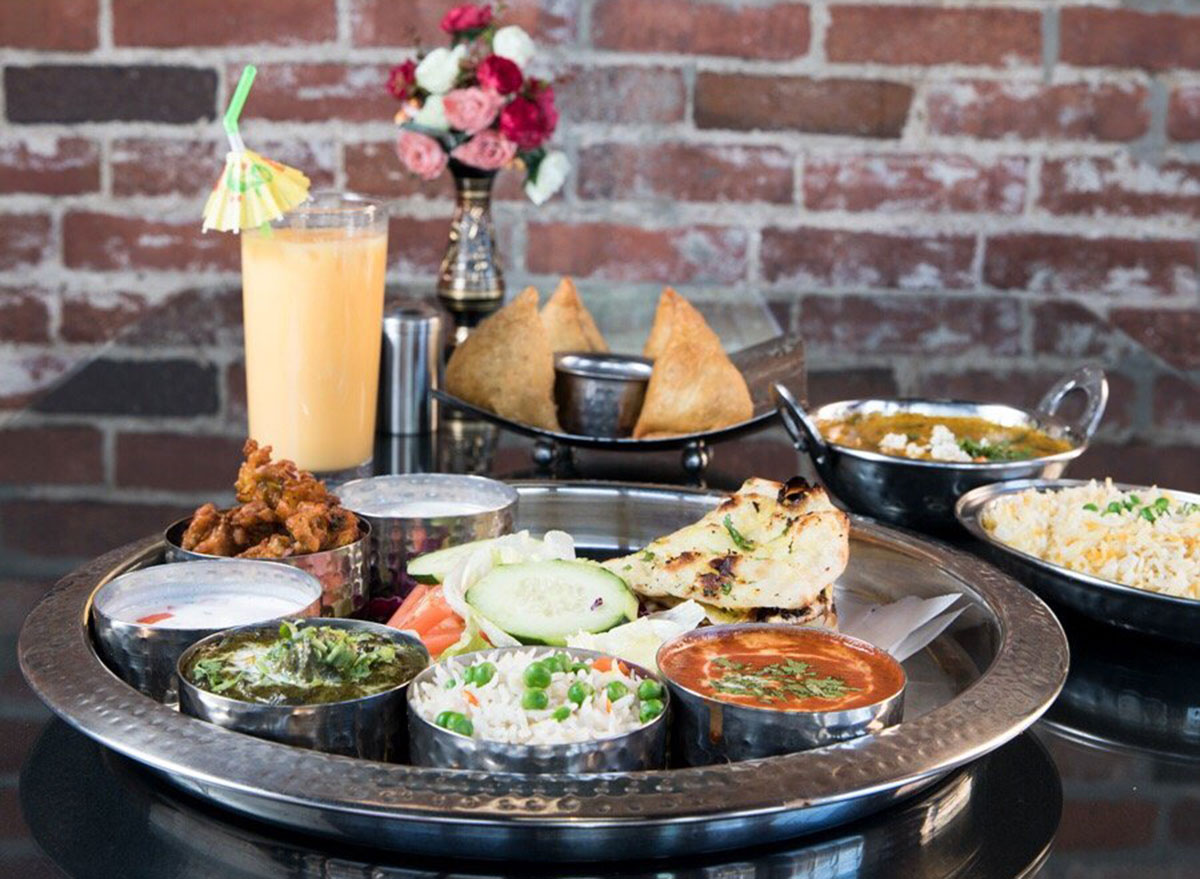 When you dine at Zayka's, make sure to add some of their butter chicken curry to your plate. We hear it's delicious!
MONTANA: Panda Chinese Restaurant in Libby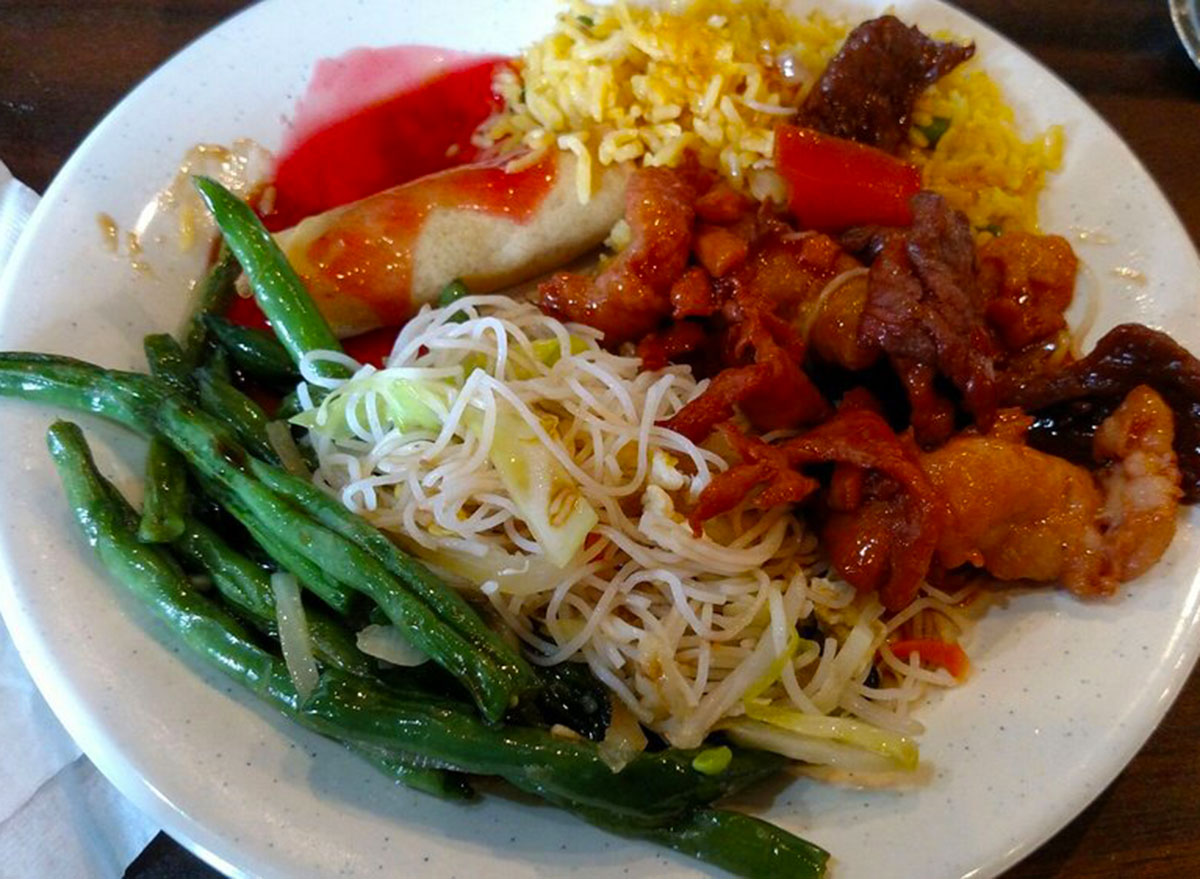 The outside of Panda Chinese may not look all that inviting, but don't let that deter you from walking inside.
"Boy am I glad we didn't judge a book by its cover. The food here is delicious, buffet-style Chinese fare," wrote one reviewer on Yelp.
With options like hot and sour soup, egg rolls, sesame chicken, and kung pao chicken, you're bound to find your favorite Chinese cuisine at this buffet.
NEBRASKA: Great Wall in Elkhorn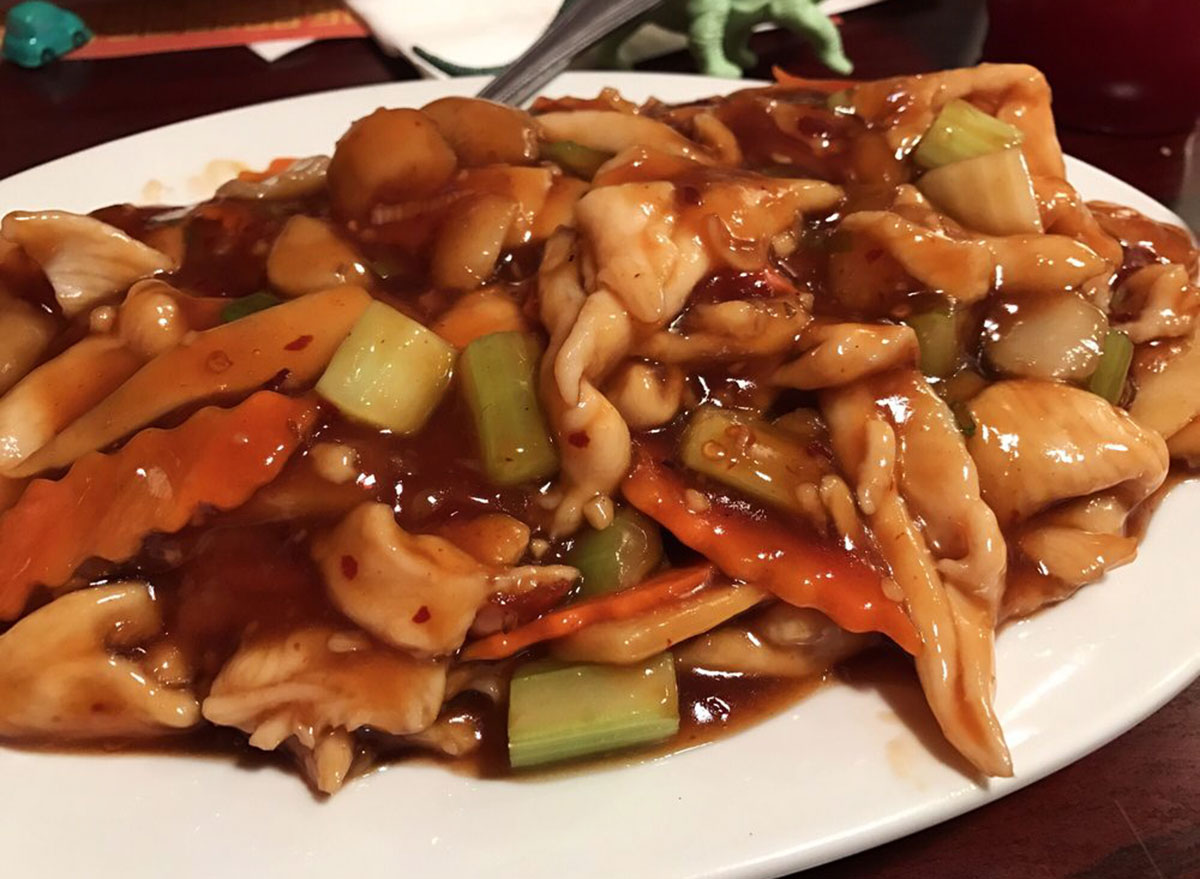 For about $10, you can get all-you-can-eat cashew chicken, dumplings, and crab rangoon at the Nebraskan Great Wall.
NEVADA: BTS Korean Buffet Restaurant in Las Vegas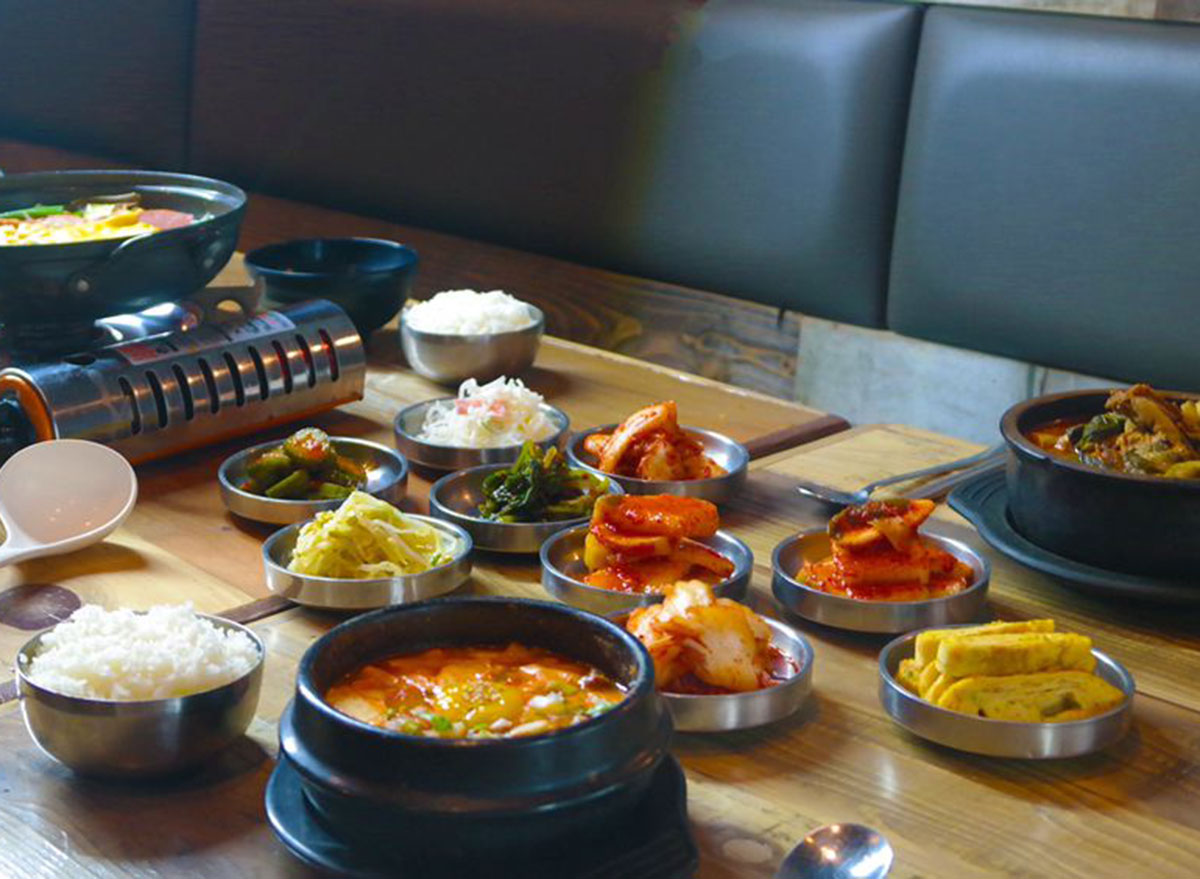 With over 130 reviews on Yelp, this buffet has garnered a five-star rating from reviewers. With offerings such as bulgogi bibimbap, pork belly, and Korean pancakes, let's just say it will be hard to walk away hungry.
NEW HAMPSHIRE: China Yan Restaurant in Dover
You can satisfy your craving for Asian cuisine at China Yan Restaurant. Interested in an intestine stir-fry? They have it for adventurous eaters!
NEW JERSEY: Korai Kitchen in Jersey City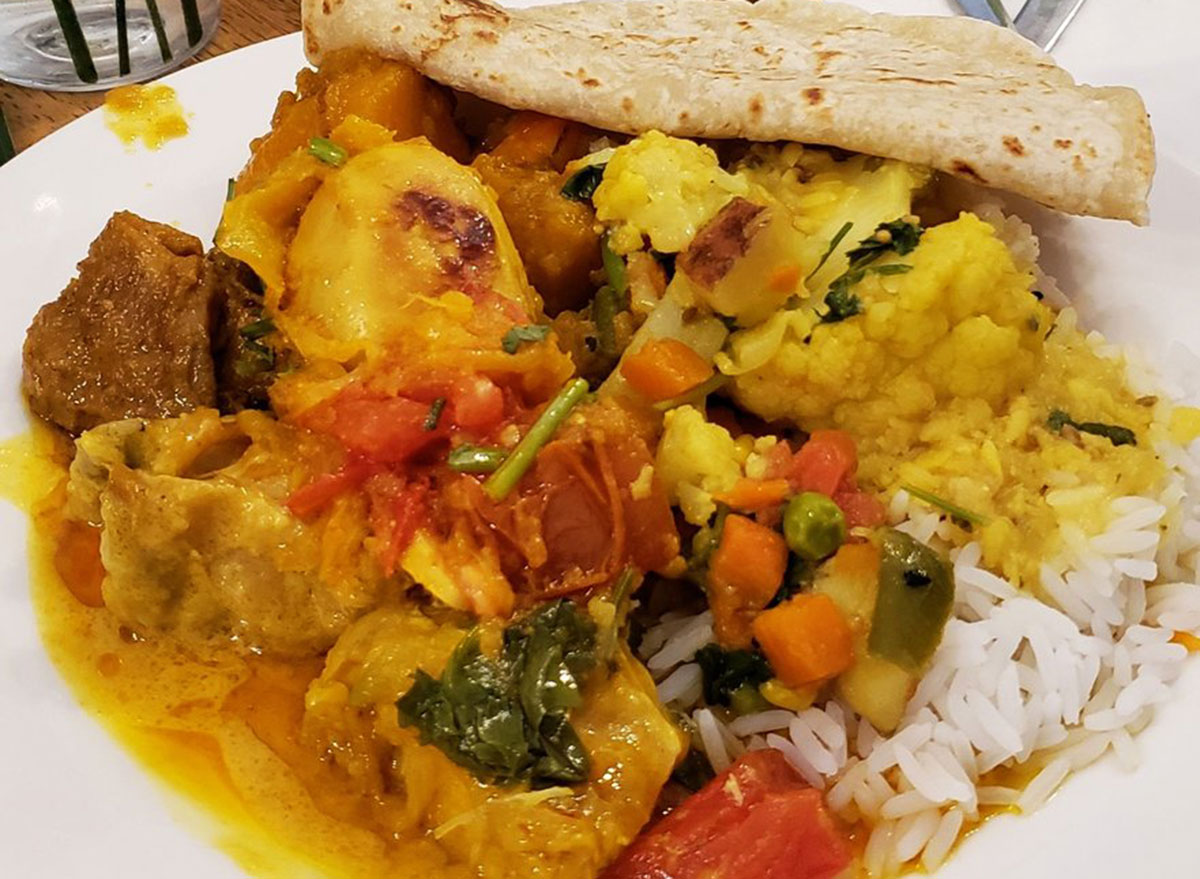 If you're on the prowl for authentic Bangladeshi cuisine, look no further than Korai Kitchen in Jersey City. Pop in for lunch or dinner to enjoy the buffet, which includes an extensive amount of dishes, including egg curry, baingan bhaja (fried eggplant fritters), and khichdi (mushed lentils and rice).
NEW MEXICO: Bombay Grill in Gallup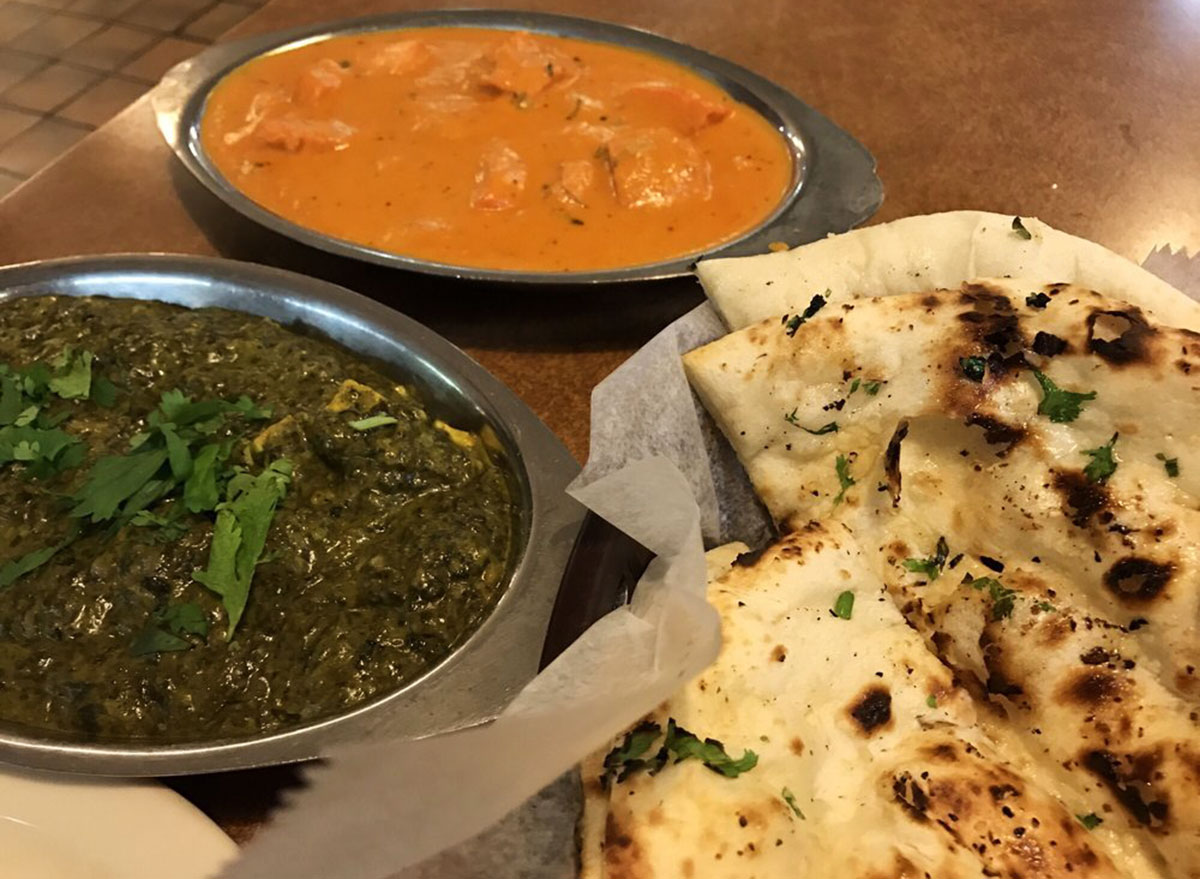 "Excellent authentic Indian food! Ordered the Bahaar-E-Subz and it was amazing, super fresh and very tasty. The Shahi Murg Biryani was fantastic! And the garlic naan took me back to my time in southern India," wrote one reviewer on Yelp.
Make sure to pick up a cup of chai tea, as well!
NEW YORK: Indi-Q Indian Bistro & BBQ in Armonk
At this buffet, enjoy traditional Indian dishes as well as savory Indian BBQ items cooked in the restaurant's very own tandoor ovens. Everything is clearly labeled so you'll know exactly what you're dipping your fork into!
NORTH CAROLINA: 2 Rim Khong Restaurant in Fayetteville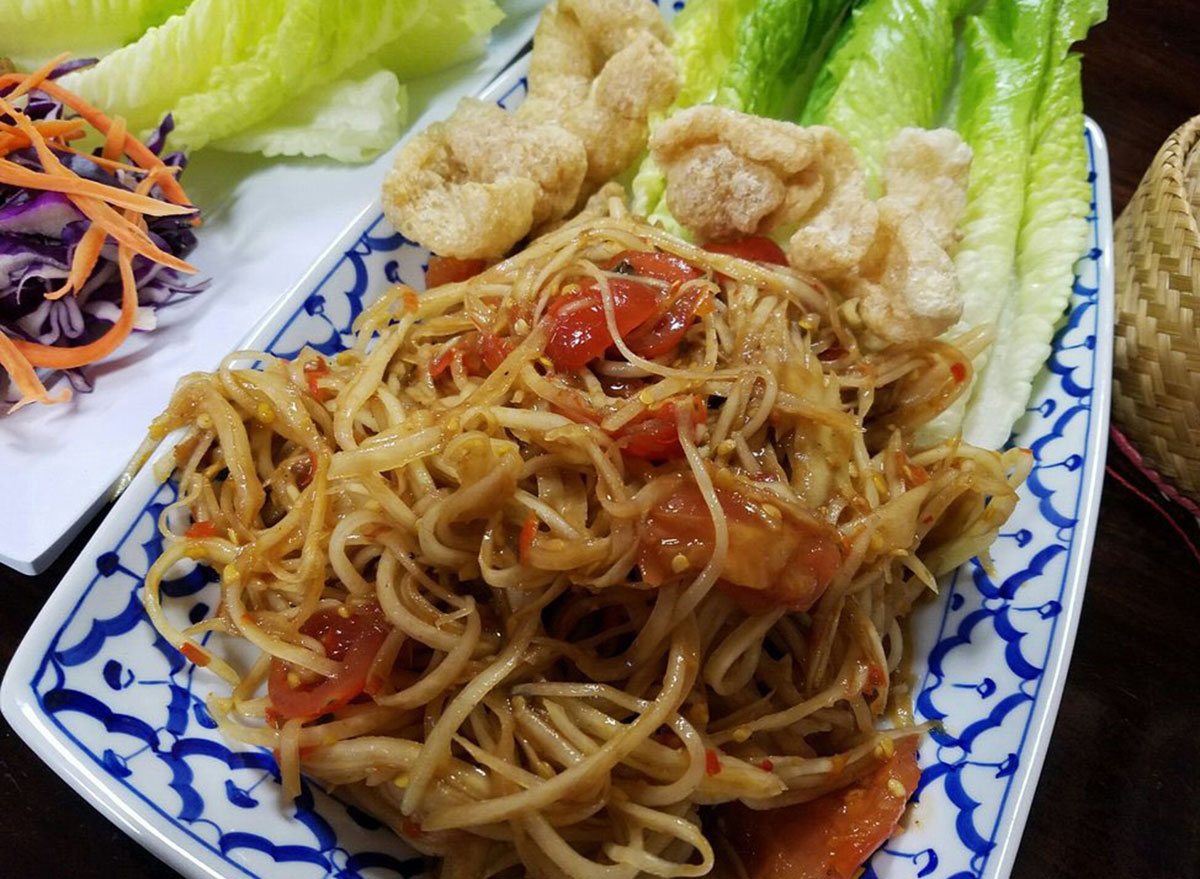 From Tom Kha, a Thai hot and sour coconut milk-based soup with various veggies, to papaya salad Laos, enjoy this inexpensive lunch buffet (only $8.99 each person) Monday through Friday.
NORTH DAKOTA: King House Buffet in Fargo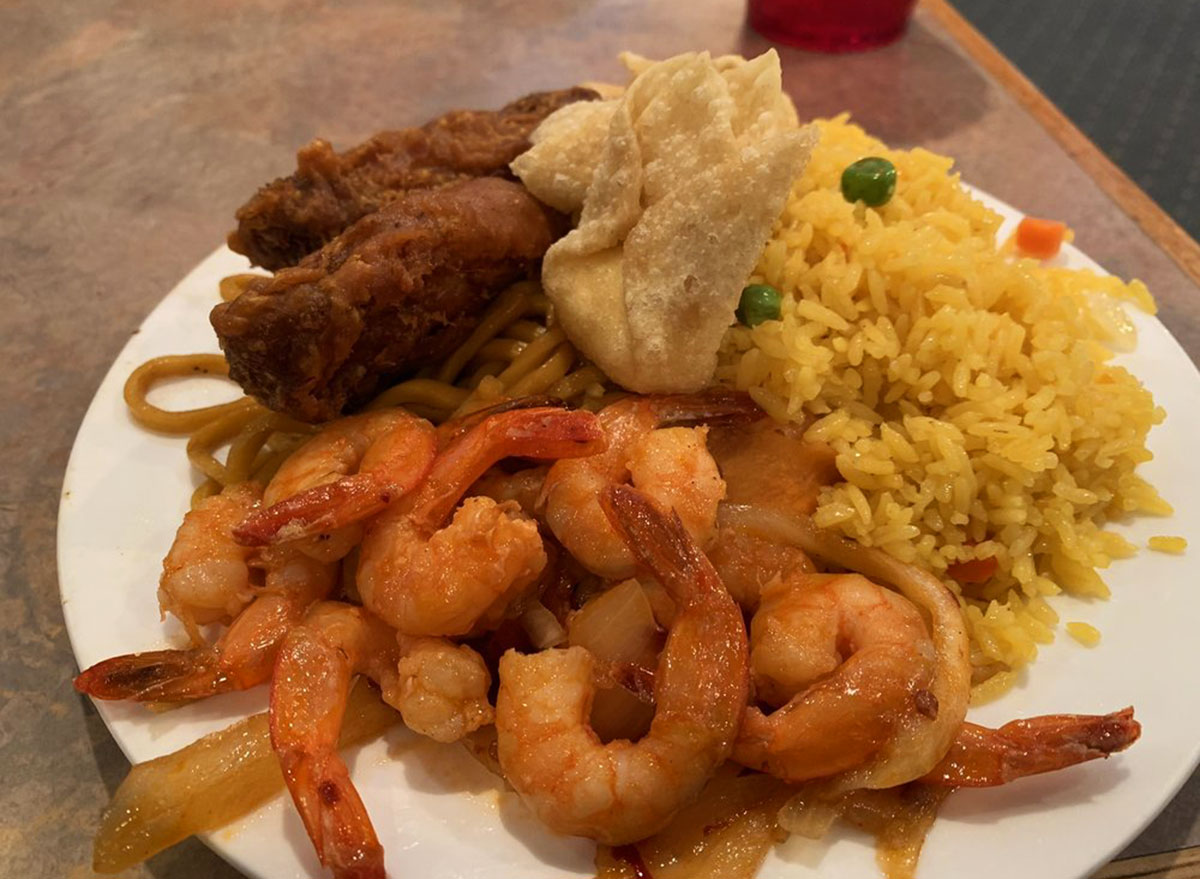 We hear the wontons are incredible at King House Buffet!
OHIO: TAMR Mediterranean Grille in Stow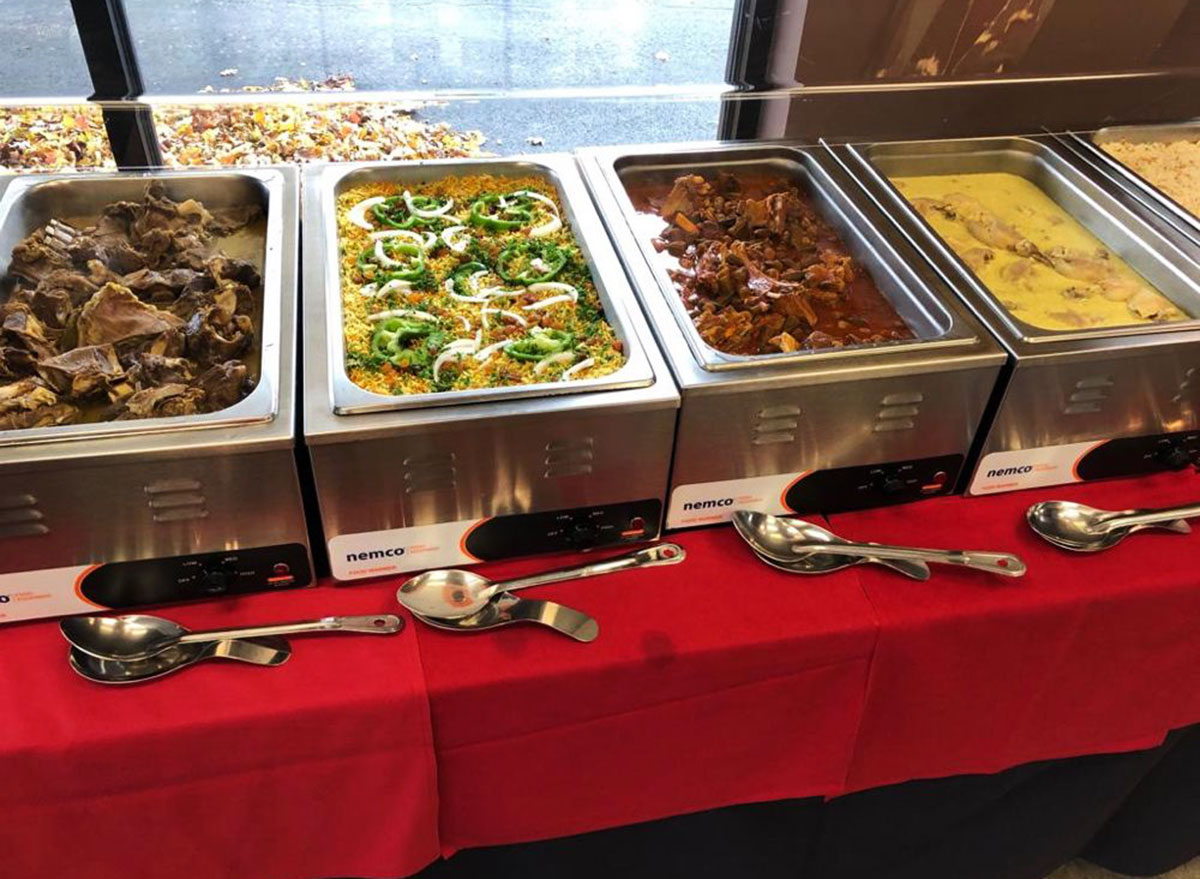 "Delightful buffet included the best hummus I've ever had, very satisfying Kibbeh and chicken dishes and a magical mixed vegetable dish," wrote one reviewer on Yelp.
OKLAHOMA: Route 66 Cafe in Clinton
This place offers American classics such as chicken fried steak, mashed potatoes, and green beans. Could this meal be any more comforting?
OREGON: E'Njoni Cafe in Portland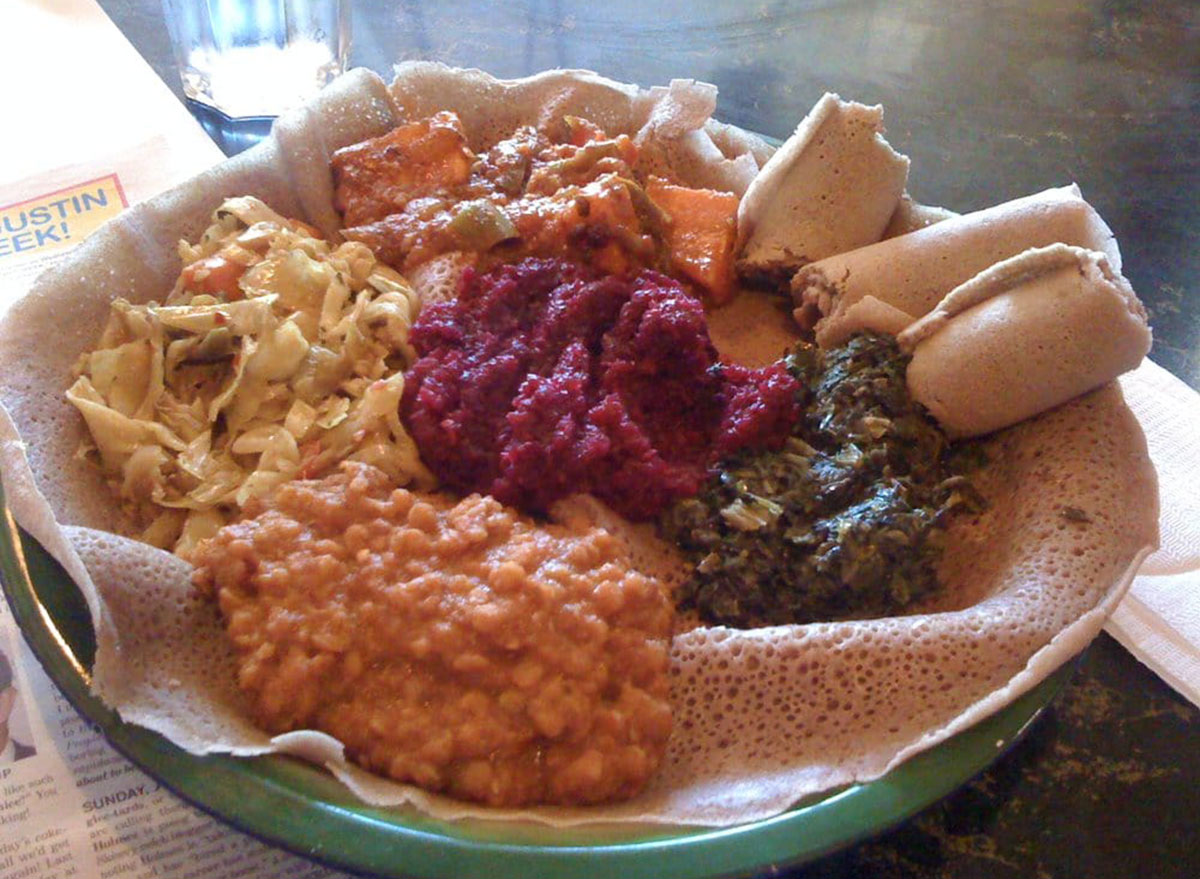 "This place is great, came here with a large group and everyone was happy. Classic Ethiopian fare with a very warm and friendly staff. Kudos to the ladies working hard in the kitchen," wrote one Yelp reviewer.
PENNSYLVANIA: Aman's Indian Bistro in Phoenixville
One reviewer said their favorite dishes from the lunch buffet at Aman's Indian Bistro was the special daal, corn saag, navratan korma, and chicken curry.
RHODE ISLAND: The Nordic in Charlestown
Is it any surprise that the best buffet in a New England state serves up fresh lobster and crab? From what we read, it's worth the $103 price. Just know this buffet is only open from late April to mid-December.
SOUTH CAROLINA: Istanbul Shish Kabob Buffet in North Charleston
If you love Turkish and Mediterranean cuisine, this South Carolinian buffet is worth paying a visit to. Make sure to grab a bowl of lentil soup to start, followed by either steak or meatball kabobs with tzatziki, and finish with a side of jasmine rice for a complete meal.
SOUTH DAKOTA: Kathmandu Bistro in Rapid City
Kathmandu offers Himalayan, Nepalese, and Indian dishes on their buffet that allowed us to try some of each," wrote one reviewer on Yelp. "Everything I tried was delicious and the staff was very friendly and helpful in explaining the dishes and ingredients."
TENNESSEE: Tannoor Grill in Memphis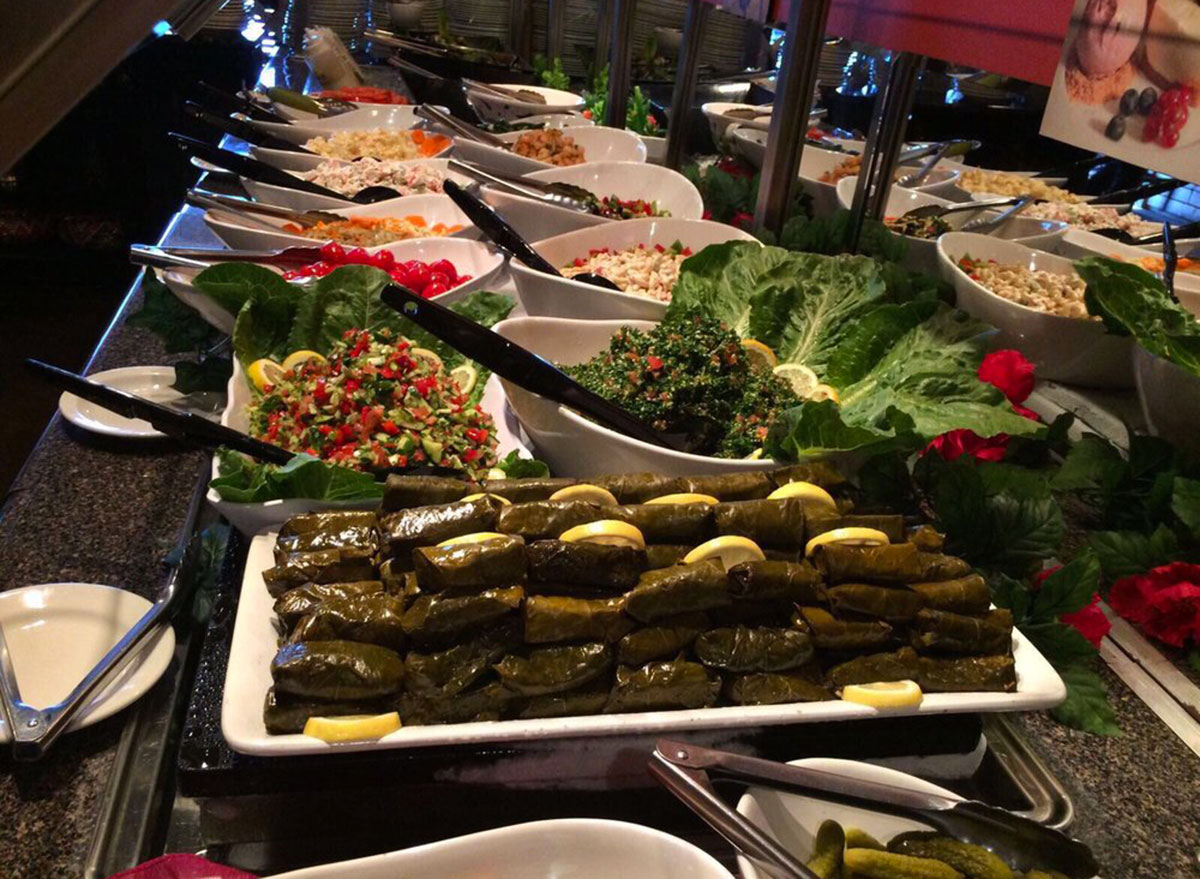 The dinner buffet at Tannor Grill is a little bit more expensive than typical buffets, with one reviewer saying they paid about $40 after tax and tip. But they did say the meal was completely worth it.
"I think the salad bar on its own was worth that much. The salad bar offers traditional salad choices, but also a variety of cold and warm dishes like potatoes, rice, hummus and pita, lox, imitation crab salad, mushrooms, and more," they wrote.
TEXAS: Sofra Kebab House in Plano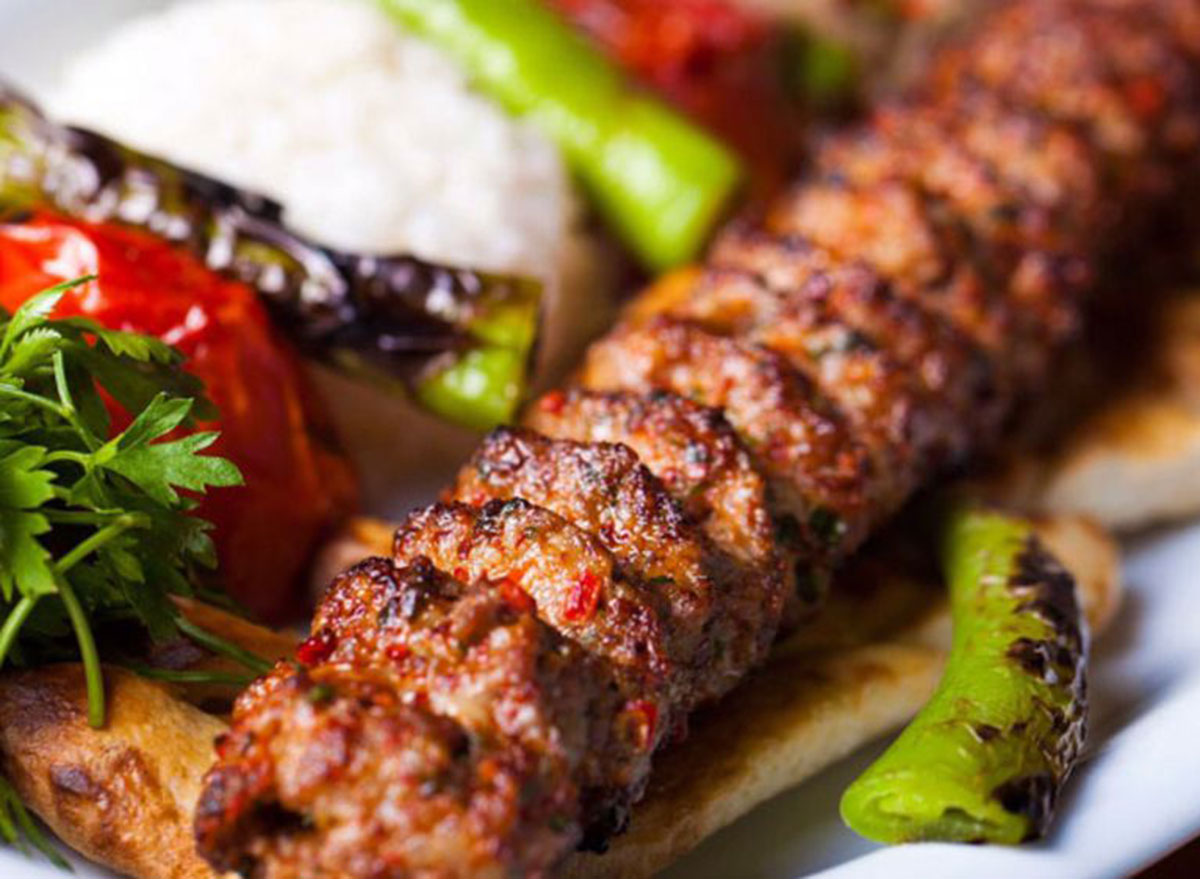 How good is the food at this buffet? Just read what one reviewer had to say about the Turkish and Mediterranean restaurant.
"[The] food is delicious. Hummus was great, pita bread fresh and hot. The beef and chicken kebabs were amazing; flavorful, succulent and sizzling. The beef stew and rice with orzo was so good," she wrote.
UTAH: Gurkhas in Salt Lake City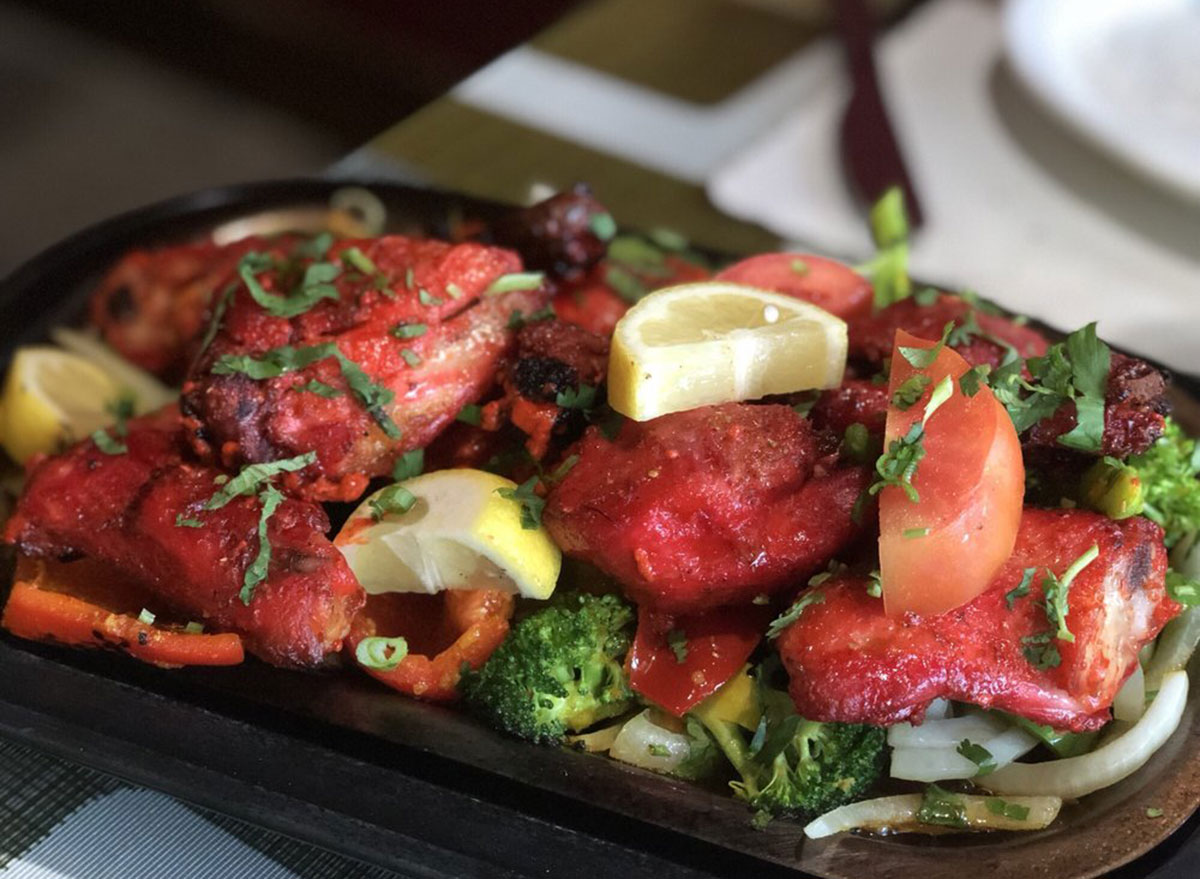 "Never before have I finished stuffing my face at a lunch buffet and [said] out loud to friends, "Wow that was so good let's come back tomorrow!" let alone saying those words and actually following through," wrote one enthusiastic reviewer.
Sounds promising to us!
VERMONT: Lucky Buffet in St. Albans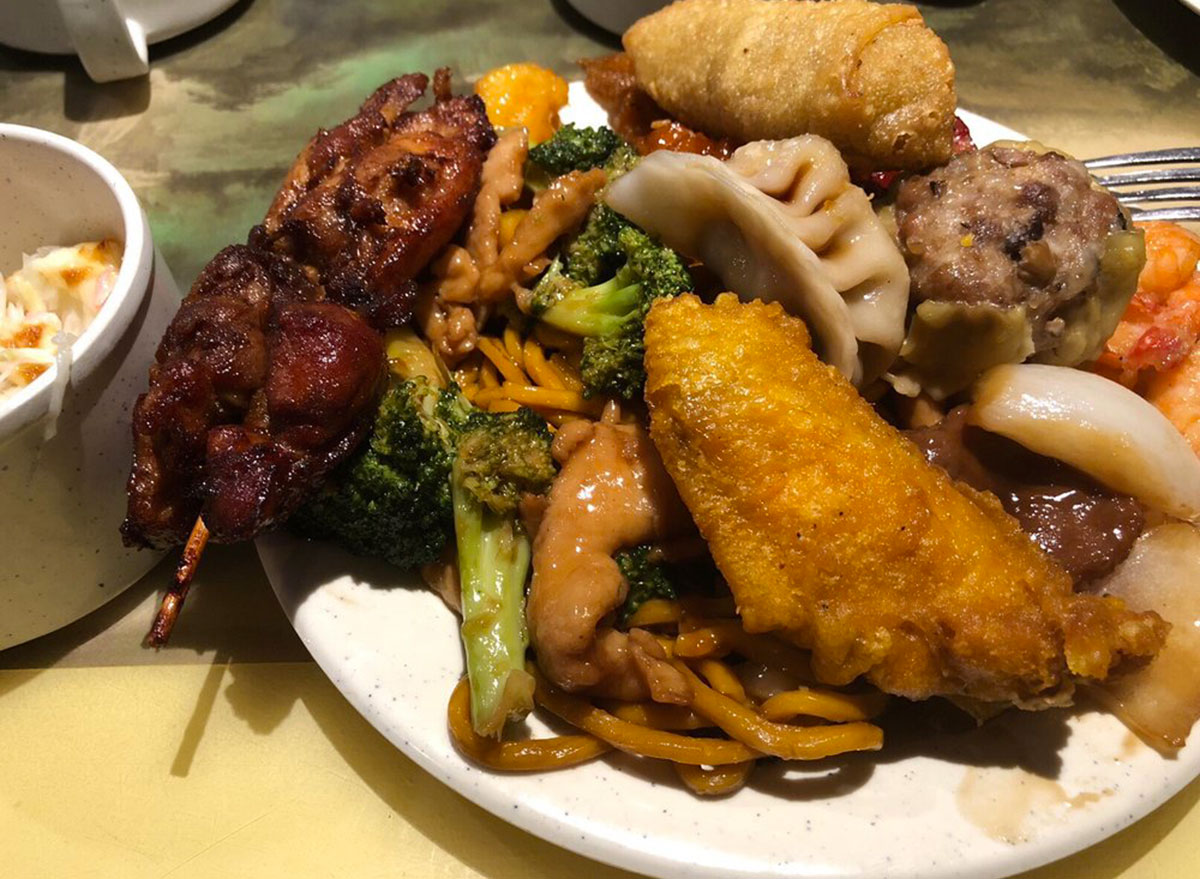 If you're lucky enough to have the opportunity to eat at this buffet (see what we did there?), people say there's an array of Chinese cuisine (lo mein, egg rolls, dumplings, sautéd broccoli—the works) and bite-size desserts worth stopping in for.
VIRGINIA: Mehak Indian Restaurant in Chantilly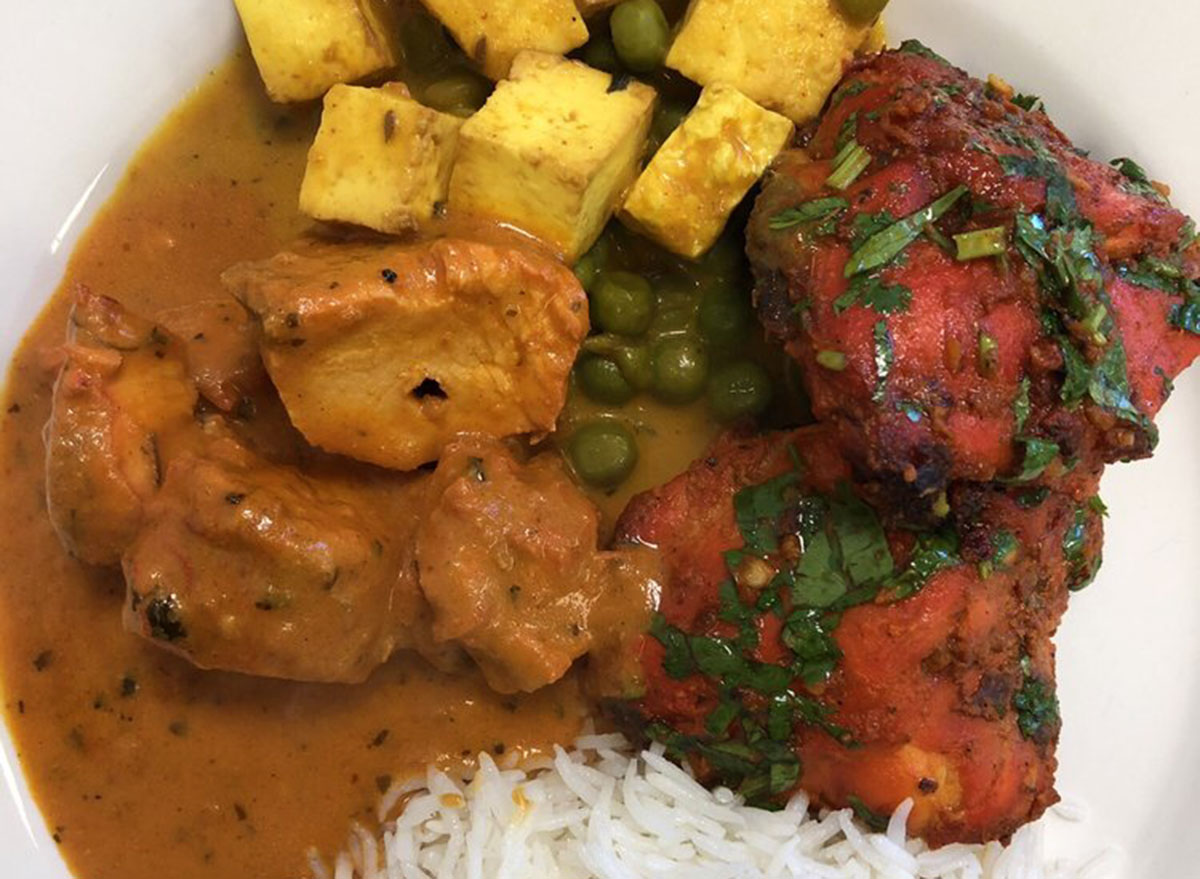 At Mehak, you'll be able to choose from a wide variety of Indian-inspired plates, including chicken kofta, butter chicken, corn spinach, and biryani.
WASHINGTON: Umma's Lunch Box in Seattle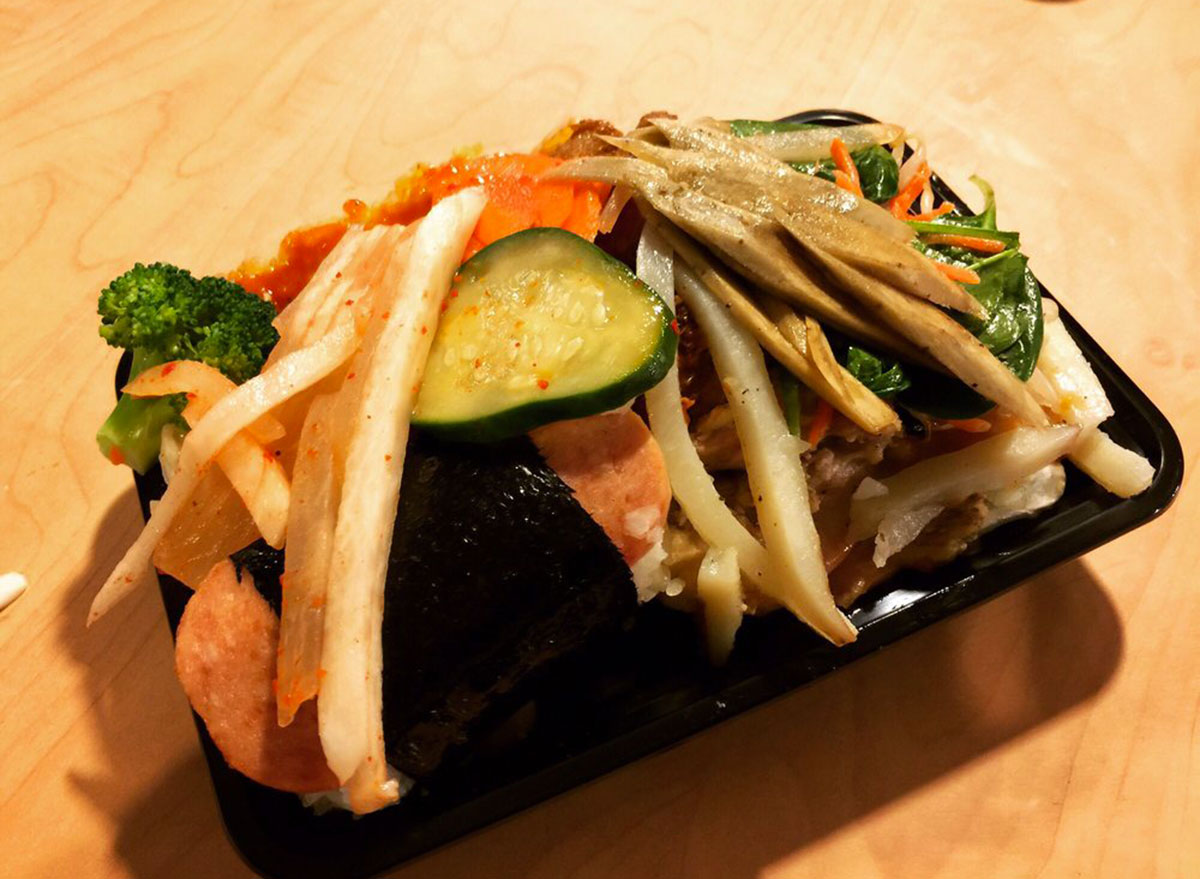 The top-rated buffet by Yelp users in Washington is Umma's Lunch Box. Why? With dishes like Spam Musubi, sweet potato noodles, and popcorn chicken on the table, who wouldn't be excited to create their own box of food?
WEST VIRGINIA: Spice Connexion in Martinsburg
This Yelp reviewer sums up the appeal at Spice Connexion: "Delicious food and friendly staff who are knowledgeable about the menu. There were so many options available, I asked if there was a sampler option, and there was! The garlic and potato naan were amazing, along with all of the other vegetarian curry dishes I had. We'll be back!"
WISCONSIN: Amber Indian Cuisine in Middleton
Known for authentic Indian cuisine and an accommodating staff, it's no wonder why this buffet is rated the best of the best in the state by Yelp users.
WYOMING: Stampede Saloon And Eatery in Chugwater
Last but not least, the very best buffet in Wyoming according to Yelp's algorithm is Stampede Saloon and Eatery, a fun Western-themed family dining area with live entertainment every Friday and Saturday night. The cuisine? Pure comfort food that everyone can enjoy.