5 Popular Disinfectants Proven to Kill COVID-19
Be sure to have these on hand to keep your house clean and safe!
There are many household cleaners on grocery store shelves to choose from. But with all kinds of scents, ingredients, and purposes, it can be hard to find the right one. Not to mention the fact that some shelves have been empty. As the coronavirus pandemic continues to affect us at home and around the world, it's more important than ever to make sure your cleaning products work to kill COVID-19.
"Let's face it, finding products that properly disinfect surfaces is a challenge these days due to shortages," Dr. Jen Caudle, a physician and Associate Professor in Family Medicine at the Rowan University School of Osteopathic Medicine and a popular TV personality with appearances on The TODAY Show, CNN, PBS, and more, says on her website. "Keep in mind that there are safe and NON-SAFE ways to use disinfectants. It's important to have proper ventilation, avoid mixing substances, and make sure your products have not expired."
Conveniently, the Environmental Protection Agency (EPA) has a master list of all the common disinfectants that kill COVID-19. The list is nearly 500 products long, and you can find them all here.
We've rounded up five well-known brands that get the job done on surfaces around the home. Read on, and for more on how to stay healthy, make sure you avoid these 108 Most Popular Sodas Ranked By How Toxic They Are.
Clorox Splash-Less Bleach
This tried-and-true cleaner from The Clorox Company contains sodium hypochlorite, a liquid form of chlorine. It kills the human coronavirus on hard, nonporous surfaces in about six minutes. As Dr. Caudle says, it is important to dilute bleach with water.
Unfortunately, Clorox products — especially disinfecting wipes — have been gone from grocery stores since the pandemic started.
Lysol Brand Deodorizing Disinfectant Cleaner
This is another popular option for home cleaning from parent company Reckitt Benckiser. Unlike the Clorox bleach, Lysol contains quaternary ammonium that kills the virus in 10 minutes on hard, nonporous surfaces.6254a4d1642c605c54bf1cab17d50f1e
The New York Times says that Lysol products are also low in stock. Here are 8 Grocery Items That May Soon Be in Short Supply Again.
This spray kills the coronavirus (and others) in the air in no more than half a second. Lysol Neutra Air 2 in 1 contains Ethanol (also called Ethyl alcohol). Should any open food be present when the spray is used, the food definitely needs to be rinsed, the EPA says.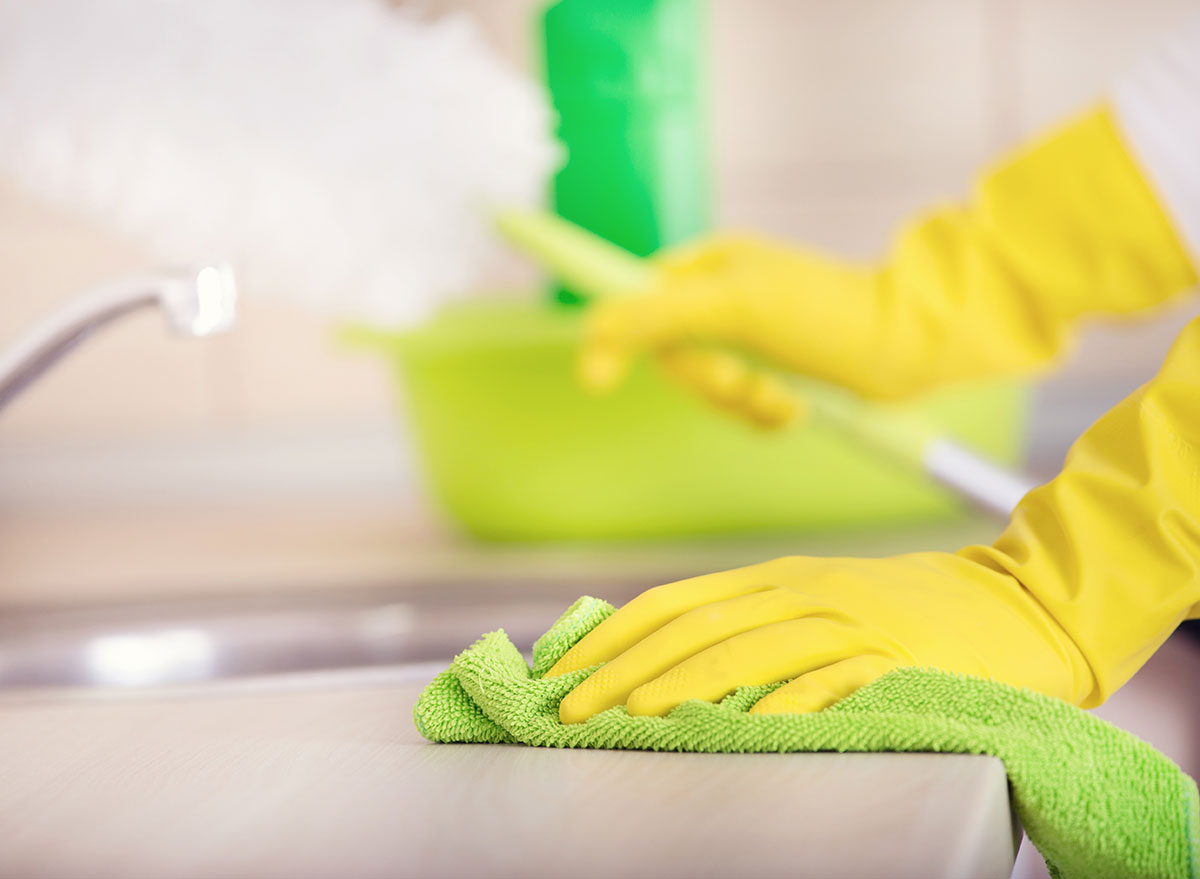 Milo bleach, like Clorox, contains sodium hypochlorite. Owned and operated by the Clorox Professional Products Company, this brand of bleach is dilutable and can kill COVID-19 in only five minutes. It can be used on hard, nonporous surfaces like those in the kitchen, bathroom, and laundry room.
Related: This Is the Cleanest Fast-Food Chain in America
Sparkling Wave Pine-Sol Multi-Surface Cleaner
This product was added to the EPA's list in late September, according to Dr. Caudle. Pine-Sol is another from the Clorox company. It also contains sodium hypochlorite and kills the virus in only one minute. Dilute 1/4 cup in a bucket with one gallon of water and use mops, sponges, and rags to clean.
For more coronavirus news, sign up for our daily newsletter!
Amanda McDonald
Amanda has a master's degree in journalism from Northwestern University and a bachelor's degree in digital journalism from Loyola University Chicago.
Read more about Amanda