The 9 Best Foods You Can Get at America's Favorite Grocer, 7-Eleven
It's not just Slurpees and junk food.
The product recommendations in this post are recommendations by the writer and/or expert(s) interviewed and do not contain affiliate links. Meaning: If you use these links to buy something, we will not earn a commission.
7-Eleven is unquestionably one of America's most recognizable food retailers, with nearly 9,450 locations nationwide, according to ScrapeHero. While not every U.S. state has its own 7-Eleven, there are many places, like California, Florida, Texas and Virginia, where it can feel like there's one at almost every turn. 
That familiarity is particularly appealing to members of younger generations. A recent survey found that among millennials—and especially younger men—7-Eleven was the most popular place to buy groceries. The chain beat out Trader Joe's, Whole Foods, Aldi and many more, which is surprising, really, because 7-Eleven doesn't even try to market itself as a grocer, but rather as the classic convenience store.
While perhaps best known as the home of Slurpees, Doritos and Sour Gummy Worms, 7-Eleven locations in many places actually offer a number of healthier options as well, including fresh foods. There are also plenty of 7-Eleven offerings that may not score high marks with registered dieticians but are undeniably delicious. Let's take a look at both types of 7-Eleven eats to maintain the balance between wellness and pure satisfaction.
Organic Cold Pressed Juice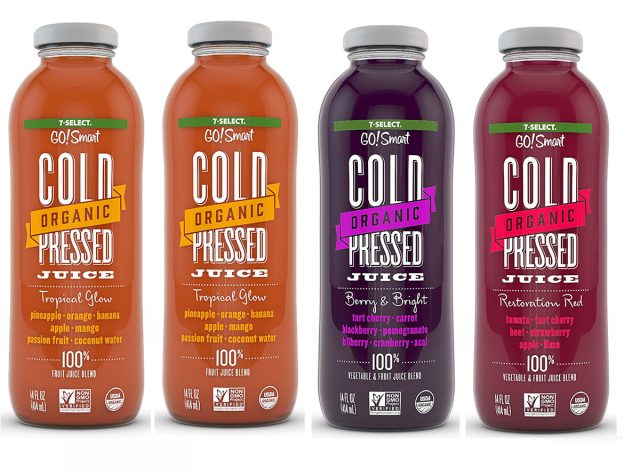 That's right! There's a 7-Eleven-branded, organic-certified cold pressed juice, and based on customer reviews, it's pretty excellent. 7-Select Go! Smart Organic Cold Pressed Juice comes in four varieties at present: Berry & Bright, Clean & Green, Restoration Red, and Tropical Glow. You don't even have to go to 7-Eleven to try the juices. They can be ordered online, too. "Who'd have thought this would come from 7-11?" one Amazon reviewer wrote, echoing the views of many, "but this stuff is awesome!"
Fruit Harvest Blend Cup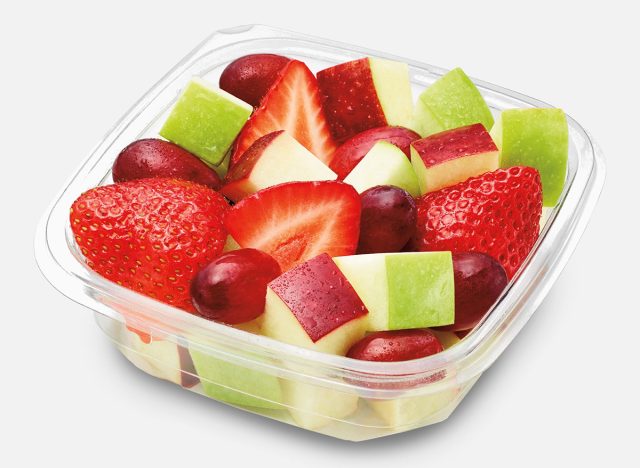 At most 7-Elevens, you'll find two different options of fresh fruit cups for sale: the classic Fruit Blend Fruit Cup and the Fruit Harvest Blend Fruit Cup. (Yes, the names are a bit redundant.) Both consist of nothing but actual fresh chunks of fruit, but we're recommending this one specifically because the melon on the Fruit Blend Cup is sometimes a bit past peak freshness, in our experience. In the Fruit Harvest Blend cup, you'll find fresh strawberries, apples, and grapes, each of which offer varied health benefits like vitamins, antioxidants, fiber, and more.
Chicken Salad Sandwich
While hardly the healthiest foodstuff for sale at 7-Eleven, the chain's Chicken Salad Sandwich is a favorite with many customers, thanks to its surprisingly good taste and its filling 400 calories and 18 grams of protein, according to Fast-Food Nutrition.  When one Reddit user posted the question: "Best thing on the menu at 7-11?" the Chicken Salad Sandwich was remarked on multiple times, with one respondent saying: "I'm partial to the chicken salad sandwiches … Pair that MF-er with a bag of off-brand hot chips and Dragonfruit Vitamin Water and you're headed lights and sirens to flavor town for the delicious satisfaction." 
Iced Coffee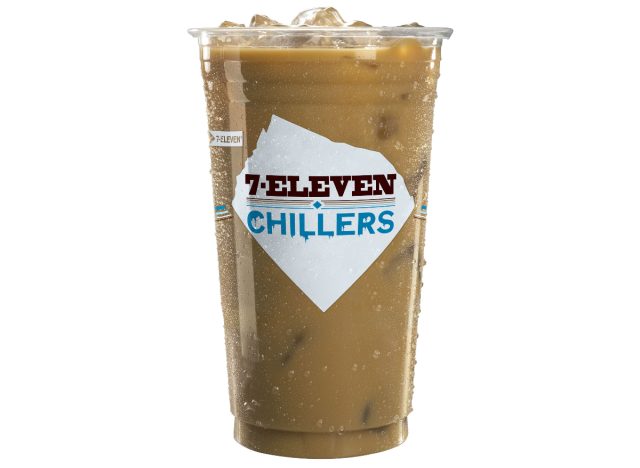 7-Eleven's hot coffee is usually fine—it's nothing special, but it's brewed often enough that it's always fresh and rarely tastes burnt or bitter. Now, the chain's iced coffee? That's a different story. Business Insider once deemed it superior to similar offerings at McDonald's, Peet's, Dunkin' Donuts and Starbucks. And that's saying something, considering two of those chains are literal coffee shops! Smooth, flavorful and quite affordable, 7-Eleven's iced coffee alone is reason to visit.6254a4d1642c605c54bf1cab17d50f1e
Taquitos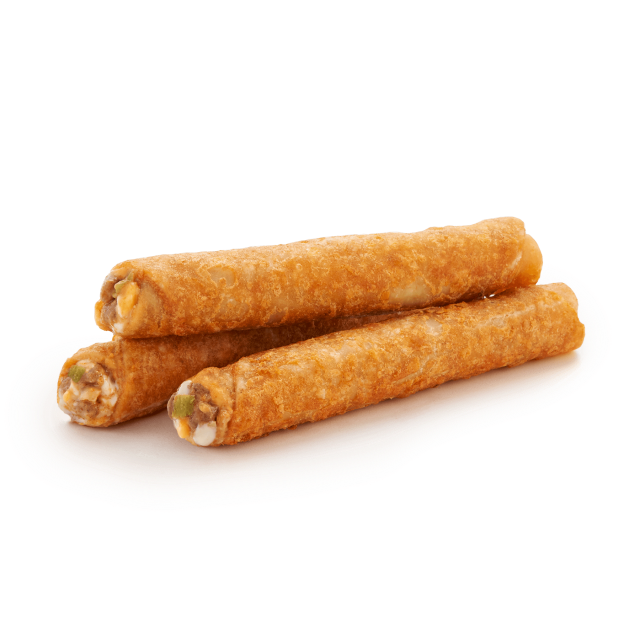 Healthy? No. Do you even want to know the entire ingredient list? Based on our research, also no. But the Taquitos from 7-Eleven are undeniably delicious, and that's true whether you go with the classic Taquito, the newer Korean BBQ Taquito or, if you can find them, Buffalo Chicken Taquitos, of which one Redditor remarked: "Buffalo chicken taquitos. With nacho cheese for dipping. 5 for $4. Breakfast of champions." 
Lenny & Larry's The Complete Cookie
No time for breakfast or too busy for lunch? Or need a bite to get you through the afternoon? 7-Eleven sells a cookie that can help with that. Yes, a cookie: the Complete Cookie from Lenny & Larry's. How can a cookie stand in for a meal? Because one of these vegan cookies has 420 calories, 16 grams of protein, 10 grams of fiber, nearly 60 grams of carbs, yet has only 10% of a day's sodium and 15% of a day's fat.
Garden Side Salad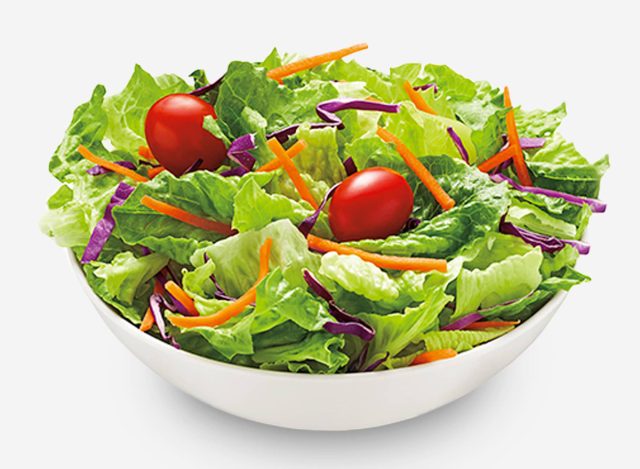 A classic little side salad, this fresh offering from 7-Eleven consists of romaine lettuce, carrot slices, grape tomatoes and chopped red cabbage. It's fine on its own, but even better as a base for a larger salad when you add your own ingredients such as grilled chicken, edamame beans or more veggies. Dressing up 7-Eleven foods using various hacks is a classic "Sleven" customer move, and in this case it can be a healthy one as opposed to, say, adding ounces of melted nacho cheese atop a slice of pizza.
7-Select PuriTEA Unsweetened Black Tea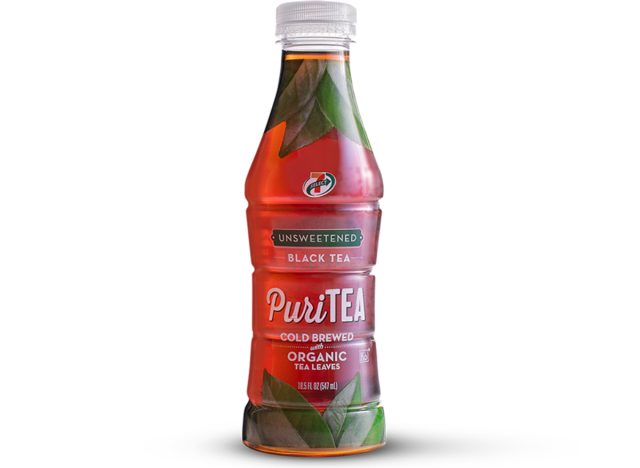 While most of the iced teas in the 7-Select lineup are quite tasty, they are also largely loaded with sugar—as in sugar comparable to that found in soda, so they're really best left on the shelf. The chain's PuriTEA Unsweetened Black Tea, on the other hand, is suitable for heavy quaffing from a health standpoint, and it's quite refreshing, too. Also, it's made with organic tea leaves.
Pizza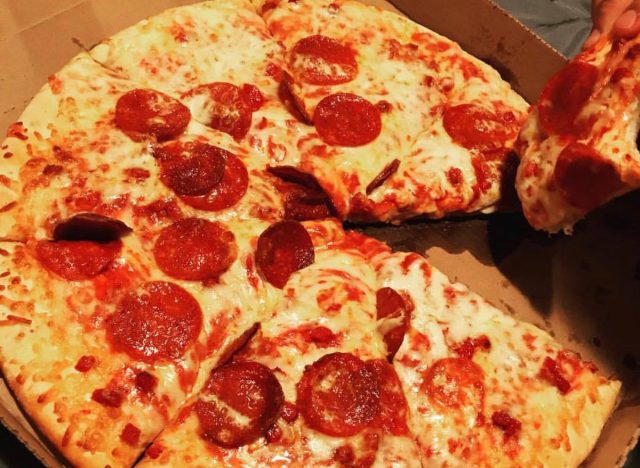 7-Eleven's pizza is not going to win any awards and it's not going to have any pizza purists writing rave reviews. But it's available, hot and ready, all day and all night, and when you ask for an entire pizza, the staff will usually cook a "fresh" pie for you. Also, there's the price. As a Reddit user stated: "The $5 pepperoni pizza from 711 is equally as good as the same from a large chain. I'm not comparing this to a nice wood fire or brick oven pizza. At Papa Johns or Domino's, the same would cost at least $6 with a coupon, closer to $10 without a coupon." And in many places, you can now order 7-Eleven pizza for delivery.
Steven John
Steven John is a freelancer writer for
Eat This, Not That!
based just outside New York City.
Read more about Steven