10 Affordable Valentine's Day Gifts for the Foodie In Your Life
Roses are red, violets are blue, money may be tight, but the prices of these gifts are just right.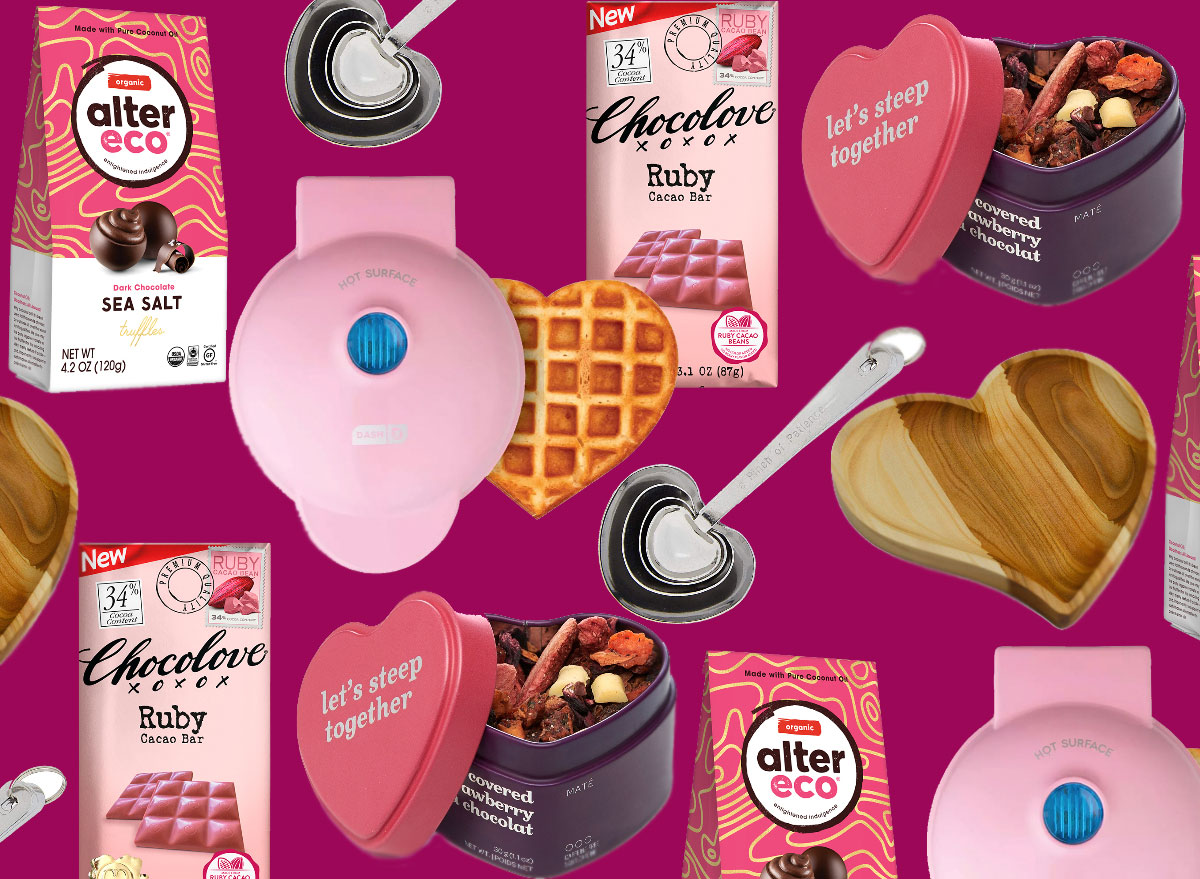 Food is the language of love and we're all fluent: That's why date nights are spent eating out at nice restaurants, why oatmeal cookie batter reminds you of Grandma, and why chocolate somehow always makes everything better.
So on Feb. 14, ditch the flowers and grand romantic gestures. Forget what's 'grammable and focus on what's edible with these affordable Valentine's Day gifts for the foodie in your life because, contrary to popular belief, the way to anyone's heart—your bae, best friend, mom, or dad—is through their stomach. All of the Valentine's Day gifts we selected cost less than $30 so you don't have to break the bank this holiday!
Now, here are 10 affordable Valentine's Day gifts any foodie is bound to enjoy.
DavidsTea Heart-Shaped Tins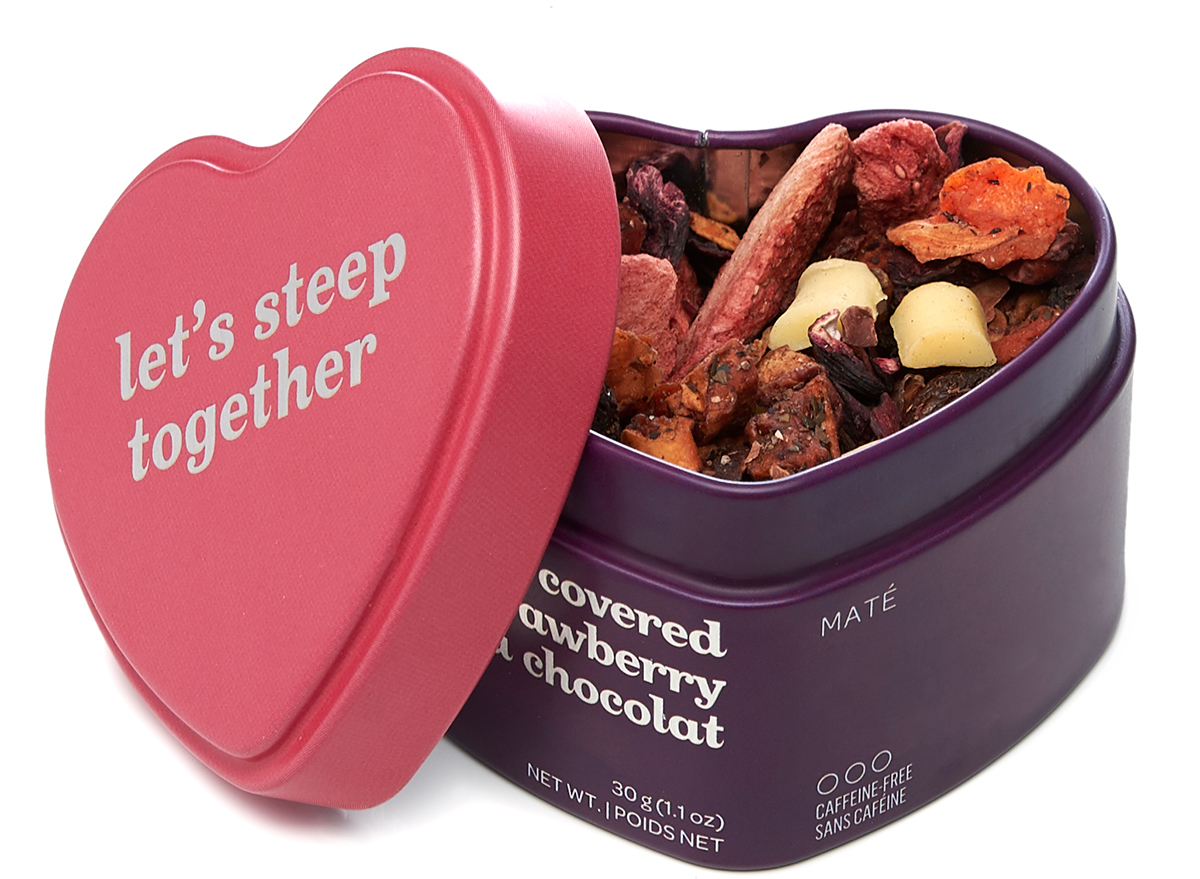 For the person in your life who can't get enough tea.
These heart-shaped tins from DavidsTea are filled with loose leaf blends inspired by some of the quintessential Valentine's Day treats. Choose between four flavors:
Forever Nuts: an herbal tea infused with apples, almonds, cinnamon, and beetroot.
Sweet Tart: a caffeine-free cherry tea with apple pieces, raisins, carrot pieces, and hibiscus blossoms.
Chocolate Covered Strawberry: a roasted Yerba mate blend with white chocolate, cocoa beans, and strawberry.
Chocolate Macaron: a rich, nutty black tea made decadent with toasted coconut, cacao nibs, pecans, and rock sugar.
Treat your Valentine to one of these limited-edition, heart-shaped tins for just $6 a container or, if they really love tea, you can buy three for $15. With adorable sayings like, "let's steep together" and "you're my valentine" stamped on top of each tin, you can be sure your lover will appreciate the sentiment just as much as the delicious sips.
Alter Eco Sea Salt Truffles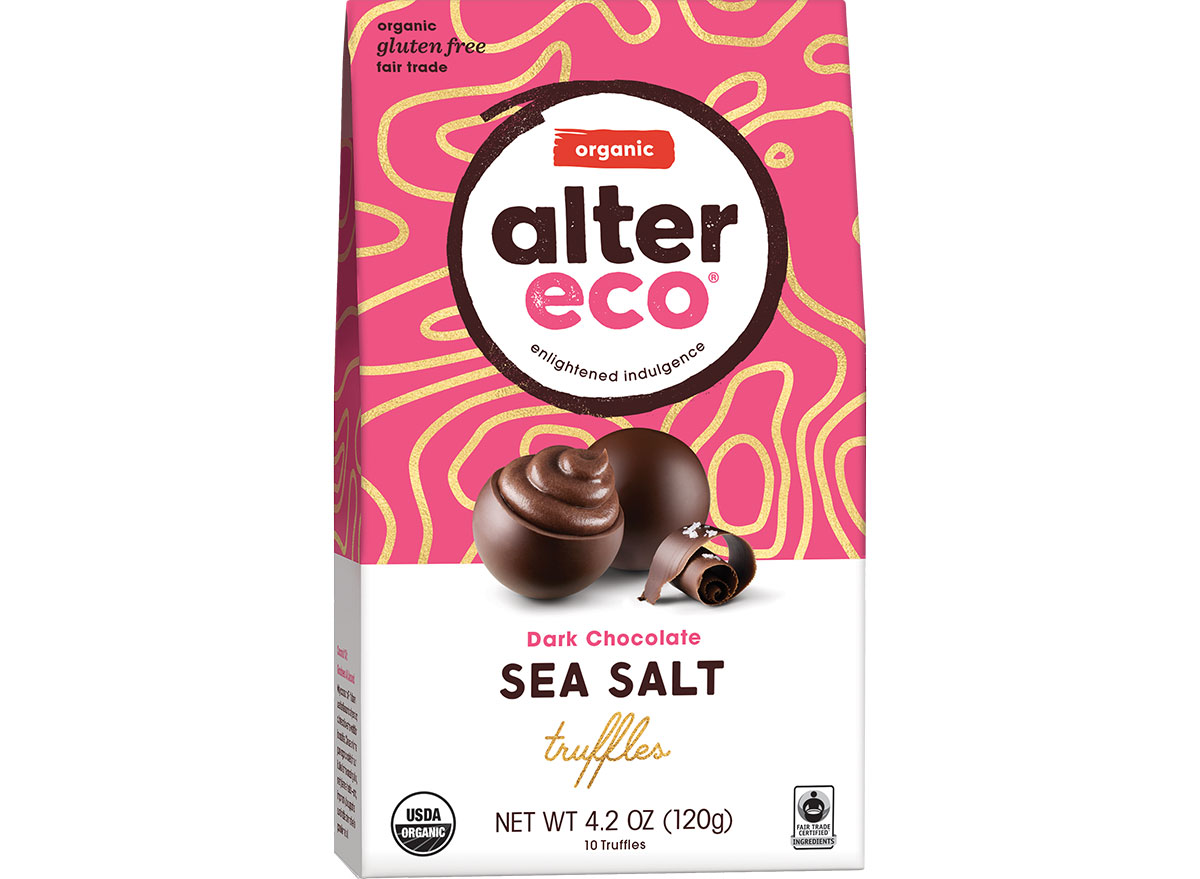 For the person who loves sweet and salty treats.
So, what will it be: Sweet or salty? For the foodie in your life who always plucks the salted chocolate caramels out of every chocolate box or snacks on trail mix often, Alter Eco Sea Salt Truffles deliver a pleasant hint of salt in every sweet bite. The lightly salted shell of the truffle is made of dark chocolate that is sourced from Ecuador. Each truffle is stuffed with a rich filling made of both creamy chocolate and organic coconut oil. You may just have to snag a few of these truffles for yourself!
Rosé Bae
6254a4d1642c605c54bf1cab17d50f1e
For the person who loves a chilled glass of rosé in the evening.
Some of the most important relationships you'll have in life are the ones between you and your very best pals. Get the squad together for a night of screening your favorite rom-coms and make sure to have plenty of refills of Rosé Bae on hand. The California-sourced wine contains notes of strawberries, raspberries, and florals—aka the the perfect beverage to pair with chocolate, popcorn, or fries (no judgement).
Spread the Love Almond Cashew Butter
For the person who spoons peanut butter.
Spread the Love's line of artisan nut butters includes unique combinations of nuts and seeds, such as almond cashew butter and almond flax butter, as well as, traditional jars of plain peanut butter and almond butter. We realize a jar of nut butter isn't exactly a traditional Valentine's Day gift, but lay it out with a spread of fruit, pretzels, and chocolate squares for dipping, and you'll be glad you went the alternative route.
Chocolove Ruby Cacao Bar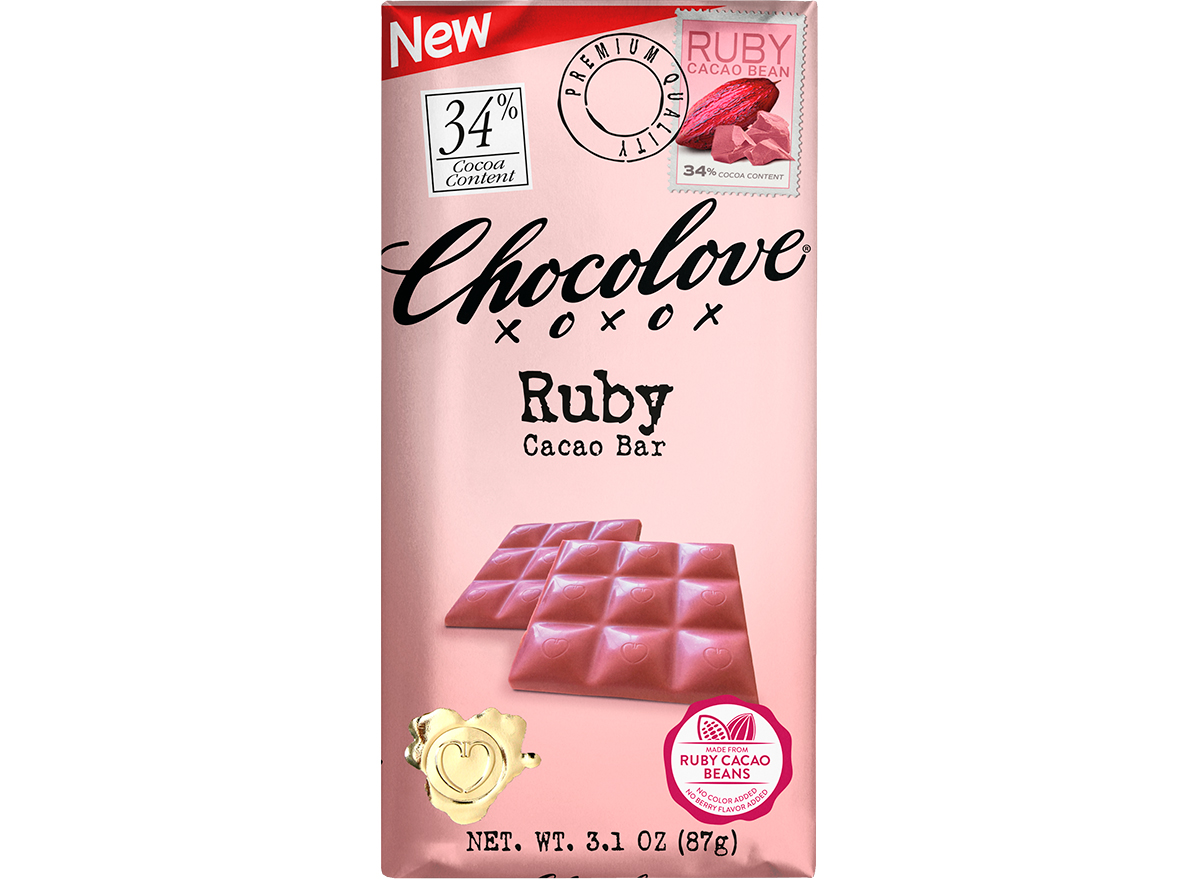 For the person who's always down to try something new.
Nothing says "I love you" quite like a chocolate bar that's blushing. Chocolove's Ruby Cacao Bar is a beautiful pink confection with a color that's surprisingly natural. Made from ruby cacao beans, this chocolate packs hints of berries, which sets it apart from the average convenience store chocolate bar. If you're seeking points for originality, this Valentine's Day gift is a win.
Dash Mini Heart-Shaped Waffle Maker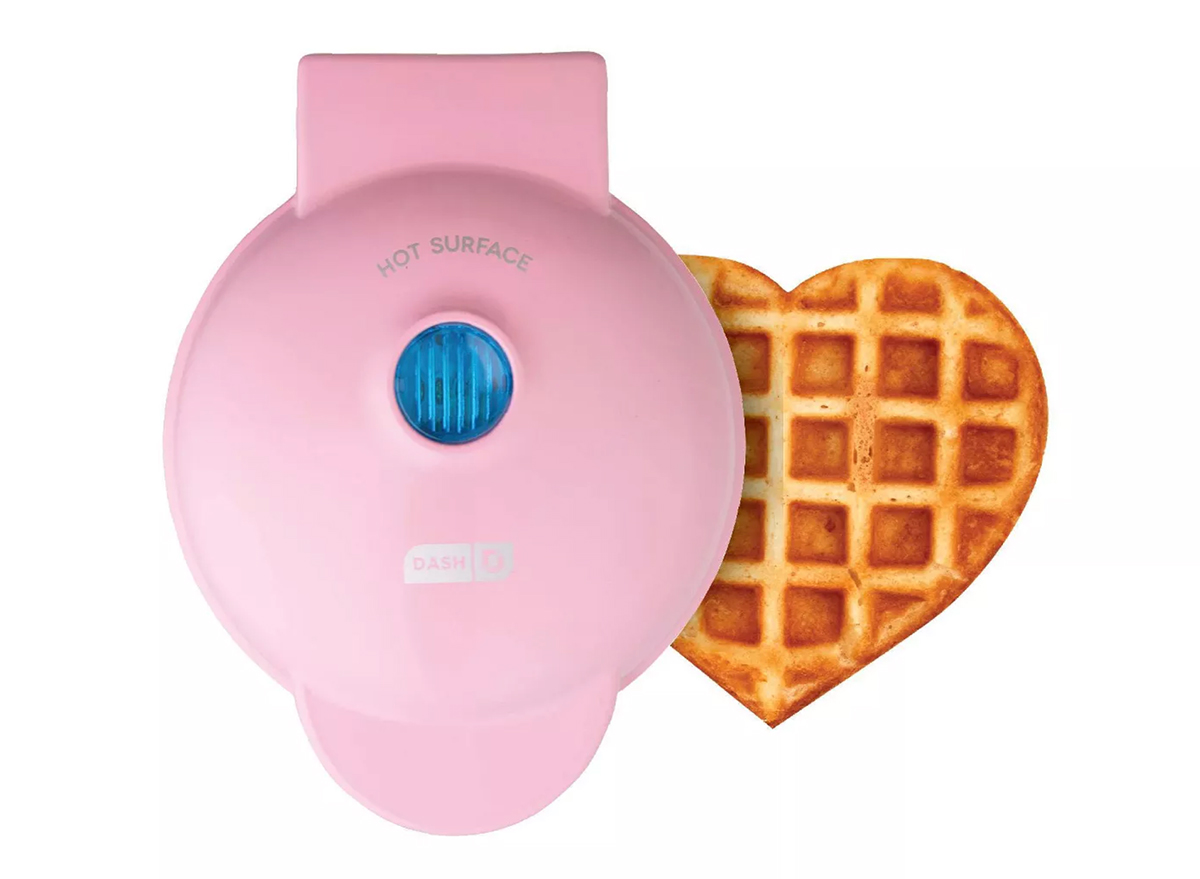 For the person who always has brunch plans.
For some, brunch isn't a meal, it's a lifestyle—and a pricey one at that. Rather than break the bank this Valentine's Day weekend, treat your sweet Valentine to this heart-shaped waffle maker from Dash. In addition, gift a box of waffle mix with a bottle of Champagne and carton of orange juice, to help your Valentine create a brunch spread that's worthy of being served at a restaurant.
Sugarfina "Kiss Me" Sugar Lips Candy Cube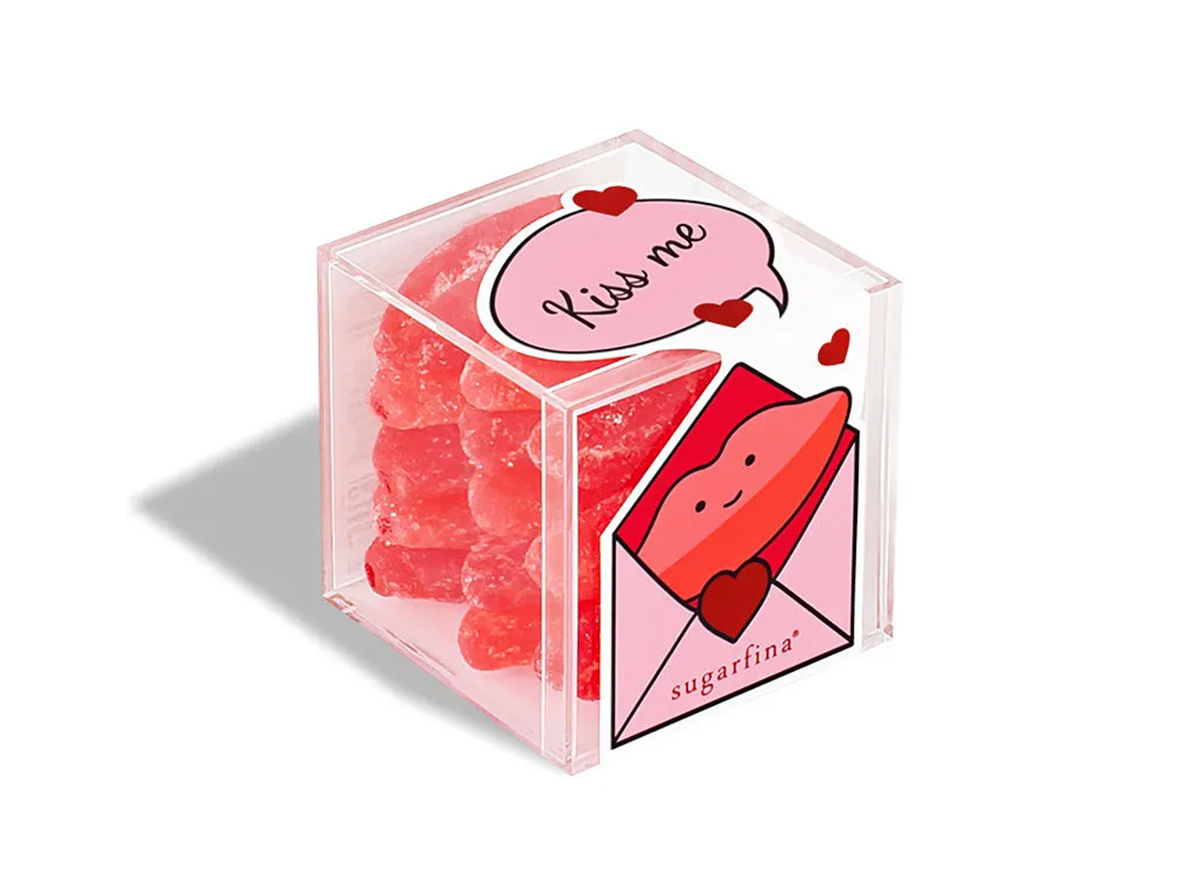 For the person who has a powerful sweet tooth.
"Sugar lips" takes on a whole new meaning with these sugar-speckled gummies from Sugarfina. The assortment of gummies features strawberry, cherry, and watermelon-flavored pouts, all of which have been coated with sweet-and-sour sugar crystals that will have your Valentine puckering up—literally.
Blu Devil Kissing Mugs Set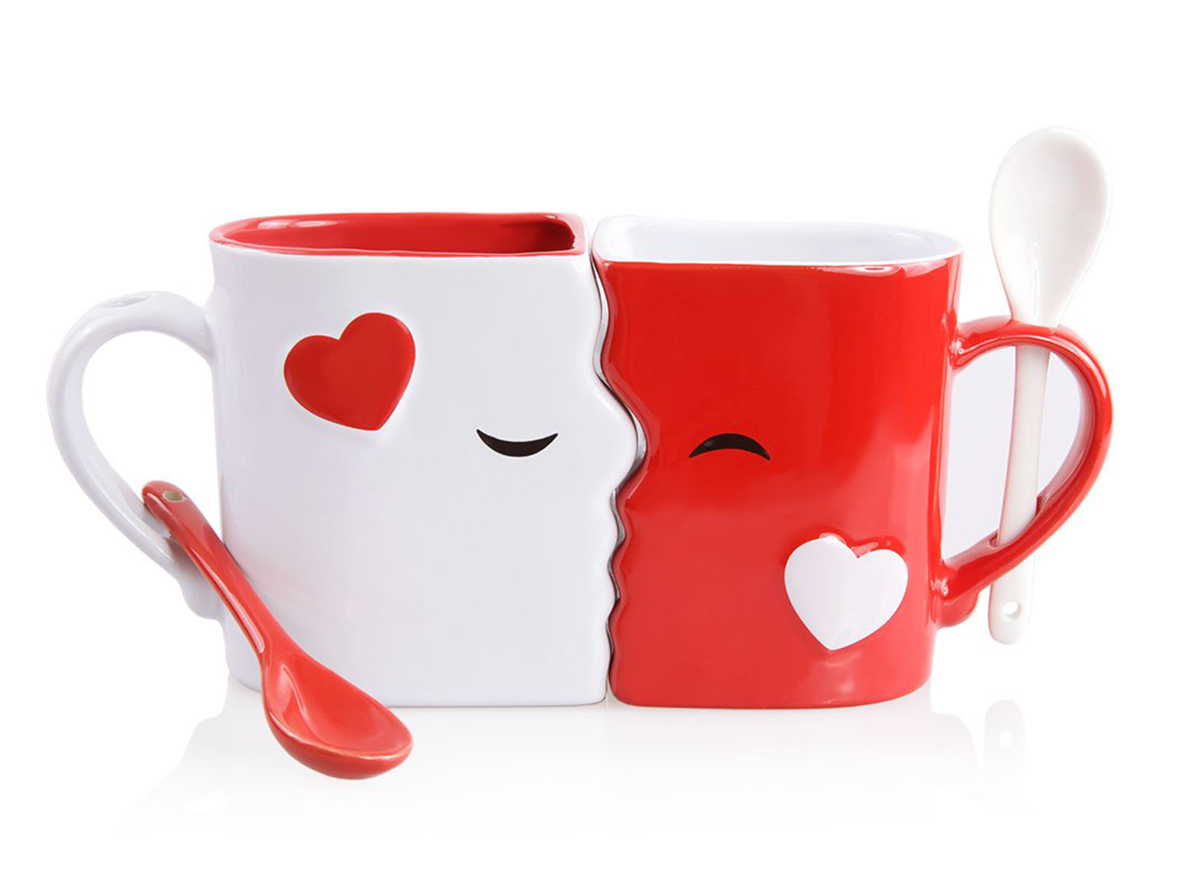 For the coffee lover in your life. 
If your partner is barely conscious before they've had their cup of coffee, let alone affectionate, pour their morning brew into one of these kissy cups as a clever way to say you love them (even if they are crabby pre-caffeine).
Kate Aspen Love Beyond Measure Spoons
For the avid baker.
If your Valentine is the type of person who likes to bake a cake for everyone's birthday or just because, Kate Aspen's Love Beyond Measure Spoons are the perfect Valentine's Day gift for them. Each spoon has a special message etched into its handle including, "pinch of patience" and "a heap of love" that is sure to make them smile and think of you every time they whip up something sweet.
Heart-Shaped Wooden Serving Tray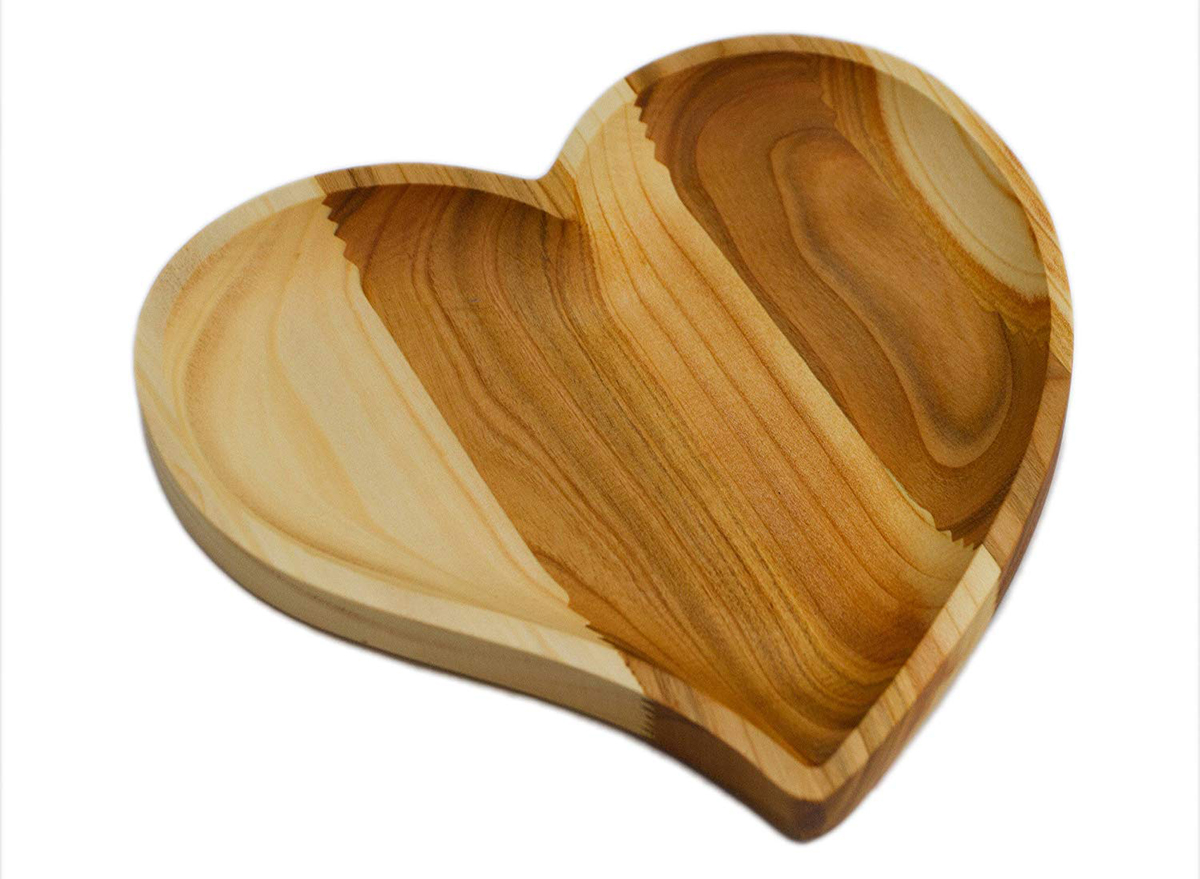 For the person who loves to entertain.
The best gifts are ones the recipient can get a lot of use out of year-round. If your Valentine frequently hosts parties and book clubs, they'll be whipping out this wooden serving tray often. Load up the platter with chocolates, slivers of cheese, and crackers for your friend's V-Day party, then insist they keep the serving tray-plate hybrid for themselves
Hopefully this helps you as you search for the perfect Valentine's Day gifts this holiday! And for more Valentine's Day inspiration, check out 23 Crazy Easy Valentine's Day Dessert Recipes.