23 Crazy Easy Valentine's Day Dessert Recipes
Show your loved ones how much you care by making these quick and easy desserts.
Ah, Valentine's Day: the holiday synonymous with love, the color red, and, of course, all things sweet. Besides being a holiday where we get to really show how much we care about someone, this heart-filled day is also a great excuse for us to try out some new dessert recipes. But what happens if we're low on time? To help remedy this conundrum, we rounded up 23 easy Valentine's Day dessert recipes that will help minimize your time in the kitchen and maximize the time spent with your loved ones. From no-bake raspberry cheesecakes to heart-shaped fruit pizzas, there's sure to be something for everyone.
Grilled Strawberry Shortcake with Balsamic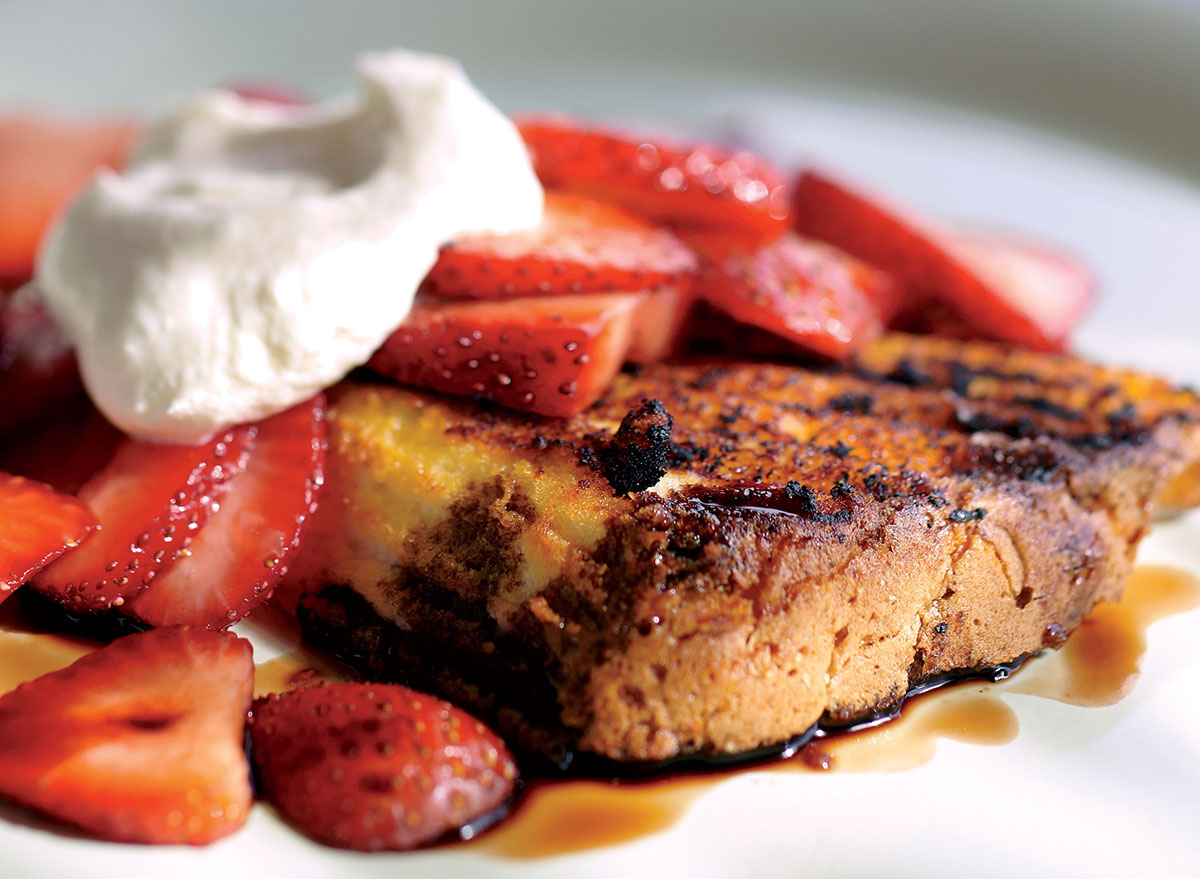 If you need a simple dessert that you can put together in mere minutes, look no further than this grilled strawberry shortcake with balsamic recipe. All you have to do is cut a few thick pieces of store-bought angel food cake, caramelize them on a stovetop grill pan, and then top them with balsamic-infused strawberries and whipped cream. We can definitely see this becoming a Valentine's Day go-to!
Get our recipe for Grilled Strawberry Shortcake with Balsamic.
Mini Chocolate Cakes
What's Valentine's Day without some chocolate? Not only is this recipe easy to make, but it also contains no gluten, refined sugar, or dairy, so it's great for those with dietary restrictions.
Get our recipe for Mini Chocolate Cakes.
Whipped Chocolate Coconut Pudding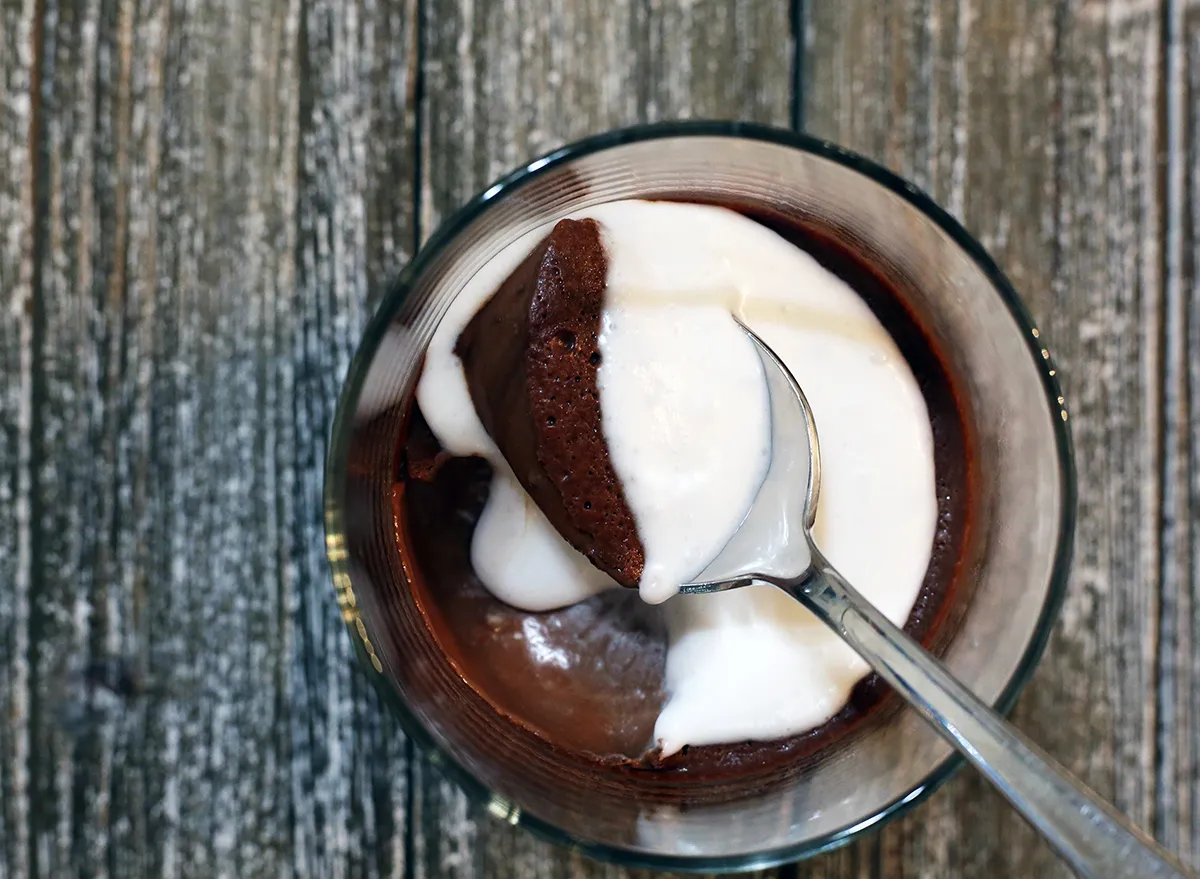 Featuring smooth coconut cream, cacao powder, espresso powder, and date syrup, this stovetop pudding recipe is perfect to put together when you're short on time. To get a more cloud-like consistency, be sure to chill your mixture before whipping by hand or blender.
Get our recipe for Whipped Chocolate Coconut Pudding.
Raspberry Cheesecake Mousse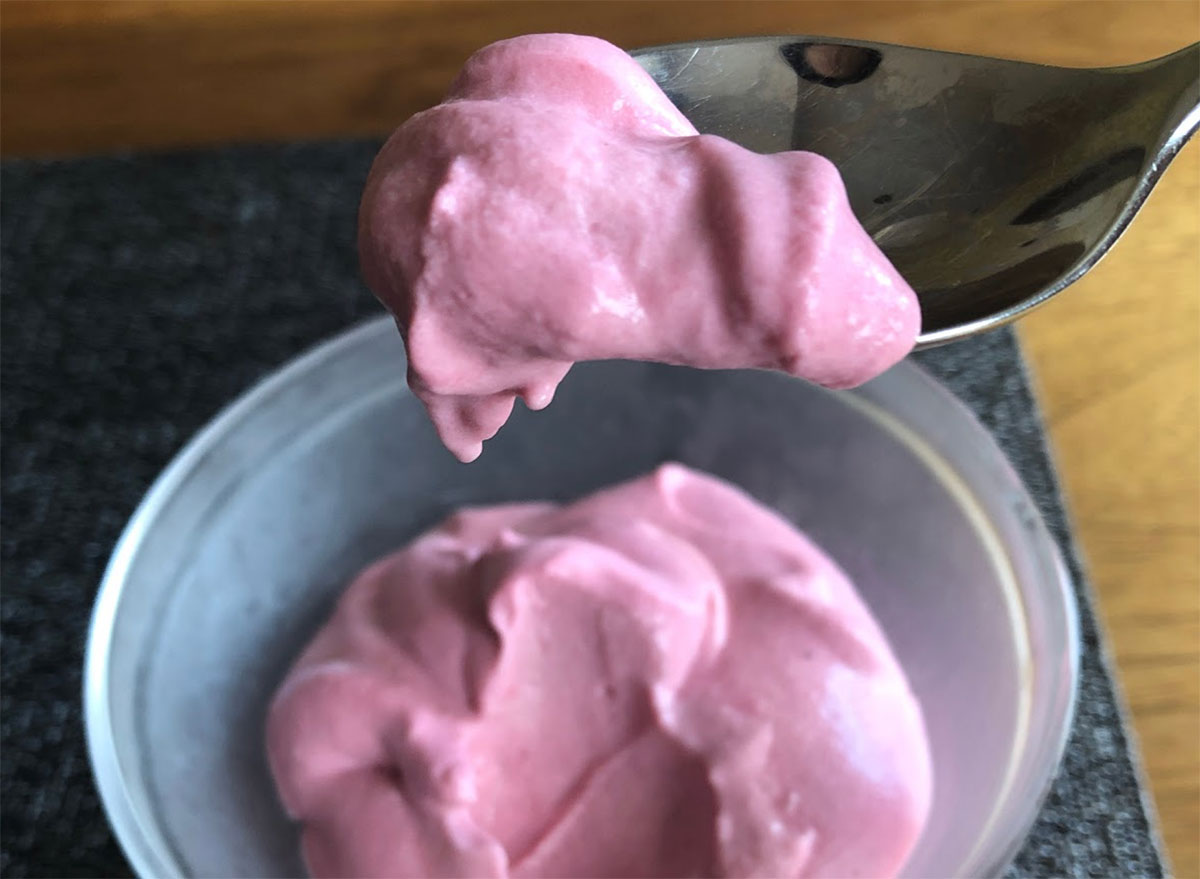 This raspberry cheesecake mousse recipe is an innovative take on a classic dessert. Using frozen raspberries, cream cheese, heavy cream, and vanilla extract, this treat can be whipped up in under 15 minutes. Garnish with fresh raspberries, dark chocolate shavings, and mint for some extra points.
Get our recipe for Raspberry Cheesecake Mousse.
Tahini Coconut Vanilla Fudge
Impress your valentine by whipping up this super easy, no-bake fudge recipe that features delicious coconut, sweet vanilla, sugar-free maple syrup, and smooth tahini. Feel free to toss the leftovers into the fridge or freezer for some anticipated late-night snacking, too!
Get our recipe for Tahini Coconut Vanilla Fudge.
Dark Chocolate Dipped Bananas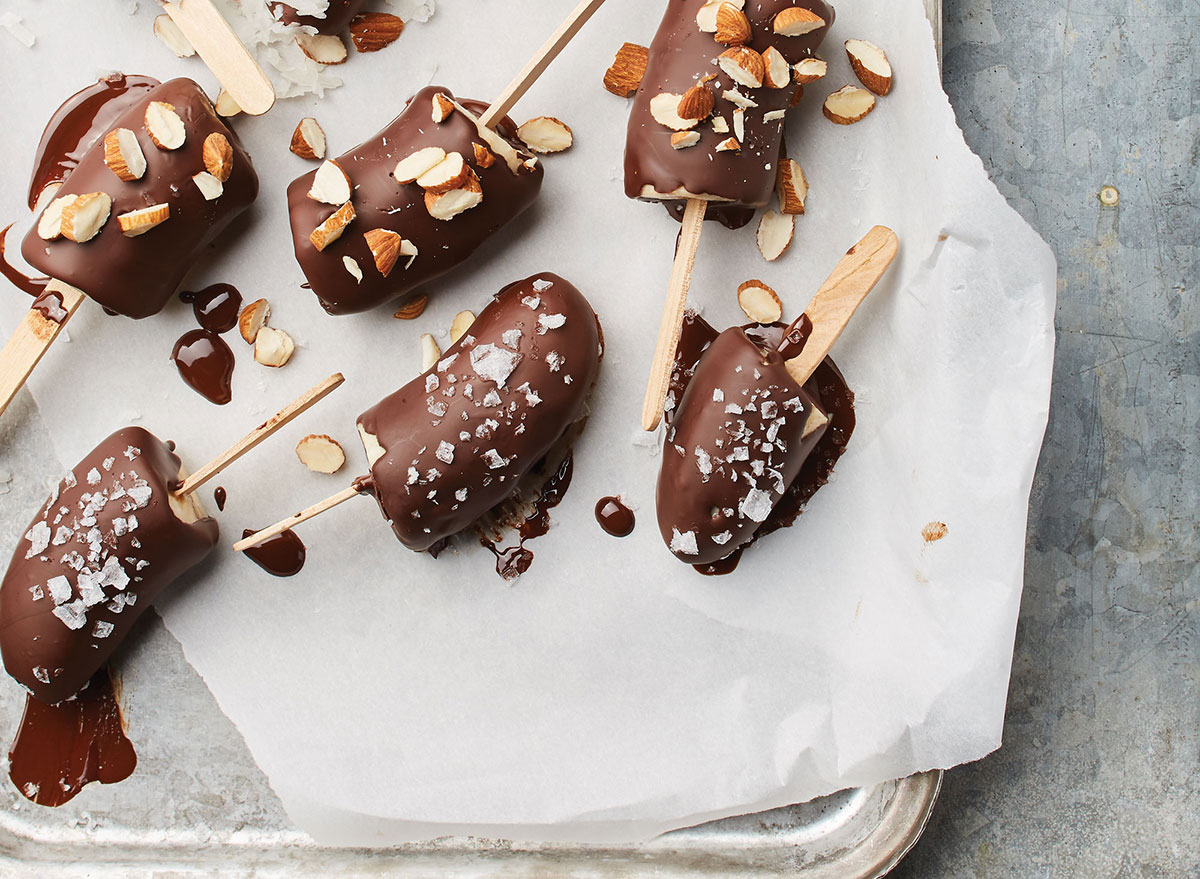 No time? No problem! This dark chocolate dipped banana recipe will save you when you are low on time. Just half bananas vertically, insert popsicle sticks, dip in dark chocolate, and chill for 20 minutes. Before the chocolate sets, be sure to sprinkle with some fun toppings such as chopped almonds, sea salt flakes, or pink and red sprinkles, to give them that extra "oomph."
Get our recipe for Dark Chocolate Dipped Bananas.
Chocolate Pudding with Olive Oil and Sea Salt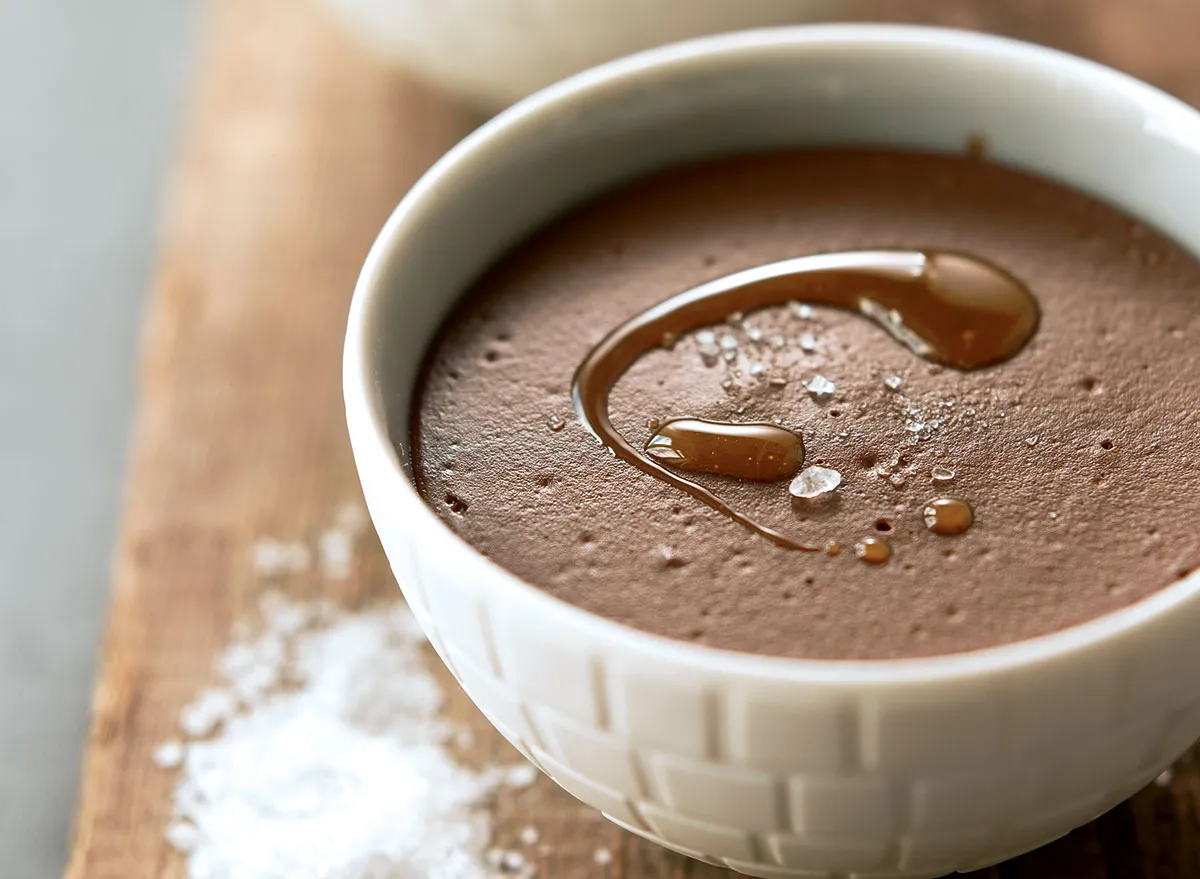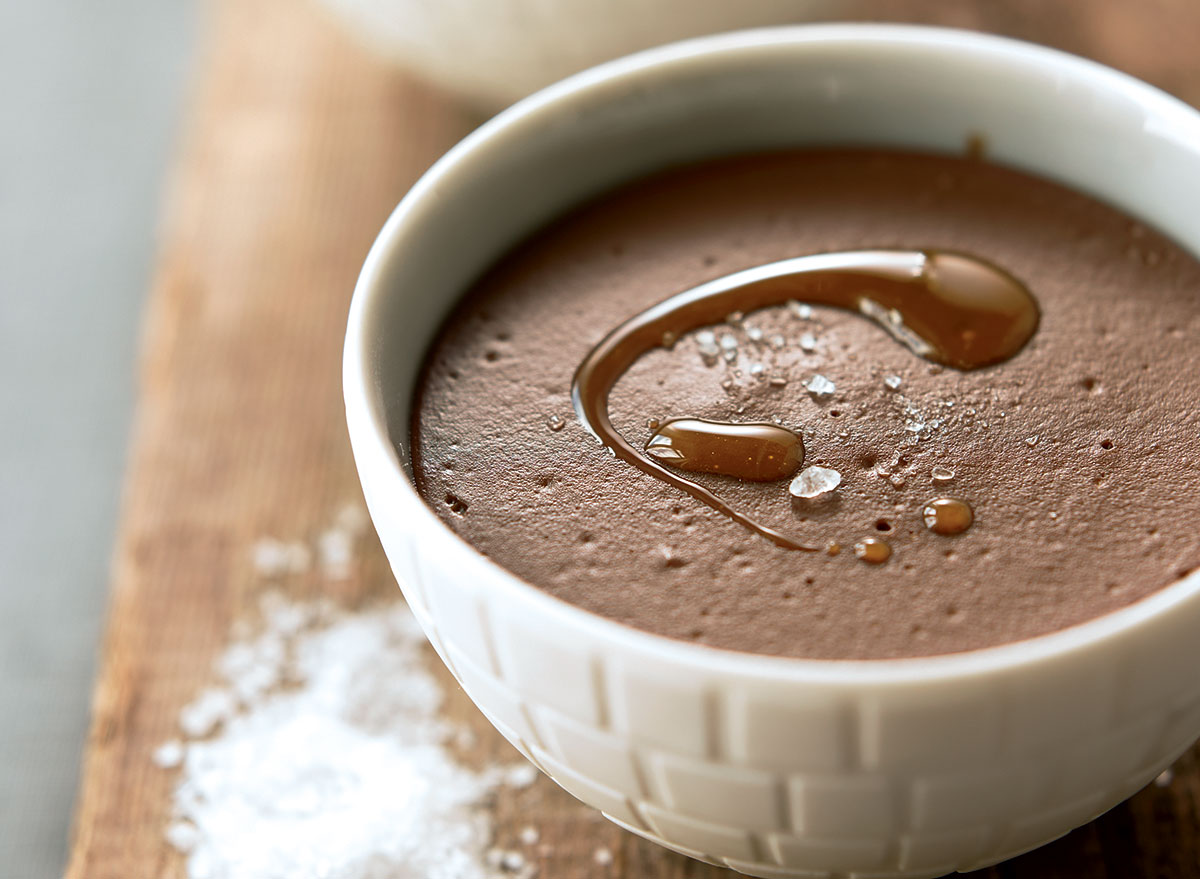 Bring fine dining home with you with this exquisite chocolate pudding recipe. This silky smooth dessert features two unexpected pudding ingredients: olive oil and sea salt.
Get our recipe for Chocolate Pudding with Olive Oil and Sea Salt.
Dark Chocolate Covered Almond Clusters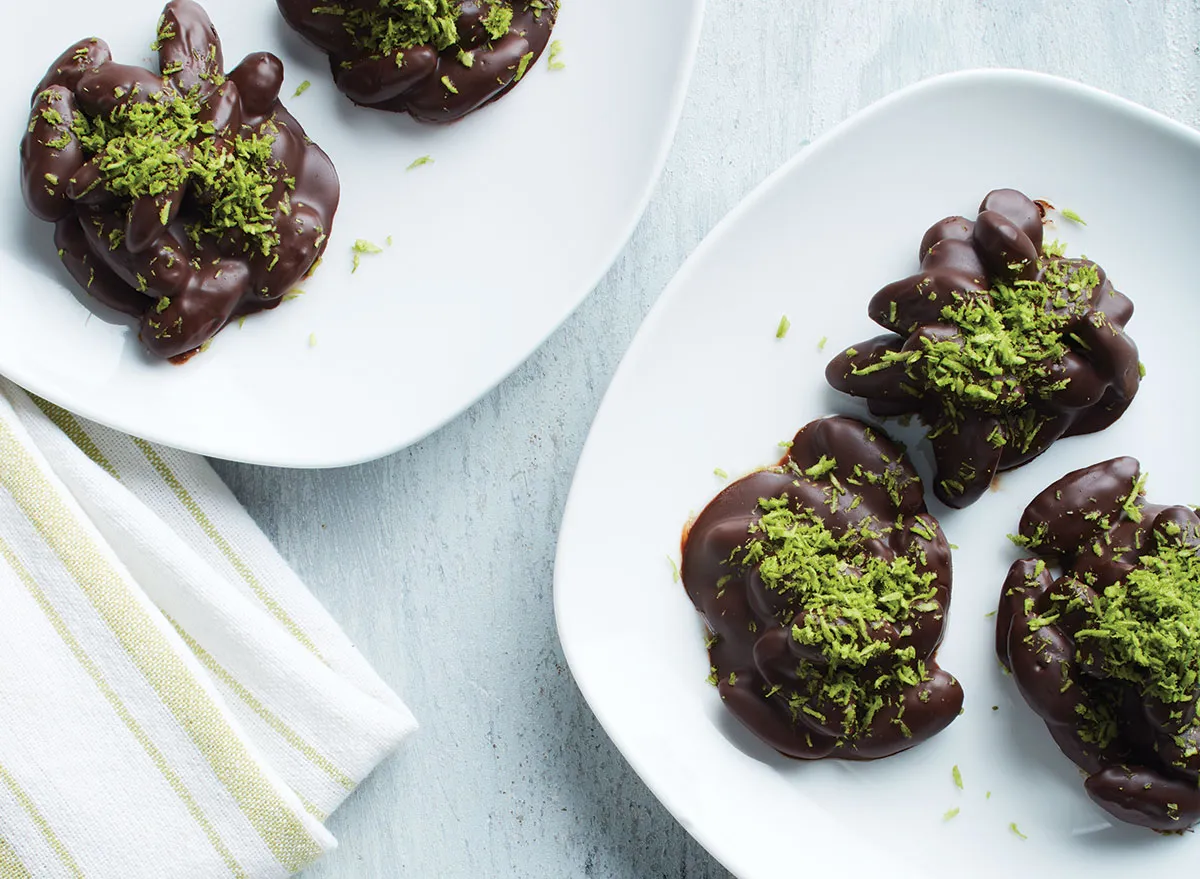 There are few things more delicious than a crunchy, chocolaty Valentine's day treat. This dark chocolate covered almond clusters recipe is dusted with matcha powder, but if you want to keep it more on-theme with the heart-filled holiday swap out the matcha for something pink or red, such as sprinkles or maraschino cherries.
Get our recipe for Dark Chocolate Covered Almond Clusters.
No-Bake Cookie Dough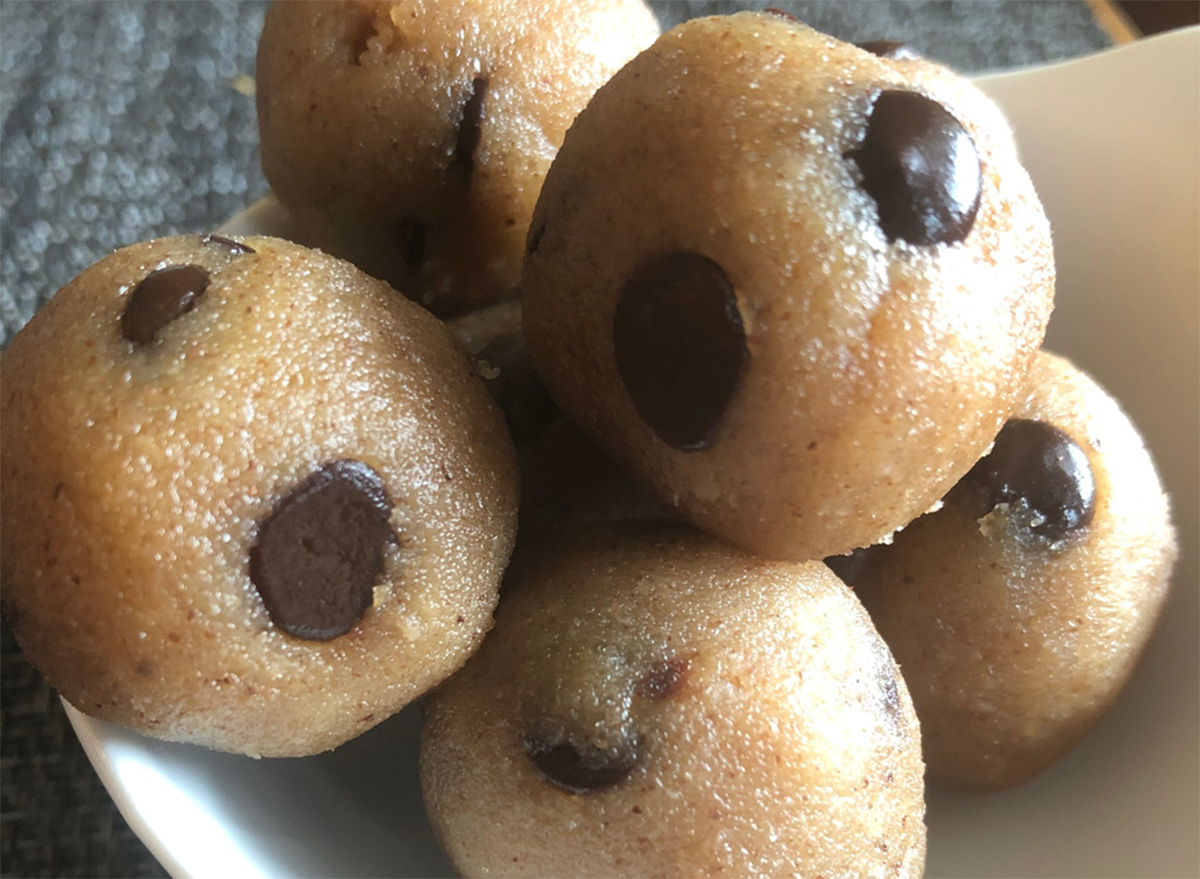 Cookies are always an amazing dessert choice, but cookies that require no baking might be even more so. This keto-approved, no-bake cookie dough recipe will save you both time and precious oven space.6254a4d1642c605c54bf1cab17d50f1e
Get our recipe for No-Bake Cookie Dough.
Grilled Banana Split
If you are a fan of ice cream sundaes, then you need to try out this grilled banana split recipe that takes this chilled dessert to the next level. All you have to do is cut bananas lengthwise, douse in brown sugar, caramelize on a grill pan, and voila! Be sure to serve with strawberry ice cream, whipped cream, hot fudge, and a cherry to get the full effect.
Get our recipe for Grilled Banana Split.
No-Bake White Chocolate Raspberry Pie
A pie that requires zero baking? Sign us up! Made with a simple graham cracker crust, rich white chocolate, and fresh raspberries, we can definitely see this picture-perfect pie served next to a beautiful dozen roses.
Get the recipe from Bigger Bolder Baking.
Rice Krispie Valentine Lollipops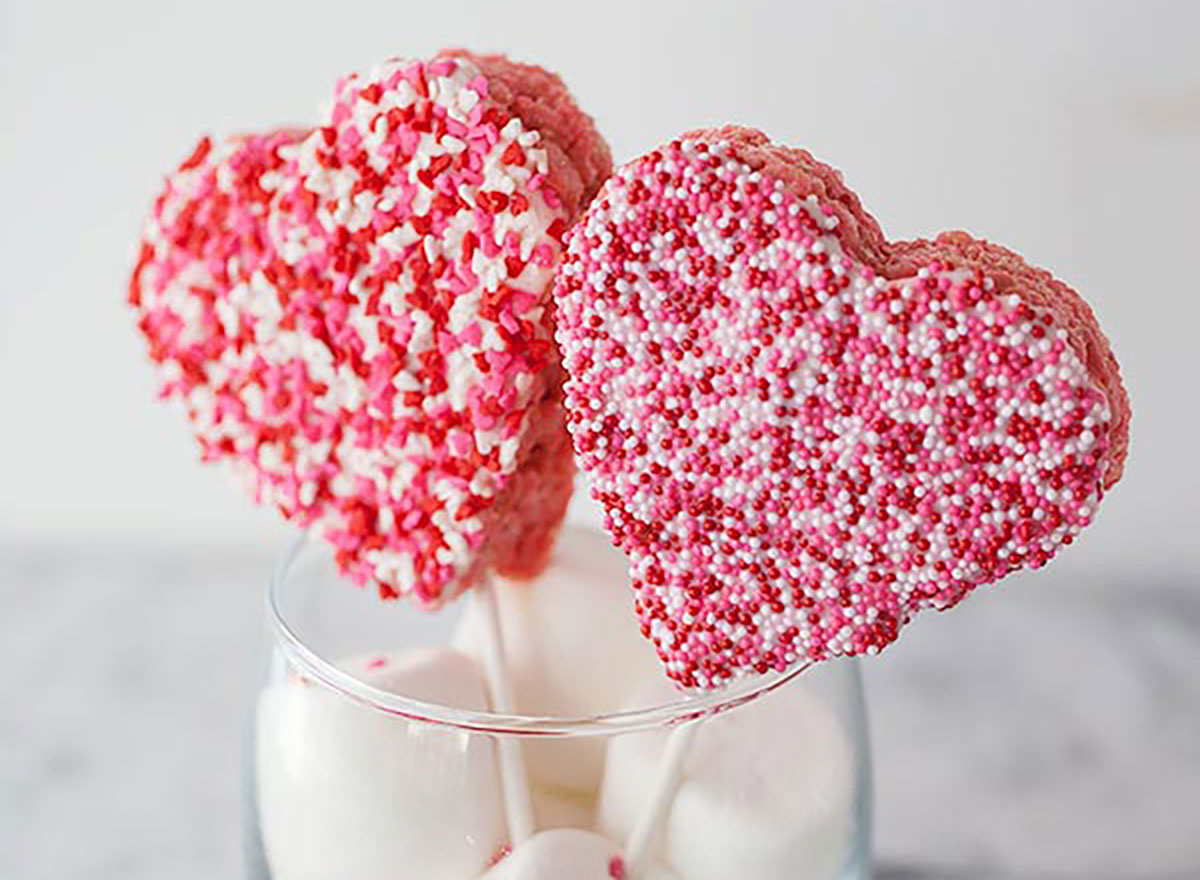 Whether you use this recipe to whip up something for your children's classmates or to have on hand for when your friends come over to celebrate the holiday, this treat is sure to do the trick. All you need is marshmallows, butter, Rice Krispies cereal, red food coloring, vanilla-flavored candy coating, and some vibrant sprinkles.
Get the recipe from Foodie Crush.
Coconut Cream Fruit Tarts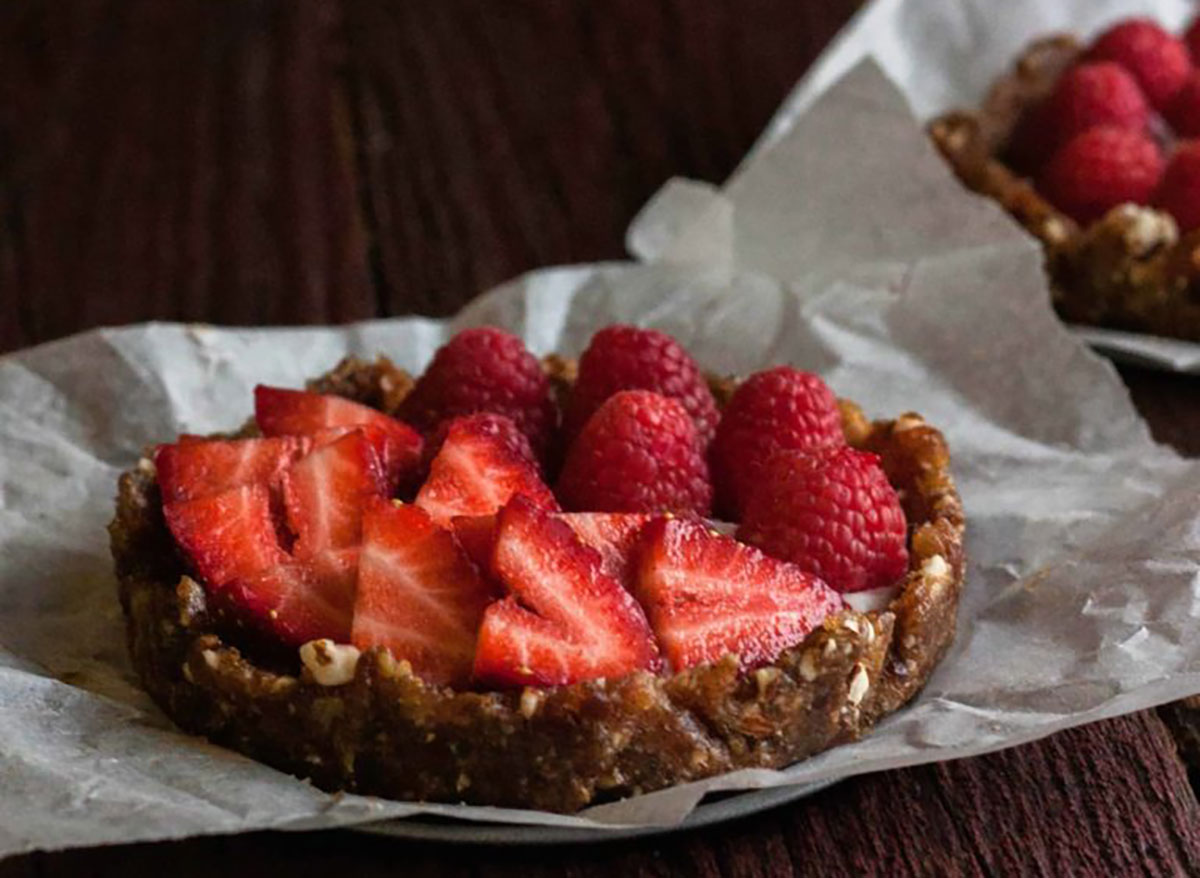 If you are ready to try something new and are looking for a healthy dessert recipe to serve this Valentine's Day, then look no further. This naturally gluten-free and vegan treat requires zero baking and can be put together in a cool 15 minutes.
Get the recipe from Sweet Phi.
No-Bake Strawberry Nutella Cheesecakes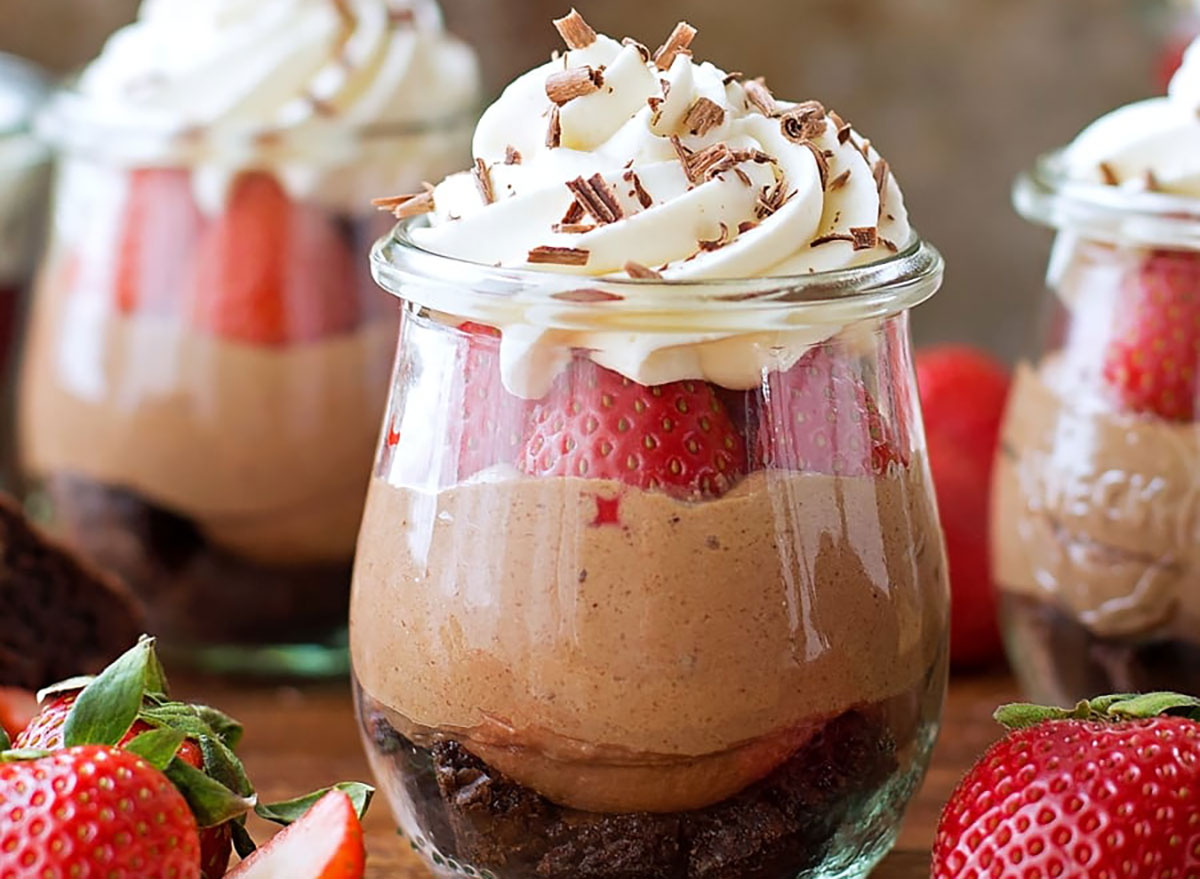 The combination of strawberry and chocolate is amazing, but strawberry and Nutella? Even better! These no-bake strawberry Nutella cheesecake cups feature brownie chunks layered with a delicious Nutella and cream cheese mixture, then topped with whipped cream and strawberries. It is basically all of our favorite things in one easy-to-make dessert.
Get the recipe from Lil' Luna.
Chocolate Peanut Butter Hearts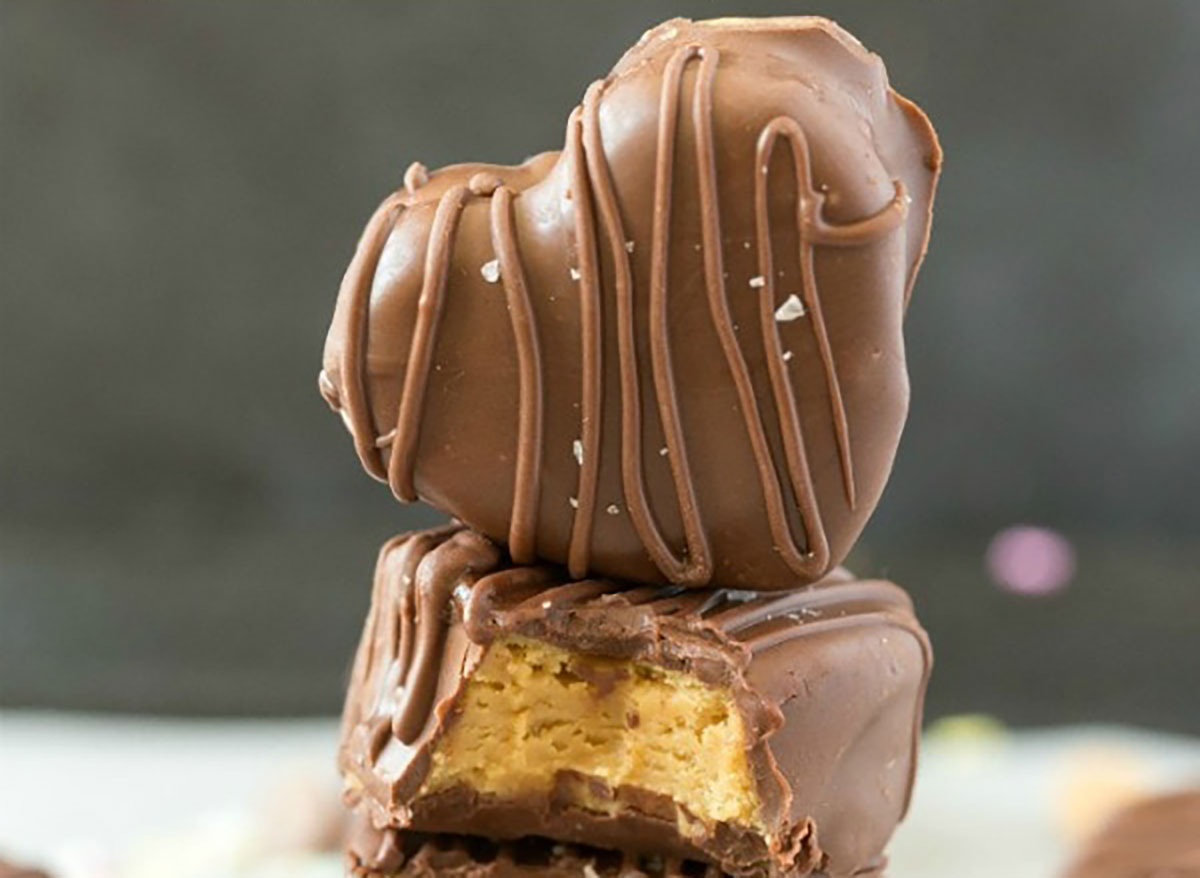 These chocolate peanut butter hearts require zero baking and are better than a Reese's peanut butter cup.
Get the recipe from The Big Man's World.
Valentine's Day Chocolate-Dipped Wafer Cookies
If you are looking for an extremely simple, super fun Valentine's Day treat to put together, this may just be the one. Store-bought wafer cookies get a delicious makeover when dipped in chocolate and topped with heart-shaped sprinkles, frosting, and other goodies.
Get the recipe from Flour On My Face.
Sweetheart Swirl Bark
Candy hearts and pink candy melts take this chocolate bark to the next level! Be sure to get your hands on some of these conversation hearts sooner than later though, as they are reported to be available only in limited supply.
Get the recipe from Sally's Baking Addiction.
Valentine's Popcorn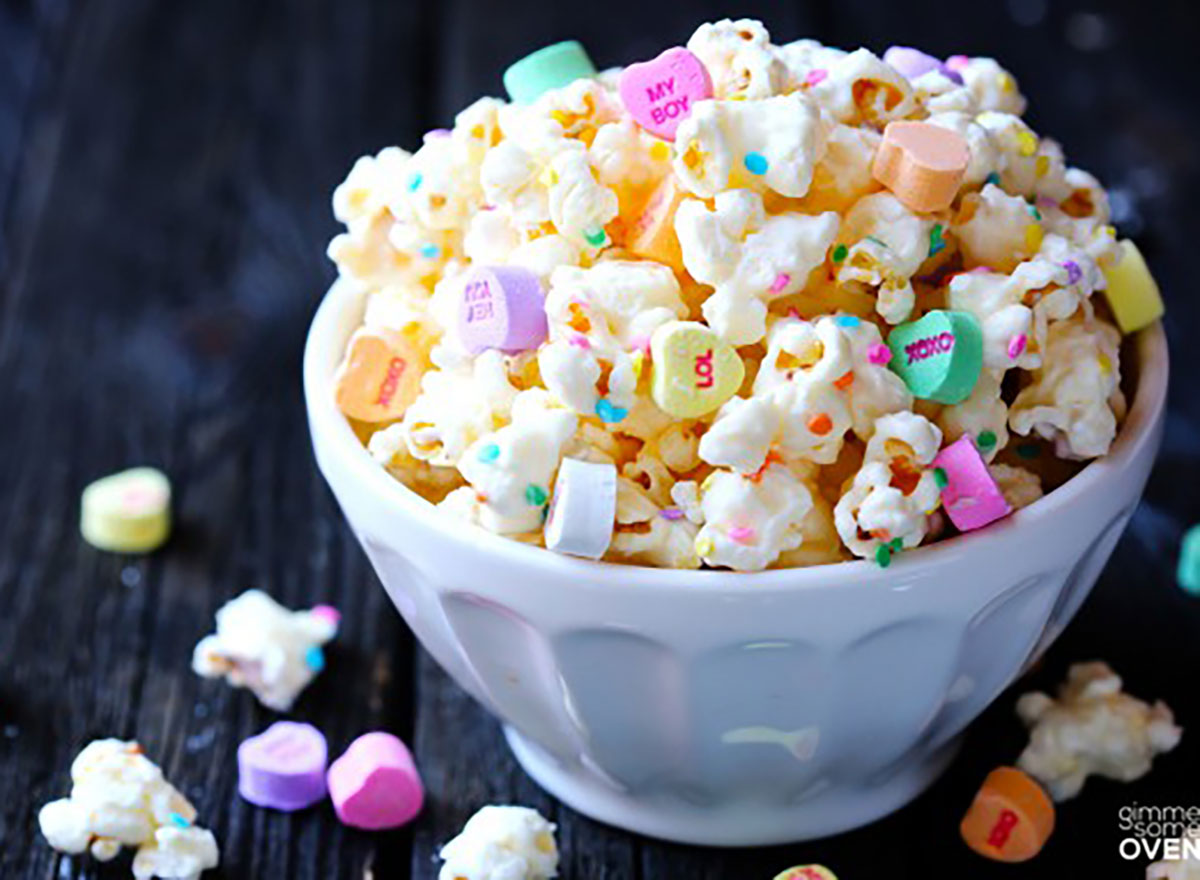 If you don't have much of a sweet tooth but still want to make something special for Valentine's Day, this popcorn recipe is the way to go. Just toss some popcorn (store-bought or freshly popped works fine) with some white chocolate, sprinkles, and conversation hearts.
Get the recipe from Gimme Some Oven.
Sweetheart Snack Mix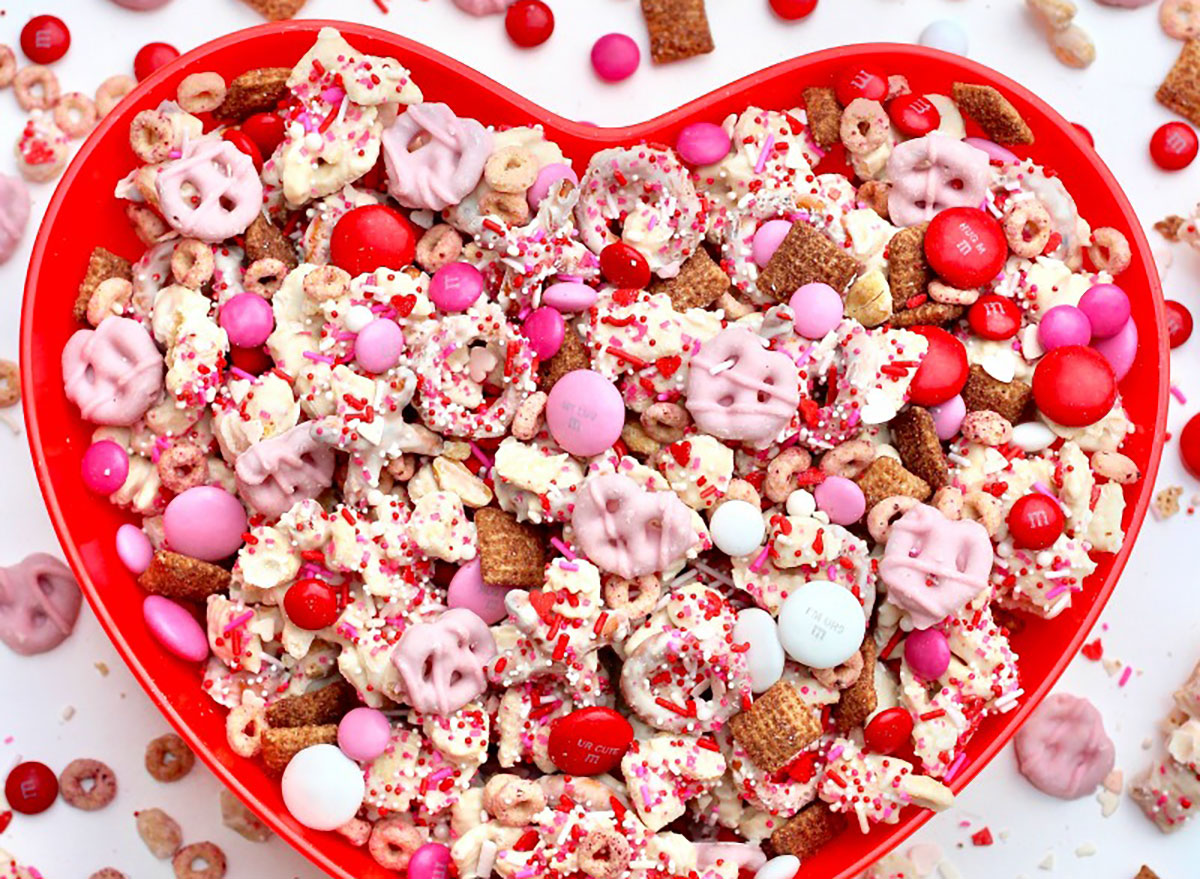 Give your homemade Chex mix a welcome update with this sweetheart snack mix recipe.
Get the recipe from The Baker Mama.
Chocolate Covered Strawberries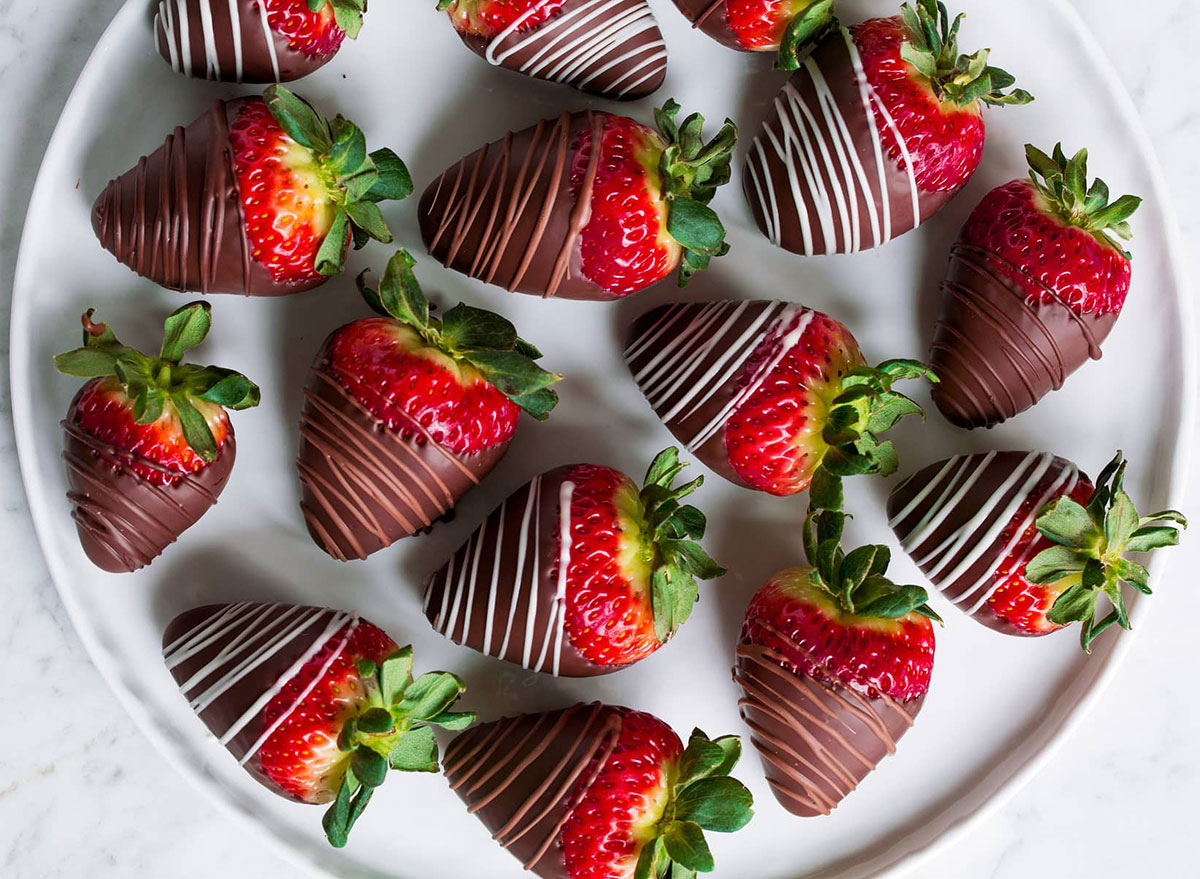 We love chocolate covered strawberries not only because they are a breeze to make, but also because they require just three simple ingredients: chocolate, strawberries, and coconut oil.
Get the recipe from Cooking Classy.
Heart-Shaped Fruit Pizza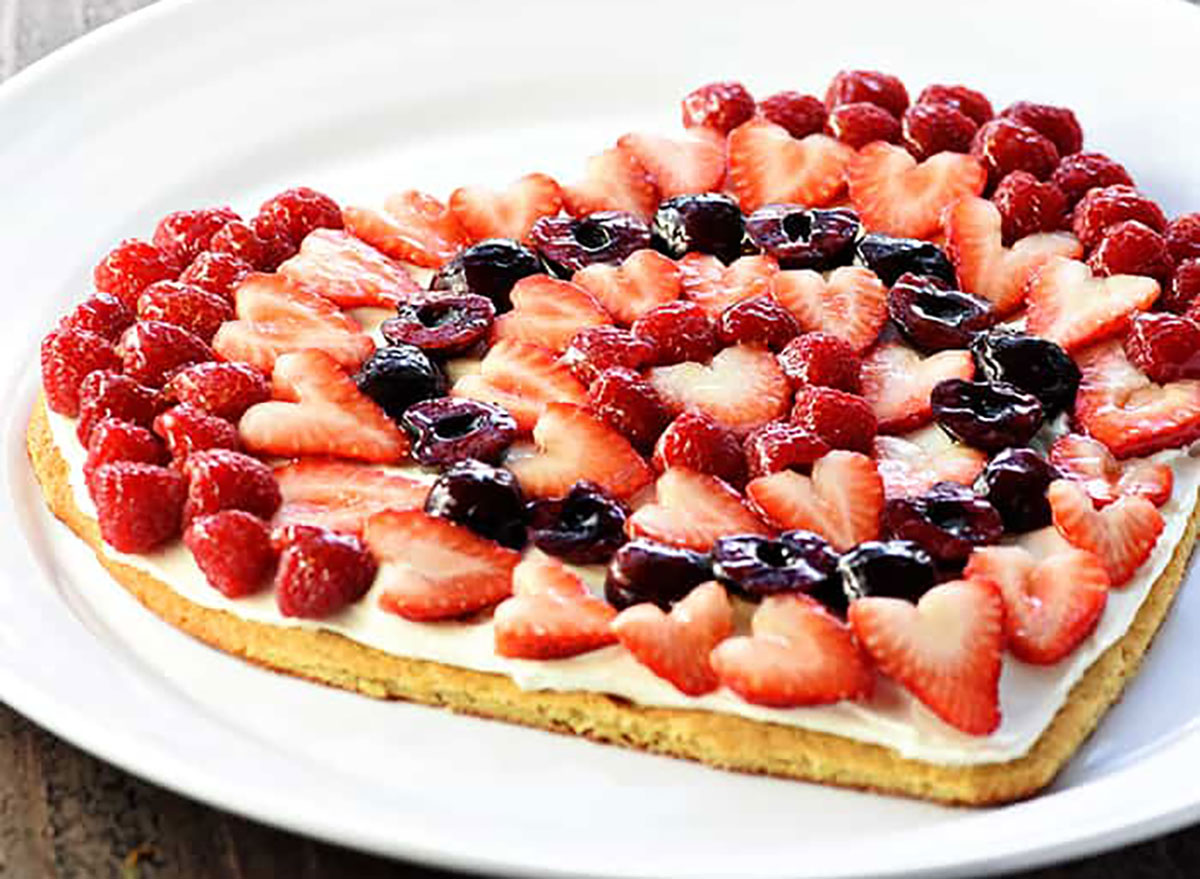 This heart-shaped pizza, featuring a premade sugar cookie crust topped with cream cheese frosting and strawberries, cherries, and raspberries, is the perfect alternative for those looking for fruit filled dessert option this Valentine's Day.
Get the recipe from Five Heart at Home.
Chocolate Chip Cherry Bars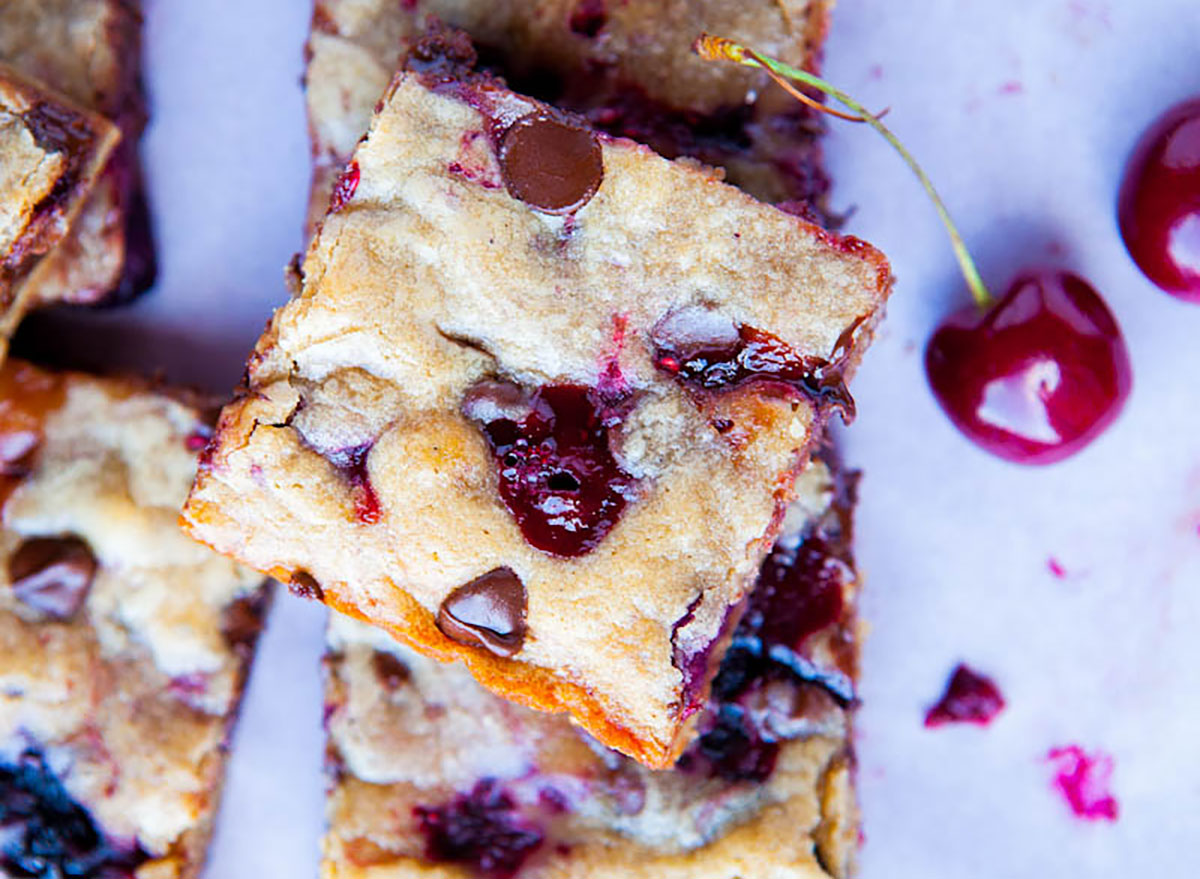 We love that this simple and scrumptious chocolate chip cherry bar recipe requires only one bowl (and zero mixers).
Get the recipe from Averie Cooks.
Sparkle Sweetheart Cookies
These beautiful sweetheart cookies, which only take between 30 and 45 minutes to make, are dipped in glimmering pink sanding sugar and topped with a chocolate heart.
Get the recipe from Sally's Baking Addiction.