The Absolute Best Way to Bake Cookies in an Air Fryer
These easy air fryer cookies are the perfect balance of crispy on the outside and gooey on the inside.
There isn't much that an air fryer can't do. Steak, french fries, grilled cheese, bacon, chicken wings…the options are endless. And even though most people only think of cooking "fried" foods in an air fryer because of the name, they may not realize that you can also make sweet and decadent desserts with this popular kitchen gadget. In fact, you can make delicious air fryer cookies that are crispy on the outside and soft and gooey on the inside.
Why would someone bake cookies in the air fryer instead of the oven? For one, most air fryer cookie recipes will cook quicker than what you'd get with a conventional oven. This is because of the way an air fryer works, which essentially cooks food by blowing around extremely hot air. That brings us to the next reason you may want to try an air fryer: the texture of the cookies will be different. The air fryer creates a crispy, "fried" exterior while keeping the interior nice and soft.
So how do you cook the absolute best air fryer cookies? We talked with Chef Chris Nirschel with New York Catering Services, who gave us his recipe for delicious Double Chocolate Chip Air Fryer Cookies. Read on, and for more helpful air fryer cooking tips, check out The Best Way to Cook Eggs in an Air Fryer.
Gather your ingredients.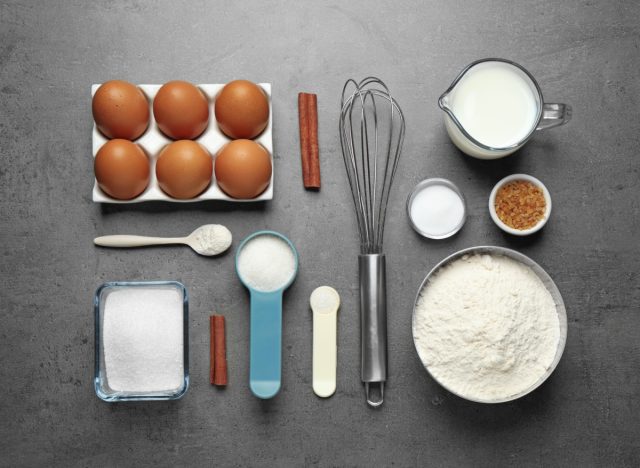 You can technically make any type of cookie in the air fryer, but Chef Nirschel recommends his favorite: Zesty Double Chocolate Chip Cookies. To start, gather the following ingredients.
1 cup unsalted butter, softened
1 cup granulated sugar
1 cup brown sugar, packed
2 large eggs
2 teaspoons pure vanilla extract
3 cups all-purpose flour
1/2 cup unsweetened cocoa powder
1 teaspoon baking soda
1/2 teaspoon baking powder
1/2 teaspoon salt
1 cup dark chocolate chips
1 cup white chocolate chips
Zest of 2 oranges
1/2 cup chopped toasted almonds
Once you have all of your ingredients, you can begin to make the dough.
Make the dough.
Cream the butter and sugar. According to Nirschel, you'll want to "Cream the butter and sugars by grabbing a large mixing bowl and creaming together the softened butter, granulated sugar, and brown sugar until light and fluffy."
Add eggs one at a time. Then, in the same bowl, you can "add the eggs one at a time, beating well after each addition," says Chef Nirschel. "Stir in the vanilla extract after that."
Combine dry ingredients in a separate bowl. When you're done with your wet ingredients, grab another bowl and start on the dry ones. "In a separate bowl, whisk together the flour, cocoa powder, baking soda, baking powder, and salt," says Nirschel.
Combine your wet and dry ingredients. Once you have your two separate bowls of wet and dry ingredients, you'll want to combine the two. "Gradually add the dry mixture to the wet mixture, mixing until just combined," says Nirschel. However, he adds "Be careful not to overmix your batter."
Fold in your mix-ins. After the batter is mixed, it's time to fold in the extra treats. "Gently fold in the dark chocolate chips, white chocolate chips, orange zest, and toasted almonds, which will give the cookies a burst of flavor and texture," says Chef Nirschel.
Roll the dough into balls and then chill.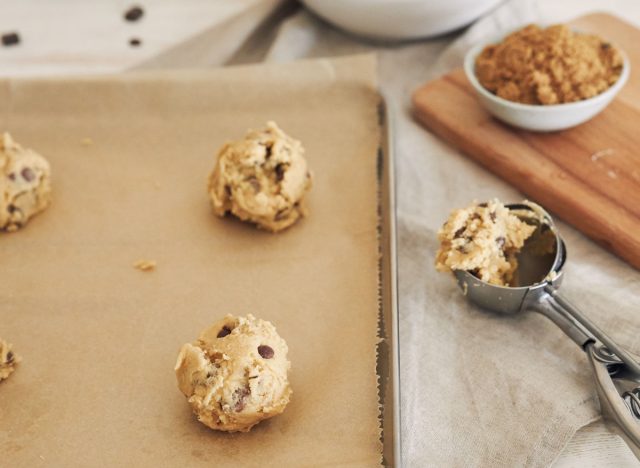 Before you get to baking, you'll need to chill your cookie dough to make sure it maintains its shape when cooking. According to Nirschel, you're going to "Scoop out tablespoon-sized portions of dough and roll them into balls." You'll then need to "Cover the dough and refrigerate for at least one hour because chilled dough helps prevent cookies from spreading too much."
When you have about 5-10 minutes or so remaining on your chill time, go ahead and preheat your air fryer to 350 degrees.
Bake your air fryer cookies.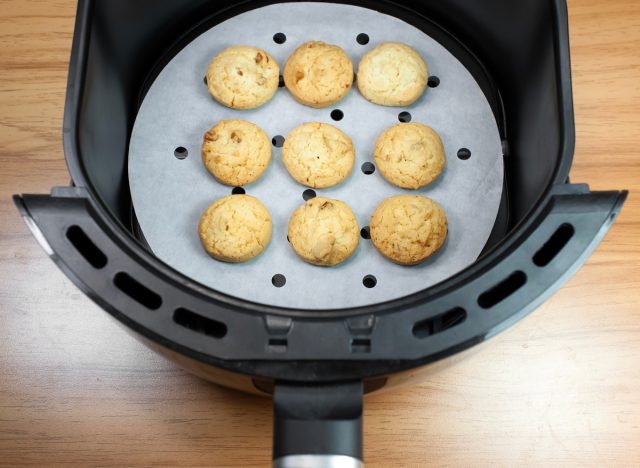 Line your air fryer basket with parchment paper, and "Arrange the cookie dough balls in the basket, leaving some space between them," says Nirchel. "You may need to do this in batches, depending on the size of your air fryer."
You'll then want to bake them at 350 degrees for 8-10 minutes. "Check the cookies after 8 minutes—they should be slightly firm around the edges but still soft in the middle," says Nirschel. "Adjust cooking time if needed."
Let cool—and indulge!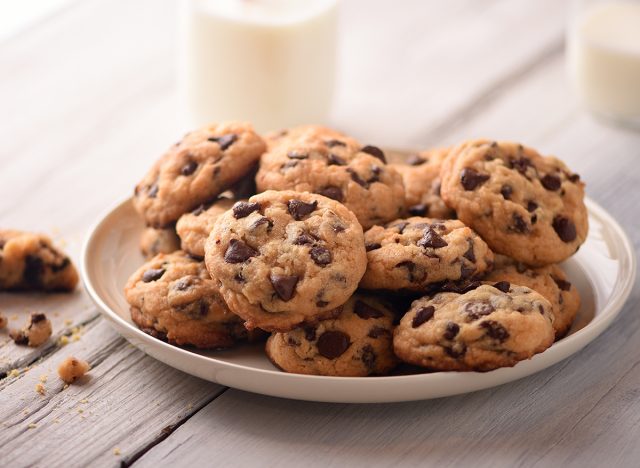 Once they're done, Nirschel says to "allow the cookies to cool on a wire rack, because they'll firm up as they cool, resulting in a perfect texture."6254a4d1642c605c54bf1cab17d50f1e
"These cookies are rich, flavorful, and sure to satisfy any cookie craving," he adds. "The combination of dark and white chocolate, orange zest, and toasted almonds creates a unique flavor that is sure to impress!"