All of the Beloved Grocery Items That Are Secretly Being Discontinued
Companies are quietly shutting down production of some popular grocery items.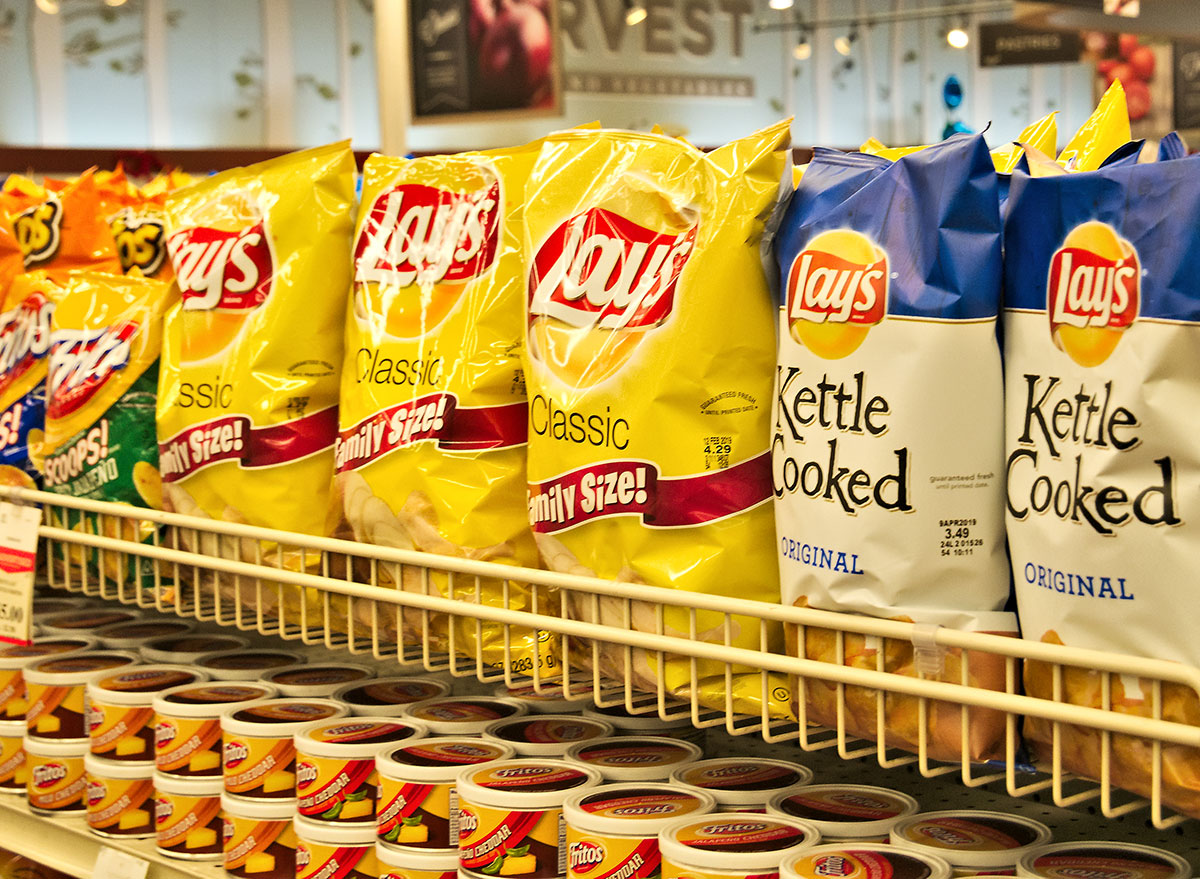 The pandemic has had an enormous effect on what our grocery store shelves look like. While the demand for staples like hot dogs and cereal has soared, dwindling sales of other items pushed them into early retirement. Among the hundreds of grocery items that have been left behind in this mad dash to meet consumer demand, some have fallen from grace because of their poor sales while others were called out for propagating racially insensitive stereotypes via branding. Not to mention, food industry giants like PepsiCo and Kraft Heinz are taking the opportunity to discontinue their least popular items, as part of a regular pruning of their portfolios.
Here are the most popular grocery items you soon won't be able to find in stores. Don't forget to sign up for our newsletter to get the latest grocery news delivered straight to your inbox.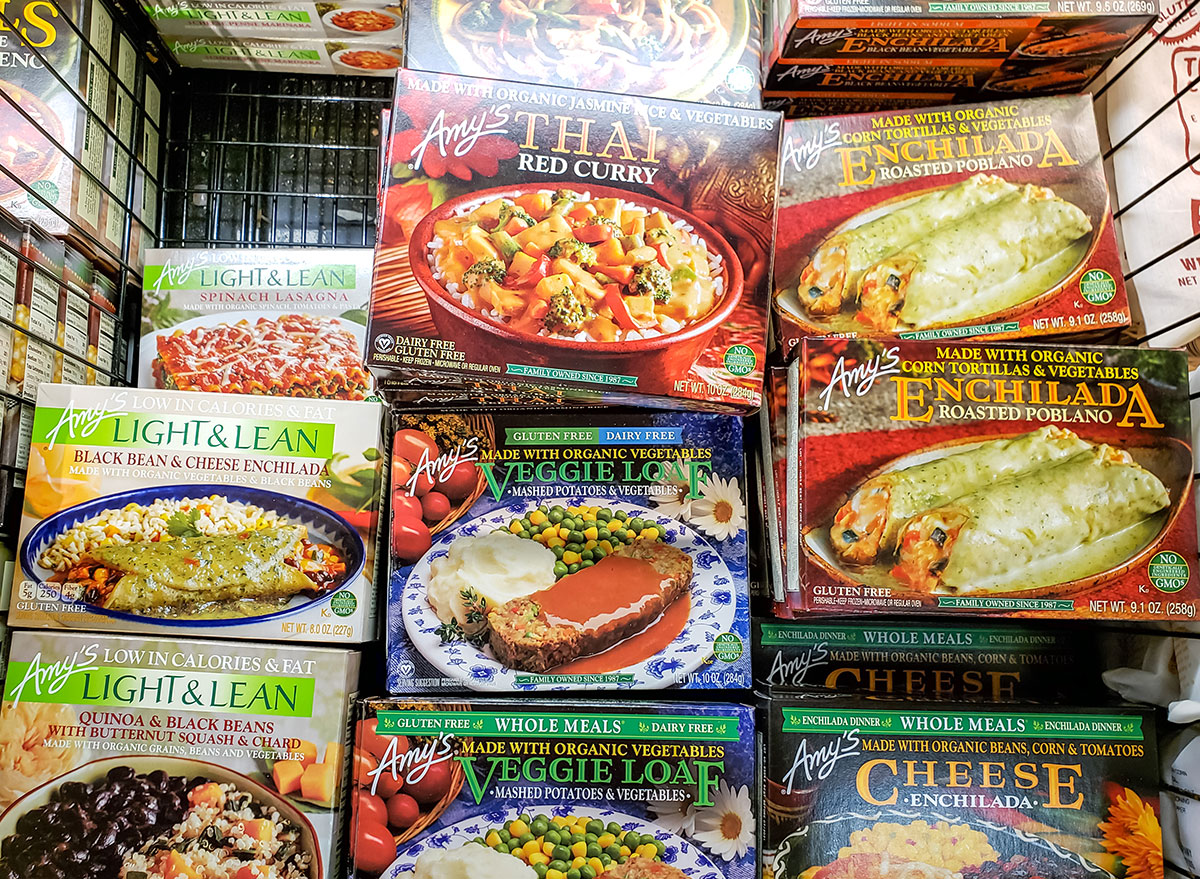 The organic food company Amy's Kitchen has been a lifeline for many of us during the quarantine. A perfect demonstration of that came when a shortage of Amy's Roasted Vegetables Pizza sent loyal customers into a tizzy. And although this beloved product was only temporarily out of stock due to production issues, the company did reduce their offering during the pandemic. Currently they're producing 160 items compared to 228 before the pandemic, but hope to be back to cooking at full capacity in the fall, according to a company rep. Check out our roundup of 100 Worst Frozen Foods in America.
General Mills Inc., the company that produces Cheerios and Progresso soups among other things, announced they have cut 40 types of soups from their lineup during the pandemic. That accounts for almost half of their soup offerings, and according to CEO Jeffrey Harmening, many of the discontinued flavors won't be coming back. "[Consumers] may not be able to get 16 varieties of chicken noodle, but they can still get chicken noodle", he noted in an interview with Star Advertiser. Here are the 14 Best Healthy Canned Soups and Soup Products (& The Worst).
Kraft Heinz is another company whose portfolio of products is getting a pruning this year. The company had been struggling to keep up with competition across 56 grocery categories they're currently in, especially as consumer preferences shift away from processed foods. It seems that the pandemic has expedited some of the long-awaited business decisions, as the Wall Street Journal reports the company is retiring products that are less profitable and harder to produce. While we still don't know exactly which products are going away, judging by the dwindling sales of Miracle Whip, Oscar Mayer lunch meat, Jell-O, Cool Whip, and Velveeta lines reported at the start of this year, it wouldn't be surprising if they were the first ones on the chopping block. Check out this list of 100 Unhealthiest Grocery Foods in America.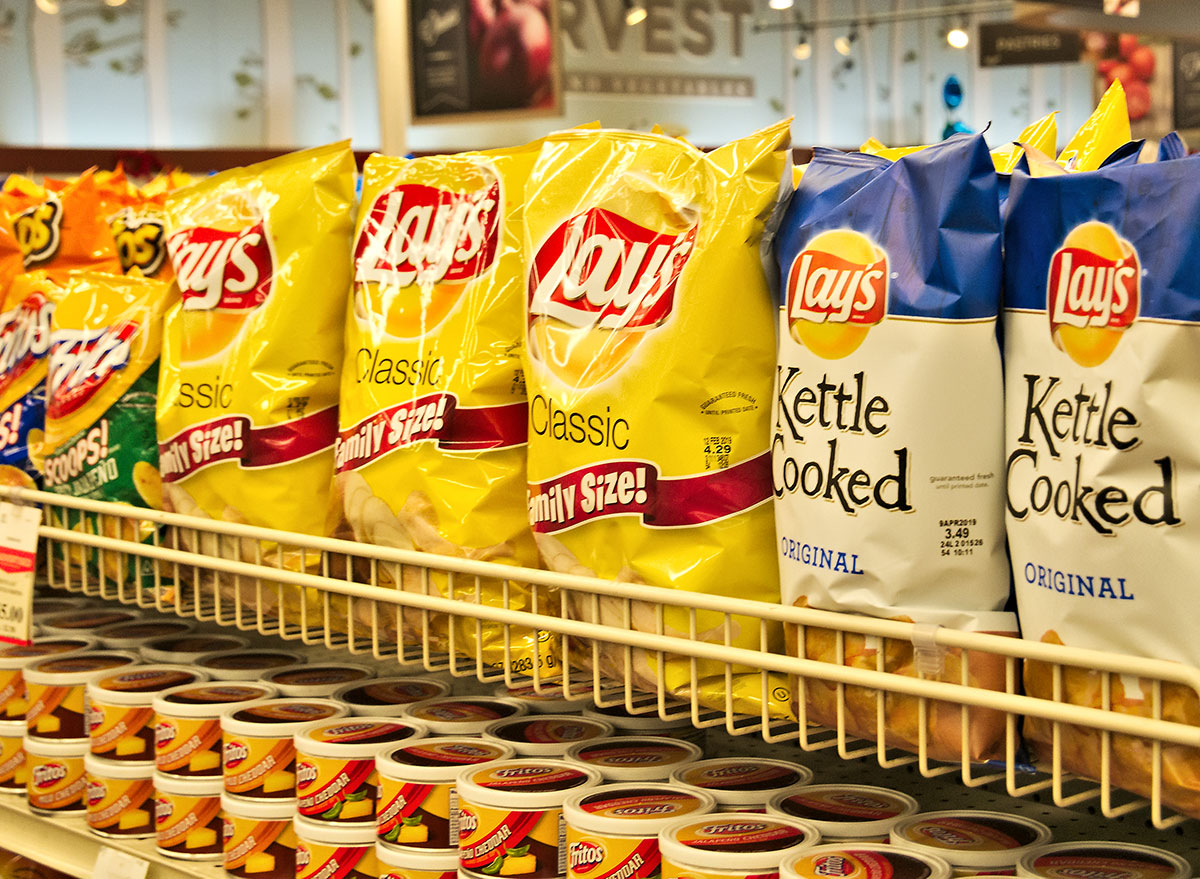 PepsiCo Inc. had decided to shelf the production of about 20% of its products, including some Frito-Lay snacks, and focus on products that were in high demand during the pandemic. For example, the company currently isn't producing it's low-sodium product Lightly Salted Lay's potato chips. While the snack giant is expected to bring some of the shelved items back, CEO Steven Williams said he expects about 3% to 5% of their products to be discontinued for good due to the pandemic.
As we've reported last week, Coca Cola is discontinuing their juice and smoothie line Odwalla. The announcement came on July 1 and the company is moving quickly—by the end of the month, you'll no longer be able to find these products on grocery store shelves. Odwalla had been part of Coca Cola's portfolio since 2001, and the company noted the product had lost its customer base as health-conscious consumers are turning away from smoothies. And don't forget to check out our list of 108 Most Popular Sodas Ranked by How Toxic They Are.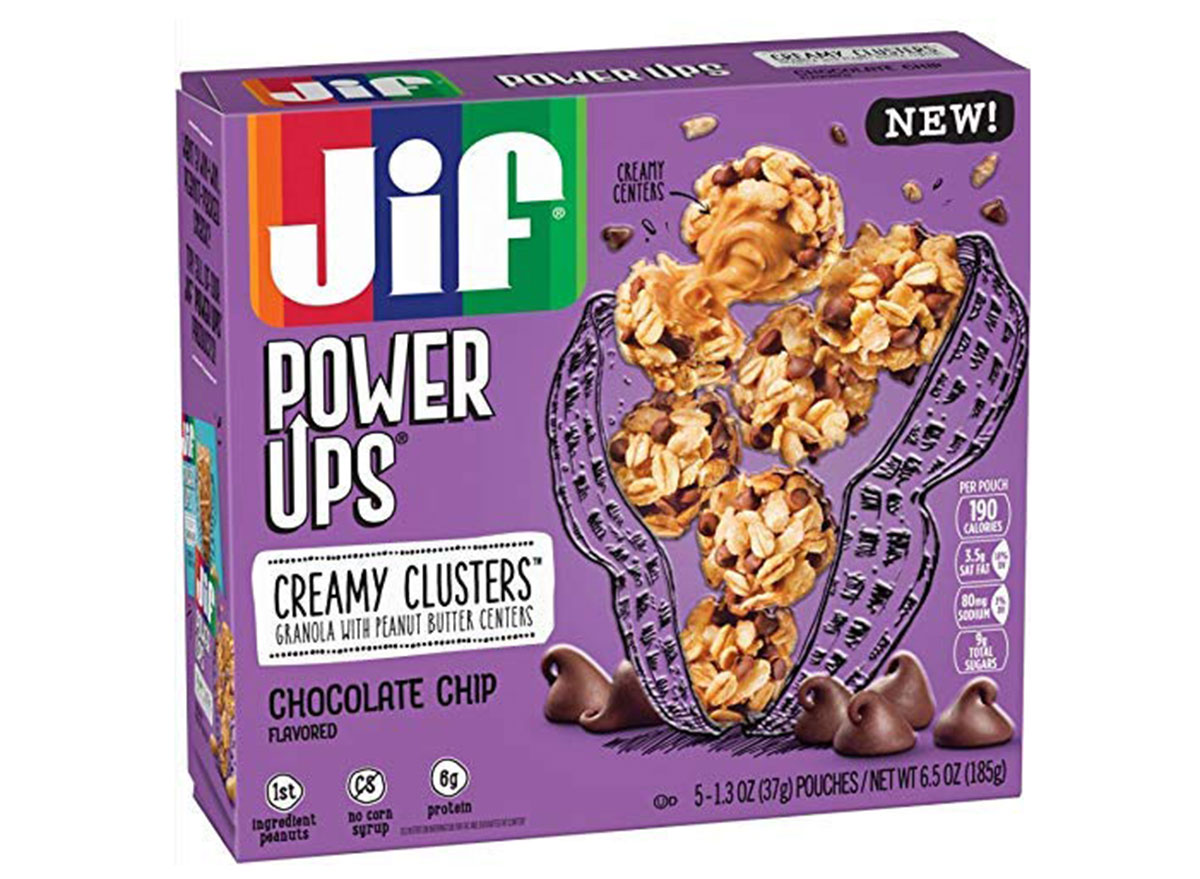 J.M. Smucker Co., which owns Jif, has pivoted away from novelty peanut-based snacks this year in order to focus on their main money-makers like peanut butter. The company announced back in February that they were discontinuing the wholesome snack line Power Ups, which featured crunchy granola bars and creamy granola clusters for good. They have since launched a creamy peanut butter spread with no added sugar and creamy peanut butter in a 13-ounce squeezable container. We Tested 10 of the Top Peanut Butters, and This Is the Best One!
Aunt Jemima brand is no more. While the parent company Quaker will still produce their famous maple syrup and pancake mix, the products will be sold under a different name and completely reimagined branding. The decision comes as part of a larger shift among consumer brands who are scrubbing their image clean of racially insensitive branding.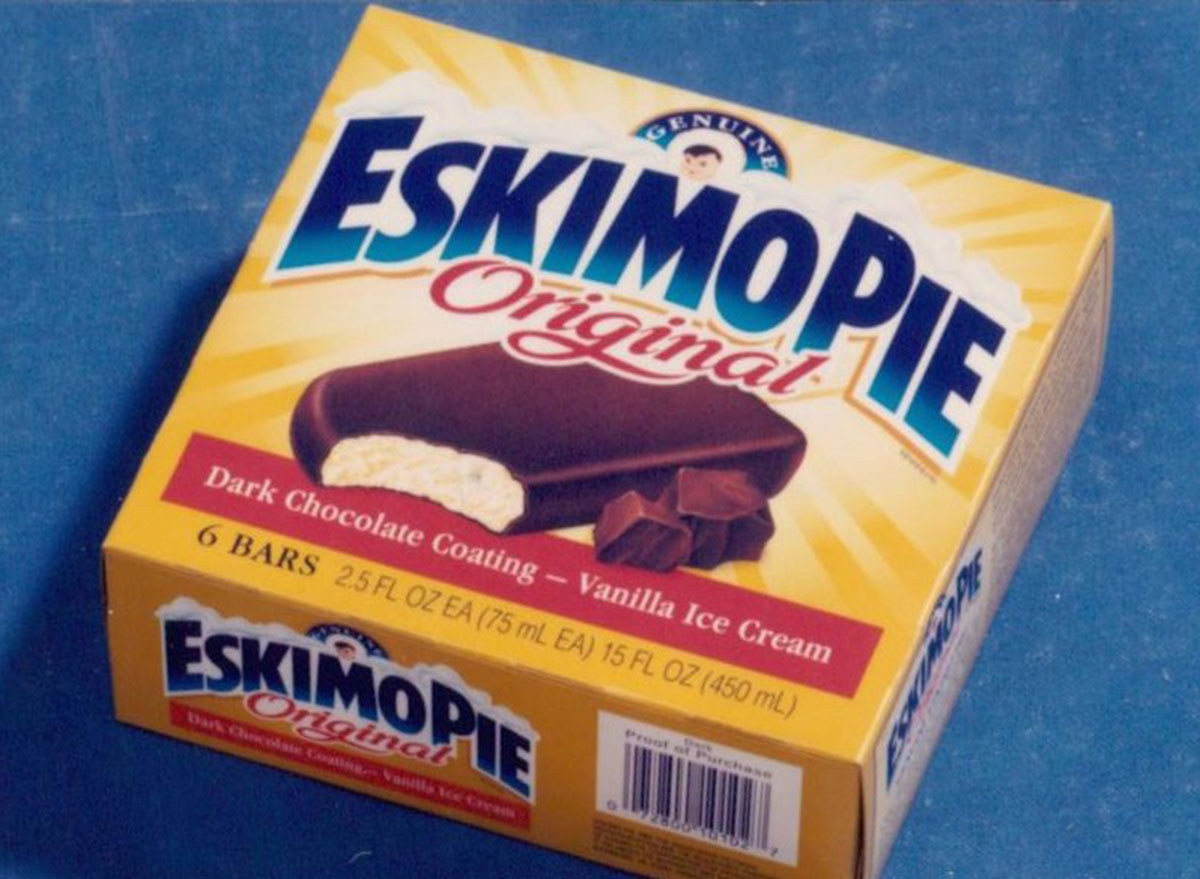 After nearly a 100 years of Eskimo Pie, Dreyer's Ice Cream announced they would be changing the name of the ice cream product, in order to shift away from the outdated derogatory term describing the native people of the Arctic. We're yet to find out what the new name will be.
Uncle Ben's products are getting a new name and branding, too. "We recognize that now is the right time to evolve the Uncle Ben's brand, including its visual brand identity, which we will do," a company spokesperson told the New York Times.6254a4d1642c605c54bf1cab17d50f1e
Mrs. Butterworth's Products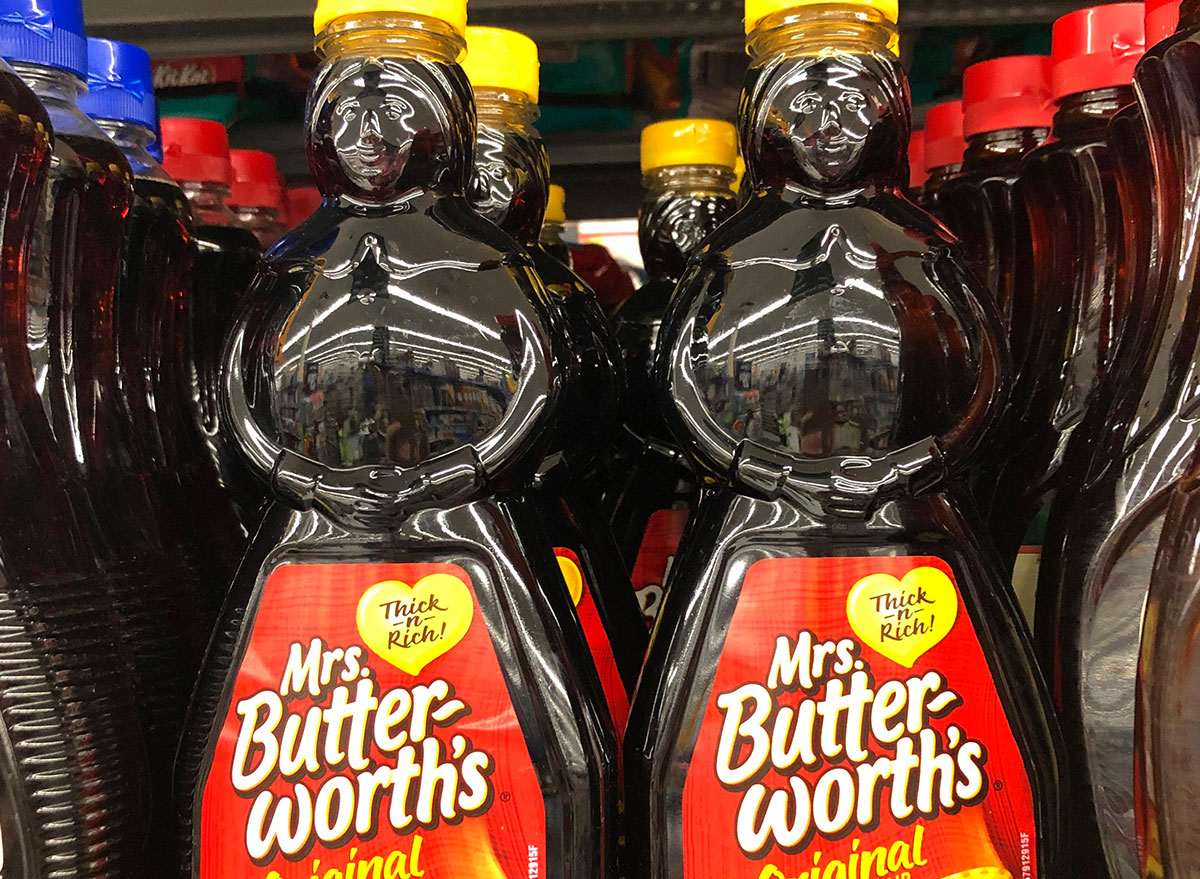 Conagra Brands announced it would be reviewing the complete branding and packaging of Mrs. Butterworth's products. The bottle shape of their famous syrup has long been associated with a racial stereotype by its critics.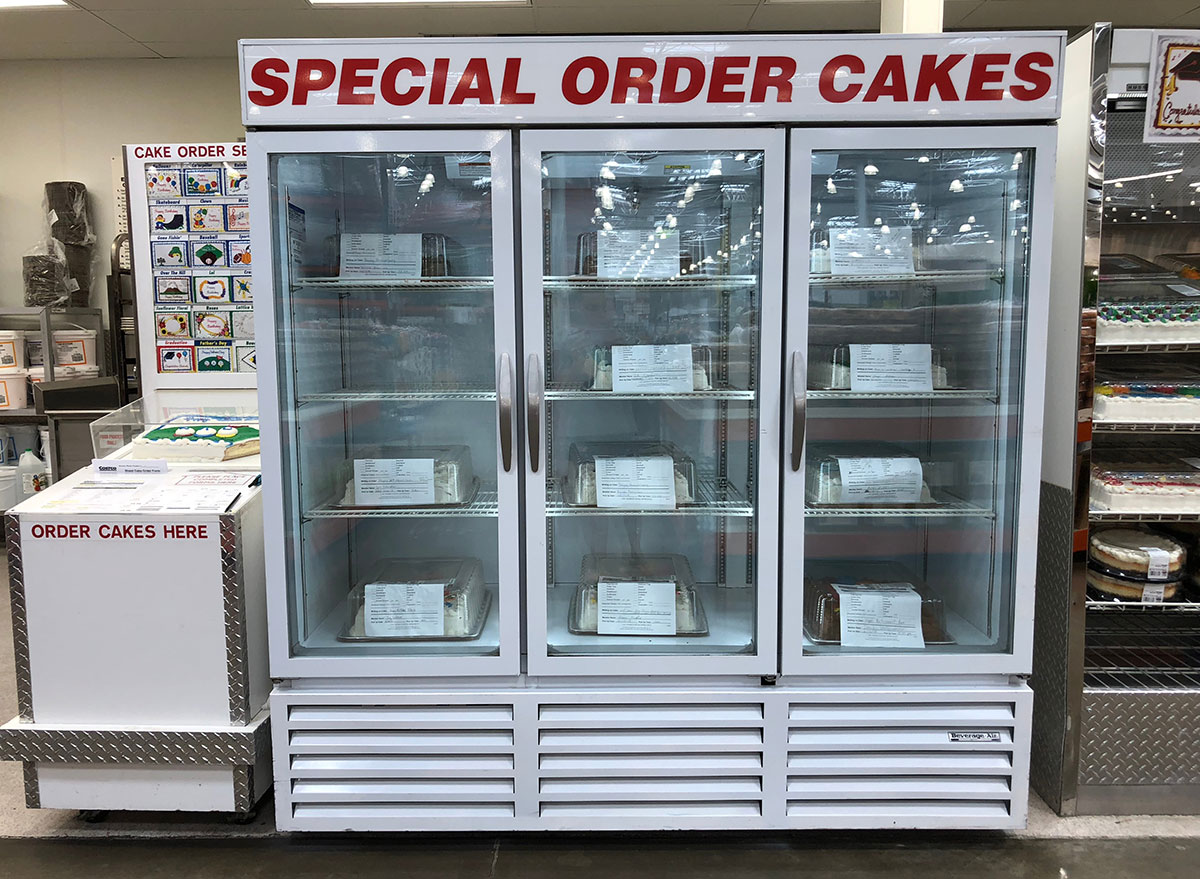 Costco recently announced they would no longer be selling their uber popular half-sheet cakes, which was met with fervent disapproval from their customers. But all isn't lost—you can still get a round 10-inch customizable cake instead. 25 Surprising Foods You Can Buy at Costco.
Mura Dominko
Mura is ETNT's Executive Editor, leading the coverage of America's favorite restaurant chains, grocery stores, and viral food moments.
Read more about Mura