15 Allergy-Free Snacks to Put On Your Radar
On the hunt for munchies that are safe for people with food allergies? These snacks come from factories free of many common allergens.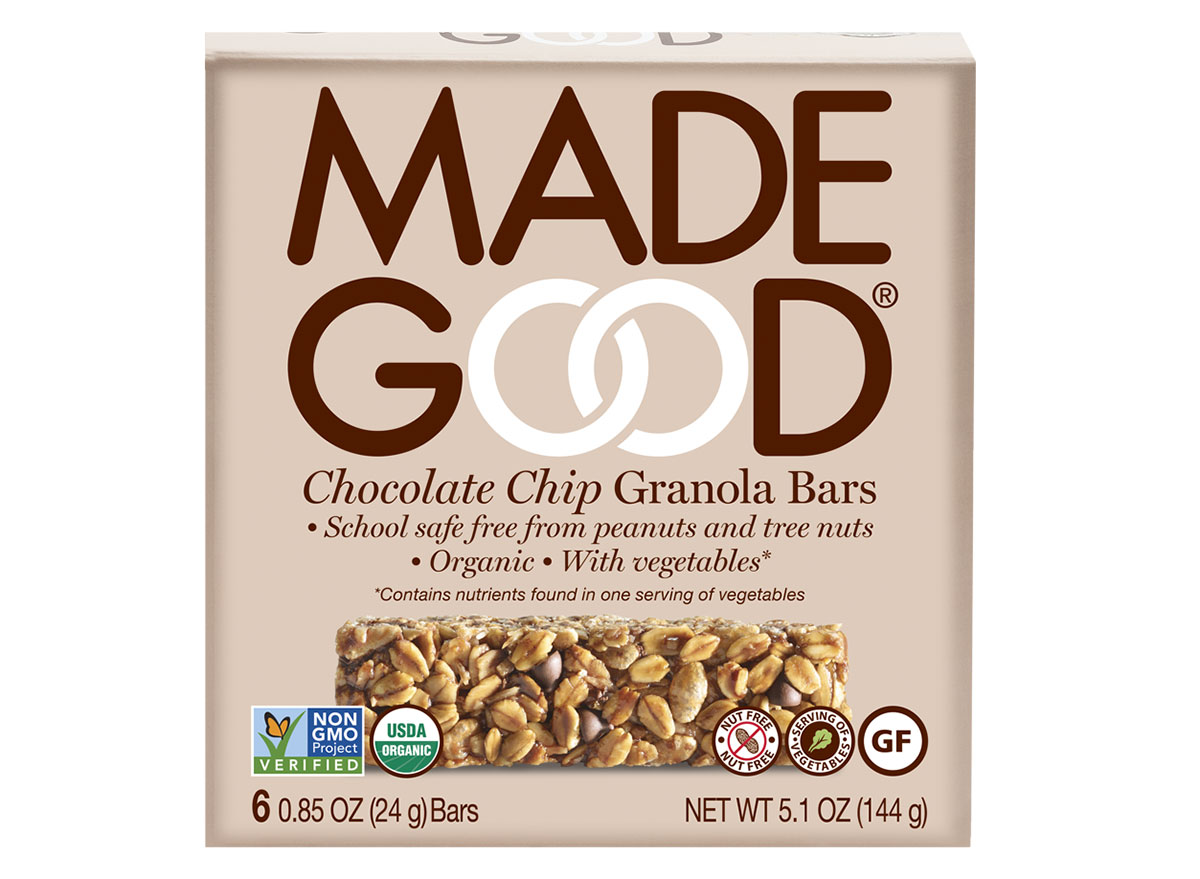 When you have food allergies, finding safe snacks is no easy task. As a food allergy mom, I know the drill: From scouring the tiny print on labels at the grocery store to emailing companies at all hours to make sure their factories are 100 percent free of the ingredient, you can never be too careful when it comes to making sure you're actually giving your child allergy-free snacks.
While companies in the U.S. are required to tell you right on the label if a food contains any of the top 8 allergens (peanuts, tree nuts, soy, egg, wheat, milk, shellfish, and fish), they don't have to mention whether the food was made in the same facility or on the same lines as the top 8. And companies don't have to divulge any ingredient beyond the top 8. That means if you're allergic to, say, sesame—the 9th most common allergen—the company can call it "spices" or "flavoring" on the label, and you would have no idea.
For a person with FA, accidentally having even a trace amount of the food can lead to serious symptoms and anaphylaxis, a potentially deadly reaction. So when it comes to finding safe foods, the stakes are high. Luckily, a new crop of brands are springing up to make life safer and less stressful for the food allergy customer. And bonus: some old-school brands are being more transparent about which snacks they make in factories free from tree nuts, peanuts, dairy, and other allergens. We've rounded up some of our favorite allergy-friendly treats, with each snack not only being free of the allergens listed, but they also taste great.
Note: Ingredients can change, so it's always safest for people with food allergies to always double-check this information directly with the companies.
Safe + Fair Blueberry Cinnamon Granola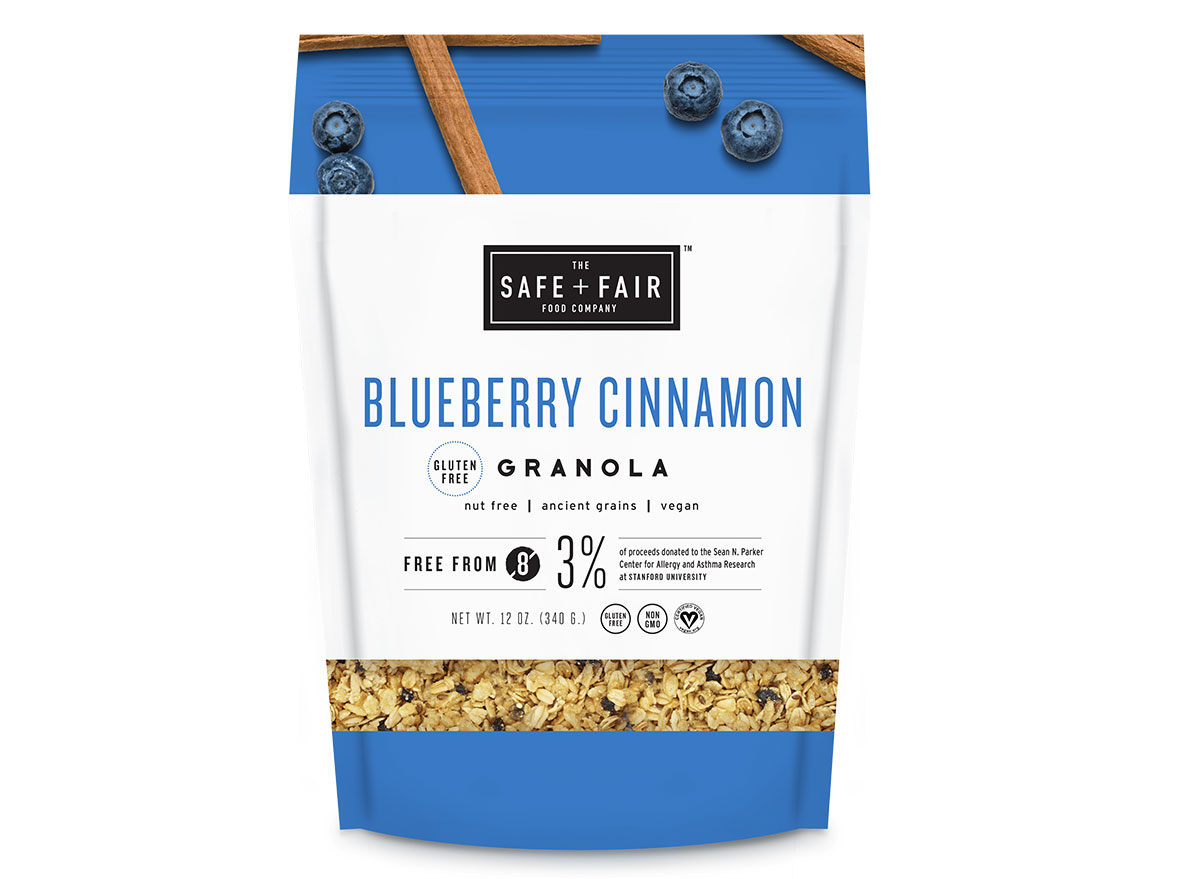 Made in a factory free from: All top 8 allergens
Much of the allergy-safe granola out there tastes a little, well, strange. Or it doesn't have the right amount of crunch. This one from Safe + Fair is not only non-GMO, vegan, and top-8 free, but it tastes just as delish as the granola we grew up on. It isn't just about what they leave out of this cereal that makes it a must-eat, but it's about what's actually in it, too. They pack in tons of healthy ingredients like real blueberries, oats, brown rice, and millet.
88 acres Dark Chocolate Sunflower Seed Butter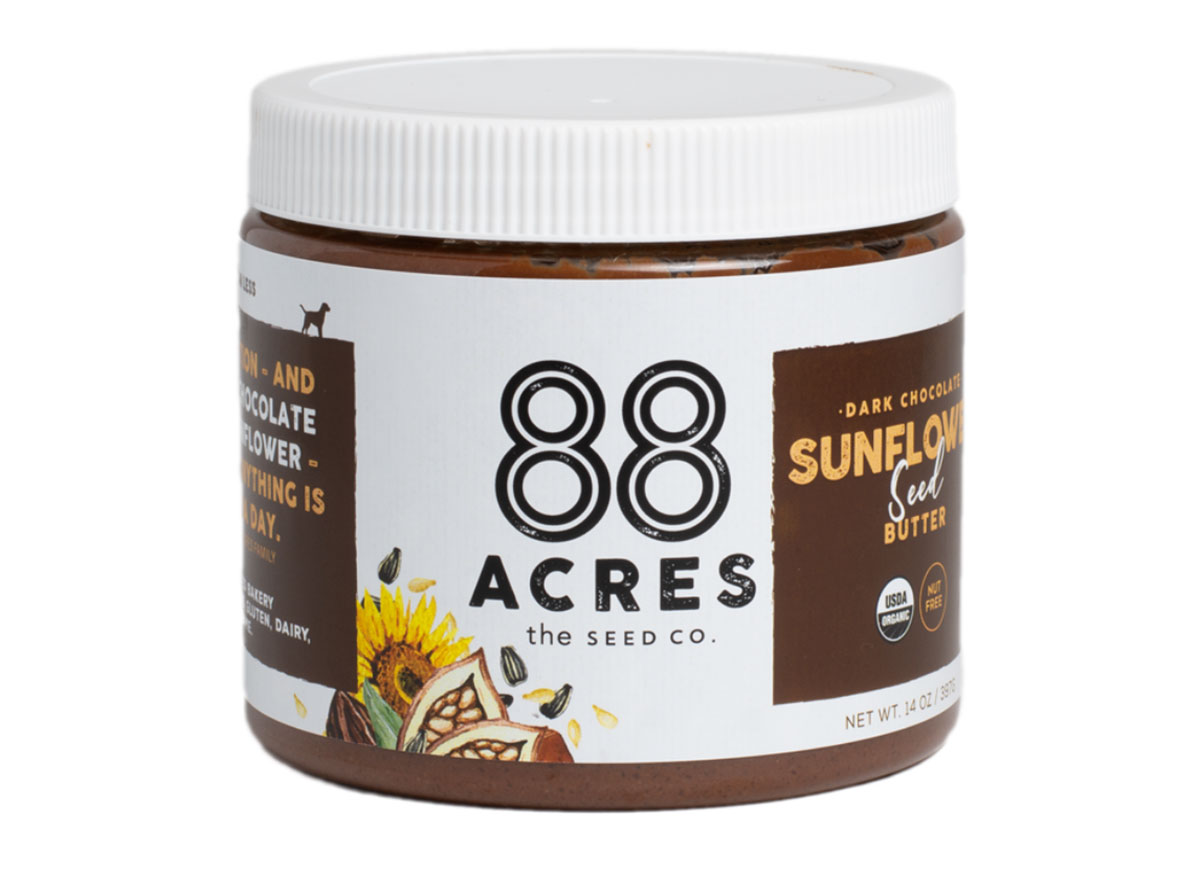 Made in a factory free from: All top 8 allergens, plus sesame and gluten
Nutella (aka the fan-favorite chocolate hazelnut spread) is, of course, a forbidden food if you have nut allergies. So my son with peanut and tree nut allergies nearly flipped when we discovered this Nutella-like spread made from organic cocoa and sunflower seeds. "I give it an 11 on a scale of 1 to 10," he raved. It comes in big jars or in handy small packets you can take on the go. Spread it on an apple, pear, a homemade waffle—or just eat it by the spoonful, which is what my kid likes to do (it has 3 grams of fiber plus antioxidants, so hey, it's not that bad of a parenting move).
Enjoy Life Grab & Go Seed & Fruit Mix in Mountain Mambo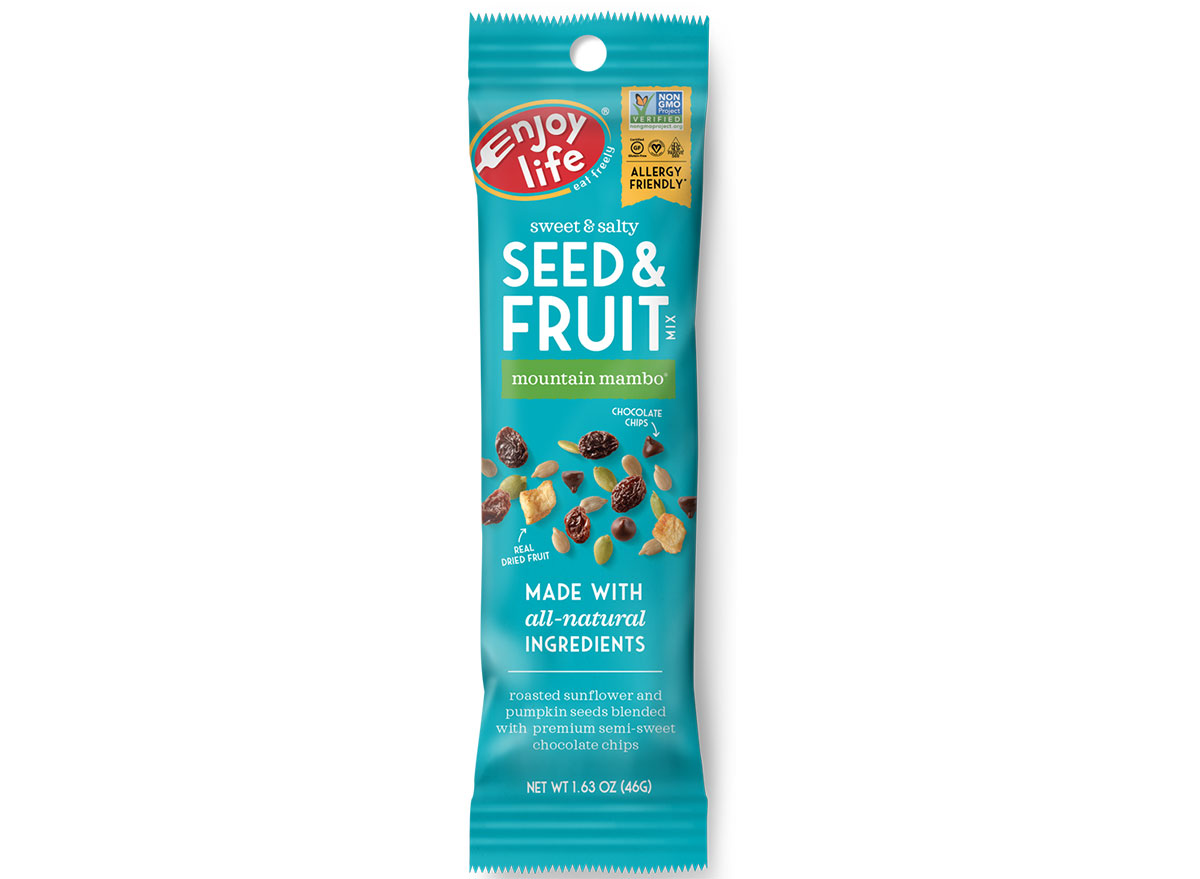 Made in a factory free from: Gluten, peanuts, tree nuts, soy, egg, sulfites, sesame, shellfish, fish, dairy, casein, lupin, mustard, and crustaceans
Finding a trail mix is your basic nightmare for people with food allergies. That's why we love these safe ones—a tasty and fiber-rich mix of roasted pumpkin and sunflower seeds, dried cranberries, raisins, dried apples, and chocolate chips. They also sell a "Beach Bash" mix with the seeds plus pineapple, cranberries, and apricot. We like to stock up on the smallest mini pouch size because it's perfect for dropping in kids' lunchboxes or grabbing to have as a before-sports treat.
Madegood Chocolate Chip Granola Bars
Made in a factory free from: Peanut, tree nut, soy, dairy, egg, fish, shellfish, gluten, and sesame
All the leading granola bars are bad news for people with nut allergies. If they don't contain peanut butter or tree nuts like cashews and macadamia nuts, then they're made on the same factory lines with these other ingredients, which creates a dangerous cross-contamination risk. But the Canadian brand MadeGood sells delicious bars and other snacks that are made in facilities free from many allergens, including sesame. All the flavors are tasty, but the chocolate chip ones are particularly addictive. Unfortunately, we're not the only ones who think so: That flavor is first to sell out at our local healthy grocery store. Made from gluten-free oats, these bars get their sweetness and extra vitamins from fruit and vegetable extracts.
Madegood Strawberry Granola Minis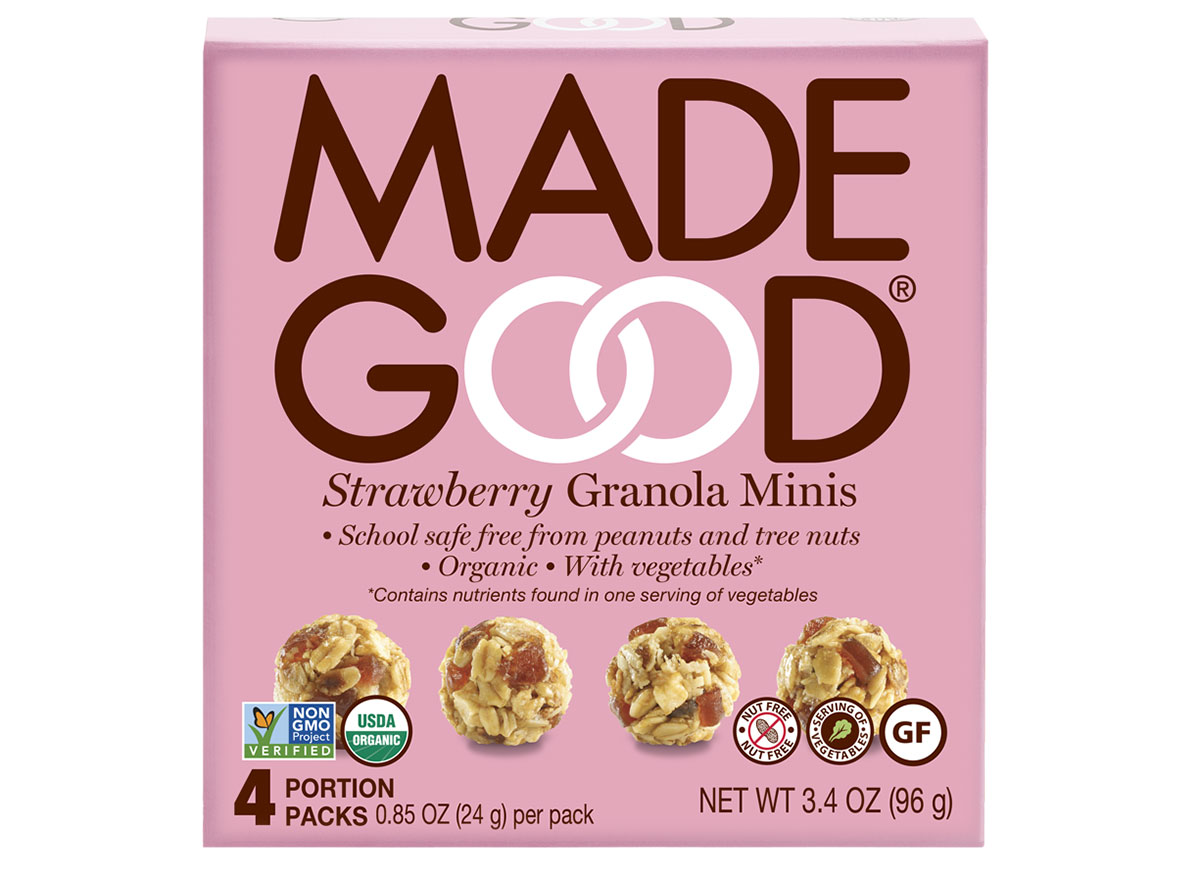 Made in a factory free from: Peanut, tree nut, soy, dairy, egg, fish, shellfish, gluten, and sesame
These treats are basically the granola bars in a small cookie-like form, making them a right-sized snack for little ones. You can also buy them in other yummy flavors such as apple cinnamon, chocolate banana, chocolate chip, and mixed berry. Sold in small individual bags, they're great for sending as a school snack or adding to your yogurt to make it more filling.
Trader Joe's Soft-Baked Snickerdoodles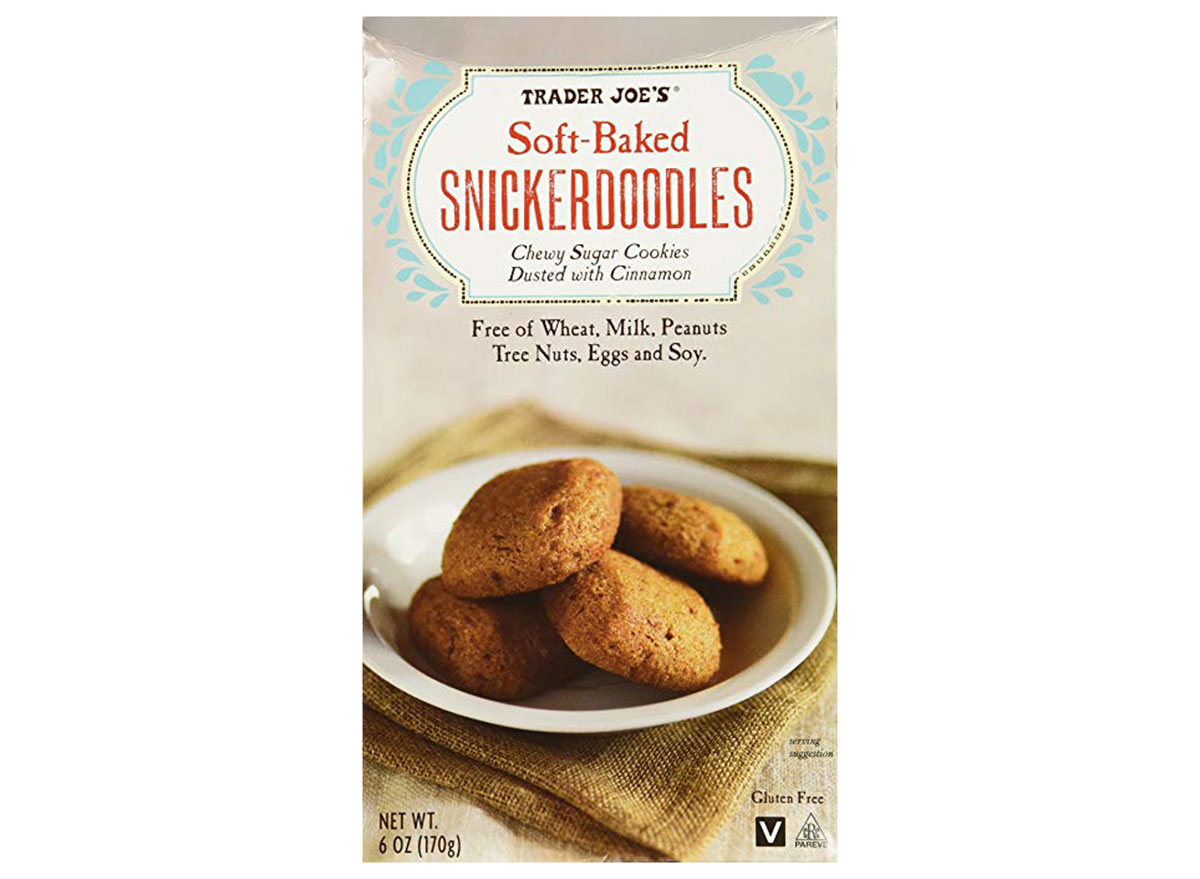 Made in a factory free from: Peanuts and tree nuts
So the rumor is that these addictive cookies are actually made by the allergy-friendly brand Enjoy Life's Snickerdoodles. (We can't confirm that tidbit though, as Trader Joe's doesn't divulge its vendors). What TJ's will confirm though is that the soft and hearty cinnamon-flavored treats are made in a facility with no tree nuts and peanuts, making them safe for the nut-allergic. The only downside is you don't get a lot in a box—my kids tend to polish them off before I've got the groceries unpacked!
Cloud 10 Marshmallow Crispy Treats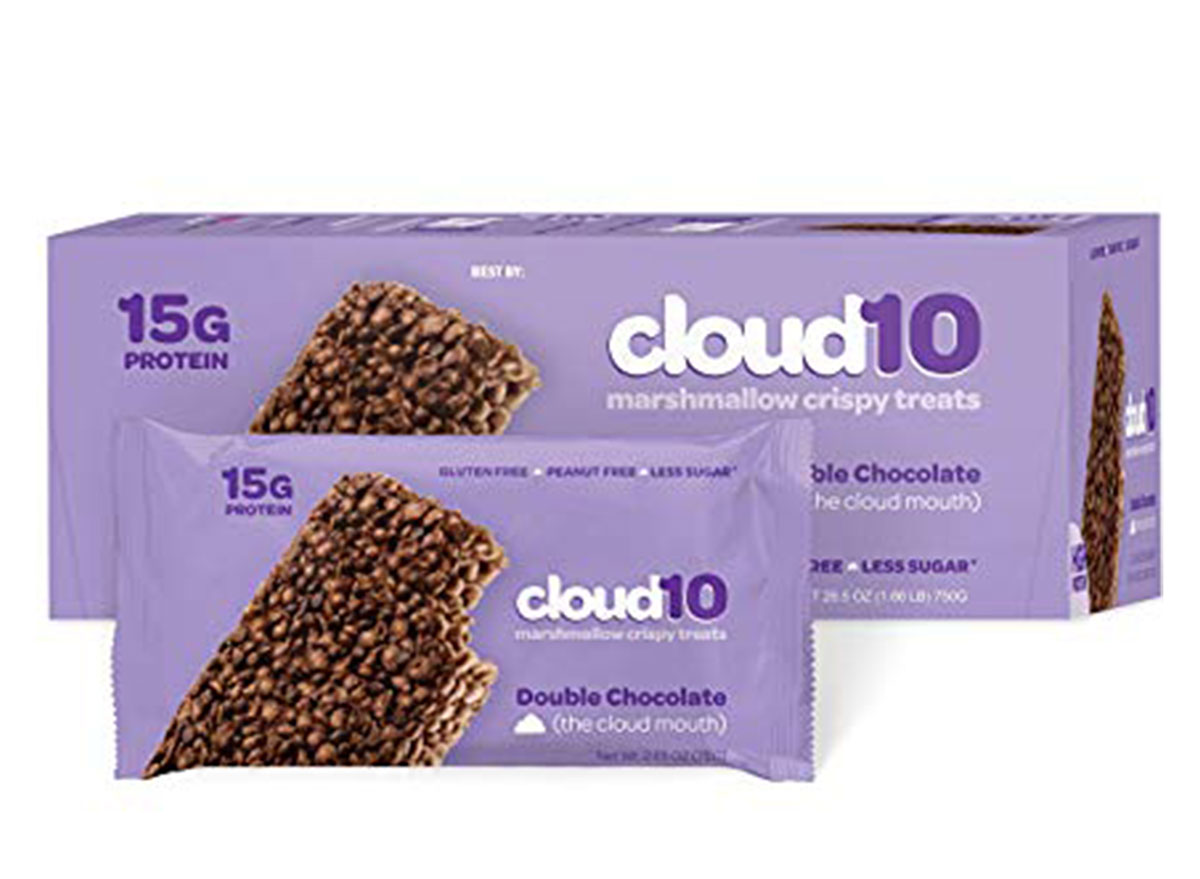 Made in a factory free from: Peanuts, dairy, and gluten
Feeling nostalgic? These throwback munchies are a fun take on Rice Krispies treats and work for anyone with peanut or dairy allergies. (They are NOT safe if you have tree nut allergies though!) While no one would necessarily call them a health food, they do serve up 15 grams of protein, making them much more satisfying than a cookie.
Vermont Nut Free Dark Chocolate Drops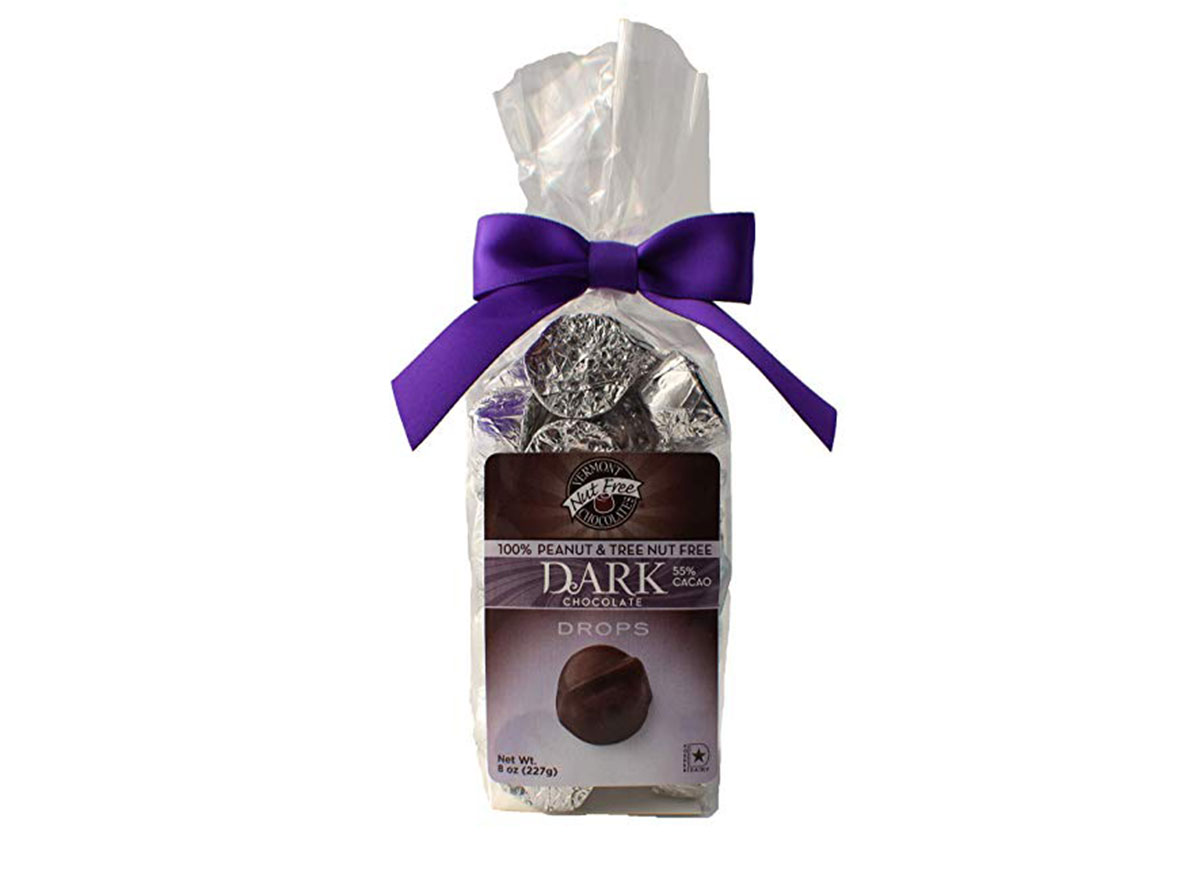 SHOP NOW ON VERMONT NUT FREE CHOCOLATES
Made in a factory free from: Peanuts and tree nuts
RDs keep urging us to eat a bit of heart-healthy dark chocolate every day—and, well, if they insist! The only issue is families with nut allergies have a harder time finding safe dark chocolate, because most brands also make stuff with hazelnuts, peanuts, almonds, etc. Vermont Nut Free was one of the first nut-free food companies, and they're still filling a void by simply selling chocolate that's safe for the nut-allergy set. Their seasonal treats make the candy holidays (you know, Valentine's Day, Easter, Halloween) as much fun for kids with food allergies as those without them. The first time my son got a heart-shaped box of chocolates he could actually eat, it was the best day ever.
Made in a factory free from: The top 8 food allergens and Canada's top 10 priority allergens (including sesame, mustard, sulfites)
It's a huge relief when you find a protein-packed PB-like spread that is safe for your child with nut allergies. This is one of the options (see #13 for another), and it's good for people with all the top 8 leading allergies. Spread it on apple slices, have it in a sandwich—you can even use it to bake cookies, too. Take your pick of official Sunbutter recipes, as well as recipes from food allergy blogs like Cupcakes and Cutlery.
Avalanche Caramel Espresso bars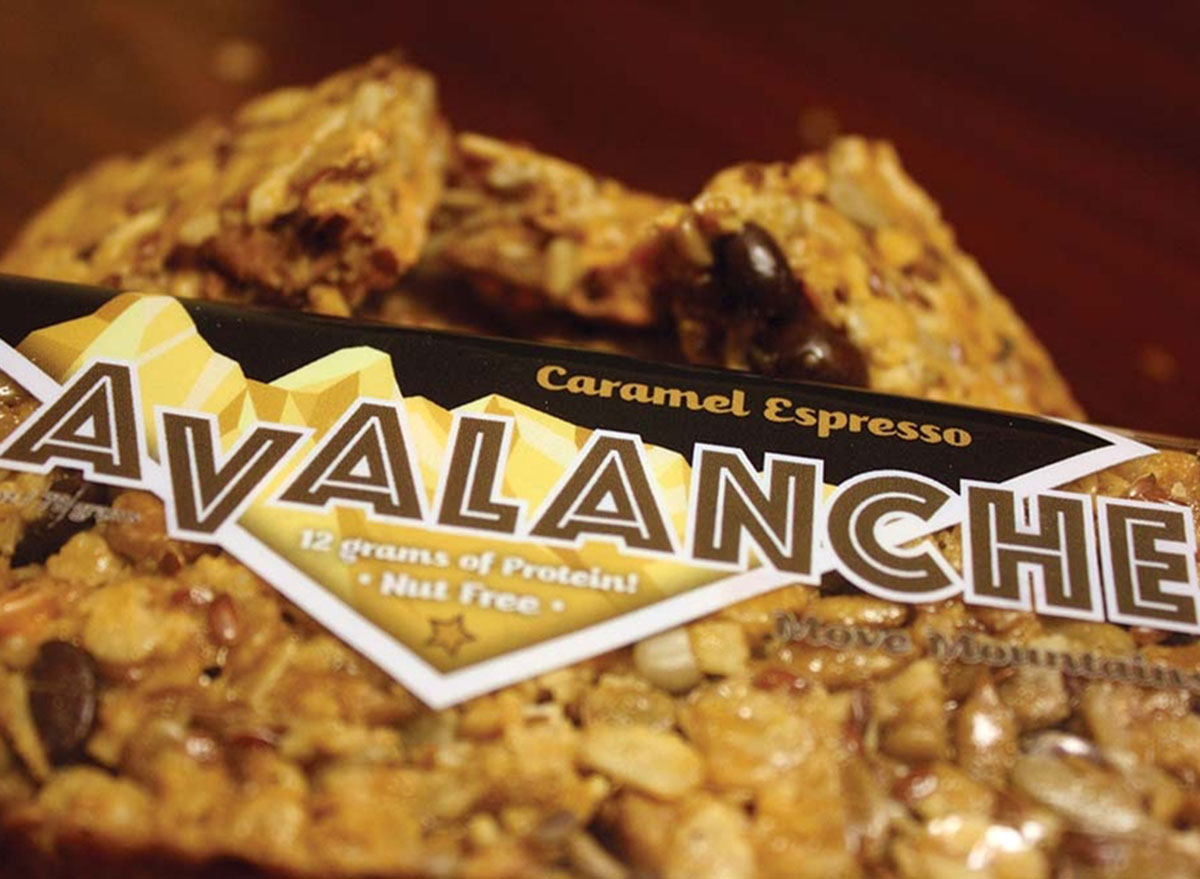 Made in a factory free from: Peanuts and tree nuts
Like a lot of allergy-safe lines, Avalanche was started by a parent who was frustrated she couldn't find safe snacks for her child with food allergies. The bars have the dense crunchy mouthfeel of a healthy power bar—only without the nuts. All Avalanche bars are made from sunflower kernels, oats, and flaxseed and have around 12 grams of protein; the Caramel Espresso bar kicks things up even more with coffee beans. The only downside? Like a lot of granola bars, Avalanche bars are high in sugar.
Skinny Pop Original Popped Popcorn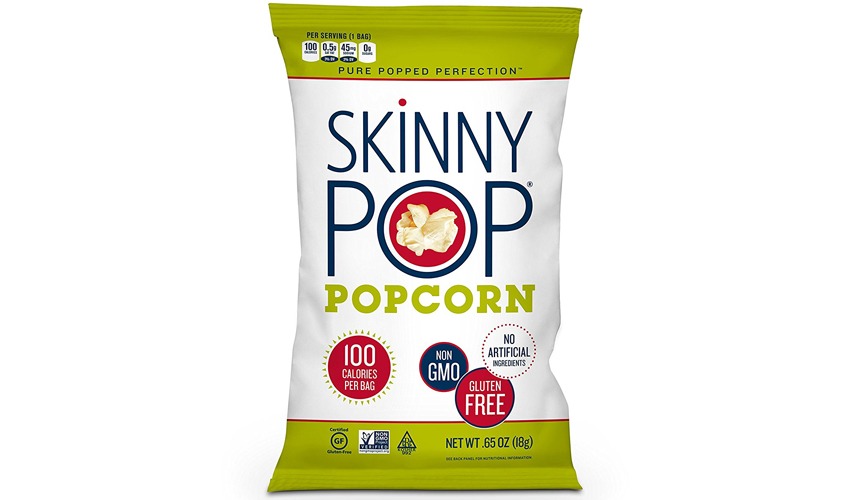 Made in a factory free from: Peanuts, tree nuts and eggs; also certified gluten-free
My family is partial to Skinny Pop's original popcorn flavor, but if you're looking for something more interesting, the aged cheddar is a win. Each snack-sized one-ounce bag counts as a whole-grain snack and gives you 2 grams of fiber, 2 grams of protein, and no added sugar. Plus, all of Skinny Pop's treats are made in a facility without tree nuts, peanuts, gluten, or eggs.
Lundberg Family Farms Organic Brown Rice Cakes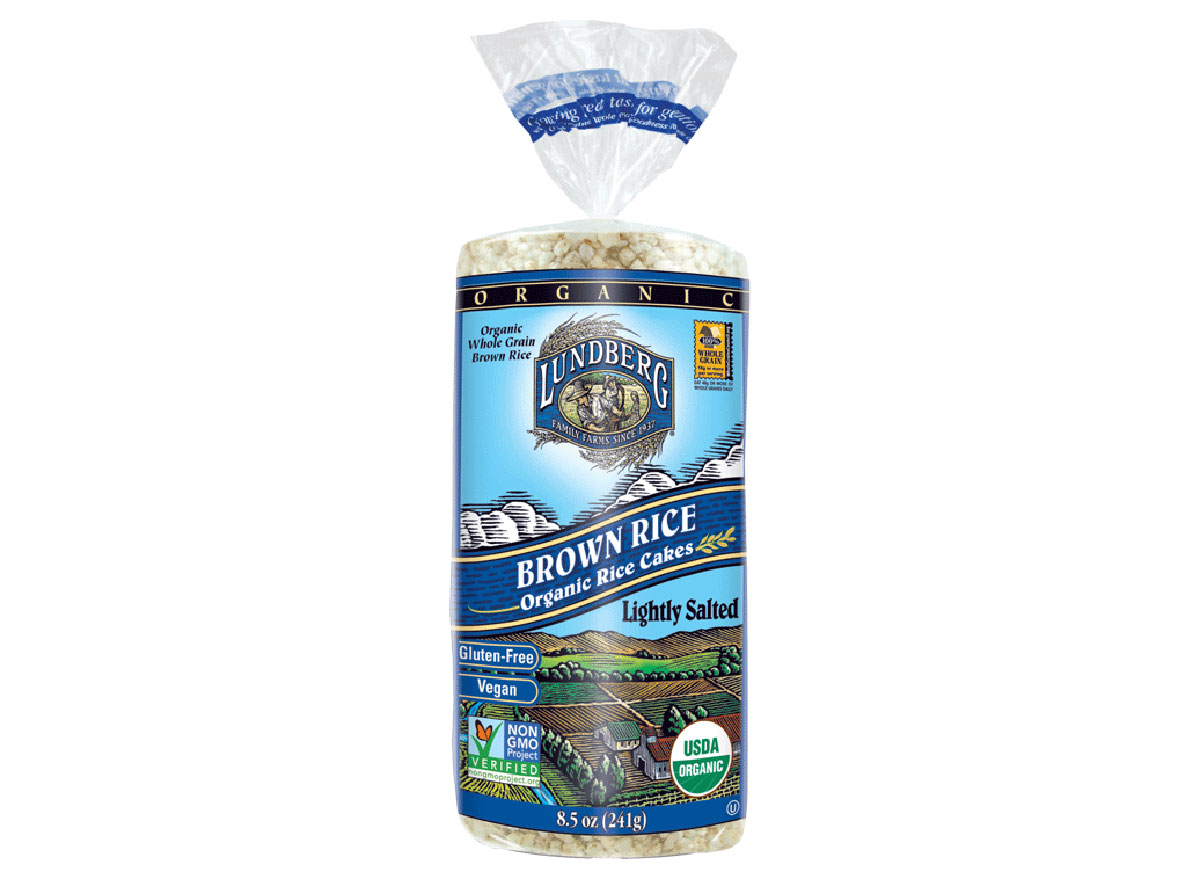 6254a4d1642c605c54bf1cab17d50f1e
Made in a factory free from: Peanuts and tree nuts
OK, so this 80-year-old company is not a buzzy startup, but it is producing a snack that's super healthy and safe for people with peanut and tree nut allergies. Their plain brown rice cakes are made from just organic, non-GMO brown rice and sea salt—that's it. These rice cakes don't have a styrofoam texture like some other brands, and they have just enough sea salt to satisfy a salty craving. Or if you've got a sugar jones, the cinnamon-flavored rice cake has just a hint of sugar. Use them as a healthy base for a sandwich or avocado toast, or just crunch them straight out of the bag. Note: Although rice itself is gluten-free, this is NOT made in a gluten-free facility and is not safe for someone with Celiac disease.
Made in a factory free from: Peanuts, tree nuts, dairy, egg, gluten
This is soy butter, so the soy allergic have to steer clear. But for those with peanut, tree nut, dairy, and egg allergies—as well as anyone who can't safely eat gluten—Wowbutter is a welcome PB-alternative. On the food allergy Facebook groups, people fiercely debate whether Wowbutter (soy butter) or Sunbutter (sunflower seed butter) tastes better. Bottom line? They have a different taste and consistency, and it's a totally personal preference.
Safe + Fair Popcorn Quinoa Chips
Made in a factory free from: Peanuts, tree nuts, egg, shellfish, fish
We've all had that experience of biting into a bean or seed chip and wishing it didn't taste so healthy. But with Safe + Fair's line made from quinoa corn, flaxseed, and chia seed, it's more along the lines of "Yum!" The kettle corn ones are the sweetest and, big surprise, my kids' favorite. I love the sriracha flavor because it has some zing, but there's also an olive oil and sea salt version if you prefer a more traditional munchie. Choose the variety pack, and you can sample all three and decide for yourself.
The Good Bean Chili Lime Chickpeas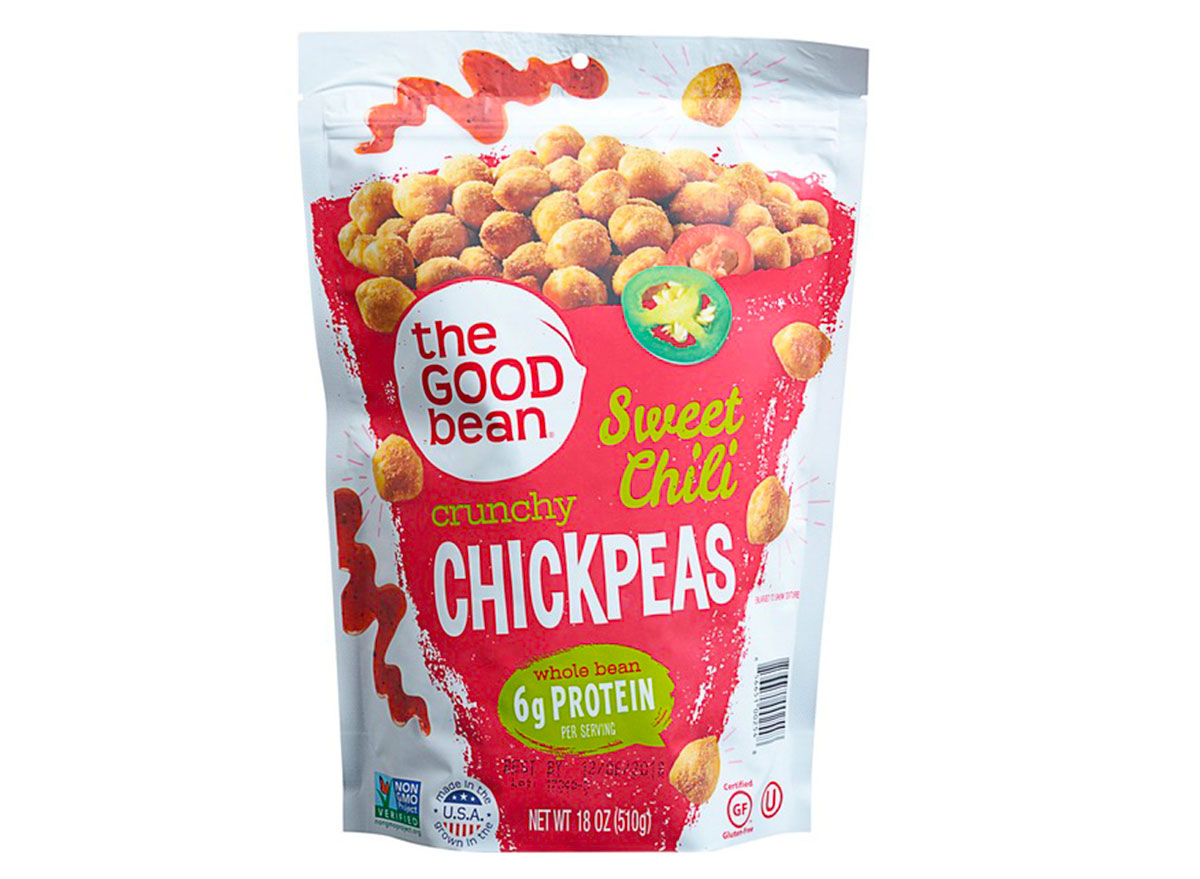 Made in a factory free from: Peanuts, tree nuts, and gluten
Crunchy, tangy, and a little salty—what's not to love? These addictive roasted chickpeas are sourced from family farms in the United States and give you a fiber fix and 6 grams of protein. If you want to branch out, they also come in tons of other flavors such as sea salt, classic hummus, sweet cinnamon, and Thai coconut. Fun fact: Coconut is not a tree nut—though you can be allergic to it. In fact, you can be allergic to any food.