12 Best Beach-Day Snacks for a Flat Belly
Soak up the sun — not the fattening, sodium-spiked, belly-bloating snacks many of us thoughtlessly throw in our beach bags.
With summer in full swing, it's time to be extra cautious about what we put into our bodies. Days spent on the sand call for less clothing, greater physical activity, and little to no interest in having to worry about what we eat. And while ice-pops may be your idea of a sweet summer treat, they definitely won't last you more than a few minutes in the sweltering heat.
From pre-packaged to minimal-prep-required, these twelve snack picks — approved by the New York Times best-selling Zero Belly Diet — allow you to eat in your bathing suit and provide you with tons of healthful benefits: they banish bloat, boost your energy, and keep you hydrated. Try one of these flat-belly friendly picks when you're in need of a little something while laying in the sand. And if you're curious about what you should and shouldn't eat for breakfast before you spend the day in a bathing suit, don't miss these 30 Breakfast Secrets For Weight Loss.
Bananas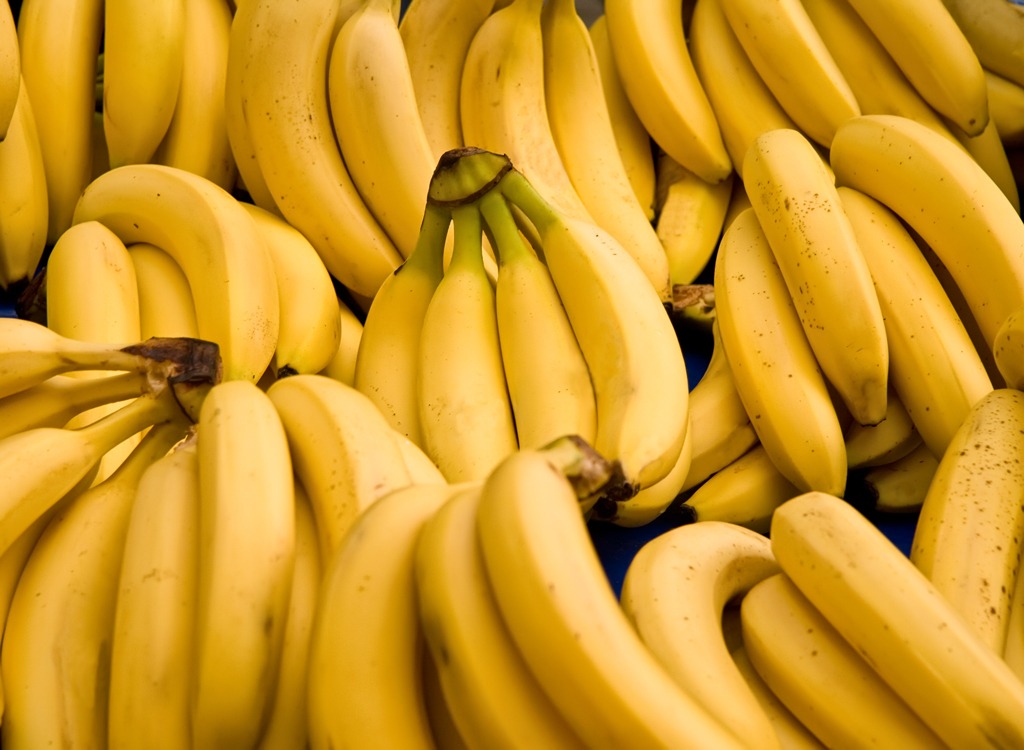 What other snacks come pre-portioned, pre-packaged, and stacked with beach-body friendly nutrients? The gloriously sunny fruits are filled with potassium, an element known to help reduce bloat. Plus, since they're filled with prebiotic fiber, bananas help to increase bloat-battling bacteria in your tummy which fight back against gas and water retention. Want to add more of this beneficial berry (yes, they are berries) to your diet? Check out these amazing ways to eat a banana.
Cherries
In need of a sweet treat? Cherries are filled with resveratrol — an antioxidant that has some serious body-transforming powers. Researchers at Washington State University found that this antioxidant that can boost your metabolism and help you shed some calories. As for the idea of getting all of this while you're basking in the sun? Hand them over.
Hummus and Veggies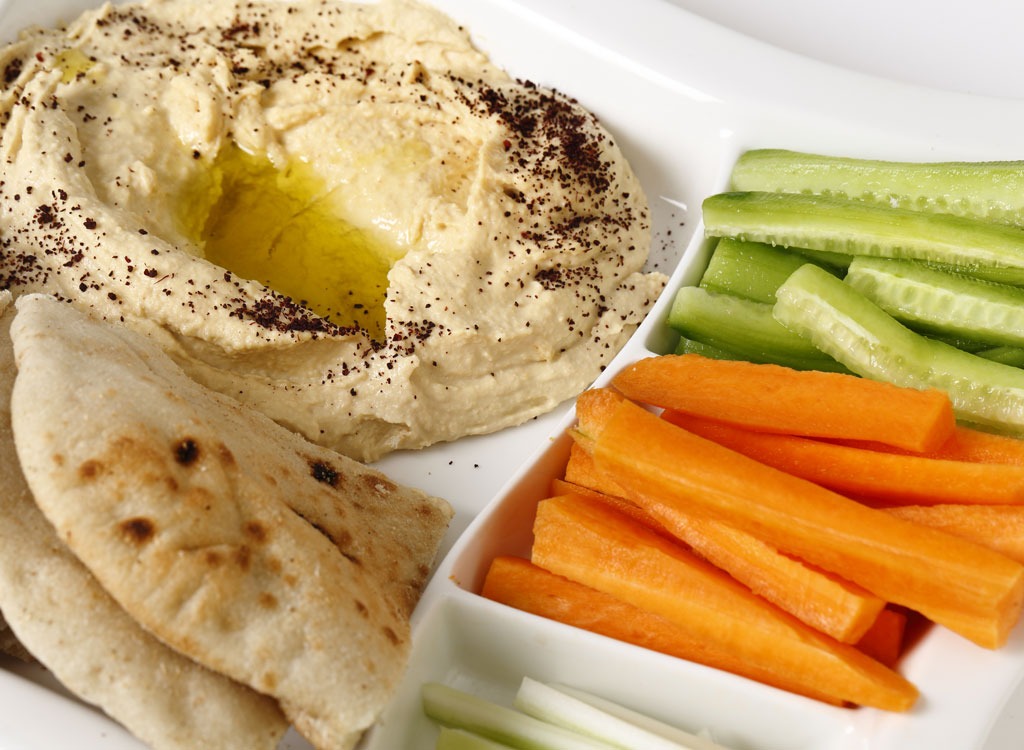 Eventually, you'll need true protein to fill you up. And if you've been sitting in the heat all day, chances are your food has been, too. That's why hummus is great beach option. It won't spoil like other protein packed picks such as deli meats, and it doesn't contain all the carbs that a sandwich may. By dipping veggies in hummus, you're able to share a snack that's high in fiber, high in protein, and low in carb content. Plus, it's really adaptable — eat it with the aforementioned veggies, chips, or spread it on some whole grain sprouted bread.
Seaweed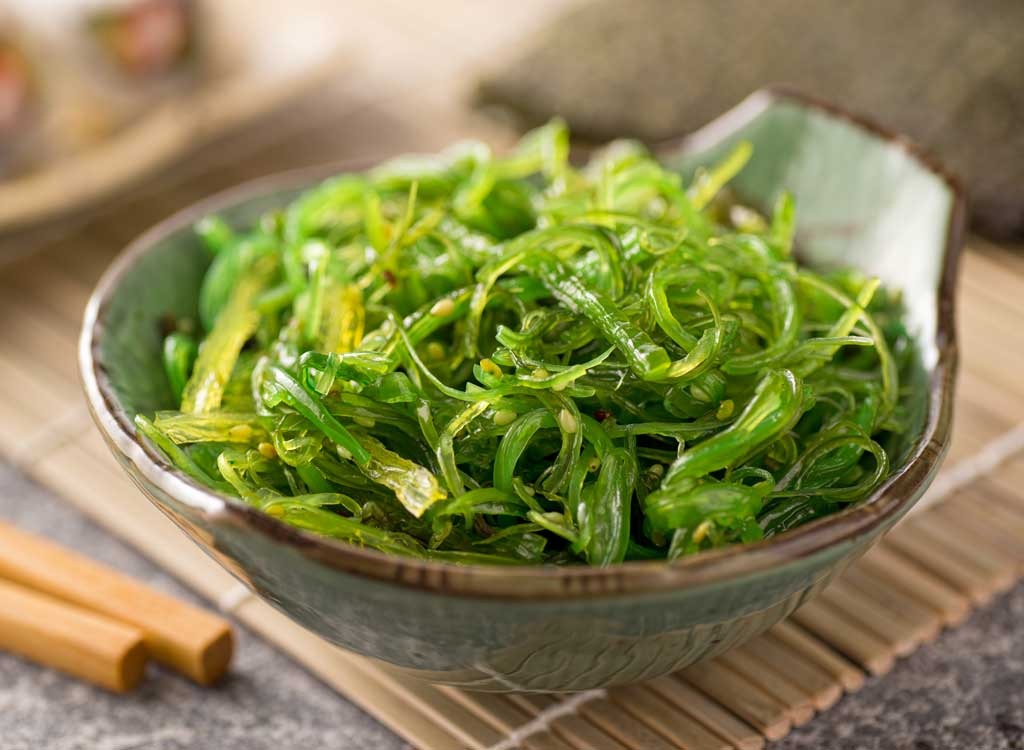 Whether you like it in the form of salad or crisped into chips, this superfood has the ability to help erase your puffed-out middle. That's because it's home to a compound known as fucoidan, which has been shown to reduce IBS symptoms in animals. Researchers believe it can be just as effective for humans!
Sugar Snap Peas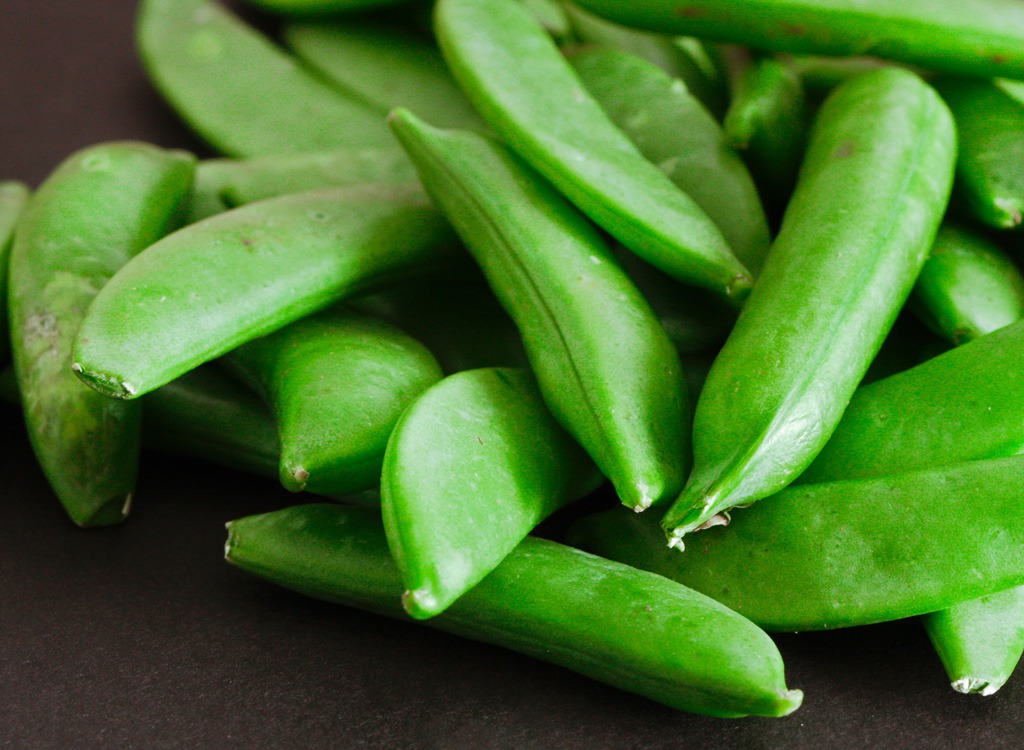 Instead of ruining your beach body with a bag of pretzels, go for crunchy snap peas! These green veggies are filled with 5 grams of digestive-boosting fiber per cup. Not only will they keep you full and fill your mouth with flavor, but they will keep you hydrated. Snap peas are 90 percent water. Oh, snap!6254a4d1642c605c54bf1cab17d50f1e
Watermelon
When roasting in the sun, it's important to stay hydrated — and pounding water can get awfully boring. Instead, choose a refreshing snack that does the trick. Watermelon has its hydrating moniker for a reason. Did you know the fruit is 92 percent H20? It's also naturally low in calories: roughly 40 per cup. So you can nosh away without having to feel guilty about it.
Flax Crackers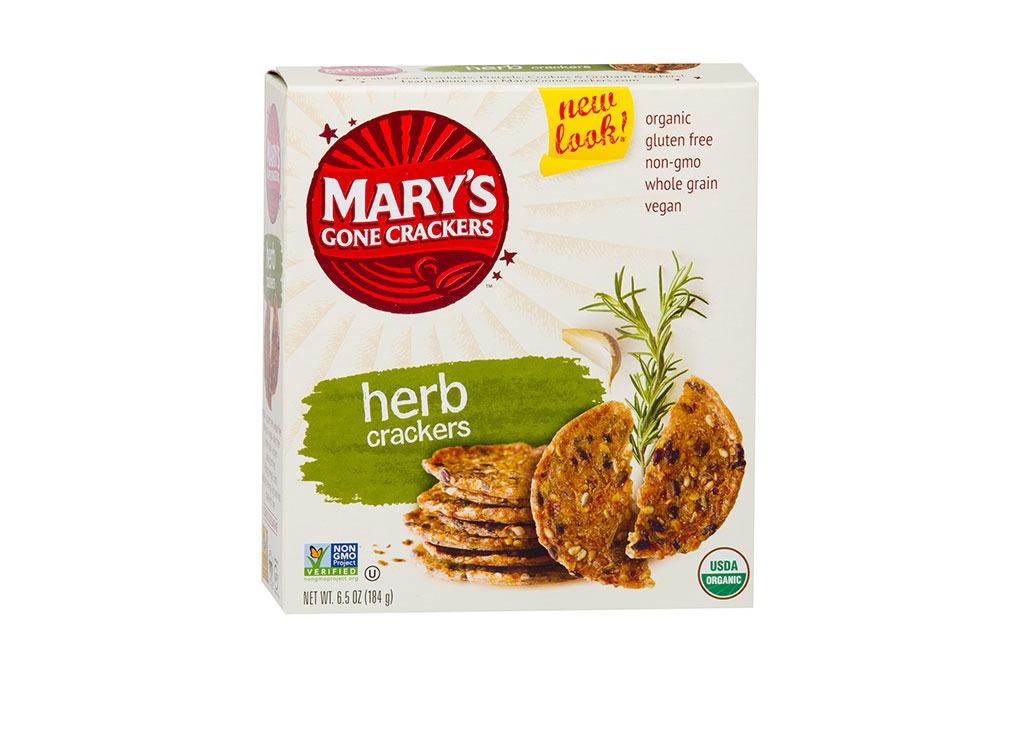 Crackers like Mary's can provide the crunch you crave from a chip, but they don't carry the unhealthy fats or excess calories. Beyond the texture and taste, they help out your newly toned skin. With the help of flax seeds, your skin will be moisturized and glow even more than you thought was possible. According to a research conducted for the British Journal of Nutrition participants that had regularly irritated skin and consumed more flaxseed oil for 3 weeks found their skin to be less red, less rough and more hydrated.
Mashed Avocado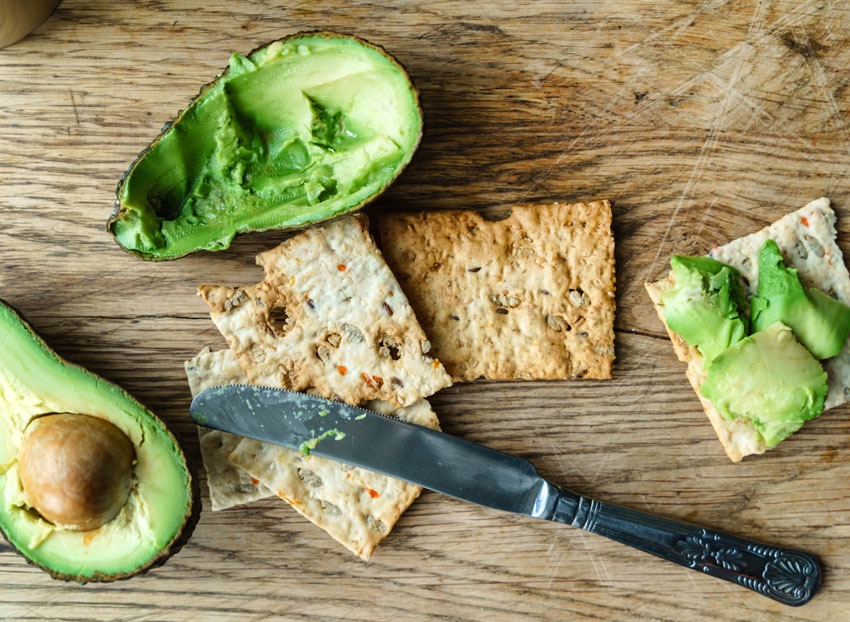 Crackers on their lonesome may get a little bland after awhile, so top them with some delicious avocado. Besides its delicious taste, there's a reason it's our favorite toast topping — the fruit can help banish bloat, lower cholesterol, and fry stubborn belly fat. So if you're going to get in your steps and enjoy a long walk on the beach, why not get a helping hand from the fantastic fruit and enhance those weight loss goals?
Walnuts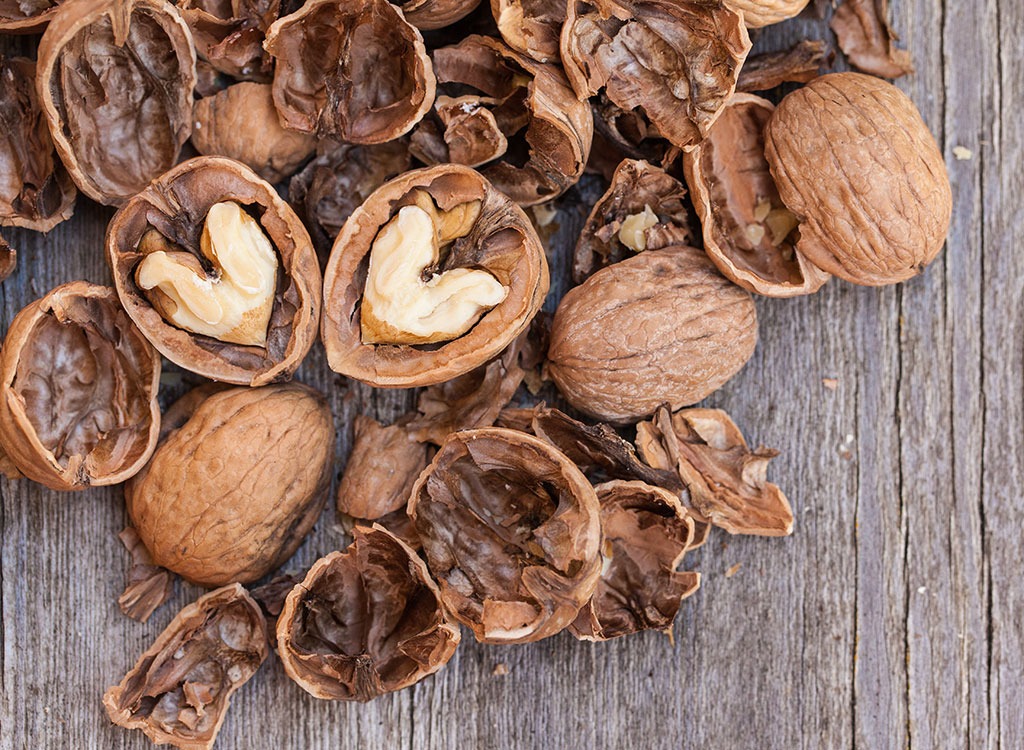 You know to bring your sunscreen, hats, and umbrellas — but what about food that will protect you from strong UV rays? Just one serving of walnuts nearly doubles the amount of polyunsaturated fatty acids it may take to slow the development of skin cancer according to the American Society for Nutrition.
Terra Exotic Harvest Vegetable Chips
Admit it. Sometimes, you need an actual chip. Terra lends us a hand by crafting their chips from vegetables, and not just your ordinary potato. These crunchy treats are made out of carrots, kabocha squash, and blue potatoes — and they hold 40 percent less fat than your average fried potato. And, as a bonus, they serve you 25 percent of your day's vitamin A count.
Pineapple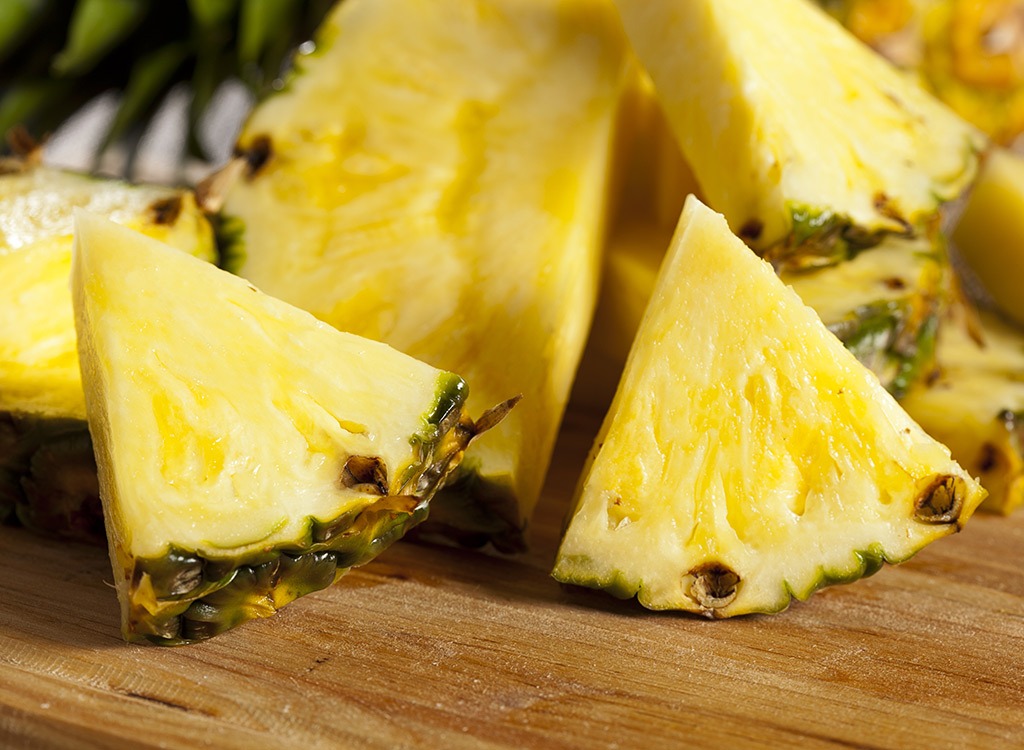 If pineapples don't remind you of the beach, we're not sure what will! These tasty tropical fruits are packed with potassium, an important factor for an anti-bloat diet. But they are also high in bromelain: an enzyme that aids in the digestion of protein. Because most of it is found in the stem, make sure you keep it and add it to a smoothie you make later on in the week to get some extra bloat-beating benefits.
Pepitas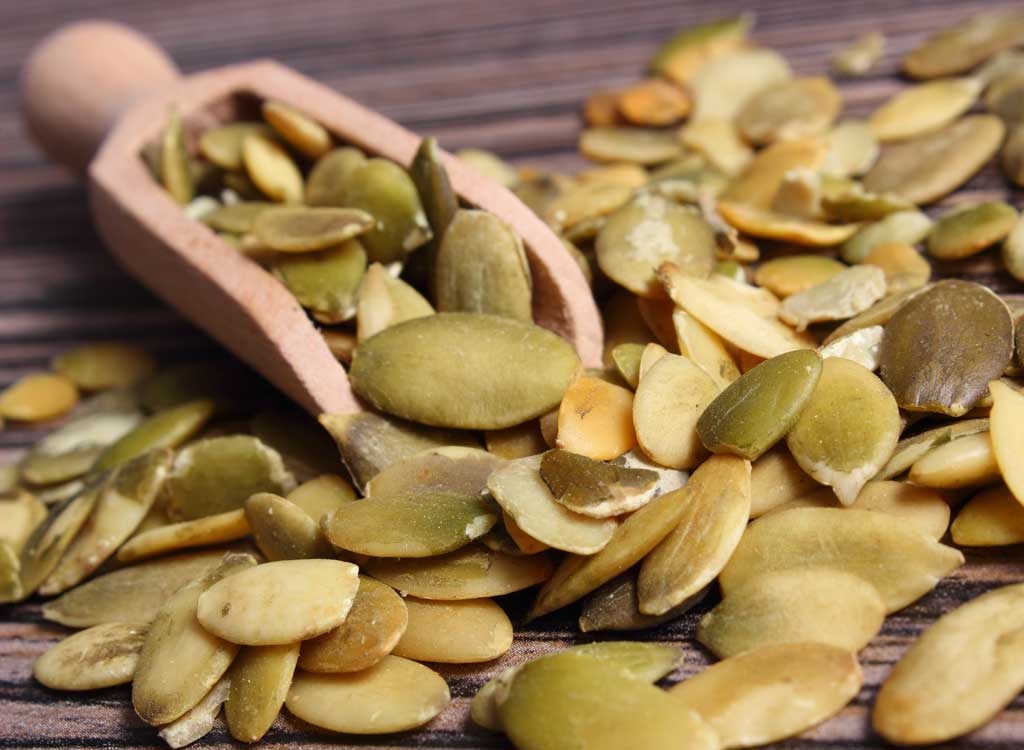 Otherwise known as the pumpkin seed, these deliciously addicting superfoods are great for your bikini bod. One ounce of seeds has 8 grams of protein (more than a single egg) and is rich in flat-belly nutrients like fiber, zinc, and potassium. When you're in need of a little much go for pepitas over a traditional sodium-soaked, bloat-inducing chip.