17 Amazing Ways to Eat a Banana
You'd be b-a-n-a-n-a-s if you didn't add these genius recipes to your weight-loss repertoire!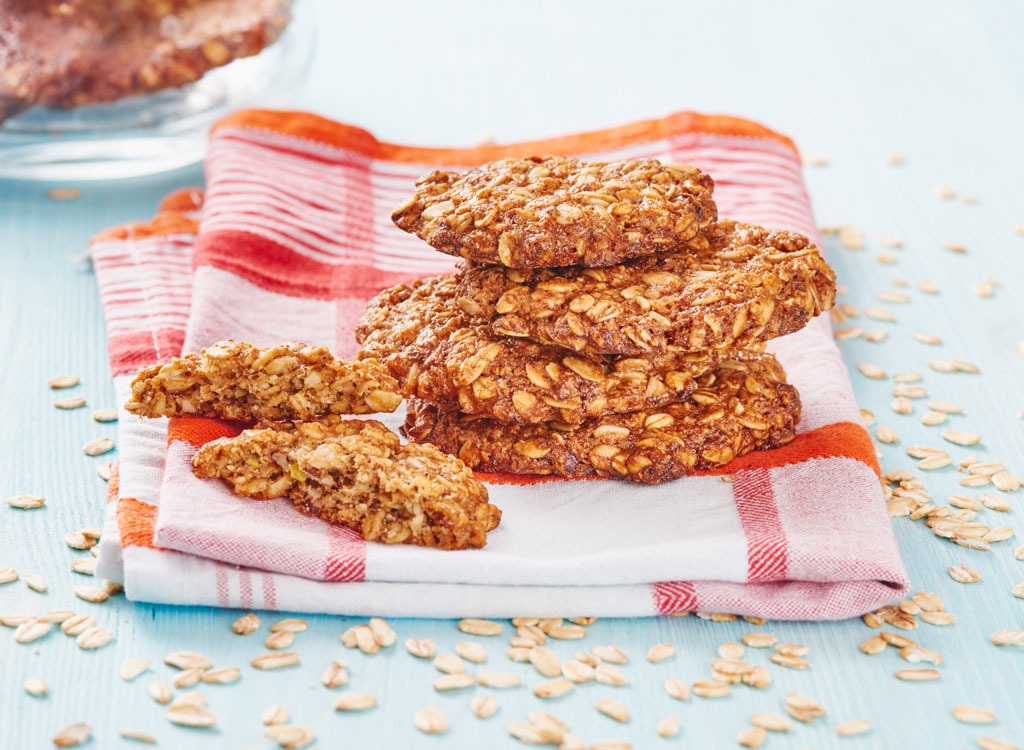 Bananas are one of our favorite fruits for weight loss—they come with a convenient, on-the-go packaging. They're loaded with potassium to accelerate hydration and muscle recovery, teeming with prebiotics to help ease digestion, and packed with fiber and resistant starches to boost satiety and balance blood sugar. Which is why we just had to find out new and unique ways we could eat more of them. (Just not 50+ of them each day, like one unique weight loss story…) And luckily for us, our beloved berry (yes, bananas are actually berries!) is the perfect addition to meals and snacks that are both delicious and nutritious.
Thanks to their high starch content and slightly sweet taste, bananas are a flavorful, slimming substitution for flour and sugar in many of your favorite recipes. We've compiled all the banana classics, plus many more ideas so you don't have to tire of banana bread boredom. And if these delicious recipes aren't enough to confince you of the beauty of bananas, maybe these 21 Amazing Things That Happen To Your Body When You Eat Bananas will.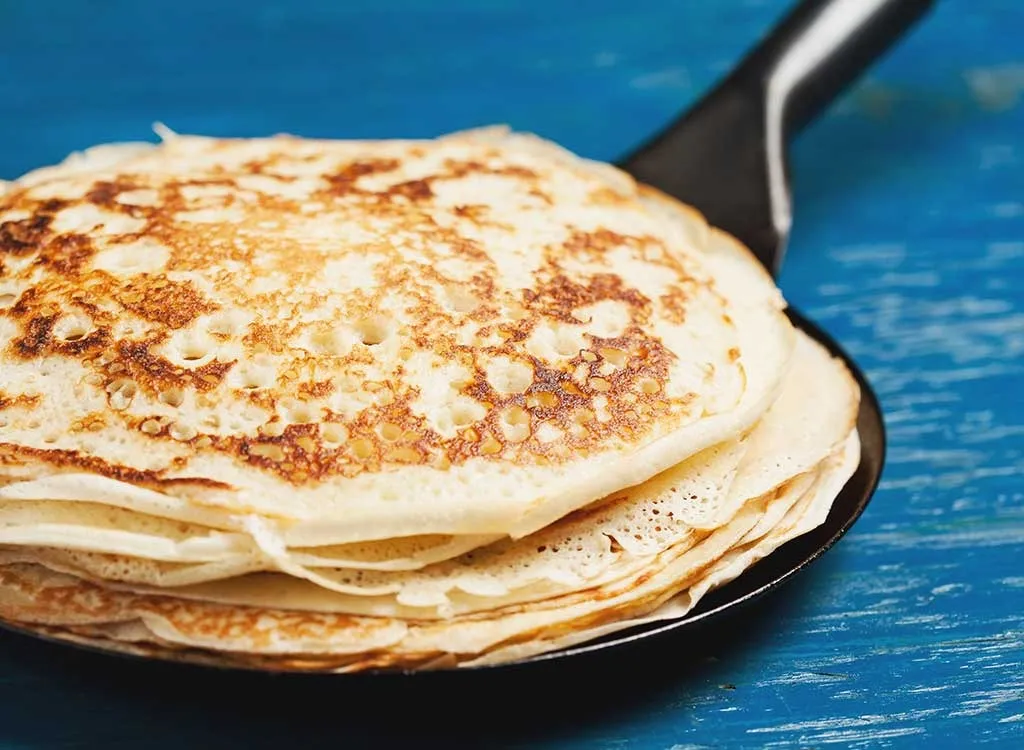 Toss the baking mixes full of chemicals and sugar in the trash and make these super simple banana pancakes. If you're as big of a banana fan as we are, we're sure you've put bananas in your pancakes, but have you ever made a pancake made of bananas? It's so easy, it requires just 2 ingredients: bananas and eggs. In a blender, combine two large eggs and one ripe banana. (For fluffier pancakes, add ⅛ teaspoon of baking powder). Cook as you do with traditional flapjacks! Because bananas are a particularly starchy fruit, they easily substitute flour in this breakfast staple. Now, find out where they rank in our report, 25 Popular Fruits—Ranked By Sugar Content!
Banana Coconut Chia Pudding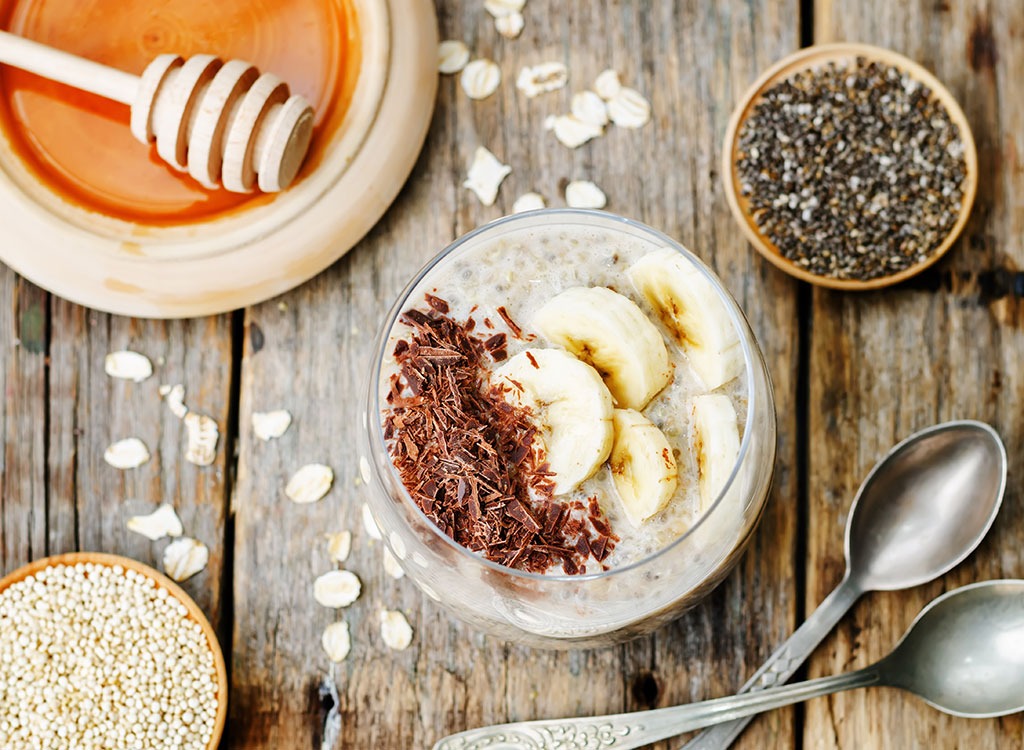 We here at Eat This, Not That! are big fans of the chia trend. Why? Because these little seeds are full of omega-3s, a group of fatty acids which act as an anti-inflammatory, lower blood triglycerides, and reduce your risk of heart disease. What's more, chia seeds' high fiber content can help melt inches off your waistline: Packing an impressive 11 grams of fiber in a two-tablespoon serving, this high-fiber food will help slow down absorption of nutrients and the conversion of carbs to sugar, meaning you'll be less likely to gravitate to the vending machine right after lunch. Put these little weight-loss pills to work by blending together a banana, half a cup of almond milk, two tablespoons of chia seeds, and ½ teaspoon of cinnamon. Top with shaved dark chocolate for a little extra indulgence. For more recipes, check out these 45 Best-Ever Chia Pudding Recipes for Weight Loss.
Chocolate-Covered Banana Bites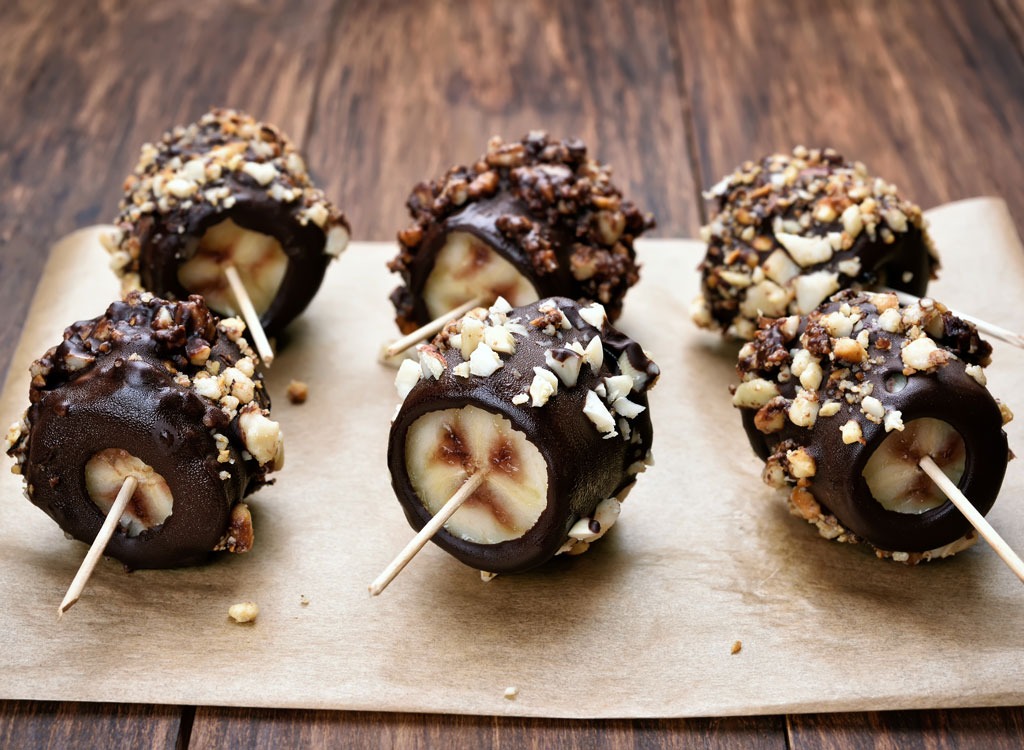 Here's a recipe for a grown up version of your favorite theme-park snack—and yes, it's healthy! Made with cacao powder and coconut oil, this chocolate sauce delivers a dose of slow-digesting healthy fats that will help stave off hunger and plenty of antioxidants to keep inflammation at bay. To make the dark chocolate sauce, combine 2 tablespoons melted coconut oil and 1-½ tablespoons unsweetened cacao powder. Cut banana into 1-inch pieces, pierce with a toothpick, roll in chocolate sauce and then in your favorite topping: walnuts, pistachios, shredded coconut, sea salt, or capsaicin-rich chili powder if you are looking to speed up your metabolism. Freeze for at least 15 minutes.
Whip Up This Banana-Chocolate Pudding Cake
A cross between a mousse, pudding, and molten lava cake, this banana-chocolate cake is sure to please—both your tastebuds and your waistline. Using bananas as a substitute for flour, blend 2 very ripe bananas in a food processor, then add in an egg, ½ teaspoon vanilla, a tablespoon maple syrup, and ¼ teaspoon fine salt, blend until smooth. Separately, melt 5 ounces of dark chocolate in the microwave, then stir into the banana mixture. Beat the whites from two eggs in a separate mixture until stiff peaks, then fold into the chocolate banana mixture. Pour into a greased or parchment-paper-lined, 8-inch round baking pan and bake for 25 minutes in a 375 degree oven. This high-protein, low-carb treat will make its way onto your dessert plate more than once.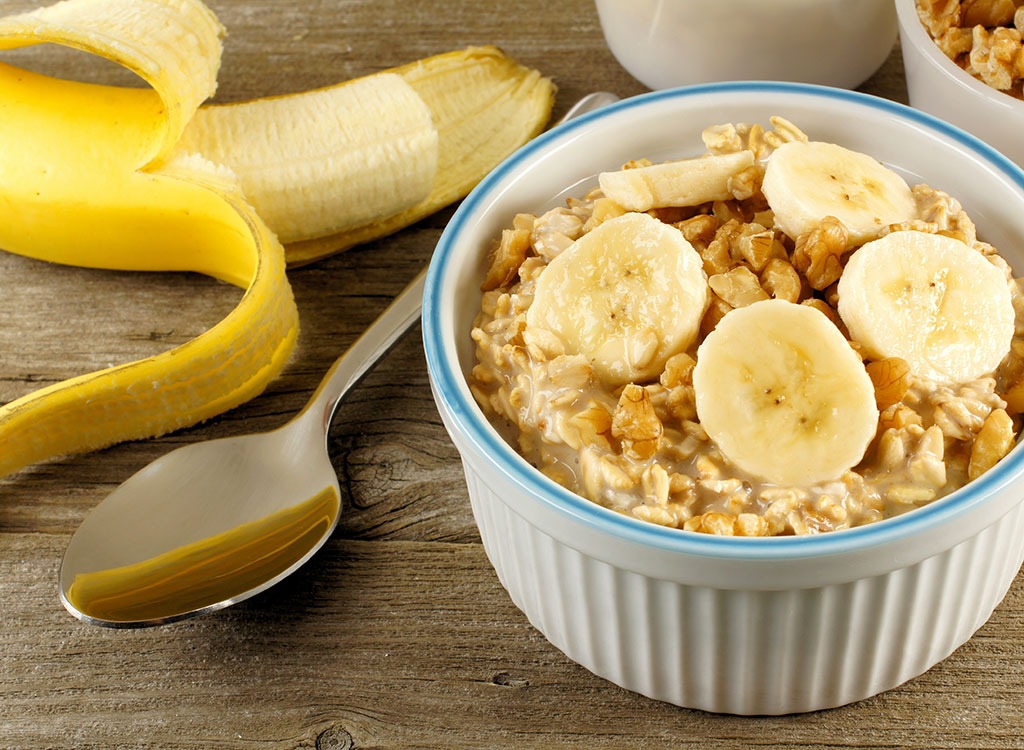 Instead of adding empty calories like refined white sugars that only spike your blood sugar and cause it to come crashing down soon after, why not flavor your oatmeal with bananas? Cut up half a banana, mash it with a fork, and then fold it into your favorite bowl of steel cut oats along with a sprinkling of cinnamon. This cut of oats is lower on the glycemic index than rolled or instant oats, meaning they'll keep you fuller, longer. Always in a rush in the morning? Make them overnight oats style! Just boil 4 cups of water in a pot. Add one cup of steel-cut oats and simmer for 1 minute. Cover the pot, allow it to cool, and then store overnight in the fridge.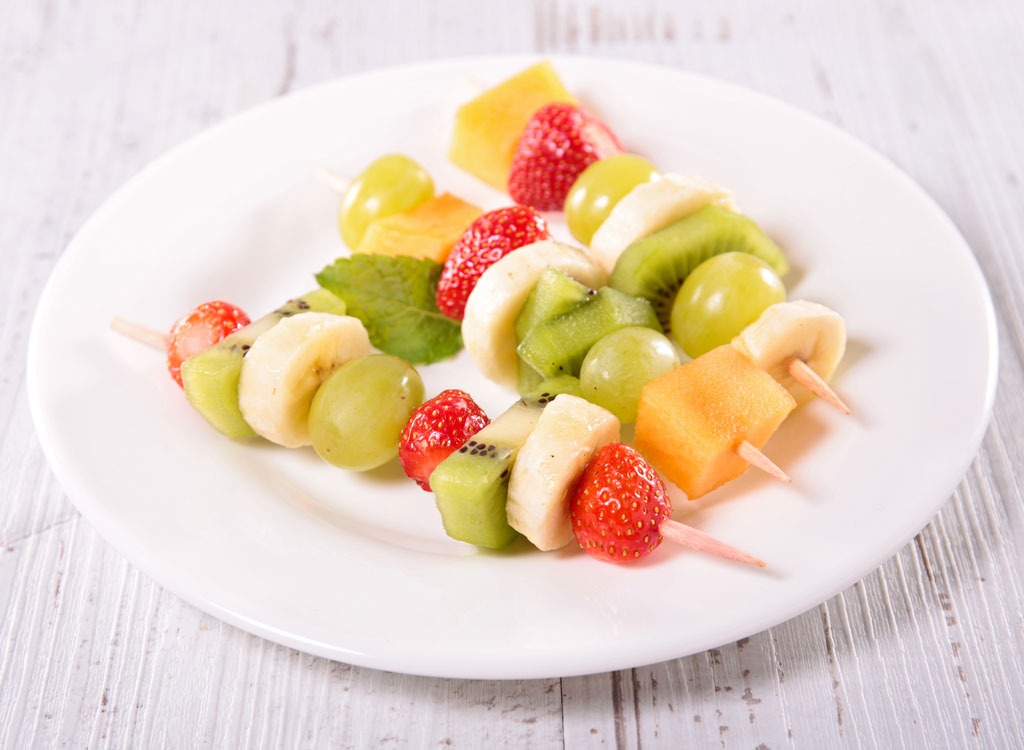 Looking to shrink your waist? Skip out on those oreos and indulge in nature's candy. Aside from being super low-cal and fat-free, these fruit kabobs are teeming with vitamins and minerals. The potassium in the bananas helps your body metabolize fats and carbohydrates while the vitamin C in accompanying fruits has been shown to help the body oxidize fat stores during moderate-intensity exercise, according to a study in the Journal of the American College of Nutrition.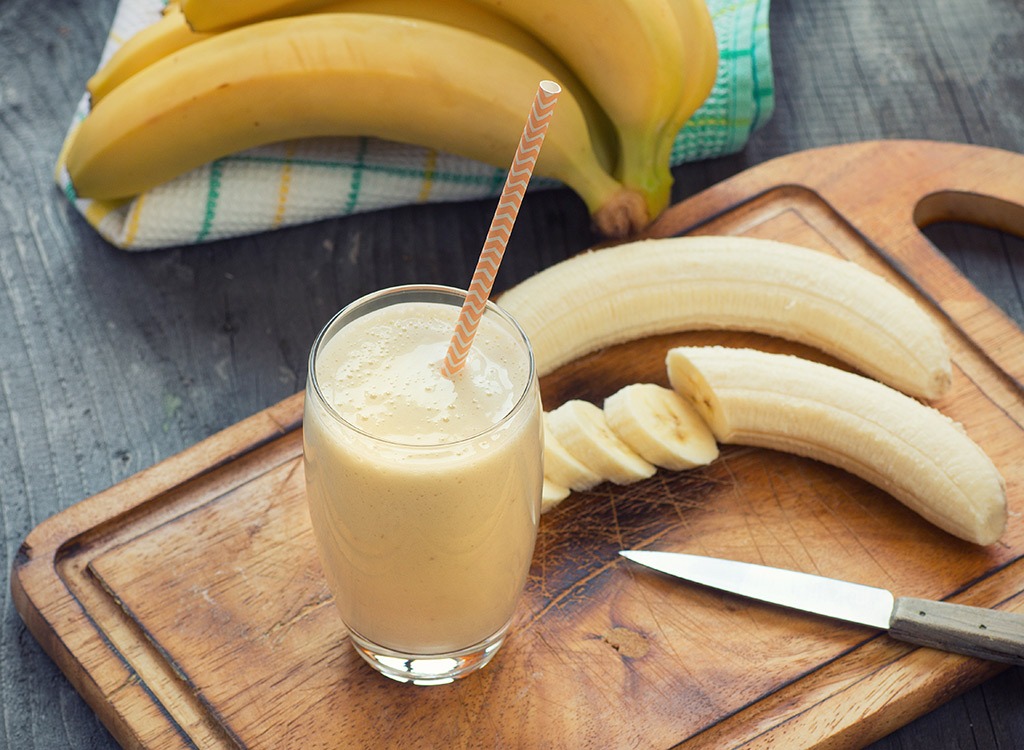 Few people have made a smoothie without this elongated fruit, but have you ever tried making the frozen blend with a green banana? Prior to ripening, bananas are rich in resistant starch, a hard-to-find form of fiber that digests slowly for prolonged feelings of fullness and more efficient fat oxidation. Oh, and did we also mention it's good for gut health? Resistant starches feed the beneficial bacteria in your belly, which then convert the starches into anti-inflammatory compounds that help to suppress your appetite and bolster your immune system. For an exotic blend, try combining ½ frozen banana, ½ cup frozen pineapple, ½ teaspoon ground turmeric, ½-inch piece fresh ginger (peeled and chopped), the juice of half a lime, and 1 cup coconut water.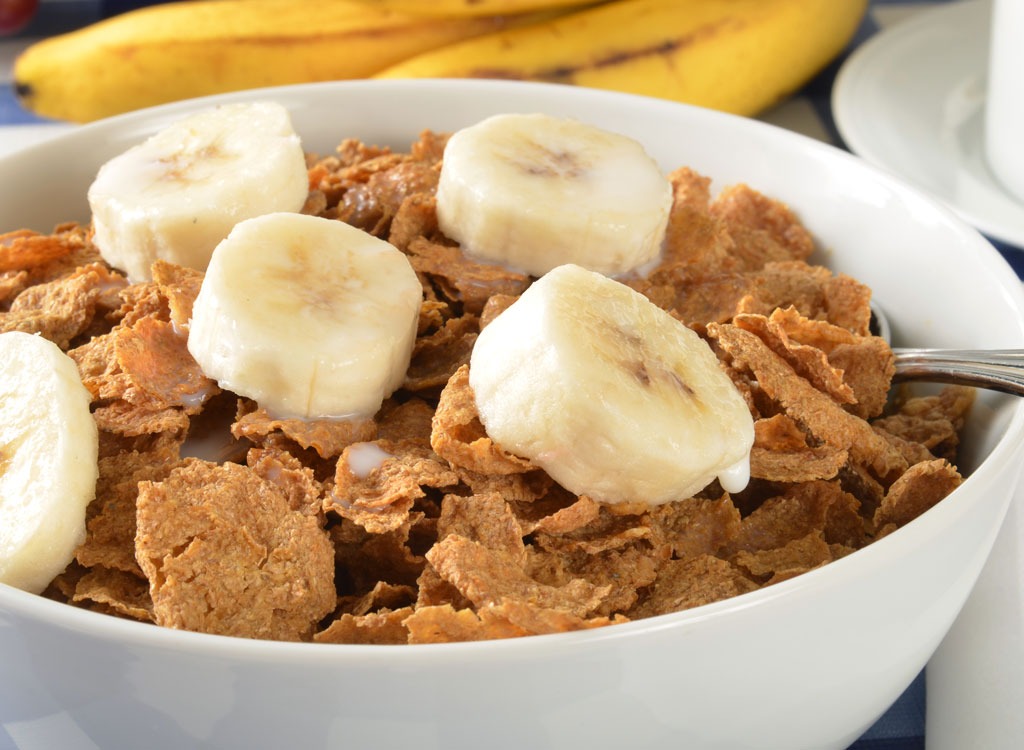 Having trouble sleeping? One simple solution could be eating a bowl of cereal, milk, and bananas before bed. For starters, bananas are an excellent source of potassium and magnesium, two muscle-relaxing minerals. Plus, bananas and milk contain tryptophan, the precursor to sleep-regulating hormones serotonin and melatonin. To expedite the absorption of sleep-inducing hormones into your brain, researchers have found it's best to pair tryptophan-containing foods with a high-glycemic carb such as rice cereal. That's because carbs can help tryptophan outcompete other amino acids for entrance into your brain, allowing more of the sedative to signal it's time to catch some ZZZ's.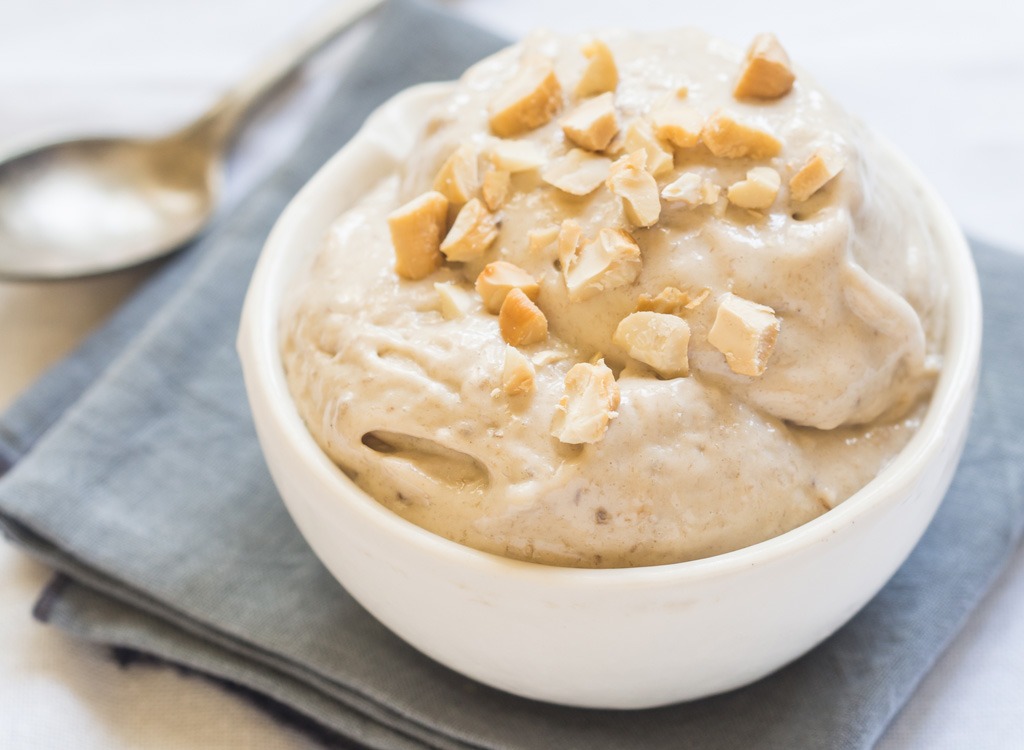 This simple swap—subbing "nice" cream for ice cream—is one of the 36 Easy Ways to Cut 50+ Calories. What's so nice about this frozen dessert? Because it uses frozen bananas instead of any cream, it's completely dairy-free and free of refined sugars—two ingredients that are common sources of weight-inducing inflammation in American diets. To make a rift on our favorite banana ice cream flavor from Ben & Jerry's (Chunky Monkey), add 2 diced, frozen bananas and a tablespoon of coconut oil and blend until you reach that creamy consistency of soft-serve ice cream. Spoon into a bowl and fold in bits of dark chocolate and walnuts. Freeze for about 15 more minutes. One bite, and you'll never go back to that other tub. Speaking of Ben & Jerry's, have you seen our exclusive report, Every Ben & Jerry's Flavor—Ranked by Nutrition?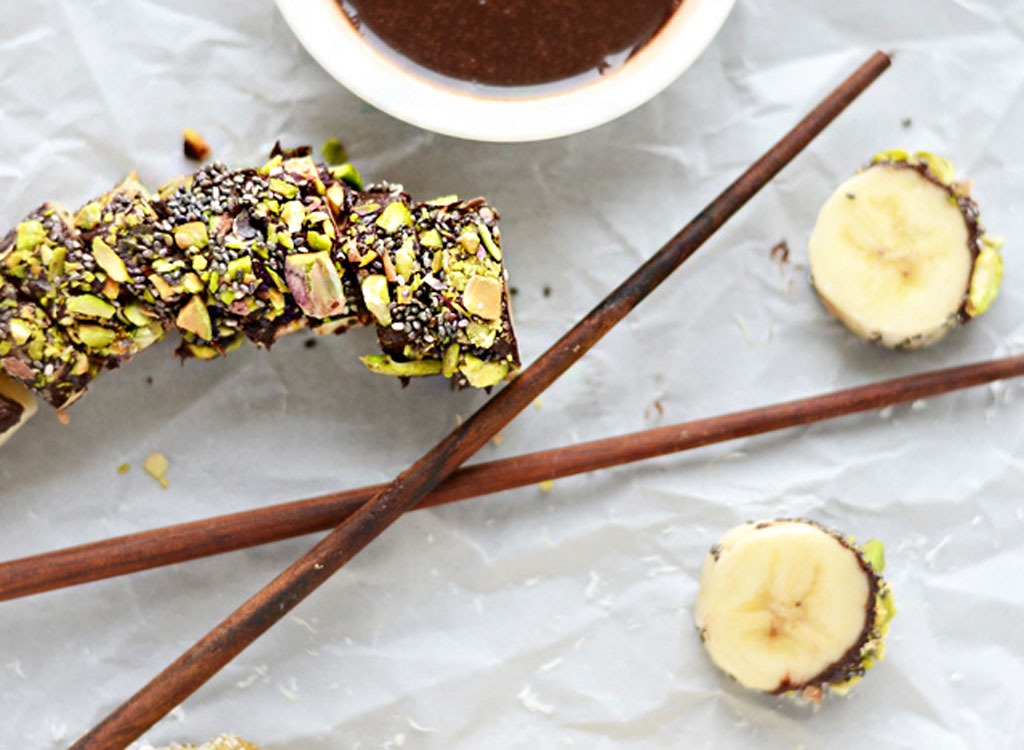 You've seen sushi burritos, sushi burgers, and even sushi donuts, but have you ever seen banana sushi? This elevated take on your favorite snack-time treat will become the new star of your Instagram feed. Like blogger Fit Foodie Finds does in the photo above, simply smear some melted dark chocolate or your favorite nut butter on top of a banana. Top with chia seeds and pistachios or some shredded coconut. According to a review posted in the journal Nutrition Reviews, out of all nuts, pistachios contain the highest levels gamma tocopherol (vitamin E), phytosterols, and carotenoids, three types of antioxidant compounds which mop up the free radicals which cause cellular damage and inflammation.
Crush Cravings with These Cookies
Say hello to a waistline-friendly oatmeal cookie. Free of blood-sugar-spiking refined white flour or refined sugar, these cookies get all their starch from bananas and extra fiber from the oats. Preheat your oven to 350 degrees Fahrenheit. Mash three bananas in a bowl, then add ¼ cup melted coconut oil, 1-½ cups rolled oats, ¼ cup chopped walnuts a tablespoon ground flaxseed, a teaspoon of vanilla extract, and ½ a teaspoon each of cinnamon and salt. Stir well, roll into cookies, and bake for 25 minutes, or until cookies are golden brown.6254a4d1642c605c54bf1cab17d50f1e
Whip Up These Breakfast Pops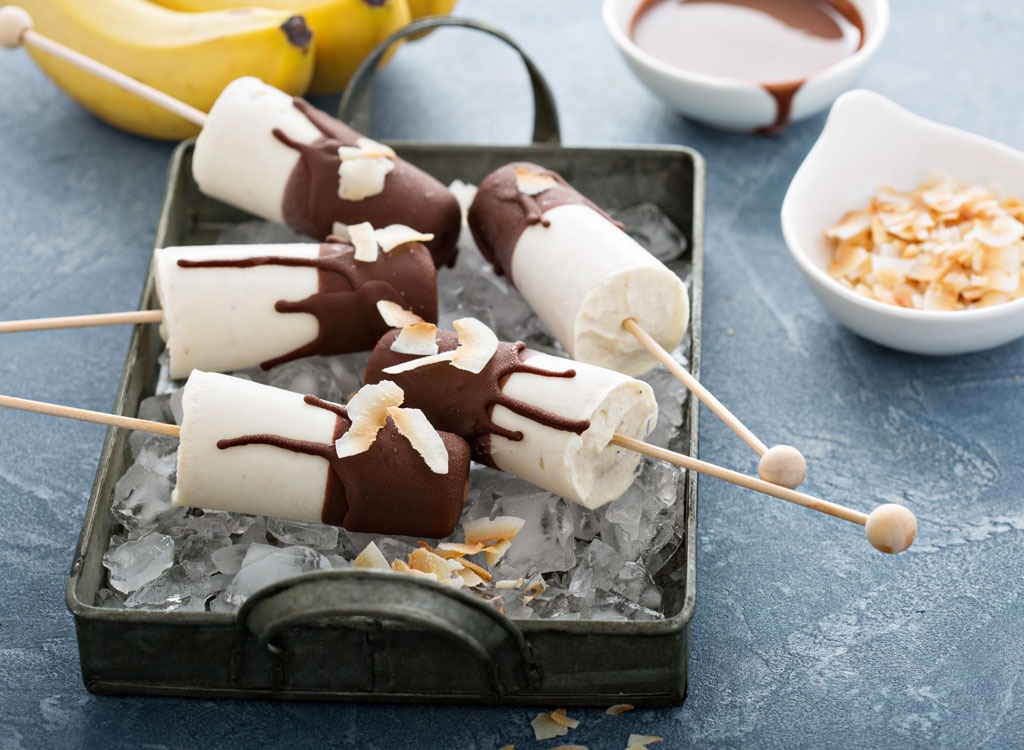 We're taking fro-yo to a whole 'nother level; the breakfast level. Eat your dessert for breakfast with these frozen treats. Just combine a cup of low-fat Greek yogurt, 3 bananas, and half a cup of creamy peanut butter in a blender, process until smooth. Taste and adjust sweetness to your liking by adding up to a tablespoon of honey. Pour the mixture into popsicle molds (or into an ice cube tray, if that's what you have!), add sticks, and freeze overnight.
A good banana bread is hard to beat. Unless, of course, you can make a good banana bread that's also healthy. Whip up our Zero Belly recipe for banana bread. Our healthy take on a baked-goods classic cuts down on butter and ups the moisture with an extra banana and some creamy, protein-packed Greek yogurt. We also add in some chopped walnuts, which provide an extra boost of protein as well as some healthy fats. Toast up a slice of this loaf to treat yourself at breakfast.
Pair With PB For a Post-Workout Snack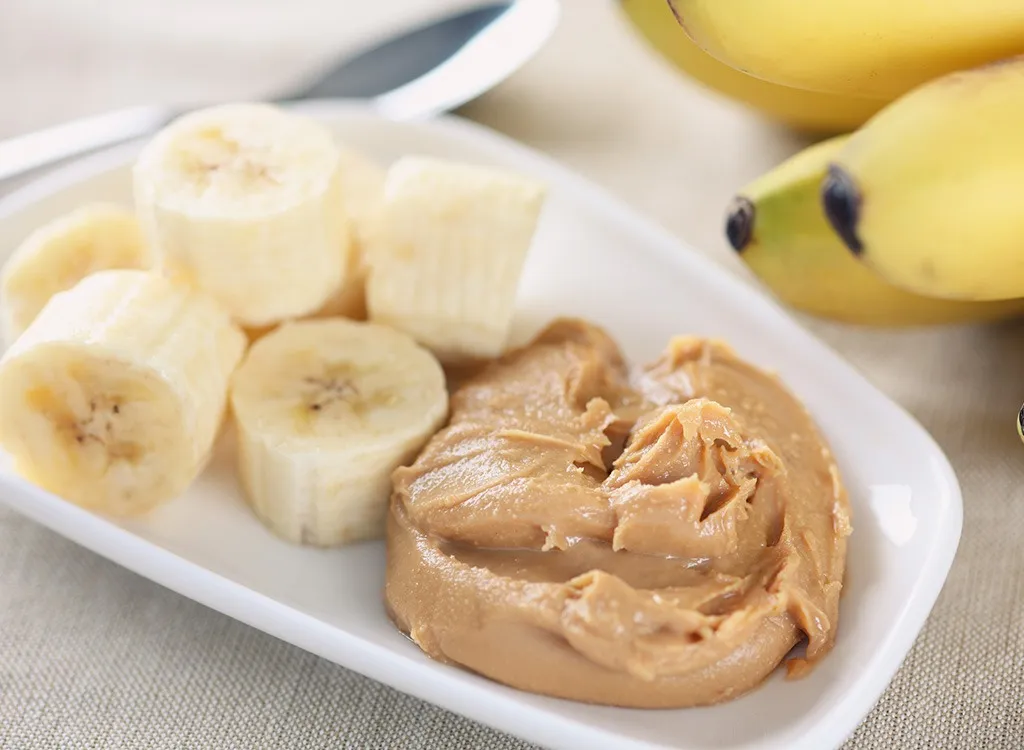 This classic childhood snack made it to the big leagues. Bananas are full of potassium, a mineral which helps your muscles recover from a workout, strengthens their development, and allows you to work out more. Pair that with some protein-packed peanut butter to repair and rebuild lean muscle mass.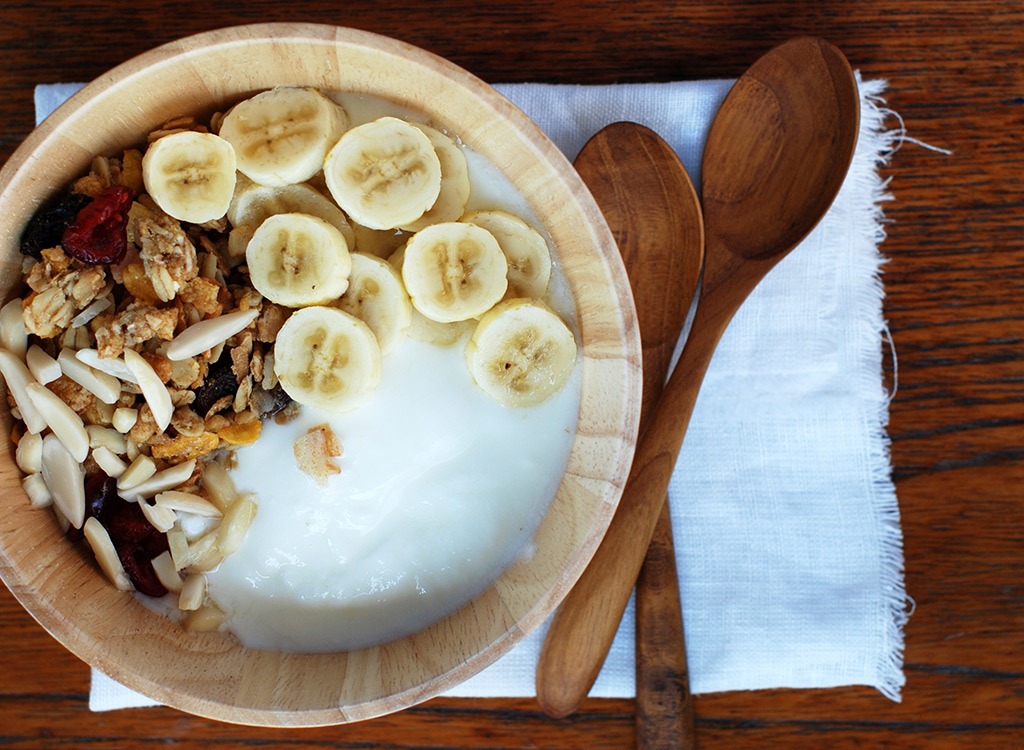 The perfect post workout snack is one you likely already eat for breakfast: Greek yogurt and bananas. One of the benefits of Greek yogurt is that it's full of protein, a macronutrient which will rebuild muscle that was broken down and then help to tone up new muscles. To increase your lean muscle mass even more, add a banana. This tropical fruit is a good source of magnesium, a mineral that helps with muscle contraction and relaxation, boosts lipolysis (a process by which your body releases fat from its stores), and encourages protein synthesis (which, in turn, increases lean muscle mass).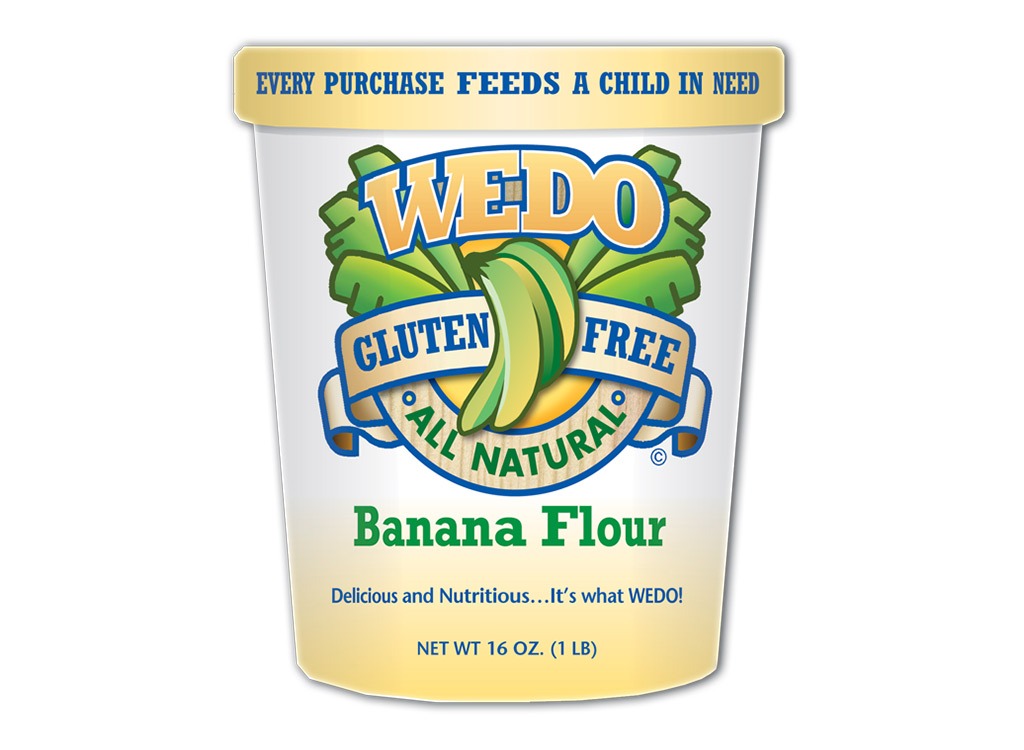 Say goodbye to gluten-free nut flours and hello to banana flour! Made from under-ripened bananas, the flour is virtually tasteless, but still carries many of the same health benefits of the flavorful fruit. Because it's made from green bananas, banana flour is rich in resistant starch—a class of carbs that's harder for the body to store as fat and that can boost satiety hormones by a whopping 51 percent! Use this flour to make your dinner rolls or favorite cakes, just use 25 percent less than what your recipes calls for, as banana flour contains more starch than other flours.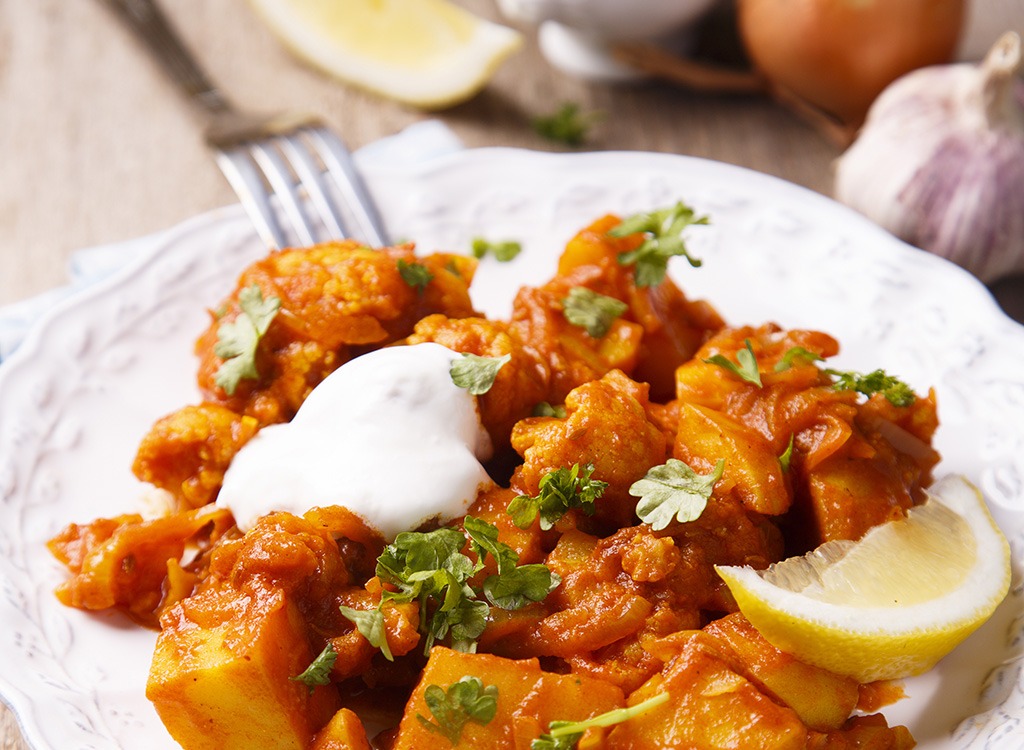 Because curries often have a mild sweetness, bananas make a great substitution for coconut milk in this spicy, creamy dish. Just blend together two bananas with a couple tablespoons each butter, curry powder, and ground coriander, the zest and juice of a lime, a quarter cup of chicken stock, and season with salt and pepper. Pour over four chicken breasts, some cauliflower, and cubed potatoes and roast for 20-25 minutes in a 425 degree oven. Serve alongside brown rice and topped with fresh flat-leaf parsley. Why do we love curry powder so much? Because it's full of turmeric! Find out why turmeric is on the list of best weight loss ingredients in these 14 Reasons Turmeric Deserves a Spot In Your Diet.
Olivia Tarantino
Olivia Tarantino is the Managing Editor of Eat This, Not That!, specializing in nutrition, health, and food product coverage.
Read more about Olivia