A Lean, Low-Calorie Beer Brisket Recipe
You don't have to travel to Texas to eat one of their staple dishes! And our version is much healthier for you.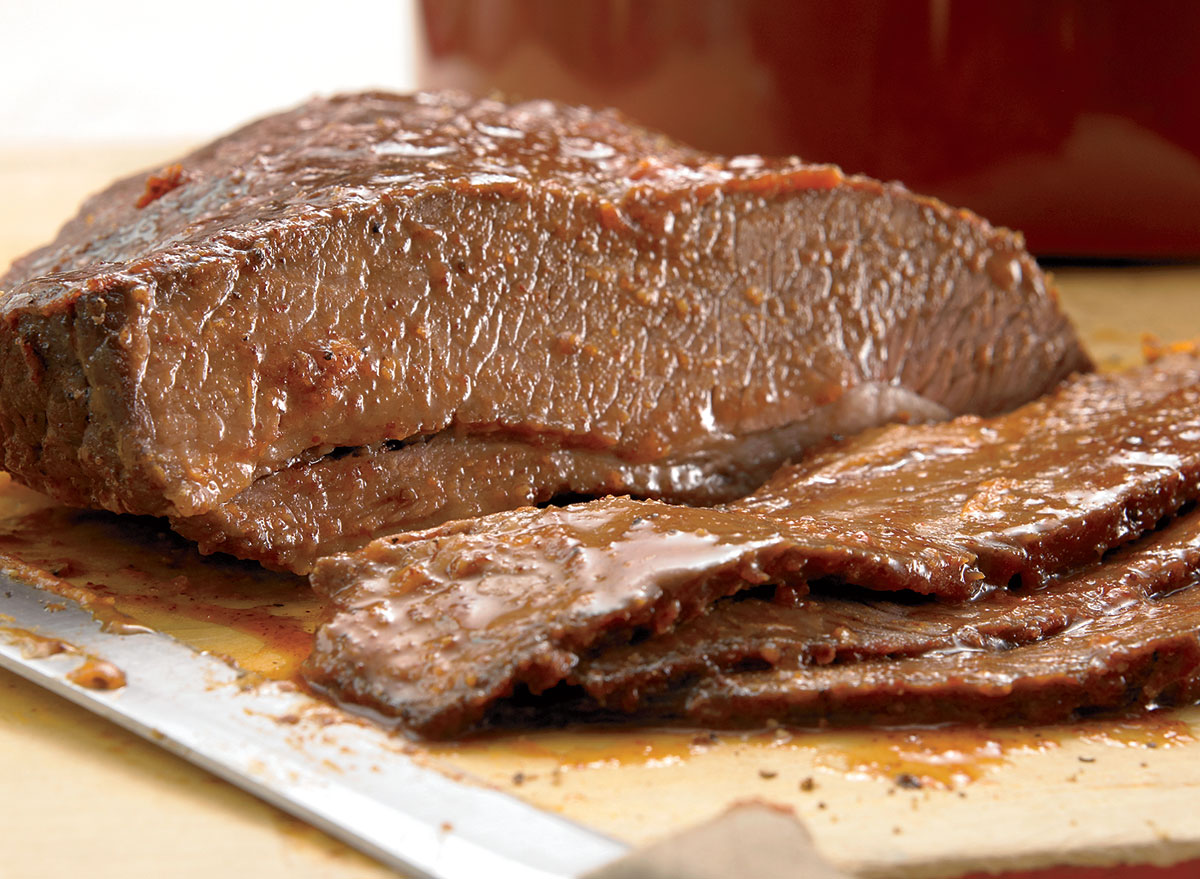 Don't mess with Texas, they say, and we try not to. But it's hard not to fall in love with some of their more inspired culinary treasures like fajitas, nachos, and smoked brisket. They all share one thing in common, though: a need for nutritional improvement. We deliver that here with a leaner cut of beef, a light sauce, and a modest portion size.
Nutrition: 470 calories, 24 g fat (8 g saturated), 670 mg sodium
Serves 8
You'll Need
3–4 lb lean brisket (While a lean brisket is critical to keep the calories down, you'll want at least a thin layer of milky white fat on top, which helps naturally baste the meat and keep it moist while it cooks.)
2 Tbsp chili powder
1 tsp smoked paprika (Adds a deep smoky note to the crust of the meat without actually having to fire up the wood chunks.)
Salt and black pepper to taste
1 can or bottle dark beer
1⁄4 cup apple cider vinegar
1⁄2 cup ketchup
2 Tbsp honey6254a4d1642c605c54bf1cab17d50f1e
How to Make It
Preheat the oven to 325°F.
Rub the brisket all over with the chili powder, paprika, and plenty of salt and pepper.
Place the brisket in a baking dish, pour in half of the beer and cover tightly with foil.
Bake for 2 hours, until the brisket is very tender.
At this point, you can eat the brisket and be really happy with the results.
But to add that authentic char and smoky flavor, you'll need to heat a gas or charcoal grill (if using charcoal, add a handful of soaked hickory or oak chips for great smoky flavor).
Combine half of the remaining beer with the vinegar, ketchup, and honey and brush over the brisket.
Place on the coolest part of the grill and cook until lightly charred all over, brushing with more of the beer mixture along the way.
After the meat rests for 10 minutes, carve and serve with a bit more sauce or on a warm roll for a mean brisket sandwich.
Eat This Tip
Savvy Shortcut
Classic barbecue dishes like pulled pork and brisket taste best when smoked over wood chunks long and slow, but do you have 8 hours to spare to cook dinner? The most efficient way to tenderize a large, tough cut of meat is in the oven. Place the meat in a baking or roasting dish, fill with an inch of liquid (water, beer, wine, etc.), and cover tightly with foil. Cook at 250 until the meat is pull-apart tender. Finish on the grill to add a great smoky flavor.
This recipe (and hundreds more!) came from one of our Cook This, Not That! books. For more easy cooking ideas, you can also buy the book!