25 Best Aldi Foods of All Time
Shoppers can't get enough of the fast-growing discount chain's highly affordable, private-label foods.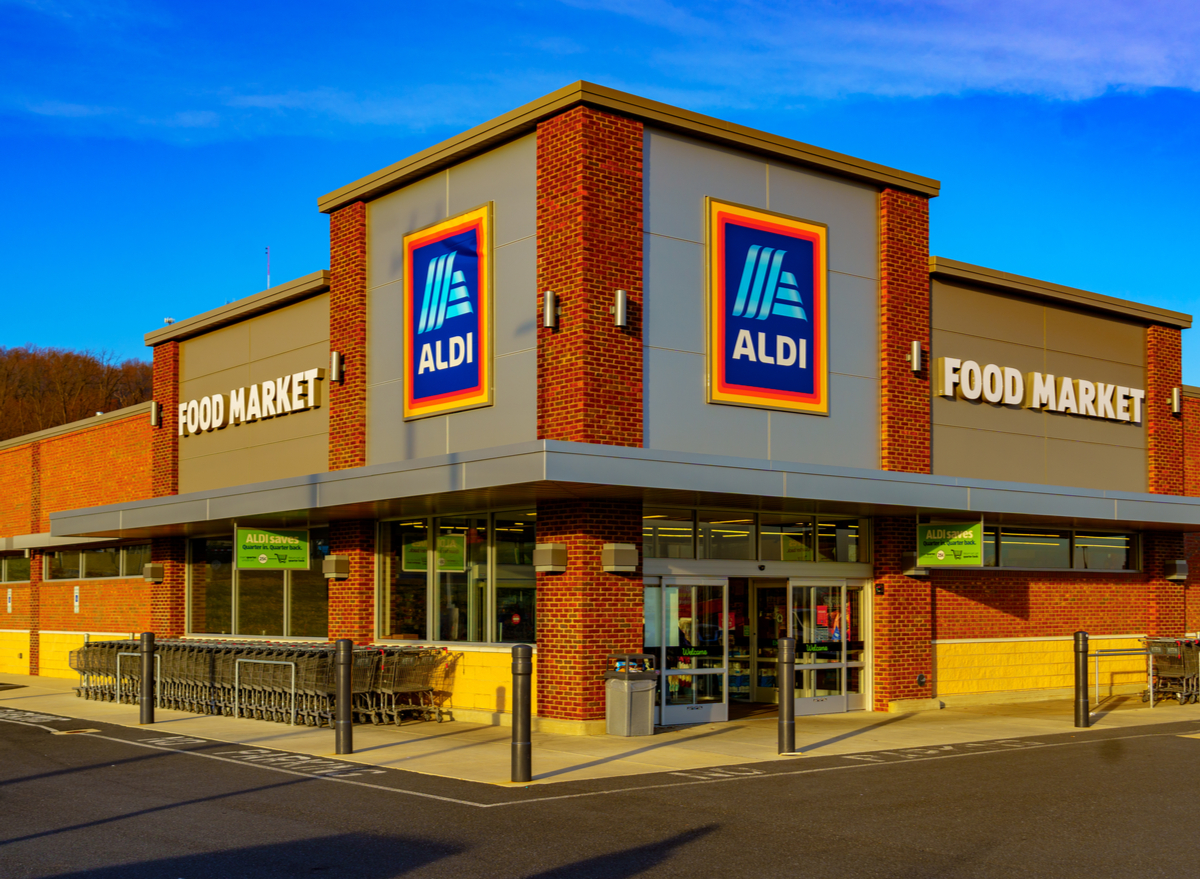 The product recommendations in this post are recommendations by the writer and/or expert(s) interviewed and do not contain affiliate links. Meaning: If you use these links to buy something, we will not earn a commission.
While Aldi grocery stores have long attracted a cult following, the fandom has grown exponentially over the last few years. As the discount chain continues to expand—Aldi added 49 new U.S. locations in 2022 alone, the most of any major supermarket company—more and more shoppers are falling in love with Aldi's vast selection of meats, cheeses, bread, frozen foods, chocolate, wine, pantry staples, and more, all at unbeatable prices. 
While Aldi does carry some popular name brands, the real gems are the store's own private-label selections, often close dupes for popular products. Aldi shoppers aren't shy about sharing which foods are a must-buy (and which ones to skip), thanks to social media and the die-hard Aldi fans we know IRL. We've rounded up 25 of the best Aldi foods of all time, according to shoppers.
This was a tough list to narrow down, but the next time you find yourself at Aldi, make sure you grab at least a few of these picks. And don't forget a quarter to unlock the shopping cart, and to bring your own bags!
Giambellino Peach Bellini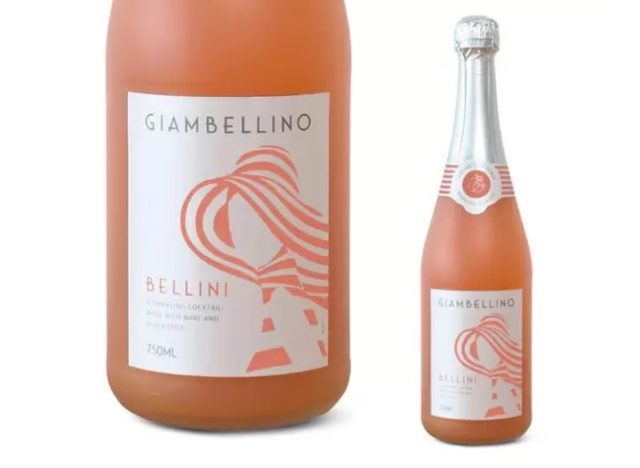 Depending on the state, some Aldi locations sell alcohol and wine, and shoppers say you get a good bang for your buck with the vino selection. This Giambellino Peach Bellini was an official 2022 fan-favorite pick in the "Clink & Drink" category, which is saying a lot considering the store's sizable selection of wine. Shoppers noted that it is a little sweet, but doesn't taste overwhelmingly like peaches. This sparkling wine would be nice for a brunch gathering, afternoon picnic, or to mix into a sangria with some fresh fruit (another shopper tip). 
Kirkwood Boneless Skinless Chicken Breast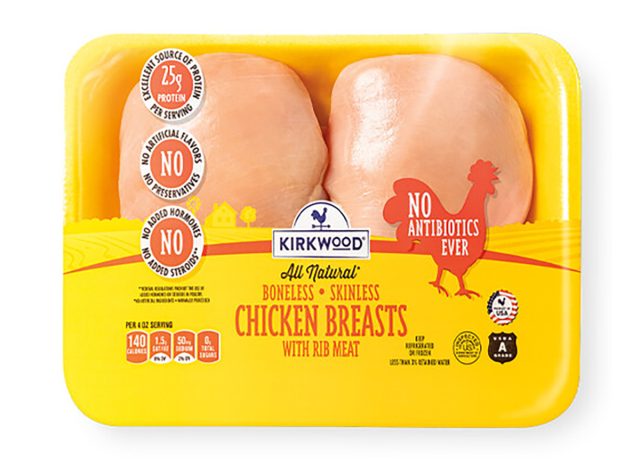 As groceries prices have continued to soar over the last couple years, meat is one staple that can cut into your food budget. Luckily, these Kirkwood boneless skinless chicken breasts have stayed pretty consistent. Shoppers note the quality of the item for the low price, especially compared to similar chicken breast options at other grocery stores. These chicken breasts are fresh, never frozen, and incredibly versatile, whether you throw them on the grill or in a casserole. If you're looking for a little more meat in a pack, the Kirkwood fresh chicken tenderloins are also a popular option—they were selected as a 2022 fan favorite in the meat category.
Kirkwood Breaded Chicken Fillets
The Kirkwood Breaded Chicken Fillets, also known as "Red Bag Chicken" among Aldi fans, are so popular that there's an entire Facebook group dedicated to this one item that boasts nearly 25,000 members. People love how versatile this chicken is and how easy it is to prepare. The fillets are fully cooked and breaded and can be whipped up in the oven or air fryer for a quick weeknight meal that's sure to please. And with no added hormones or steroids, it's a healthier option than other competitors on the market. Pick up a bag (or several) from the frozen section to keep your freezer stocked—if they aren't sold out at your location. 
Emporium Selection Aged Reserve White Cheddar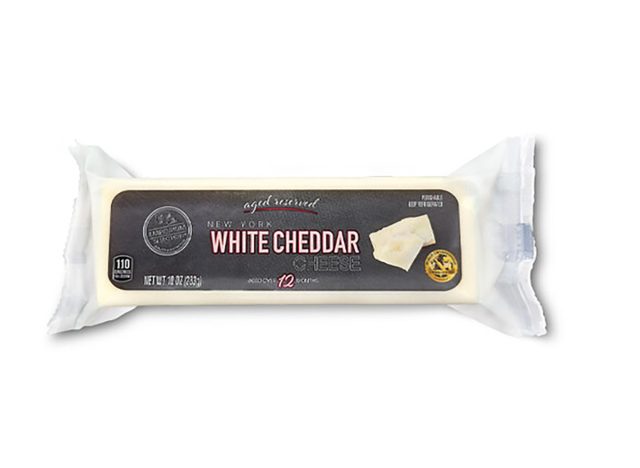 It's impossible to talk about the best Aldi foods of all time and not mention its cheese selection. The cheese section in itself has its own cult following, thanks to its vast selection and affordable prices. Whether you're putting together a cheese board or making a recipe, you can't leave Aldi until you've checked out the cheese selection. To narrow down your selection, we suggest you at least pick up the Emporium Selection Aged Reserve White Cheddar—it's a staple paired with crackers and cured meat, and was voted an Aldi Fan Favorite for 2022. 
Simply Nature Organic Tomato Basil Pasta Sauce
Jarred pasta sauce can sometimes be a gamble, especially when it comes to added sugars, sketchy ingredients, and authentic taste. Aldi's Simply Nature Organic Tomato Basil Pasta Sauce has no artificial flavors, colors, or preservatives, and contains a full serving of veggies per half cup. It's Whole 30 compliant, and shoppers suggest that it tastes better than some homemade restaurant sauces. 
Emporium Selection Advent Cheese Calendar
No need to settle for holiday advent calendars filled with stale chocolate. Aldi offers a fun selection of advent calendars for adults, and the Emporium Selection Advent Cheese Calendar has legions of fans. Who doesn't want to try a new type of cheese every day leading up to Christmas? If that's not your jam, try several of the other themed advent calendars that pop up around the holidays, including some filled with wine, beer, hard seltzer, hot sauce, or candles.
Mama Cozzi's Pizza Kitchen Take and Bake Deli Pizza
Many shoppers profess that you can't leave Aldi without grabbing a frozen pizza. The store has a big selection that's often tastier than the name brands you're used to and more affordable, too. A top pick is Mama Cozzi's Pizza Kitchen Take and Bake Deli Pizza, which was listed as a Hall of Fame pick for 2022 fan favorites. It comes in several varieties: five cheese, pepperoni, sausage and pepperoni, supreme, and mega meat.
Fresh Atlantic Salmon
Another reliable staple is Aldi's Fresh Atlantic Salmon, which shoppers pick for its quality and the low price. Unlike other grocery stores, Aldi's salmon is never frozen and Best Aquaculture Practices (BAP) Certified. Whether grilled, baked, or pan-fried, this salmon is a versatile and reliable source of protein and omega-3 fatty acids. There's a reason it was selected as an Aldi fan favorite for 2022. If you want something with more flavor, try the fresh Atlantic Salmon with Mediterranean herb. 
Happy Farms String Cheese
Aldi's cheeses continually rank among some of the best at any grocery store, especially for the value. The Happy Farms string cheese is a popular pick for a quick snack, and Aldi shoppers shared this pick as an easy on-the-go option for kids. These low-moisture part-skip string cheeses are only 70 calories per serving and come in packs of 12. 
Stonemill Everything Bagel Seasoning
Everything bagel seasoning is so popular and versatile—sprinkle it on avocado toast, popcorn, salad, roasted veggies, chicken, pretty much anything savory—it would be a mistake not to grab this pantry staple the next time you're at Aldi. Like the name suggests, this-fan favorite seasoning is a blend of sesame seeds, sea salt, minced garlic, minced onion, black sesame seeds, and poppy seeds. 
Bake Shop Strip Danishes
Aldi is known for having a pretty solid bakery selection, and their ready-made pastries are a must-grab. If you get decision fatigue, take one of the Bake Shop Strip Danishes. While the cheese danish is a particularly popular item, you can't go wrong with any of the varieties, which also include raspberry and strawberry cheese.
Specially Selected Brioche Rolls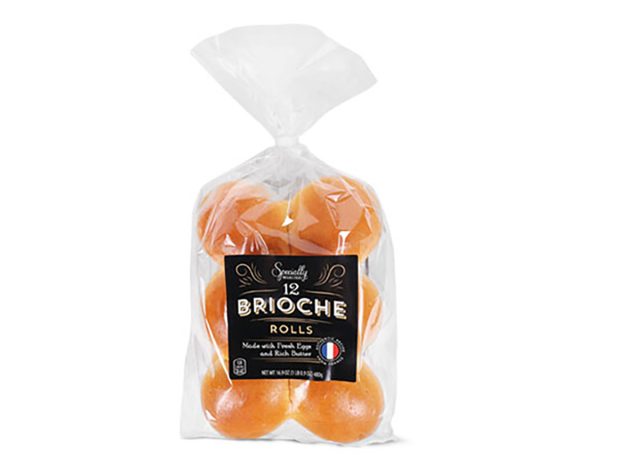 The Specially Selected Brioche Rolls are as close to homemade as you can get from a pre-packaged bag at a grocery store. These brioche rolls have a notable buttery taste and nice texture, and are cheaper than most brioche rolls on the market. Pick up a pack and use them to make ham-and-cheese sliders, fill with chicken salad, or warm up to pair with dinner. 
Simply Nature White Cheddar Puffs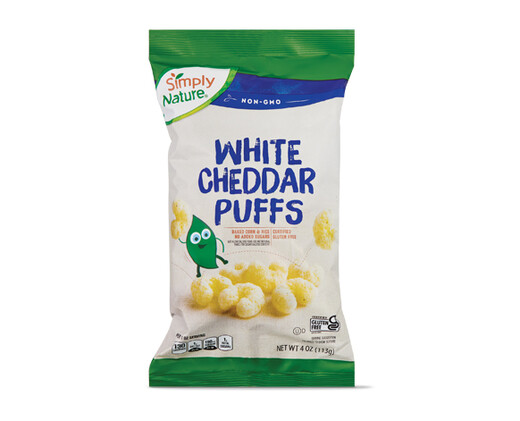 Aldi also has an impressive selection of snacks, and the Simply Nature White Cheddar Puffs are a consistent favorite among shoppers. Not only did they win the 2022 Fan Favorite pick in the Kiddy Cravings category, but they are also great for adults who want to munch on something baked, gluten-free, and without any added sugars. These baked rice and corn snacks pack enough of a cheesy punch to be satisfying without that fake cheese flavor of many name-brand competitors. 
Simply Nature Organic Creamy Peanut Butter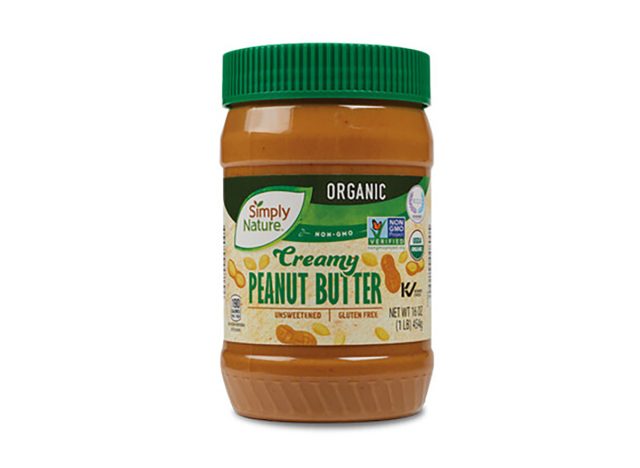 This Aldi staple contains only two ingredients: organic peanuts and sea salt. With no added sugar, this peanut butter is still a tastier and cleaner option than many other peanut butters on the market for a fraction of the price, according to shoppers. The Simply Nature Organic Creamy Peanut Butter is also non-GMO verified, so stock up on these jars for all your PB&J needs or to spread on an apple for a healthy snack. 
Chocolate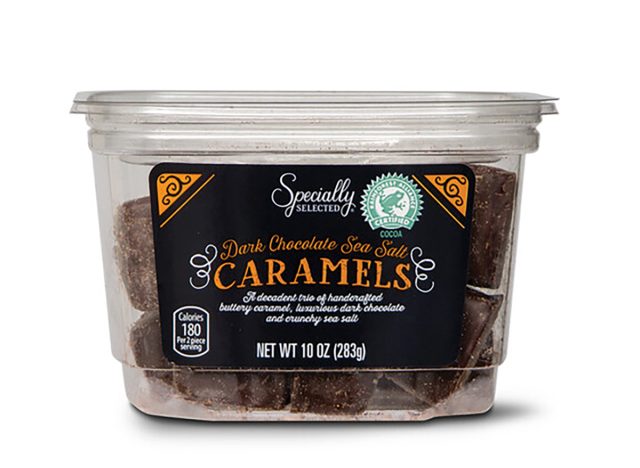 It's hard to narrow down this category to just one (or two or three) chocolate offerings at Aldi, because the selection is unbeatable. Aldi originated in Germany so locations often carry a selection of German chocolate and candy brands, such as Knoppers and Schogetten. The Specially Selected Dark Chocolate Covered Sea Salt Caramels are also a must-buy if you're looking for something with a delicate balance of salty and sweet. 
Season's Choice Riced Cauliflower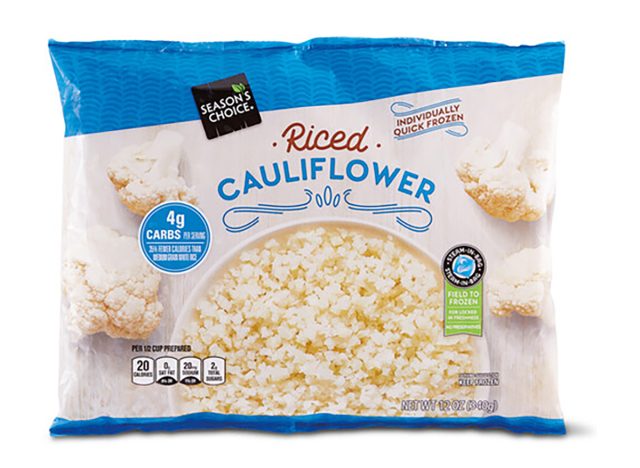 Cauliflower rice is a great option as a substitute for regular rice if you're eating low-carb or trying to bulk up on more veggies. The problem is, grating a head of cauliflower into rice takes some time and effort, and Aldi makes it super easy with Season's Choice Plain Or Garlic Riced Cauliflower for cheap. Find either option in the frozen section. They are perfect for burrito bowls, stir fry, or as a side for your protein of choice. Shoppers on Reddit note that it's not mushy like many competitors can be. 6254a4d1642c605c54bf1cab17d50f1e
Earth Grown Veggie Burgers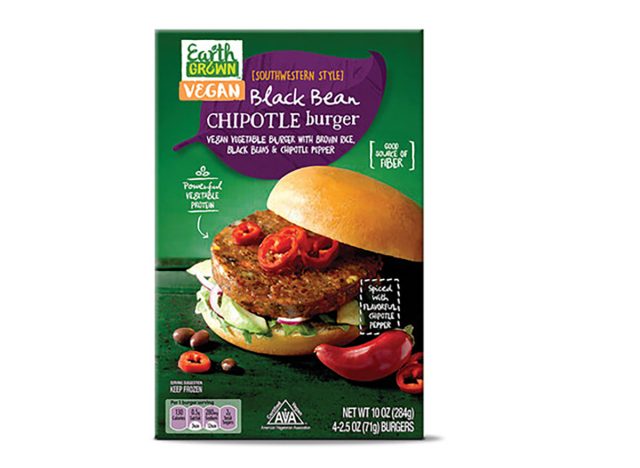 Whether you're eating completely plant-based foods or just looking to cut back on your meat consumption, Aldi makes it easy with its selection of Earth Grown veggie burgers. The black bean chipotle burger in particular packs a kick without being too spicy. Both options offer a little protein (6 grams for the Chipotle Black Bean and 5 grams for the Veggie Burger), and are an easy item to store in your freezer. Throw on the grill, pan-fry, or cook up in the air fryer and enjoy with a bun and lettuce or cut up over a salad. 
Specially Selected Macarons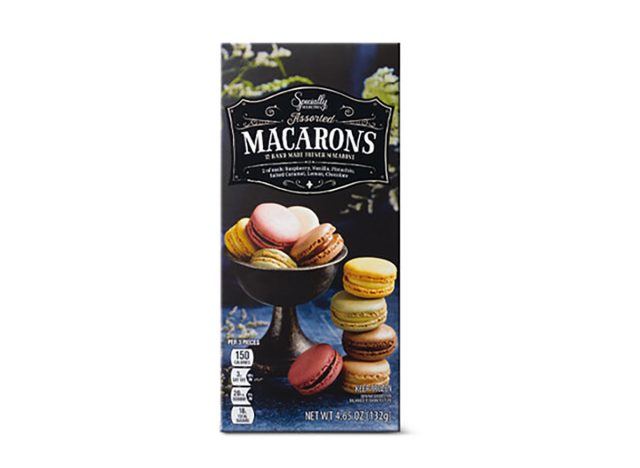 While you're in the frozen section, make sure you make your way over to the frozen treats and grab a box of the Specially Selected Macarons. Especially with how expensive these confections are from a bakery (at least $2-$3 per macaron), Aldi's version is a steal and better than many other mass-produced macarons on the market. Pick up a box to impress dinner guests or to feel fancy at tea time—if they survive your trip home. 
Friendly Farms Mocha Iced Coffee
Aldi's Friendly Farms Mocha Iced Coffee is so popular that some shoppers were disappointed when certain locations replaced the Friendly Farms brand with another brand, according to Mashed. Although many fans on Reddit noted that this mocha iced coffee is very sweet as-is, it works well as a coffee creamer. When cut with black iced coffee (depending on how sweet you like your java), it makes the perfect at-home iced mocha for a fraction of the price of the big coffee chains. Still, if you like a sweeter coffee drink, this might be for you.
Whole & Simple Breakfast Bites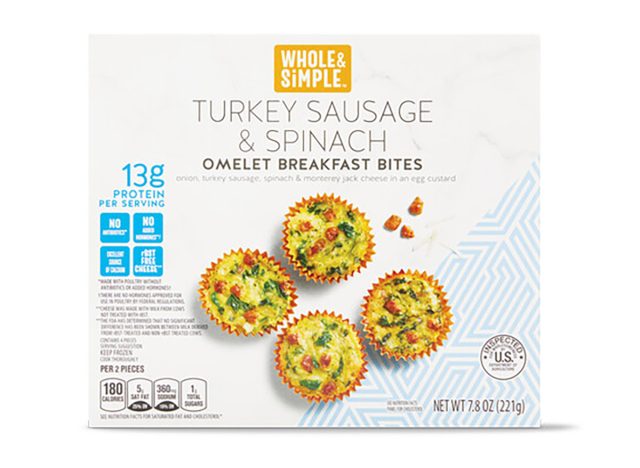 These omelet breakfast bites pack a decent amount of protein—13 grams per serving—and are much easier to prepare than making your own sous vide egg bites. Aldi offers two options: turkey, sausage, and spinach, and pepper, uncured ham, and cheddar. The website Aldi Reviewer noted that they are more like a crustless quiche than a standard sous vide egg, and The Kitchen claimed they are even better than Starbucks' popular egg bites. Find these in the frozen section (perfect for stocking up), and warm them up in the microwave for an easy breakfast that feels fancy. 
Simply Nature Sweet Potato Chips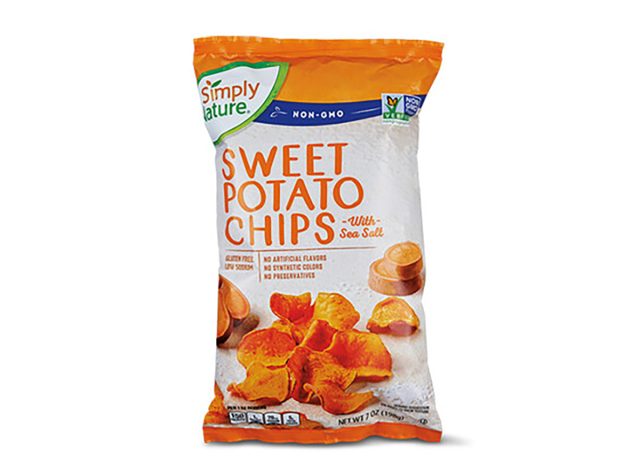 Simply Nature Sweet Potato Chips are another fan favorite from the snack aisle. Made with sweet potatoes, oil (either canola, safflower, and/or sunflower), and sea salt, these chips are 150 calories per serving and pack a satisfying crunch. One Redditor noted that the texture is more similar to a kettle-cooked chip. These are pretty low in sodium for a potato chip; just be careful not to eat the whole bag in one sitting, which is easy to do, according to Aldi shoppers. 
Simply Nature Organic Bone Broth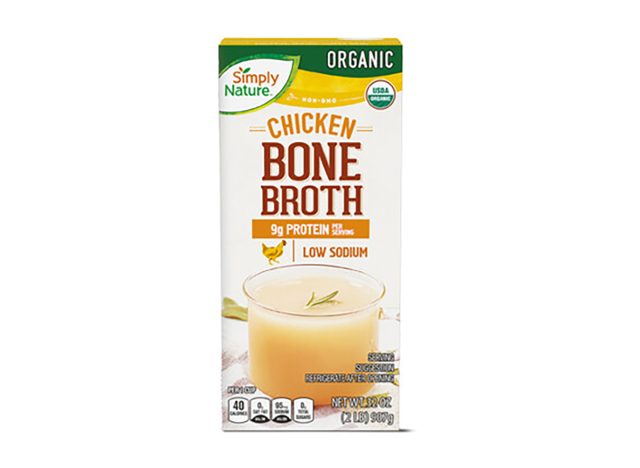 While bone broth is touted as a healthy snack packed with minerals and essential nutrients, it's also a pantry staple for soups, stews, and other hearty recipes. The problem with many store-bought bone broths is the high sodium content, even for low-sodium versions. One Redditor noted that the Simply Nature organic bone broth is notably low in sodium, which is beneficial for those who need to watch their sodium intake. 
Park Street Deli Hummus
It was hard to confine this to just one hummus flavor since the Park Street Deli brand offers so many delicious varieties. On the savory side, pick up a tub of Park Street Deli Hummus in pine nut, spicy, or tapenade to pair with veggies, crackers, or pretzel slims. If you are craving something sweet, the dessert hummus options come in dark chocolate and vanilla bean. Don't knock it until you try it! Dessert hummus pairs perfectly with fruit, pretzels, and graham crackers. Or, eat it straight from the tub (we won't judge). 
Park Street Deli Buffalo Cauliflower Dip
Park Street Deli also makes a popular Buffalo Cauliflower Dip that tastes much better than the nutrition facts suggest (50 calories, 4 g fat, 2 g carbs, 2 g sugar per serving), according to shoppers. It's a great alternative to restaurant or other store-bought buffalo dips. Just be sure to heat it up first, Redditors advise. Eat with tortilla chips, celery, or pretzel slims. 
Sundae Shoppe Super Premium Ice Cream Pints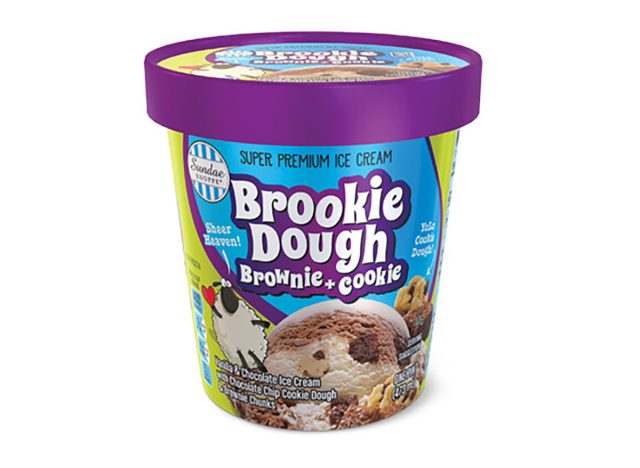 Don't forget to pick up a pint of ice cream from the frozen section. Aldi carries these assorted varieties of Sundae Shoppe Super Premium Ice Cream in Brookie Dough, Thank You Cherry Much, and Make Fudge, Not War. Although some Redditors have argued about whether or not the Aldi versions are better than their Ben & Jerry's counterparts (many believe they are), one thing is for sure: the Sundae Shoppe prices are much more wallet-friendly. Pick up a pint for yourself to decide.