The Best and Worst Fat-Burning Chocolates—Ranked!
No one will dispute the fact that chocolate tastes good. But there's a lot of argument over whether chocolate is good for you. Now, two new studies have added to the growing controversy over whether eating chocolate really can play a role in improving your health.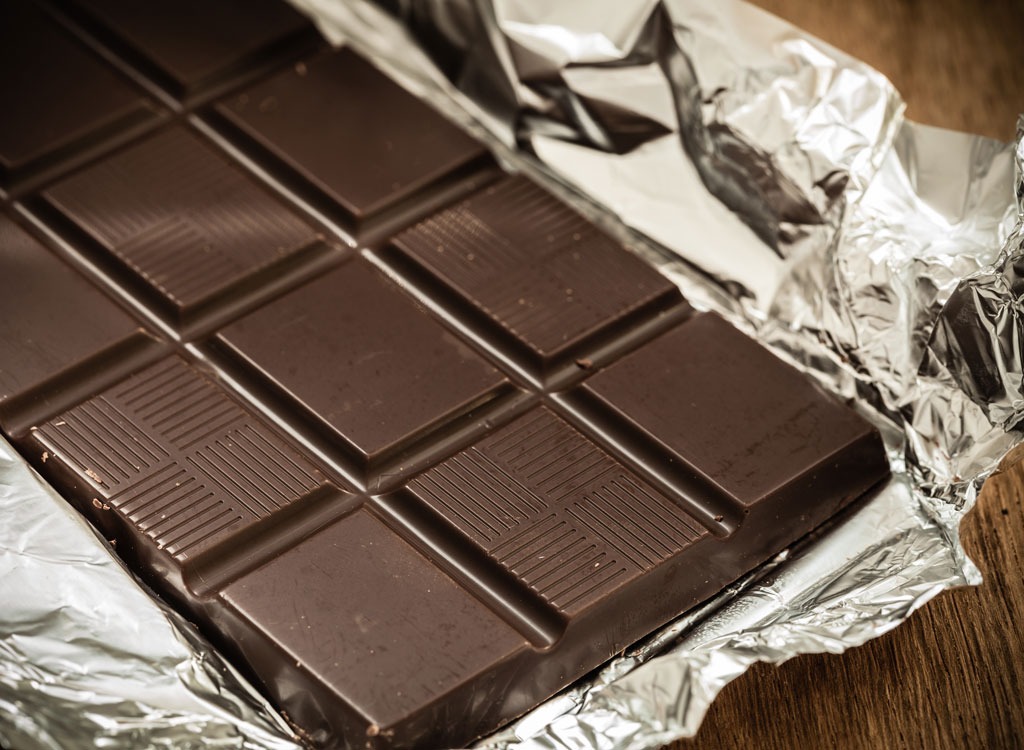 The flavonols in chocolate can lower blood pressure, improve your cholesterol profile, and lower your risk of heart attack by up to 31 percent, according to the studies, published in the journals Age and the British Journal of Nutrition. The caveat: The studies were conducted by scientists working with Flaviola, a European organization affiliated with the Mars company with the objective of developing new flavonol-based health foods. And it comes on the heels of a study that showed how chocolate could play a role in weight loss—but which turned out to be hoax intended to demonstrate how easy it was to manipulate scientific results. (Speaking of hoaxes, make sure you're not being duped by marketers by reading these essential 24 Nutrition Myths—Debunked!)
Still, there's a growing consensus that the right kind of chocolate really can help reduce belly fat and improve your heart health. "Research is still ongoing about the effects of dark chocolate on the heart and how it affects overall health, but there is evidence to show that because of antioxidants, it can be part of a healthy diet," Nieca Goldberg, MD, cardiologist, Director of the Joan H. Tisch Center for Women's Health at NYU Langone Medical Center, tells Eat This, Not That!. "I tell my patients about an ounce a day can help with their overall health, as part of a well-balanced diet rich in fruits, vegetables and whole grains, especially if it replaces more indulgent cravings. However, people should remember that more isn't better, and to make sure they watch portion sizes."
The secret is to eat the right kind of chocolate. Most commercial chocolates are processed in ways that destroy most of the nutrients. Fortunately, the editors of Eat This, Not That! have identified the best chocolates for your belly, your heart, and your tastebuds. Make sure your bar has at least 70% cacao (the flavonol-rich cocoa bean), and try one of these delicious options. And keep your blood pressure low—and your tummy slim—using any of these 25 Best-Ever Tips for Weight Loss!
NOT THAT!
#6 WORST DARK CHOCOLATE
Lindt Sweet Dark Excellence Bar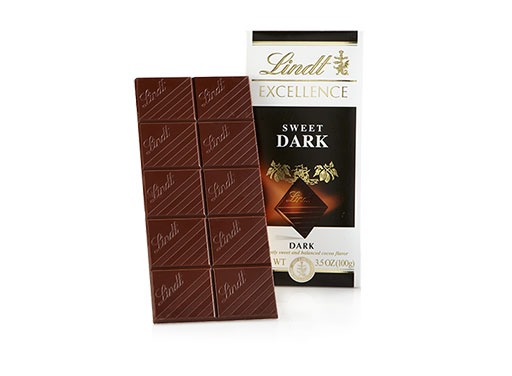 163 calories, 10.7 g fat (6.4 g saturated fat), 15.6 carbs, 12.8 sugar, 1.4 g protein per 1 ounce
"Sugar should be the last ingredient on a chocolate bar's list, or at least listed after cocoa," notes dietitian Cassie Bjork RD, LD. This nutritionally void Lindt bar has the sweet stuff listed first, indicating that there is more sugar than any other ingredient per bite. Speaking of sugar, find out what disgusting ingredient might be in your table sugar with this list of 12 Foods You Think Are Vegetarian—But Aren't!
#5 WORST DARK CHOCOLATE
55% Pascha Organic Dark Chocolate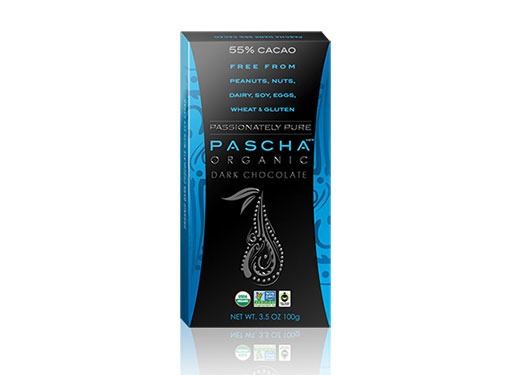 162 calories, 10.8 g fat (6.1 g saturated fat), 14.9 g carbs, 12.8 g sugar, 1.4 g protein per 1 oz
Sure, this chocolate is USDA organic and fair trade certified, non-GMO project verified and vegan, but don't let all those food label buzz-words distract you from the cold, hard truth: The majority of this bar is filled with sugar, not cocoa. Leave it behind and pick up something else—there are far better options in the supermarket.
#4 WORST DARK CHOCOLATE
Lindt Lindor Dark Chocolate Truffles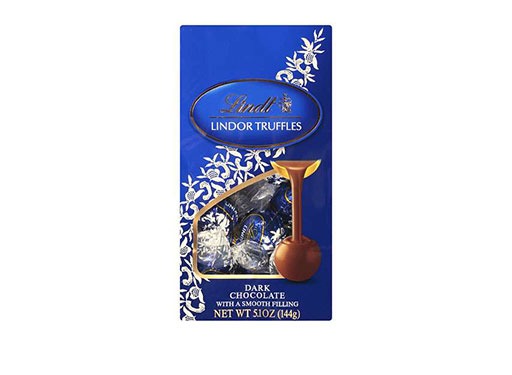 153 calories, 12.7 g fat (8.7 g saturated fat), 10 g carbs, 8.7 g sugar, 1.3 g protein per 2 truffles
Though Lindt uses some cocoa butter in their truffle recipe, they also mix in palm kernel oil — bad news for your health and weight loss progress. "The stearic acid in cocoa butter fights inflammation and staves off hunger, but the highly processed palm kernel oil promotes inflammation and passes quickly through the GI tract, so you won't likely won't reap much of this truffle's cocoa benefits," explains Bjork. While palm kernel oil doesn't make the grade, look for the 8 Best Oils for Weight Loss in your snacks, and add them to your kitchen ASAP!
#3 WORST DARK CHOCOLATE
Dove Silky Smooth Dark Chocolate Singles Bar, 1 oz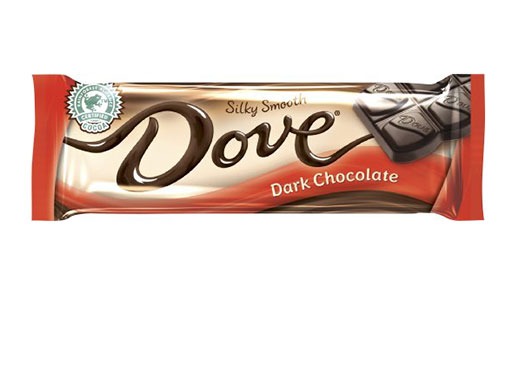 139 calories, 9 g fat (5.6 g saturated fat), 17 g carbs, 13 g sugar, 1.4 g protein
Dove claims this bar is "made from the finest quality cacao," but don't be fooled! The cacao in this chocolate bar is anything but high quality. In fact, it's been processed with alkali. It gets worse: This is yet another bar that was found to contain health-harming cadmium, shown in some studies to cause kidney, liver and bone damage.
#2 WORST DARK CHOCOLATE
Hershey's Special Dark, 1 oz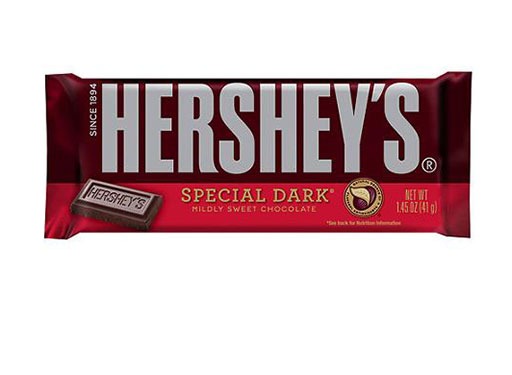 6254a4d1642c605c54bf1cab17d50f1e
131 calories, 8.2g fat (5.5 g saturated), 17.2 g carbs, 14.5 g sugar, 1.4 g protein per 1 oz
We're not quite sure what Hershey's thinks is so special about their dark chocolate bar because, as far as we can see, it's pretty awful. In addition to sugar stealing the first spot on the ingredient panel, it's manufactured with alkalized cocoa, which means its cancer- and cardiovascular disease-fighting powers are severely diminished. Keep it in the dark. For dozens of better fat-blasting ideas, check out our report on the 50 Best Snacks for Weight Loss!
#1 WORST DARK CHOCOLATE
Dark Chocolate M&Ms, 1 oz (about ½ the package)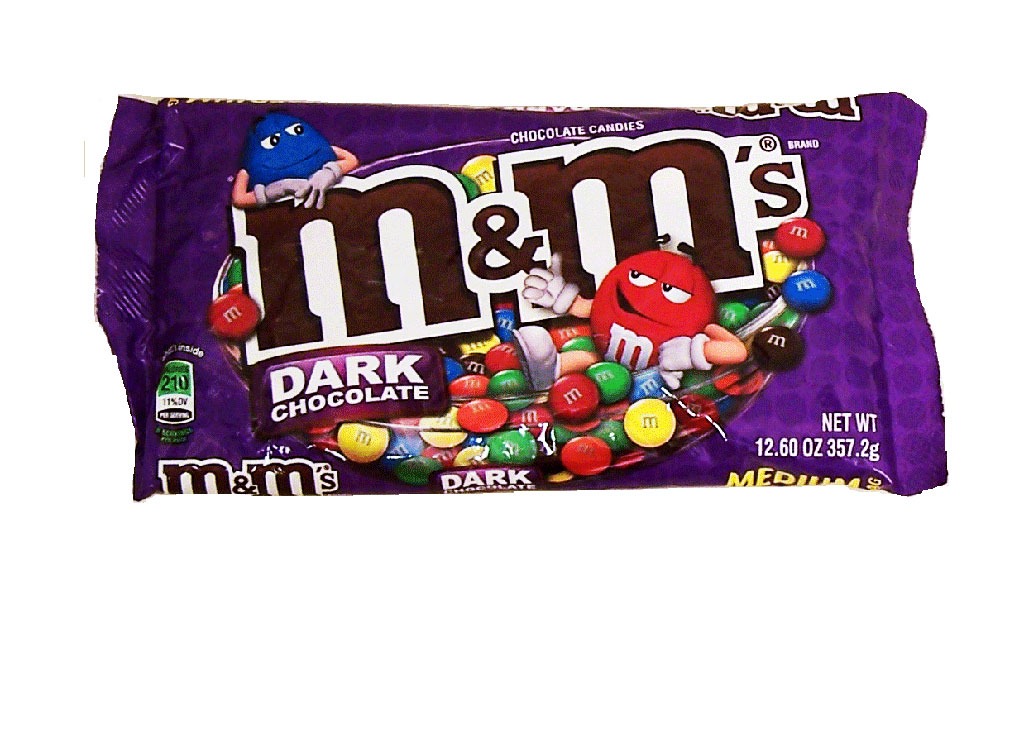 142 calories, 6.5 g fat (4.1 g saturated fat), 19.5 carbs, 15.9 sugar, 1.2 g protein
This recipe calls for more sugar than cocoa butter and is laden with a myriad of artificial colors, some of which have even been banned in other countries because of their proven health dangers. What's more, just half a package of M&Ms contains nearly 16 grams of sugar—and we both know you're bound to polish off the entire lot. When you do, you'll have downed over 60 percent of the day's sugar in a matter of minutes.
EAT THIS!
#5 BEST DARK CHOCOLATE
Theo Salted Almond 70% Dark Chocolate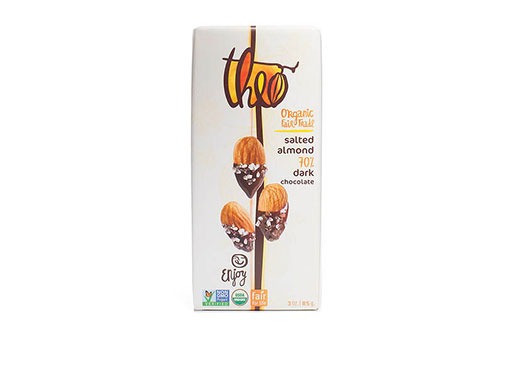 210 calories, 17 g fat (9 g saturated), 19 g carbs, 12 g sugar, 4 g protein per ½ bar
We like this entry-level Theo Salted Almond bar because the bitterness doesn't hit you the way that it does with 80% or higher cacao bars. "The higher the percentage of cacao, the better, but you'll get some health benefits at 55% cacao," says Isabel Smith, MD, RD, CDN. The almonds also offer an added health boost thanks to their combination of plant-based protein, fiber and healthy fats, which work together to keep hunger and cravings at bay. For an added fat-burning punch, pair some squares with one of the 5 Best Teas for Weight Loss!
#4 BEST DARK CHOCOLATE
Endangered Species Dark Chocolate Squares with Forest Mint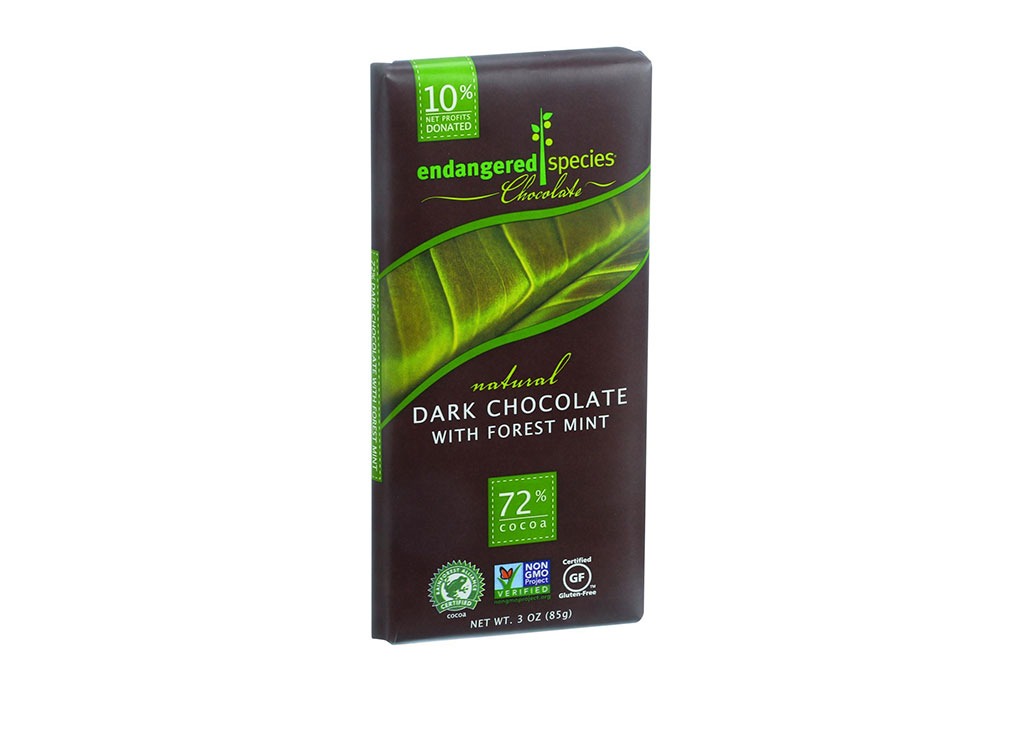 100 calories, 17 g fat (10 g saturated fat), 19 g carbs, 11 g sugar, 3 g protein per 4 pieces
With 72% cocoa and some added mint for flavor, these squares can help squash pesky sweet cravings with just a few nibbles. What's more, research has found that eating a small dose of chocolate each day can help you unwind — which can boost your weight loss. Dark chocolate can increase serotonin and endorphin levels in the brain, reducing stress and elevating mood. Banishing stress will also diminish your levels of cortisol, a hormone that promotes belly fat storage.
#3 BEST DARK CHOCOLATE
Greenn & Black's Organic 85% Cacao Bar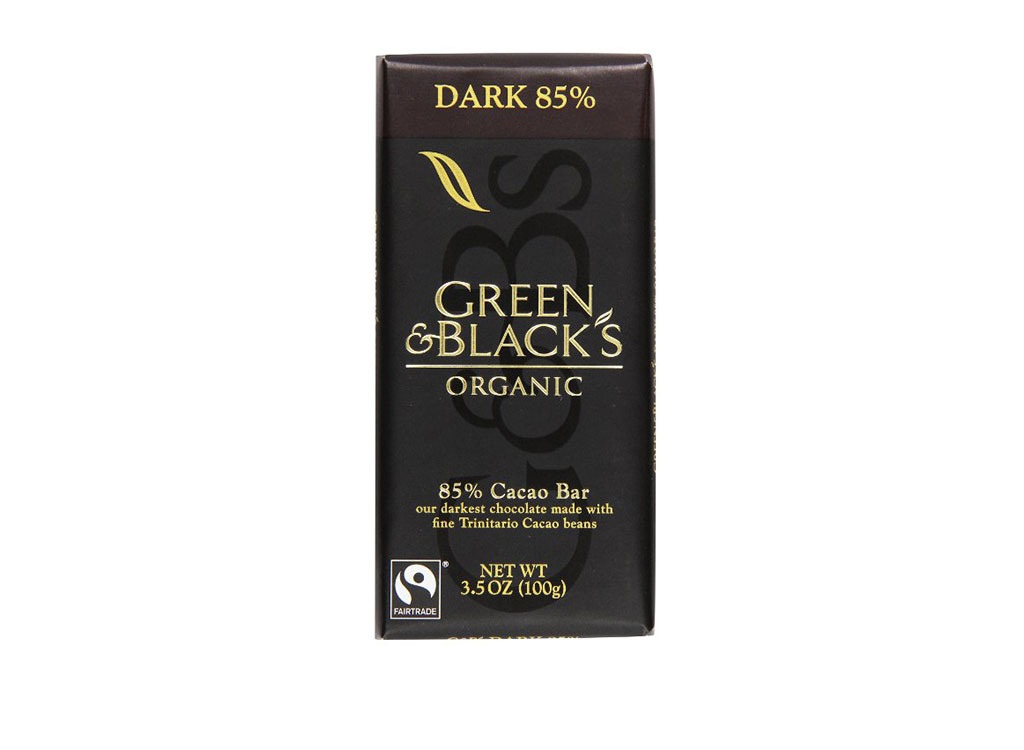 250 calories, 20 g fat (12 g saturated fat), 15 g carbs, 8 g sugar, 4 g protein per 12 pieces
Green & Black puts a premium on their ingredients, and their chocolate reflects that. They buy their beans directly from cocoa farmers who use organic farming techniques, ensuring that you get the cleanest product possible. Though 85% may be intimidating—because the higher the count, the more bitter the bar—this one is particularly smooth. The organic vanilla and small amount of organic cane sugar they add to the bar soften the bitter bite. Adding cacao to your diet in other ways, as in homemade smoothies, cookies and snack bowls, are just a few of our 12 Ways to Eat Clean and Lose Weight Every Day!
#2 BEST DARK CHOCOLATE
Alter Eco Blackout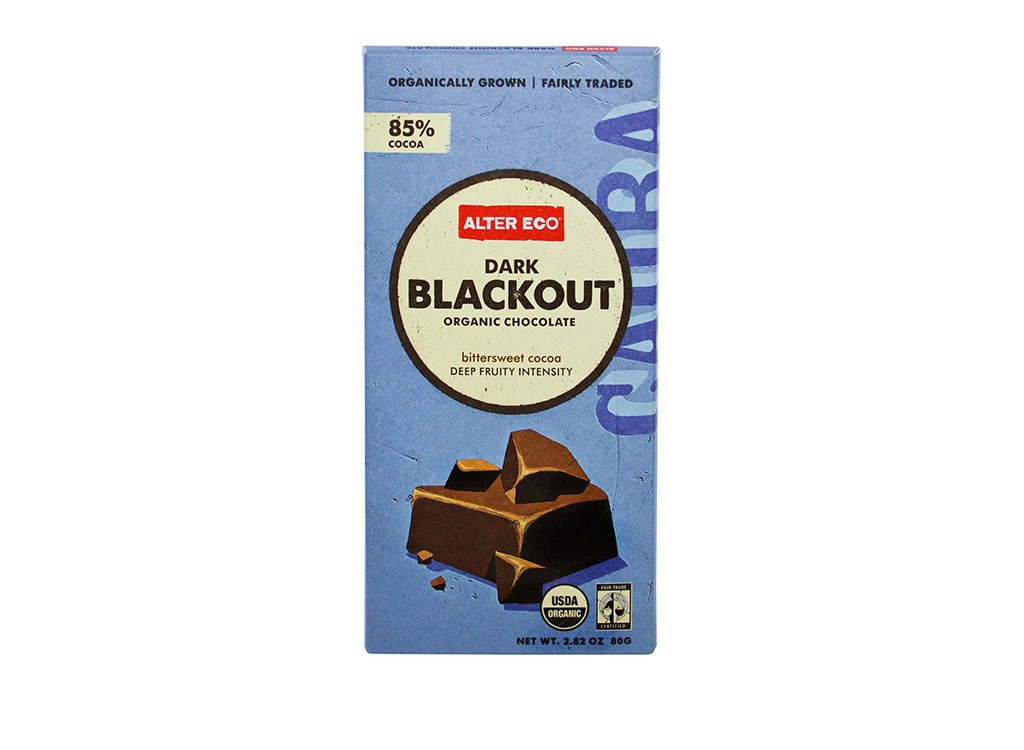 240 calories, 21 g fat (13 g saturated fat), 14 g carbs, 6 g sugar, 3 g protein
One thing to watch for when buying chocolate is the sugar content — even when you're shopping for dark. Consuming too much can increase your risk of serious health problems like diabetes and cancer, not to mention lead to energy crashes. "Aim for 10 to 15 grams of sugar or less per serving," suggests Smith. "Extremely dark chocolates (88% cacao for example) will generally have around 5 grams of sugar per serving." This Alter Eco bar has only 6 grams, making it a solid choice.
AND THE #1 BEST DARK CHOCOLATE
Nibmor Extreme Dark Chocolate with Cacao Nibs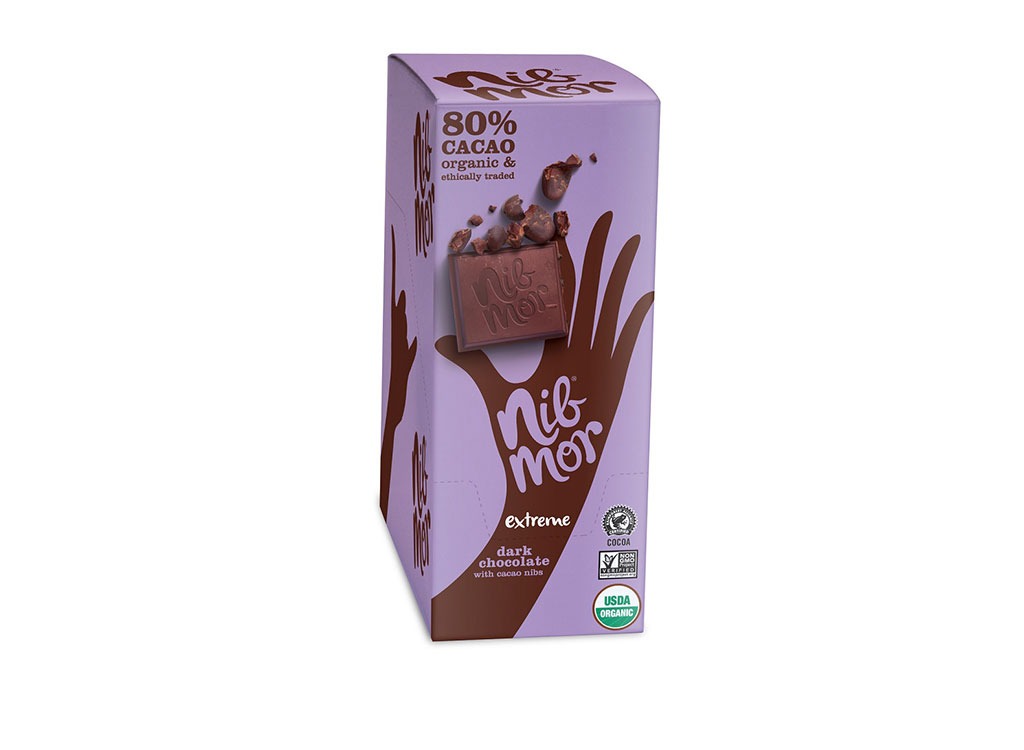 160 calories, 12 g fat (7 g saturated), 15 g carbs, 8 g sugar, 2 g protein per ½ bar
Nibmor Extreme has only five ingredients, the first of which is organic cacao, and the nibs offer a fun crunch, bursting with flavonols. Bonus: If you have trouble sticking to a serving, they also come in prepackaged serving squares for only 50 calories a pop. Cacao is also the first ingredient in Numi's Chocolate Earl Grey Tea. We love black tea so much, we made it part of our brand new weight-loss plan, The 7-Day Flat-Belly Tea Diet and Cleanse! Test panelists lost up to 10 pounds in just one week!
MELT UP TO 10 POUNDS IN ONE WEEK! WITH OUR BEST-SELLING NEW DIET PLAN, The 7-Day Flat-Belly Tea Cleanse! Test panelists lost up to 4 inches from their waist! Available now for Kindle, iBooks, Nook, Google Play, and Kobo.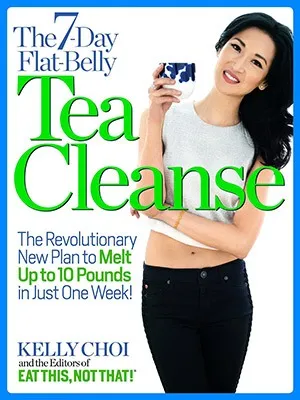 Eat This, Not That!
Inspired by The New York Times best-selling book series, Eat This, Not That! is a brand that's comprised of an award-winning team of journalists and board-certified experts, doctors, nutritionists, chefs, personal trainers, and dietitians who work together to bring you accurate, timely, informative, and actionable content on food, nutrition, dieting, weight loss, health, wellness, and more.
Read more about Eat This