The #1 Best Cereal to Eat to Lower Blood Sugar, Says Dietitian
Trix are for kids, but what about adults?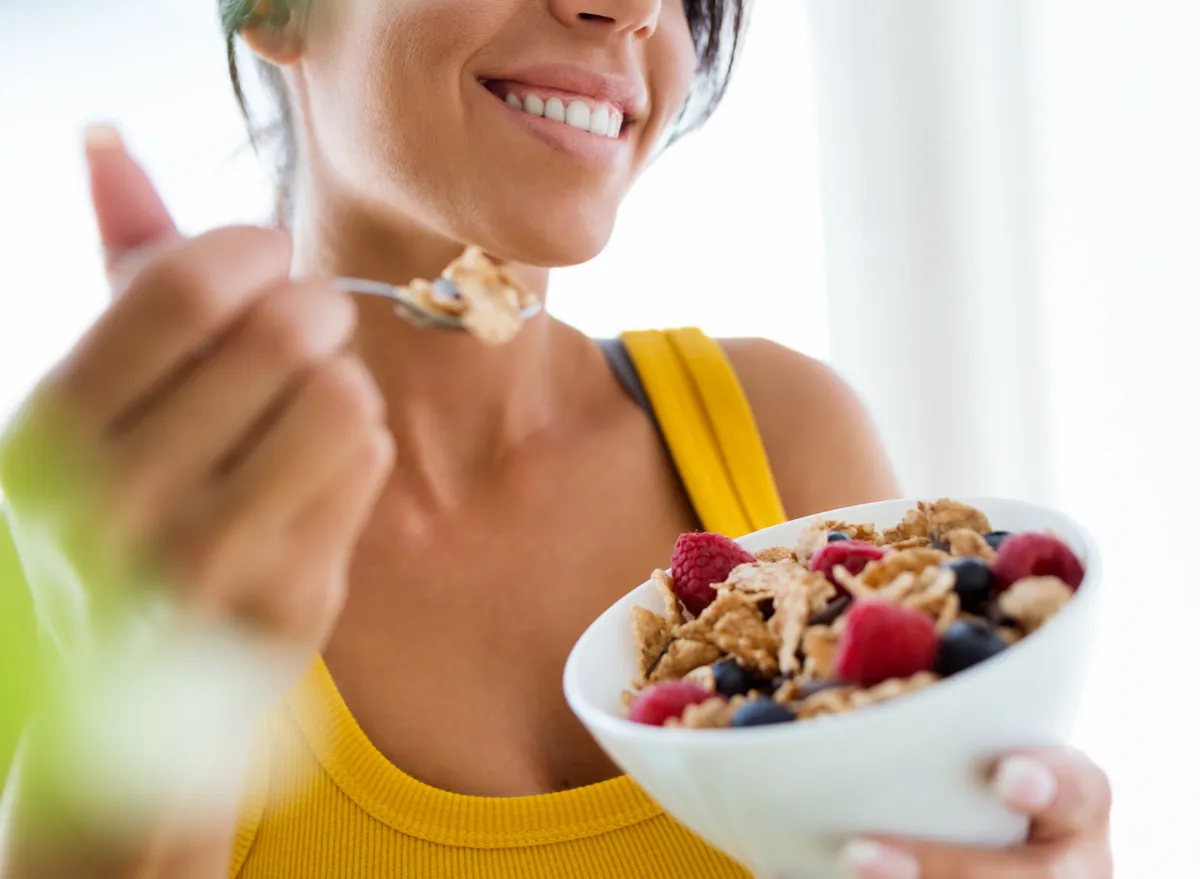 Cereal tends to bring on nostalgic memories of rainbow colors and super sweet leftover milk in your bowl. Unfortunately, most classic cereals on the market are not super balanced and might wreak havoc on your blood sugar.
Starting your day off with a big bowl of carbohydrates, added sugar, and very little fiber or protein is surefire way to spike blood sugars first thing in the morning. Instead of chasing after high blood sugar for the rest of the day, there is a better way.
Focusing on high-fiber, high-protein brands can go a long way toward more stable blood sugars for the rest of the day. Research shows that starting your day off with a high-protein breakfast can better manage blood sugars, appetite, and cravings later in the day.
That doesn't mean you have to cut cereal completely out of your diet! In fact, I don't recommend cutting any food completely out unless medically necessary. Making some tweaks to how you serve your cereal or opting for cereals that are more blood sugar-friendly might be the right fit for you.
Brands that may be more blood sugar-friendly:
Make your bowl blood-sugar friendly.
Here are some additional tips to make your favorite cereal more blood sugar-friendly. Whether you are trying to incorporate cereal into breakfast or a snack, we've got you covered with creative ways to implement your favorite brands.6254a4d1642c605c54bf1cab17d50f1e
Serve over Greek yogurt instead of plain with milk for a high-protein addition to breakfast.
Add high-fiber berries, flax seeds, chia seeds, or nuts on top to slow absorption and stabilize blood sugar afterward.
Opt for cereals that are high in fiber and protein like the above brand options.
Make a balanced snack mix with cereal, nuts, and seeds to keep blood sugars from spiking.
Looking for more? These dietitians review the positives and negatives of giving up cereal in your diet.
Caroline Thomason, RDN
Caroline is a women's health Registered Dietitian and diabetes educator based in Northern Virginia.
Read more about Caroline