9 Best Wing Sauce Recipes That Are Way Better Than Buffalo
Get ready to step out of your comfort zone.
Essential to every game day during football season, deep-fried chicken wings smothered in buffalo sauce have become a beloved staple in American cuisine since their creation back in 1964 in the city of the dish's namesake, Buffalo, NY. Now, it's hard to imagine eating chicken wings without any signature spicy buffalo sauce. However, chicken wings can be a great base for a wide range of flavors.
Sure, buffalo sauce represents the classic gold standard as far as wing sauces go. But if the same old sauces are no longer cutting it for you, maybe it's time to consider a different approach to making wings and shake up your repertoire of recipes by branching out with other sauces.
If you're eager to try something new and are ready to step out of your comfort zone, check out the 9 best wing sauce recipes that are much better than Buffalo.
Sesame soy garlic sauce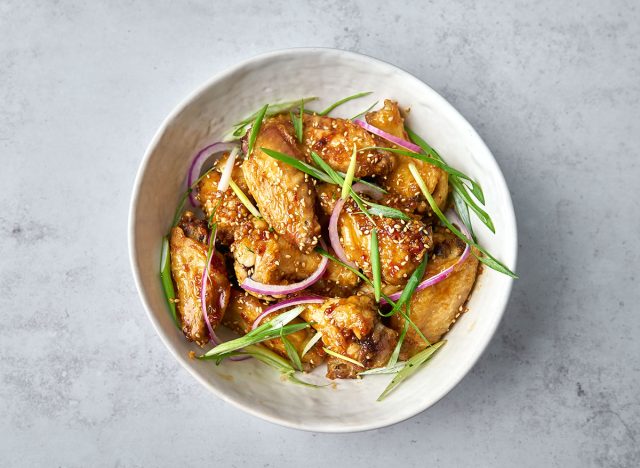 Composed of many flavors and spices often found in Asian cuisine, the sesame soy garlic sauce used in this recipe is the perfect accompaniment to air-fried chicken wings. Because the best wing sauces tend to have multiple flavor components, the sauce's Sriracha or chili sauce kick combined with a bit of sweetness from clover honey is sure to impress.
Here's our recipe for Air Fryer Sesame Soy Garlic Chicken Wings.
Gai tod Thai chicken marinade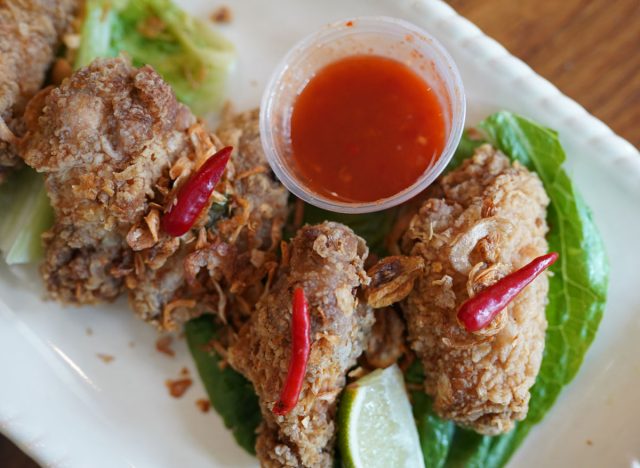 Deep-fried chicken wings are a staple of American cuisine, but that doesn't mean that all of its flavor inspiration needs to come from the United States. True to its name, the sauce recipe features four flavors that are crucial to Thai cuisine—sweet, sour, salty, and spicy—with its inclusion of garlic, coriander, and two different soy sauces.
Here's our recipe for Gai Tod Thai Chicken Marinade.
Barbecue sauce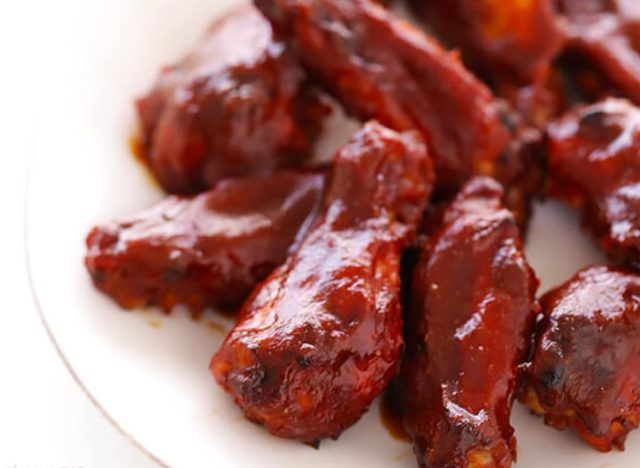 Just like peanut butter and jelly or spaghetti and meatballs, chicken and barbecue sauce are two foods that seem like they were meant for each other; when combined, they are undeniably delicious. If you consider yourself a wing traditionalist yet still want to branch out and explore alternatives to buffalo sauce, barbecue sauce is a solid first step outside of the box. What's great about this recipe, in particular, is that it also cuts down on the added sugars found in store-bought barbecue sauce and contains no high fructose corn syrup, making it a healthier option for your wings.
Get the recipe from Gimme Some Oven.
Asian marinade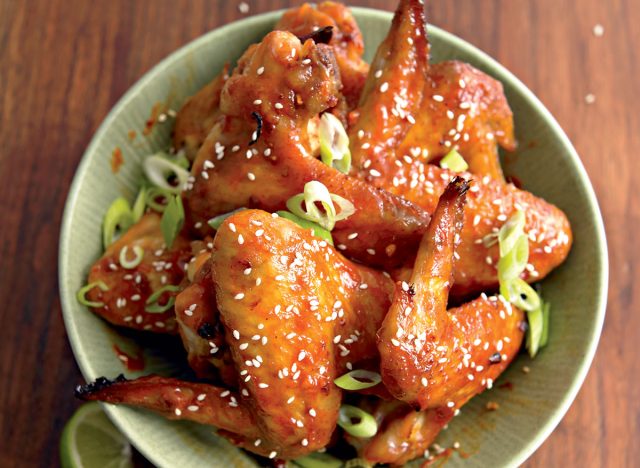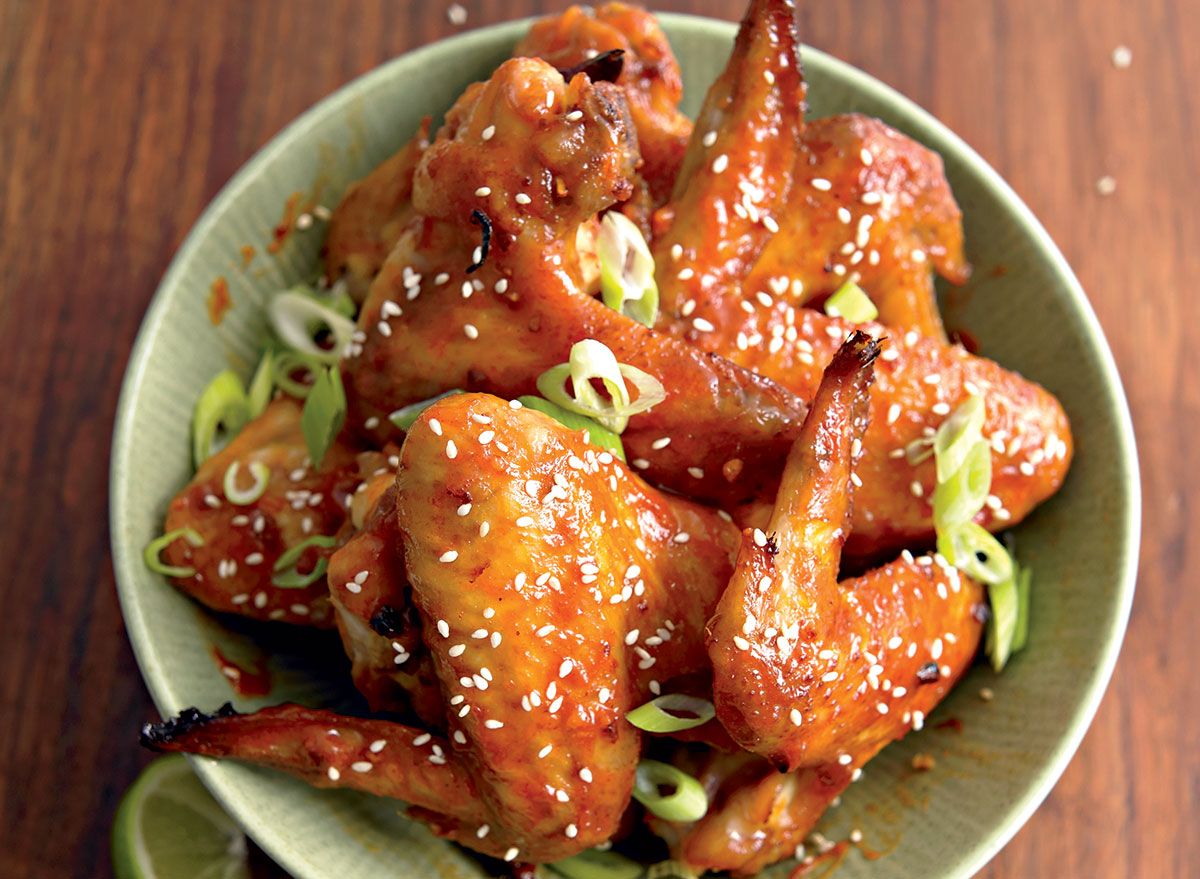 For hardcore buffalo sauce lovers looking to change things up without venturing too far from this classic, this recipe for an Asian marinade is sure to become your next favorite sauce for smothering your chicken wings. With hot sauce and butter in this recipe, it's similar to traditional buffalo sauce. But the added blend of soy sauce, garlic, and lime juice takes this sauce to the next level of flavor. Best of all, this recipe calls for roasting your chicken wings as opposed to frying them, making them lower in fat relative to traditional wing recipes.
Here's our recipe for Roasted Chicken Wings in an Asian Marinade.
Lemon pepper sauce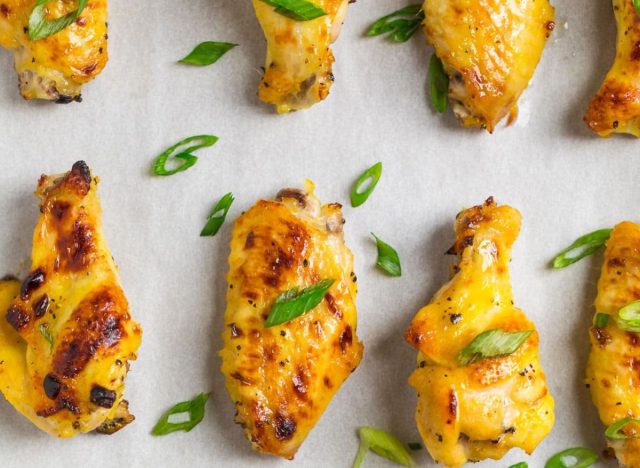 Who says making wing sauce has to be complicated? This recipe has a short prep time of only 10 minutes with a simple yet delicious lemon pepper sauce that uses only five ingredients. For this tart sauce, the bulk of the flavor comes from lemon pepper as well as  freshly-squeezed lemon juice. In addition to a step-by-step breakdown of how to prepare the sauce, what's great about this recipe is that it also elaborates on different ways you can cook your wings with this sauce, from grilling them to frying and baking them in the oven.6254a4d1642c605c54bf1cab17d50f1e
Get the recipe from Well Plated.
Honey garlic sauce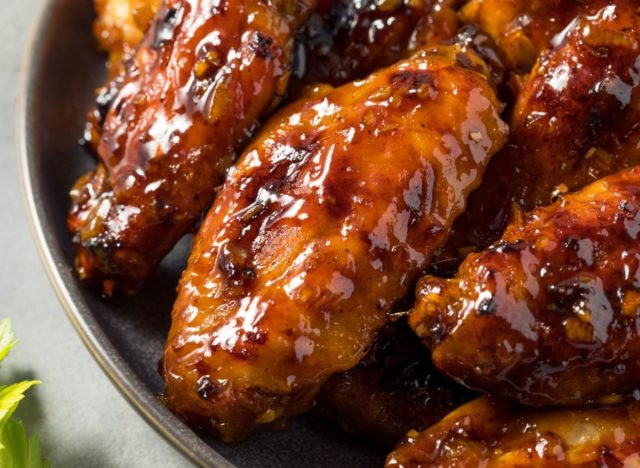 Have you ever noticed how so many wing sauces often include garlic? Honestly, who could say "no" to adding more of the delicious plant into recipes? A classic combo of sweet and savory, this recipe balances potent garlicky flavors with the sweetness of honey, resulting in a well-rounded sauce capable of elevating any plate of chicken wings.
Get the recipe from A Pretty Life in the Suburbs.
Sweet and spicy cranberry sauce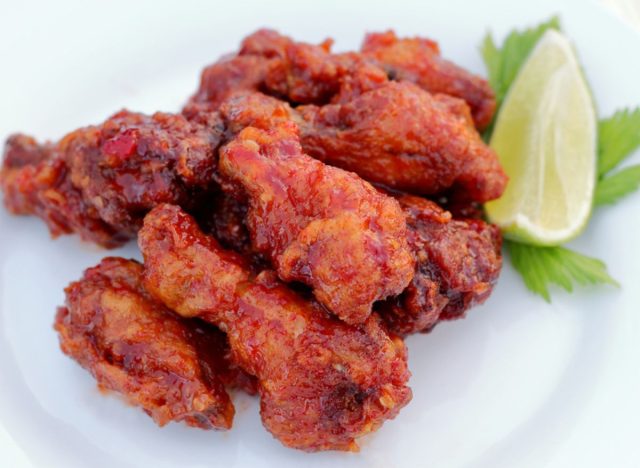 When it comes to fall-themed dishes, it seems like as the Thanksgiving holiday draws nearer, the more frequently cranberries seem to pop up on plates and in stores. Fortunately, this recipe for sweet and spicy cranberry chicken wings provides an exciting twist on traditional cranberry sauce you can enjoy on any game day throughout the football season. When fused with the spicy punch of chili sauce, the tart yet sweet cranberry flavors become irresistible, making this recipe a perfect combination of sweet and spicy.
Get the recipe from Foody Schmoody.
Pan-fried fish sauce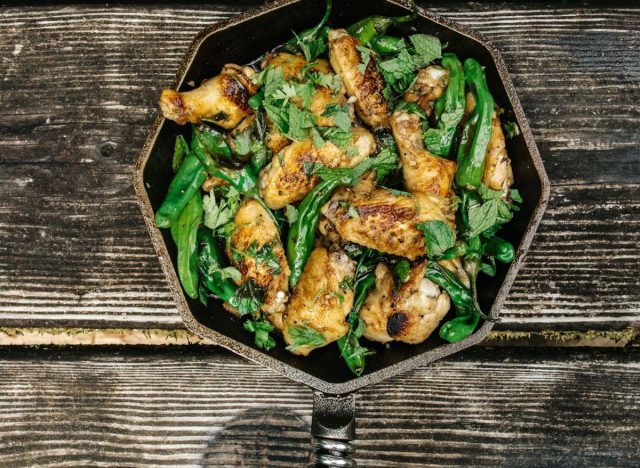 A condiment that is considered an everyday staple in East Asian and South Asian cuisine, fish sauce is often found in stir fry, salad dressings, curries, and soups. However, it's not that often that you find it slathered on top of chicken wings. This recipe for pan-fried fish sauce chicken wings combines the umami flavors of fish sauce with the acidity of lemon juice, the saltiness of soy sauce, the sweetness of honey, and the spicy flavor of shishito peppers.
Get the recipe from I Am a Food Blog.
Mango curry sauce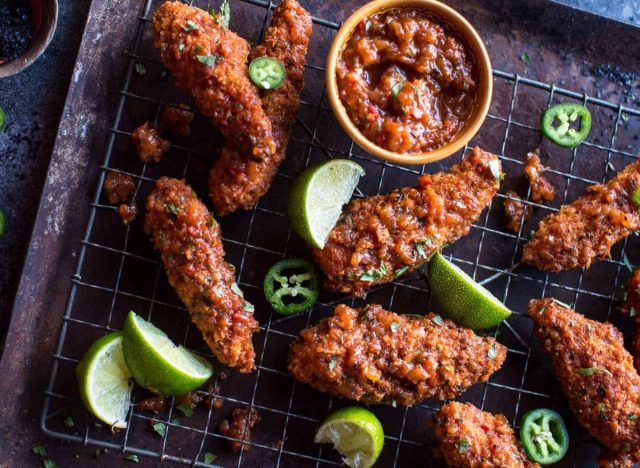 Get the recipe from Half-Baked Harvest.
Sure, chicken wings were first created in upstate New York, but this recipe will take you straight to the Caribbean with a sauce that contains mango chutney and jerk seasoning. Another plus? This sauce only takes about 10 minutes to put together and can be made while you have wings baking in the oven.