The Best Chicken Wings in Every State
Have you been to your state's best chicken spot?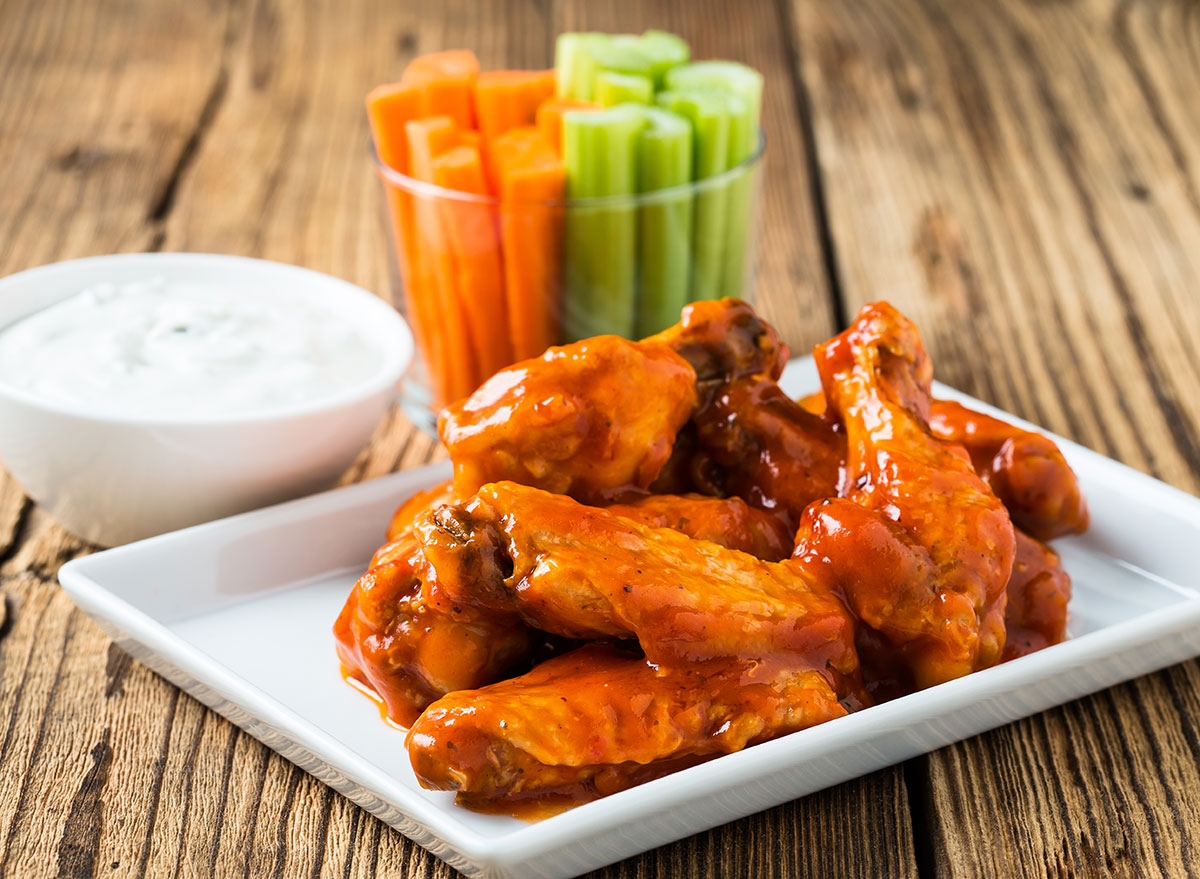 Deep-fried chicken has long been synonymous with Southern cooking. But chicken wings? The idea for this bar food delicacy was hatched in—you guessed it—Buffalo, New York.
Back in 1964, Teressa Bellissimo—who was the co-owner at the now-famous Anchor Bar—cooked up some leftover wings in a peppery hot sauce as a late-night snack for her son and his friends. The wings, a part of the chicken usually tossed in a stockpot to make broth, were such a hit that they ended up on Anchor Bar's menu the next day, plated with celery slices and bleu cheese.
Since then, wings have evolved. Not only are they a staple on sports bar menus, but you can also find them on the appetizer menus at fancy restaurants. Creative chefs experiment with wet sauces. And dry rubs. And frying techniques and batters. If you're a purist, though, the classic buffalo wing remains a perfect bite: a crunchy, deep-fried exterior drenched in a tangy-spicy sauce; juicy chicken; and an obligatory dunk in creamy blue cheese.
Here's where you can find the very best chicken wings in every single state. Plus, remember to skip the 8 Worst Fast-Food Burgers to Stay Away From Right Now.
And for more, check out The Best Nachos in Every State.
ALABAMA: Hog Wild Beach and BBQ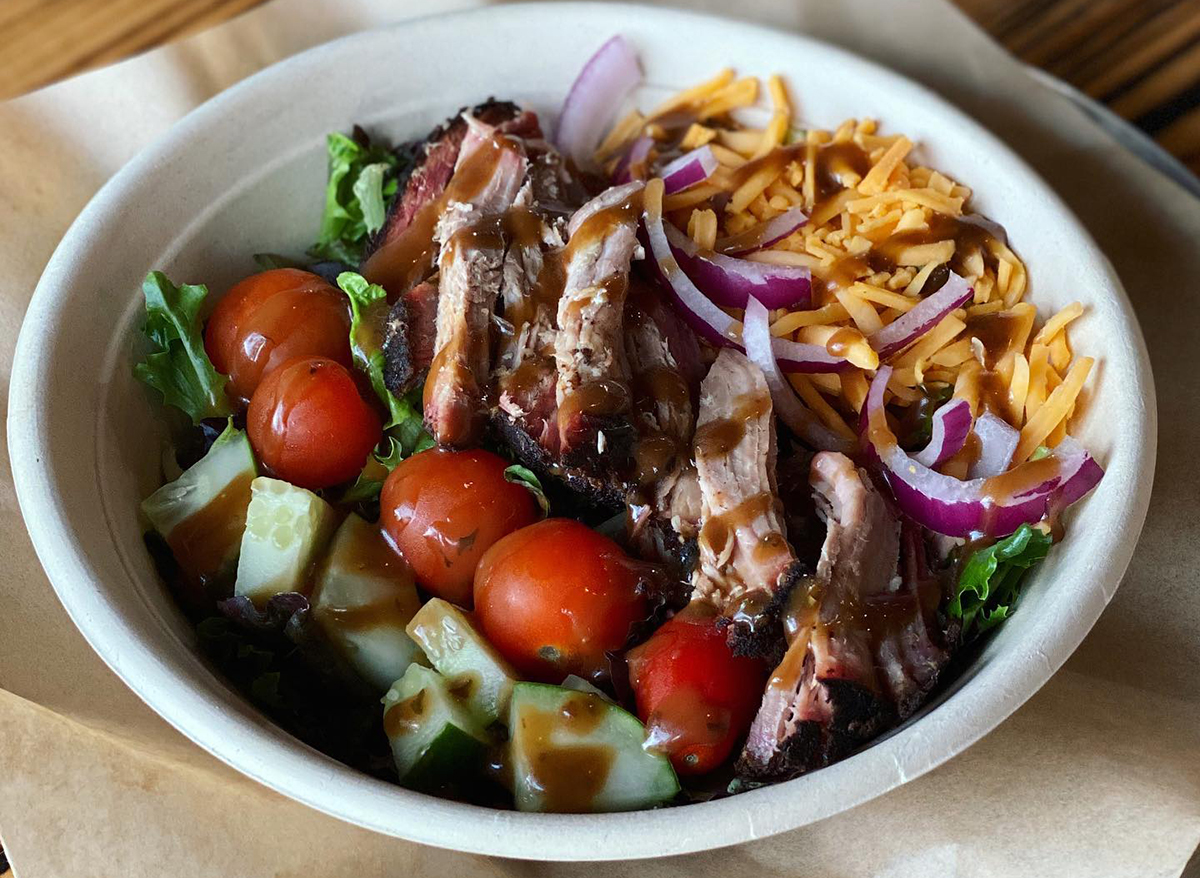 A favorite on Yelp, reviewers rave about the Hog Wild Beach and BBQ wings that are smoked long and slow. Of course, the sauce selections include a white barbecue sauce, which Alabama pretty much has a trademark on.
ALASKA: Chicken Shack in Anchorage
Alaska is more known for its fish than its chicken. Still, you can scout out some great wing spots here, including the Chicken Shack, which is famous for its fried chicken and a destination for made-from-scratch biscuits. As for the wings, you can choose between buffalo sauce, gochujang sauce or, proceed past the warning sign on the menu and order 'em Tennessee hot.
ARIZONA: Trapp Haus BBQ in Phoenix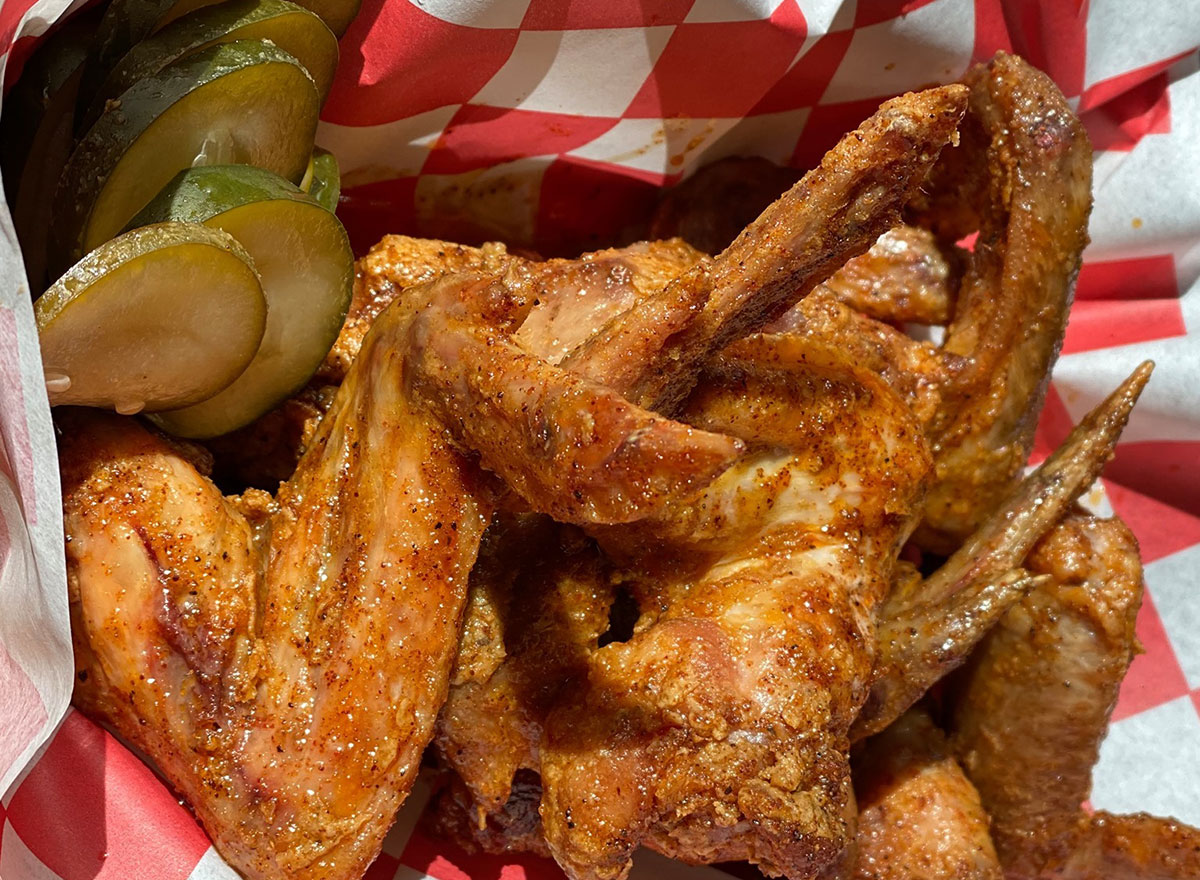 Known as the "Jay-Z of Barbecue" and "Phil the Grill," Pitmaster Phil Johnson is a veteran of the competitive barbecue circuit and food truck world who collects awards like he does nicknames. (You might have caught him on Food Network's "BBQ Brawl: Flay v. Symon" that features celeb chefs Bobby Flay and Michael Symon). Johnson opened Trapp Haus BBQ in Phoenix in 2018, and, a year later, his Jumbo Philly Crack Wings took the crown for the "Best Wings in Phoenix" as decided by the Phoenix New Times.
ARKANSAS: Foghorn's Wings, Multiple Locations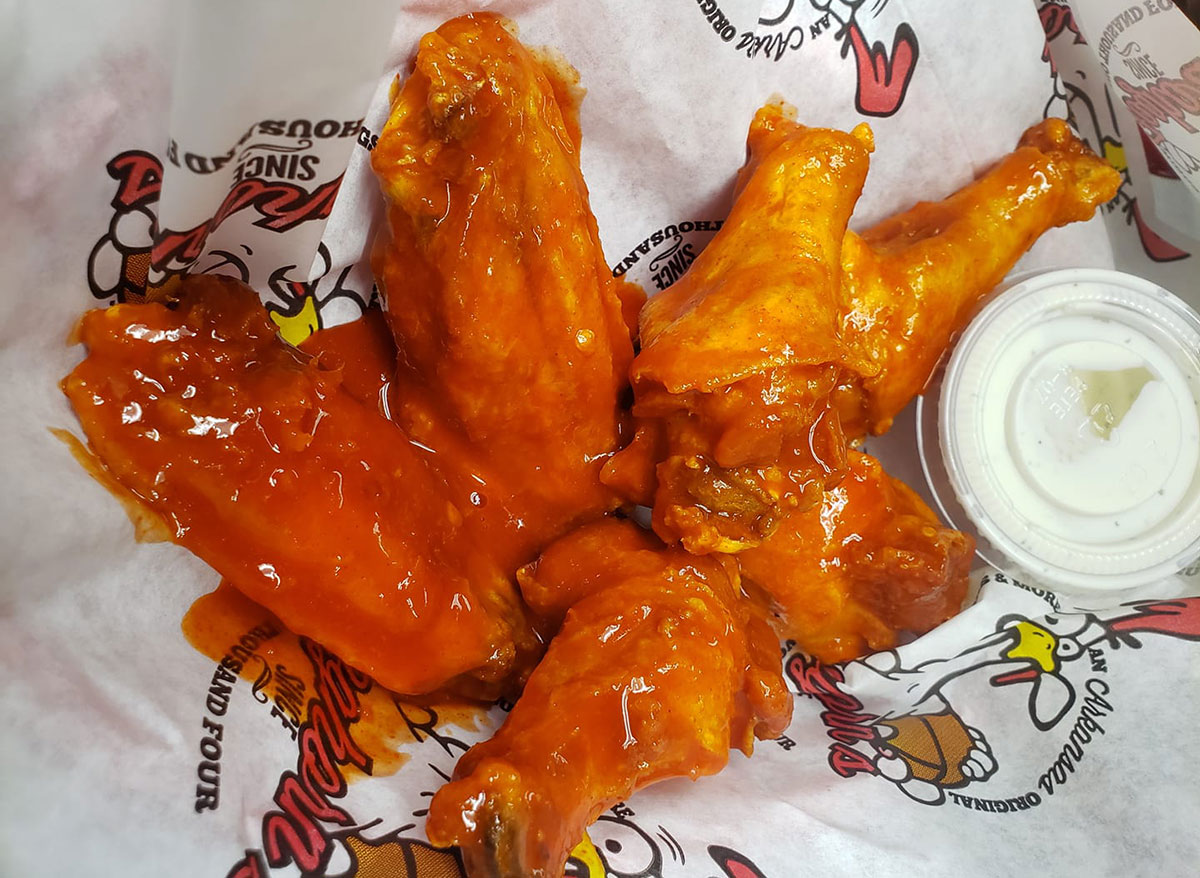 The pressure is on, wing lovers. You've got 50 sauces to choose from at Foghorn's. Will you select the best-selling habanero rain? The Cryin' Hawaiian with a sweet pineapple taste followed by a habanero punch? Or something sweet like peach bbq?
CALIFORNIA: Bone Kettle in Pasadena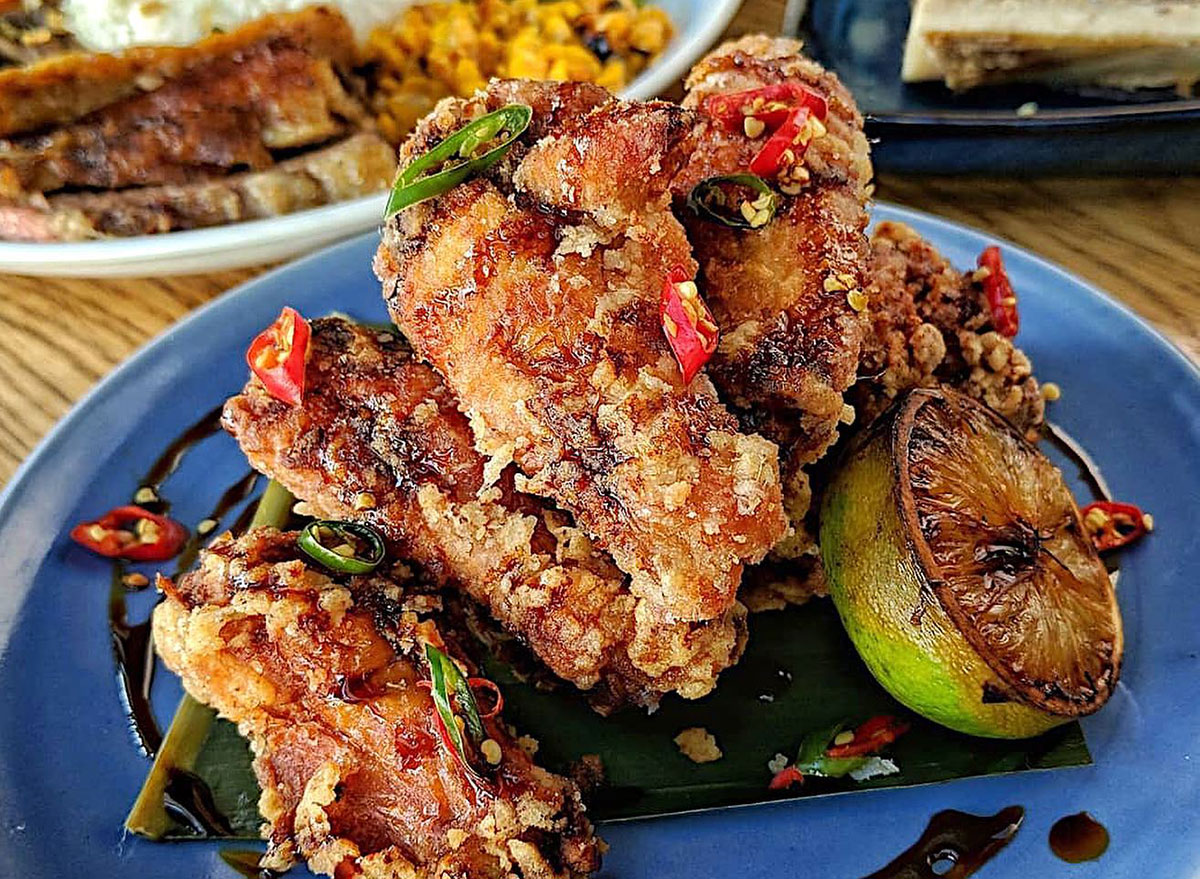 Proving that chicken wings aren't just a sports bar staple are the Bone Kettle wings that are on the small plate menu alongside steak tartare and oxtail dumplings. Brined in citrus before they're fried, the chicken wings are served with charred lime and Thai chili at this Southeast Asian restaurant.
COLORADO: Slater's 50/50 in Denver
First, feed your Instagram grid with a Slater's 50/50 milkshake; they look like they were manufactured in Candyland before arriving at your table garnished with a crushed candy rim, snack cake, lollipops, and a literal SPARKLER. Then, tear into the chicken wings. The Nashville hot doesn't need firecrackers; it packs enough of its own fire. Other sauces include Buffalo, Thai sriracha, maple bourbon bacon, honey BBQ, and, for the plot twist, peanut butter and jelly.
CONNECTICUT: Slider's Grill & Bar, multiple locations
With five locations in Connecticut, Slider's Grill and Bar sells more than 100,000 wings a day come Super Bowl. They've also won titles for the best wings in the National Buffalo Wing Competition in Buffalo, New York. They have more than 25 house-made sauces and dry rubs, including some mighty creative ones (think: truffalo sauce). Buffalo and garlic parm are bestsellers.
DELAWARE: Anthony's Coal Fired Pizza in Pike Creek and Wilmington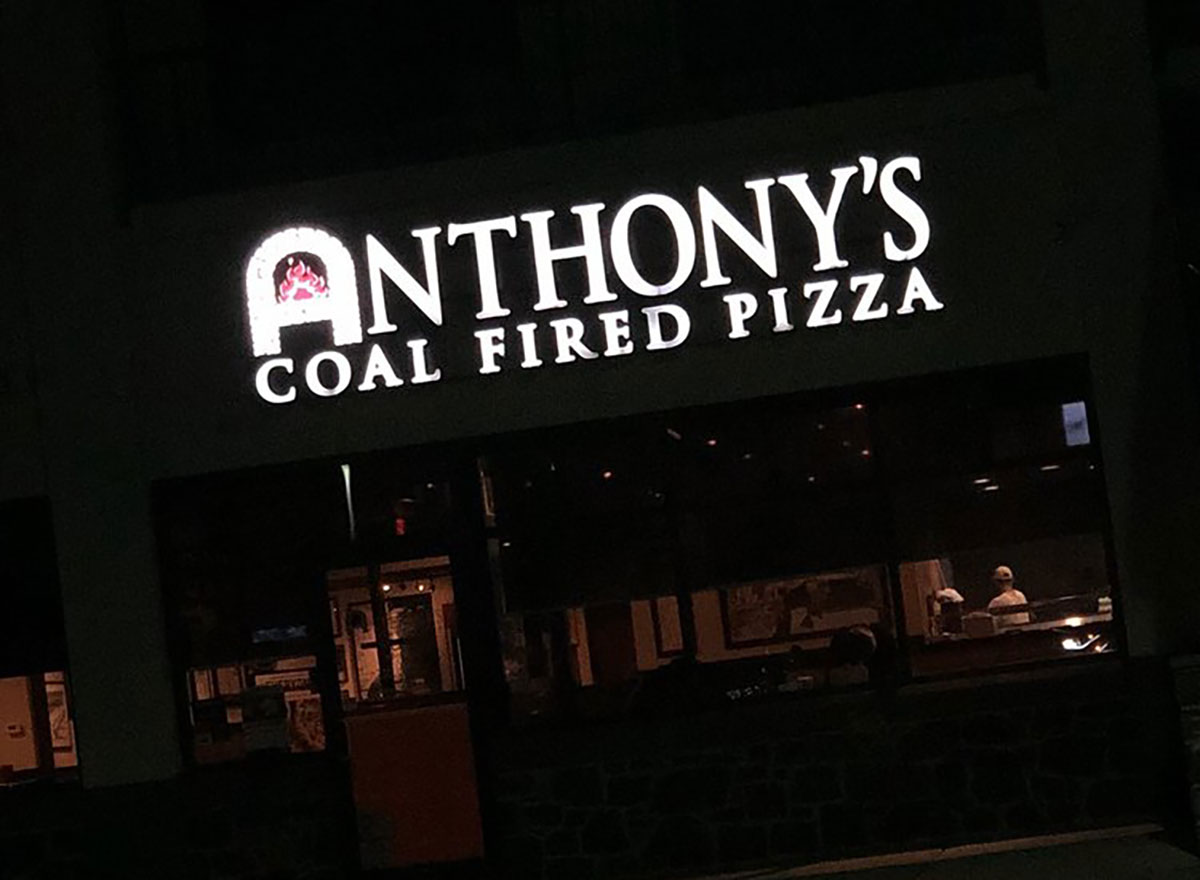 Instead of getting a bath in oil, the chicken wings at Anthony's Coal Fired Pizza are roasted in a coal-fired oven with temps north of 800 degrees then served with focaccia bread. The original wings are topped with caramelized onions. Delaware Online/News Journal readers, in a poll, crowned these wings the best in the state.
FLORIDA: Dr. BBQ in St. Petersburg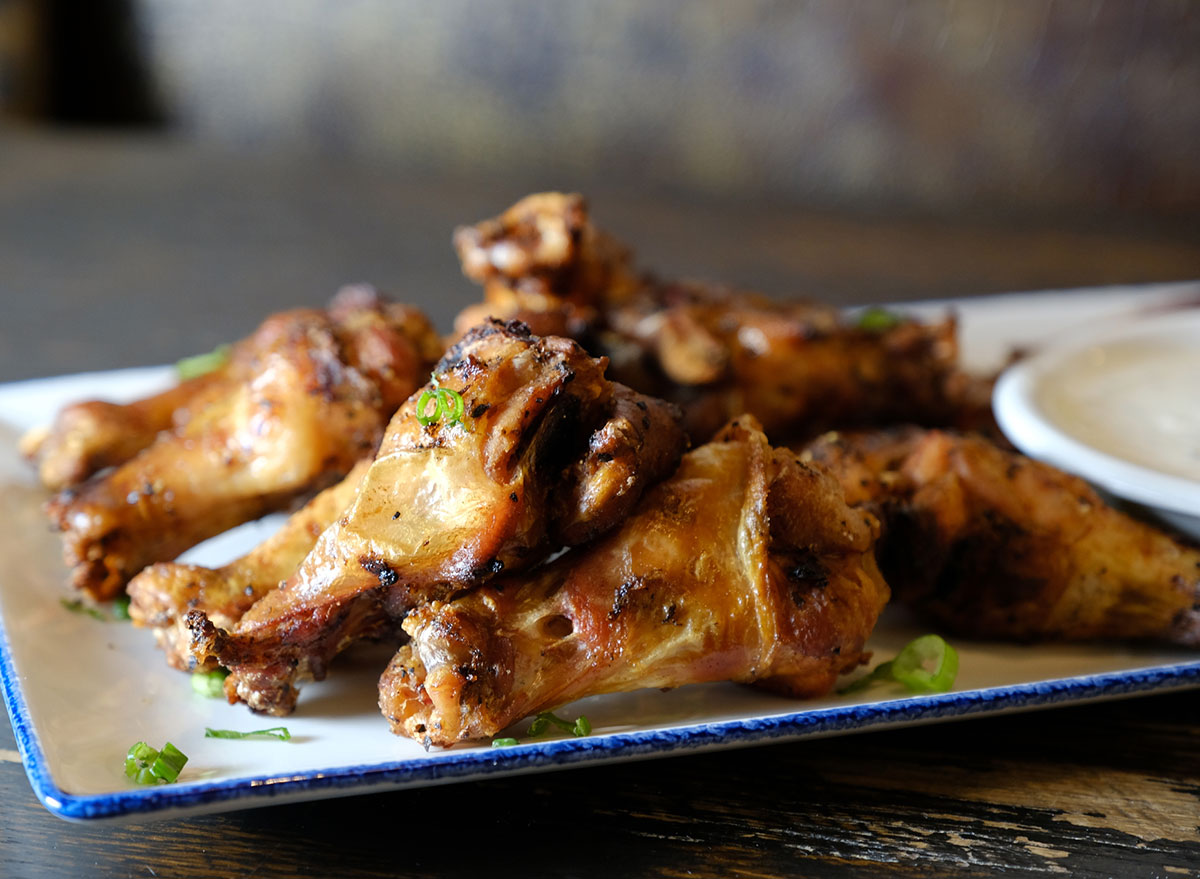 Ray "Dr. BBQ" Lampe, pitmaster at the namesake restaurant, has won plenty of awards for his 'que as an American Royal Hall of Fame pitmaster. What makes the Dr. BBQ wings super special is the dual cooking process: The wings are smoked to get that classic 'que flavor and then grilled to slowly render the fat from the meat.
GEORGIA: J.R. Crickets, Multiple Locations
This Georgia institution has been slinging wings since 1982 when the first J.R. Crickets opened in midtown Atlanta. The award-winning wings are smoked and then finished on a char grill. The restaurant keeps things simple with a handful of sauces done right.6254a4d1642c605c54bf1cab17d50f1e
HAWAII: Off the Wall in Honolulu
Skip the traditional buffalo wings and tear into a plate of chimichurri chicken wings at Off the Wall. Crispy wings are served with a bright chimichurri sauce over a bed of citrus coleslaw. Honolulu Magazine recognized them as the best wings on the island.
IDAHO: Edge Brewing Company in Boise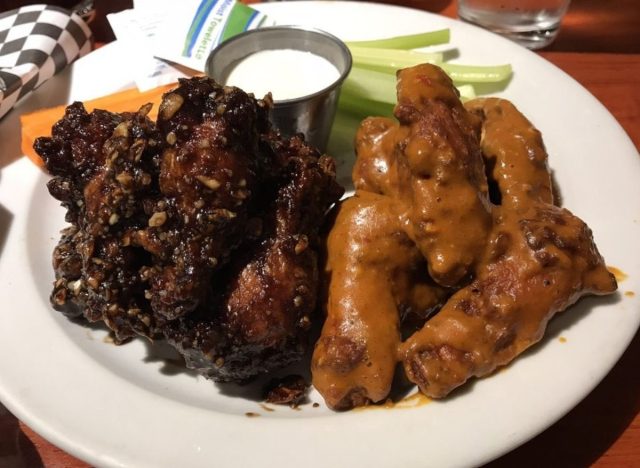 This brewery pays as much attention to the ambiance and cuisine as it does to the craft beer—and it shows. Their delicious wings have eight creative sauces that patrons are obsessed with including the ginger habanero and the peanut butter hot. One reviewer raved, "THE GASTRONOMY AT THIS PLACE IS ON ANOTHER LEVEL! The Ulti-MAC, peanut butter hot wings and brisket poutine are the menu items you don't want to skip. "
ILLINOIS: Crisp in Chicago
Only three people know how to make Crisp's top-secret sauce that draws a crowd. The Seoul Sassy double-fried Korean-style wings manage to be tangy, sweet, spicy, and smoky all in one.
INDIANA: Ale Emporium, Multiple Locations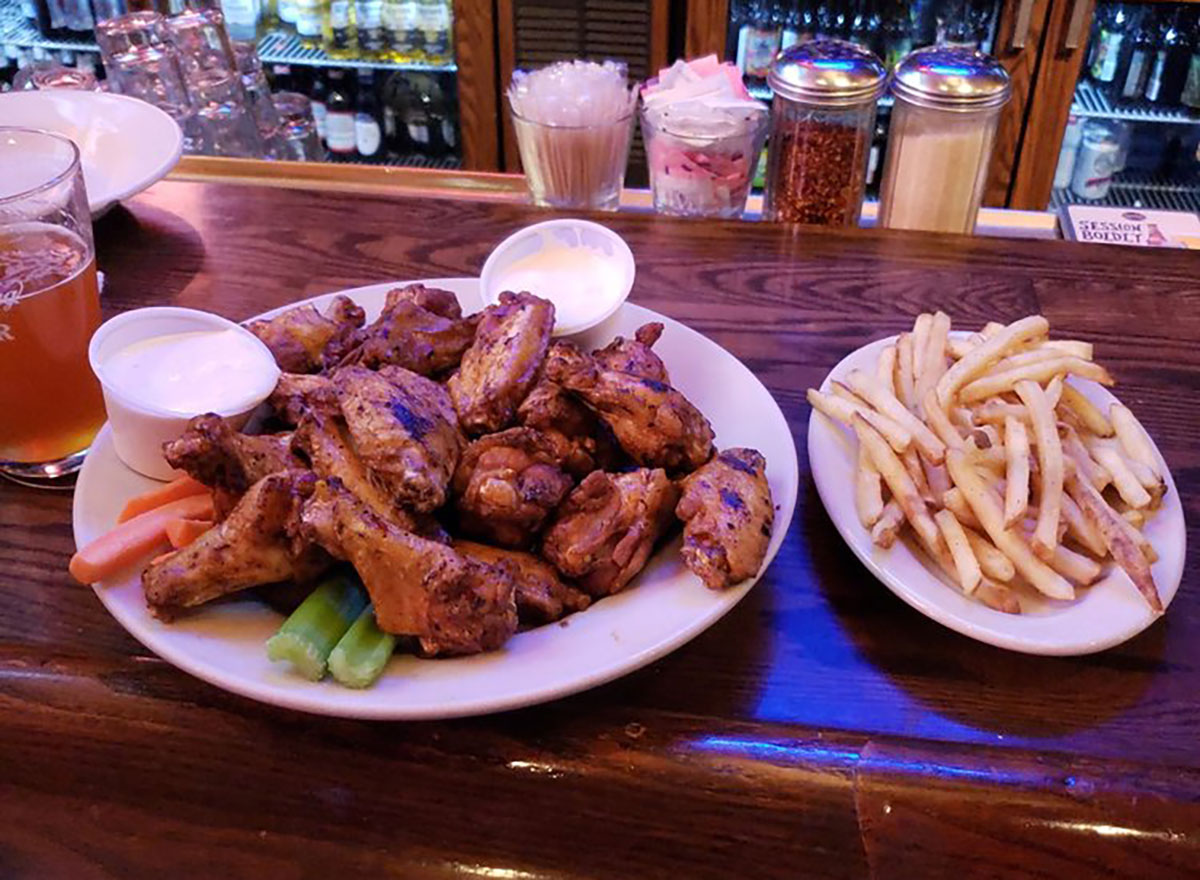 The award-winning Herman wing sauces are so good here, Ale Emporium slapped a trademark on its Hermanaki label, a secret blend of peppers and spices, plus Ale's secret sauce and a teriyaki sauce. There are so many secrets in this sauce, it might as well be classified.
IOWA: Jethro's BBQ in Multiple Locations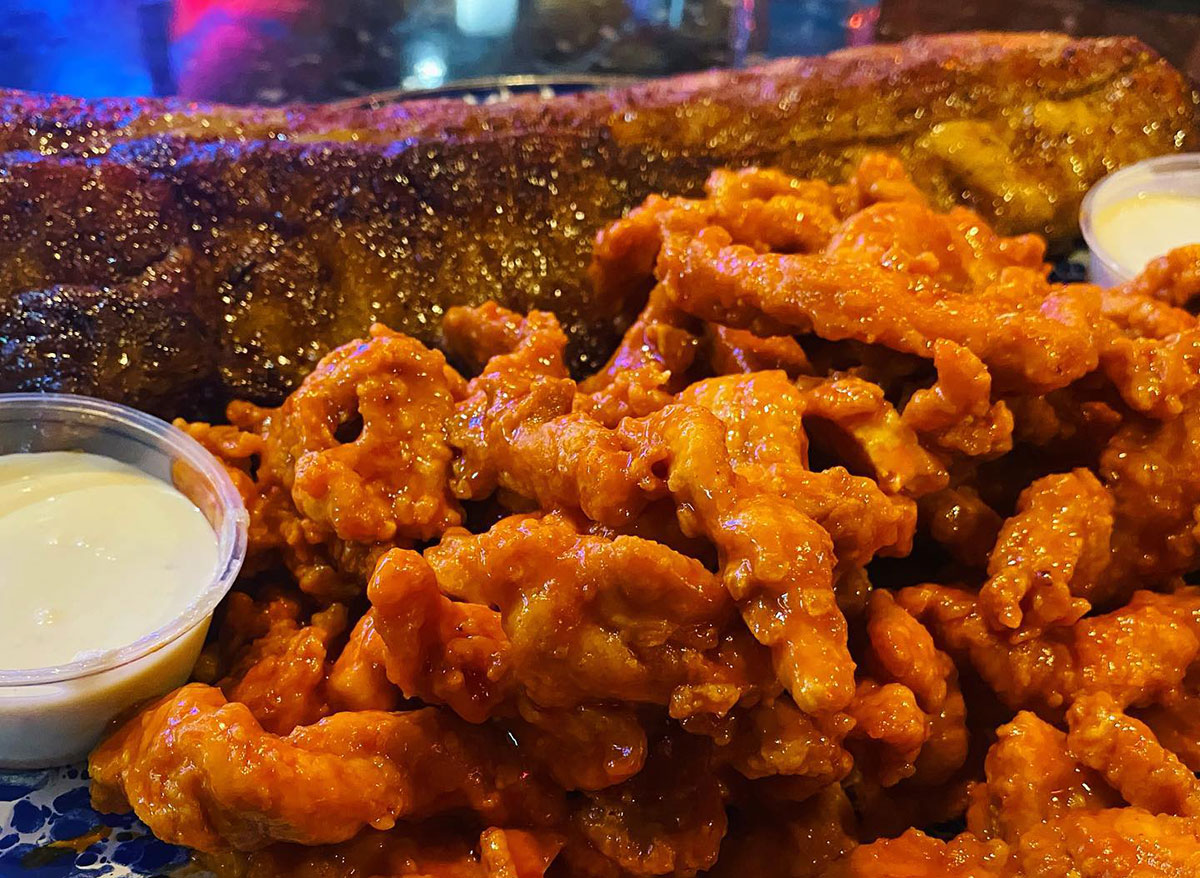 Jethro's BBQ is a regular on "best of" lists, was featured on Man v. Food, and even catered a backyard barbecue for former President Barack Obama. Slow-smoked wings get doused in handmade sauces, from Georgia mustard to garlic parm to buffalo sauce. Regulars will appreciate that Jethro's has a "sauce of the month," too.
KANSAS: Pam's Wings with Things in Wichita
"If I could add a commandment it would be 'Thou shalt not eat any other wings other than Pam's Wings with Things." That quote comes from a Google review that sings the praises of this Kansas wing joint. Sauces include lemon pepper, sweet heat, honey mustard, garlic Parmesan, and more.
KENTUCKY: Momma's BBQ in Louisville
"Good smoke, nice rub." That's the approval Guy Fieri gave these wings when he visited Momma's BBQ for an episode of Diners, Drive-Ins, and Dives. The wings are fried in peanut oil, and the owner attributes the great taste to his Momma's recipe. You're in Kentucky; pair it with a bourbon slushie.
LOUISIANA: Bayou Hot Wings in New Orleans
Creating the perfect chicken wing is an exercise in patience at Bayou Hot Wings, where the team seasons and brines the chicken for a full 24 hours. To see the process through, Bayou Hot Wings has its own creole seasoning blend and house-made sauces, too, like a zesty remoulade and creamy buttermilk ranch.
MAINE: Figgy's Takeout and Catering in Portland
Lightly battered and double-fried, the Korean-style chicken wings on this comfort food-themed menu come in two sauce choices: sweet and spicy or garlic soy. Figgy's Takeout and Catering is led by Chef Figgy, an alum of Chopped.
MARYLAND: iBar in Baltimore
iBar claims to build on the famous buffalo wings that originated at Anchor Bar in Buffalo. They give them minced garlic and Parmesan treatment and have won over wing fans at the Baltimore Sun.
MASSACHUSETTS: FIYA Chicken in Boston
Get your KFC (Korean Fried Chicken, that is) fix from FIYA Chicken, a Boston spot that Yelp reviewers favor. The signature sauce on these twice-fried wings is made with a half dozen different peppers, brown sugar, and chili oil.
MICHIGAN: Coop in Detroit
Coop sources chicken from a local farm and gives it a 24-hour marinade with a blend of Asian and Caribbean flavors. The wings get a guava barbecue sauce. For a memorable meal, team them up with the Caribbean corn that's slathered in cilantro aioli, and topped with toasted coconut, queso fresco, bacon crumbles, and Old Bay.
MINNESOTA: B.A.D Wingz in Minneapolis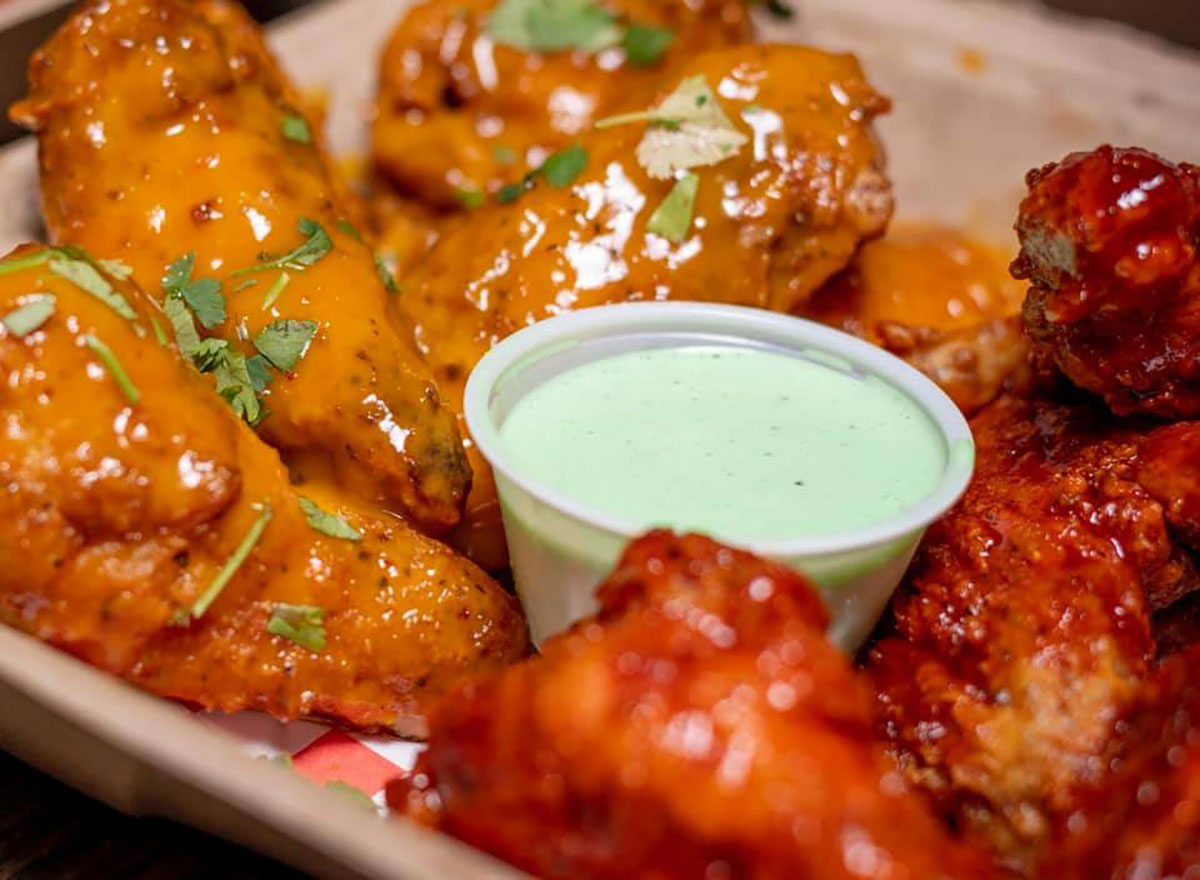 Diplomatic and delicious, B.A.D Wingz has something on its menu for everyone, including vegans and vegetarians. Try drenching your wings in Cashville Hot, a spin on Nashville's hot sauce that's sweetened up with a little brown sugar. You'll want to be a repeat customer here; there's a "sauce of the month" (think: sticky blueberry hoisin).
MISSISSIPPI: Blue Canoe in Tupelo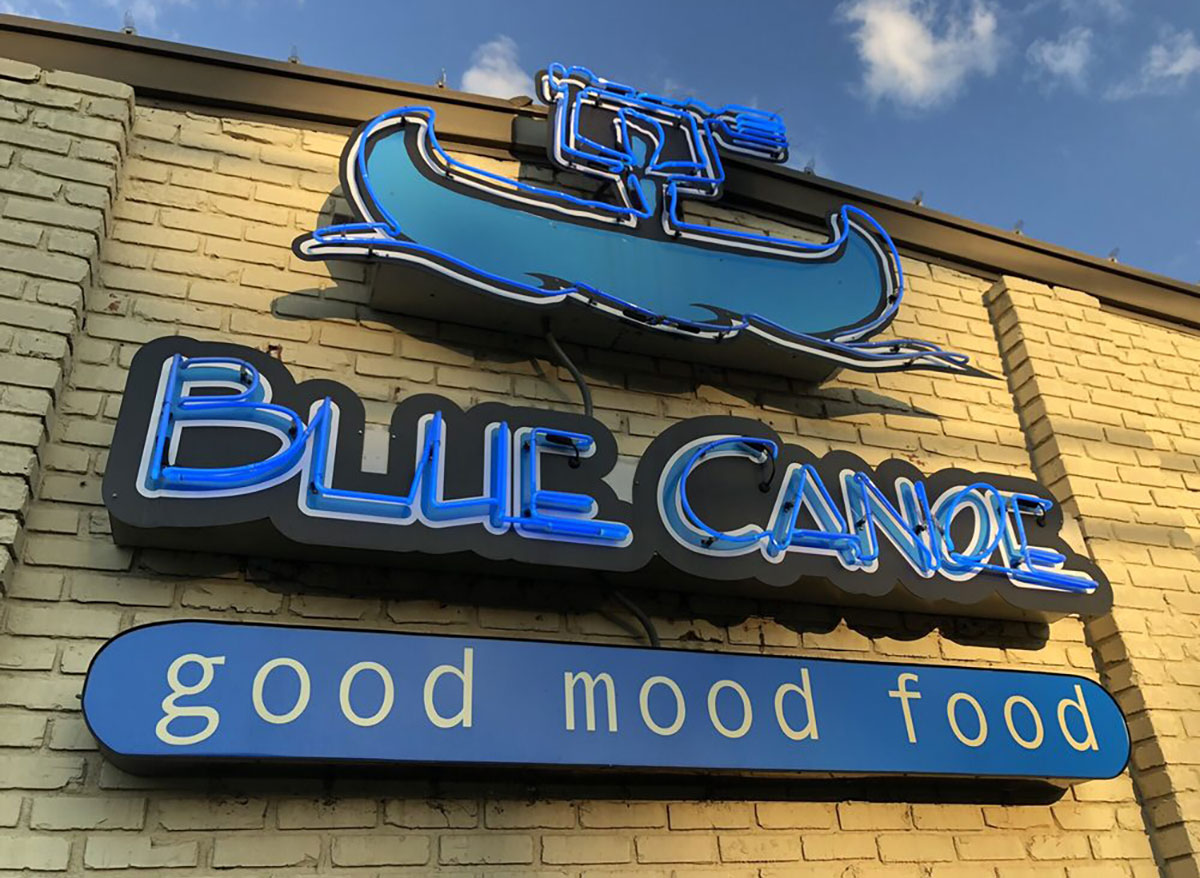 If you're looking for the South's next big food scene, turn your attention to Tupelo. The Blue Canoe may get the most love (and awards) for its burgers and desserts. But the wings are bidding for some attention, too, with Memphis, Cajun, or lemon pepper dry rubs. Live music every night provides the soundtrack here.
MISSOURI: O! Wing Plus in Rock Hill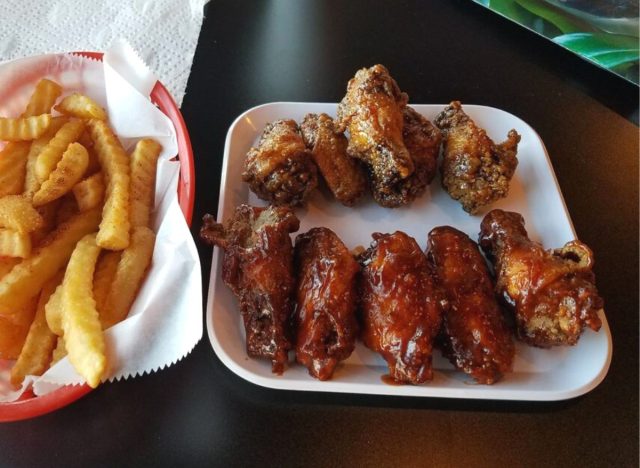 This place specializes in great chicken wings and has nine different sauces to pair them with ranging from the mild Bee Bee Q, to the tasty Thai Chili Lime, to the super hot Beast Mode. Reviewers say this is the place in St. Louis wings, "Favorite wings in STL and I've tried them all. Perfectly crispy every time and the flavors are on point."
MONTANA: Brando's Wing Co. in Bozeman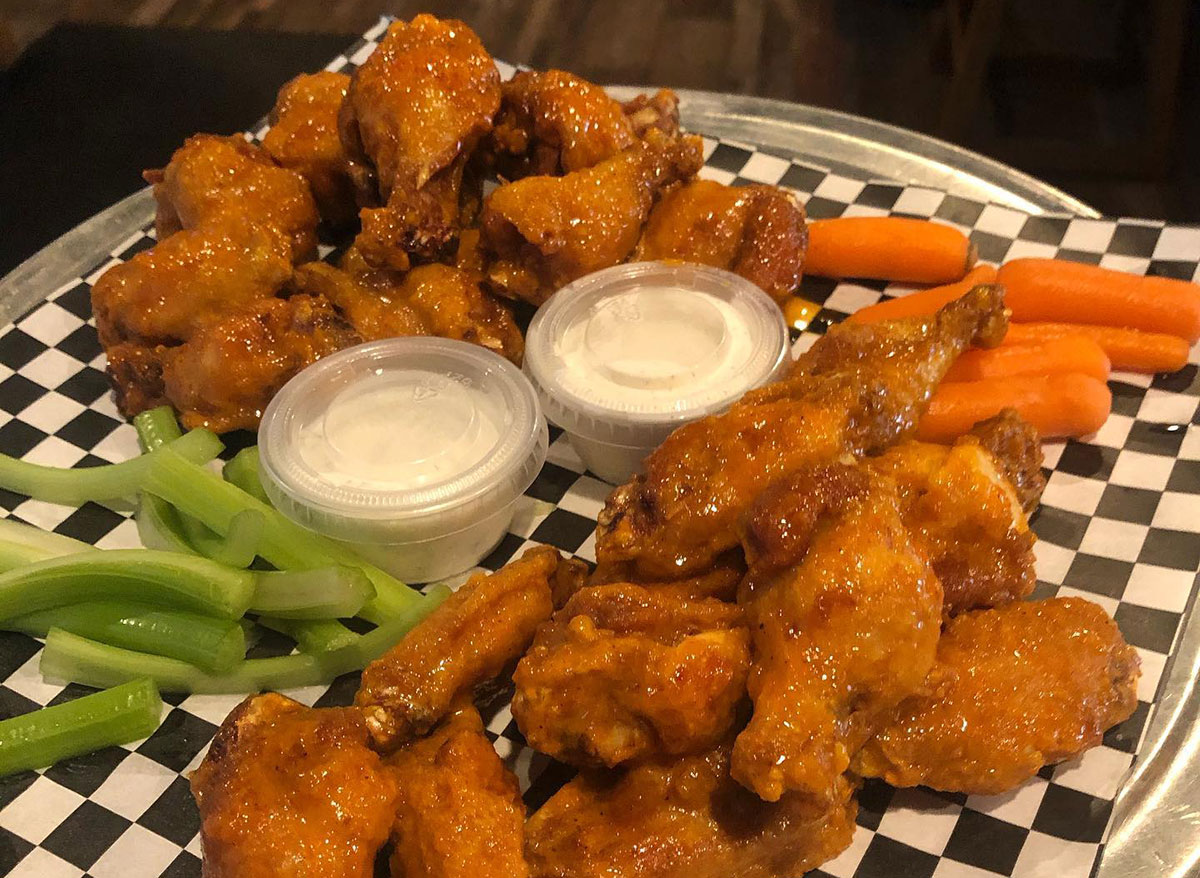 Make #WingWednesday a thing; Brando's Wing Co. has all-you-can-eat wings and fries to push you over the mid-week slump. Wing lovers will appreciate the "Buffalo Fries" that come topped with Buffalo sauce, blue cheese crumbles, and green onions.
NEBRASKA: Oscar's Pizza and Wings in Omaha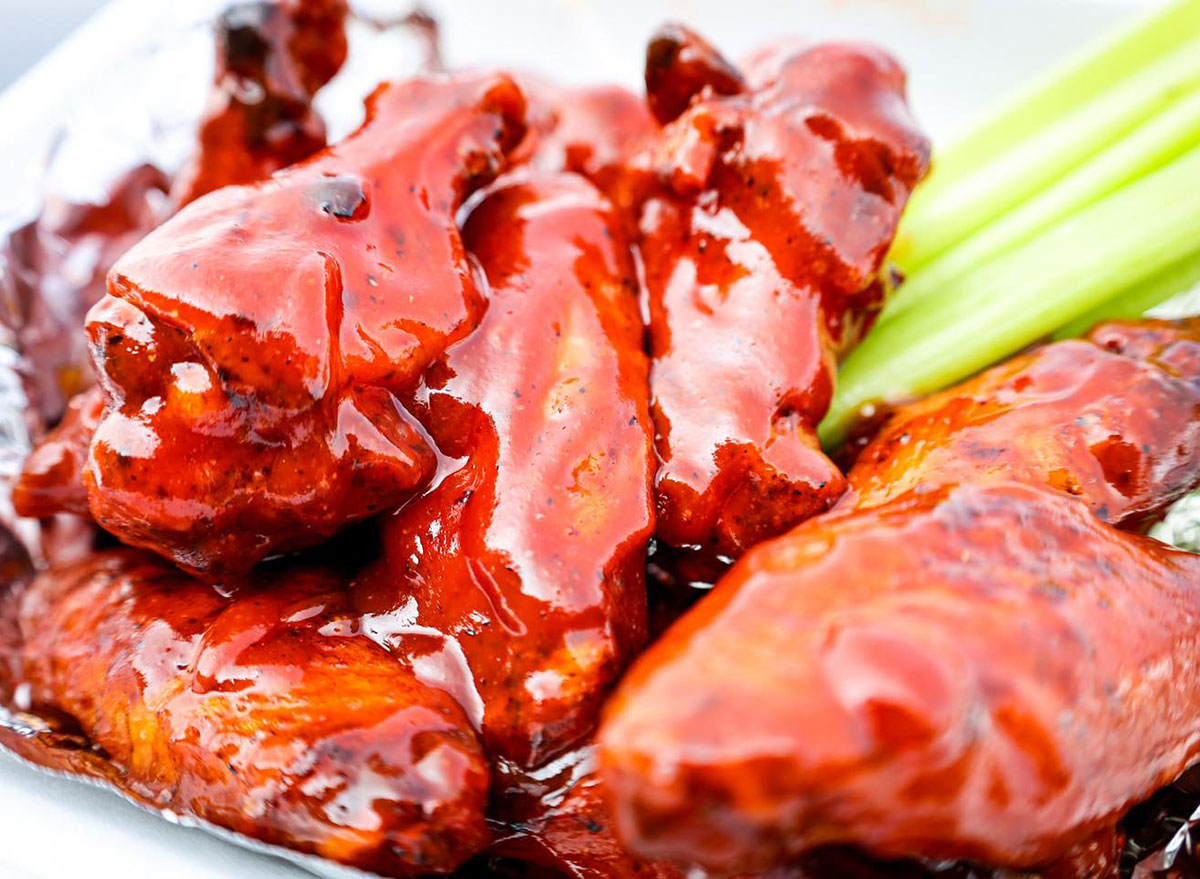 Lots of pizzerias add wings to their menus as an afterthought. But Oscar's Pizza and Wings pays special attention to its poultry. The char-buffed wings are traditional wings finished on the grill to give the sauce a baked-on taste. The Thai Chili Bourbon sauce is Oscar's latest wing flavor.
NEVADA: Noble Pie Parlor in Reno
Guy Fieri visited Noble Pie Parlor for an episode of Diners, Drive-Ins, and Dives and gave this endorsement: "If you want a wing that has more flavor in one than most do in a dozen wings, this is the wing to have." The famed "Burg" style wings are double-fried and coated in a specialty sauce then tossed with Parmesan, garlic, and scallions. They've also taken home awards from the Biggest Little Wing Fest.
NEW HAMPSHIRE: Wing-Itz in Portsmouth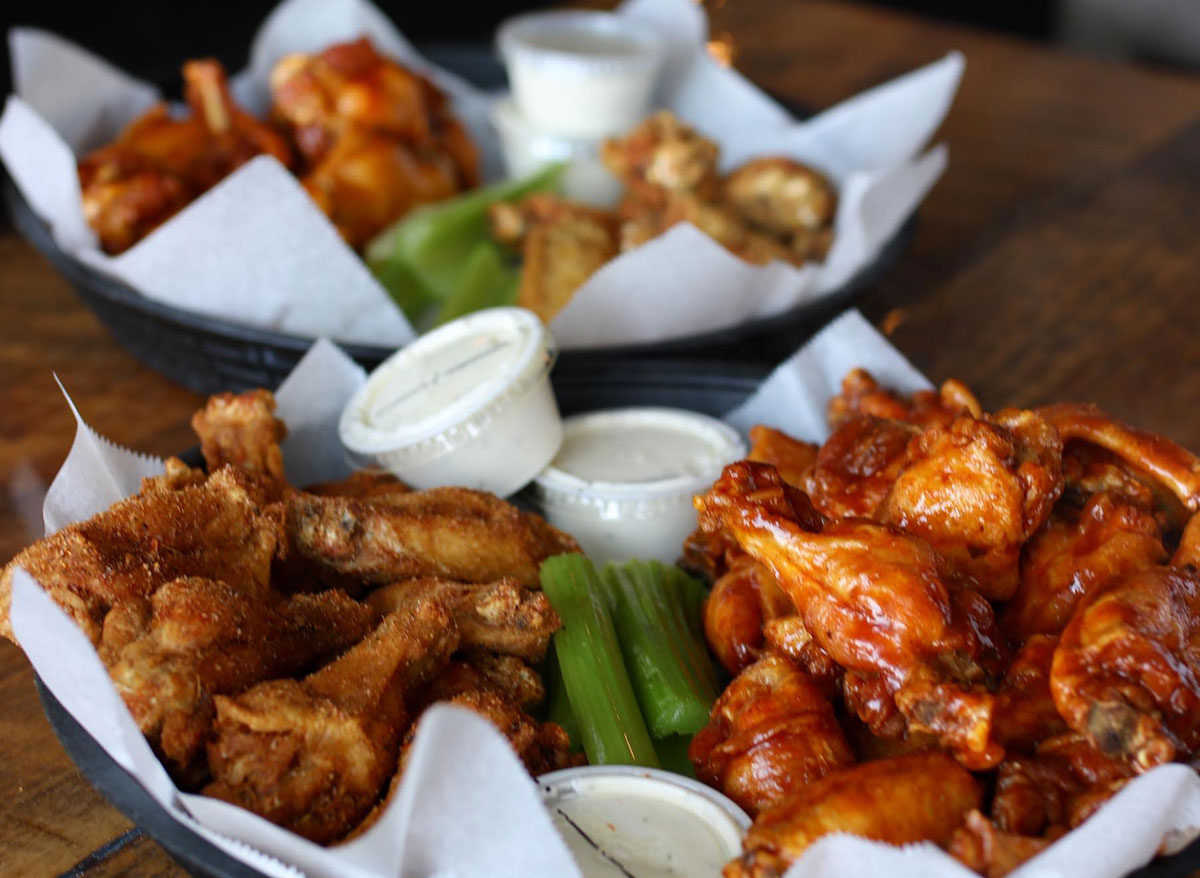 With more than a couple dozen sauces, Wing-Itz makes a claim as bold as its El Diablo buffalo sauce and says it has the largest sauce selection in New England. One thing is for sure: Yelp reviewers love this spot. One reviewer says Wing-Itz isn't just the best wing spot in New Hampshire but the best along the entire seacoast.
NEW JERSEY: The Wing Kitchen, Multiple Locations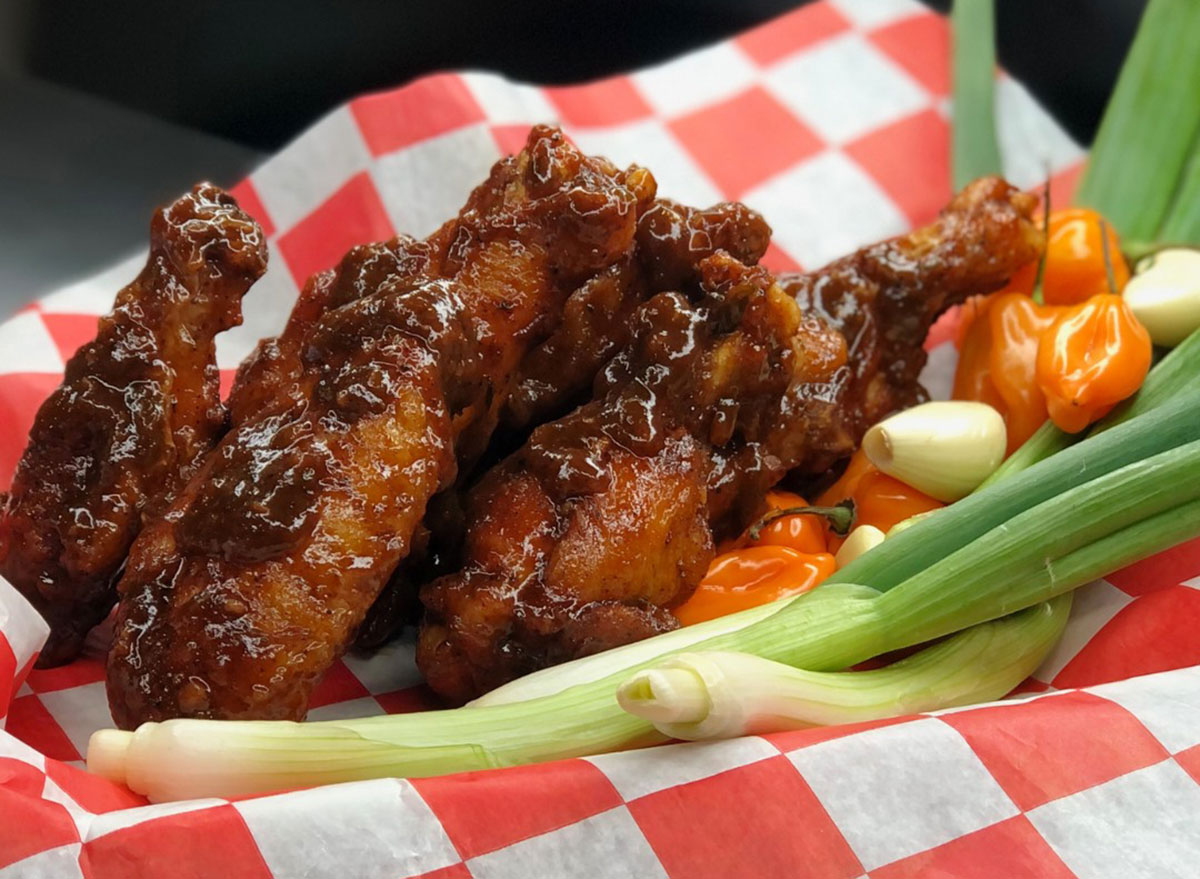 We double dare you to order your crispy chicken wings with the "numb tongue" sauce. The Wing Kitchen, led by Chopped winner Tim Witcher, has a vegan cauliflower dish that's marinated in hot sauce.
NEW MEXICO: Del Charro in Santa Fe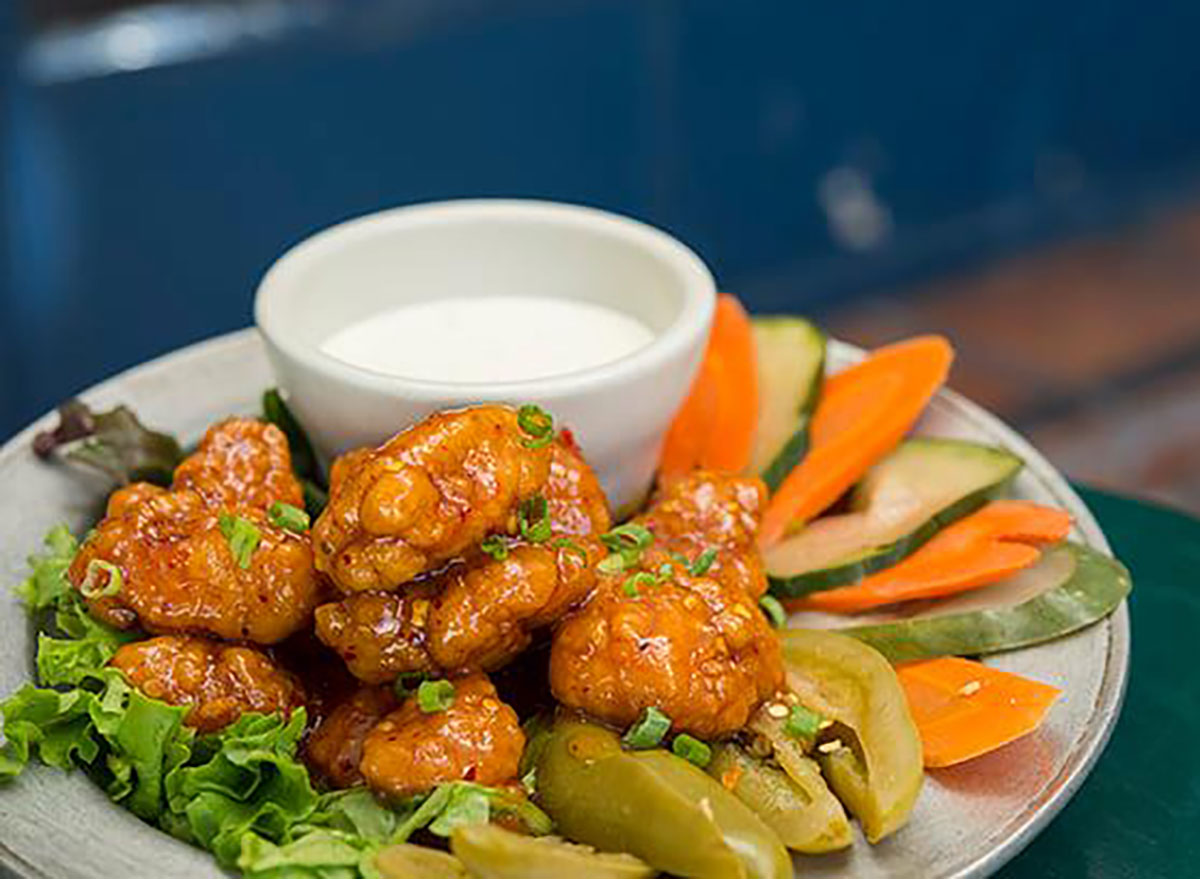 Follow the Santa Fe Margarita Trail into Del Charro's and get started with a house marg. This Santa Fe watering hole has won lots of local awards, including one for its marinated chipotle wings.
NEW YORK: Anchor Bar in Buffalo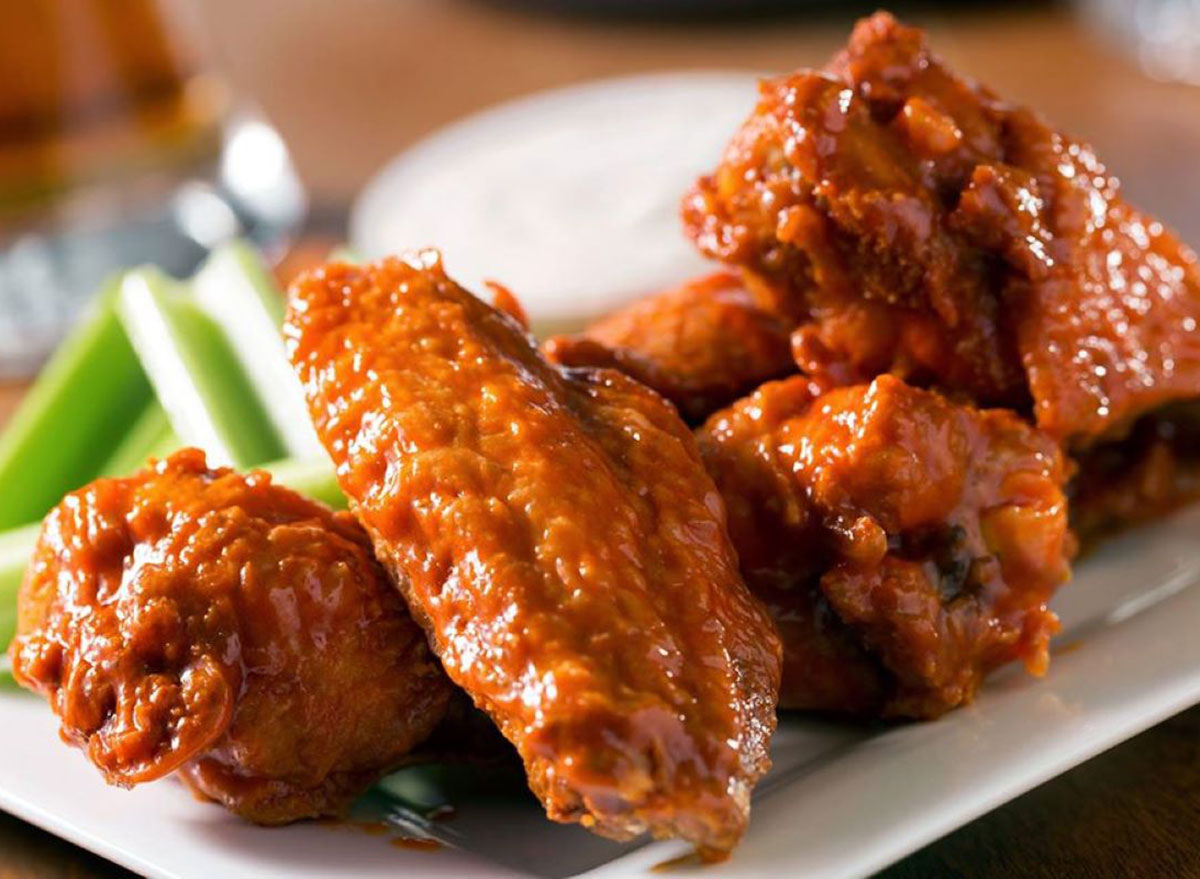 The National Chicken Council credits Anchor Bar in Buffalo, New York for creating the almighty buffalo chicken wing. Anchor Bar has multiple locations today, including Buffalo and the Buffalo airport, where you can eat wings drenched in the original Buffalo sauce. It's a must-visit for any chicken wing lover.
NORTH CAROLINA: Buffalo Brothers, Multiple Locations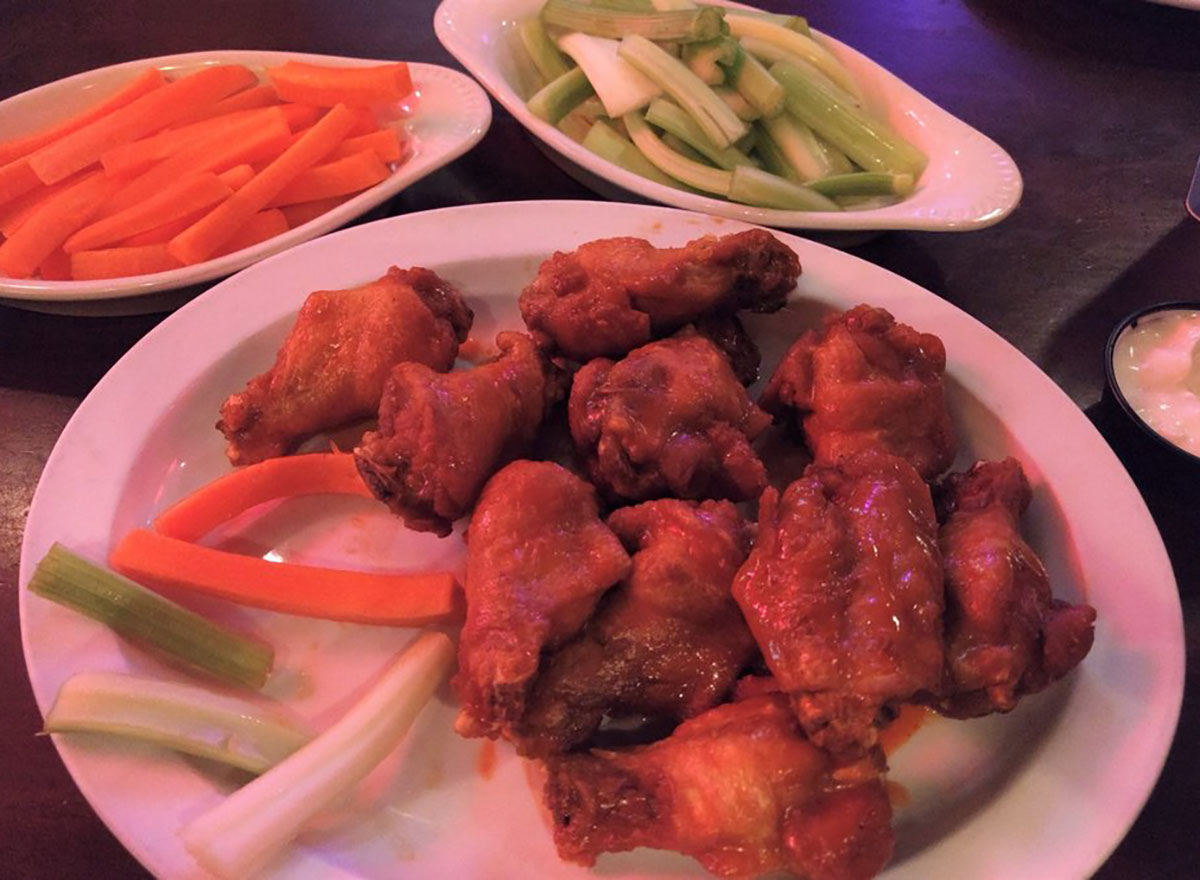 Buffalo Brothers is the real deal. The restaurant got its start in Buffalo, New York, the home of buffalo wings. With multiple locations in North Carolina, the menu features buffalo wings, tenders, and shrimp. There's also a buffalo dip, wrap, and sandwich.
NORTH DAKOTA: Parrot's Cay Tavern & Grill in Grand Forks
A cajun-style hole-in-the-wall in Grand Forks, Parrot's Cay serves wings that have plenty of fans. Try the "shark-style" ones that are a blend of Buffalo and barbecue sauces.
OHIO: Wing Champ in Cincinnati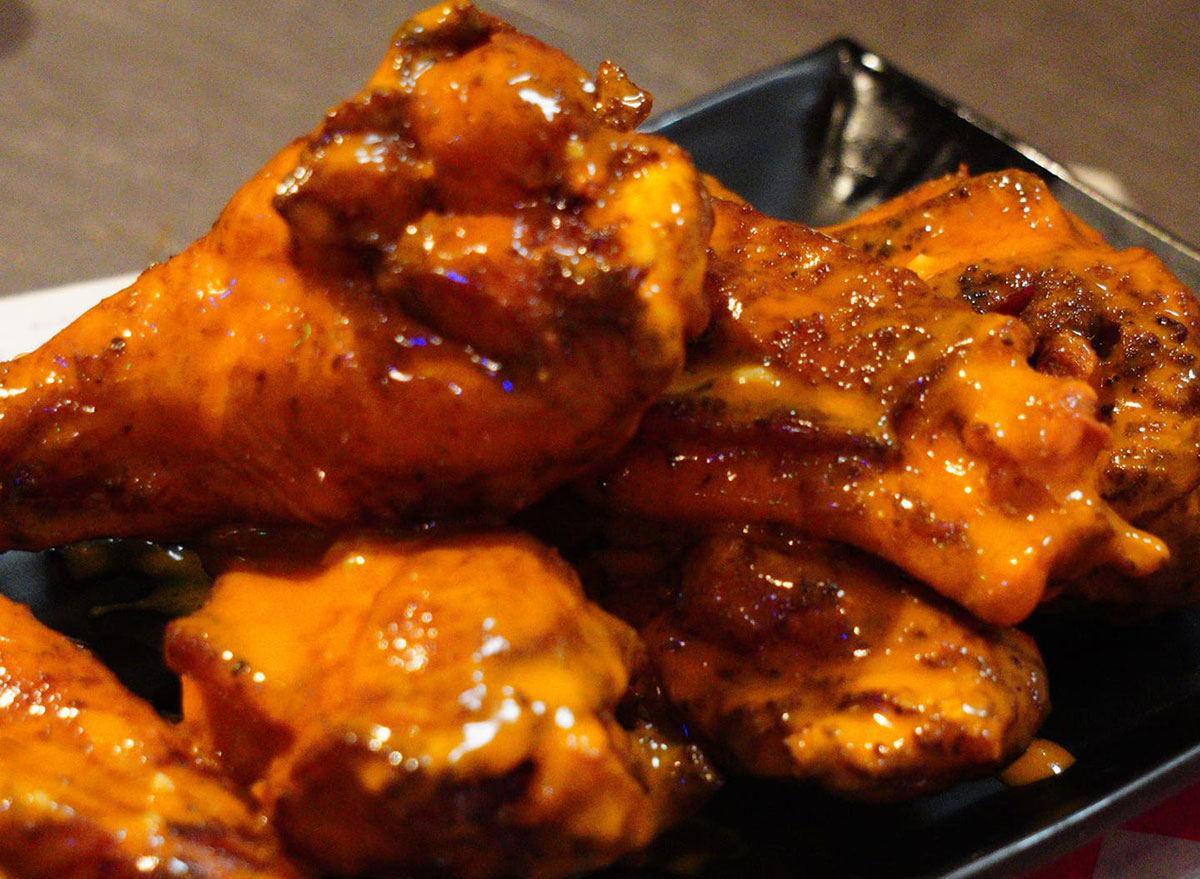 Yelp reviews of Wing Champ look more like love letters. This Cincinnati restaurant gets extra creative with its dry rubs, with pomegranate red bell pepper, tequila lime, and many more on the menu. Sop up your sauce with the honey cornbread.
OKLAHOMA: Nashbird, Multiple Locations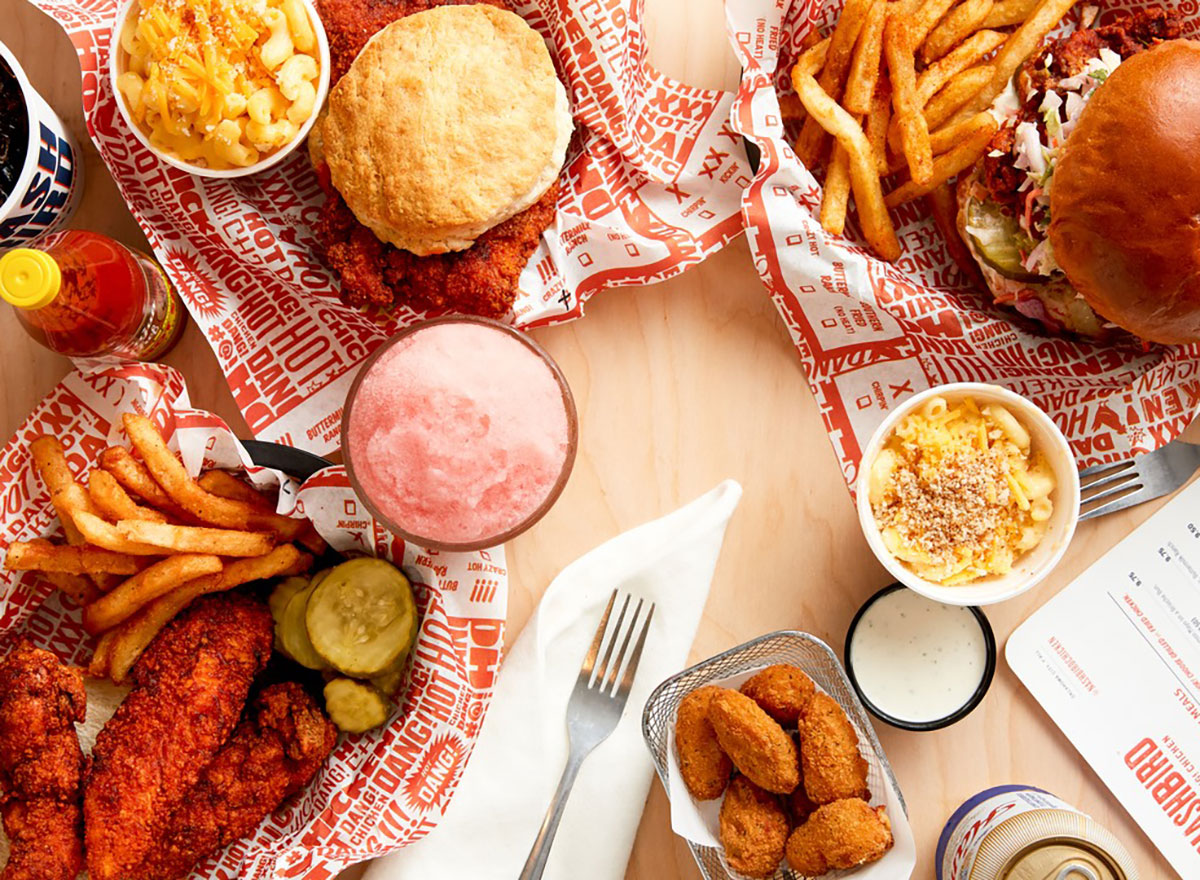 A hot chicken counter service restaurant serves jumbo wings by the bucket load. The best part? You can dunk these Nashbird chicken wings in a pickle ranch.
OREGON: Fire on the Mountain, Multiple Locations
Fire on the Mountain has nabbed several awards from the Buffalo Wing Festival over the years, including accolades for its lime-cilantro and voodoo ranch. The Portland-based wing institution, over the years, has expanded its empire with a brewing company and by selling some of its best sauces online. At the restaurants, sauces range in heat from sweet barbecue to mouth-burning El Jefe. Fire on the Mountain even has vegan wings: soy protein wrapped around a sugarcane "bone."
PENNSYLVANIA: Wishbone in Philadelphia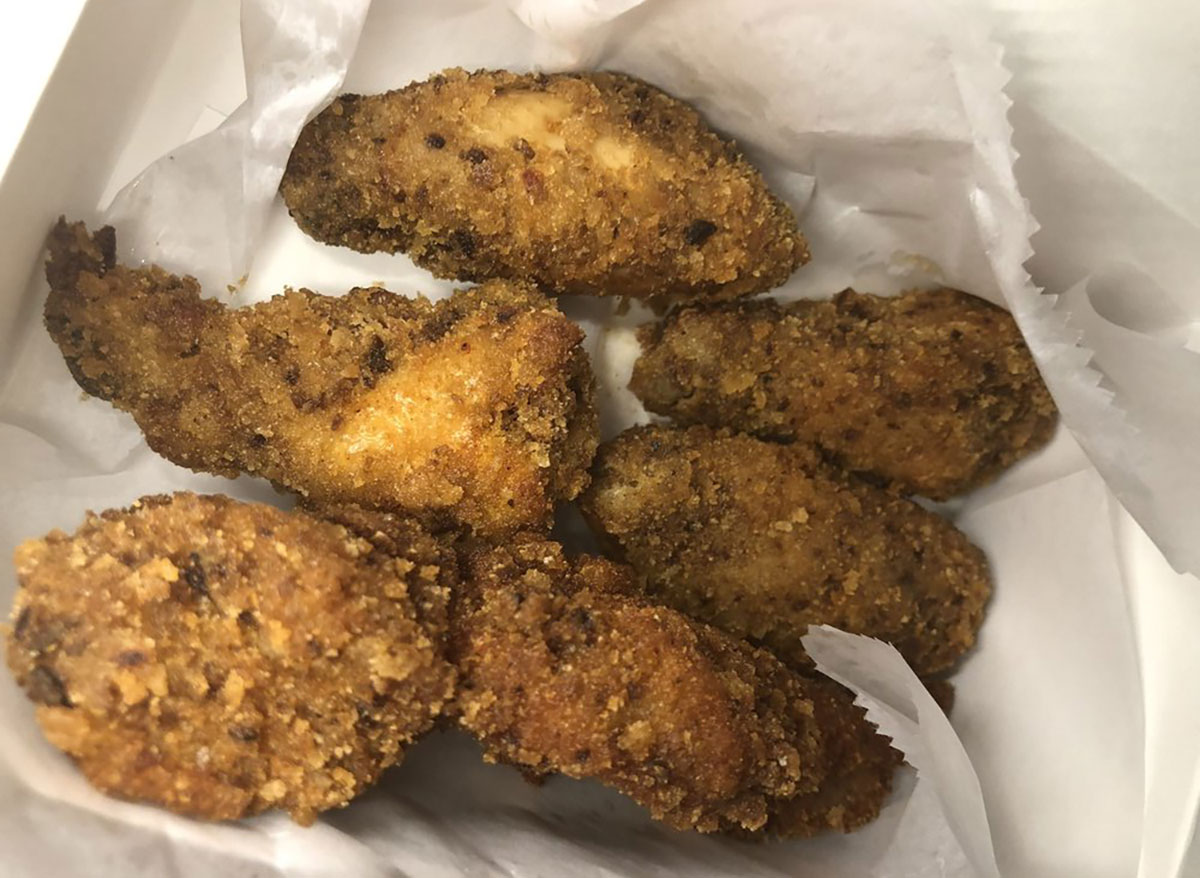 Buttermilk battered chicken wings at Wishbone are made with a signature pretzel crust. To round out the experience, dunk the wings in craft dipping sauces like Parmesan Pesto or Tamarind Sweet Chili.
RHODE ISLAND: Boneheads Wing Bar in West Warwick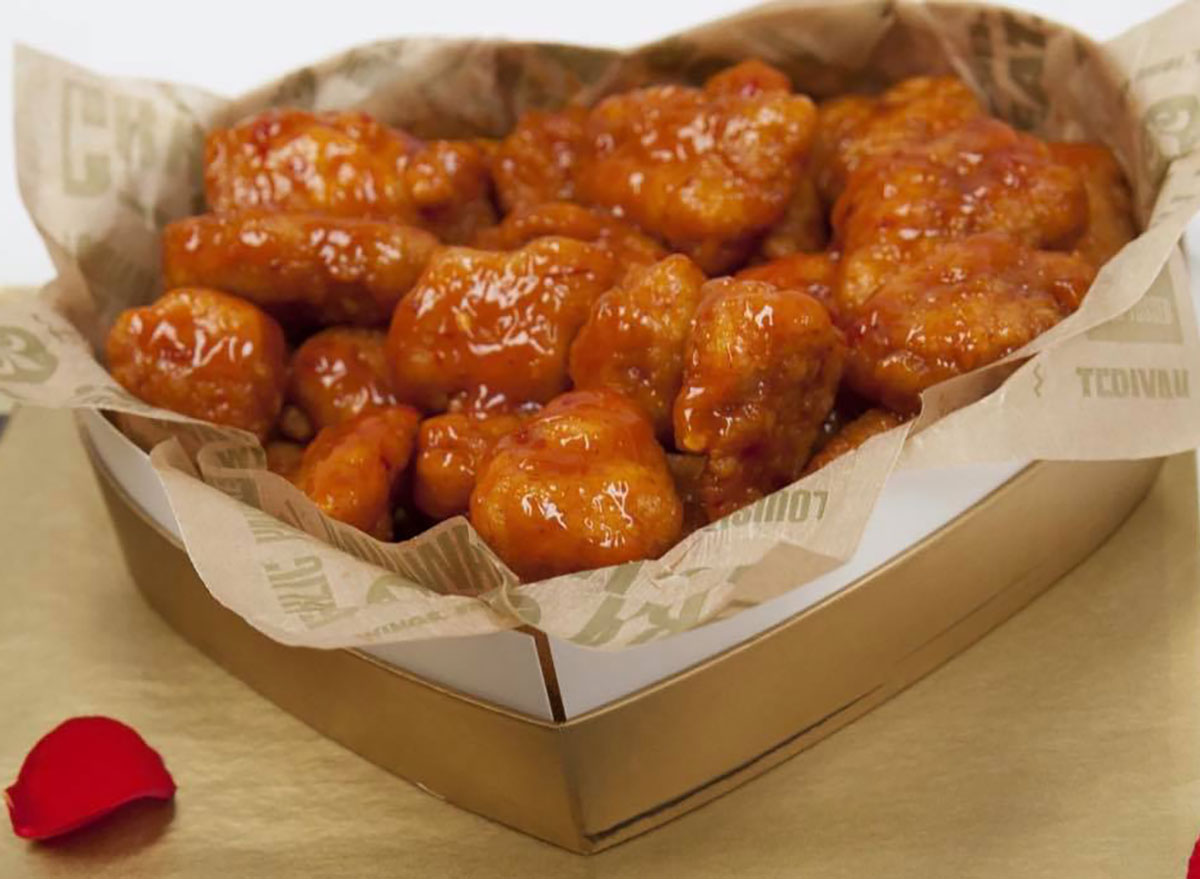 Boneheads is a bonafide destination for wing lovers. The wings here have won multiple awards and the restaurant was featured on the Travel Channel's Food Paradise. You'd be hard-pressed to find a more diverse wing menu. The dry rubs are extra inventive (think: a razzamatazz with raspberry and pepper sauce, plus Mountain Dew syrup).
SOUTH CAROLINA: TNT Hot Wings in Spartanburg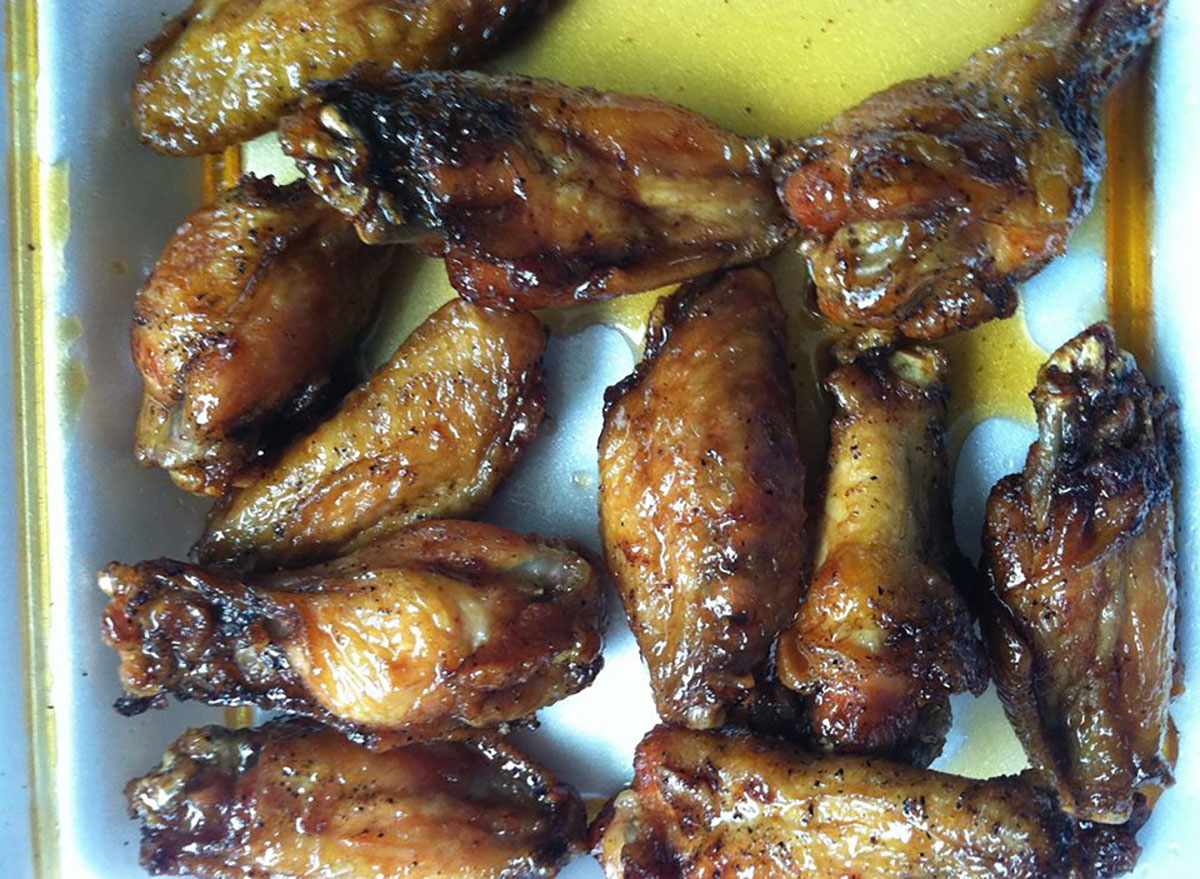 Chef Terrance Tyson, who grew up in St. Croix, has enjoyed making spicy dishes inspired by the Virgin Islands. At every social function, his friends would request him to "make some of those wings." They're now available to the masses at TNT Hot Wings, with sauces on the menu divided into three categories: hot, tasty, or sweet.
SOUTH DAKOTA: Firehouse Brewing Co. in Rapid City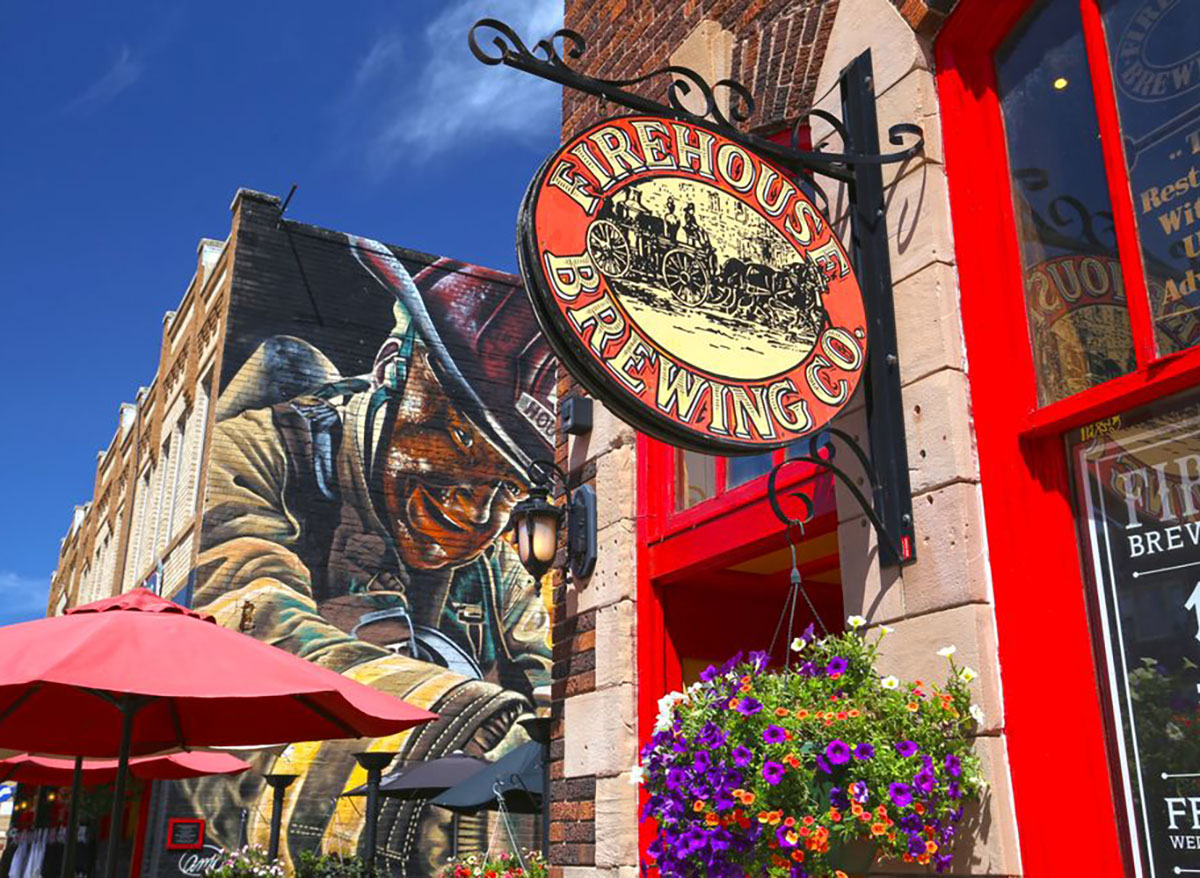 The oldest brewery in the state, Firehouse Brewing Co. is housed in a century-old firehouse. Good thing; you might need help extinguishing the fire from the "Hyperventilation Wings," which are house-breaded, deep-fried, and served with a fiery cayenne pepper sauce.
TENNESSEE: HoneyFire BBQ in Nashville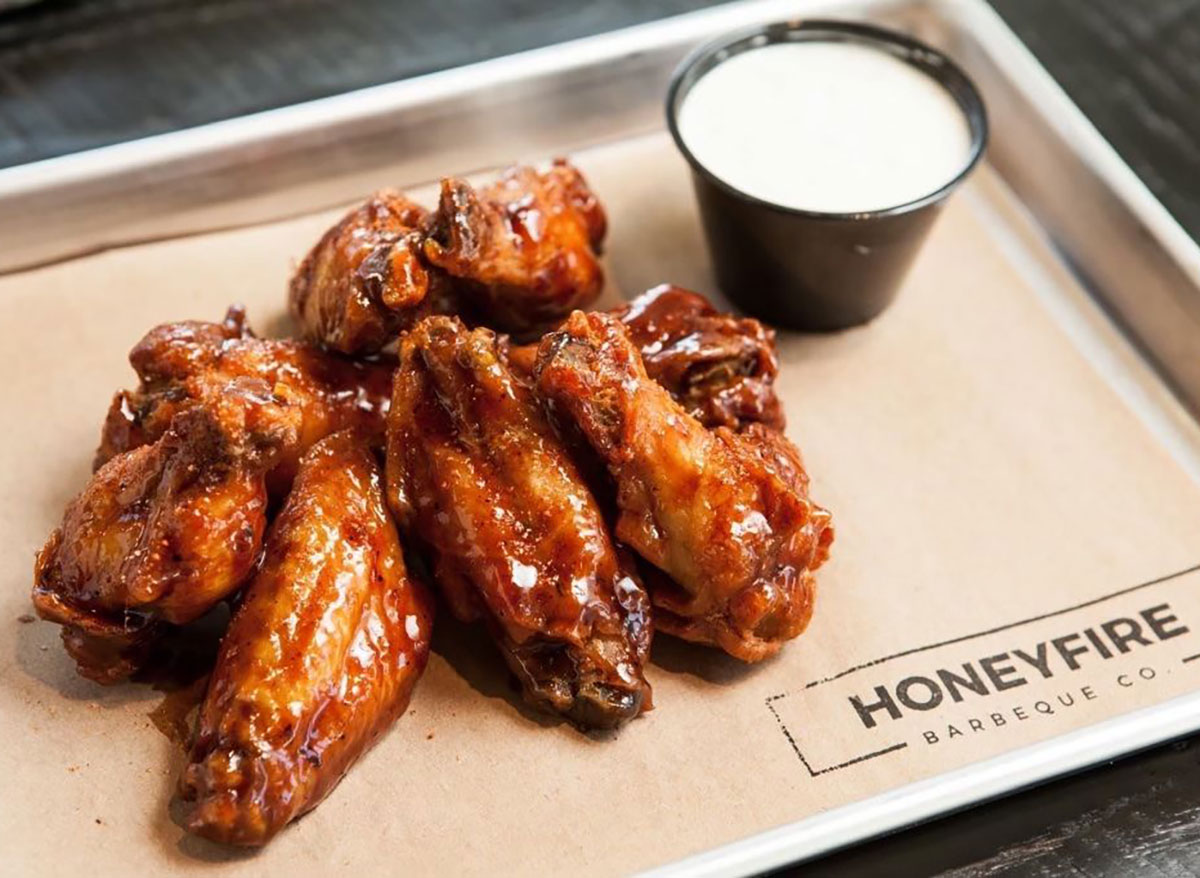 The wings at HoneyFire BBQ are smoked by pitmaster Shane Nasby, then flash-fried. Right before they're served, they get a little shake of HoneyFire's signature dry rub, which is a wonderful blend of sweet-heat spices and dehydrated honey. They're available in four varieties: dry rub, original BBQ, traditional buffalo, and Alabama white.
TEXAS: Breakfast Brothers in Arlington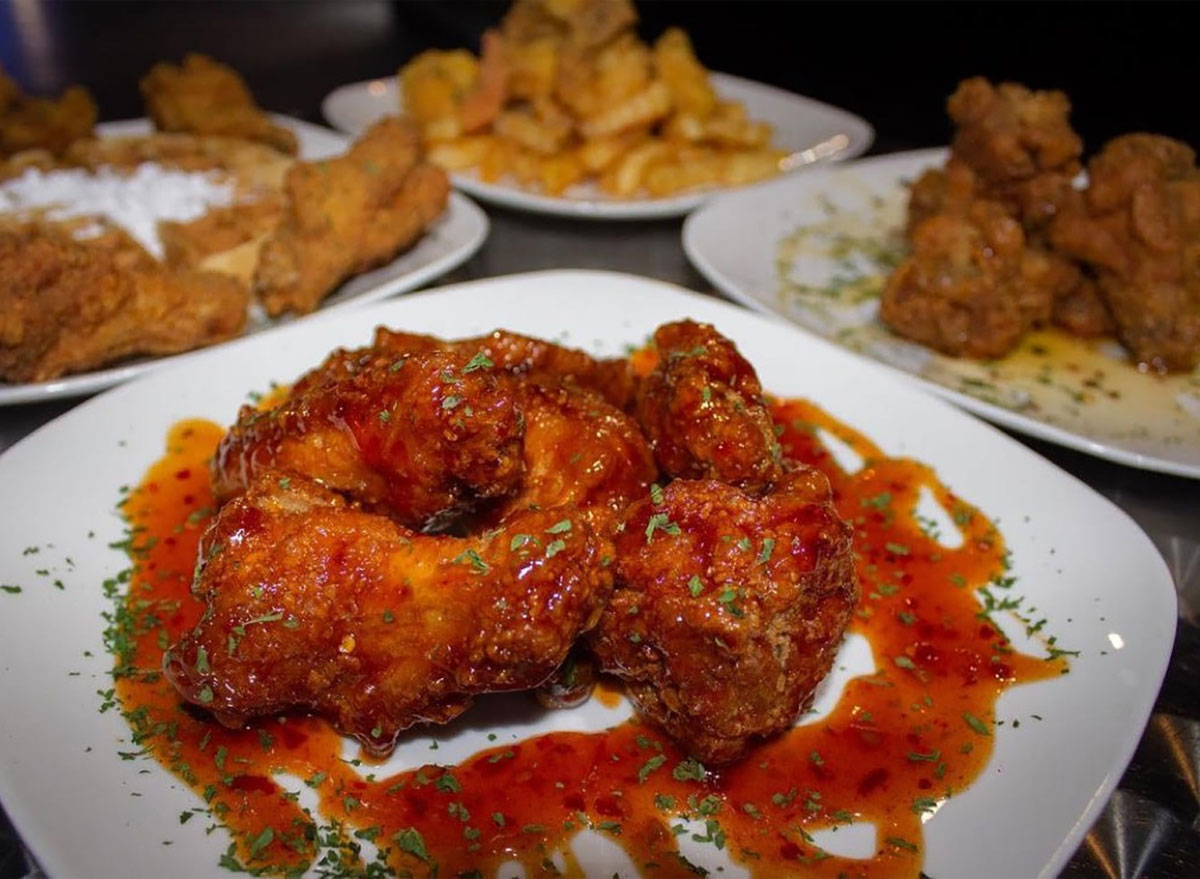 You've had chicken and waffles. But have you graduated to Crack Wings and Red Velvet Waffles, yet? The Breakfast Brothers started selling their "Crack Wings" from a food truck to the Dallas nightlife scene. After many sell-out weekends, they spread their wings (get it?) and opened up their first franchise in Arlington. The creative breakfast menu is attracting locals as well as celebs from all over the South.
UTAH: SugarHouse Barbecue in Salt Lake City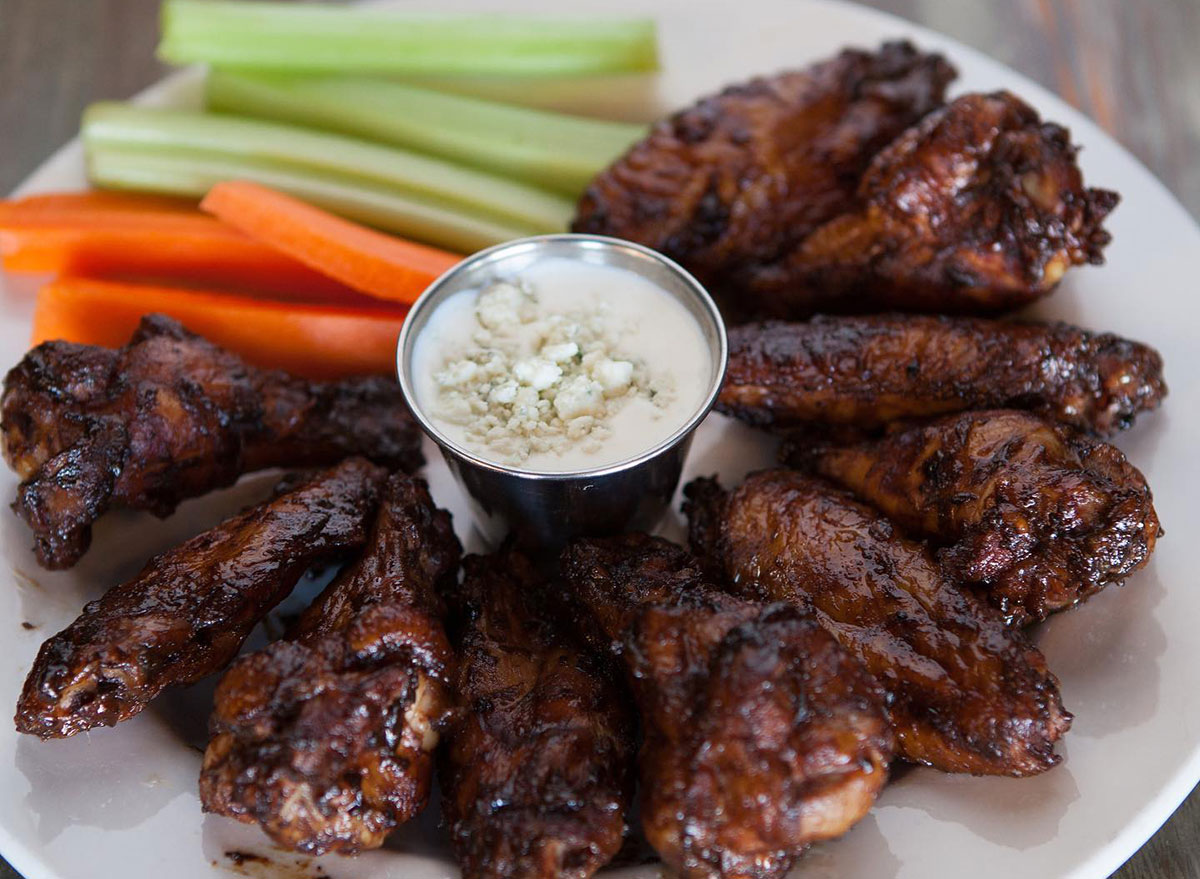 Large chicken wings seasoned with a house blend of spices and then smoked with cherry wood are a star of the menu at this Memphis-style BBQ joint in Salt Lake City.
VERMONT: Nectar's in Burlington
Vermont may not be known for barbecue. But it's got maple syrup, and Nectar's makes in-house sauces like maple sriracha and maple garlic to slather on its Vermont-style wings.
VIRGINIA: Stupid Good BBQ at Good Eats Emporium in Sterling
A relative newcomer to the barbecue scene, Stupid Good BBQ and Wings is receiving rave reviews from fans and critics. Sauce options draw from the best barbecue regions across the country, including an Alabama white that's ideal for smoked and grilled wings, as well as a Memphis-style house sauce, a Carolina-style mustard sauce, and a tomato-based Texas sauce.
WASHINGTON: Chi Mac in Bellevue and Seattle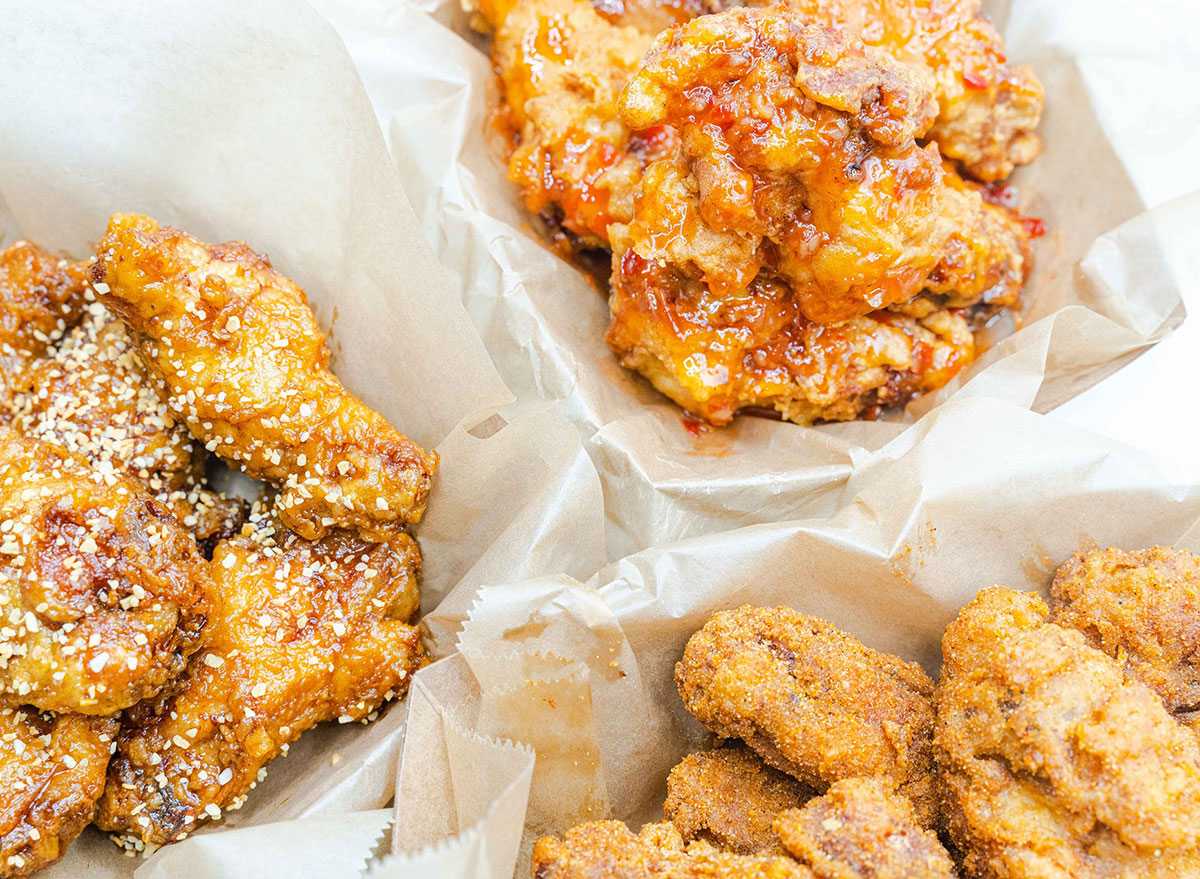 Chi is short for Chicken in English, and Mac is short for Beer, or "maekju" in Korean. Combine the two, and you've got Chi Mac, a beloved chicken and beer spot serving Korean-style chicken wings served with a gochujang-based sauce and Snow wings lightly dusted with Parmesan and onion powder.
WEST VIRGINIA: The Cold Spot in Multiple Locations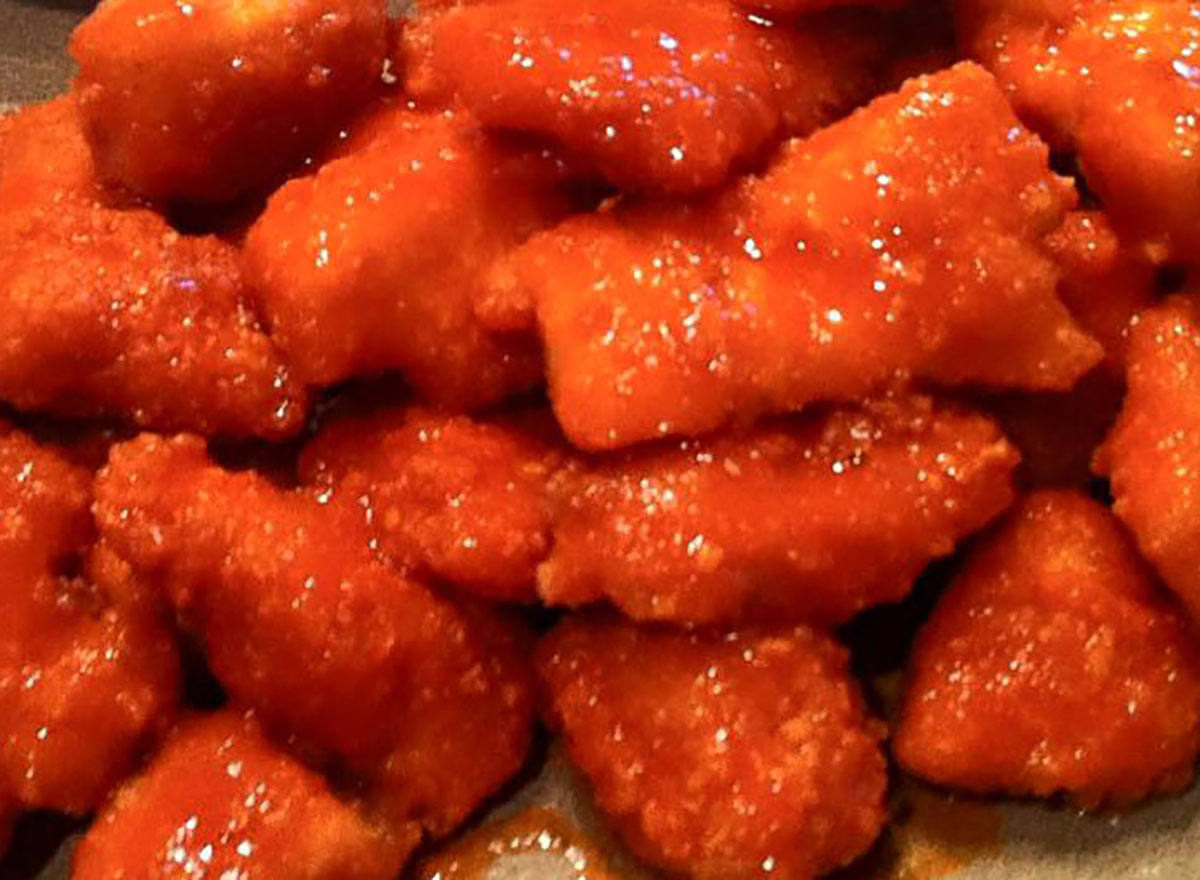 With an option to add garlic to any flavor, the wings at The Cold Spot win local awards. The sports bar also sells burgers, sandwiches, and salads.
WISCONSIN: Alchemy Cafe in Madison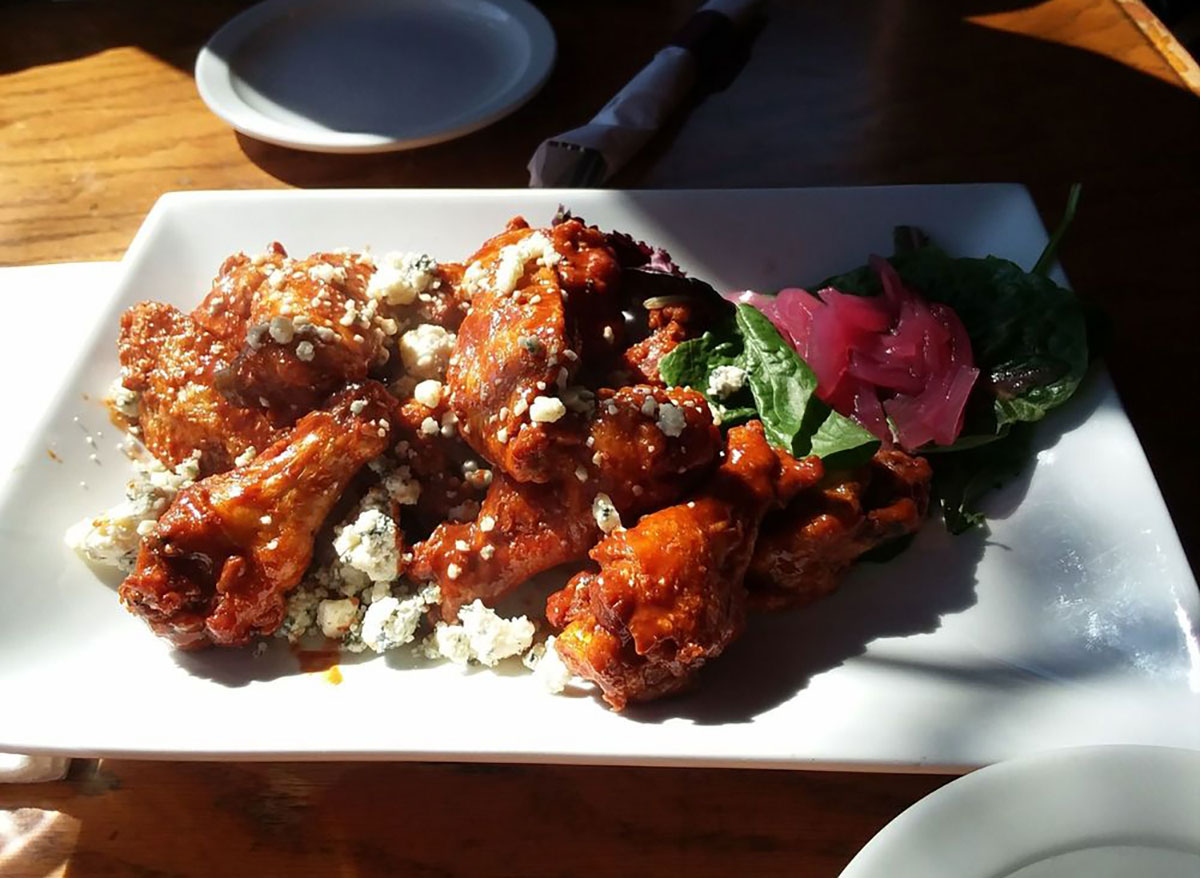 We count on college towns to have good wings. Madison doesn't disappoint, and Alchemy earns an A+ with its wings that get a bourbon buffalo cocoa sauce and that come served with gorgonzola from Carr Valley, a Wisconsin cheesemaker.
WYOMING: Double Dub's in Laramie and Cheyenne
Slinging wings out of a double-decker bus that mobilizes throughout Wyoming, Double Dub's wings were put on the map when they won a Rookie of the Year award in 2019 from the National Buffalo Wing Festival.
This chicken treasure map is proof that you don't have to be in Buffalo, New York to find some of the very best wings.
Seek out more of the best spots in your state:
The Best Spot to Get a Burrito in Every State
The Best Meatloaf In Every State