10 Best Kirkland Brand Cheeses You Should Buy at Costco
Cheese lovers will find a lot to like among the store-brand gourmet selections at the warehouse club.
The product recommendations in this post are recommendations by the writer and/or expert(s) interviewed and do not contain affiliate links. Meaning: If you use these links to buy something, we will not earn a commission.
Costco is known for so many great things, but did you know that cheese is one of them? The cheese selection is vast—hello, cheese board!—and many of the best kinds hail from the warehouse club's own Kirkland Signature brand.
There are so many products from the Kirkland Signature line that Costco fans adore. Costco even reported during its quarterly earning call in March that sales of Kirkland-brand foods increased 1.5% over the past year.
That's with good reason. They are usually more reasonably priced and many of the best Kirkland-brand products are actually made by national name brands like Starbucks, Duracell, and Huggies, as The Motley Fool reports. Identities of other manufacturers remain a closely guarded secret.
Regardless of who makes it, many customers actually prefer certain Kirkland brand products over their rival brand-name equivalent, and that's no different in the cheese aisle.
One exception: the giant bags of shredded cheese. Although Kirkland makes them in many varieties, they often become a regrettable purchase unless you have a reason to go through a 2.5-pound bag in less than a week. If you are going to try one, though, Costco shoppers on Reddit claim the Colby Jack lasts the longest.
So, grab your feta, your gouda, your manchego, and more. Here are 10 Kirkland brand cheeses to pick up on your next shopping trip.
Kirkland Signature Cheese Flight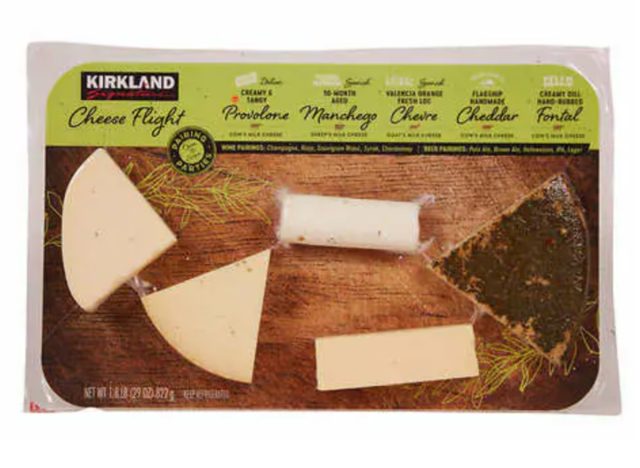 Whether you choose to put it out for guests on a cheese board or tear through it yourself like some Redditors do, this cheese flight is a welcome new addition to the Kirkland offering of cheeses. You'll get to try five nice sized cheeses, for $23.99. The package in total is 1.8 pounds, with familiars like cheddar and chevre, and less common picks like fontal and comtesse.
Kirkland BellaVitano Cheese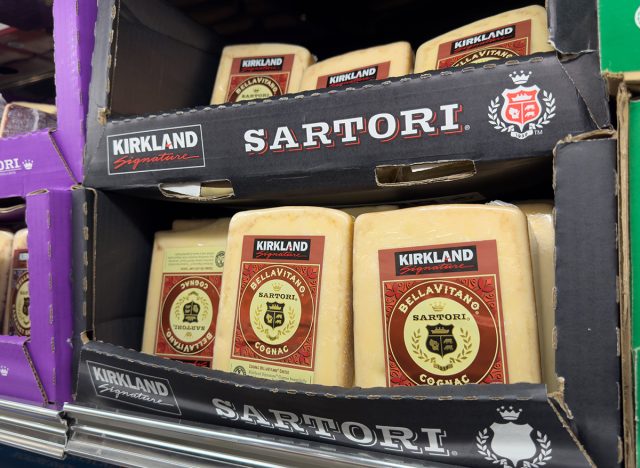 These BellaVitano cheeses—that come in a variety of washed rinds like Cabernet Sauvignon ($8.69 per pound) or Scotch Whiskey ($8.99 per pound)—are made in partnership with Sartori, an award-winning Wisconsin cheesemaker. One Redditor describes the flavor of the cabernet variety as "like parmesan but different. It is sweeter, and more tart."6254a4d1642c605c54bf1cab17d50f1e
From personal experience, this is an excellent cheese for snacking throughout the week, and it's always a big hit when served with cocktails.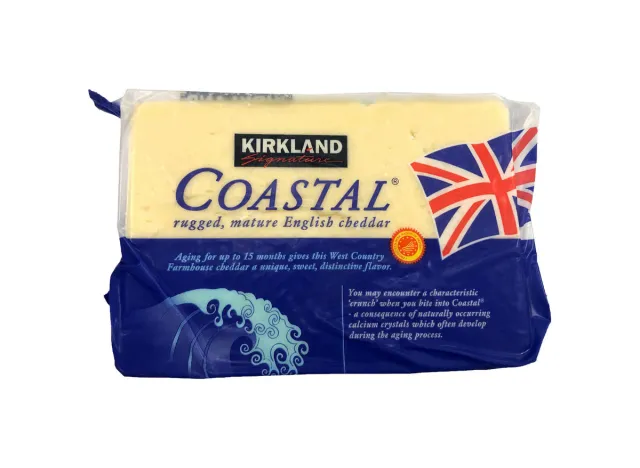 Fans on Reddit point out that this delicious English cheddar has been around Costco for a while, but more recently became branded as Kirkland Signature Coastal Cheddar. Regardless of what name is on the outside, it's a fan favorite and, according to one Redditor, "makes a damn good grilled cheese."
Kirkland Signature Organic Greek Feta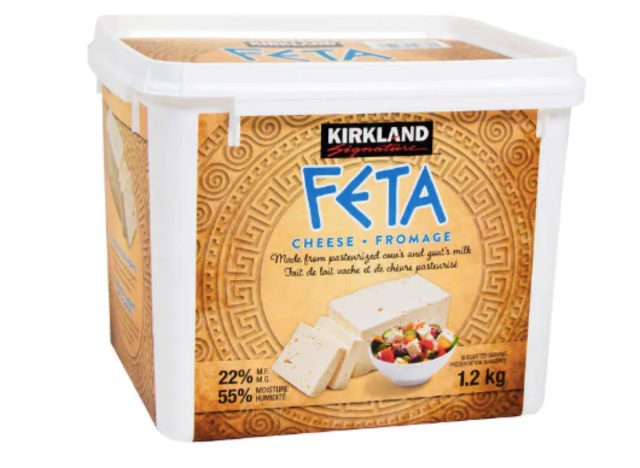 This feta is imported from Greece and comes in blocks—the crumbled stuff tends to dry out more quickly—both good signs of quality feta. "We bought this a couple of weeks ago," one Redditor wrote. "I personally thought it was not as sharp/tangy as the usual brand we buy (President), but others in my household seem to like it for that very same reason and have been sprinkling it over salads quite often." So if you are looking for a milder Greek feta, this is a great pick at $11.99 in the warehouse for 28.2 ounces.
Kirkland Signature Isigny French Brie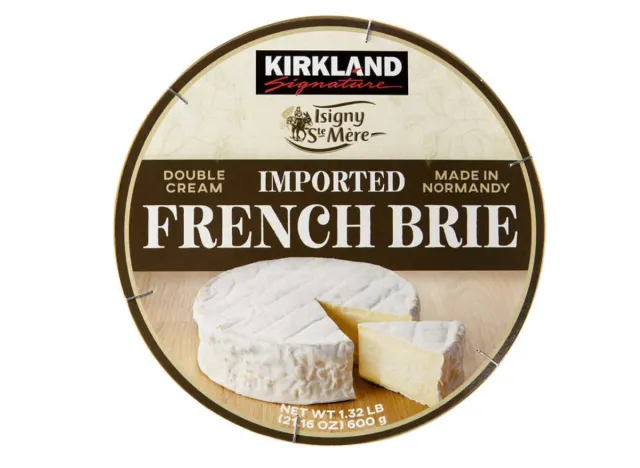 Who doesn't love a good baked brie? A good French brie will generally cost around the same price as the Costco one but for half the price. This imported French brie is a fan favorite, and according to the Instagram, Costco Food Reviews, it's "creamy and buttery" and "I could truly taste the quality difference compared to other Bries I've tried in the past." Pick up a 21.1 ounce round brie for $9.99.
Kirkland Fresh Goat Cheese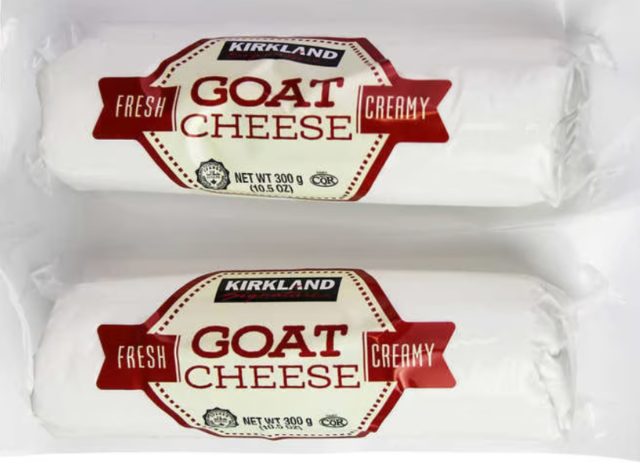 You'll get a lot of bang for your buck with this goat cheese that gives you two 10.5 ounce logs for $8.69 online. While this may seem like a lot of goat cheese, you can use it for everything from making a tangy cheesecake to crumbling it up for a salad or spreading it out toast with a little honey. You can freeze the unopened second log of goat cheese, too.
Kirkland Signature Spanish Manchego
This Kirkland cheese has been around for years and with good reason. Imported from Spain, this sheep's milk cheese is a good pick for those who are lactose intolerant as sheep's milk tends to be easier to digest. The nutty mild taste of this cheese makes it a great add to a charcuterie board or just a switch up from your regular cheese. It'll run you around $10.99 per pound  in the warehouse .
Kirkland Signature Parmigiano Reggiano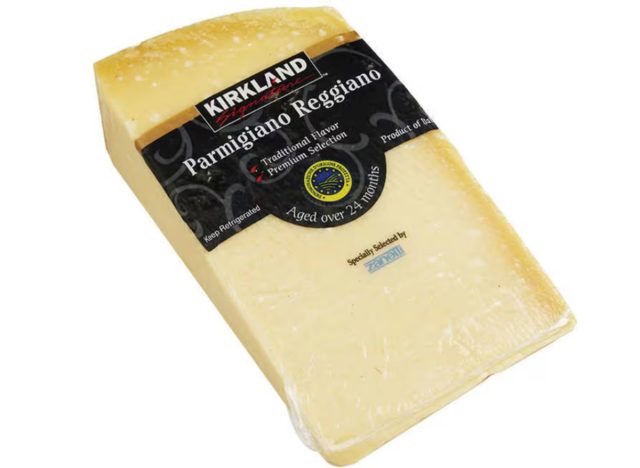 Kirkland makes a great parmesan reggiano for $10.99 a pound, typically more in grocery stores because Parmesan Reggiano are made in Italy under pretty strict standards which is what makes it so delicious. The blocks are big but last a while in the fridge. To get more mileage cut them into two or three pieces and vacuum seal the ones you won't use right away so they stay extra fresh.
Kirkland Shredded Parmesan Reggiano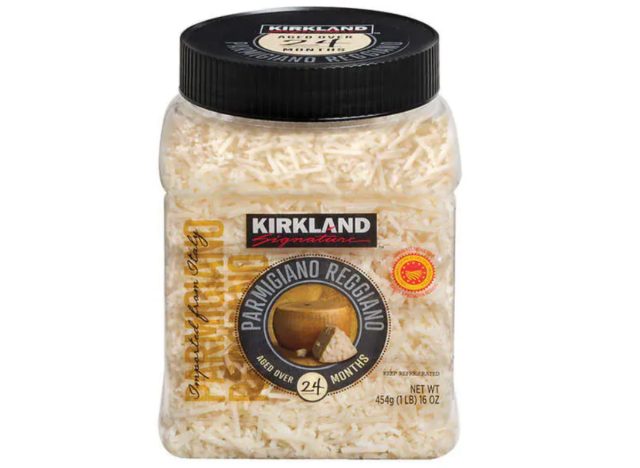 Although we personally prefer the block of Parm Reggiano, we do understand the convenience of the shredded version.  While some report the cheese molding quickly, many Redditors solve that problem by keeping the jar in the freezer so there's no condensation. If you can't go with the block, this Italian cheese is still high quality even if it doesn't last as long. You can find a 16 ounce container for $13.99 in store.
Kirkland Signature Cheese Fruit and Nut Packs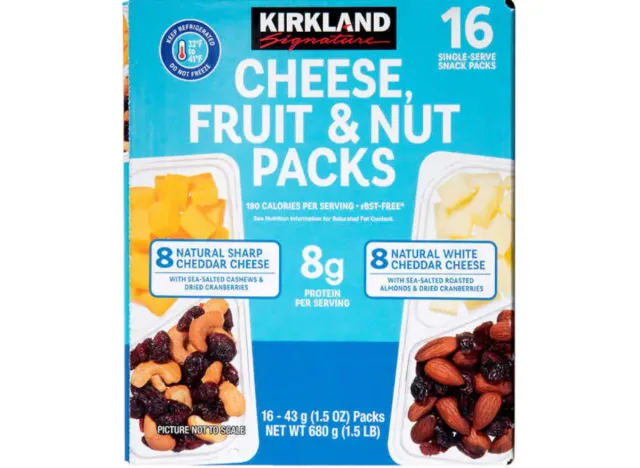 While Redditors may admit that this is a convenience play and that they could probably pack their own cheese, fruit, nuts and chocolate, that doesn't stop them from buying the pack of 16 for $11.99. After all, these do make a good high protein snack. Sharp cheddar is paired with cashews and dried cranberries or white cheddar with roasted almonds and cranberries. Great for on-the-go.
Samantha Lande
Samantha is a freelance writer who covers food, health, wellness and other lifestyle subjects.
Read more about Samantha