7 Things You Didn't Know About Kirkland, Costco's House Brand
Fans are fiercely loyal to the club's private label, which reported $50 billion in sales last year alone.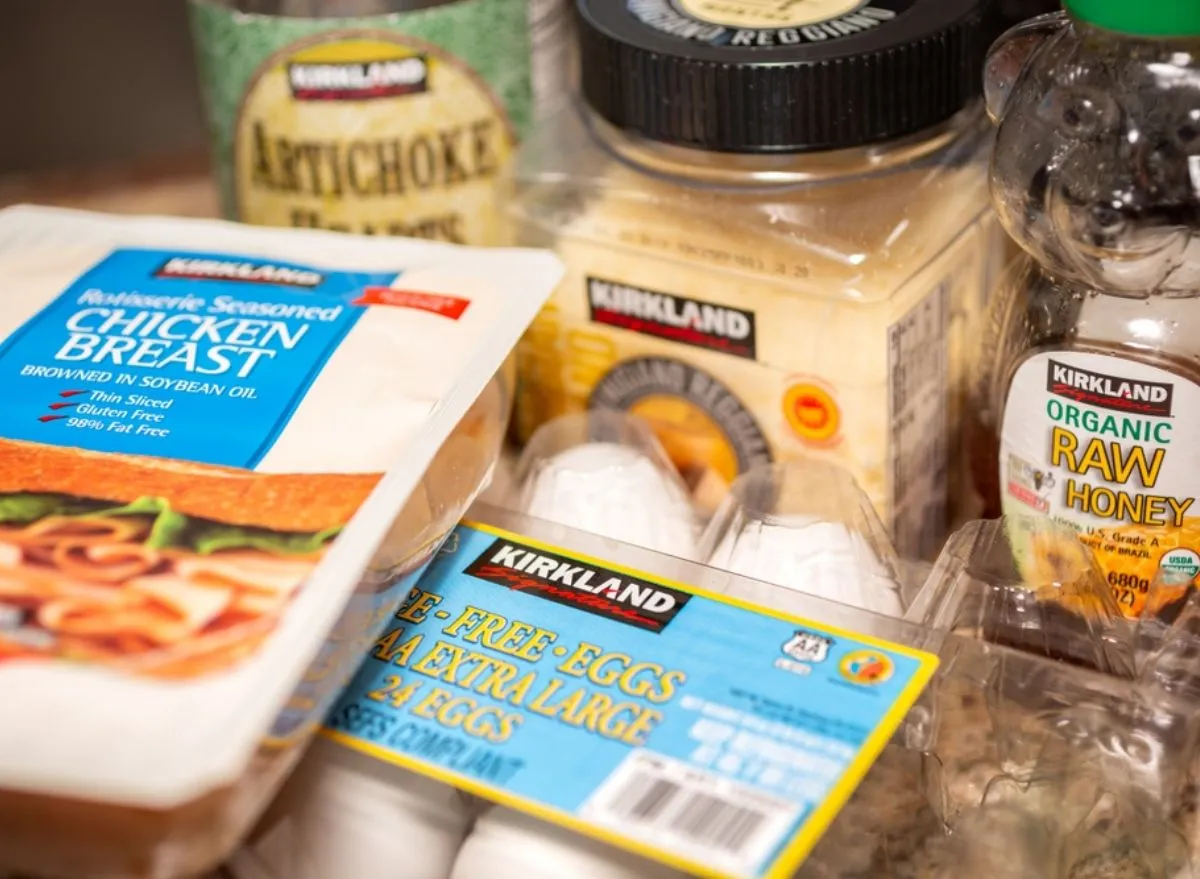 If you've been to a Costco recently, you've probably seen Kirkland Signature products everywhere. The store's house brand sells just about everything you'd need from groceries to clothing and even household products like batteries. The brand, which sells billions of dollars worth of products a year, is widely celebrated among Costco members for its low prices and reputed high quality.
The store, which sells many products in bulk, regularly offers deals in which their products are priced even lower. "[Kirkland Signature products are] already more affordable than their name-brand counterparts, but they'll also frequently be discounted in the Member-Only Savings events that occur every month or so," says Julie Ramhold, a retail expert and consumer analyst with DealNews.com. "Because of that, it's a good idea to always check the ads to see what's on sale and stock-up accordingly."
Just because shoppers are devoted to the brand doesn't mean that they know everything about it. Here are some things that even Costco's most loyal customers might not know about Kirkland.
The brand is named for Costco's former headquarters
Kirkland products aren't the only things that are sold at Costco, but the store's house brand makes up a bulk of its annual sales. If you stop by a store, Kirkland Signature products are everywhere, but that wasn't always the case at the members-only club. A few decades ago, after Costco merged with former warehouse store chain Price Club, the company then-known as Price Costco was home to about 30 different house brands, according to CNN. There were specific house brands for toilet paper, dog food, soda, and dozens more items.
Eventually, Costco wanted all of its house products to be under one brand name, and that's when Kirkland Signature was created. The brand was named after the location of Costco's former headquarters. The company is currently headquartered in the Seattle suburb of Issaquah, but was previously located in Kirkland, Wash. According to the Kirkland Reporter, the company wanted to name its house brand "Seattle Signature," but couldn't get the name cleared and went with Kirkland instead.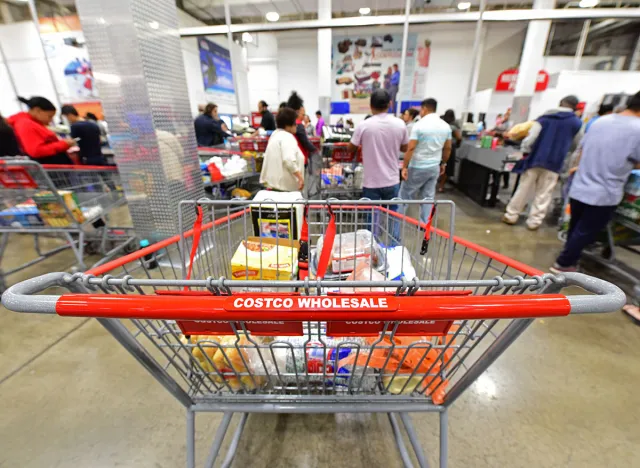 Some shoppers love Kirkland for its prices, others stay loyal to the brand for its high-quality products. No matter what the reason for the love is, fans are devoted to Costco's house brand. In 2022, Costco raked in more than $50 billion in sales from Kirkland products alone, according to Yahoo Finance.
The brand also has some famous faces among the ranks of its fans. The popular singer and songwriter John Mayer is a well-known devotee of Costco's house brand. While it's not an official Kirkland product, Mayer's Kirkland Signature guitar pedal is a glowing endorsement for the brand.
Shoppers have cited issues with its seafood
Like all other grocery stores and food companies, Costco will occasionally recall its food because it isn't up to standard. A family in California found out the hard way that its store-brand food isn't always perfect. In 2021, the family purportedly bought the store's Kirkland Fresh Wild Pacific Halibut Filet, and cooked it the same day, only to find live worms emerging from the fish. The family sued Costco for $200,000 for negligence, breach of warranty, and products liability, among other allegations.6254a4d1642c605c54bf1cab17d50f1e
This isn't the only time that worms have been found in some of Costco's food. Reddit user u/Ok-Bath835 posted a picture of a salmon filet purchased from the store that contained a worm found in it. But some commenters on the post say that finding worms in store-bought seafood is more common than you'd think.
"I freaked out my first time as well, fish very commonly have parasites," noted one Redditor in a comment about the salmon. "Usually they are taken care of through freezing processes but some get by, just take it out, or cook it to a safe temp and you'll be fine."
It got sued over its tuna labels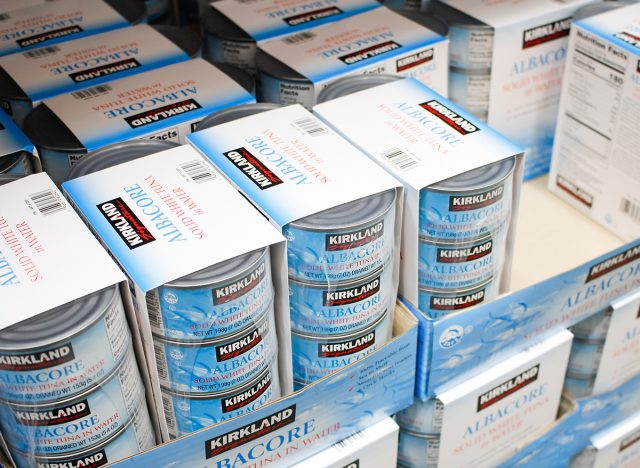 It's not just the halibut filets that Costco's faced legal trouble over. Costco also got sued over the store's Kirkland Signature White Albacore. The canned tuna is marketed as being "dolphin safe," but one lawsuit alleges that the store has deceived customers with this marketing. The lawsuit also claims that thousands of dolphins and marine animals are killed annually throughout the process of catching the tuna used in Kirkland's brand. Costco's tuna is also just one of the store's products that is shared with a name brand. Costco struck a deal with Bumble Bee tuna, which provides the store with its canned albacore.
Some products are co-branded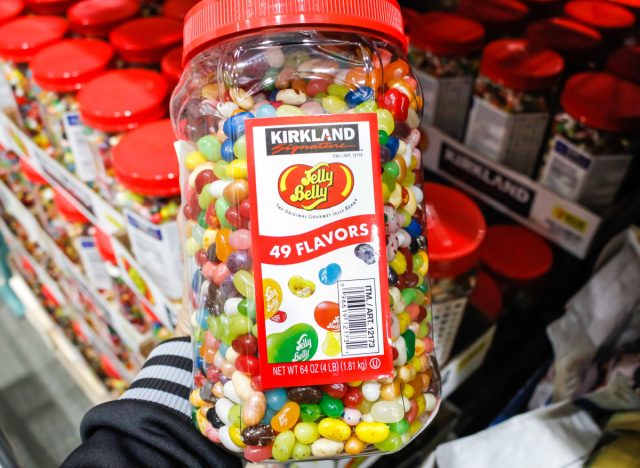 Many customers are loyal shoppers at Costco because they trust the Kirkland Signature brand. While the store's house brand holds a lot of weight with customers, some of the items aren't exclusive to Costco. Kirkland Signature has been known to co-brand some products, including its well-known 64-ounce containers of jelly beans, which are made by Jelly Belly.
"A lot of Kirkland Signature items are made by other big-name brands, but not all of them," Ramhold says. "Some of their coffees may be blends that are actually roasted by Starbucks, their Ancient Grain granola is by Nature's Path Organic, and their giant 64-ounce tub of jelly beans are by Jelly Belly."
Items are cheaper in the store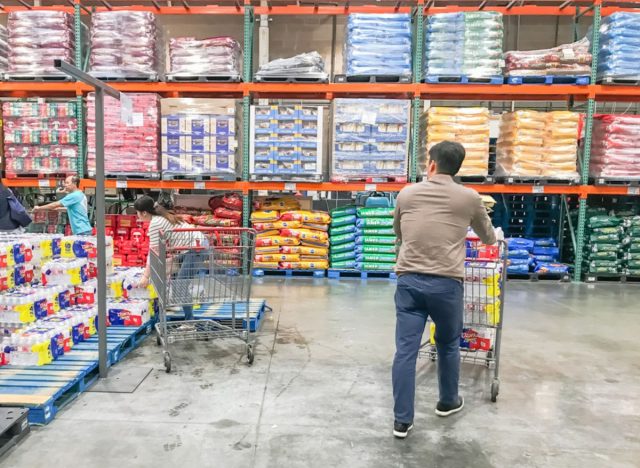 When items in stores are a bit out of an ideal price range many people turn to the internet to try and find the same products for better prices. Ramhold says that Costco shoppers can try to look online to find deals on Kirkland Signature products, but they're more likely better off just sticking to what they can find at the actual warehouse.
"You can try seeking out deals on other sites, such as Amazon or eBay, but I've personally yet to find a better deal on them that way," Ramhold says. "Costco has a big focus on keeping prices reasonable so they typically have the best prices in general on Kirkland Signature items."
Kirkland has an impressive alcohol selection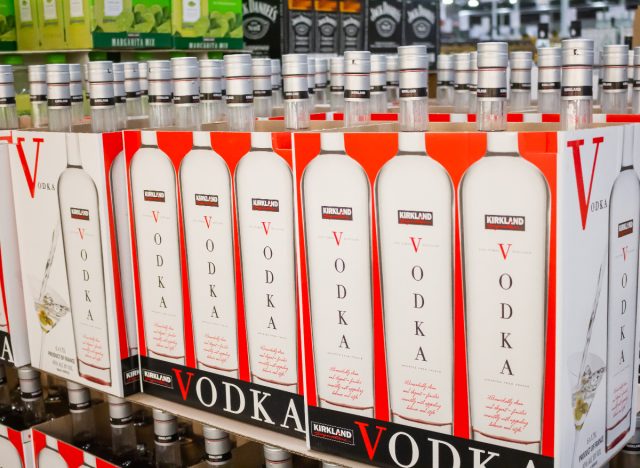 In states where it is allowed, many grocery stores have alcohol on the shelves for customers to buy, but it might not always be the best quality. That's not the case at Costco, where despite the store's low prices, the Kirkland Signature alcohol selection is rated highly in terms of quality by shoppers. The Kirkland Signature alcohol selection has been compared to other name brands, and there are rumors that it's even repackaged name-brand alcohol because of its high quality. If true, shopping at Kirkland Signature is an affordable way to get your hands on name brand alcohol, like Grey Goose.
"There have been rumors circulating for years that Kirkland Signature vodka is actually Grey Goose, but according to executives at Grey Goose, it's not the same," Ramhold says. "It may be even better as it actually scored higher than Grey Goose in taste tests."