17 Food Items You Should Buy at the Dollar Store
We combed through more than 600 products stocked at the dollar store to find the healthiest foods.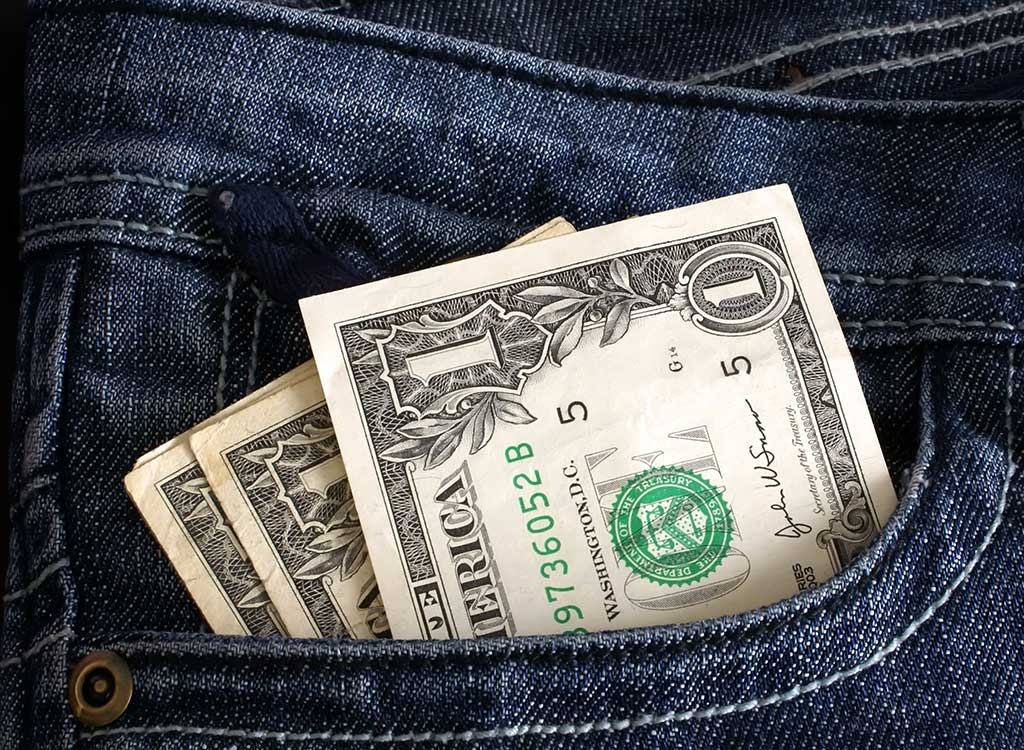 The dollar store is good for many things: Picking up tons of party supplies that won't break the bank, stocking up on random necessities like bag clips and disposable platters, and buying cheap supplies for entertaining little ones. But the dollar store falls seriously short in one major area: Grocery shopping. Well, the healthy kind, that is.
"No. Nope. No way. Not this either." That's what you should be saying for most of the food and drink products you come across at the dollar store. While it can seem like a lot of the products are simple staples, most of the ones we came across were straight-up deceptive. Like the sneaky "honey-flavored syrup" in the little bear-shaped plastic jar—that's anything but pure honey, people. And we noticed that the three different hot sauces all landed on the sad side of our 18 best and worst hot sauces list. Most of the cereals are total junk, the plain broths were crazy salty, and nearly all of the canned goods were packed with salt (veggies), syrup (fruits), or other scary additives (soups). We even came across an "antioxidant mix" snack bag that had doused the ingredients in high fructose corn syrup. If we were those dried blueberries, we'd feel seriously violated.
But we did come across a few winners. So, while we aren't about to suggest you do your usual grocery shopping at the dollar store, we think it's smart to score some of these affordable items while you're there buying all those birthday balloons and tiny baby shower candles. Check out our picks below and then get more affordable ideas with these 27 healthiest snacks under $1!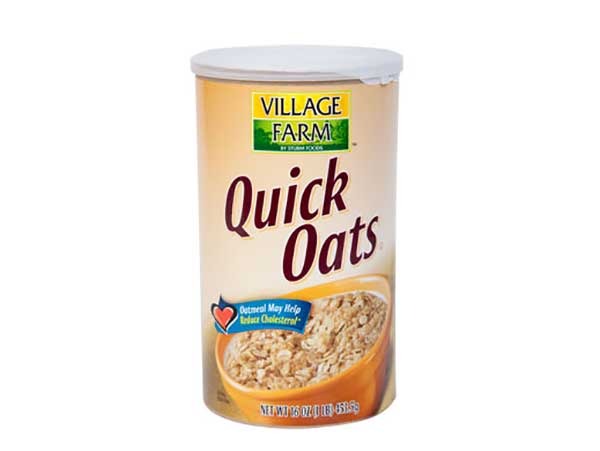 There's just one ingredient in this 16-ounce container: rolled oats. Yes! You can use these 100% whole grains as an easy, fiber-packed choice for your overnight oats base.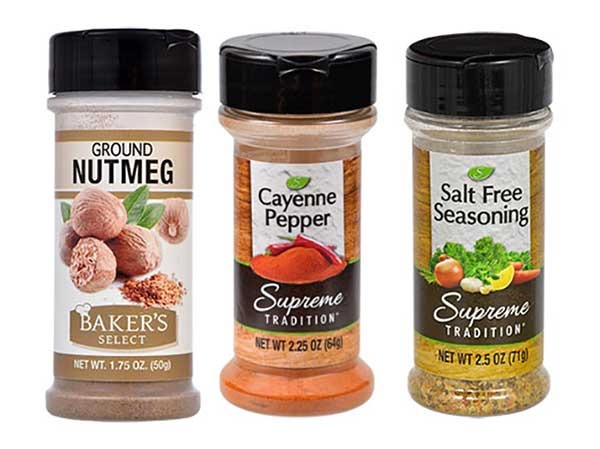 As long as you're picking up plain spices—not the salty varieties of seasonings right next to 'em—then these jars are great choices to grab. Spices are packed with antioxidants and compounds that often target belly fat. Take cayenne pepper, for example; the capsaicin in it actually suppresses your appetite while torching belly fat, all while making your dishes even tastier.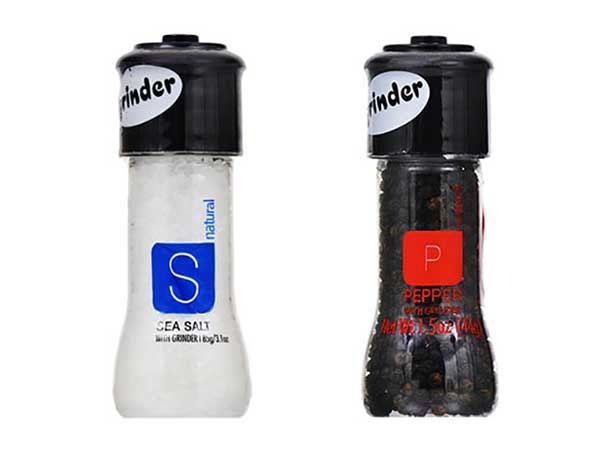 This is just a basic no-brainer for your pantry. Instead of spending $2.99 for each of these at your favorite grocery store, grab 'em for a buck each. A little bit of EVOO and some salt and pepper goes a long way with many dishes, from seasoning your wild salmon to roasting your veggies on a sheet pan in the oven.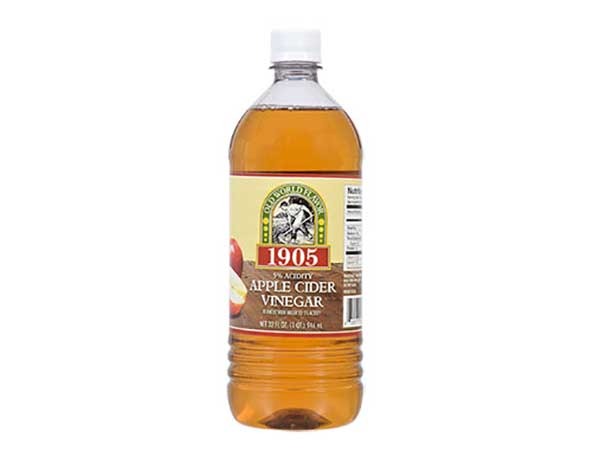 Ah, ACV! There are at least 30 awesome uses for apple cider vinegar and it warmed our hearts to find out that these 32-ounce bottles are totally a-okay for your belly and body. Stock up and make the most of this magical elixir!
Breckenridge Farms Whole Green Olives
True story: Green olives actually have some gut-healthy probiotics in them. Keeping your gut bugs healthy and happy means you're less likely to experience inflammation, weight gain, and mood swings.
Pampa Ripe Pitted Black Olives
A source of healthy fat, sliced black olives can be a tasty addition to your salads, pizza, chili, and more.
Bumble Bee Chunk Light Tuna in Water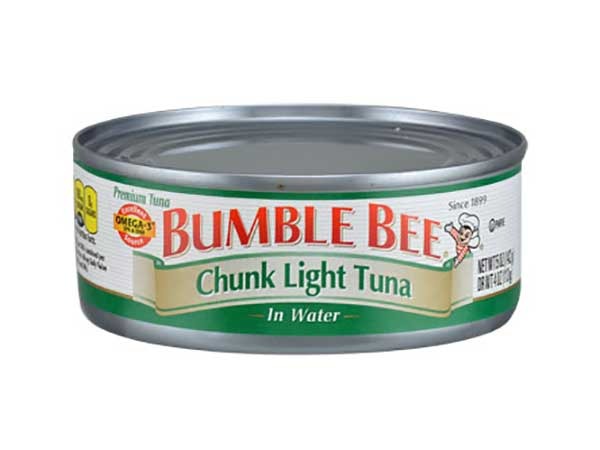 As a great source of DHA—which actually regulates and even tries to "turn off" your fat genes—light tuna is a winning choice for anyone with weight loss goals. Although these cans are usually around the one dollar mark at most grocery stores, you might as well load up when you see them.
Bumble Bee Premium Light Tuna Pouches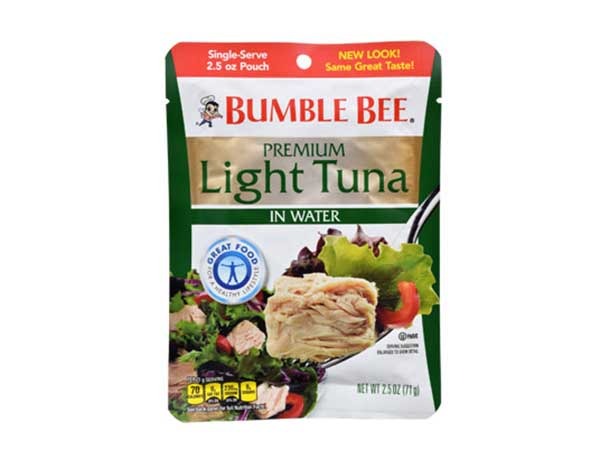 Like the canned version but way easier to take on-the-go for a super-healthy, not-so-sad desk lunch. Add the tuna to a salad, on top of toast, or wrapped up in lettuce.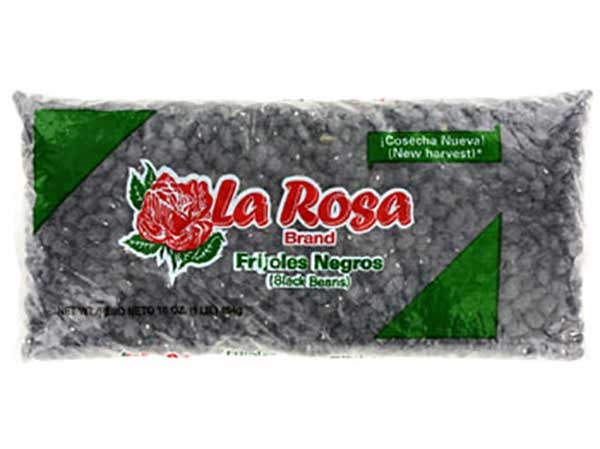 These bags are on the flimsy side, so we suggest you pour these dried beans into a canister when you get home—just in case. Otherwise, you really can't go wrong with plain, uncooked black beans. Check out our 25 pulse recipes for weight loss for some ideas on how to use them for your flat-belly goals.
Like the dried beans, but way easier because they're ready to eat. Dump a can into your soup for a hit of fiber or use them to make super-healthy black bean brownies!
Snack Factory Original Pretzel Crisps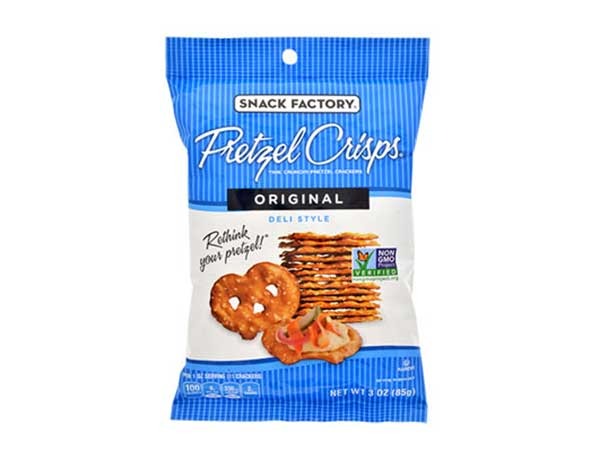 They're not pristine, but each pretzel crisp is only 10 calories and it's a far less damaging choice than many pretzel and chip options on the market (or at the dollar store, for that matter). We'd prefer Mary's Gone Crackers for our hummus and cracker-based bites, but these can fill in when you're in a pinch.
Wonderful Roasted & Salted Pistachios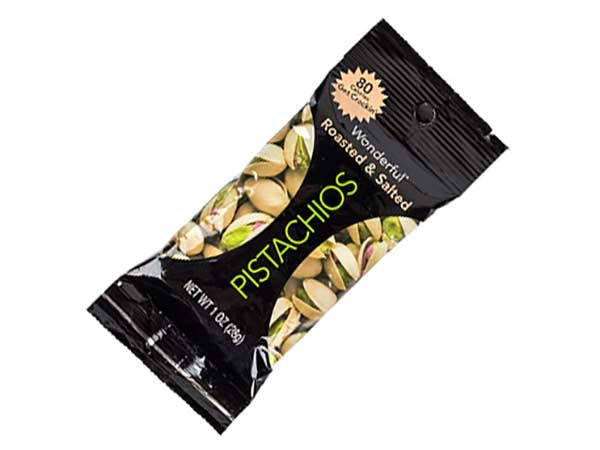 6254a4d1642c605c54bf1cab17d50f1e
We almost didn't include these because they're salted—which is the case for most of the nuts you'll find at the dollar store. But given that it takes some work to get 'em out of the shell—thereby slowing down your snacking and forcing you to eat mindfully—we decided to give these packets a nod. If you're going to stock up on pistachios, though, turn to the bulk bins of the plain, unsalted pistachios at Whole Foods or Costco instead.
Crystal Geyser Natural Alpine Spring Water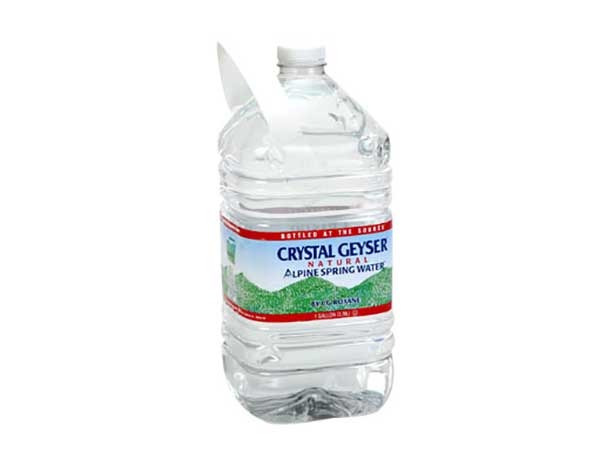 You know what 1-gallon jugs of water are good for? Snow storms and other instances in which your power goes out. Stock up on a few of these just in case!
Tevive Herbal Infusions Chamomile Tea Bags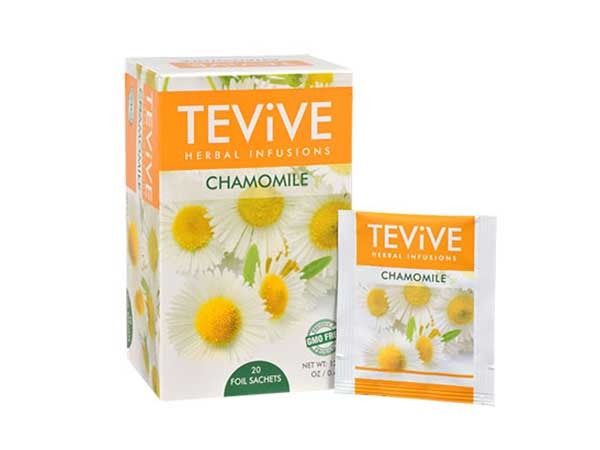 Ah, tea! While it's doubtful these tea bags are made from the highest-quality parts of the leaves, we can't help but remind you of the benefits of drinking tea. While we didn't spot metabolism-boosting green tea in the store, the chamomile variety can help ease you into a gentle evening rest—and a good night's sleep can do wonders for your energy and weight loss goals the next day!
Ruby Kist 100% Tomato Juice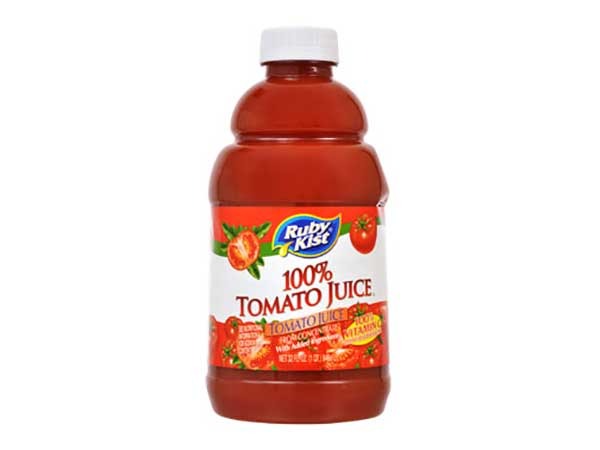 Most juices at the dollar store are of the "cocktail" variety, meaning they're packed with sugar and other icky ingredients. But these 32-ounce bottles from Ruby Kist are straight tomato juice, which is what you'll need for your homemade bloody mary mix that you'll be serving up at brunch, right? Bottoms up!
Baker's Select Cinnamon Sticks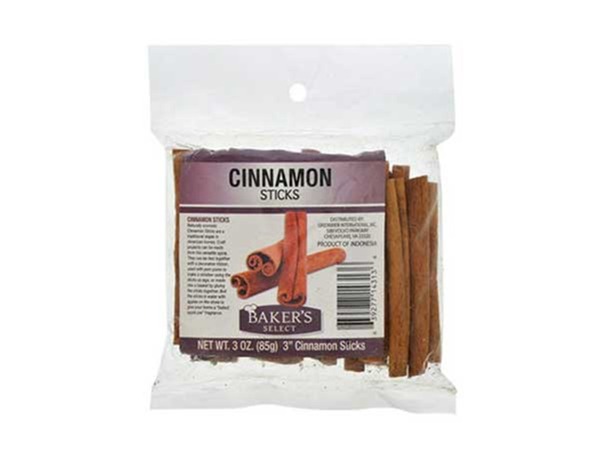 Speaking of imbibing, how nice does a hot toddy sound right now? Whether you use these cinnamon sticks for your libations or in your baking, cinnamon always deserves a high-five. Not only does cinnamon balance your blood sugar, a study in the Journal of Nutrition revealed that cinnamon can increase antioxidant activity in the blood by 13 percent!
York Bite-Size Peppermint Patties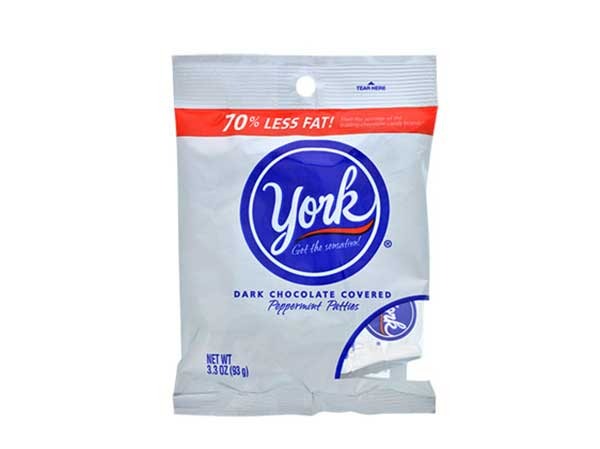 No, York Peppermint Patties aren't a health food, but they're easily one of the friendliest candies when it comes to your waistline. Plus, peppermint has been shown to help cut off sugar cravings. Treat yourself to just one at a time and keep added sugars in check by looking for the Zero Sugar Diet, the brand-new book by best-selling author and Eat This, Not That! founder David Zinczenko!