This Is the Best Electric Kettle of 2019
With six heat settings, you'll get a perfect cup of tea every time.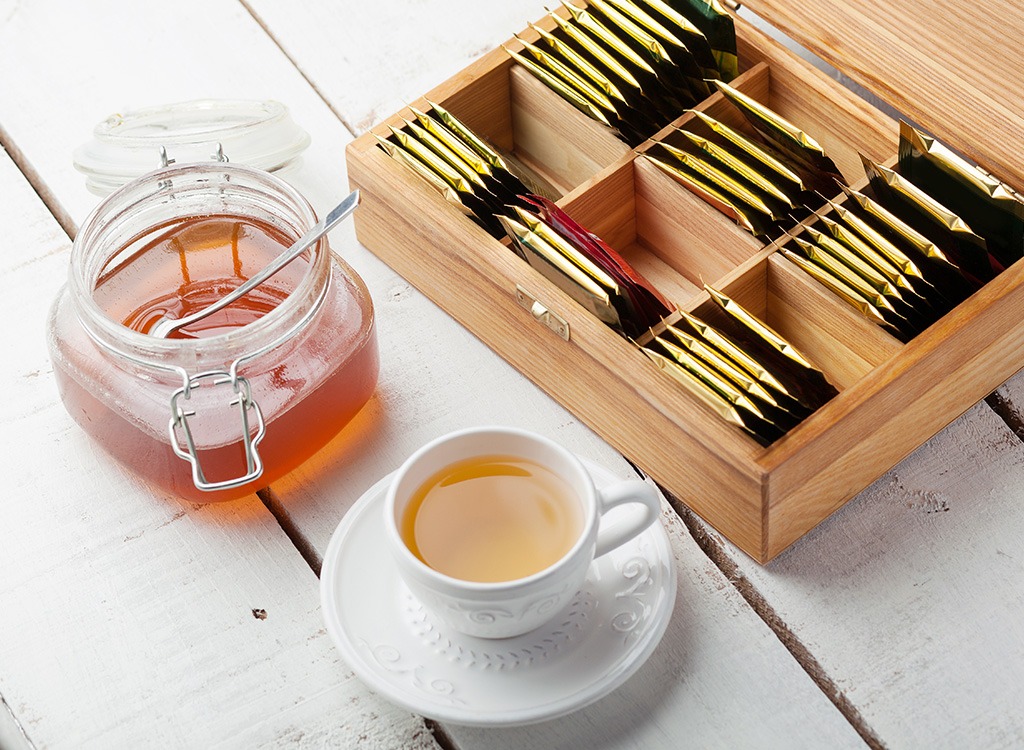 If I were forced to pick one "can't live without it" kitchen gadget, it would be an electric kettle. I start every day with a cup of caffeinated black tea and end it with a relaxing peppermint tea (with at least a few other drinks throughout the day), and tea is the first thing I offer guests when they visit my apartment.
So when it was time to pick a new electric kettle this winter, I took the matter very seriously. If you use a kitchen gadget nearly every single day, you want to make sure you have the absolute best of the best. After scouring reviews from both experts and customers, I narrowed my list down to three kettles. I used each for a week and invited my fellow tea-loving friends to try them out as well and give me their feedback.
Although none of the kettles disappointed, I did have one clear favorite. Without further ado, here are the top three kettles of the year, starting with the one we have officially crowned the best electric kettle of 2019.
Cuisinart CPK-17 PerfecTemp Cordless Electric Kettle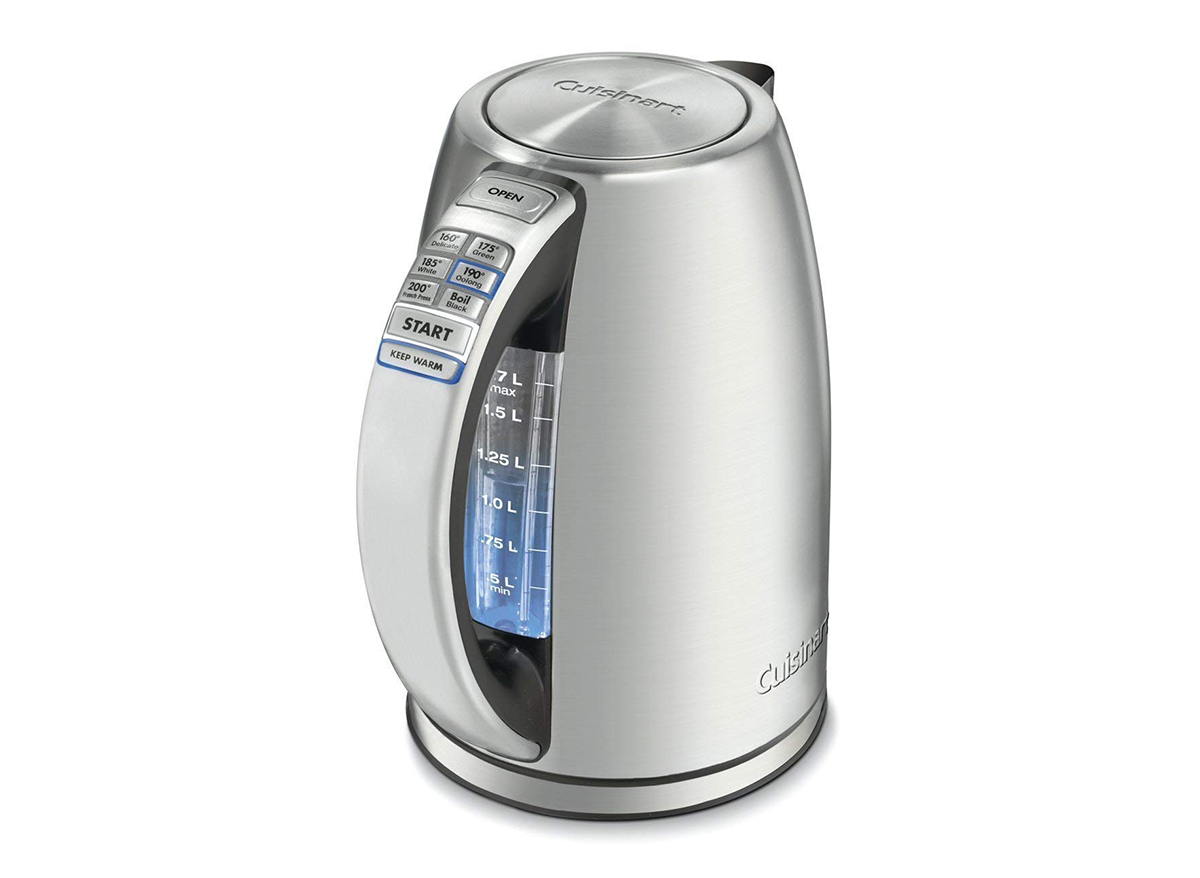 The best feature of this kettle is that it boasts six different preset heat settings, so you can steep tea at the perfect temperature depending on the variety. It just takes one click of a button on the kettle's handle. The options are 160 degrees Fahrenheit for delicate teas, 175 degrees Fahrenheit for green tea, 185 degrees Fahrenheit for white tea, 190 degrees Fahrenheit for oolong tea, 200 degrees Fahrenheit for French press coffee, and "boil" for black tea. This comes in really handy when you have a guest who drinks a tea that you're not familiar with—instead of frantically Googling to find the right temperature to ensure their tea is just right, you've got the information at your fingertips.
The boil function can also be used to make noodles, oatmeal, broth, and instant cocoa if you want to branch out, so you get a lot of bang for your buck with this kettle. If the water comes to a boil and you're busy, don't worry—it keeps the water hot for 30 minutes.
I also love this kettle's memory feature—it allows the kettle to be lifted off its base for up to two minutes without shutting off or even losing its place in the brewing process. And although I didn't have to use the boil-dry protection feature, it gave me peace of mind to know that if the kettle began heating without enough water in it, it would automatically shut off in order to prevent damage.
My final verdict is that this kettle wins the gold medal thanks to its range of temperatures, consistency, and user-friendly interface. And the kettle comes with a three-year warranty, should your experience be less stellar than mine was.
KitchenAid 1.25-liter Electric Kettle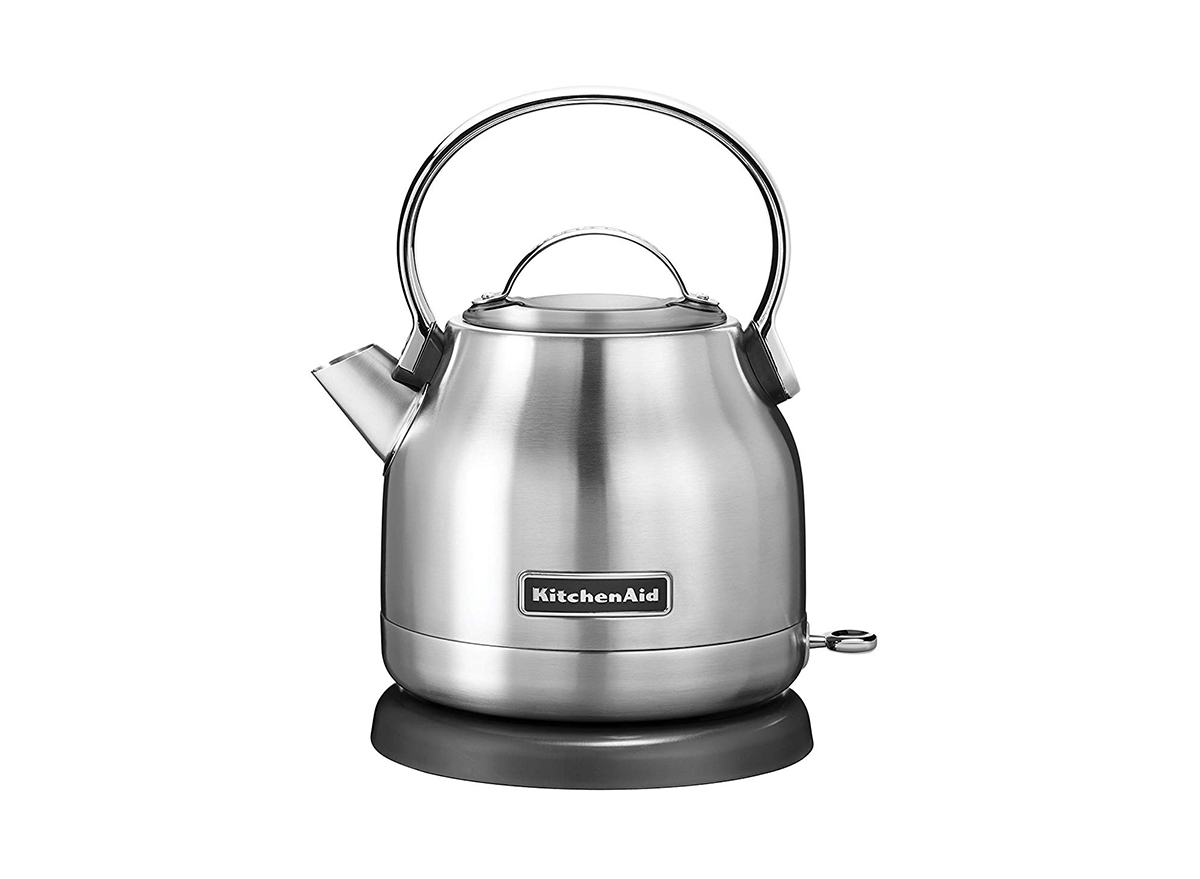 6254a4d1642c605c54bf1cab17d50f1e
I'll admit that I was initially drawn to this kettle because of its great look. I love any gadget that gives my kitchen an extra pop of color, and this model comes in red and pistachio. But, of course, that's just an added bonus. More importantly, this stylish kettle gets the job done and is super user-friendly.
Although it doesn't boast the same array of temperature options as the Cuisinart kettle, it consistently heated the water quickly, quietly, and exactly to my liking. The kettle features simple controls, a removable base with 360-degree rotation, a smooth aluminum handle that stays cool, and a pouring spout. Thanks to its one-touch activation button and completely removable lid, it's easy to fill up and use.
Plus, this kettle is small enough that you can display it on your counter when you're not using it. (If your kettle is high-quality and aesthetically pleasing, you might as well allow it to double as a cute kitchen accent.) This kettle's compact size also makes it perfect for those of us who don't have a lot of space in our kitchens. And its wrap-around cord base means your countertop won't be cluttered with excess cords.
The KitchenAid kettle doesn't have an adjustable temperature option or an auto shut-off function like Cuisinart's, so it's definitely a simpler option. If you're a serious tea aficionado, I'd splurge for Cuisinart—but this is a reliable, easy-to-use, affordable, and stylish alternative. And the kettle comes with a one-year warranty, should you need it.
AmazonBasics Stainless Steel Portable Electric Hot Water Kettle
For the bargain hunter who doesn't want to sacrifice quality and functionality, this AmazonBasics kettle is where it's at. After trying the considerably more expensive Cuisinart and KitchenAid kettles, I'll be the first to admit that I didn't expect to be impressed by this one—but I'm happy to report that I was proven wrong.
Sure, it doesn't have as many fancy, high-tech features as my top two choices. But its functionality, size, and appearance won me over, and it's an excellent option for anyone who is looking for a basic, affordable electric kettle.
This kettle is lightweight, heats up the water very quickly, and I love how smoothly it pours. After a week of using the kettle, I didn't have to deal with a single dripping or spilling incident when I was pouring my cup of tea. (And for a klutz like me, that's really saying something.) Like the KitchenAid kettle, it's compact and its cord wraps in a coil, so it takes up minimal space on the counter.
I also give this kettle major bonus points for its automatic shut-off feature. We already have enough stress second-guessing whether or not we turned off our stove or our hair straightener, so the last thing we need is to add our kettle to the list of items that we fear may burn down our house while we're out.
Whatever your budget is, you can't go wrong with these three electric kettle options.
Caitlin Flynn
Caitlin Flynn is an award-winning writer and reporter who experienced early age corporate burnout in 2015 and traded New York City for the misty air and superior coffee of Seattle.
Read more about Caitlin