We Tasted 10 Hot Cocoa Mixes & This Is the Best
Our favorite hot cocoa mix is always in season! Here's what we chose as #1.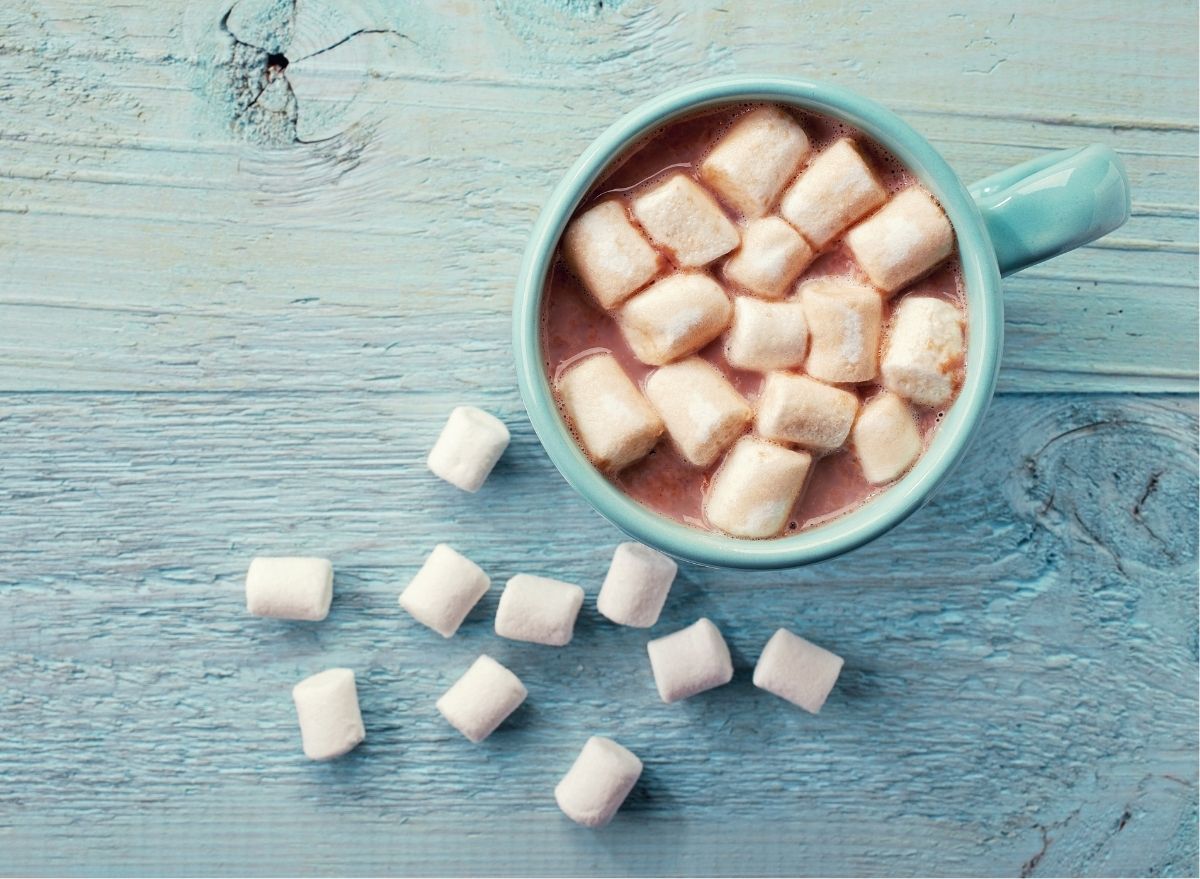 Sweater weather is here, and you know what that means. Warm drinks, a cozy turtleneck, fireplaces crackling… the works.
One way to beat the tundra, optimize a cold day, or get into the holiday spirit is to snuggle up with a cup of your favorite hot cocoa. The question is: Do you know which hot cocoa is actually the best? We took it upon ourselves to sift through local grocery store shelves for the most popular and easily shoppable boxes of hot cocoa mix to see which one is, in fact, the best. We tried 10 to see which one you can easily pick up the next time you're at your favorite grocery store.
And for more, check out We Tasted 10 Flavored Sparkling Water Brands & This Is the Best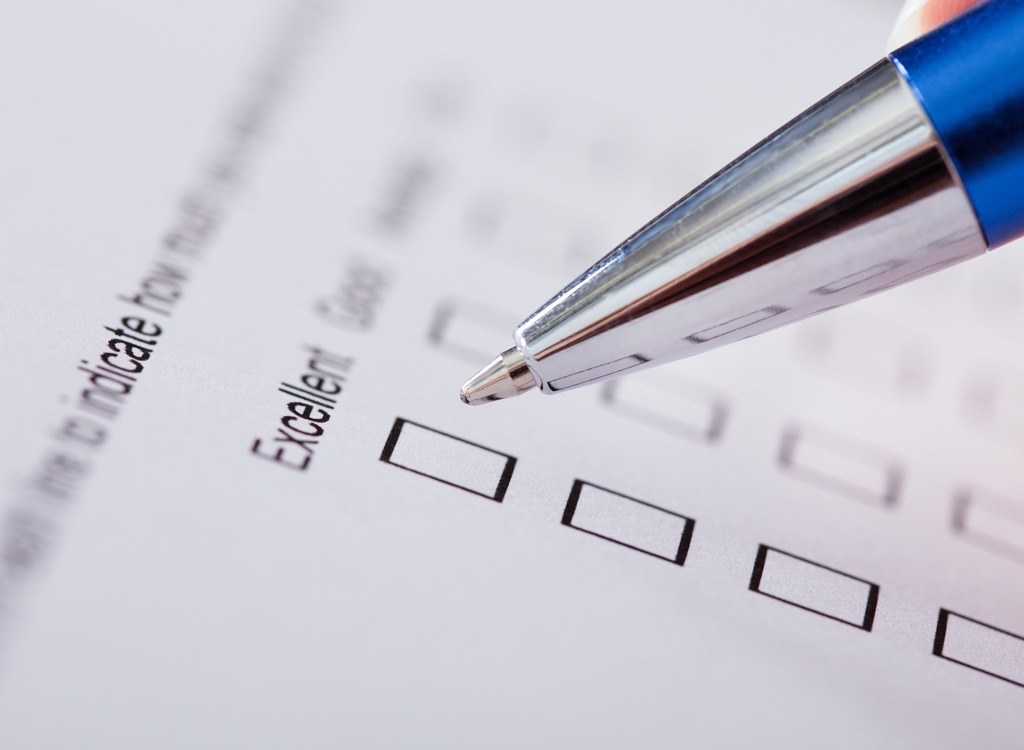 To test the power of some of these mixes, we did not do anything fancy with our chocolate concoctions. We used just hot water and the preferred measured portion from each box. (Some were packaged in a singular bag inside the box, while others were scooped out by the spoonful from a tub.)
While preparing the hot cocoa for the taste test, we did notice some had visible sugar in the mix, while others had an aesthetically pleasing fluffy powder texture. Ones that have sugar were noted if you're curious to see if the visible sugar led to a sweeter mix.
We graded each mix based on the aroma of chocolate, the texture of the drink, sweetness, and overall chocolatey taste. The room filled quickly after preparing all 10 with delicate chocolatey clouds that inspired us to play holiday music and pretend we were coming inside from a snow day filled with sledding. We can imagine, right?
The hot cocoa mixes we tried, in alphabetical order, included:
365
Ghirardelli
Godiva
Hershey's
Land O Lakes
Nestle
Starbucks
Stop and Shop
Swiss Miss
Trader Joe's
Now, see what tasted the best, ranked from worst-tasting to best-tasting hot chocolate mix.
Starbucks Classic Hot Cocoa Mix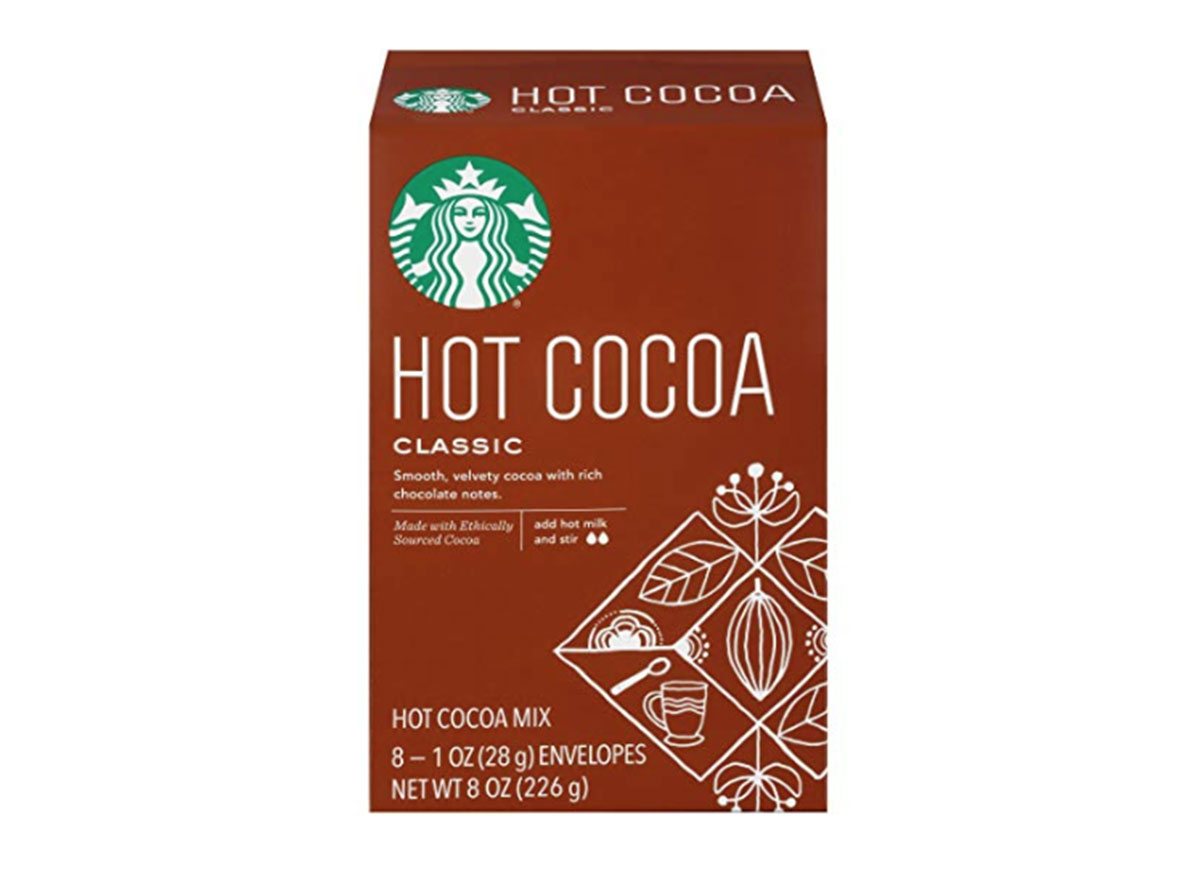 Sadly, Starbucks needs to stick to coffee. This hot cocoa mix was not a crowd-pleaser in any way. Our taste testers preferred the in-store version rather than making it for themselves. One editor said this drink was "so disappointing as I usually order this at Starbucks." The Starbucks hot cocoa was one of the mixes you can see the sugar when pouring the powder into the cup.
Eat This, Not That! Verdict:
The team was confused by the aroma versus the taste of this hot cocoa. One editor said that they were "not sure what's going on here. The color is enticing but the taste is bitter and watery–not a good combo." Another said, "awful. Tastes like bitter chocolate." Unfortunately, the smell couldn't boost the rating. "True, great smell! Makes me think about Christmas morning. The taste, however, I'll pass–big time," one editor wrote.
The flavor resembled more of a dark chocolate flavor because it was not sweet at all. One editor said it had a "bitter burnt flavor." Another editor was very upset with the aftertaste, saying, "It was almost sour! Didn't even taste like chocolate."
Godiva is known for its gourmet indulgent chocolates and truffles, but somehow the brand's hot chocolate ended up second to last on our list. Unfortunately, this brand's reputation was slashed based on the overall taste of the hot cocoa.
Eat This, Not That! Verdict:
The only thing that kept this mix from the last place was the color. An ideal cup of hot chocolate has a color that should resemble a decadent melted chocolate bar. A beautiful, rich mocha color pleased some of the team. For others, the taste drowned out anything good about it. One editor stated this mix tasted "watery, not impressive. Looks like dark chocolate hot cocoa, which looked lovely, but a letdown for Godiva."
Another editor appreciated the subtly sweet taste, but they were alone in this. "Bitter taste—but in a good way—not overly sugary. Slightly watery." Others said it "tastes like baking chocolate, not sweet at all. Pass." A singular editor appreciated that it tasted like "very real chocolate, but sacrifices sweetness in favor of an earthy heavy cocoa taste."
A few editors were disappointed by the taste. Said one: "Godiva, what! You are supposed to be a chocolate connoisseur. This is awful! The worst of the bunch." Another added on that this was "bitter and gross. You could never get me to ask for a cup of this hot chocolate." Another editor said they couldn't even drink it, saying, "this needs so much sugar. Couldn't even swallow this."
Ghirardelli Double Chocolate Premium Hot Cocoa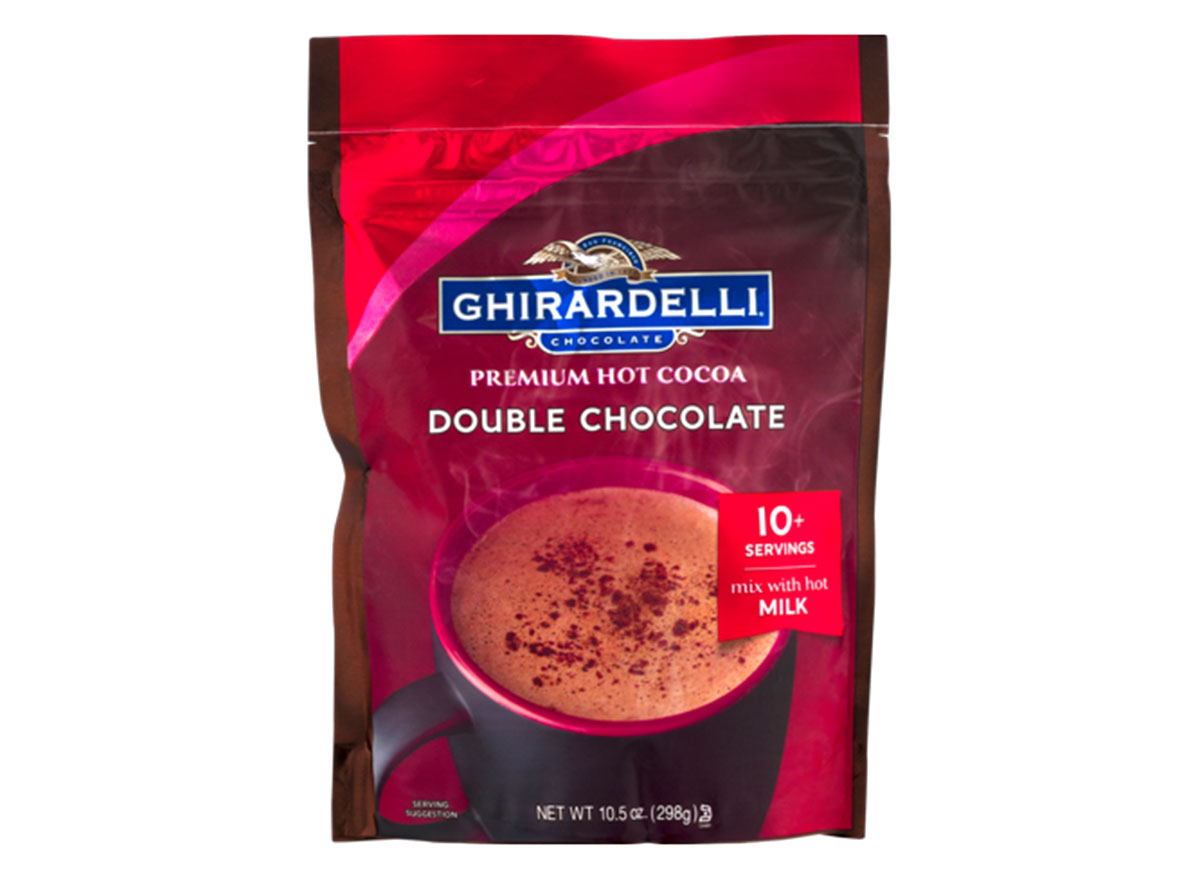 6254a4d1642c605c54bf1cab17d50f1e
This mix had high hopes. We picked mixes that were all milk chocolate flavor, but we could only find the double chocolate version of Ghirardelli. We thought that this would automatically make it a front runner. We were sadly mistaken.
Eat This, Not That! Verdict:
The test started off well based on the smell, but one editor started with, "this is surprisingly horrible. I'm sad this was so bad." While another said it "smelled like a melted chocolate bar but was a little too sweet."
The look of this mix also threw some of our tasters off. One editor said, "nice color, but why does it taste sour?" Most agreed that the mix was "very rich, very chocolatey, and sweeter than Godiva, but still very cacao-forward." This one also had the smoothest texture from one of our tester's reviews.
One editor thought the downfall of the drink was the water mixture. "It's full of chocolate taste, which is nice because that's their job, but the water brings it down. I'm interested in how this would taste with milk."
Overall, Ghirardelli "looked better than it tasted. Great color, but a bit bitter."
Nestlé Classic Rich Milk Chocolate Hot Cocoa Mix
Nestlé is also known for its wide arrangement of chocolates, but that didn't translate into the brand's hot cocoa mix. This was another one where you could see visible sugar flecks in the mix.
Eat This, Not That! Verdict:
This one tasted "very watered down. The flavor is too subtle, but has a nice color." One editor was very much not a fan. It was "so watery in both taste and flavor! Yuck!"
After reading the nutrition label, one editor backed up her argument, saying this was, "another highly-processed and fake-tasting product. Better sweetness and smoother compared to Hershey's, however."
However, one editor liked this mix because of its "classic childhood flavor, but it's not super great." Another liked the creamy taste of this mix and stated that the color of this mix was "on point."
The visible sugar correlated into a sweet taste. One editor thought this one was "super sweet, thick, and has a great milky flavor." Another's nostalgia led to them thinking it tasted like "milk chocolate, but a thinner taste than I remember from childhood."
This one got a higher rating because it was "delightfully frothy. I feel like this was made with one of those milk steamers. Delicious!" This shocked us because this (and all the other mixes in the test) was made with just hot water. Some didn't like the sweetness, however, saying it "tastes a bit like sugar water." Overall, it was OK hot cocoa, making its way toward the middle of our list.
Stop & Shop Hot Cocoa Mix
This mix from Stop & Shop was the only generic grocery store brand we could find. Usually, generic brands are assumed to be less desirable than the more mainstream brands, but this one made its way right into the midway point, and for good reason.
Eat This, Not That! Verdict:
Good hot chocolate is sweet and chocolatey. But our tasters were still pretty split about this treat. One editor who read the nutrition was not a fan saying, "the box is right, this hot chocolate is most certainly artificially flavored. Pass." Another was pleasantly surprised. "I was expecting to hate this, but I didn't. Not the best, but nice sweet flavor." This mix got points for its "very chocolatey and creamy taste, even though it's made with water."
Some weren't fans of the smell, but the taste made up for it for the most part. One editor said, "Smells a bit fake. Not too sweet." While another said it was "better than expected, perfectly sweet, slightly milky, but the chocolate quality doesn't stand out."
Land O Lakes Chocolate Supreme Hot Cocoa Mix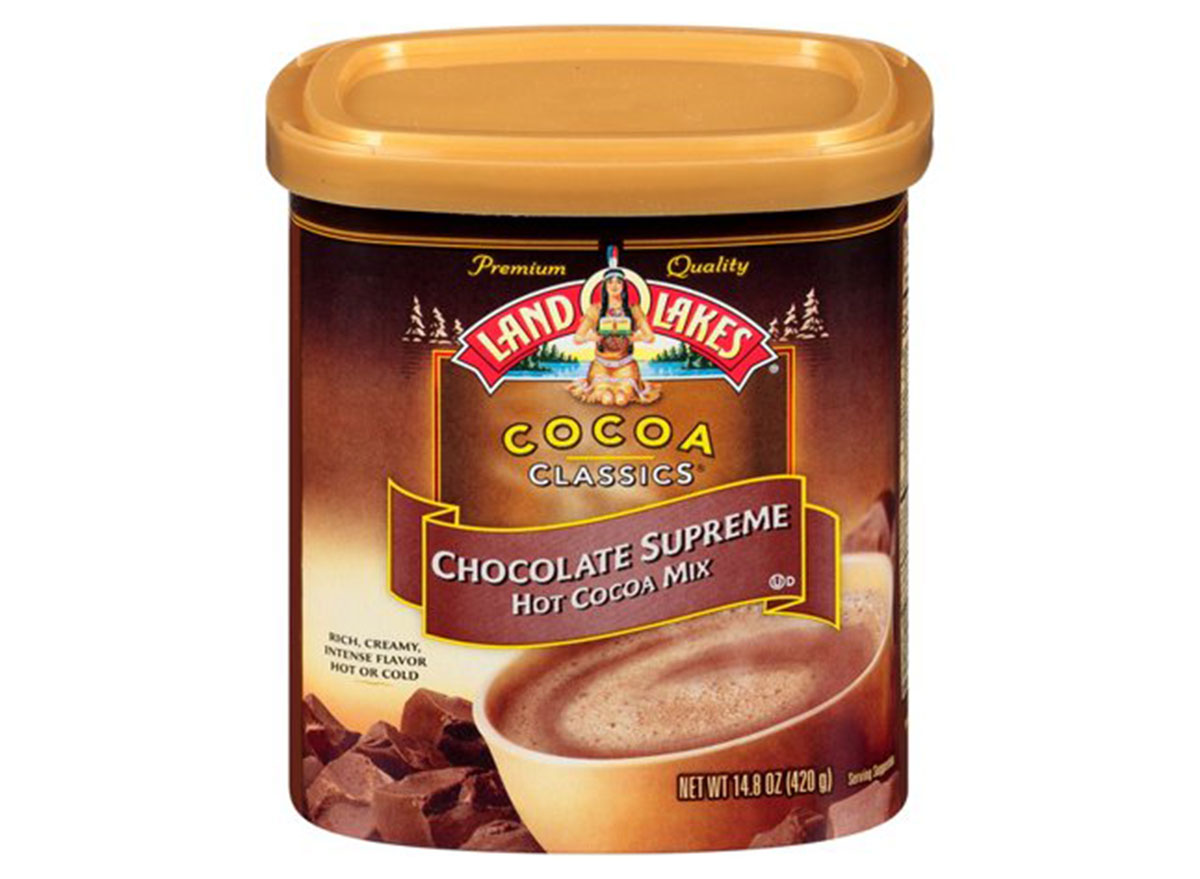 This mix from Land O Lakes landed squarely in the middle of our taste test, earning it a spot in our top 5.
Eat This, Not That! Verdict:
Our tasters were split across the board. One stated that the Land O Lakes "looks weird but tasted fine" with a "milky chocolate taste." Another thought it "doesn't have much of a taste and has a weak chocolate flavor."
Even though many of the above mixes made some miss the milk in the mix, one tester thought "this is good! Tastes like there's milk without milk!" Others agreed and thought the "chocolatey flavor of this mix would pair well with marshmallows."
Hershey's Milk Chocolate Hot Cocoa Mix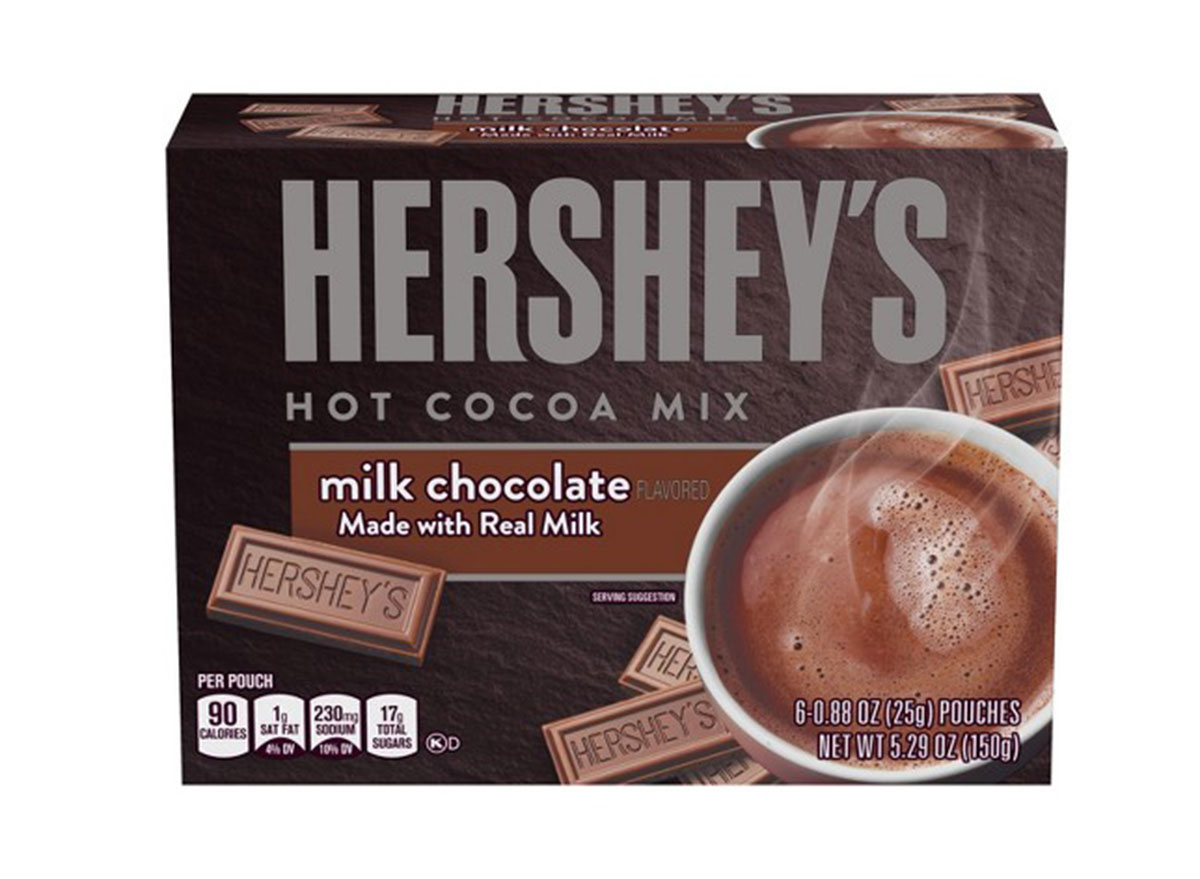 This was the only iconic chocolate brand to land in the top 5. We were impressed by Hershey's attempt to make their delicious bar into a hot chocolate drink mix. We had high hopes, but ultimately this one had mixed reviews. This was also another mix where you could see the sugar in the powder, but it was the only one like that to make it high on the list.
Eat This, Not That! Verdict:
This mix was "pretty good! Fine chocolate taste that you know and love with Hershey's." Others on the team also enjoyed this treat, saying this mix has a "very sweet aftertaste" and that they were "into it because this tastes like it was made with milk! I need marshmallows and whipped cream with this." One editor thought it "tasted like a melted candy bar, sweet, very chocolatey."
This one smelled different than others. We are curious to see what makes this one so different. One editor claimed this mix "smells like caramel." Another thought it smelled "like a melted Hershey kiss."
There was only one negative comment. This editor was alone in their claim stating "this is a sad excuse of a hot chocolate. Stick to Hershey bars, Hershey." You can't please everyone, we guess.
RELATED: Hershey's Debuts a New Version of This Beloved Chocolate Bar
Trader Joe's Organic Hot Cocoa Mix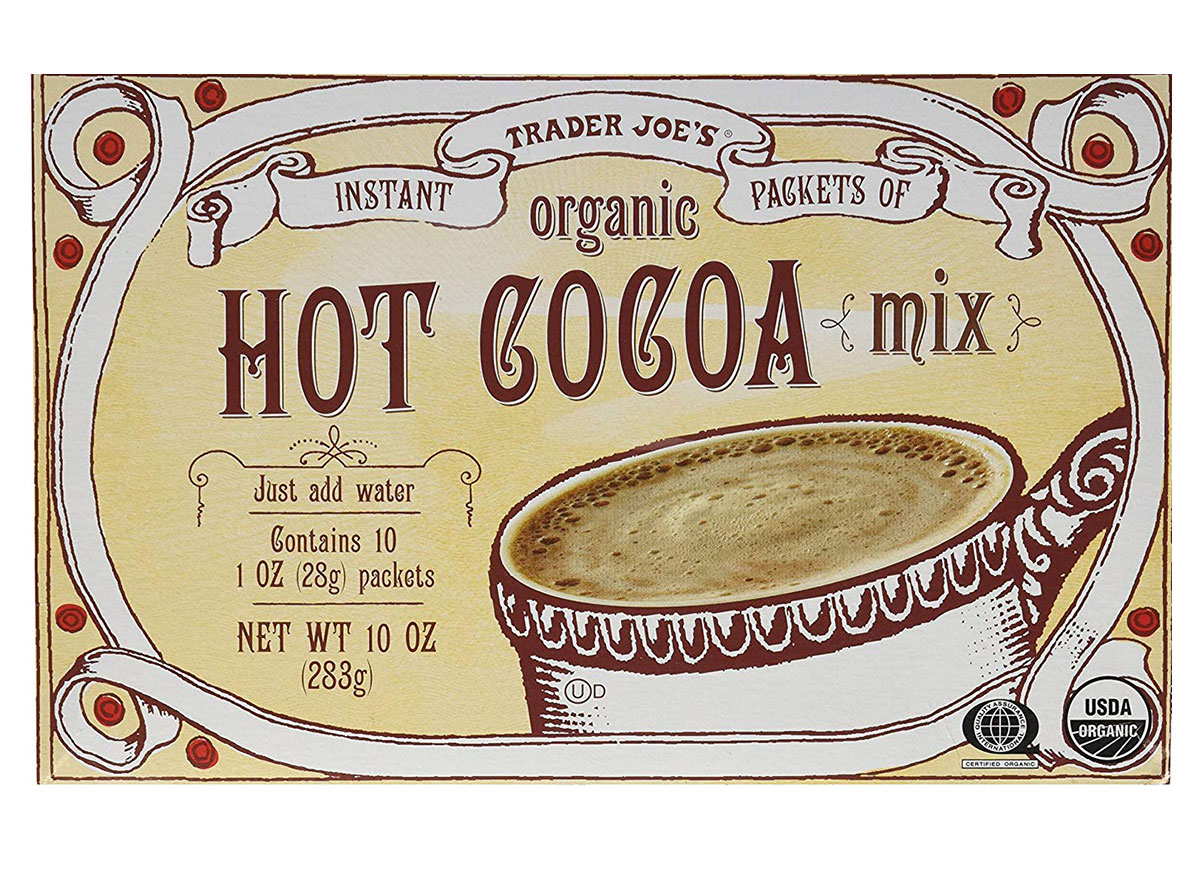 Trader Joe's seemed to be a dark horse in the race. Most of our testers hadn't tried this mix and had low expectations because their childhoods were filled with the generic brands they had always enjoyed. Surprisingly enough, this TJ's mix made its way to the top three.
Eat This, Not That! Verdict:
This backhanded comment from one editor was confusing but overall explained why this one was so high on the list. "Nice! Doesn't taste horrible with water." "Horrible" isn't exactly what you want to say about a delicious mix, but we'll take it because most favored this over the popular brands they were used to drinking.
The smell of this mix was more on the dark chocolate side and the taste was "less sweet and marshmallowy. Perfectly sweet."
This mix also had that desired "classic cocoa taste. More milky, I think, than sweet." One editor "loved this one. It's simple, and the chocolate flavor is both prominent and pleasant."
This Whole Foods cocoa shone through as a generic brand that landed in the #2 spot. We were pleasantly surprised by not only the flavor but also by the price.
Eat This, Not That! Verdict:
Our editors "loved the dark color" of this one. It got top-notch ratings for its "milky texture without milk" and "marshmallow taste" One editor said it was "perfectly sweet and smooth."
Helping it earn a top-two spot was a review from one editor who rated it #1 saying it "smells awesome, tastes awesome." Another stated it had "solid chocolate flavor; I was pleasantly surprised."
Our team enjoyed the "perfect sweetness and flavor" and one even stated this was "a dark horse in the race! I was surprised by this one. The chocolate was rich and the cup was a beautiful color. I loved it!"
Overall most agreed this grocery store brand was "fantastic. I would absolutely buy this–it's thick and creamy."
Swiss Miss Milk Chocolate Hot Cocoa Mix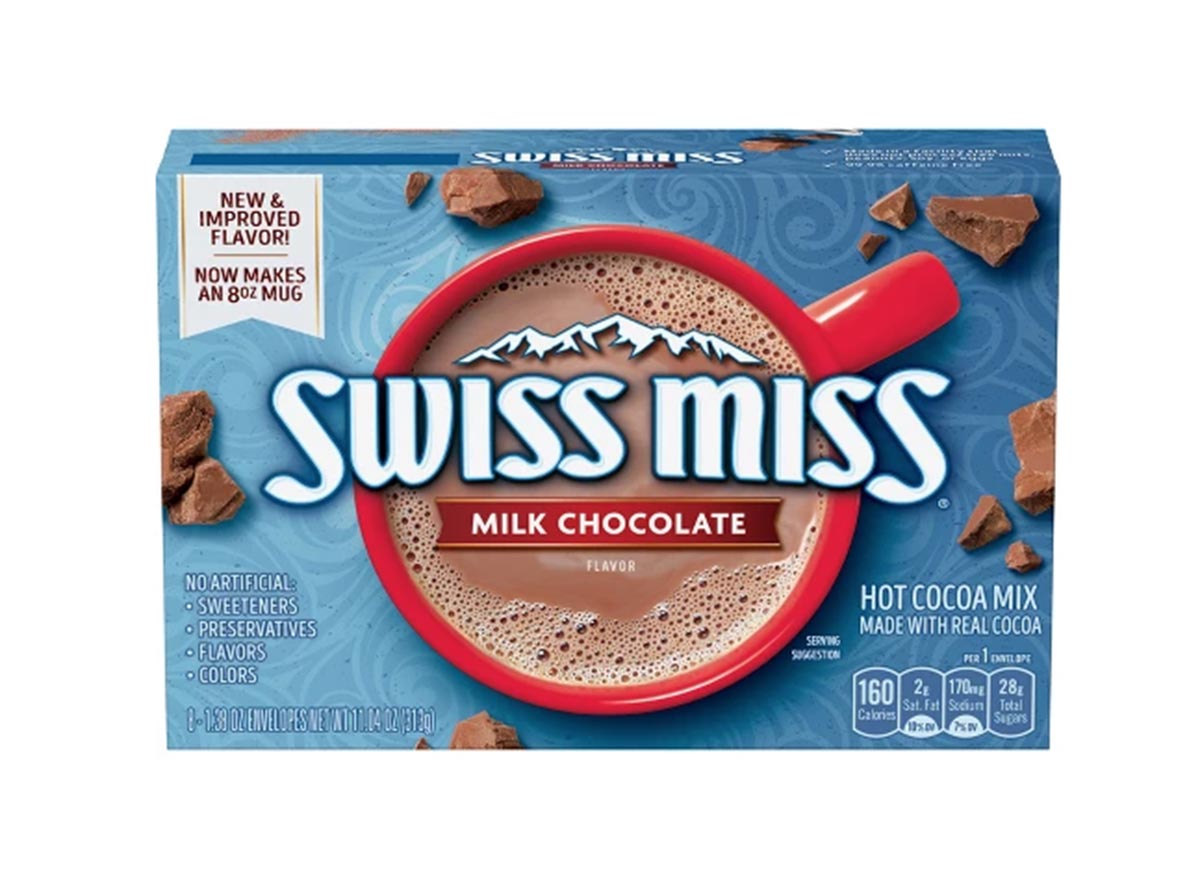 Sometimes, you don't need to mess with a classic to get the best. If you're looking for a sweet and creamy hot cocoa to get you in the holiday spirit, Swiss Miss is the hot cocoa mix for you. Our #1 pick is the hot cocoa many would enjoy on a cold rainy afternoon or just when you're in the mood for a warm, chocolatey treat. Even with water, the flavors and aromas shone through and made our tasters almost unanimously pick this one as their top choice.
Eat This, Not That! Verdict:
Our testers raved about nostalgia when tasting this drink. One editor said that this mix "reminds me of childhood. This is what I want after an afternoon of sledding. Love it." Another raved about it, too, saying this had a "perfect hot chocolate taste. Even creamier than other mixes. Reminds me of nights caroling around the neighborhood." This is basically the perfect mix for getting into the holiday spirit, right?
The brand raves about the mixture being made with milk. But even with the absence of milk, our tasters couldn't get over the creaminess. One editor said "while, of course, it does better with milk, it doesn't disappoint with water! Consistent taste, and delicious!"
Another editor loved the mix, saying it's "a classic for a reason. Milky and chocolatey." All around the tasters agreed this was the "classic taste I remember as a kid. Great balance of sweet and chocolate texture." Some admitted the memories of their childhood make them favor it automatically. One editor said, "This was my fave but I might be biased! Perfect mix of sweet and chocolate flavor."
A lasting impression from childhood correlated with our testers' love for this classic mix. Swiss Miss has been making this mix for more than 50 years, so it's no wonder it came out on top. This mix is definitely "classic, nostalgic, perfectly sweet, and smooth."
Check out more of our exclusive taste tests:
I Tasted 7 Brands of Oatmeal & This Is the Best
We Tasted 9 Tomato Soups & This Is the Best
Ann Marie Langrehr
Ann Marie is the Social Media Editor for Eat This, Not That! running the brand's social media accounts.
Read more about Ann Marie