6 Best Fast Food Coffee Orders for Abdominal Fat, Says Nutritionist
Ordering coffee out? Sip on these to slim down.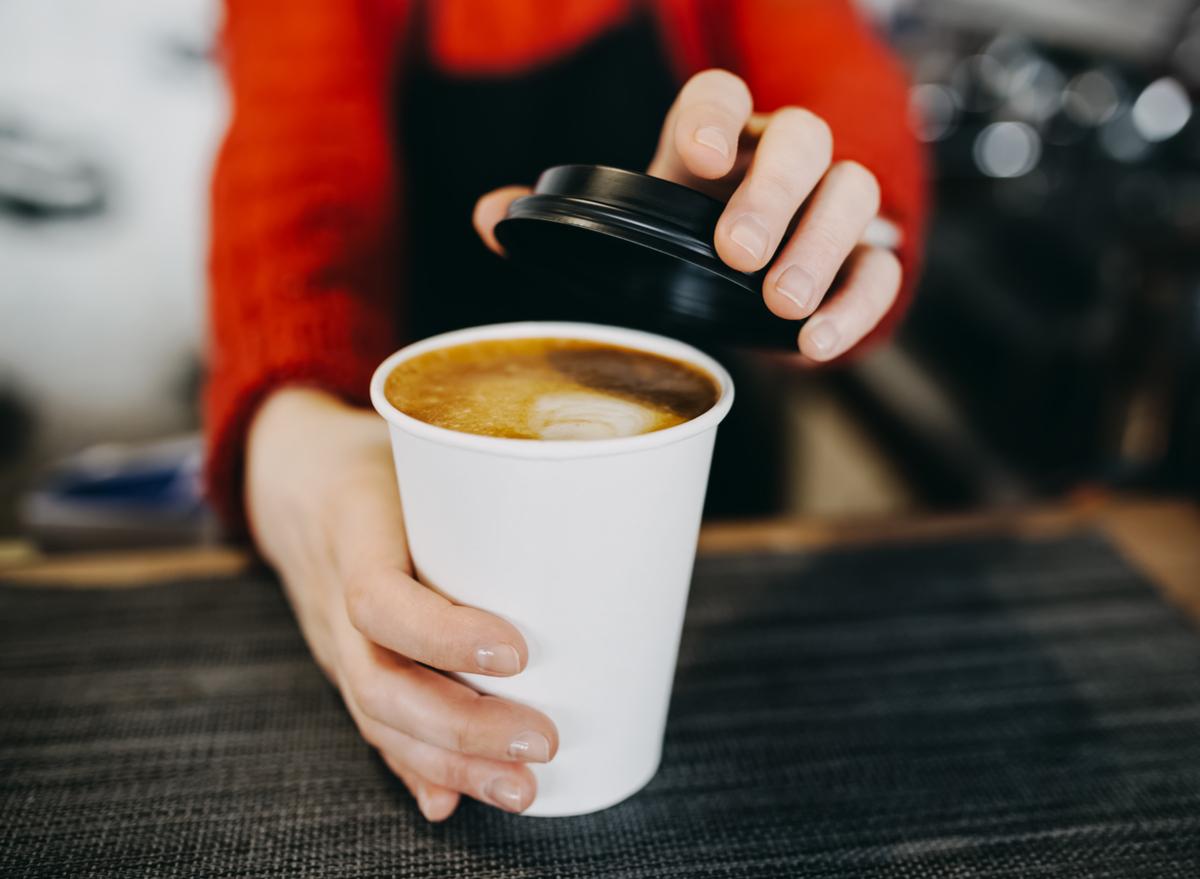 When you want to lose body fat—especially the visceral kind that builds up around your middle—you can't go wrong with black coffee to drink. For a perk-you-up start to the day or cure for afternoon grogginess, unadorned coffee is a great choice for its low-calorie count, zero grams of sugar, and high antioxidant content. (That's why it's high on our list of 13 drinks that melt belly fat!)
That said, it's a rare breed of coffee drinker who truly loves their java black. If the proliferation of fast-casual coffee shops (and their many fancy concoctions) is any indication, most of us prefer something sweet or creamy to jazz up our caffeinated drinks. But are any of these tasty coffee creations compatible with losing abdominal fat? Fortunately, the answer is yes!
As a nutritionist and coffee-phile, I've done my fair share of scoping out coffee menus at fast-food joints. Here's what to order when you're trying to stick to your weight loss goals (but are craving something a little more exciting than an Americano), and for more fast-food ordering tips, check out 7 Best Fast Food Breakfast Orders for Abdominal Fat Loss.
Starbucks Vanilla Sweet Cream Cold Brew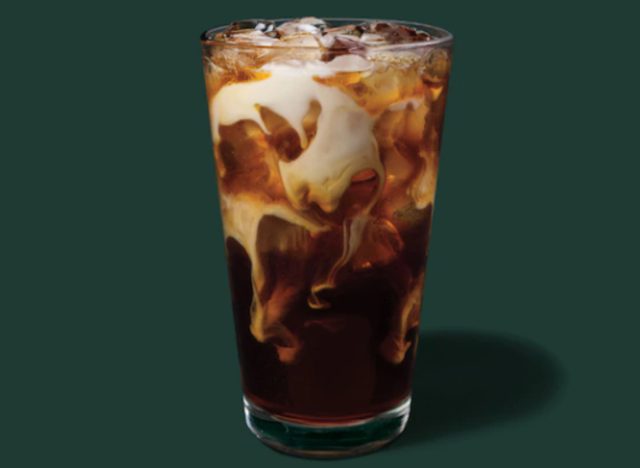 Per tall
: 90 calories, 5 g fat (3.5 g saturated fat), 20 mg sodium, 9 g carbs (0 g fiber, 9 g sugar) 1 g protein
This is my personal go-to drink at Starbucks. It's a smooth-drinking, lightly sweet iced beverage that feels luxurious—without the extreme calorie price tag of other lattes like Starbucks' caramel macchiato or cinnamon dolce. Not only is the vanilla sweet cream cold brew under 100 calories, but it's also made with real milk. According to a 2019 study on over 15,000 adults, habitual milk consumption of 200 grams (about 7 ounces) per day was associated with higher lean body mass.
Dunkin' Coconut Almond Milk Cold Brew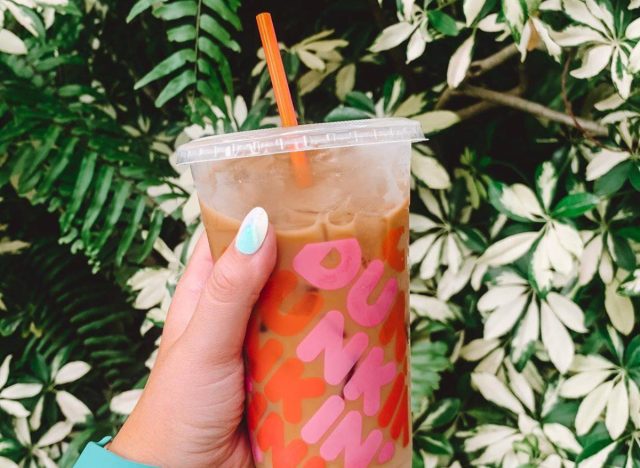 Per small
: 15 calories, 0 g fat, 30 g sodium, 2 g carbs (0 g fiber, 2 g sugar), 0 g protein
Nearly all of Dunkin's cold brew coffee drinks come with pleasingly low-calorie levels, but the coconut almond milk version is the lowest of them all. A 12-ounce small contains just 15 calories! Despite the "coconut" in its name, this drink doesn't contain any real coconut—rather, it's flavored with almond milk and enhanced with coconut flavoring. Sad for your taste buds, perhaps, but helpful for keeping calories to a minimum and fat to zero grams.6254a4d1642c605c54bf1cab17d50f1e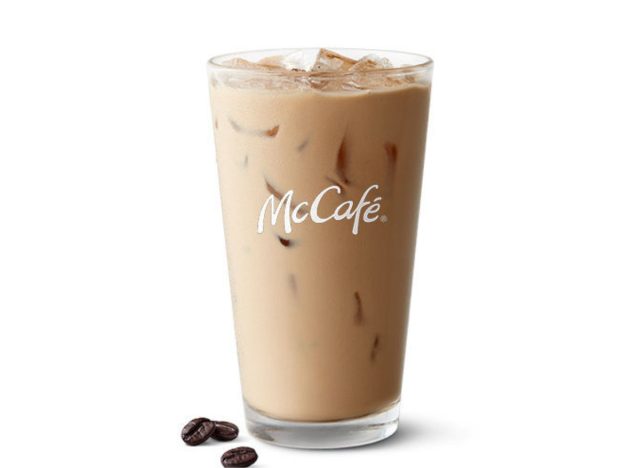 Per small
: 90 calories, 4.5 g fat (2.5 g saturated fat), 65 mg sodium, 7 g carbs, (0 g fiber, 7 g sugar), 4 g protein
Swinging through McDonald's for a quick lunch for the kiddos? You don't have to make a separate trip to the coffee shop to find a decent (and decently healthy) latte for yourself. Despite the famed fast-food chain's reputation for churning out processed food, their iced latte is super simple—a very good thing, because research shows consuming more processed food is associated with more belly fat.
McDonald's iced latte contains just espresso, ice, and whole milk. No wonder it's got just 90 calories, 4.5 grams of fat, and 7 grams of sugar (the kind that naturally occurs in milk)! If you'd like to scale calories back even further, ask for nonfat milk instead of whole milk.
Caribou Coffee Northern Lite Vanilla Cooler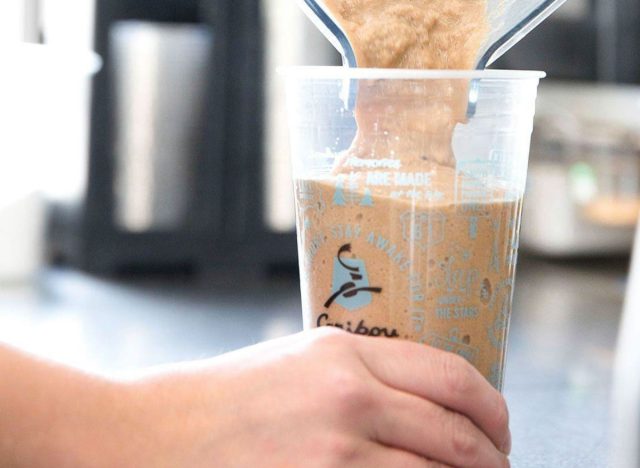 Per small
: 130 calories, 2.5 g fat (2.5 g saturated fat), 150 mg sodium, 47 g carbs (9 g fiber, 19 g sugar) 2 g protein
For a drink with plenty of mellow vanilla flavor, check out Caribou Coffee's Northern Lite Vanilla Cooler. This one clocks in a pretty heavy amount of sugar with a total of 19 grams—so you may be surprised it makes the list. The reason: it has a low-calorie count of just 130 and provides a whopping 9 grams of fiber (36% of the recommended daily intake for women and 24% for men).
Some studies have shown an inverse relationship between fiber consumption and abdominal obesity. Don't miss our list of 43 other high-fiber foods to add to your diet!
The Coffee Bean & Tea Leaf Caramel Americano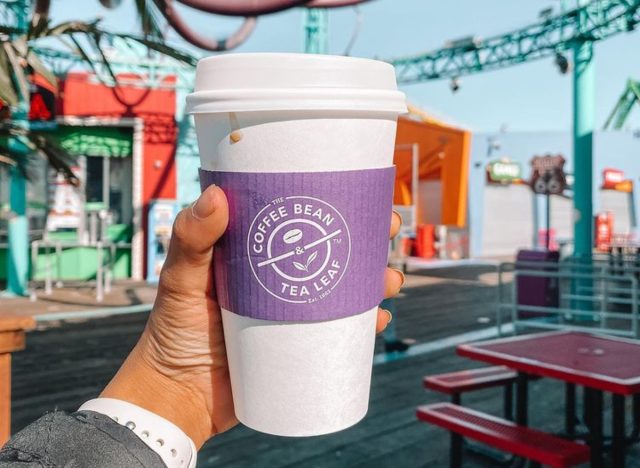 Per small
: 100 calories, 1 g fat (1 g saturated fat), 75 mg sodium, 19 g carbs (0 g fiber, 13 g sugar), 2 g protein
Not to point the finger at the Coffee Bean & Tea Leaf, but the vast majority of their flavored coffee drinks are quite steep in calories and carbs. One of the only flavored beverages on their menu with more moderate nutrition is their Caramel Americano. At 100 calories, 1 gram of fat, and 13 grams of sugar, this one is my top choice for those watching their waistline at this chain.
Caribou Coffee Cappuccino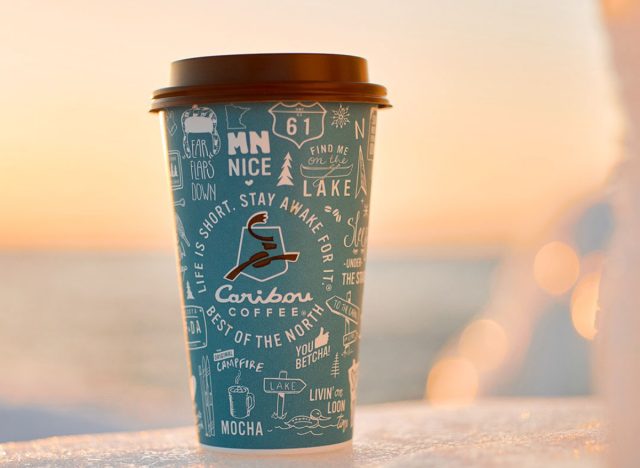 Per small
: 90 calories, 3.5 g fat (2.5 g saturated fat), 85 g sodium, 9 g carbs (0 g fiber, 9 g sugar), 7 g protein
Coffee shop drinks don't get much more iconic than a cappuccino. And when you order Caribou Coffee's 12-ounce version, you can rest assured you're not straying from your health goals as you sip. It's got a modest amount of calories and even packs 7 grams of protein. Getting more protein in your diet can help you stay fuller longer, and there may be a link between quality protein (like the kind in the milk in cappuccino) and reduced abdominal fat.
Sarah Garone, NDTR
Sarah Garone, NDTR, is a registered nutrition and dietetic technician, and a health, nutrition, and food writer.
Read more about Sarah