10 Delicious Fast Foods From Around the World We're Dying to Try
Ramen pizza, kimchi quesadillas, and more fast food that's worth a plane ticket.
Say what you will about fast food, but one thing that it has going for it is consistency: You know what you're in for when you order a Whopper or a six-pack of chicken nuggets. But while we're all comfortable in our same old hamburger ways, international locations of popular American fast food chains are having all the ramen pizza, kimchi quesadilla fun. Here's a look at ten menu items from around the world that we're dying to try. Don't forget to sign up for our newsletter to get the latest restaurants news delivered straight to your inbox.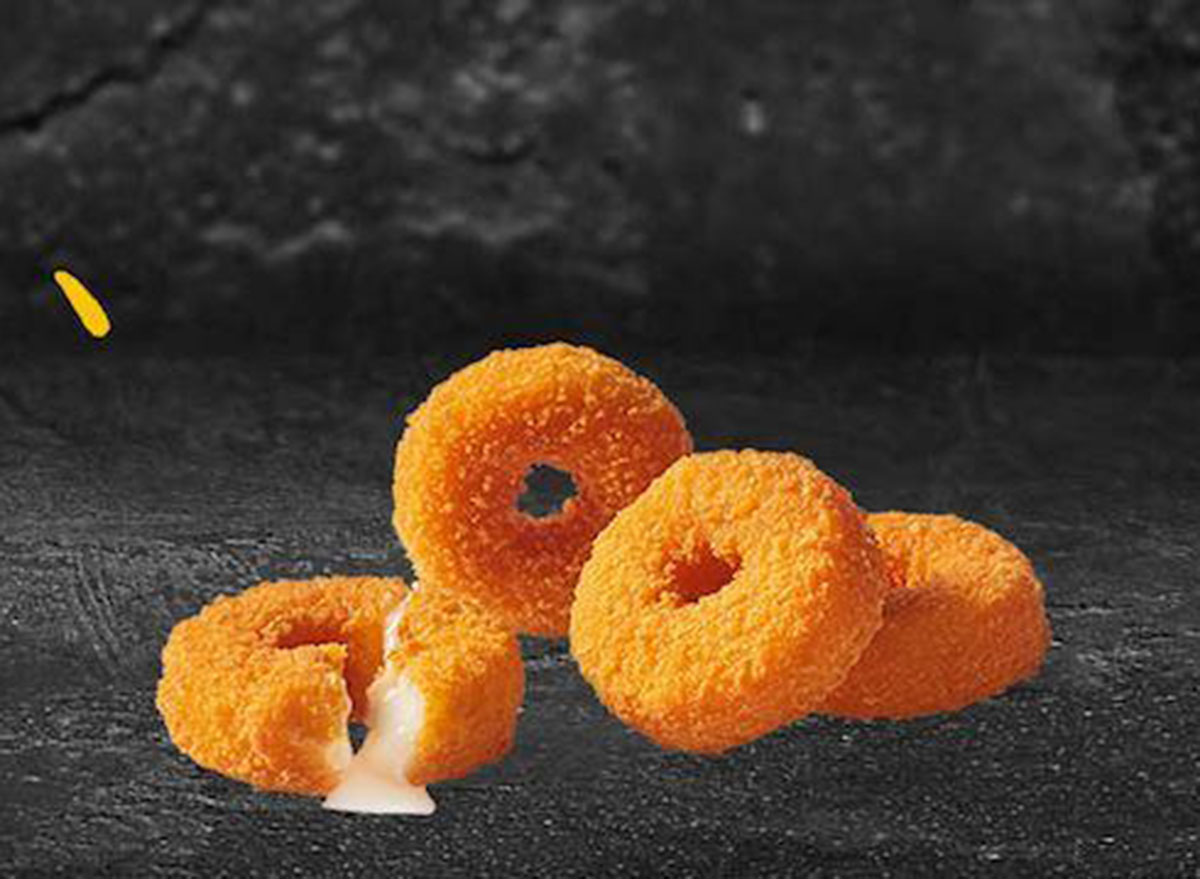 McDonald's in Germany looked at mozzarella sticks, said "that's cute," and launched a doughnut-shaped fried cheese snack instead. And it's not just any cheese we're talking about—the fried rings are stuffed with pure camembert, the creamy, gooey cow cheese that's similar to brie. They come with a side of cranberry dipping sauce, naturally. On the other hand, here are some bizarre fast food items we're glad never took off.
This menu item from KFC Philippines is not an impressive-sounding yoga move, it's what happens when you replace a hot dog bun with fried chicken. It takes inspiration from the original double down—a chicken sandwich that forgoes a bun for two pieces of fried meat—but improves upon the art form. Here's a look at some other Fast Food Dishes You Had No Idea Existed.
Name a more iconic duo, we'll wait. This beautiful behemoth of a pizza has been making the rounds on social media and we just can't stop thinking about it. A creation of Pizza Hut in Taiwan, this Tonkatsu ramen–inspired pie includes noodles, pork, bamboo shoots, soft-boiled egg, green onions, and more. If you're a fan of the offbeat pizza, check out these 17 Delicious Out-Of-The-Box Pizza Toppings You Totally Need to Try.
Chicken Curry Breakfast Burger
McDonald's in Singapore puts the American bacon, egg, and cheese to shame. One of their most popular menu items is a breakfast sandwich, which resurrects a previously discontinued curry sauce with a cult following and pairs it with crispy chicken, a sunny-side up egg, and melty cheese.
Filipino cuisine is home to ube desserts galore, and now the nutty, delicious, and vibrantly purple yam can be found in Munchkin form at Dunkin' in the Philippines. In addition to sounding far superior to the everyday glazed bite, these come in a 40-piece bucket, which is exactly how all Munchkins should be served. Check out these 30 Things You Didn't Know About Dunkin'.6254a4d1642c605c54bf1cab17d50f1e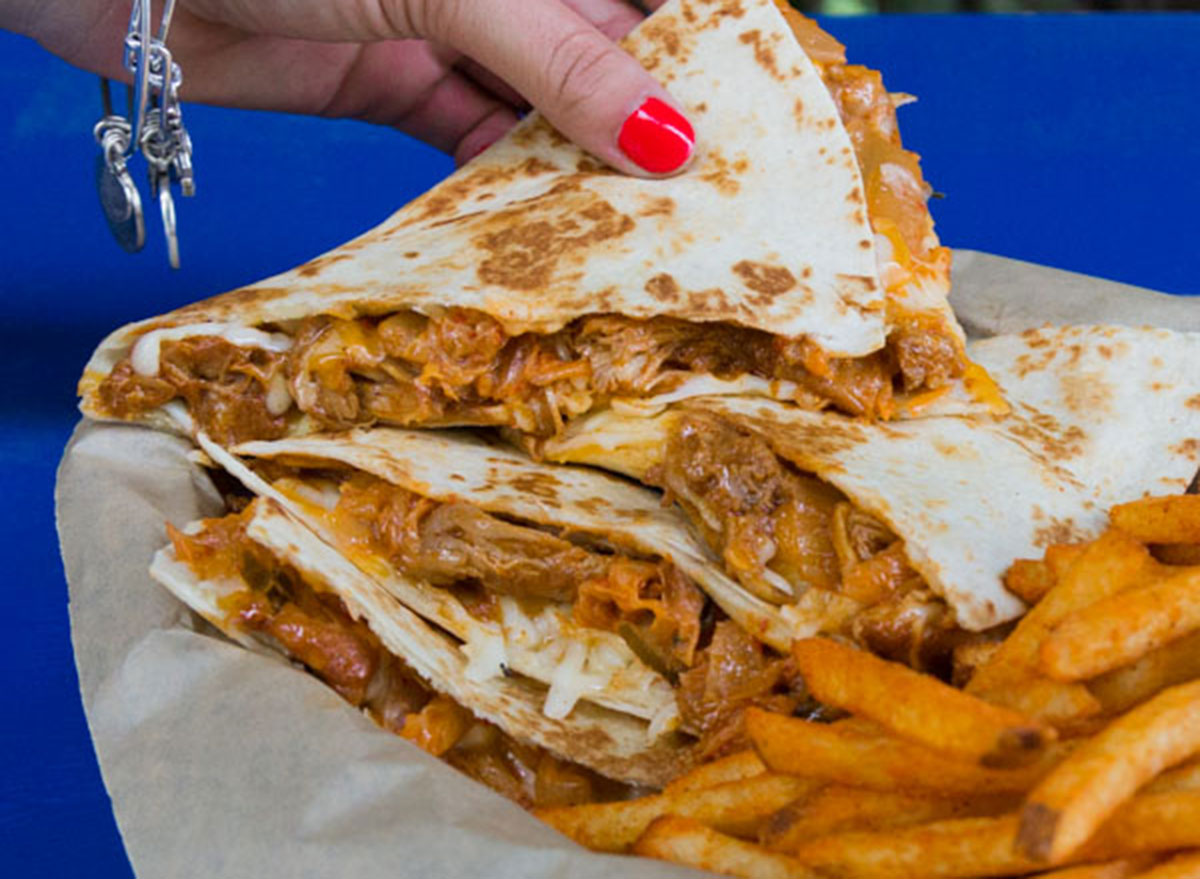 Taco Bell locations in Korea know that the standard fillings of cheese and chicken are simply not enough to make a quesadilla feel special. If you have the chance to try this version that's complete with spicy fermented cabbage (which is a cornerstone of Korean cuisine), you absolutely should.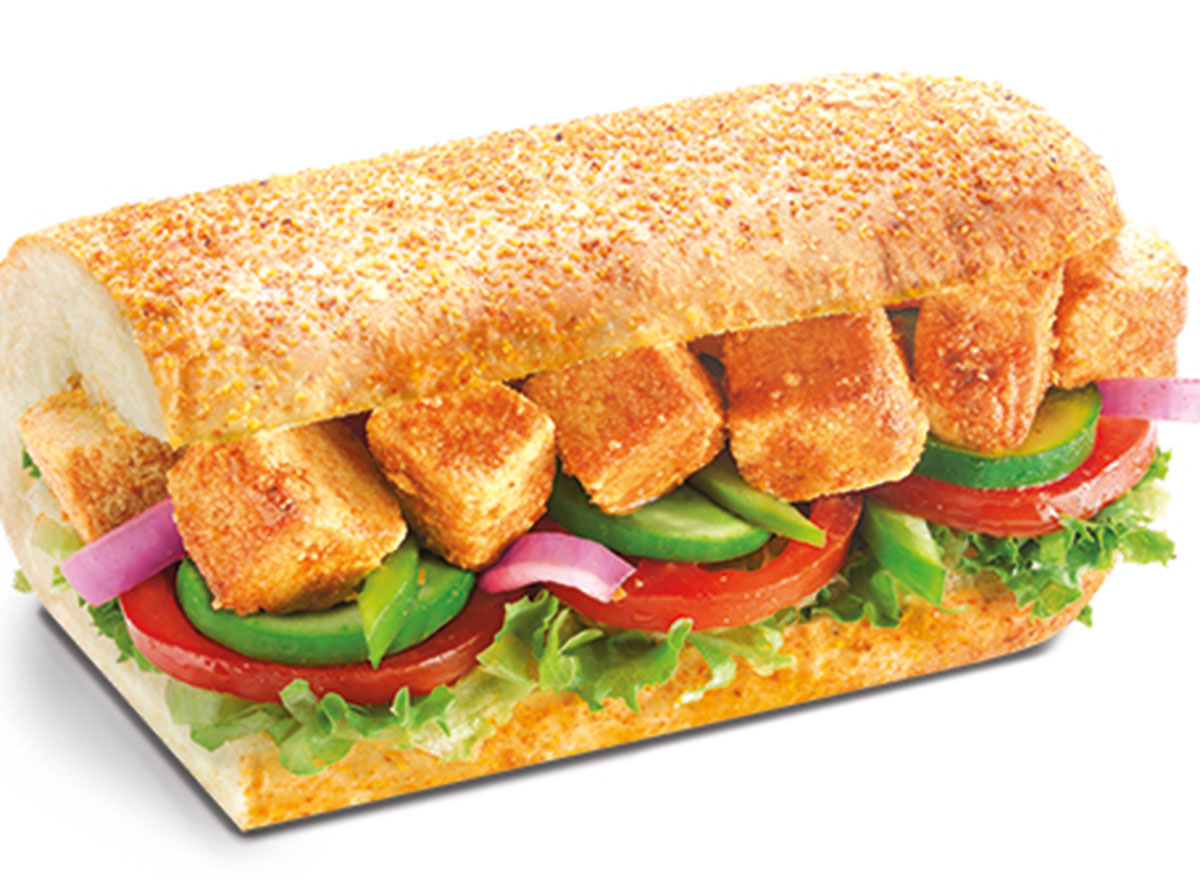 Stateside vegetarians have been coping with the mediocre Veggie Delite for far too long. On the other hand, people who frequent Subway in India get to enjoy this sandwich of tofu cubes marinated in tandoori sauce on the daily. While Bay Area branches recently saw menu items from Subway India added to the rotation, here's hoping that more stores nationwide get the same delicious treatment.
Pork and Seaweed Doughnuts
You'll find this savory treat at Dunkin' locations in China. When you consider how well crispy pork pairs with yeasted dough—and the everything bagel doughnut that had everyone's attention a few years ago—this makes more sense as a breakfast item than our typical sugary, pink-frosted doughnuts.
Cheesy Beef Poutine Pizza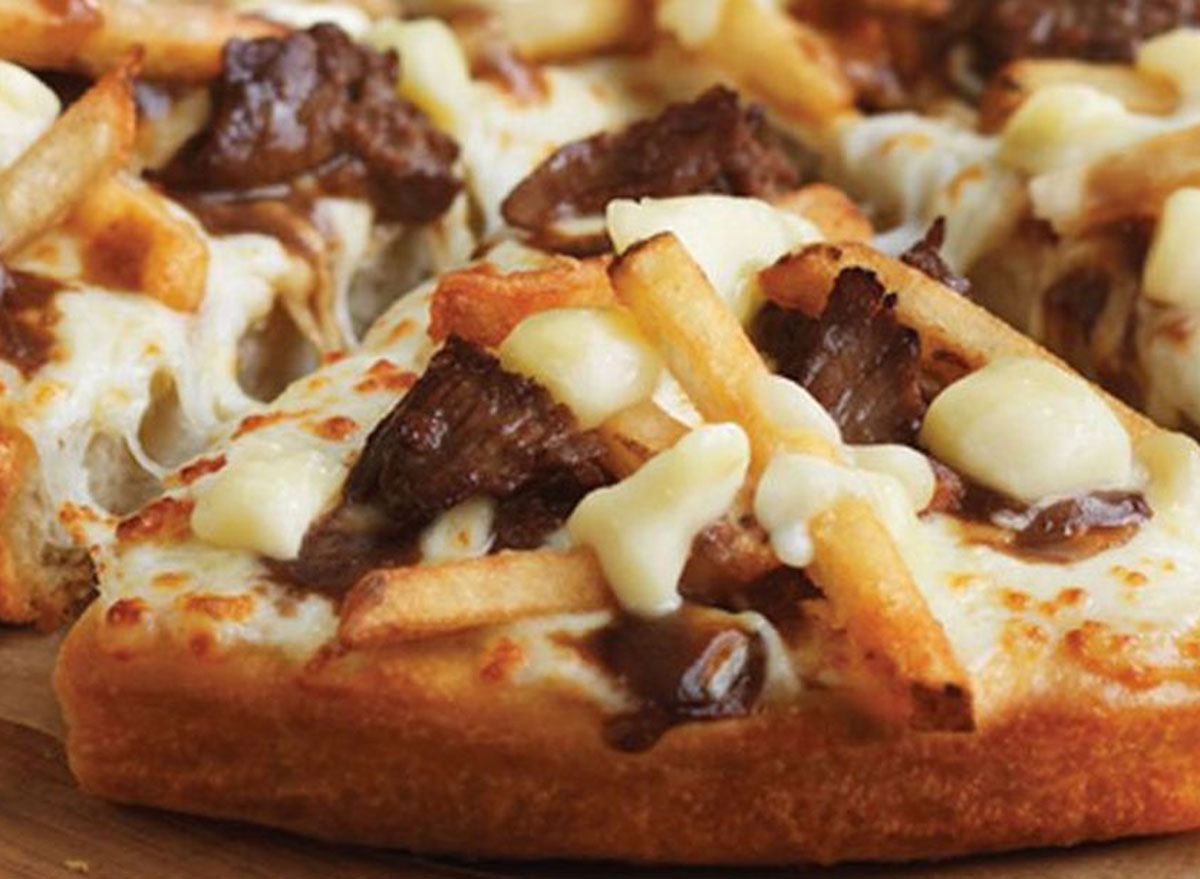 We'll give you one guess as to which country has bestowed this gift to the world. Canada's Pizza Hut customers got to enjoy a limited-run menu that highlighted various beloved Canadian foods, so it's only natural that this multifaceted pie of french fries, cheese curds, gravy, and steak made the cut.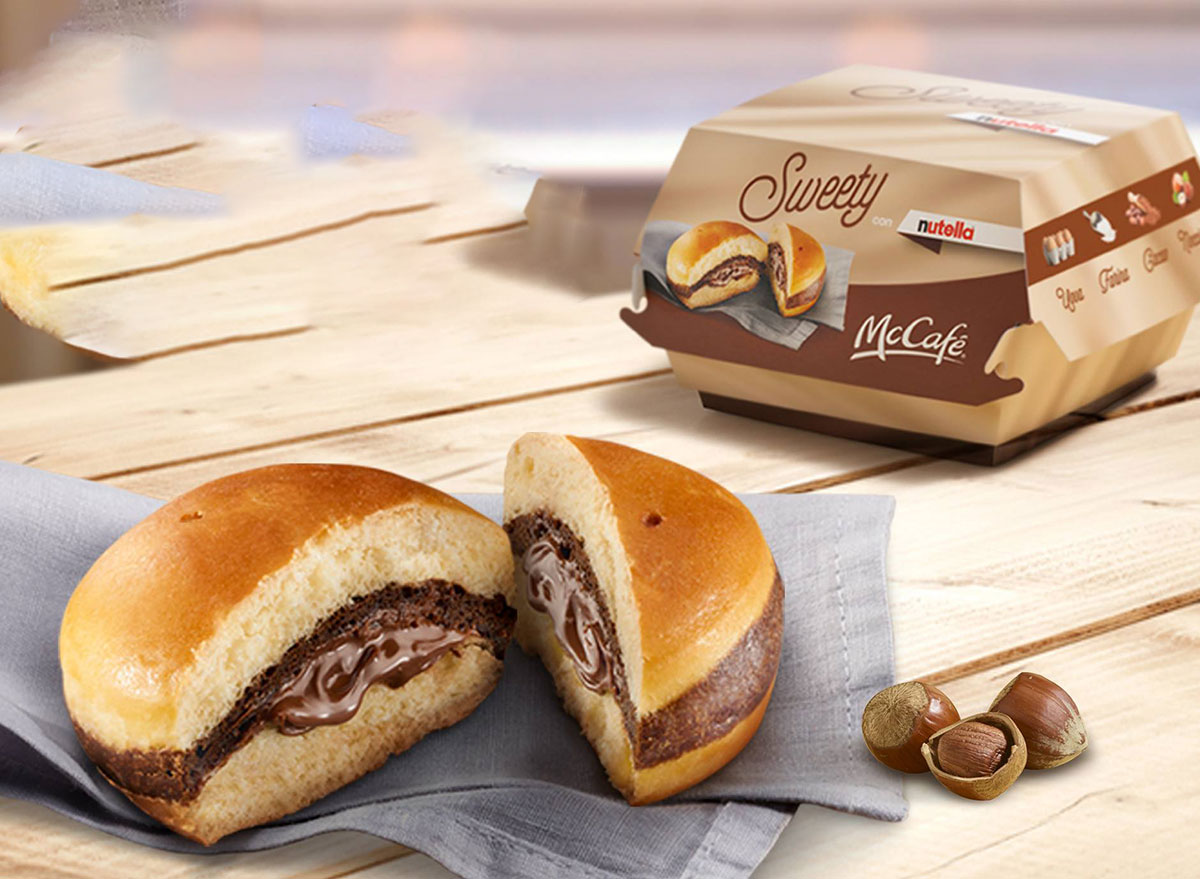 Who needs a hamburger patty when you can have a thick layer of Nutella instead? Sadly, this icon of a "burger" is only available in Italy, but until we're graced with its presence in America, you can recreate your own version at home by taking that rogue leftover hamburger bun and coating it in silky, chocolate-hazelnut spread. Check out 13 Things You Didn't Know About Nutella.
Abby Reisner
Abby is a food writer, editor, cook, and digital strategist living in Brooklyn.
Read more about Abby