7 Restaurant Chains That Serve the Best Onion Rings
Many fried-food fans admit they would choose onion rings over fries any day.
The product recommendations in this post are recommendations by the writer and/or expert(s) interviewed and do not contain affiliate links. Meaning: If you use these links to buy something, we will not earn a commission.
Onion rings are a popular side dish at restaurants when French fries just won't cut it. There's something so mouthwatering about a simple, battered and deep-fried ring of onion, beloved by regular folks and celebrities alike. Pop singer Lorde once had a secret Instagram account dedicated to snack. "I don't think they get enough credit for how delicious they are," she declared in an interview with TV talk-show host Jimmy Fallon.
The origins of the onion ring possibly go as far back as 1469, when French King Louis XI allegedly requested a new snack and was served onion rings, which he did not enjoy. In 1802, a recipe for "Fried Onions With Parmesan Cheese" was included in a cookbook called "The Art of Cookery Made Easy and Refined," and in 1910, the Daily Times in Middleton, N.Y. published a recipe for "French Fried Onions" that eventually became part of a Crisco advertisement in 1933.
Today, onion rings are enjoyed at some of the world's most popular restaurants, and many fried side-dish fans admit they would choose onion rings over fries any day. Whether served at a traditional burger joint or as a way to soak up other flavors at a sports bar, onion rings aren't going anywhere anytime soon. Here are seven restaurants that do onion rings right.
Per Serving (146 g)
: 280 cal, 4 g fat (0 g saturated fat), 930 mg sodium, 53 g carbs 
(2 g fiber, 5 g sugar), 6 g protein
Customers go crazy for the Root Beer Floats, but A&W has another claim to fame: popularizing onion rings as a fast-food side dish. The restaurant likes to take credit for bringing onion rings to the masses since the 1960s, when onion rings were first added to the menu. Today, you'll get tangy white onions breaded and fried to what the company calls a "crunchy golden-brown crisp." A&W suggests pairing them with the restaurant's Spicy Papa Dipping Sauce for added flavor. 
These rings are definitely desired, especially for superfans like Carol and Mark, whose 2019 road trip to Lodi, Calif., the birthplace of the brand, is chronicled on the restaurant's website. Mark's go-to order is a Papa Burger with onion rings, with a refreshing root beer float to wash it all down.
Per Serving (1 tower)
: 1290 cal, 57 g fat (10 g saturated fat), 3550 mg sodium, 179 g carbs 
(7 g fiber, 42 g sugar), 17 g protein
If you're going to offer onion rings on your menu, you might as well go the distance and turn the side dish into a work of art. That's what customers get when they order Red Robin's Towering Onion Rings, which come "standing 13 rings tall" on their own metal dowel and are paired with a Campfire Mayo and ranch sauces for flavorful dunking.
The visual appeal is certainly a hit. Diners usually order the dish as an appetizer or a shared side dish alongside many of Red Robin's delicious, grilled burgers. The onion rings themselves are so popular that foodie bloggers have attempted to make copycat recipes, but if you're not so savvy in the kitchen, the company makes a frozen version you can pick up at the grocery store as well.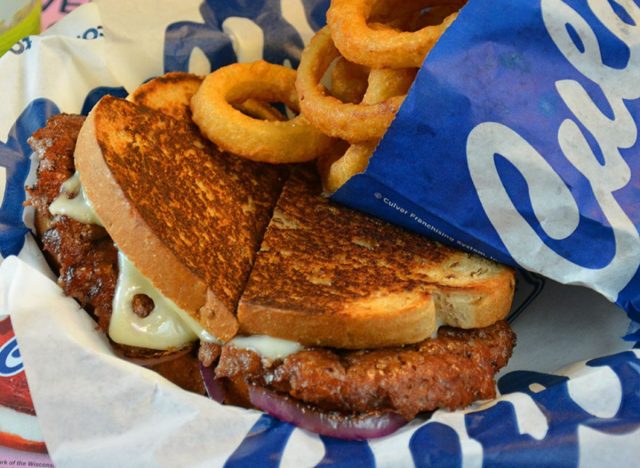 Per Serving (medium-sized order)
: 400 cal, 22 g fat (2.5 g saturated fat), 530 mg sodium, 44 g carbs 
(3 g fiber, 3 g sugar), 6 g protein
It feels like there's nothing this Midwest-based fast-casual chain can't do in terms of menu satisfaction, with its delicious Butterburgers, frozen custard creations, and world-famous deep-fried cheese curds. It's no surprise then that Culver's diners go wild for the restaurant's onion rings, which are made from thick-cut white onions and battered with a hint of seasoning, "letting the onion's natural sweetness shine through" according to the official website. 
"If I had to choose between a million dollars or a lifetime supply of Culver's onion rings, let me tell yeah, I'd take the onion rings," one fan declared on Reddit. Others complimented the way the rings are always "perfectly salted," which the company claims occurs fresh out of the fryer. "When I tell you I've never got a bad culver's onion ring I'm being so [for real]," another fan wrote.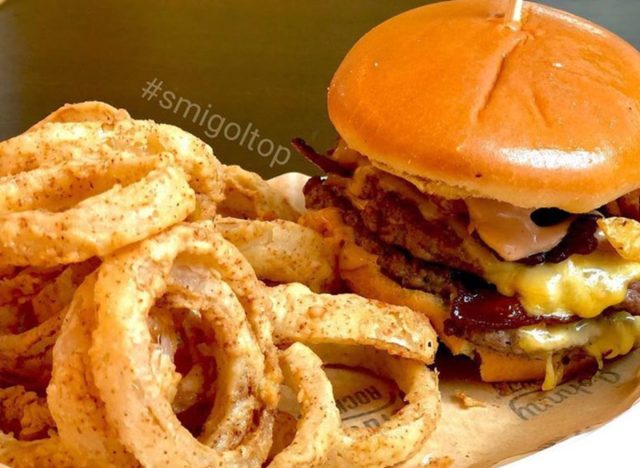 Per serving: 630 calories, 30 g fat (0 g saturated fat), 1730 g sodium, 80 g carbs (0 g fiber, 10 g sugar), 10 g protein
With its 1950s-style diner theme, Johnny Rockets is a popular spot for nostalgic dining experiences—right down to the old-school uniforms. The restaurant chain serves classic-style onion rings, often praised for their crispy texture and flavorful seasoning. The side dish is the perfect salty option for any of the burger and milkshake combos.
YouTuber Ben Deen got a taste of the rings for himself while reviewing a few of the restaurant's burger options. He gave Johnny Rockets "real props" for its onion rings, admiring how they remained warm and crispy despite being "out of the fryer" for over 30 mins from when he received the order. 
Per serving (regular size): 900 calories, 67 g fat (19 g saturated fat), 1540 g sodium, 67 g carbs (6 g fiber, 11 g sugar), 6 g protein
With 26 signature sauces and seasonings, Buffalo Wild Wings certainly doesn't skimp on any of the details regarding its menu. The restaurant has perfected the suburban sports bar concept with its extensive wing options, which include traditional and boneless wings, saucy sandwiches, and even Bird Dawgs (like hot dogs with chicken fingers). Customers can choose from a range of sides as well, with onion rings proving to be a lasting favorite since the restaurant first opened in 1982.
The rings are thick-cut, beer-battered, and served with a Southwestern Ranch dipping sauce to spice things up. TikTok user Eat With DM loved the "sweet onion" taste and "delicious flavor" revealed during her Buffalo Wild Wings onion ring review. She added that while they tasted great in her to-go order, they likely taste even better when fresh out of the fryer in the restaurant.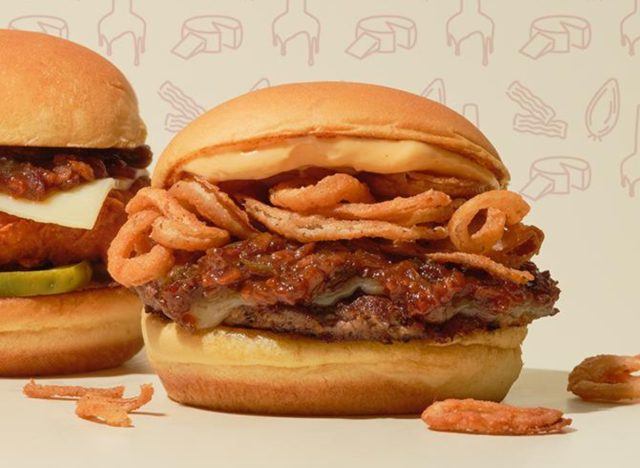 Shake Shack's burgers, hot dogs, and milkshakes are extremely popular around the world, and the brand shows no signs of slowing down with plans for 70 new locations this year. That means 70 more opportunities to enjoy the Shack's creative burger options, many of which have featured onion rings as a topping.6254a4d1642c605c54bf1cab17d50f1e
The ShackMeister Burger, originally created in 2014, was an onion-rings-as-burger-topping launch product, or as Forbes describes it, "a spin-off of Shake Shack's take on onion rings." It featured beer-marinated crispy shallots and ShackSauce on a potato bun and made a comeback in 2020 for a limited time. Today, customers can enjoy a similar experience with the Bourbon Bacon Jam Burger, which hit menus just this summer after a limited test run in May 2022. The 100% Angus beef is topped with thinner, super crispy onion rings, which are complimented with cheese, ShackSauce, and a bourbon bacon jam made with Maker's Mark Bourbon.
(Note: Shake Shack currently doesn't provide nutritional facts for either onion ring-topped burger on its website, and the chain doesn't offer onion rings on the side, either. But, it's safe to assume they're not good for you. That doesn't mean they're not delicious, however!)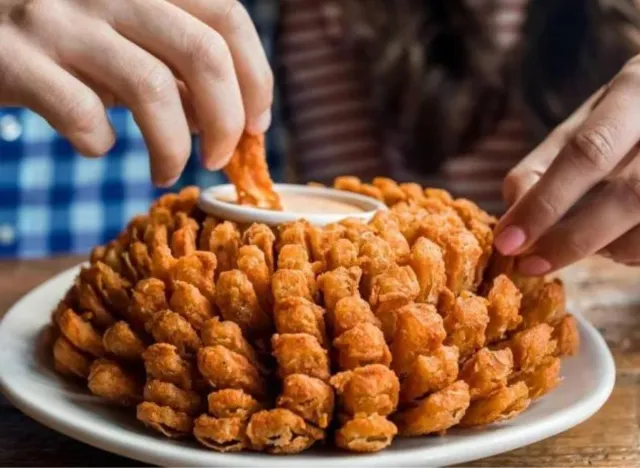 Per serving: 1620 calories, 126 g fat (44 g saturated fat), 4140 g sodium, 67 g carbs (14 g fiber, 20 g sugar), 14 g protein
While it's not the traditional way to serve onion rings, no list of onion ring rankings is really complete unless it also includes Outback Steakhouse's Bloomin' Onion. When you think about it, the massive appetizer is just one giant onion ring. This steakhouse chain gets an honorable mention because of the hype the dish draws, especially how the presentation and addictive taste keeps customers coming back for more.
Even top chefs like Adam Polisei, executive chef of Union New American in Tampa, Fla., aren't afraid to admit their obsession with the crispy fried onion snack. Polisei previously told Eat This, Not That! that he considers the Outback Bloomin' Onion to be "consistently great." The restaurant is a go-to for him because of the overall experience, especially how family-friendly it is, and because it "sparks memories" of his childhood.
Katka Lapelosova
Kat is a born and raised New Yorker exploring the world as she writes, eats, and everything in between.
Read more about Katka