20 Best Fried Chicken Restaurants in America
Time to start planning your trip to each of these eateries now!
There is nothing more comforting than a plate piled high with fried chicken, vegetables, and mashed potatoes with gravy. From buttermilk to brining, every cook seems to have their secret for whipping up some finger-lickin' good fried chicken, but around the country, several restaurants are actually recognized as the best options for crisp, perfectly prepared fried chicken. We went ahead and found 20 of the best fried chicken restaurants in America. You're welcome.
Lula's Louisiana Cookhouse (Owosso, Michigan)
You might be surprised to hear that some of the best fried chicken in the country can be found in Owosso, Michigan, but Lula's chef John Beilfuss put the time in to perfect the craft. Before opening his restaurant, he tirelessly made fried chicken for the staff in the real estate office where he worked, getting feedback until he created just the right recipe. Owosso is a small town, but diners drive from all over to sample the Creole dishes, including the fried chicken platter topped with bacon cream gravy and served with a side of Bayou fried rice.
The Lady & Sons (Savannah, Georgia)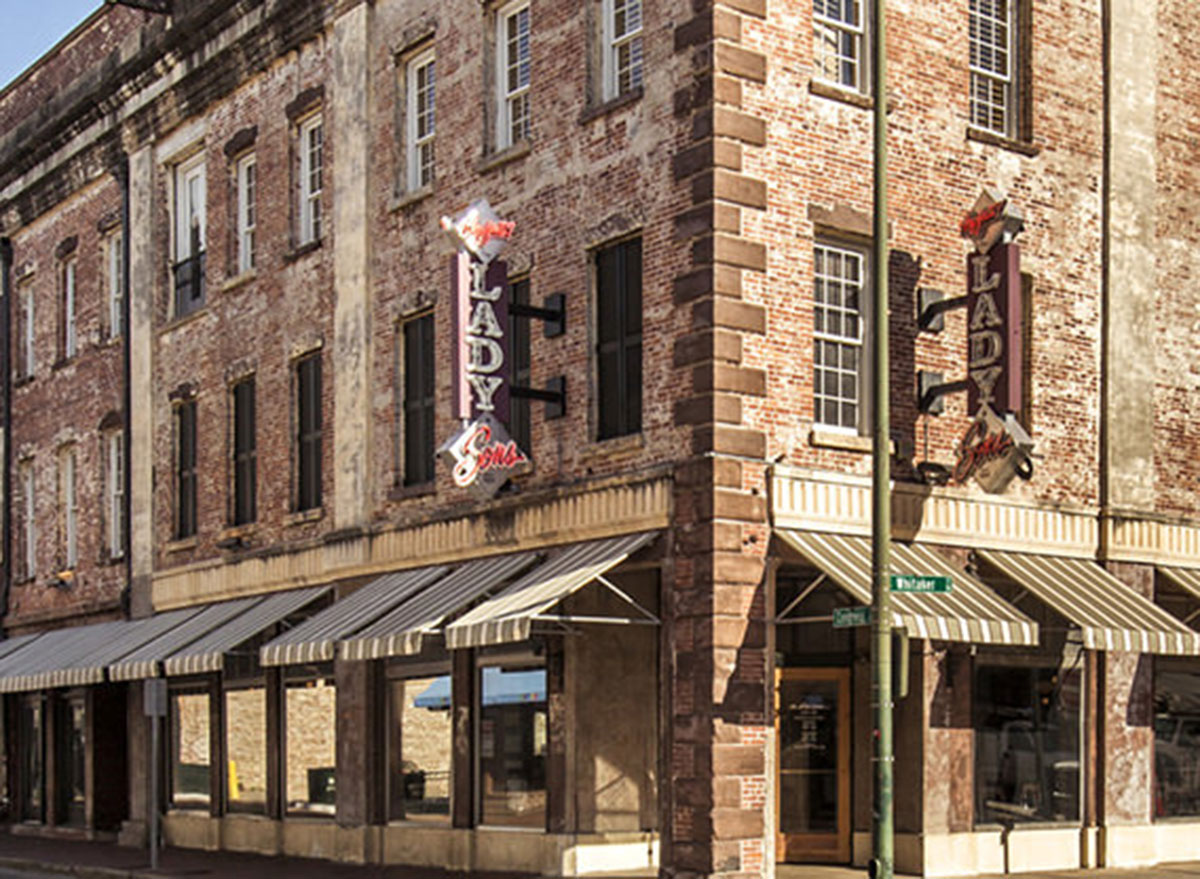 There is no argument that Paula Deen has one of the most popular recipes for fried chicken on the internet. The simple, salty instructions yield delicious pieces in less than 30 minutes, making it a delight despite all the mess that naturally comes with frying. Before Food Network fame though, Paula was a restaurant owner in Savannah, working her way to a location in the popular downtown area, serving a buffet of Southern favorites to tourists and locals alike. The menu stayed true to form through her success, with freshly brewed iced tea served with mint and lemon, bubbly chicken pot pie, and local shrimp served with grits, among other dishes. But it's fried chicken that is the star, front and center, at The Lady & Sons restaurant. If it isn't ordered as an entree or eaten off the buffet, diners can add a piece or two to any selection. Come early though, as the lines often stretch out the door and down the street.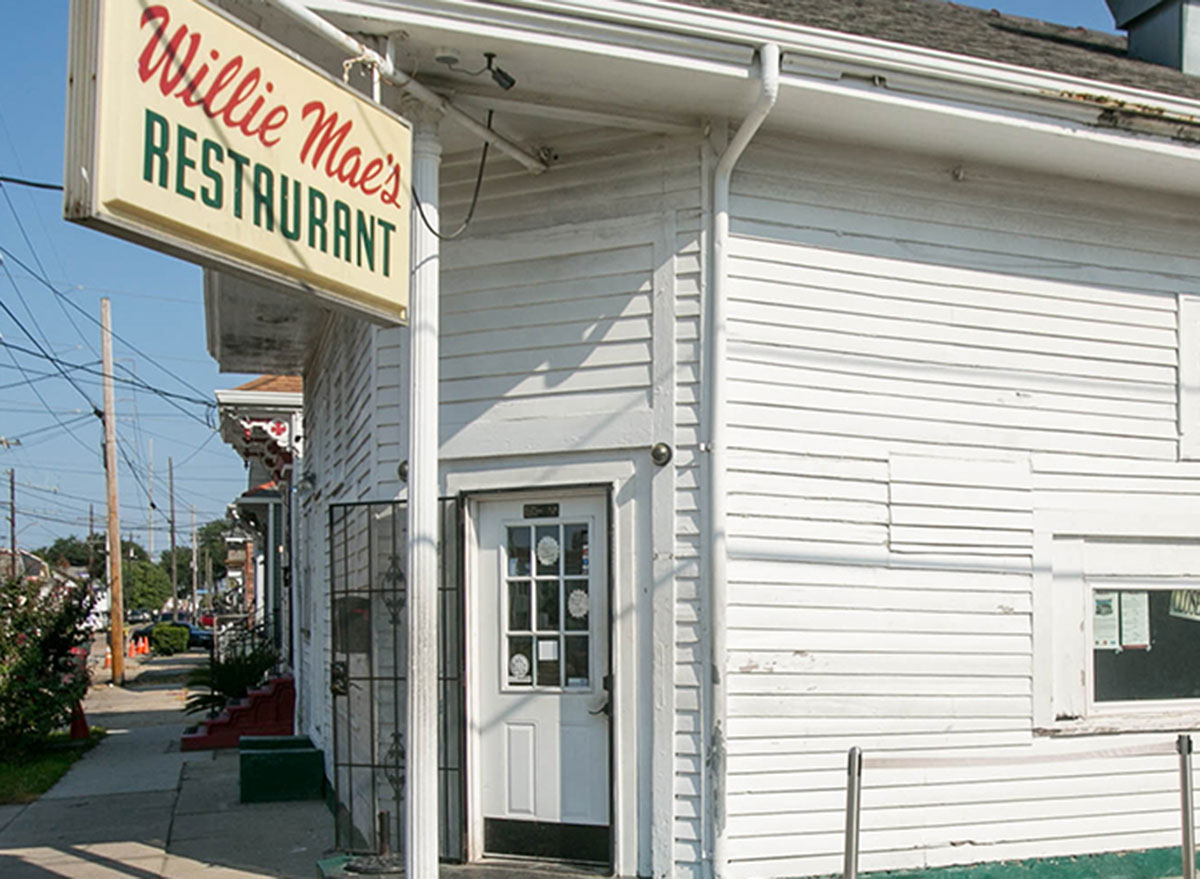 In business since 1957, this bastion of good Southern food in Nola's 6th ward survived devastating damage from Hurricane Katrina. Recognized by Food Network and the Travel Channel as "America's Best Fried Chicken," no list would be complete without a description of their crispy fried bird and Southern sides. Pick from accompaniments like macaroni and cheese, butterbeans, or mashed potatoes with or without gravy. More than likely, visitors will encounter a line, but Willie Mae's chicken is worth the wait.
Ad Hoc + Addendum (Yountville, California)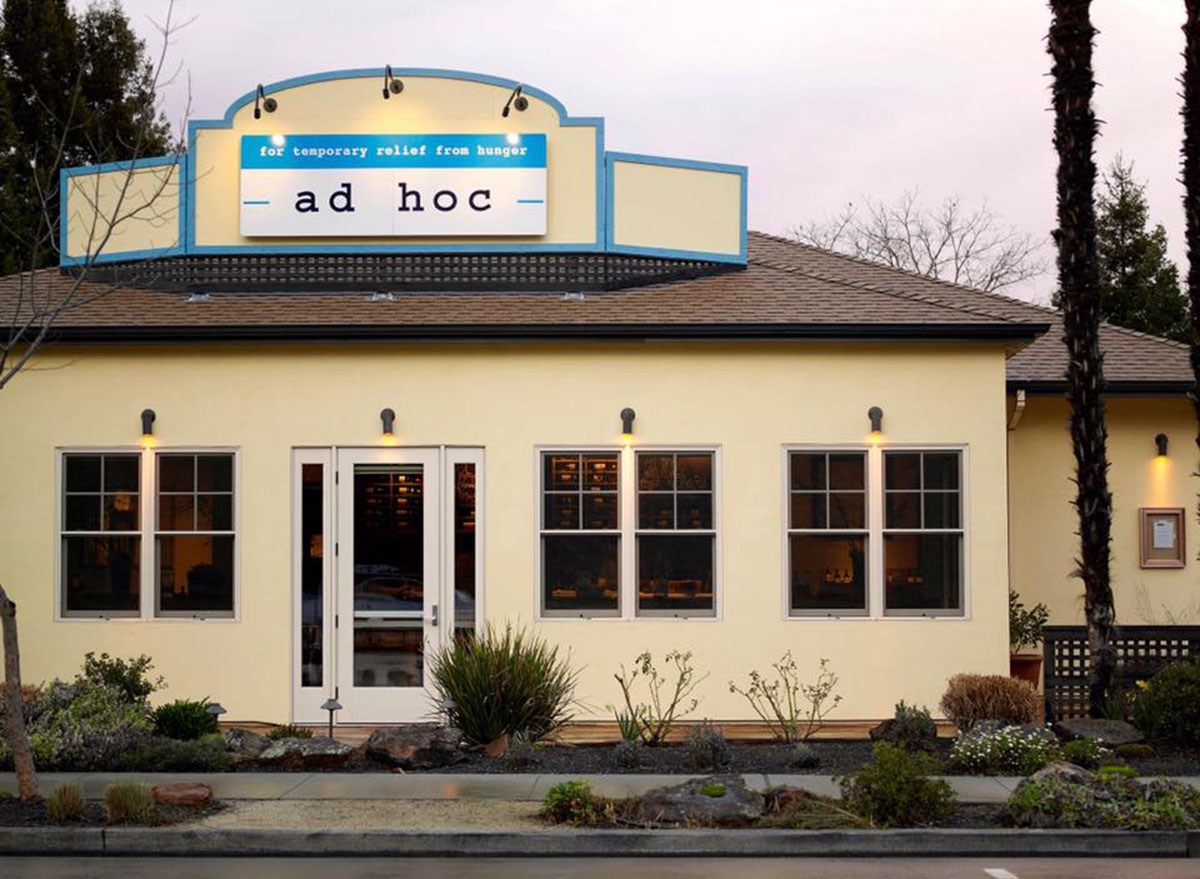 This restaurant has a rotating selection of family-style, four-course meals, but one standout is a customer favorite: the fried chicken. Ad Hoc brines the meat in a lemon, honey, and herb mixture, coats it in buttermilk, and double dips it in spiced flour before frying in hot oil to reach the pinnacle of crispness. Garnishing with fried rosemary and thyme sprigs only makes this dish even more delicious. While Ad Hoc is the main restaurant, Addendum offers boxed meals to go. No surprise, the fried chicken box is highly recommended.
Maxine's Chicken & Waffles (Indianapolis, Indiana)
6254a4d1642c605c54bf1cab17d50f1e
Chicken and sweet potato waffles with peach butter? Yes, please. At Maxine's, the prices are very affordable, and the generous helpings of food are exceptionally high quality. The fried wings can be ordered with waffles and also by themselves topped with a choice of homemade sauces. Entrees offer three Southern-fried wings with a waffle, but there is also a smaller portion available on the kid's menu.
Arnold's Country Kitchen (Nashville, Tennessee)
Offering food for over 30 years, Arnold's is still owned and staffed by family. Co-owner Jack Arnold worked his way through Vanderbilt in the campus cafeteria. He opened Arnold's and within a few years, the restaurant had won recognition in the city for deliciously prepared vegetables and, you guessed it, fried chicken. Lots of options are available for this classic "meat and three" restaurant, and the famous fried chicken is available every Monday on the rotating menu. The dish has a spicy finish, marinated in hot sauce like every good Nashville chicken before frying.
Gus's World Famous Hot & Spicy Fried Chicken (Memphis, Tennessee)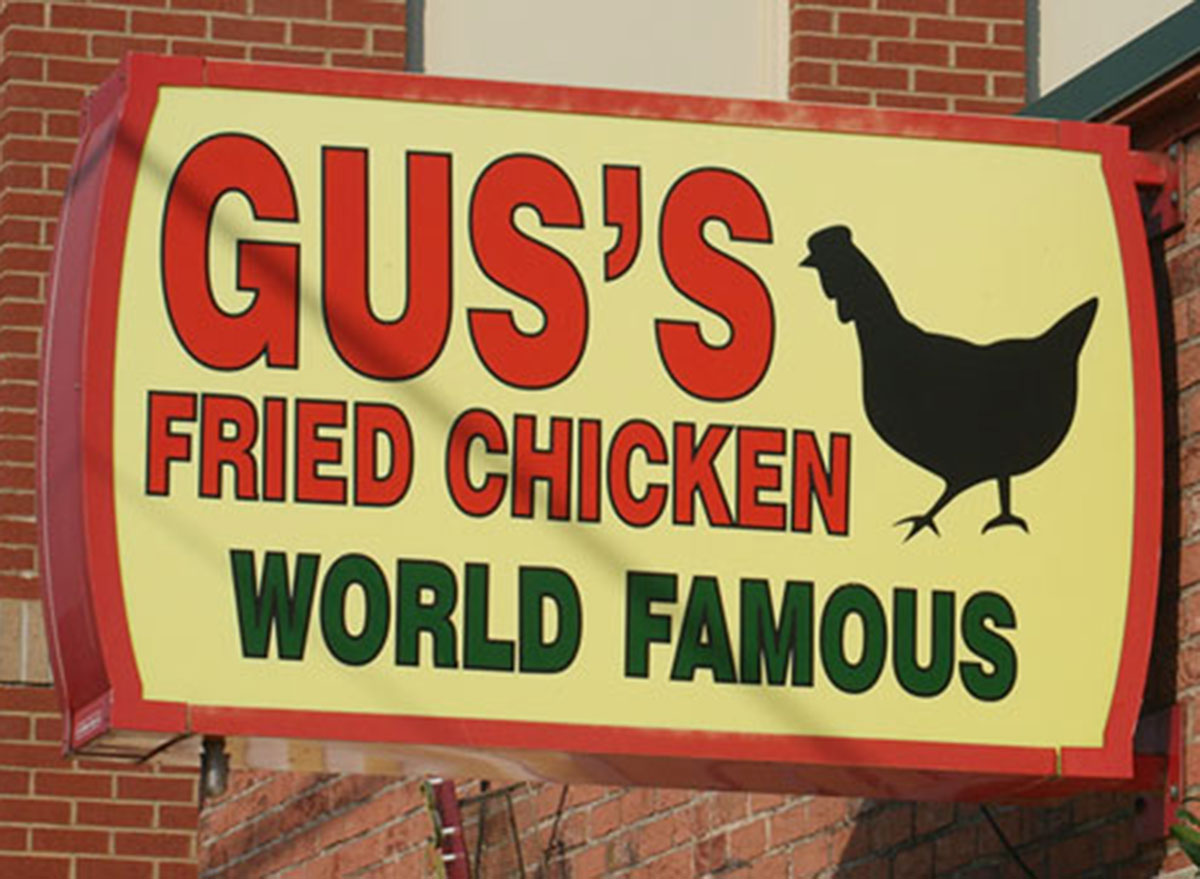 The original location of Gus's chicken was the place where it all started in 1973. Now, the restaurant can be found serving the same delicious family recipe in 29 locations around the United States. The varieties of chicken are endless at all the eateries—choices of white, dark, combinations of legs, thighs, wings, or breasts, in snacks with white bread, or plates with sweet baked beans and slaw. If the chicken isn't enough to satisfy your fried cravings, Gus's offers another Southern delicacy: fried pickles.
Watershed (Atlanta, Georgia)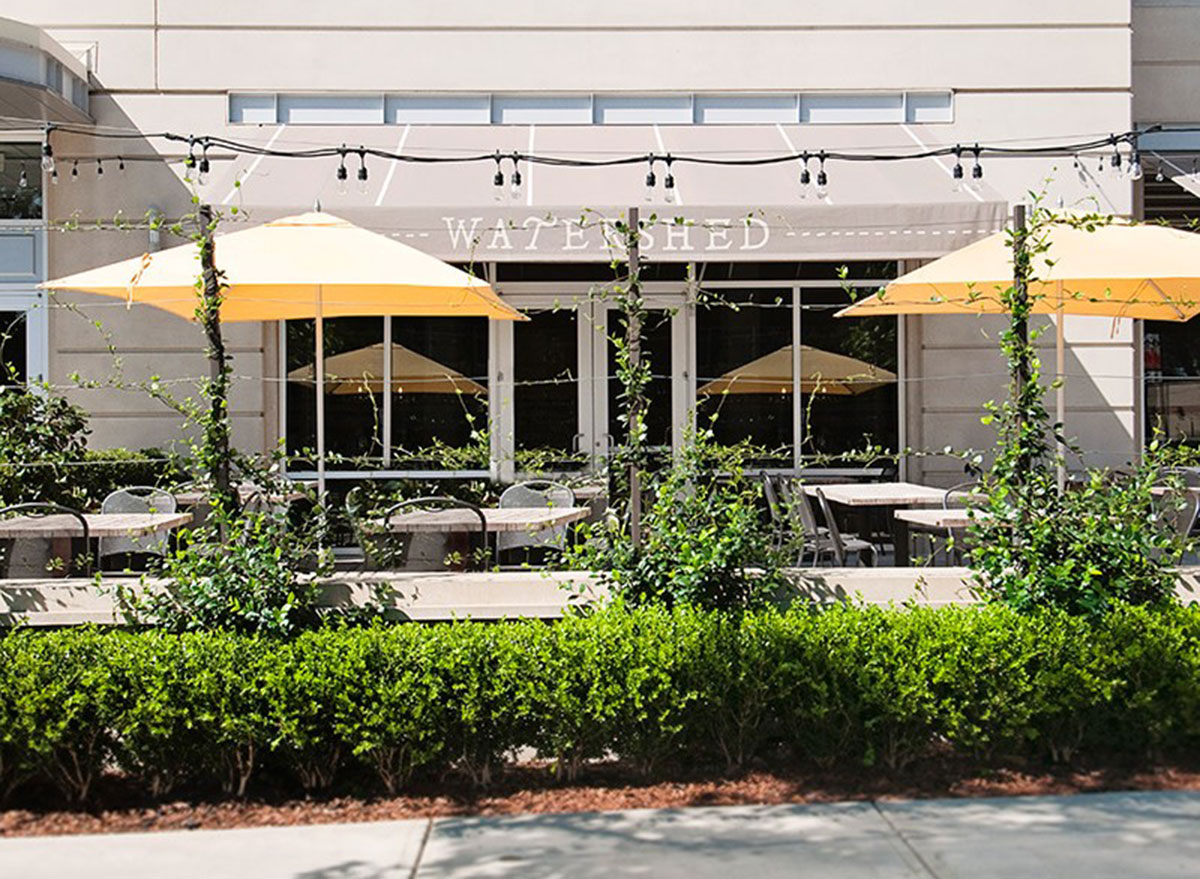 Watershed is under newer ownership, but the purchase of the restaurant included its original cultish fried chicken recipe that Atlanta residents and visitors covet. Chef Matt Marcus wisely chose to keep the offering on his delicious updated menu. Buttermilk brined and fried in fat flavored with ham hocks, the chicken is served with collard greens, biscuits, deviled eggs, and hot honey with a pickle on the side. Make early reservations, as quantity is limited.
Known for their fluffy, layered biscuits, the fried chicken at Handsome Biscuit is just as legendary. Try a Hella Fitzgerald, a giant sweet potato biscuit with bacon, cheddar cheese, and redeye sausage gravy, or The Blue Blazer, a biscuit with fried chicken, spicy pickled red cabbage, and bleu cheese dressing inside.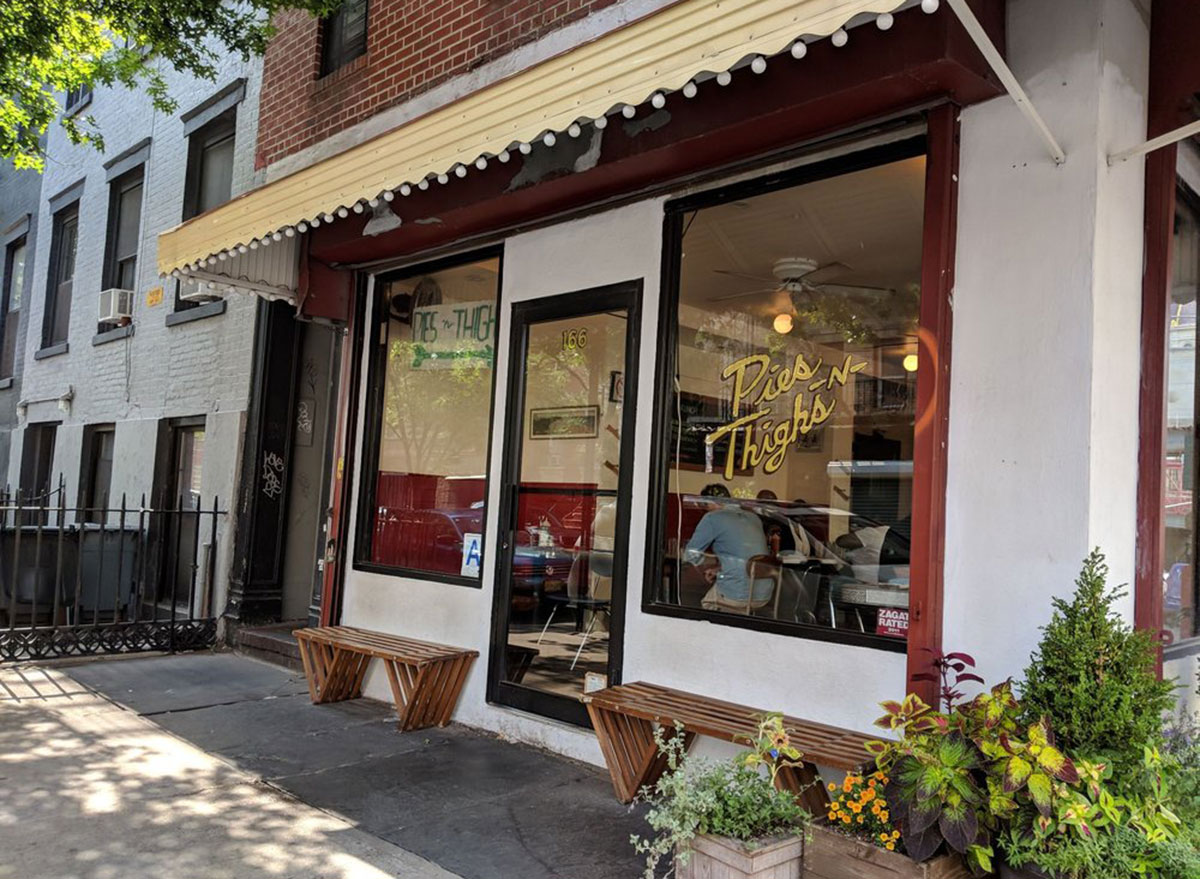 Pies n Thighs embraces the simplicity of their chicken that's brined, seasoned, and salted and allowed to sit overnight. Featured as an entree as a cutlet on a biscuit with honey and hot sauce and for breakfast or lunch with buckwheat waffles topped with cinnamon butter and apples, the fried chicken is high on the list of requested items at the restaurant. Delicious sides like burnt-end baked beans, smoked pork collards, and iceberg salad are on the menu. There are even old-fashioned butter pecan and sour cherry jelly doughnuts available for a sweet finish.
Martin's Restaurant (Montgomery, Alabama)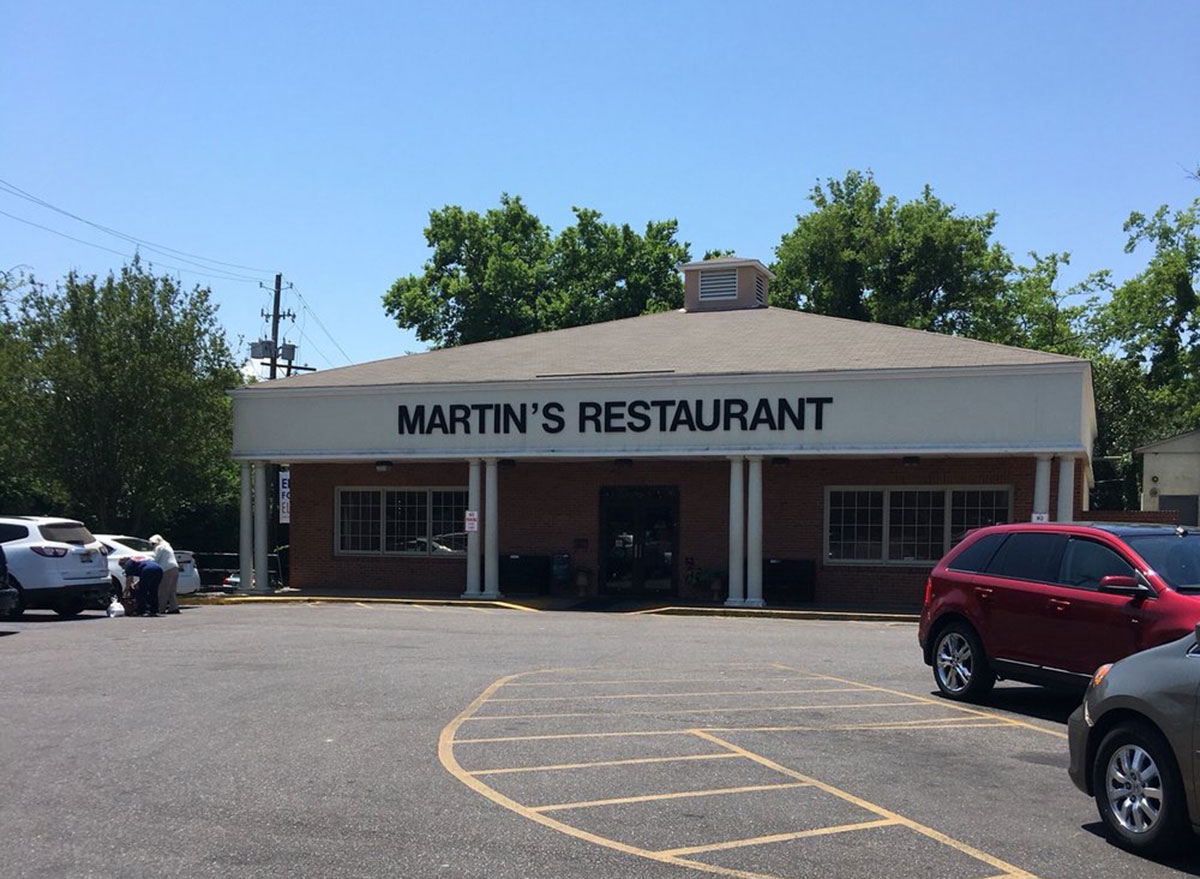 Named one of the "100 Dishes to Eat in Alabama Before You Die" by the Alabama Tourism Department, the restaurant offers homestyle comfort food. The fried chicken plate features the 'pulley bone' along with their crispy, slightly peppery fried thighs, drumsticks, and breasts. Guests grab each end of the pulley bone and pull! The lucky person getting the longest piece is granted a wish. Martin's is a "meat and three" with all the usual items, plus some innovative Southern fare like pineapple and cheese casserole or butterscotch pie.
Babe's Chicken Dinner House (Roanoke, Texas)
Babe's is one place whose name defines their specialty—the chicken dinner. Super crispy on the outside, the tender meat is served simply with corn, mashed potatoes, cream gravy, and buttermilk biscuits. Babe's wait staff also knows how to pass the time waiting on your plate of food. They'll dance and sing The Hokey Pokey, asking you to join, "cause 'that's what it's all about."
Myrtie Mae's Cafe (Eureka Springs, Arkansas)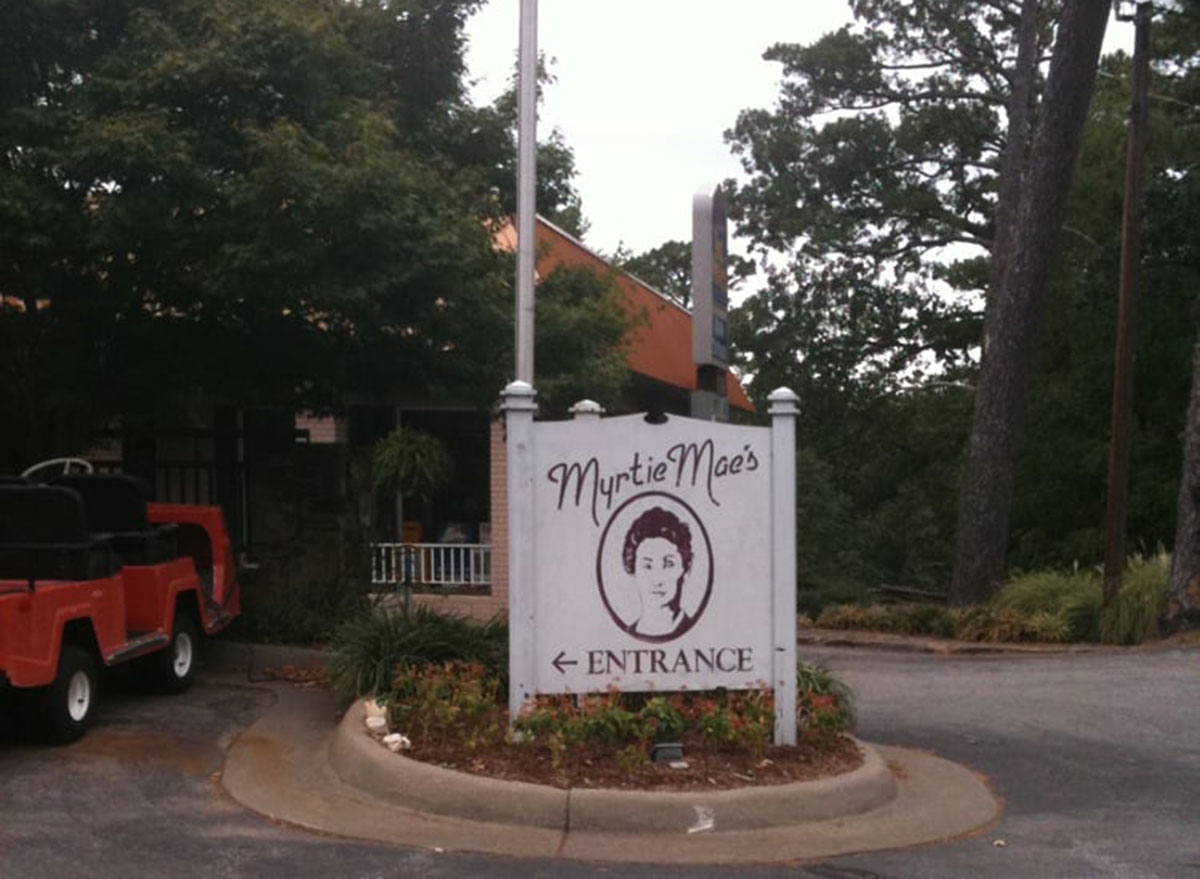 Sample famous Ozark Fried Chicken at Myrtie Mae's, found hidden in the local Inn of the Ozarks. Originally, the site of the present-day hotel was a campground for travelers visiting the area. As the camping spot grew in popularity, Myrtie, a widowed mother of six, saw an opportunity to make money. She nailed a sign to a tree advertising her chicken dinners, flavored with sage, mustard, and ginger, and the rest is Ozark history. She served meals in the area for over 20 years, and now, Myrtie Mae's Cafe is named in her honor.
Succotash (Washington, D.C.)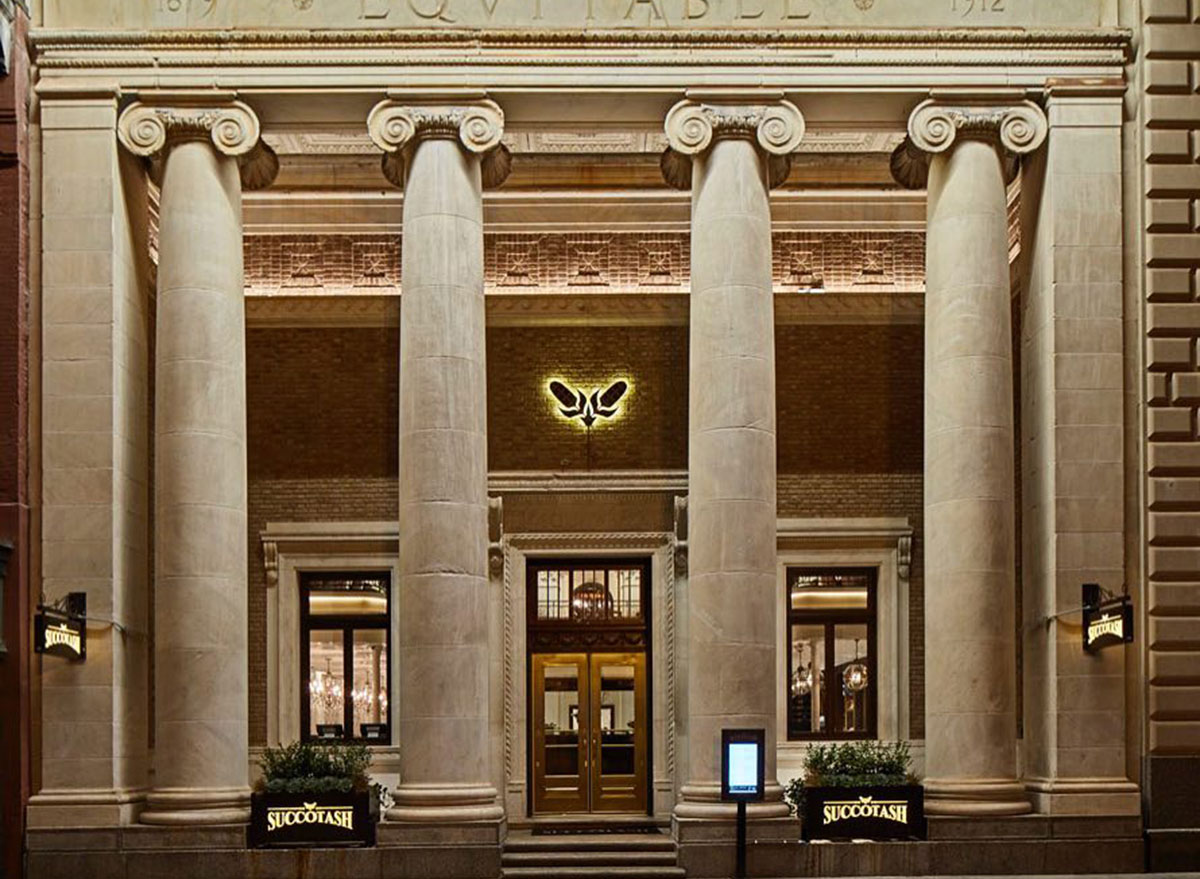 Snack on hush puppies with green tomato jam, sweet and salty watermelon and peanuts sprinkled with sesame seeds, or smoked sausage with apricot and burnt onion before enjoying the epic delight that is Succotash restaurant's chicken and waffles. Dark meat legs and thighs are served with pickled okra pods, aged-bourbon maple syrup, and shavings of manchego. Succotash masters the Southern food style with notes of Chef Edward Lee's Korean roots to create classic and fusion dishes.
Federal Donuts (Philadelphia, Pennsylvania)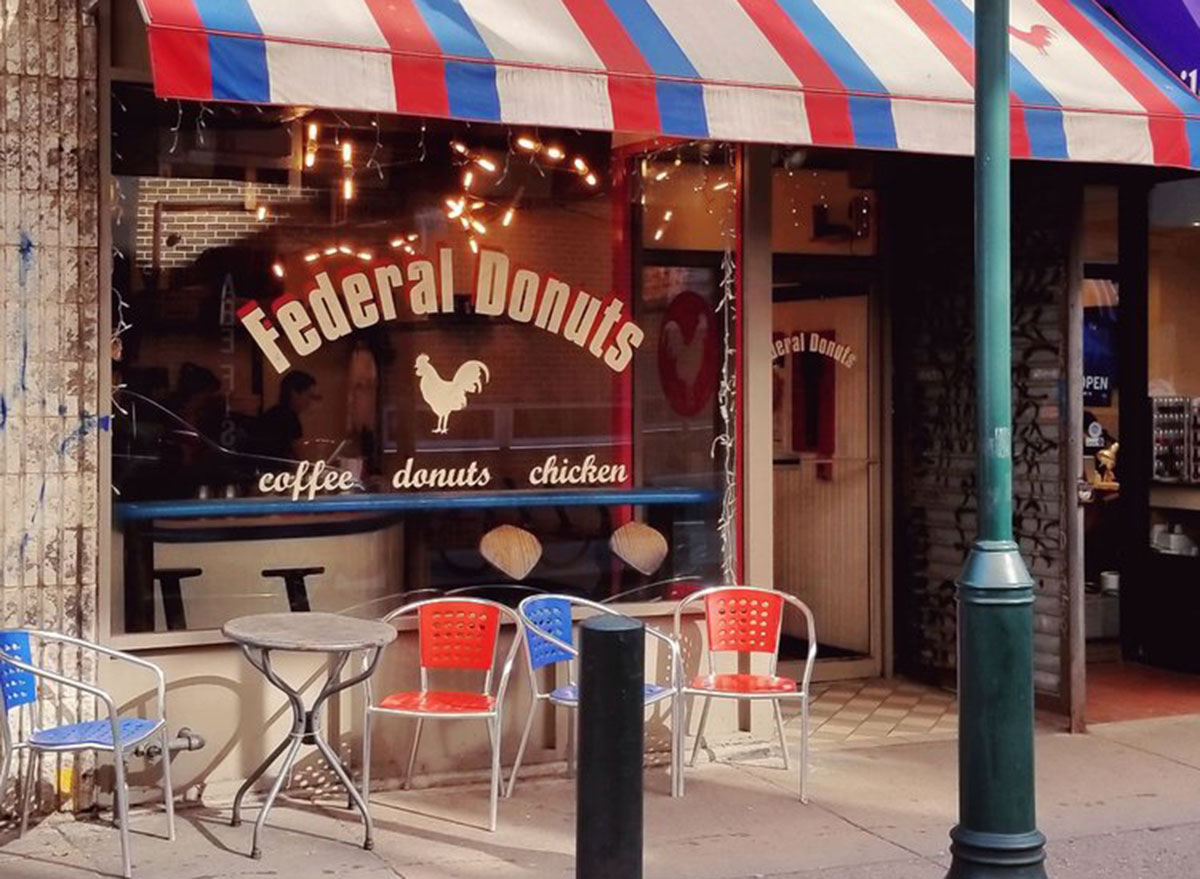 Fried chicken is often served with waffles, as we've seen in this list, but at this Philly establishment, the dish is paired with a homemade honey donut. The two chicken pieces can be coated with dry seasonings (za'atar, coconut curry, or buttermilk ranch) or wet sauces (chili garlic, sweet soy garlic, or honey ginger). Fried chicken purists can also choose to have the perfectly fried bird just the way it was invented and choose the 'naked' option at Federal Donuts.
Biddie Banquet (Orangeburg, South Carolina)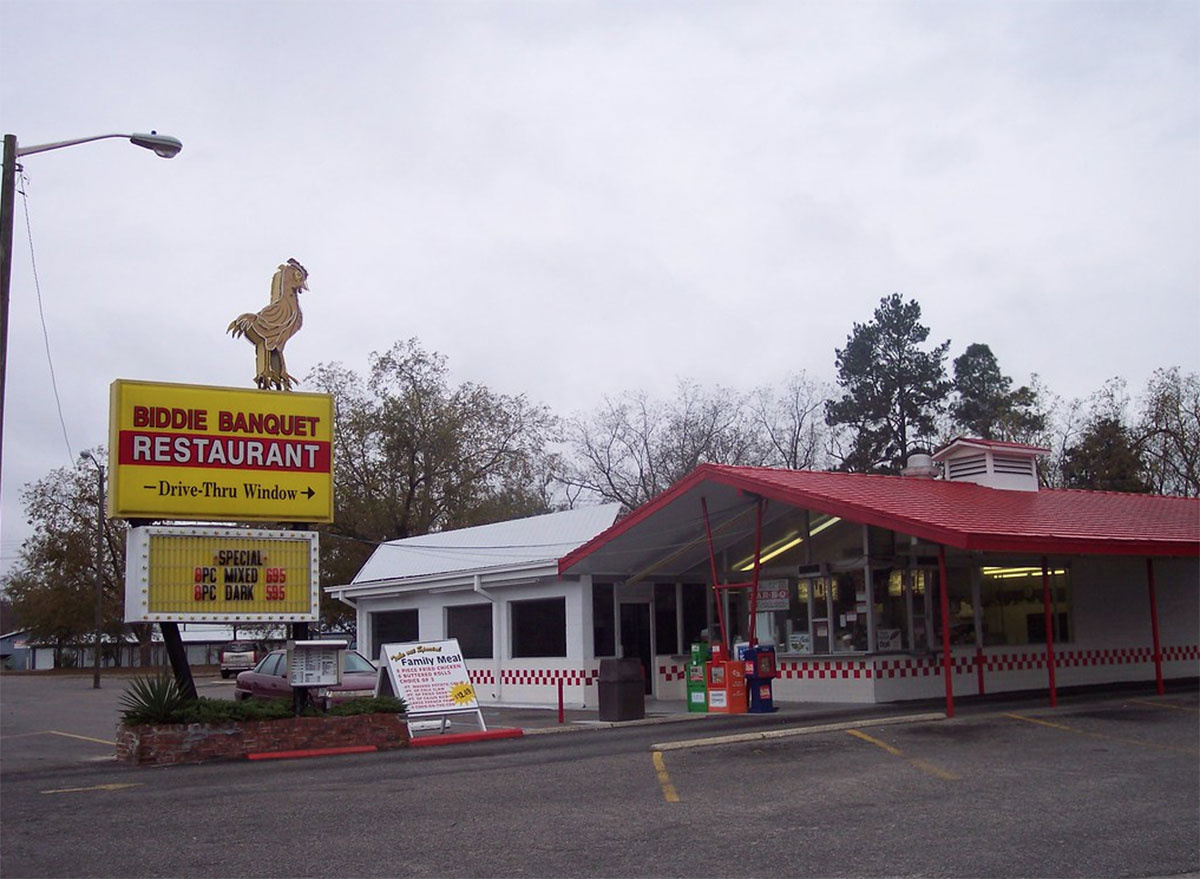 This restaurant operates with a cash-only takeout window for their highly acclaimed fried chicken. The menu is handwritten with such Southern offerings as livers and gizzards, broccoli casserole, buttered rolls, and apple turnovers. You can wash it down with a glass of real, homemade lemonade. However, plan your visit for a weekday: the staff at Biddie Banquet takes the weekend off from work.
Miss Ollie's (Oakland, California)
Fried chicken made in a cast iron skillet is a traditional preparation—not all cooks have access to a deep fryer. The character of the pan seems to reflect in the crispiest bits, and the chicken at Miss Ollie's is no different. This restaurant combines Caribbean flavors in its phoularie, a fritter made from split pea flour with shado beni sauce, jerk shrimp, and pickle plate, and it honors Chef Sarah Kirnon's grandmother with the fried chicken plate served with field greens, potato salad, and pepper sauce. Her secret is in the skin, uniquely stuffed with vinegar and herbs, reflecting the flavors of her grandmother's home in Barbados.
Max's Wine Dive (Houston, Texas)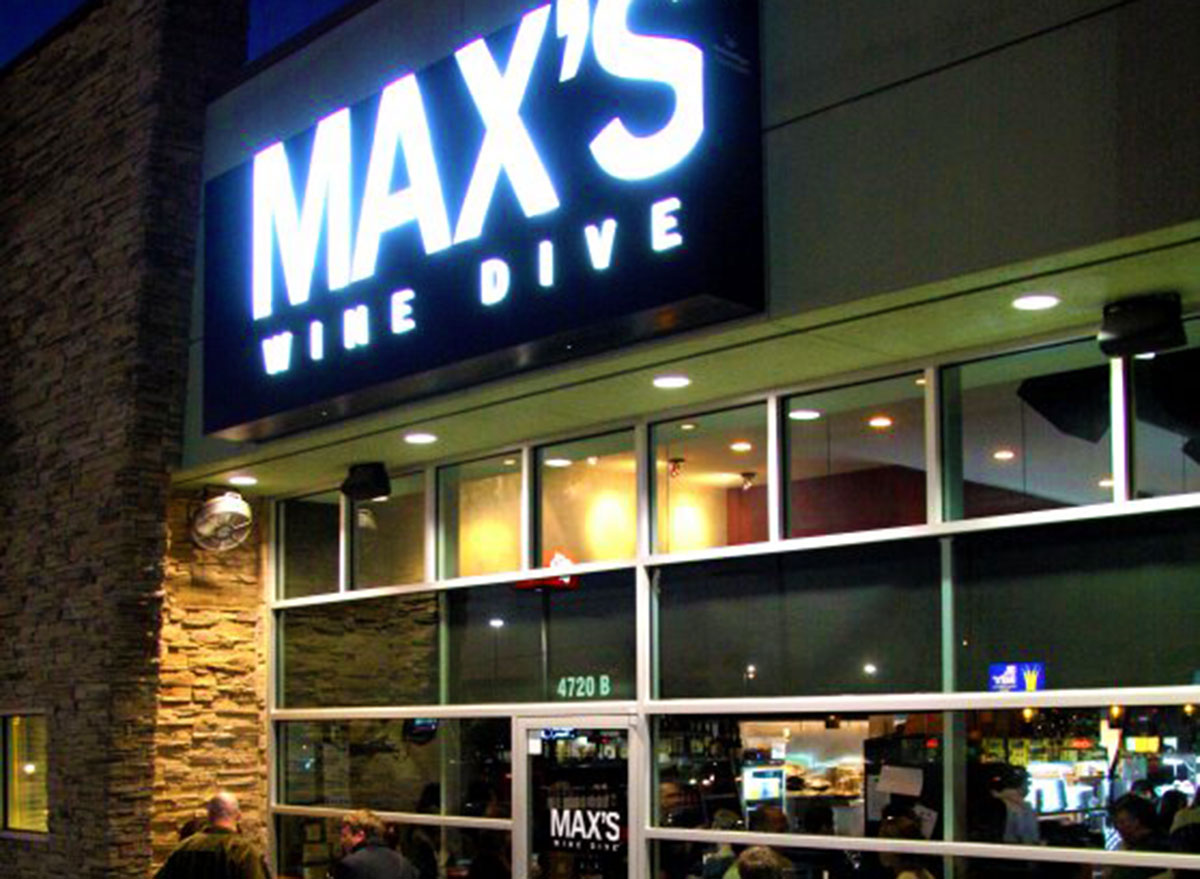 Fried chicken pairs great with champagne, at least that's the opinion of the unpretentious wine bar Max's Wine Dive that specializes in 'gourmet comfort food.' Recommended and awarded high honors for their brunch, diners can start with birthday cake fritters, build their own mimosa, and enjoy a plate of 3 pieces of jalapeño-buttermilk marinated fried chicken with home fries, collard greens, and a thick, buttery slice of Texas toast.
Martha Lou's Kitchen (Charleston, South Carolina)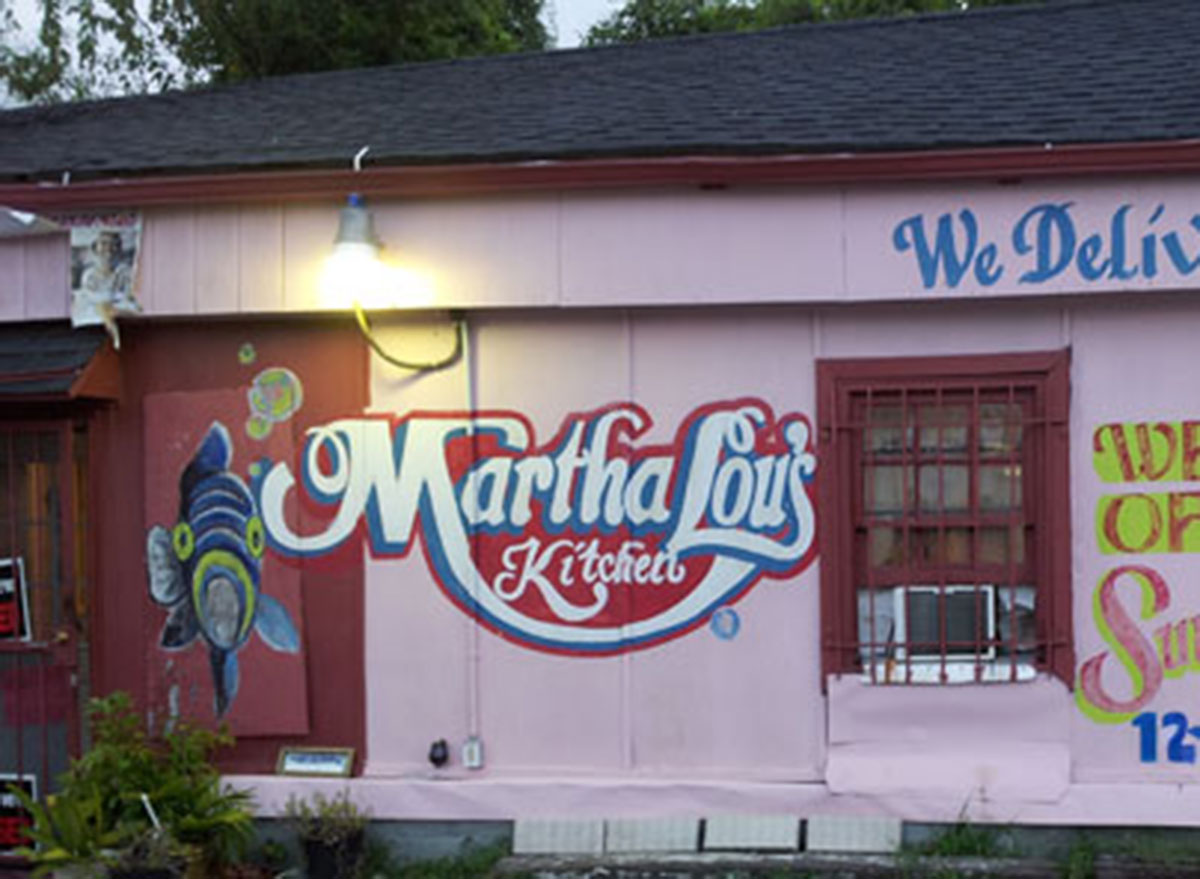 One of Charleston's most loved restaurants is located in an unassuming spot on Morrison Drive. In a little pink building with handprinted signage, the likes of the New York Times food critics, Martha Stewart, and The Travel Network have visited to sample the delicious fried chicken at Martha Lou's. With true home-cooked soul food, visitors leave the restaurant full from an excellent Southern meal.
The Old Country Store Restaurant (Lorman, Mississippi)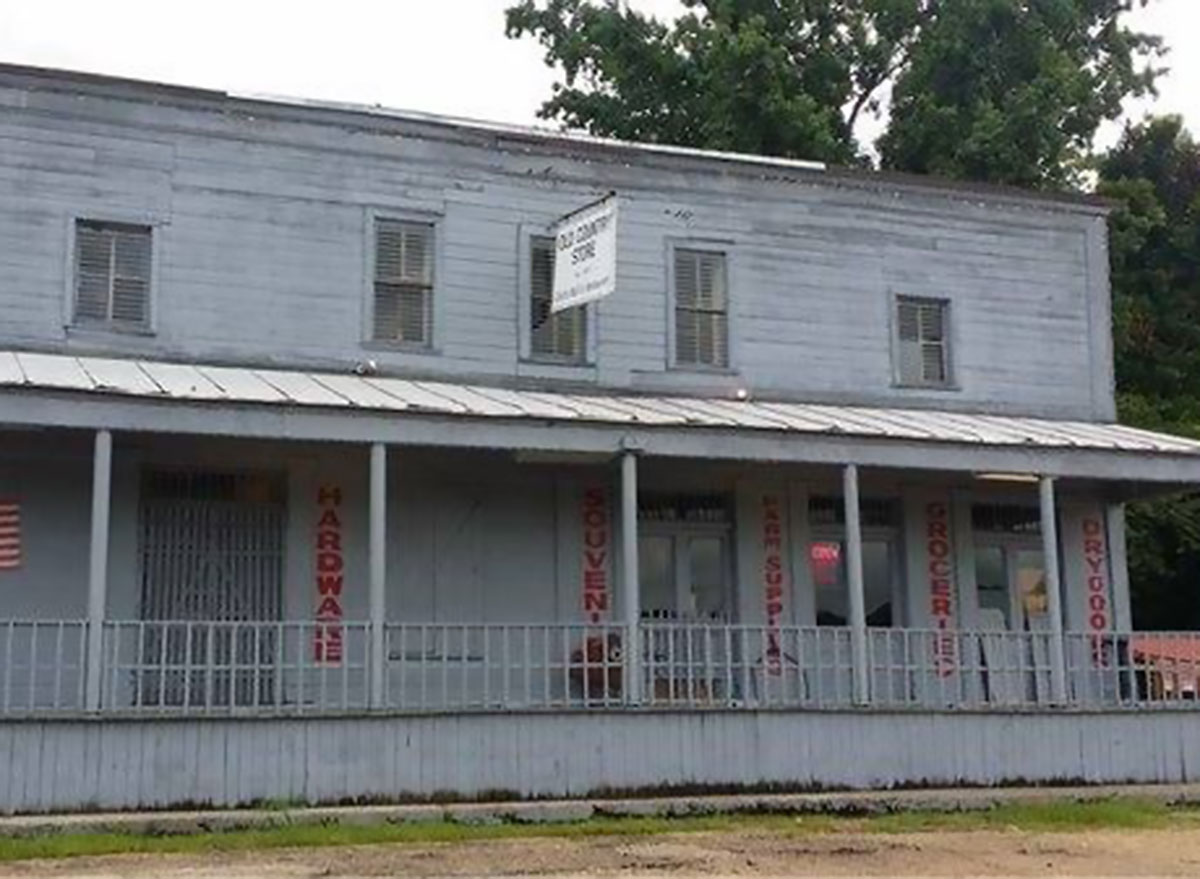 The Old Country Store has a restaurant, flea market, and gift shop, but it also has what it calls the 'world's best fried chicken' cooked by owner Arthur Davis (Mr. D). Served on an all-you-can-eat buffet, the chicken is the most popular item with visitors learning about the restaurant from Food Network's Alton Brown, who openly admitted Mr. D's chicken was superior to his own. If the delicious chicken wasn't enough, Mr. D will break into song, the most popular renditions are about his grandmother and her cornbread cooking prowess.