8 Fast-Food Chains That Serve the Best Hot Chicken
Be prepared to get a kick out of this chicken.
Fast-food chicken sandwiches are a-plenty, and your standard fried chicken sandwiches with spicy mayonnaise are seemingly a dime a dozen. But true connoisseurs will tell you that the zesty takeout you want to seek out is not spicy chicken but hot chicken. Sounds the same, no? It may seem identical, but take one trip to Nashville, Tenn., and you will quickly discover this dish's unique taste.
To be clear, in this case, hot does not simply refer to the temperature at which it is served. In many foodie circles, it refers to a specific kind of fried bird with a whole lot of added spice. Specifically, Nashville hot chicken is typically what people think about, which is normally a piece of fried chicken with added heat. And that heat is not just any kind of spice—if you want authentic Nashville hot chicken, you will add a generous dose of hot sauce and cayenne.
But Nashville is not the only region across the globe either that specializes in hot chicken. Fans of Asian cuisine will be quick to point out several regions that have their own unique take.
So when it comes to fast-food chains, who delivers on the heat? There are a few chains that serve it Nashville-style, a few that specialize in Asian-inspired flavors, and others that stick to the great traditional spicy chicken. Here are the seven best chains to experience hot chicken.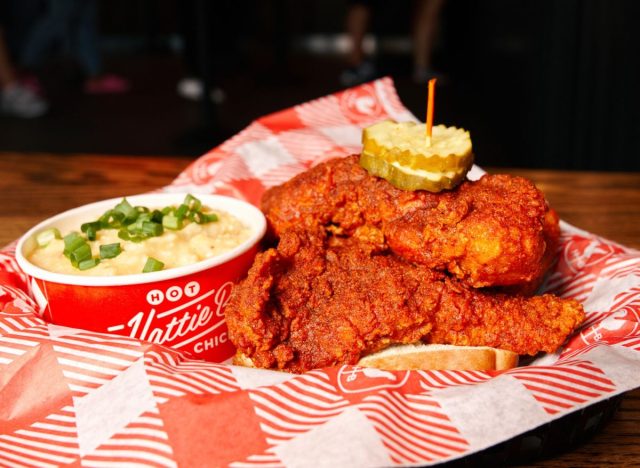 Consistently ranked as one of the best Nashville restaurants for authentic hot chicken, Hattie B's Hot Chicken is a small chain of restaurants found around the metropolitan area. Its signature sandwich comes grilled or fried, and the heat levels that customers can add to their chicken range in intensity, depending on how brave they are. Fanatics can only cross their fingers and hope that Hattie B's one day branches out beyond Nashville; until then, you must travel there to see what all the hype is about.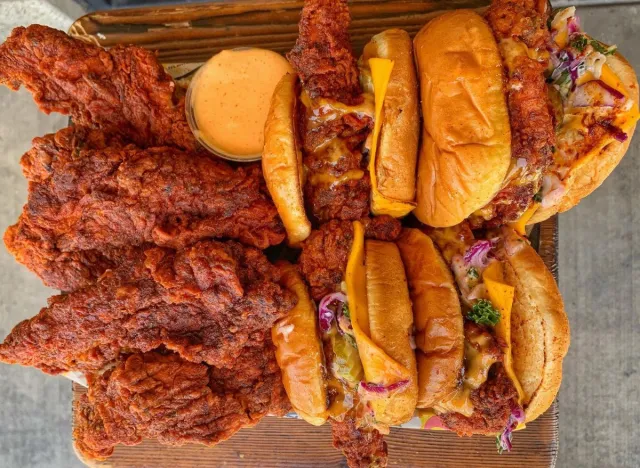 This chain is growing big time, with sales up over 250% during 2021, according to Technomic's Top 500 chain restaurant data. With over 700 locations in development, Dave's shows no signs of slowing down on its mission to bring hot chicken to every corner of the United States. Its simple yet effective menu features chicken tenders and sliders, each with an assortment of options that bring the heat. You can always opt for no heat, but where is the fun in that? Other sauces range from Lite Mild to Reaper.
Hot Chicken Takeover came about after newlyweds Joe and Lisa took a babymoon trip to Nashville and fell head over heels for its hot chicken. After returning home, they began experimenting with all of the ways to recreate that authentic heat. Over the past decade, this small chain has grown to several locations around Ohio.
The menu features a few specials each week, but the basic structure of dining at Hot Chicken Takeover includes picking your combination of never-frozen chicken meat, which can include jumbo tenders, thighs, wings, and more. Then, you pick your heat like Warm, Hot, and Holy (or Cold—as they say, "Hot in temperature, cool in spice.") And for a true authentic Nashville hot chicken experience, you can add waffles to your order.
The small Los Angeles-based chain Howlin' Ray's brings Nashville hot chicken to the West Coast. Johnny Ray Zone and his wife Amanda Chapman visited Nashville, fell in love with the concept of hot chicken, and kicked things off with a food truck. That eventually grew into successful to-go locations in Los Angeles.
Howlin' Ray's chicken on its menu can come as a sandwich or in the form of breasts, wings, legs, and thighs, in various serving sizes. If the heat is too much to handle, you can order your chicken without any spicy sauce added. But for heat lovers, your options range from Mild to Howlin'.
A group of friends from the San Fernando Valley got together and opened a restaurant called Bangin' Buns, all centered around the concept of Nashville hot chicken. Customers can order plates of hot chicken or, for the convenience of something handheld, sandwiches. And like many other fast-food restaurants that celebrate Nashville hot chicken, sides include slices of bread and pickles. You can currently find Bangin' Buns in a couple of locations around Los Angeles.
Bonchon originates from South Korea, but its U.S. operations are based in Dallas, Texas. The fast-food chain has a menu devoted to Korean fried chicken, with wings, drumsticks, strips, and boneless options. Its signature spicy sauce is an authentic recipe hailing straight from Korea, offering its diners a different spin on hot chicken. Unlike other hot chicken-centric restaurants that offer a range of spices, Bonchon just offers one, but it is enough to keep other chefs coming back.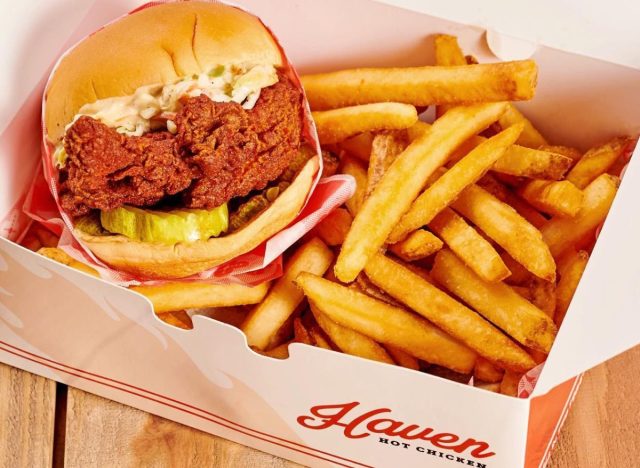 With four locations in the state of Connecticut, Haven Hot Chicken brings Nashville-style cuisine to New England. In fact, according to its website, the chain is one of the region's first Nashville hot chicken concepts. That concept is found throughout Haven Hot Chicken's menu, with options ranging from sandwiches to tenders to authentic Chicken & Waffles. It even sells a Vegan "Not Chicken Sandwich" made with a double-fried cauliflower steak.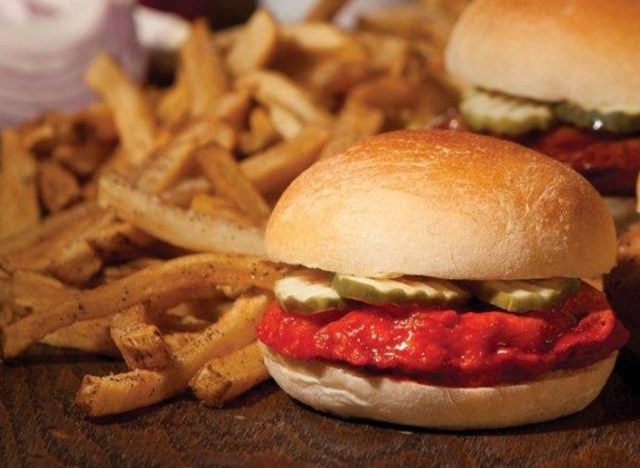 Wingstop's popularity is only growing. The chicken chain which serves wings in over a dozen different flavors reported double-digit store growth in the first few months of 2023. The chain opened in Garland, Texas, in 1994, and now had with 1,500 restaurants globally. Just last year the chain introduced its first chicken sandwich, available in all of its wing flavors. The sandwich almost immediately sold out.6254a4d1642c605c54bf1cab17d50f1e
This sandwich is built with a spicy, crunchy, chicken breast that can stand up to the best. It is then dipped in one of the chain's many flavors with all levels of heat up to Atomic, the spiciest. The chicken is served on a brioche bun with pickles. If you love hot chicken, this one is worth a try. Plus, don't skip the chain's hand-cut fries showered in a sweet and salty seasoning.
Carly Neil
Carly Neil is a freelance writer specializing in all things food, travel, Disney, and theme parks.
Read more about Carly