8 Fast-Food Chains That Serve the Best Fried Chicken
Super crispy fried chicken is the ultimate comfort food. Here are the places doing it right.
When it is time for some true comfort food, many turn to a plate of fried chicken to satisfy their cravings. A good plate of fried chicken will combine a crispy outer shell with a juicy interior, often accompanied by bold flavor and, occasionally, a nice kick of heat. The best part is that many fast-food and fast-casual restaurants across the country serve great fried chicken at low prices, making it a truly accessible meal. It may not be the epitome of a healthy meal, but few foods can come remotely close to fried chicken's crowd-pleasing taste and texture.
Each of these fast-food chains serves tasty bone-in fried chicken, and they all offer something unique to their customers. Whether the chicken is marinated for several hours before cooking or finished in a signature spice, you will find a different reason to visit each of the following restaurants at least once if you are a fan of all things fried chicken. Often associated with Southern cooking, you'll find that some of the best fast-food fried chicken can be found at restaurants with international influences—but of course, the more familiar fried chicken is also a standout, for good reason.
Here are eight spots for the best fried chicken in a flash.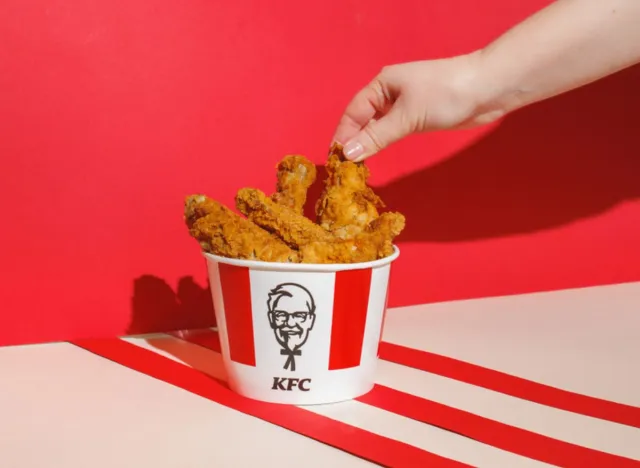 Most fried chicken connoisseurs are familiar with the hallmark fast-food brand KFC. But have you ever stopped and wondered just how KFC's iconic fried chicken is made? According to its website, KFC uses a secret blend of 11 herbs and spices that it rocks and rolls its chicken in before pressure cooking at a low temperature to lock in the flavor. Whether you want drumsticks, thighs, breasts, or wings, KFC has a combo meal for you, with your choice of Original, Extra Crispy, or Hot and Spicy breading.
You may have never heard of Jollibee if you do not live on the West Coast, but if you love fried chicken, you should make it a point to get acquainted with this Filipino fast-food chain. Its signature menu item is what it calls Chickenjoy, which is made with a secret marinade responsible for its juicy flavor. Each piece of chicken is hand-breaded to be what Jollibee describes as "crispylicious." The fried chicken can be served regular or spicy, and it can come with unique side dishes you will not find at other fast-food restaurants, like Jolly Spaghetti or Palabok Fiesta.
If classic Southern cooking is what you are looking for, head to Bojangles. The fast-food chain is known for its signature never-frozen Cajun-season fried chicken, which is marinated for 12 hours prior to cooking, per Nashville Post. Customers can choose from all of the traditional cuts of chicken, including legs, thighs, breasts, and wings. There is no mistake that you are in for some excellent Southern cuisine, as made evident by the fact that Bojangles' fried chicken Family Meals come with a half-gallon of iced tea.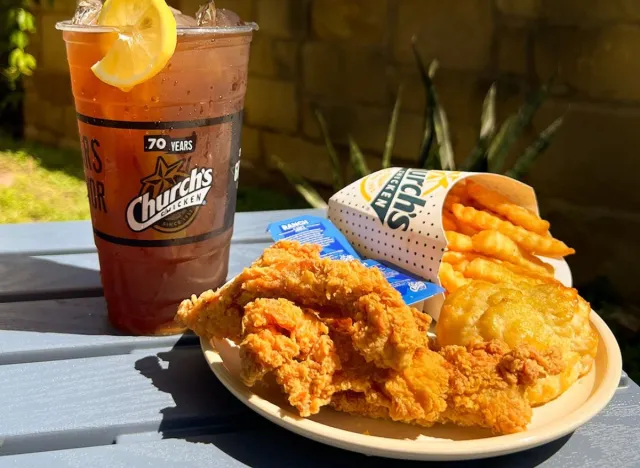 Church's Texas Chicken has been serving up tasty fried chicken since 1952, and from its earliest years, it distinguished itself from the competition with a peculiar side. Rather than come up with an elaborate spice to add heat, Church's gives power to the people. Jalapeño peppers are aplenty at Church's, with customers able to take their fried chicken to the next level with just one squeeze. Jennifer Chasteen, Church's former vice president of brand strategy and activation, once shared with QSR Magazine that "guests have been squeezing jalapeño juice over our chicken for spice and heat for 65 years."
The fast-food chain also prides itself on freshness. According to My San Antonio, the original design of Chuch's was so that customers could watch the chicken being freshly prepared while they waited for their order.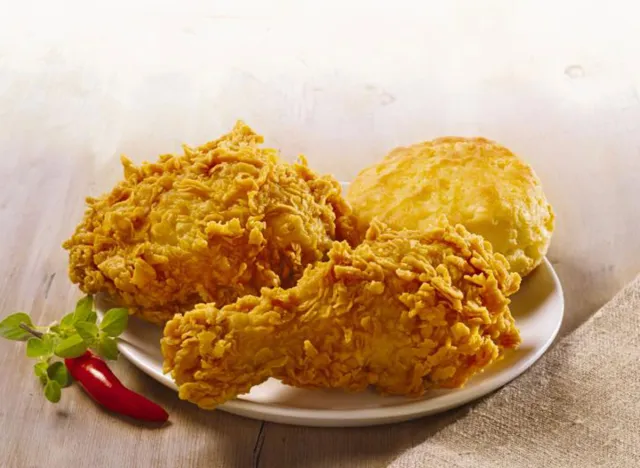 There is a reason so many customers "love that chicken from Popeyes." The fast-food chain marinates its chicken for 12 hours in "traditional savory Louisiana herbs and seasonings" before cooking, resulting in a memorable flavor and a satisfying crunch. That commitment to Louisiana-style fried chicken is evident when you visit Popeyes, with its spicy variation with a bold Cajun flavor ranking number one in a recent fried chicken taste test.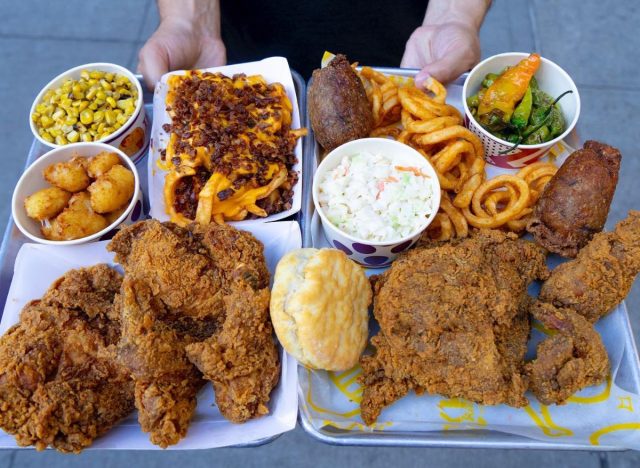 TKK Fried Chicken first opened in Taiwan in 1974, expanding internationally to New York City in 2018. Since then, the fast-food chain has grown quickly, with approximately two dozen locations in the United States as of 2023. TKK Fried Chicken is known for "mixing the bold flavors of the East with the juicy golden crispy techniques of the West," according to its website. Using just one layer of breading, its chicken is fried in pure soybean oil for its signature flavor and crispiness.6254a4d1642c605c54bf1cab17d50f1e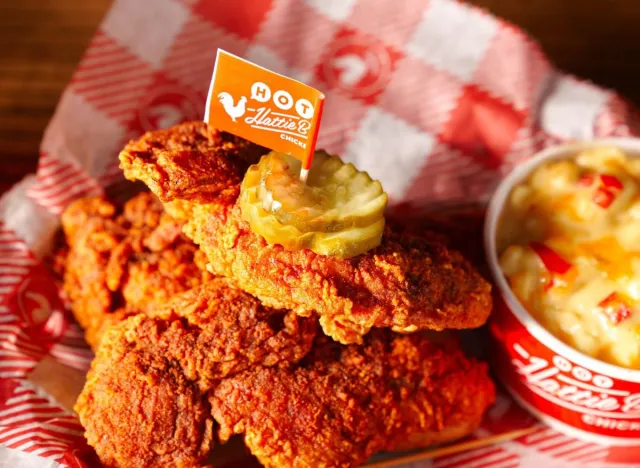 Hattie B's Hot Chicken is a small chain with just 10 locations nationwide. Originally from Nashville, Hattie B's stays true to its roots with authentic Nashville hot fried chicken. That heat can vary quite a bit depending on how much you can handle, with levels rangings from Southern, which sticks to bold flavor with no heat whatsoever, all the way to "Shut the Cluck Up."
Hattie B's Hot Chicken Executive Chef Biran Morris shared with Bham Now, "We think we do a really good job at what we do. We're constantly refining and working to perfect our practice. The nice thing about having a small menu and not rolling out specials or limited-time offers all the time is that we get to spend our time making what we do better."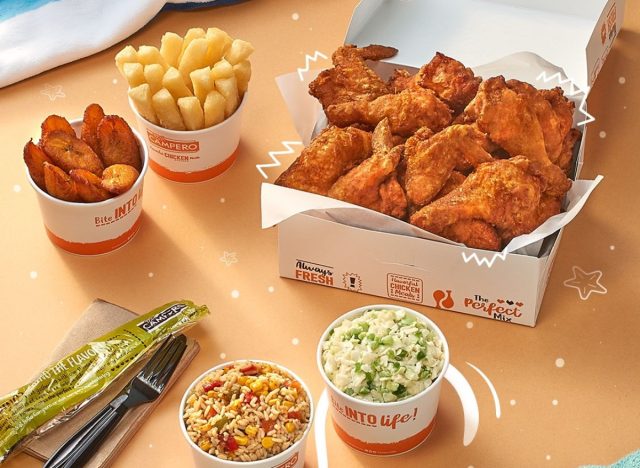 Pollo Campero first opened in Guatemala in 1971 and has expanded internationally to over 350 locations worldwide, nearly 80 of which are located in the United States, according to 1851 Franchise. Its Campero Fried Chicken is the menu's focal point, offering what Pollo Campero describes as "marinated to the bone, slow-down-and-enjoy-every-bite, food." There is no mistaking the Latin inspiration behind Pollo Campero's menu, making it a unique fried chicken among a sea of Southern-style options here in the U.S.
Carly Neil
Carly Neil is a freelance writer specializing in all things food, travel, Disney, and theme parks.
Read more about Carly