7 Restaurant Chains That Serve the Best Fried Chicken
These chains do it right.
Americans love fried chicken. According to Statista, nearly 179 million Americans consumed frozen fried chicken in 2020—with a likely boost in popularity thanks to the pandemic. Once restaurants started opening up again and customers began venturing out, that spending transitioned to beloved restaurant chains. Take fast-food chains, for example. Take-out fried chicken is expected to grow into a $10.52 billion industry by 2032, according to a study by Market Research Future.
With that level of passion for fried chicken, it is in a restaurant's best interest to include it on the menu and ensure it tastes great. The exterior needs to be as crispy as it is flavorful, and the meat itself needs to be juicy and tender. The last thing anyone wants is a soggy breading or dry meat.
Thankfully, a lot of chain restaurants have gotten things right when it comes to frying up this tried-and-true classic. That includes hand-battered pieces of chicken fried to perfection and drizzled with a delicious gravy sauce. When your family is craving fried chicken, skip the drive-thru and head to any one of these full-service restaurant chains that do it right.
Cracker Barrel
If the rocking chairs in front of the country store don't give away how much Cracker Barrel knows about its comfort food, its Chicken Fried Chicken certainly will. Served with Sawmill Gravy, it is a quintessential menu item at the chain known for its grits and Buttermilk Biscuits. Cracker Barrel even keeps things fresh with reinvented versions of this Southern staple, launching new menu items like its Cheesy Bacon Homestyle Fried Chicken meal that comes topped with cheese, bacon, onion strings, and Buttermilk Ranch.6254a4d1642c605c54bf1cab17d50f1e
Cheddar's Scratch Kitchen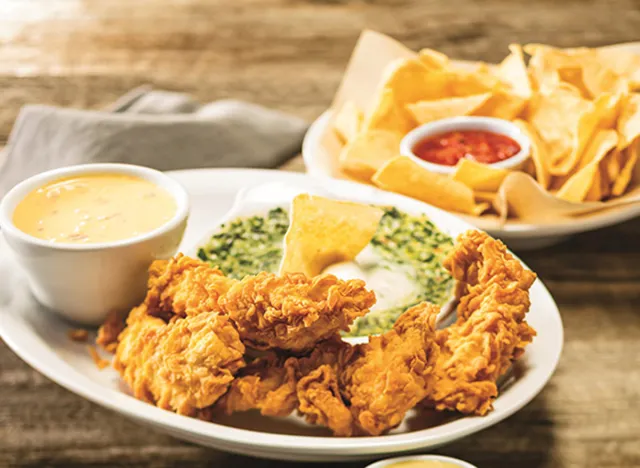 If quality ingredients and freshly-prepared meals are important, then Cheddar's Scratch Kitchen is where you will want to head next. As Cheddar's proudly attests on its website, its scratch kitchen concept extends to each of its menu items, including the Country Fried Chicken. The hand-battered chicken comes served on Texas toast along with two sides and gravy. There is no question that you will leave Cheddar's full. Its signature Hand-breaded Chicken Tenders follow the same philosophy and give diners a handheld option.
Texas Roadhouse
If you want to hedge your bets that you will be able to order a solid dish of fried chicken, head to your local steakhouse. While steak is the name of the game, they also know a thing or two about hearty chicken dishes. If you aren't feeling like a sirloin the next time you head to Texas Roadhouse, try its Country Fried Chicken, which includes a hand-battered white meat chicken breast that is fried up and topped with your choice of gravy.
Salt Grass Steakhouse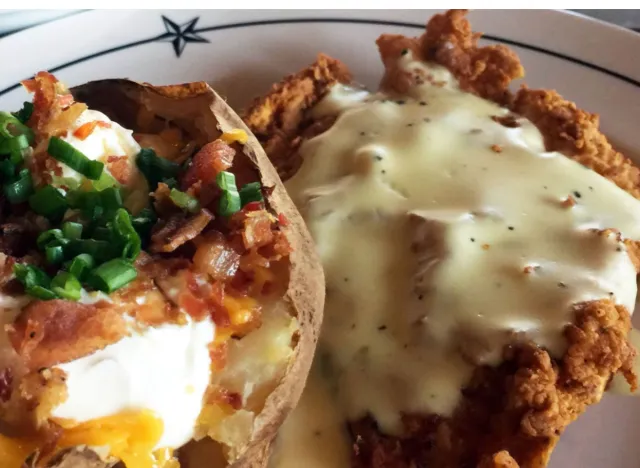 Largely concentrated around Texas and in the Midwest, Salt Grass Steakhouse features a menu filled with the usual suspects. While its menu has all of the porterhouse, T-bone, and ribeye steaks you could ever want, it also features a signature Chicken Fried Chicken that comes with delicious cream gravy. If you are looking for some lighter fare, Salt Grass Steakhouse also serves its Hill Country Salad that comes tossed with fried chicken.
Lazy Dog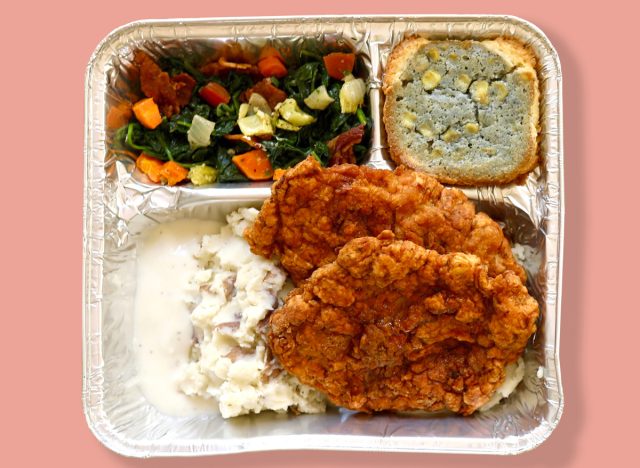 Life is all about sharing the things we love with our closest family and friends, which should also extend to your four-legged companions. At Lazy Dog, all doggos are welcome to dine in the patio area. They even get their very own menu with burgers and grilled chicken bowls to enjoy while their humans dine on entrees like the Fried Chicken Dinner. The fried chicken dish comes with hand-dipped buttermilk boneless chicken breasts with red skin potato mash, white gravy, spiced maple syrup, and sautéed spinach with smoked bacon, per Lazy Dog's website.Both you and your pup will leave satisfied.
Outback Steakhouse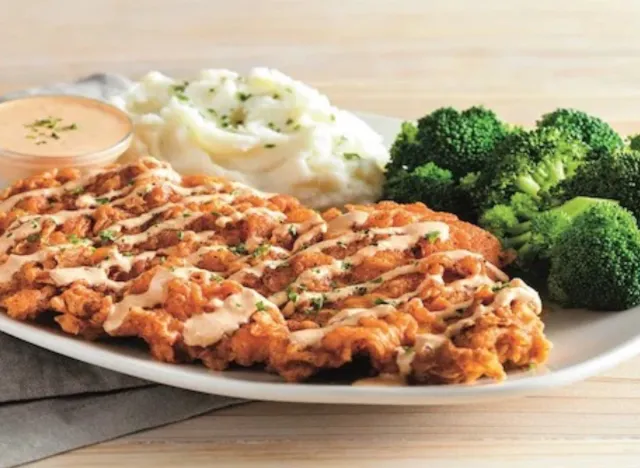 Famous for its Bloomin' Onion on the appetizers menu, Outback Steakhouse is well aware of what keeps hungry customers coming back time and time again. The Australian-inspired steakhouse chain took the beloved appetizer and married it with fried chicken to create Bloomin' Fried Chicken.
According to Outback Steakhouse, this boneless chicken breast is battered in a Bloomin' Onion seasoning and then fried to perfection before being drizzled with Outback's signature bloom sauce. If you ever wished you could take the Bloomin' Onion and eat it with everything, this fried chicken dish will be right up your alley.
Roscoe's House of Chicken and Waffles
There's a reason President Obama stopped by Roscoe's House of Chicken and Waffles whenever he visited the West Coast. The small Los Angeles-based chain is known across the nation for its fried chicken, which can come in various combinations of legs, thighs, wings, and breasts.
Obama was not an anomaly; Roscoe's has been attracting high-profile clients for decades, including Snoop Dogg and Shaquille O'Neil. If you ever find yourself in the neighborhood of one of its seven locations, you owe it to your taste buds to give Roscoe's a try.
Carly Neil
Carly Neil is a freelance writer specializing in all things food, travel, Disney, and theme parks.
Read more about Carly