Best Full-Fat Yogurt for Weight Loss
Full-fat yogurt can help you slim down if you choose one of these creamy options.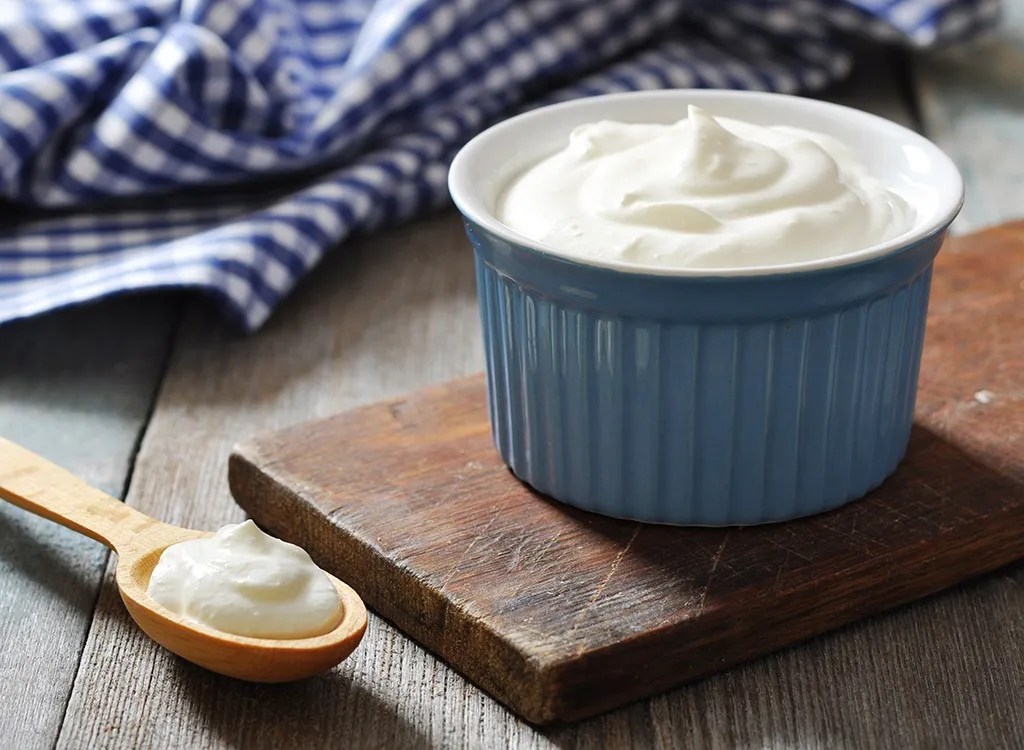 Consumers are finally off their low-fat kick and clamoring for full-fat yogurt and other non-skim dairy products, say market experts. And that's a good thing for our health.
"We still sell plenty of nonfat and low-fat dairy products, but the growth has come from whole-fat dairy products," Errol Schweizer, executive grocery coordinator at Whole Foods Market Inc., tells the Wall Street Journal. "A lot of customers have been going toward minimally processed dairy products, and that includes products that have the fat left in." Why the switch?
Packed with protein, crammed with calcium, and popping with probiotics, yogurt has all the makings of one of the best foods you can eat for weight loss and general health. And no, eating full fat won't make you fat: Whole-milk yogurts tend to have more protein and less sugar than their leaner versions. But tread carefully in the aisle of fermented milk products; manufacturers have a knack for cramming as much sugar and artificial ingredients into yogurt containers as they do candy bars. The editors of Eat This, Not That! spoon out advice on how to pick the best full-fat yogurts on the market.6254a4d1642c605c54bf1cab17d50f1e
Eat This!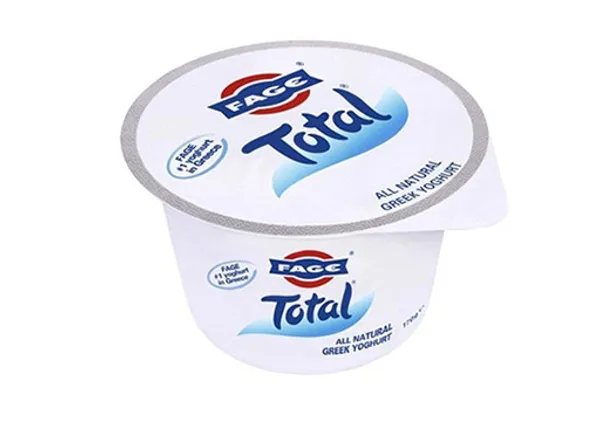 Fage Total, 7-oz container
| | |
| --- | --- |
| Calories | 190 |
| Fat | 10 g |
| Saturated Fat | 7 g |
| Sugar | 8 g |
| Protein | 18 g |
Because It: Packs Protein Without the Sugar
The best yogurts have a sugar-to-protein ratio of about 1:1. The worst? About 5:1. Fortunately, most full-fat yogurts are higher in protein and lower in sugar than their fat-free counterparts. But Greek yogurts like Fage have an undeniable edge; for roughly the same amount of calories, full-fat Greek yogurt has double the protein and far less sugar. The plain version is perfect for blending with fat-blasting fruits, using this mouth-watering recipe for the best-ever weight-loss smoothie.
Eat This!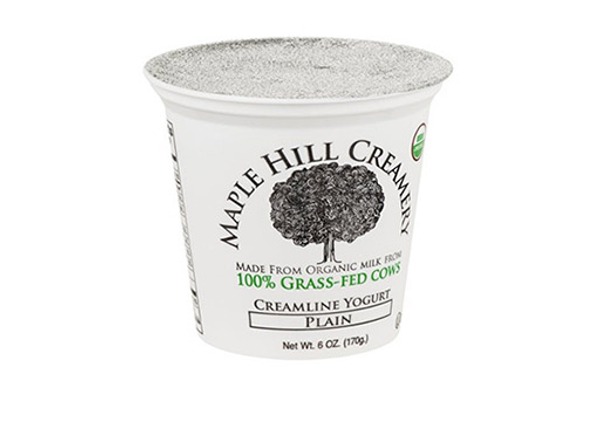 Maple Hill Creamery, Plain, 6-oz container
| | |
| --- | --- |
| Calories | 130 |
| Fat | 8 g |
| Saturated Fat | 5 g |
| Sugar | 8 g |
| Protein | 6 g |
Because It: Has Healthier Fats
Maple Hill only makes full-fat yogurts with organic milk from grass-fed cows. And when an animal eats what it's meant to be eating (instead of corn and soy), that translates into less belly fat for you. Grass-fed beef and dairy products contain more conjugated linoleic acid (CLA), which shrinks belly fat and helps build muscle. It also has more fat-fighting omega-3s and less inflammation-promoting omega-6s than products from corn-fed beef.
Eat This!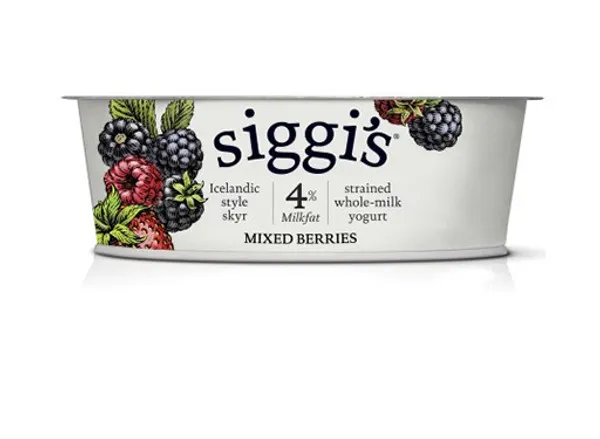 Siggi's Mixed Berries 4% Whole-Milk Skyr, 125 g container
| | |
| --- | --- |
| Calories | 120 |
| Fat | 5 g |
| Saturated Fat | 3 g |
| Sugar | 8 g |
| Protein | 10 g |
Because It: Gives Fruit Yogurt a Low-Sugar Twist
What's skyr? It's the traditional yogurt of Iceland, made by incubating milk with live active cultures, then skimming away the watery whey that floats to the top, leaving the yogurt creamier than other varieties. Siggi's 4% milkfat varieties deliver 10 grams of protein for a mere 8 grams of sugar, making their ratio among the healthiest on the market.
Eat This!
Stonyfield YoTot, Pear Spinach Mango, 3.7-oz pouch
| | |
| --- | --- |
| Calories | 110 |
| Fat | 3.5 g |
| Saturated Fat | 2 g |
| Sugar | 12 g |
| Protein | 5 g |
Because It: Satisfies Kids without Sugar
For parents, finding a yogurt kids will eat means finding one filled with fruit. But most fruity yogurts, even whole-fat varieties, tend to have high levels of sugar. YoTot's Pear Spinach Mango squeezable packs are one exception; they have a healthier sugar-to-protein ratio of 2.5-to-1, compared to the company's Oh My Yog! Gingered Pear, which delivers 28 grams of sugar (about what you get in a Butterfinger) for just 7 grams of protein.
Eat This!
Lifeway Whole Milk Kefir, Wildberries, 1 cup
| | |
| --- | --- |
| Calories | 190 |
| Fat | 8 g |
| Saturated Fat | 5 g |
| Sugar | 20 g |
| Protein | 10 g |
Because It: Makes Probiotics Convenient
Organic and GMO-free, Lifeway Kefir is a drinkable yogurt that delivers 12 probiotic cultures. Although its sugar content is a little high at 20 grams, it delivers 10 grams of belly-filling protein for just 190 calories per cup. Not quite ready to sip your yogurt? Brew yourself a pot of green tea instead, which is one of these indispensable weight loss teas.
Eat This, Not That!
Inspired by The New York Times best-selling book series, Eat This, Not That! is a brand that's comprised of an award-winning team of journalists and board-certified experts, doctors, nutritionists, chefs, personal trainers, and dietitians who work together to bring you accurate, timely, informative, and actionable content on food, nutrition, dieting, weight loss, health, wellness, and more.
Read more about Eat This