The 8 Best Grocery Stores in Los Angeles
From basic supermarkets to glitzy upscale grocers and specialty shops, L.A. has a store for everyone.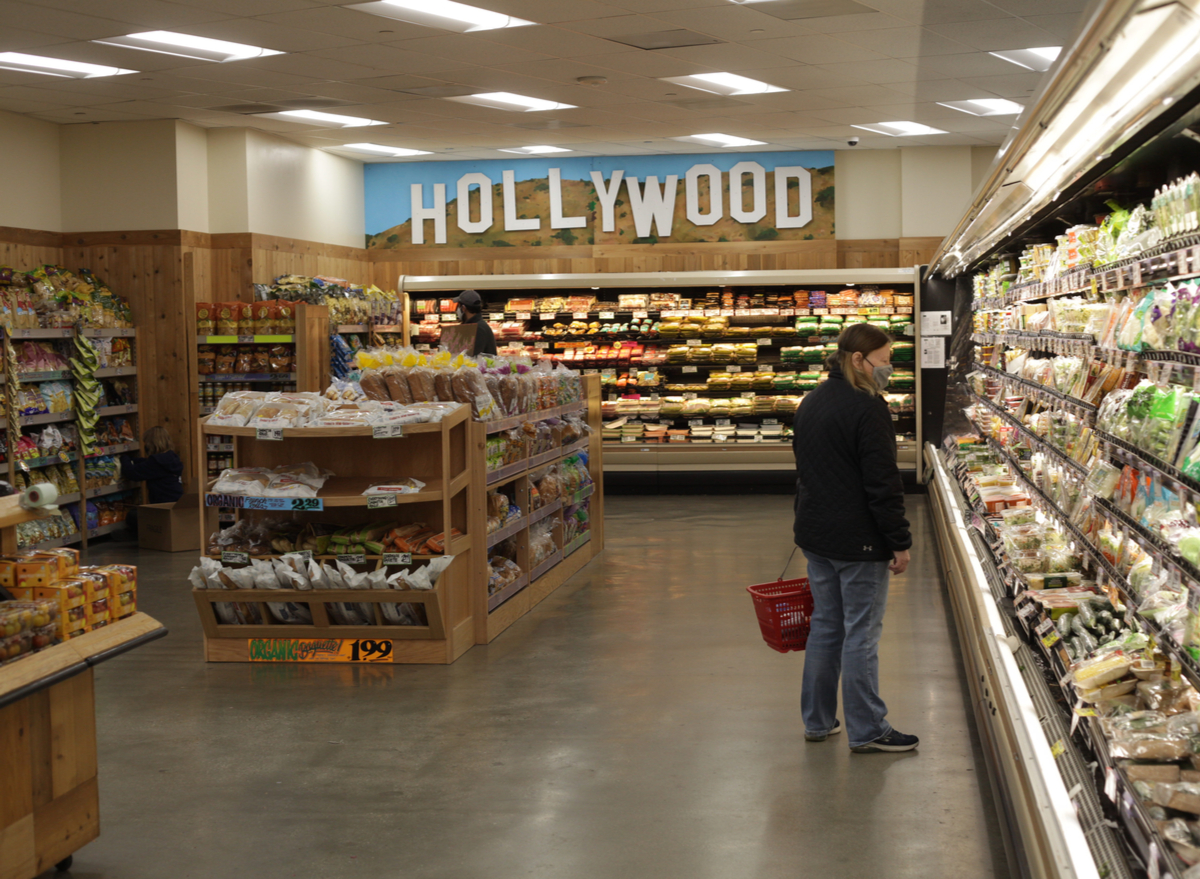 What's in the grocery carts of the rich and the famous? You may find Haley Bieber's $17 Strawberry Glaze Skin Smoothie from Erewhon, or perhaps Elizabeth Taylor's favorite chili from Bristol Farms. 
But whether you're actively trying to spot a celeb in the produce aisle, or looking to pick up some enoki mushrooms for a new TikTok recipe, or just wanting to shop somewhere that doesn't sell animal products, Los Angeles has a grocery store for you.
Los Angeles is home to plenty of national grocery chains like Trader Joe's and Whole Foods, but it also boasts unique, independent grocers and regional chains that cater to both every kind of cultural cuisine and every kind of trendy diet out there. Whether you're an L.A. local looking to switch up your grocery routine, or you're visiting the City of Angels and your Airbnb has a kitchen, consider one of these options for your next grocery store trip. 
If you took all the L.A. stereotypes you've heard and made a grocery store out of them, you'd probably end up with something like Erewhon, an upscale supermarket chain with eight locations in the L.A. area. The retailer offers something for every kind of niche, trendy diet—whether you're raw vegan, keto, or gluten-free. The store also offers valet parking, which is convenient for the A-list clientele that is frequently photographed leaving the store with smoothies and organic groceries in hand. 
Erewhon recently made headlines (and trended on TikTok) by collaborating with Haley Bieber on a $17 Strawberry Glaze Skin Smoothie. You might be wondering if the smoothie is extra expensive because of the celebrity endorsement, but this is a pretty standard price for an Erewhon smoothie. It's easy to accidentally rack up a big tab at this grocery store—one consultant estimated the cost of a full cart at around $1,000—even if you don't pay any mind to the hot bar and smoothie station.
Vanity Fair declared Erewhon (pronounced air-eh-won) as one of the hottest places for A-listers to see and be seen during the pandemic. But even if you don't have a star-sighting on your visit to Erewhon, you can snag one of their "Everyday" tote bags for a cool $138.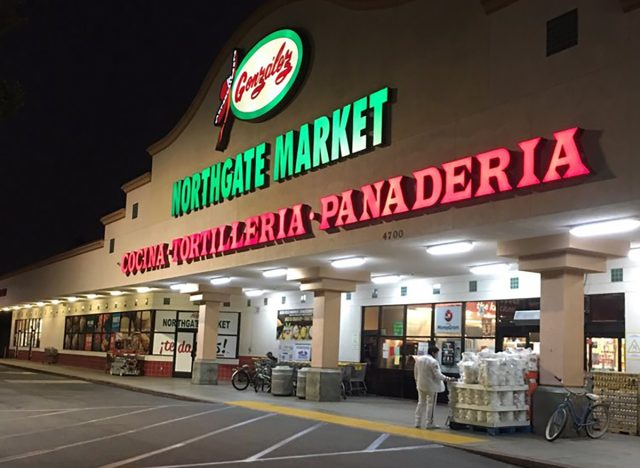 If you want your grocery dollar to stretch farther—and want to get some fresh tortillas in the process—check out Northgate Market. The family-owned Mexican grocer has nine locations in the greater Los Angeles area and operates 42 stores in Southern California. Northgate Market is known for its "scratch-made bolillo rolls, freshly made carnitas, fire-roasted split chicken, and freshly made flour and corn tortillas," according to Winsight Grocery Business.
While the store offers fresh produce and standard groceries, most fans of Northgate are smitten with the prepared food. Considering some of the locations offer a bakery/panaderia with over 100 artisan baked goods and a seafood selection with over 10 types of ceviche, you can't blame them. "My favorite part about Northgate is the tortilleria," wrote one shopper on Yelp. "The smell of fresh corn tortillas engulfs you as you enter the store."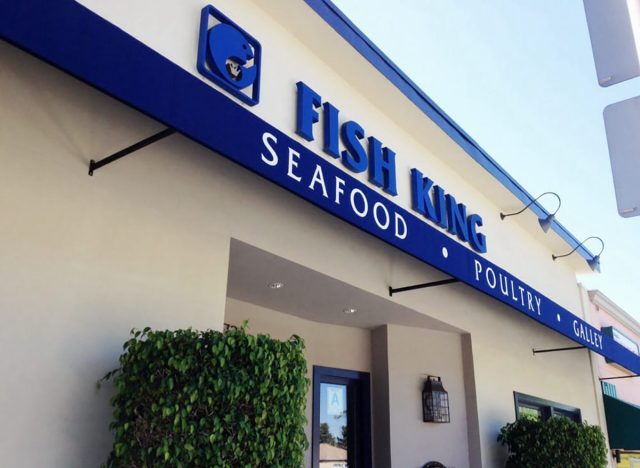 Want fresh Hawaiian flavors without enduring the five-hour flight? Just head to Fish King, a family-owned seafood market in Glendale. You may be surprised to find that this hidden-gem is located in a strip mall, but weirdly that's where you find some of the best sushi and seafood in Los Angeles, according to Thrillist.
Of course Fish King doesn't sell sushi, it sells poke. And while you can easily find poke at many trendy restaurants in L.A., Fish King has some of the freshest and most authentic. The store also offers most of its fresh catches fried, grilled, and occasionally raw—so you can feast on whatever fish fits your mood. If you're not hungry, you can certainly purchase shrimp, scallops, fish, and six different kinds of oysters to take home and cook yourself. The store also sells house-made original marinades and sauces, plus standard groceries and poultry. 
If you take a Whole Foods, scale it down, and add some Hollywood theatrics, you'll get something close to Bristol Farms. This gourmet grocery store has 14 locations in the greater Los Angeles area, but the West Hollywood location is the most unique.
Bristol Farms' location on Beverly Boulevard was once home to an iconic old Hollywood restaurant called Chasen's Southern Barbecue Pit. The rib-parlor turned steakhouse was frequented by Frank Sinatra, Charlie Chaplin, and Ronald Reagan—who proposed to wife Nancy there in 1952. 
While Chasen's closed in the 1980s, you can still feel some of its golden era glamor while perusing the fresh juices at Bristol Farms. You can also still snag Chasen's original, "top-secret" chili recipe through its catering department—the same chili that the actress Elizabeth Taylor reportedly had shipped to her while she filmed "Cleopatra" in Rome, according to What's Cooking America.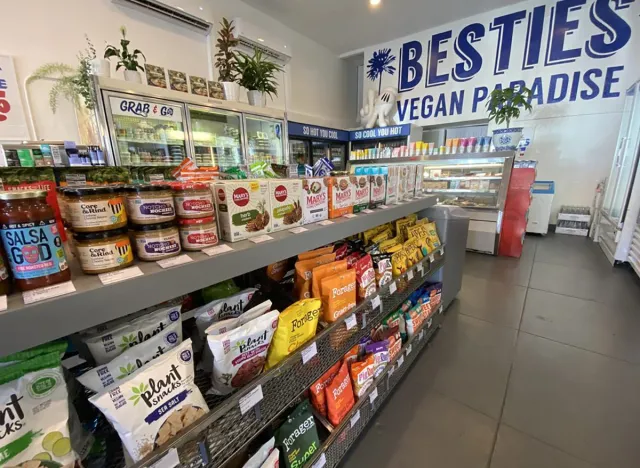 While Erewhon may serve the rich and famous plant eaters, Besties Vegan Paradise is for all kinds of vegans. The small east-side market is sort of like a vegan bodega, and while you won't find fresh produce, you'll find lots of cruelty-free candy, snacks, frozen meals, and everything you need for a vegan charcuterie board in the deli case. The retailer also serves meatless hot dogs and cold vegan ice cream. 
Besties is constantly hosting plant-based pop-ups and events, so you might want to check their Instagram before you visit to see if you can catch something fun. Recent events include a "Friday Night Bites" event featuring vegan baked goods and banh mi, and a demo with vegan fried chicken from the popular restaurant Atlas Monroe. The store also sponsors a Vegan Run Club, which rewards runners with some of the free vegan soft serve. If you're on the west side and looking for a vegan market, check out the Vegan Pop Up by XMarket, a new concept that has a location in Venice and partnered with Besties last year.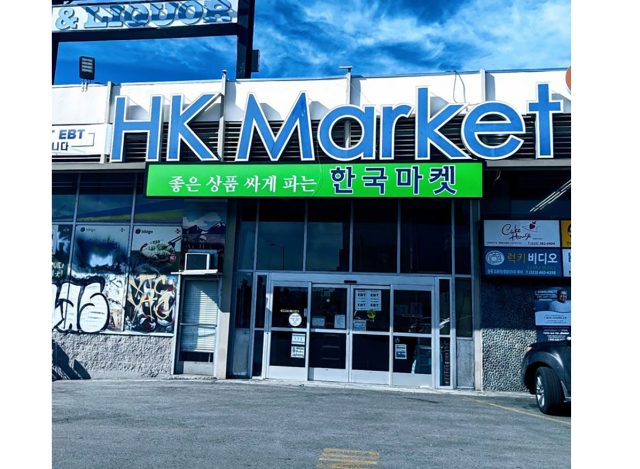 Whether you're looking to make your own sushi or you want to spruce up your bathroom with some Hello Kitty toilet paper, HK Market in Koretown has what you need. The large Korean grocery store has all the essentials: international produce, tons of fresh seafood (including sushi-grade), cold packaged banchan, plus unique Korean snacks and drinks. It also boasts an in-house cake shop, fried chicken stand, and Korean eatery.  
HK has a free parking lot (which is a rare blessing in Los Angeles, especially in K-Town), and is open until midnight. "Most Korean markets are pretty difficult or crazy packed," wrote one Yelp reviewer. "This probably is the semi-easiest one to park, get stuff and leave with a car."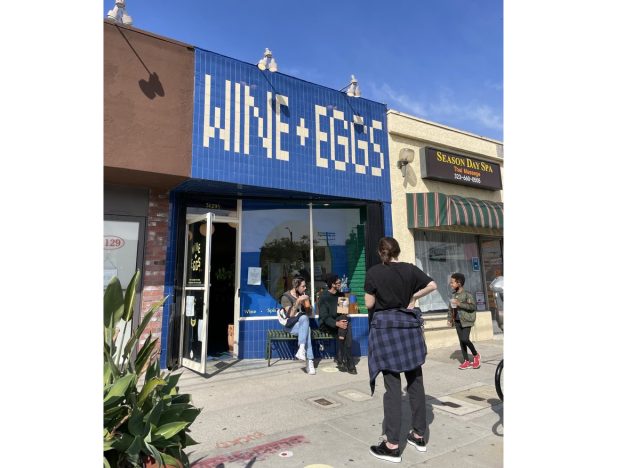 If Erewhon is for the West Side Instagram model, Wine + Eggs is for the East Side artist. Think of Wine + Eggs as a super upscale and locally focused Bodega. It's small but mighty, and stocks some fresh produce in addition to its many shelves of wine, craft beer, gourmet snacks, and sauces.6254a4d1642c605c54bf1cab17d50f1e
Owner Monica Navarro opened the shop in Atwater Village upon realizing that she was looking for a one-stop shop where she could "pick up pasta, tomato sauce, and a much-needed bottle of wine in the neighborhood," according to Los Angeles Magazine. Navarro partnered with many local restaurants and cafes during the Covid-19 pandemic to help make up for some of their lost income. Because of this collaboration, you can find many goods at Wine + Eggs that you won't find at other grocery stores (and certainly not in other cities). For example, hot sauce from Historic Filipinotown's Woon Kitchen and frozen pizza from Santa Monica's La Morra Pizzeria. "I never walk out [of Wine + Eggs] with less than five new items," says Manda Perkins, a graphic designer based in East Hollywood.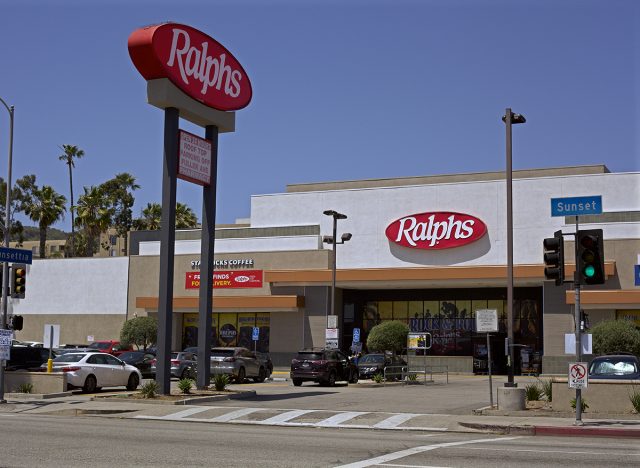 While Ralphs may not be the fanciest grocery store you'll visit in Los Angeles, it certainly is reliable. The California-only grocery chain owned by Kroger operates 28 stores in L.A., and many more in the surrounding areas. When you're walking around Los Angeles and in need of a cold drink, a birthday cake, or a Squishmallow, there's probably a Ralphs nearby, but the "Rock 'n Roll Ralphs" at 7257 Sunset Blvd. is famous—or should we say infamous?
The popular nickname comes from the store's proximity to both the bars and clubs in Hollywood and the large Guitar Center on Sunset Boulevard, according to Academic Kids. Around closing time, revelers often head to this Ralphs location to buy alcohol for the after-party (or perhaps a frozen pizza for those who were headed home). "The late-night people watching in the produce section was amazing during the hair metal years," wrote one Redditor. 
Even though apps like DoorDash now allow night owls to order booze directly to their homes in the Hollywood Hills, the Rock 'n Roll Ralphs is still a famous landmark, especially for people watching. When this writer lived next door, a friend swore it was one of the best places to meet singles. The people you pick up at Ralph's may not be as glamorous as those at Erewhon, but you'll definitely save some money on groceries in the process.
Ashley Uzer
Ashley Uzer is a Los Angeles-based freelance writer that focuses on food, relationships, and wellness.
Read more about Ashley