We Tasted 8 Instant Coffee Brands & This Is the Best!
If you're on the go or in a rush, try these quick caffeine fixes.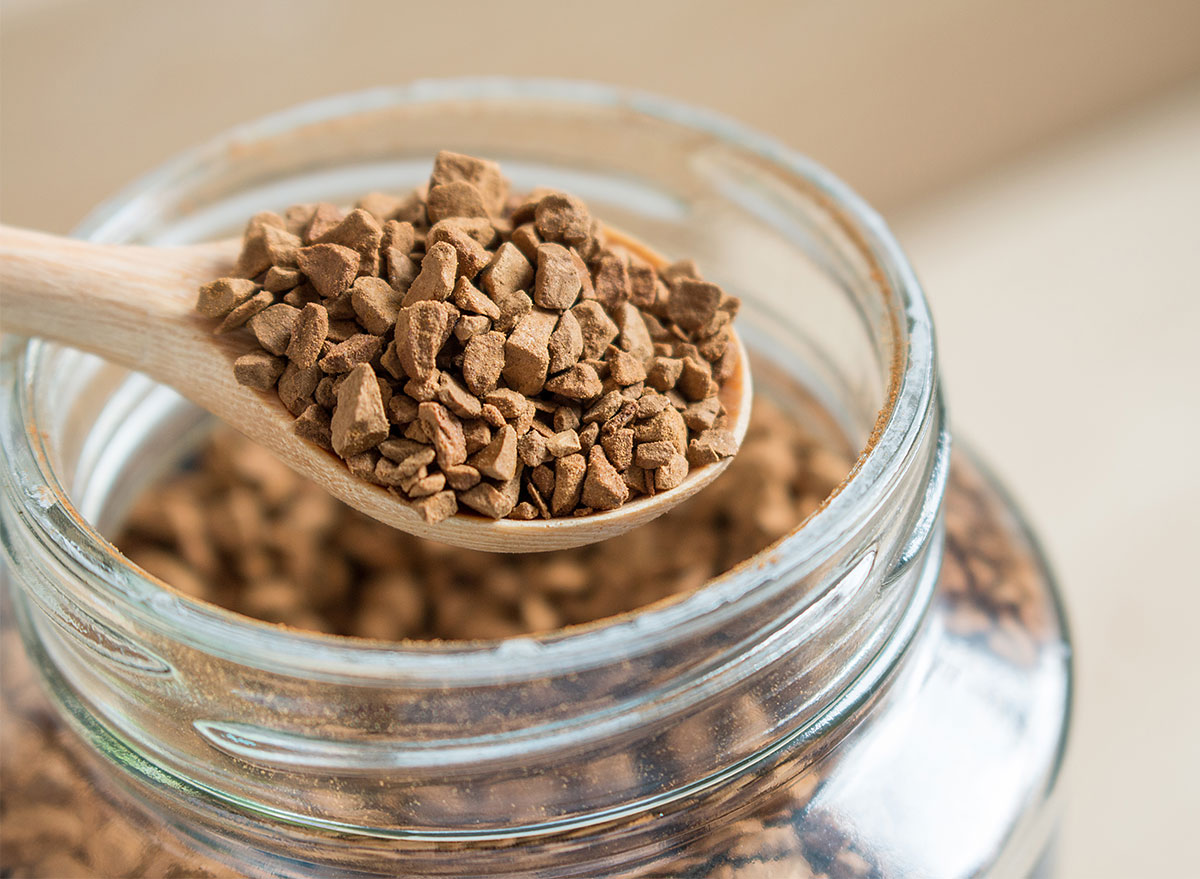 This post contains affiliate links. If you use these links to buy something, we may earn a commission.
With $7 lattes becoming the norm and boutique coffee shops around every corner, it's easy to become a coffee elitist. And if you fancy yourself a coffee snob, you may look past instant coffee blends. But instant coffee has made strides in the past few years. And with new brands offering up varieties and bringing an elevation to the category, instant coffee is worth a second look—so we're bringing you a list of the best instant coffee brands on the market.
Maybe you're hiking and don't want to carry extra brewing gear. Maybe you work on the road and don't have time to stop at cafes throughout the day. Or maybe you want to make whipped coffee at home. There are endless reasons why you might pick instant coffee over its brewed brethren. We don't judge!
Whatever your reason for choosing instant coffee, some flavors are better than others. Here's how eight popular instant coffee brands stacked up, ranked from the worst-tasting to the best.
And for more, don't miss: We Tasted Coffee from 5 Fast-Food Chains and This Is the Best.
Nescafé Taster's Choice: House Blend
6254a4d1642c605c54bf1cab17d50f1e
Nescafé is one of the most popular instant coffee brands worldwide. It was introduced by the Nestlé company in the 1930s, and there have been countless blends throughout the years. The Taster's Choice line was introduced in 1966, so it was one we had to try.
The .1 oz packets are packed with 100% pure coffee. The house blend promises to be smooth and well-balanced. After mixing the light blond granules in hot water, it produced a not-quite-pleasant bean smell. Fortunately, the taste was much less offensive.
Nescafé instant coffee doesn't taste like a cheap coffee (as you might expect), but adding a flavored creamer certainly wouldn't hurt to zhuzh it up. While the flavor is mild at first, it starts to taste more bitter when it cools, so you should drink this one quickly.
Folgers Instant Coffee Crystals: Classic Roast
If the best part of waking up is Folgers in your cup, then you might be a fan of the brand's instant coffee. If not, well, you probably should look farther down on the list. After mixing a rounded teaspoon of the brown granules with hot water, the instant coffee produces a bit of a fake, plastic smell. However, the taste doesn't reflect the smell. It's slightly sour, but not a bad cup of Joe. Somehow, the instant coffee tastes better than regular brewed Folgers.
Starbucks VIA Instant: Pike Place Roast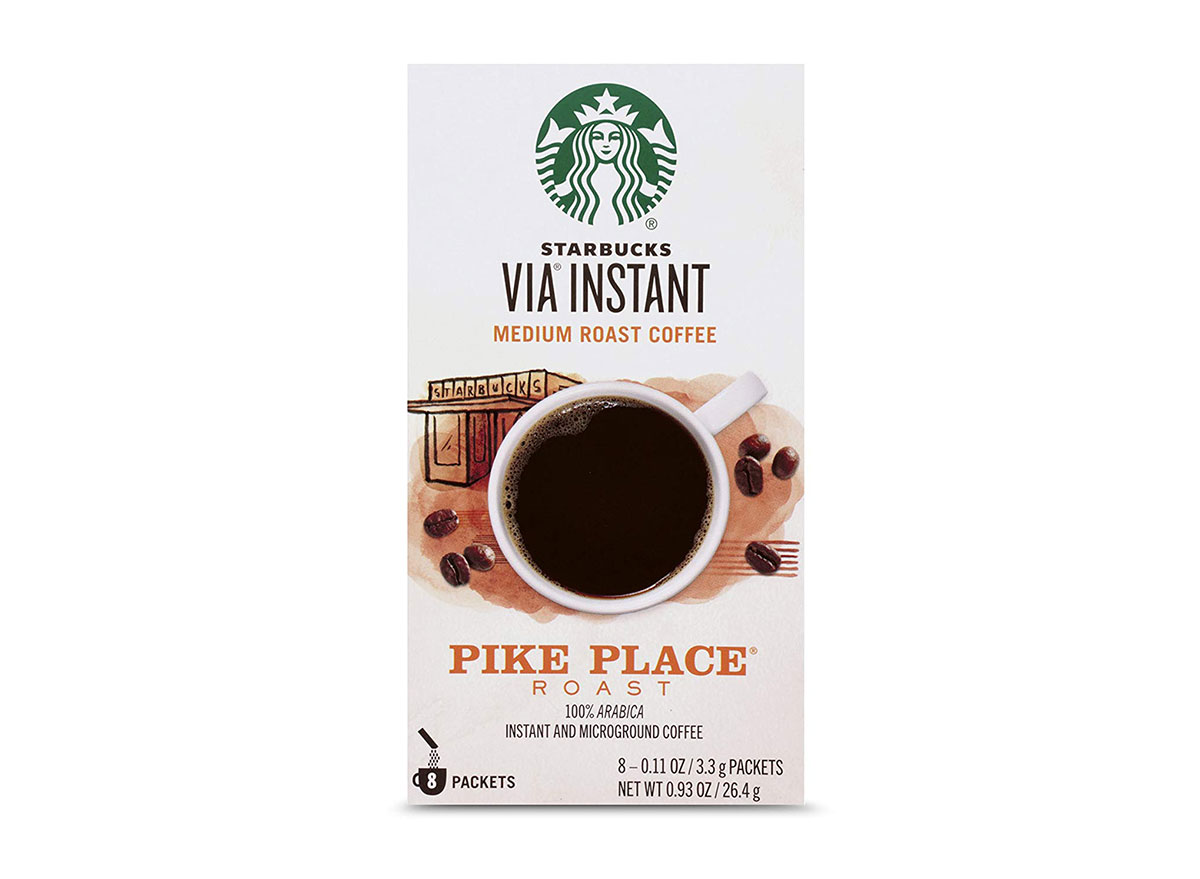 America's most popular coffee shop introduced its Via Instant line in 2009. Instead of coffee granules, Starbucks' instant coffee features micro-ground coffee. The 100% Arabica packets produce an earthy smell that's not unlike the brewed Pike Place beans you might get in-store.
The packaging says the blend boasts chocolate and toasted nut notes, which aren't exactly present when sipping. The coffee has an almost powder-like taste, making it slightly different than the regular Pike Place. However, if you were on the go and unable to wait for brewed coffee, this would be a decent alternative.
And if you can't resist that siren call, don't miss these 30 Things You Never Knew About Starbucks.
Nescafé Clásico: Dark Roast
With so many varieties from Nescafé, we wanted to put more than one to the test. And it's a good thing we did because the Clásico variety was a much better contender than Taster's Choice.
A teaspoon of these dark granules mix with hot water to create a typical coffee aroma. There's a slight hint of smoke, but otherwise, you wouldn't be able to identify that it's an instant coffee cup vs. the real thing. The taste is slightly artificial but significantly better than the Taster's Choice.
Overall, this instant coffee is not great, but it's also not terrible. Let's just say if someone from your camping crew purchased this and you had no other choice, you'd be fine drinking it to get your morning brew.
Trader Joe's 100% Colombian Instant Coffee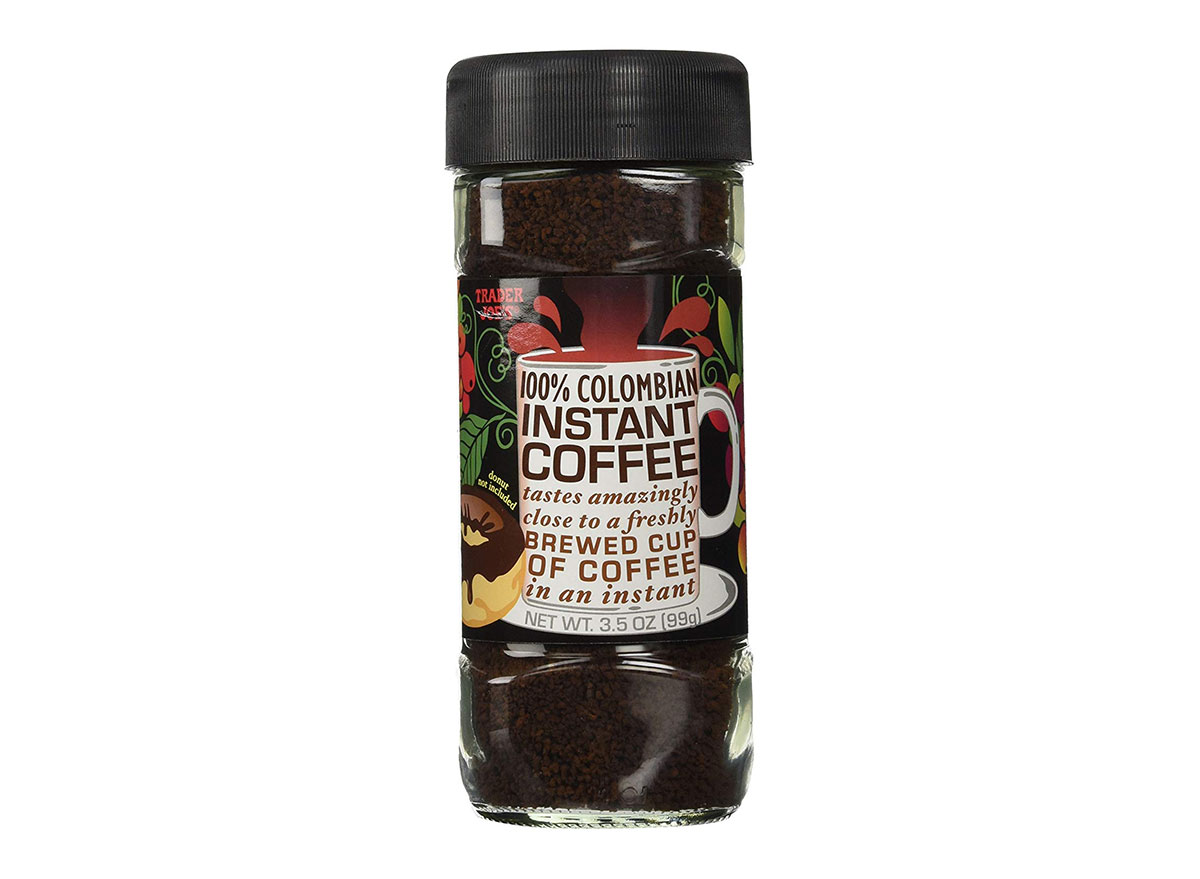 The label on the glass jar of Trader Joe's instant coffee says that it "tastes amazingly close to a freshly brewed cup of coffee in an instant." And we couldn't think of a more accurate description of the result here.
The instructions say to take one heaping teaspoon (or more or less for taste) and mix with hot water. The dark granules produce an almost savory smell. But once you sip the coffee, you won't notice that bean-forward aroma. This is one of the smoothest flavors out of the bunch. There's no noticeable bitterness, and it's a perfectly sippable cup.
And if you love TJ's, don't miss The Best Trader Joe's Products for Weight Loss.
Joe Coffee Company Specialty Instant Coffee: The Daily House Blend
A New York favorite, Joe Coffee Company created an instant coffee blend with Swift Cup Coffee so coffee lovers around the U.S. can enjoy their brews.
Each packet is full of an incredibly fine powder that creates a bit of a thicker coffee than others on this list. It takes a little extra stirring to mix it all in. The smell is like a "normal" cup of coffee, but the taste is incredibly strong.
If you love strong black coffee, this is the instant variety for you. If you like your coffee a little less bold, you might want to add extra water or creamer.
Café Bustelo Instant Coffee: Espresso
Of all the coffees on this list, Café Bustelo's version is most similar to its regular ground coffee used for brewing. The popular coffee brand's signature blend is made in espresso-style, a Cuban method that allows for a bolder, richer flavor. And that's true in the instant packet, too.
The dark powder mixes with hot water to create an incredibly smooth cup of coffee. It's a strong taste, without being too bitter or too bold. There's a very slightly more artificial taste than in the regular version, but if you add a dash of sugar or creamer, you likely won't notice.
Waka Coffee
If you're new to the world of instant coffee, you've likely never heard of Waka Coffee. The company makes one thing only: instant coffee. Used for both caffeinated and decaffeinated varieties, the special method with this brand is freeze-drying 100% Arabica Colombian coffee.
The result is a mild coffee that's perfectly smooth. There's no distinct smell or taste other than what you'd expect from a good cup of Joe. It's strong enough that it could hold up to a little cream and sugar, but it's not so bold you couldn't drink it black either. Try it, and you may not hassle with brewed coffee at home again.
Now that you know the best instant coffee options, you have plenty of solutions for those days when you're in a pinch. You might just forego your coffee pot with all of these options.
Read more about coffee:
The #1 Best Coffee Habit For Weight Loss, Says Dietitian
Coffee and Tea Decrease The Risk of These Serious Diseases Over 50, Says New Study
The Final Verdict on Whether Coffee Pods Are Bad for You, Expert Says
Dalene Rovenstine
A New York-based freelance journalist, Dalene Rovenstine often writes about food and drink and health, as well as entertainment, beauty, and other lifestyle topics.
Read more about Dalene