Craving a frothy coffee drink? Whipped coffee will satisfy that craving, which you can easily make with three different flavors!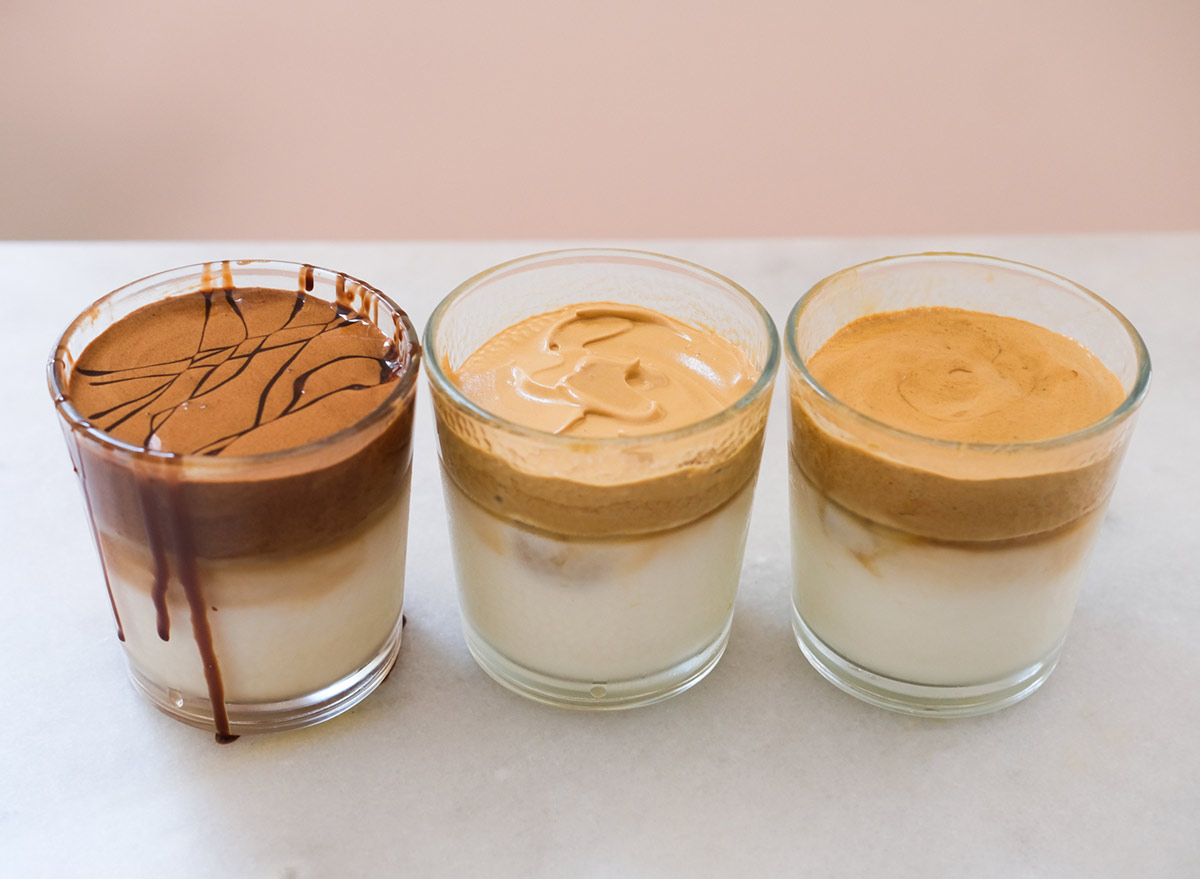 Even though whipped coffee has recently become trendy because of a viral TikTok video, this particular easy-to-make coffee drink has been a staple in southern Asia for quite some time. Also known as dalgona, or beaten coffee, whipped coffee is surprisingly easy to make. It has the same texture as a frothy latte from a coffee shop, and you can easily make it with different flavors at home!
Now, true dalgona coffee is actually made with a type of Korean honeycomb toffee (known as dalgona), so it will be slightly different than the original. We don't have the sweet treat with us, so we can't exactly call it authentic dalgona coffee. But that doesn't mean we can't try this easier version of whipped coffee with the ingredients that we do have at home!
To make the frothy coffee beverage, you whisk together equal parts instant coffee, sugar, and hot water until the texture of the mix becomes creamy—almost like whipped cream. You then serve it over hot or iced milk.
Here is an easy step-by-step tutorial for you to follow!
Ingredients
For the coffee:
2 Tbsp instant coffee
2 Tbsp sugar
2 Tbsp hot water
3/4 cup hot or iced milk
For the flavors (choose one):
1 Tbsp cocoa powder
1/2 tsp vanilla extract
1 tsp caramel sauce
How to Make It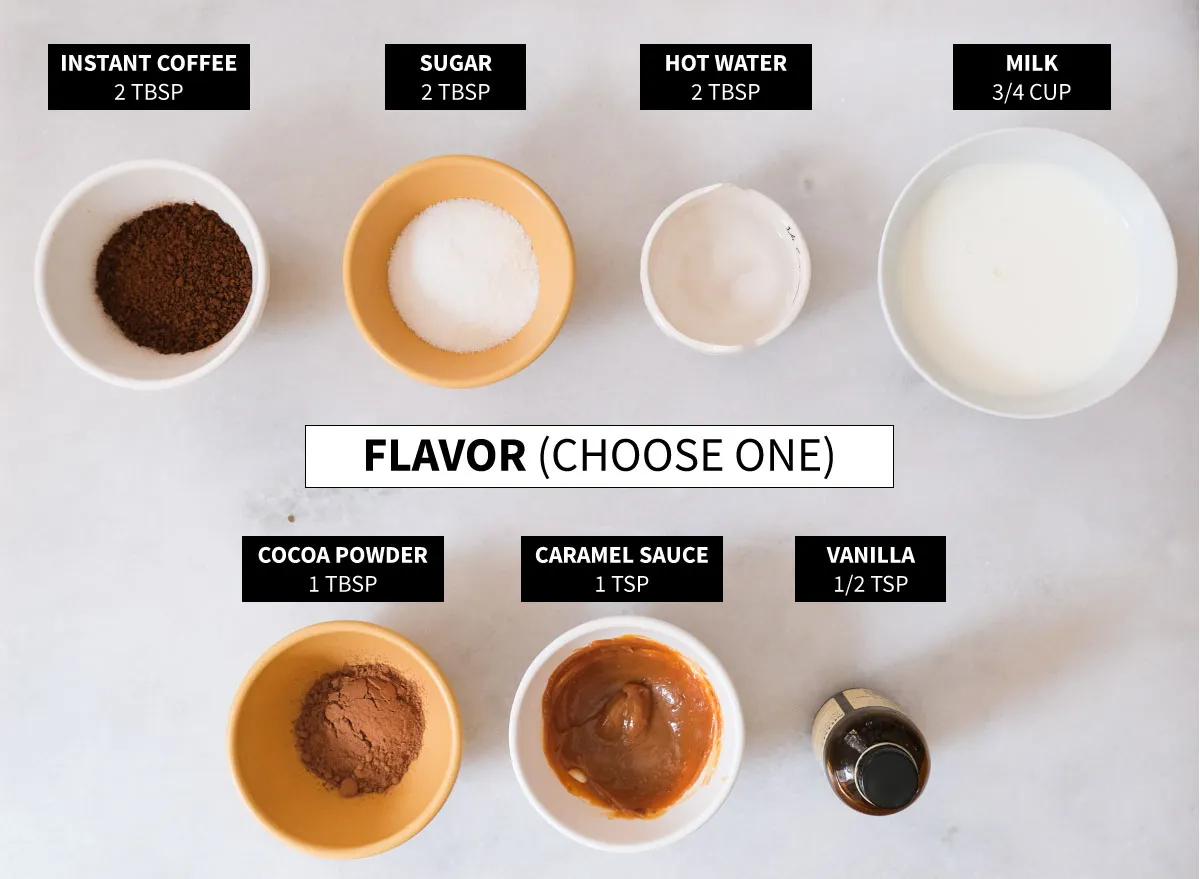 Make sure you have all the ingredients you need before getting started, to avoid any stress or hassle on your end. For the whipped coffee recipe you'll need instant coffee, sugar, hot water, and milk. Then if you would like to add flavoring, choose one of the three—cocoa powder, caramel, or vanilla.
Combine coffee, sugar, and hot water.
Combine the instant coffee, sugar, and hot water in a large bowl. You'll probably want to whisk it with an electric mixer, but you can whisk it by hand. It will take a long time to do, but it is possible! Just be patient.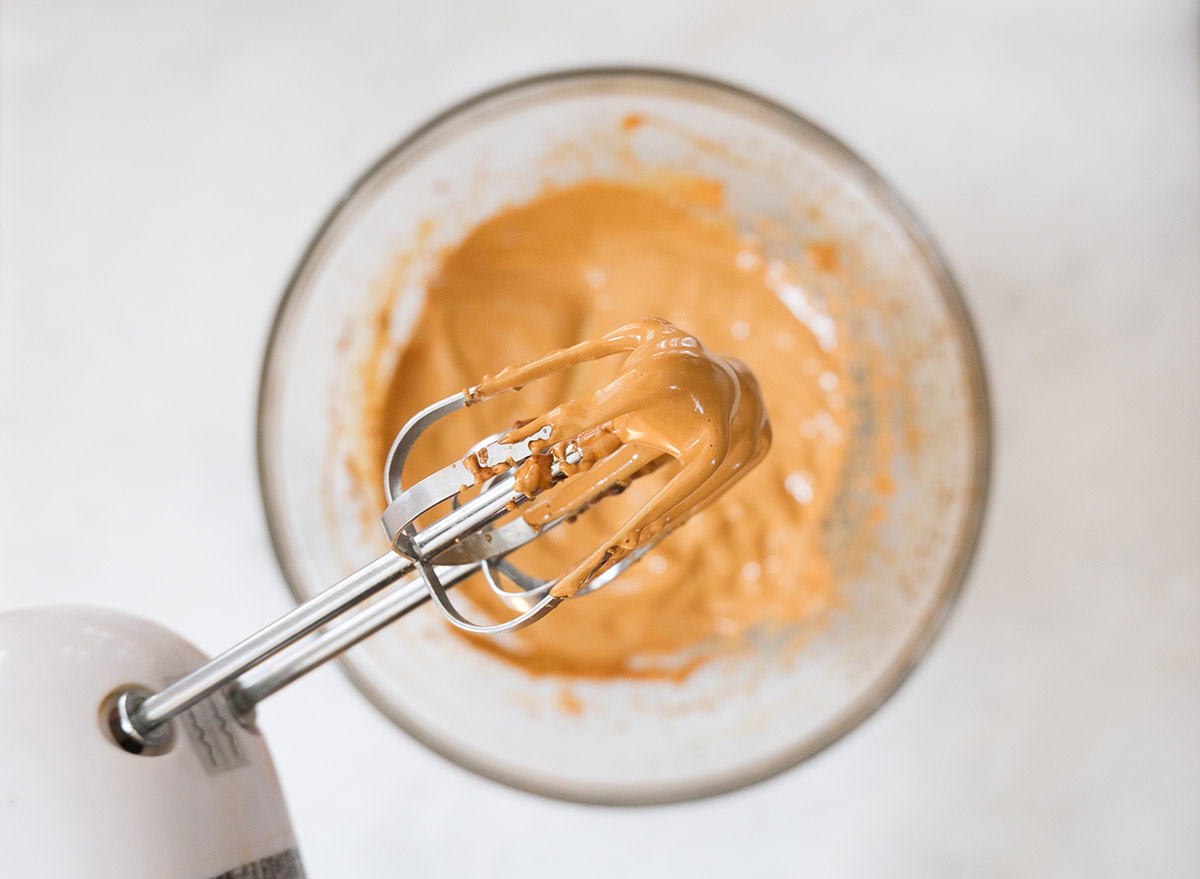 After about five minutes of continuously whisking with an electric mixer, you'll have a very frothy, light brown whipped coffee. The coffee should be almost like whipped cream, nice and thick and leaves soft peaks.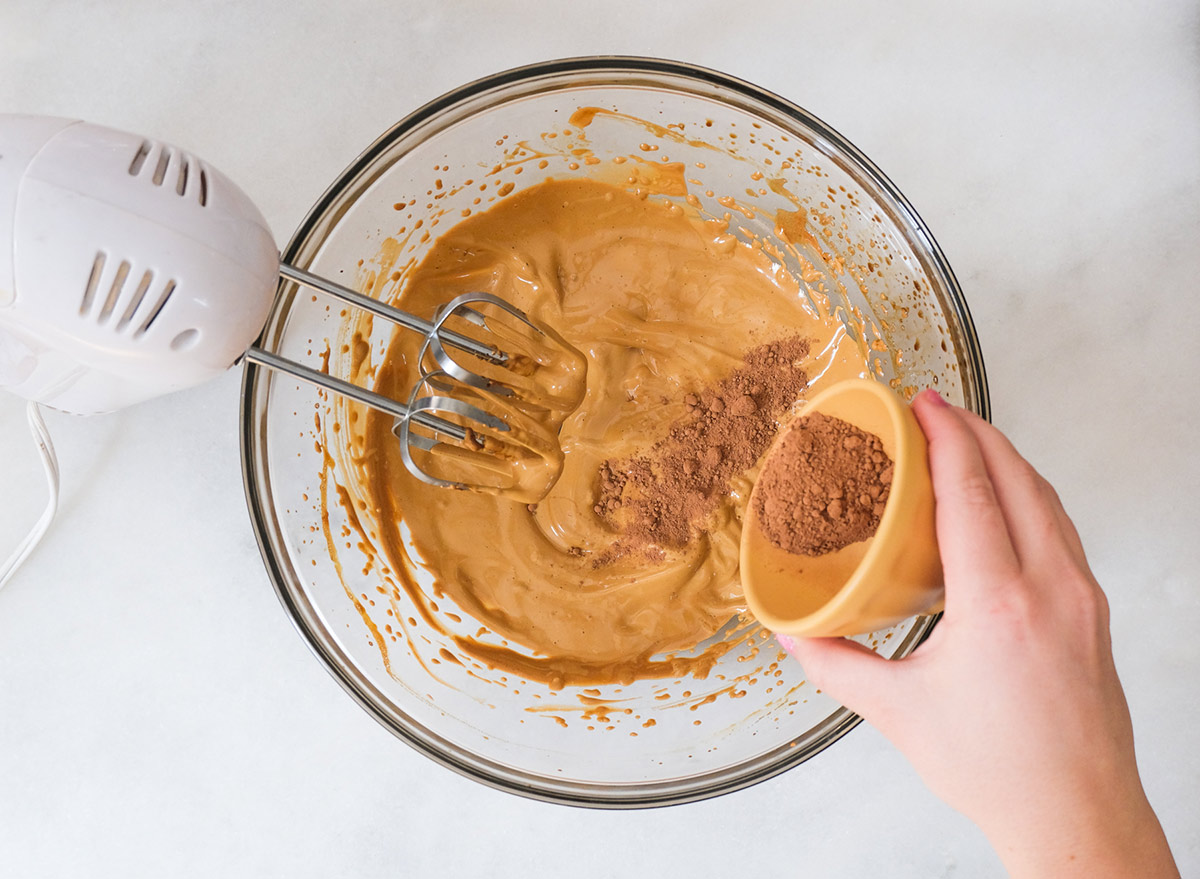 If you plan on flavoring your coffee, add it once you have your whipped coffee ready. Whisk for about 15 seconds.
Finish mixing with a spatula.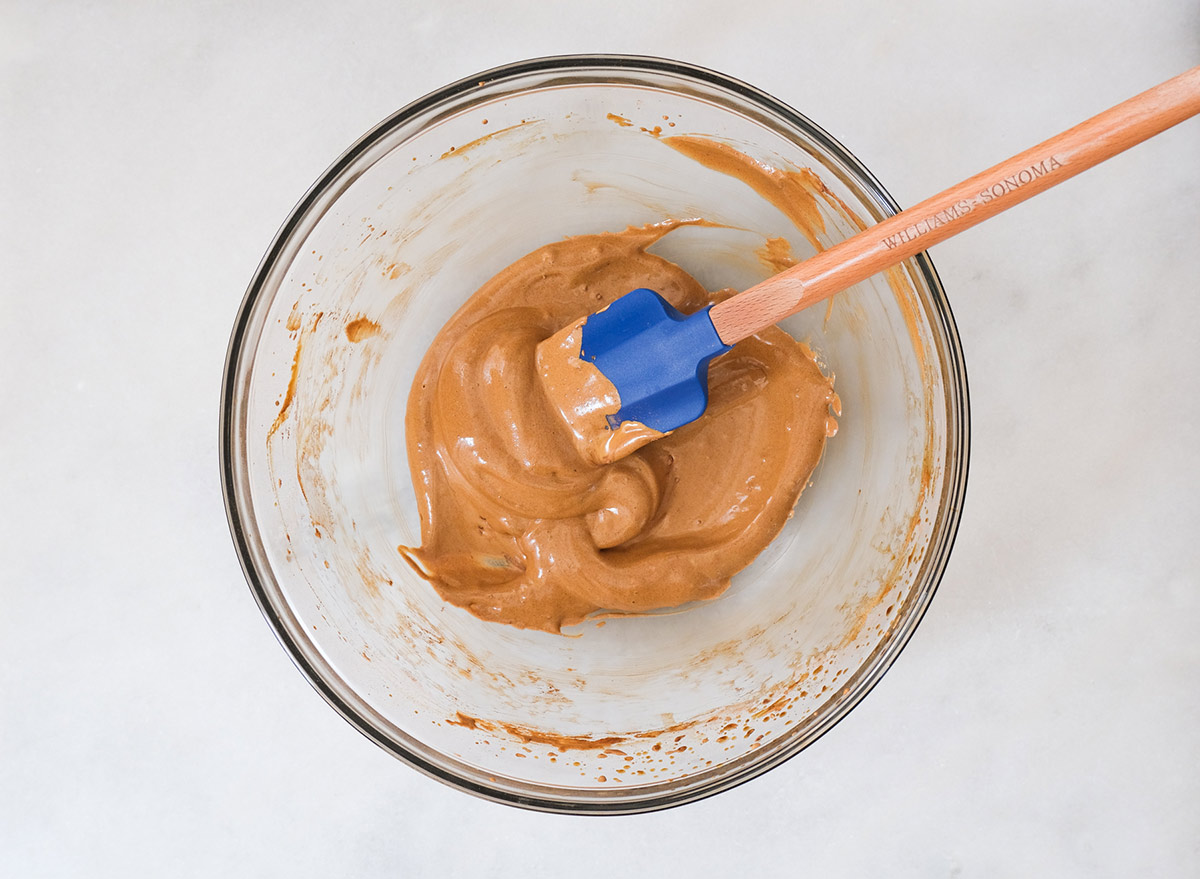 Mix the rest of the flavoring in with your spatula, until the flavoring has fully been worked into the coffee. This may take a bit longer with cocoa because the dry powder needs to dissolve.
Whipped coffee works with both hot and cold milk! You can heat up 3/4 cup of milk in a microwave or saucepan, then serve it in a much for a frothy latte. Or serve it in a cup with milk and two ice cubes for a cold latte! It is totally up to you. Mix together the whipped coffee and the milk for a frothy coffee treat.6254a4d1642c605c54bf1cab17d50f1e
Yes, you can enjoy whipped coffee with non-dairy milk! Both almond milk and oat milk work well with this.
Full Whipped Coffee Recipe
Boil some hot water in a tea kettle or in a small saucepan.
In a large mixing bowl or stand mixer, add the instant coffee, sugar, and hot water. Whisk until the color becomes light and the texture is frothy—about 5 minutes. This will much easier for you if you use an electric mixer.
Once the coffee is frothy, add in your flavoring. Whisk for another 15 seconds or so. Remove the electric mixer and mix the rest with a spatula, until everything is combined.
Scoop the whipped coffee on top of milk. Top with any desired toppings, like extra chocolate or caramel sauce. Mix and enjoy.