I Tried Non-Alcoholic Wines for Dry January & These 5 Were the Best
These non-alcoholic wines taste so good, you won't even miss the regular boozy kind!
The product recommendations in this post are recommendations by the writer and/or expert(s) interviewed and do not contain affiliate links. Meaning: If you use these links to buy something, we will not earn a commission.
The new year is upon us, which means many people are ditching their favorite alcoholic drinks for dry or damp January. If you're going dry this month, it means you've most likely chosen to completely avoid alcohol for 31 days, but if you are trying a damp month instead—a newer trend inspired by dry January—you'll most likely be cutting back on your alcohol consumption significantly but still treating yourself on special occasions.
I've personally participated in multiple dry months in the past, such as Dry January and Sober October, and I have found that the break from drinking was a necessary relief for my mind and body. Even though these pauses have been enjoyable and truly worth the effort, it was difficult finding beverages to take the place of the alcohol I missed. When I first decided to attempt a sober month, I tested a lot of different non-alcoholic wines, beers, and spirits. It took a lot of time and money, and I tasted plenty that I didn't enjoy, but I finally discovered a handful of non-alcoholic wines that I loved.
When you're looking for a non-alcoholic wine, there are a few key differences to look for. For instance, many non-alcoholic wines are technically dealcoholized, which means they undergo a full fermentation process before the alcohol is removed. These varieties are my personal favorite because to me, they taste the most similar to wine. However, not everyone agrees.
"The process of dealcoholization can be very harsh and, therefore, may ruin the delicate flavors and aromas of the wine," explains Evie Olson, a sommelier at Nisos, a modern Mediterranean restaurant in Chicago. "Instead, I would recommend looking for a non-alcoholic wine that is tea-based and flavored with natural ingredients—these are far more palate pleasing."
I've found both dealcoholized and tea-based non-alcoholic wines that I enjoy, and both types are represented in my list of favorites. Although I fully believe in these wines listed below, I understand that everyone's tastebuds are different and that you'll probably have to try a few types to find your own preferred varieties.
Here are the best non-alcoholic wines I've tried, and if you're interested in other types of non-alcoholic beverages for Dry January, check out our list of 15 Best Non-Alcoholic Drinks You'll Actually Like.
Studio Null Solo Garnacha
I must admit that I tried a decent amount of non-alcoholic red wines, and this was the only one that I enjoyed. It's hard to mimic the full body of a fully alcoholic red, but the Solo Garnacha from Studio Null genuinely feels as close as possible. All of the other reds I have tasted resembled grape juice more than wine, but this red made me feel as though I was actually sipping on a pinot noir.
When I gave up drinking for a month, one of the things I was most worried about missing was the combination of red wine and a cheeseboard. I can happily say that the Solo Garnacha was a hit among my friends for our weekly Bachelor viewing party, and I still felt fully satisfied drinking it alongside some cheddar, gruyere, and aged Gouda.
Studio Null Blanc Burgender
One of my favorites on the list to sip on during any time of the year is Studio Null's Blanc Burgunder. Made from pinot gris and pinot blanc grapes, you'll feel the same crisp texture that you'd expect from your favorite alcoholic white wine. Out of all of the non-carbonated, non-alcoholic white varieties, this one gave me the closest sensation to drinking alcohol.
As you can see so far, I quickly became a fan of Studio Null's products, and they are a company I believe in on every level. They not only have some of my favorite non-alcoholic drinks, but I appreciate their transparency. Every type of wine they offer comes from a small vineyard in Europe, and each bottle contains the full sourcing facts, so you know exactly where your beverage is coming from.
Töst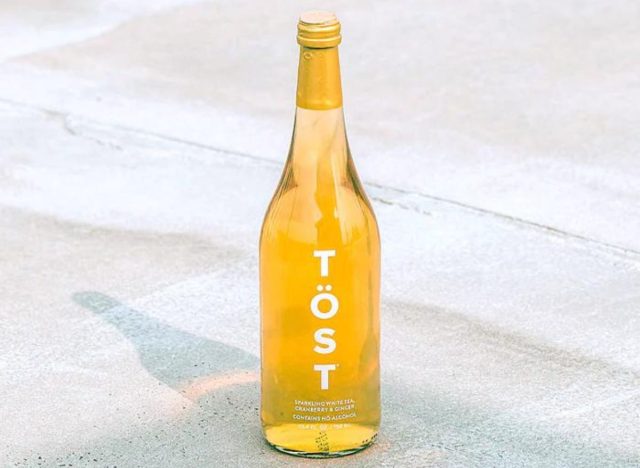 I enjoyed drinking Töst because I went into the experience knowing this wasn't going to truly taste like wine. Whereas a lot of the others I tried were dealcoholized wine, this is a sparkling beverage made with white tea, cranberry, and ginger. So while it might not taste too much like wine, it fulfilled my desire of wanting to sip on something crisp during a park picnic or at a friend's barbecue.
According to Töst's website, their products are triple-filtered and contain only natural ingredients, and they use organic blue agave to sweeten their drinks. Another thing that I appreciated about the Töst beverage is that even though it had more sugar than the wines I tried at 11 grams per serving, the ginger and bubbly texture eased my stomach every time. To me, Töst is the best non-alcoholic wine that isn't dealcoholized.
Thomson & Scott Noughty Sparkling Chardonnay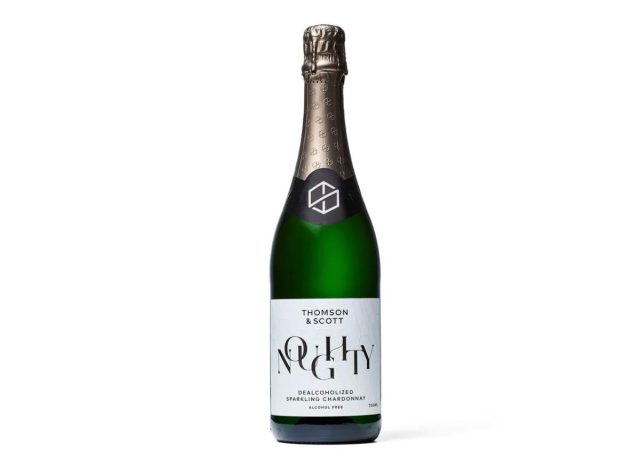 If you're looking for a non-alcoholic wine that looks, tastes, and feels like champagne, I highly recommend the Noughty Sparkling Chardonnay. I took this wine, along with some orange and grapefruit juice, to a friend's picnic to make mimosas. As a fun experiment, I didn't tell anyone at first that I was drinking non-alcoholic wine, and I had them try the mimosas without them knowing. They were absolutely shocked when I told them the drinks didn't contain alcohol. A few of my friends even chose to opt for the non-alcoholic mimosas over the alcoholic ones once they knew it was an option.6254a4d1642c605c54bf1cab17d50f1e
Although it's called a chardonnay, I don't think the flavors resemble one at all. Instead, this one really does work perfectly as an alternative to champagne. A few plus sides to the Noughty wine is that it only contains 2.9 grams of sugar per 100 milliliters, and it's certified organic and vegan.
Sovi Canned Rosé
I am in love with the concept of canned wines, both for the convenience and the portion control, which is why I was thrilled to see the Sovi Sparkling Rosé cans online. Although the price seems a bit steep at first at $28 for four cans, I believe it's a worthwhile purchase.
Rosé isn't normally a favorite of mine when I'm drinking alcohol, but the bubbly texture of Sovi helps to mask the lack of intensity or boldness that occurs in many non-alcoholic products. And even though this wine contains only three grams of sugar and 25 calories per can, it was one of the sweeter ones I tried and you really could taste the flavor notes of strawberry and rhubarb. Sovi also comes in a red blend or sparkling white, but the rosé is by far the best in my opinion.