19 Cozy Onesies for Your Food Baby
If you're going to eat your face off this Christmas, you're probably going to want to take your too-tight pants off soon after. These roomy—and totally cozy—onesies are the perfect outfit change.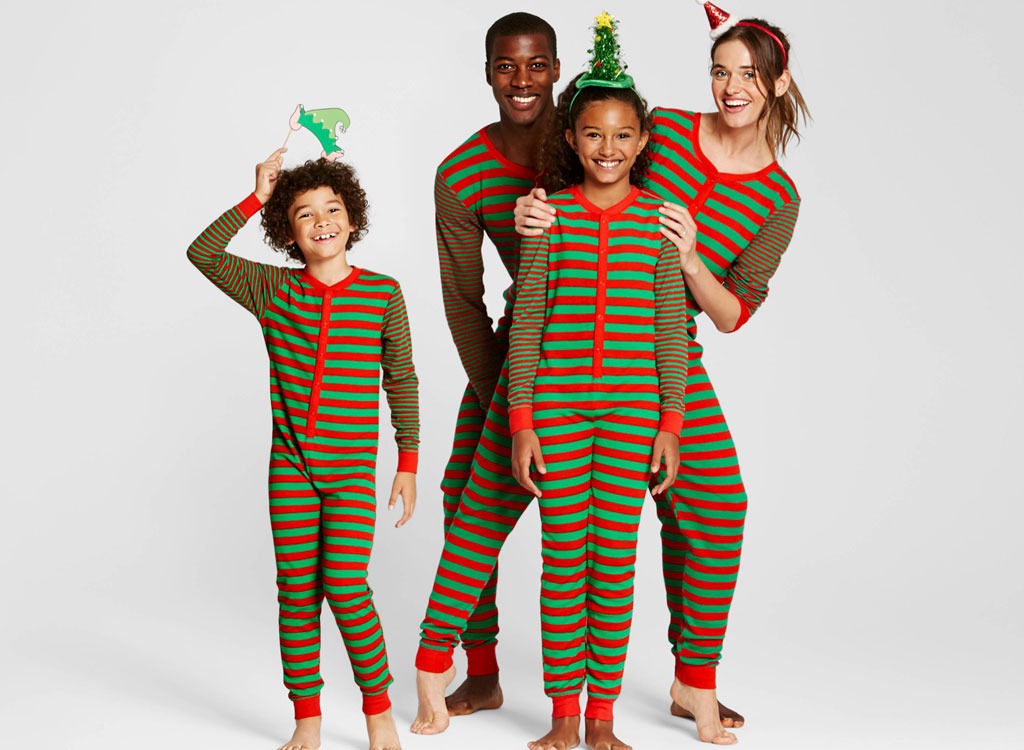 First came the baked brie. Next, the glazed ham, roast beef, potatoes, and mac and cheese. Then, just when stomaching another morsel started to seem near-impossible, a spread of desserts made its grand entrance. And, seriously, who could resist piles of delectable gingerbread cookies and pie!? No one, that's who!
If this sounds like your typical holiday feasting, you already know that the idea of wearing skinny jeans—or any pants with a button—sounds about as appealing as watching an all-day Kardashian marathon. That's why the staff of Eat This, Not That! wants to encourage you to take your pants off—and slip into something a bit more comfortable this holiday!
In our eyes, the onesie is the perfect outfit change. Thanks to its roomie bodice, there's ample room for your monumental food baby. And not to mention, they come in a wide variety of styles, ranging from sweatpant chic to quirky cute, so they're perfect for you and everyone else on your holiday list, too! The best part? No matter where you live, there's a onesie out there for you and your belly full of food. While some varieties are footed and made of fleece, others are made of lightweight cotton and allow your feet to breathe. Read on to find the perfect pair for you and your fam so you can pile up your plate without worrying about busting a button (just one of the things on our list of 10 Amazing Things That Happen to Your Body on Christmas)!
The Rail Fleece One-Piece Pajamas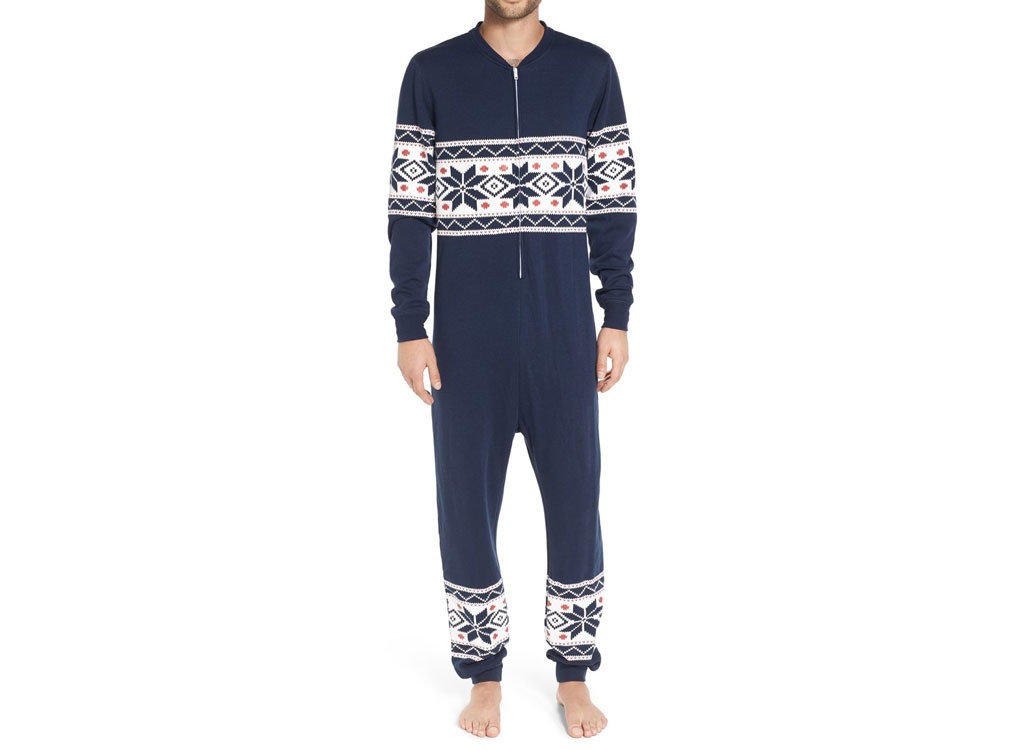 $69.50, Nordstrom
The festive graphic on this navy onesie will help you stay in the holiday spirit long after the Christmas tree has been taken down.
2xist Terry Cotton Blend Jumpsuit
$73, Jet.com
This stylin' terry jumpsuit could honestly be worn out in public without anyone batting an eye. If you're into the idea of wearing your PJs to the mall, this is the onesie for you!
Cozy Zoe Holiday Fleece One-Piece Pajamas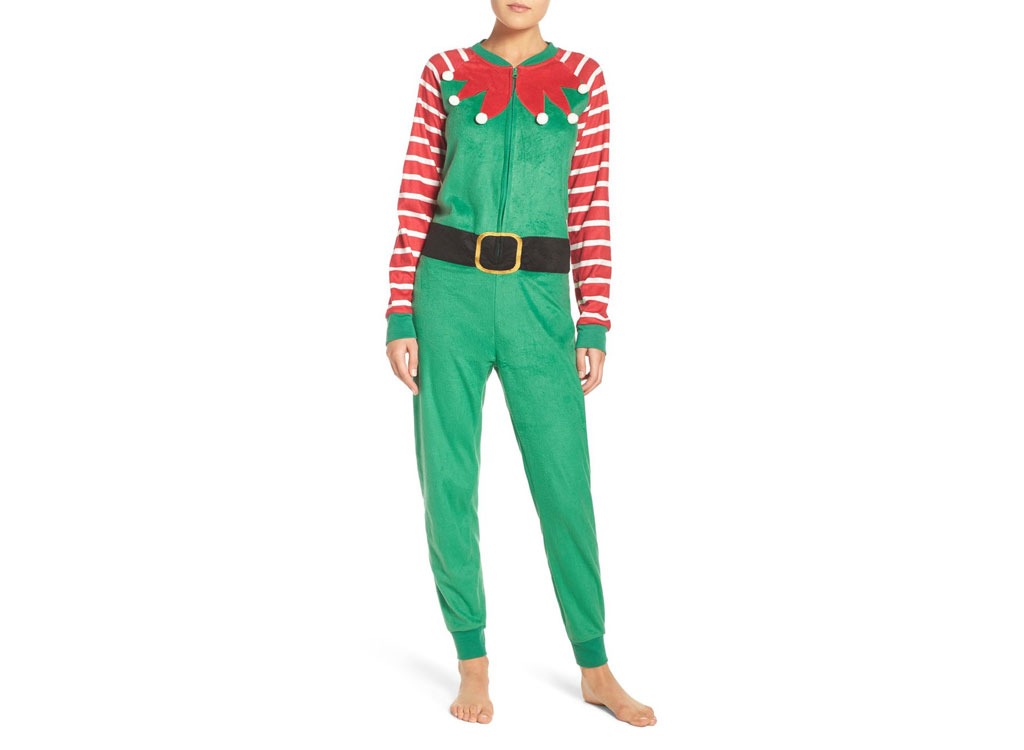 $48, Nordstrom
Channel your inner elf with this hilarious one-piece. Pointy ears not included.
ICYMI: 15 Tips for Damage Control After You Ate Too Much.
SkylineWears Men's U.S. Flag Hooded Onesie
$32, Amazon.com
When it comes to fashion, know that versatility is a must! We love this retro-chic hooded onesie because it can take you from TV on the couch to sprints on the track in a jiff! Not to mention, it's perfect for celebrating cold-weather patriotic holidays like President's Day and Columbus Day.
Velvet Kitten Footed PJ Onesie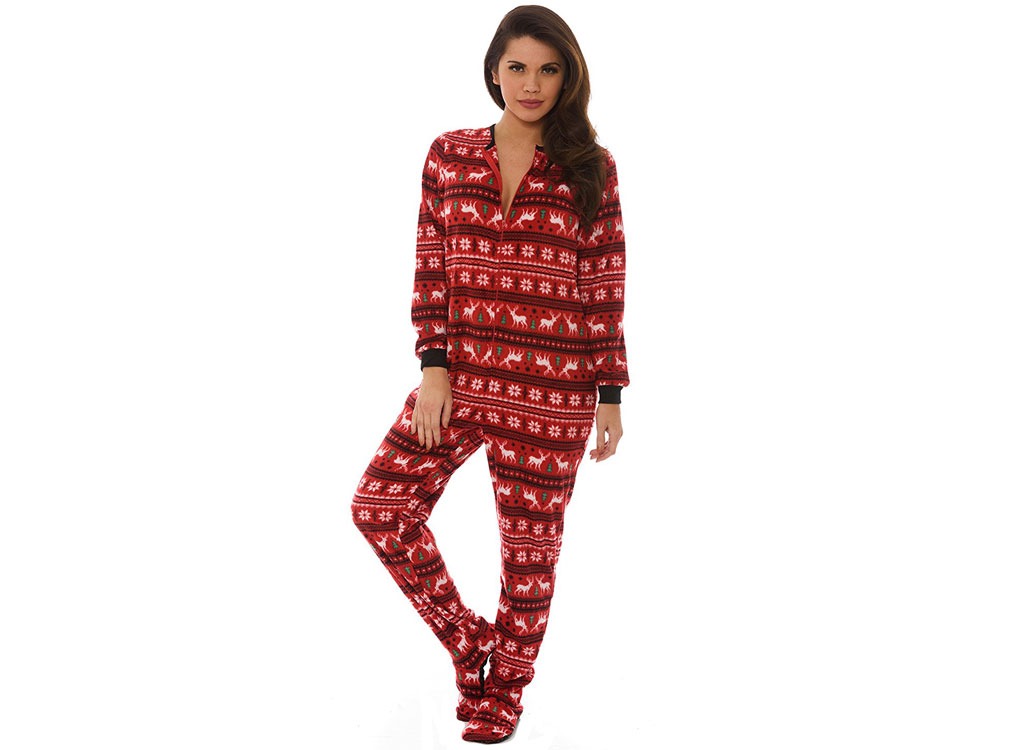 $30, Amazon.com
These footed jammies come complete with a reindeer and snowflake motif. And thanks to their slip-resistant soles, you can rock around the Christmas tree all night long!
Footed Pajamas Nordic Christmas Hoodie PJs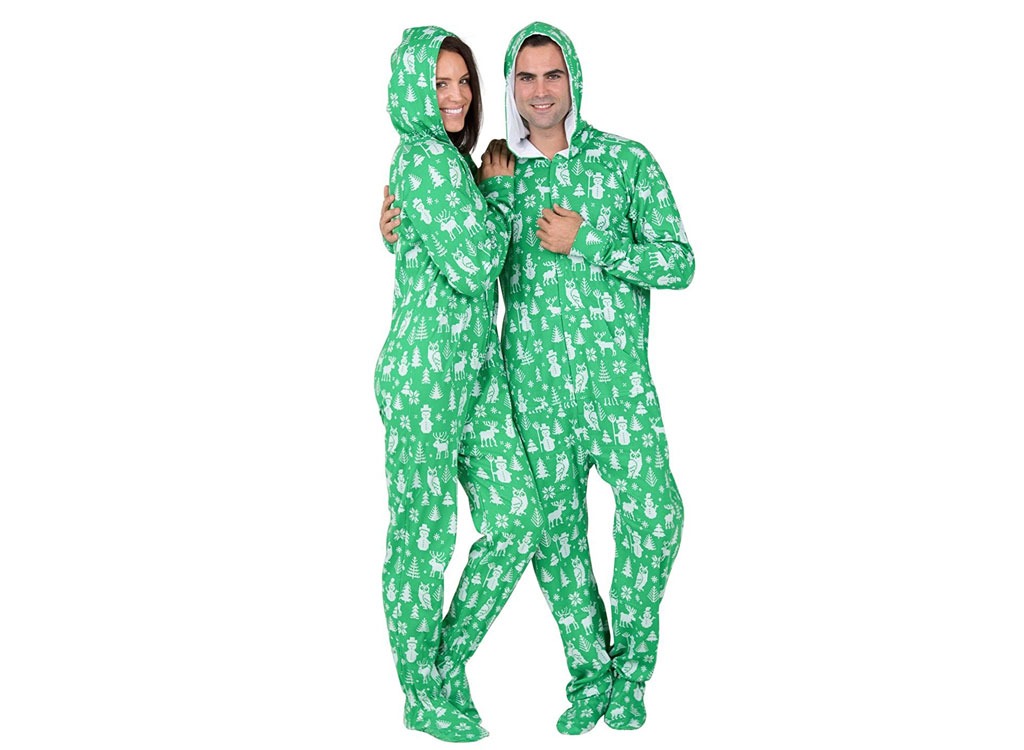 $44,95, Amazon.com
If spending Christmas by the fire with bae is your ideal scenario, make sure to pick up a pair of these his and hers PJs. They're sure to make snuggling far more cuddly! Plus, they're the perfect getup for your annual holiday Instagram selfie. And speaking of your fave social media outlet, next time you log on, be sure to hit up these 20 Healthy-Eating Instagram Accounts That Crushed 2016.
Cozy Zoe 'Critter' Zebra One-Piece Pajamas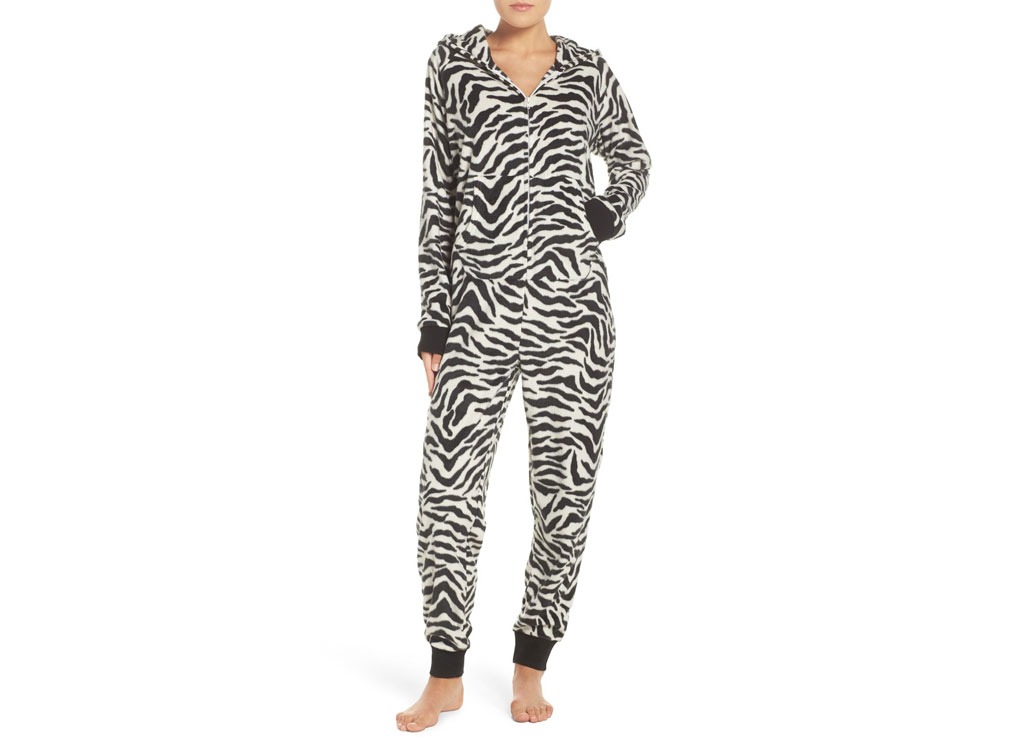 $32 (on sale from $48), Nordstrom
Channel your inner animal in this safari-inspired onesie. The best part? Come Halloween, you can totally use it for a costume!
Hue Cozy Microfleece Pajama Jumpsuit
$24, (on sale from $48.00), Macy's
Created with fashion-forward women in mind, this drawstring microfleece onesie is about as close to chic as it gets in fuzzy pajama land.
Nite Nite Munki Munki Women's Pancake Stacks Union Suit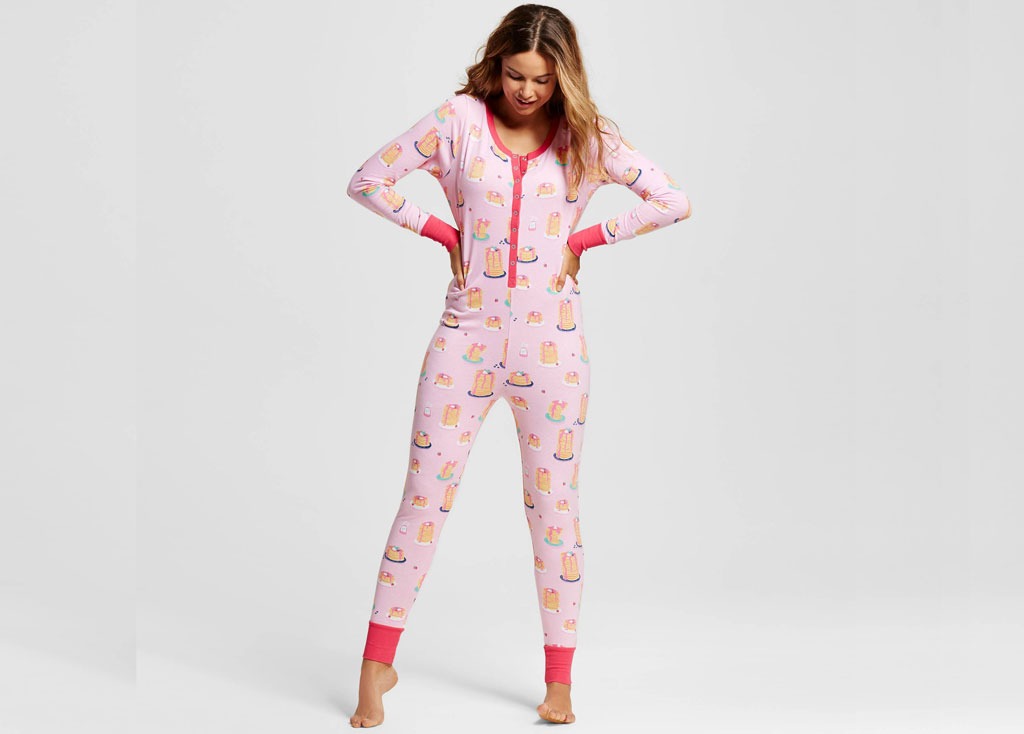 $28, Target
If pancakes are your jam, this is the perfect onesie for you. This darling, light-weight get-up is sure to become your new favorite.
Lazy One Bear Cheeks Plaid Family Matching Pajamas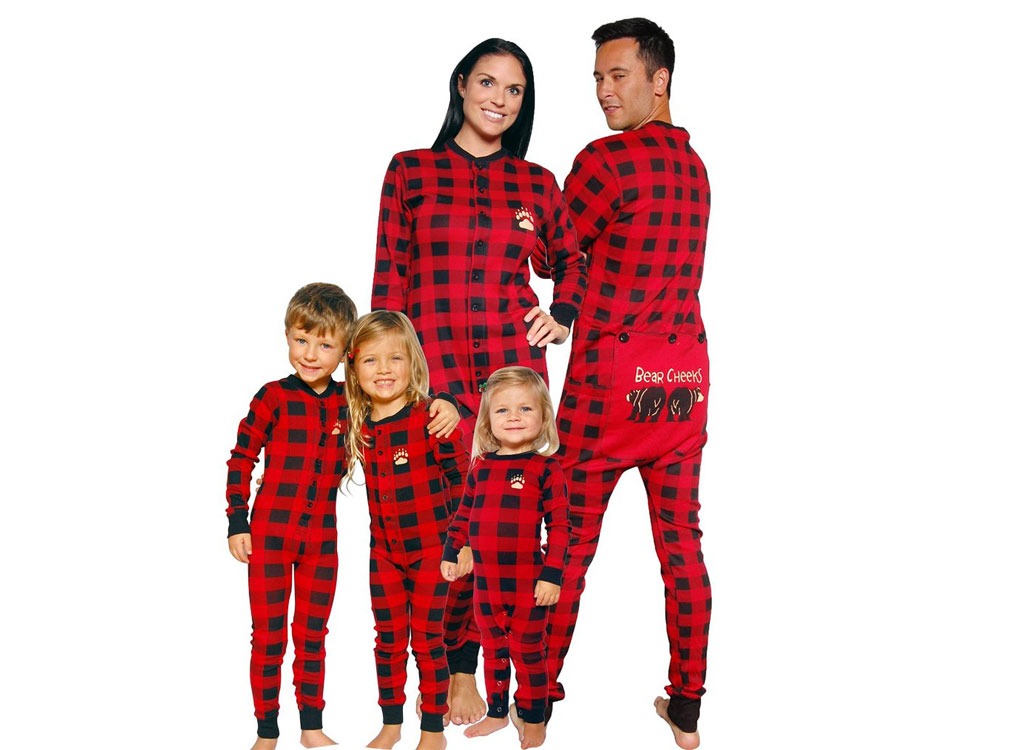 $20, infant, LazyOne.com
$26, toddler and kids, LazyOne.com
$45, adult, LazyOne.com
Hate to tell you, but if you're prone to food babies, you've likely passed the gene on to everyone else in your family. (Yes, that's totally a joke!) With this help of this super cute family onesie set, you can ensure sure all the food babies in your clan have somewhere cozy to hide out.
Striped Union Suit Family Pajamas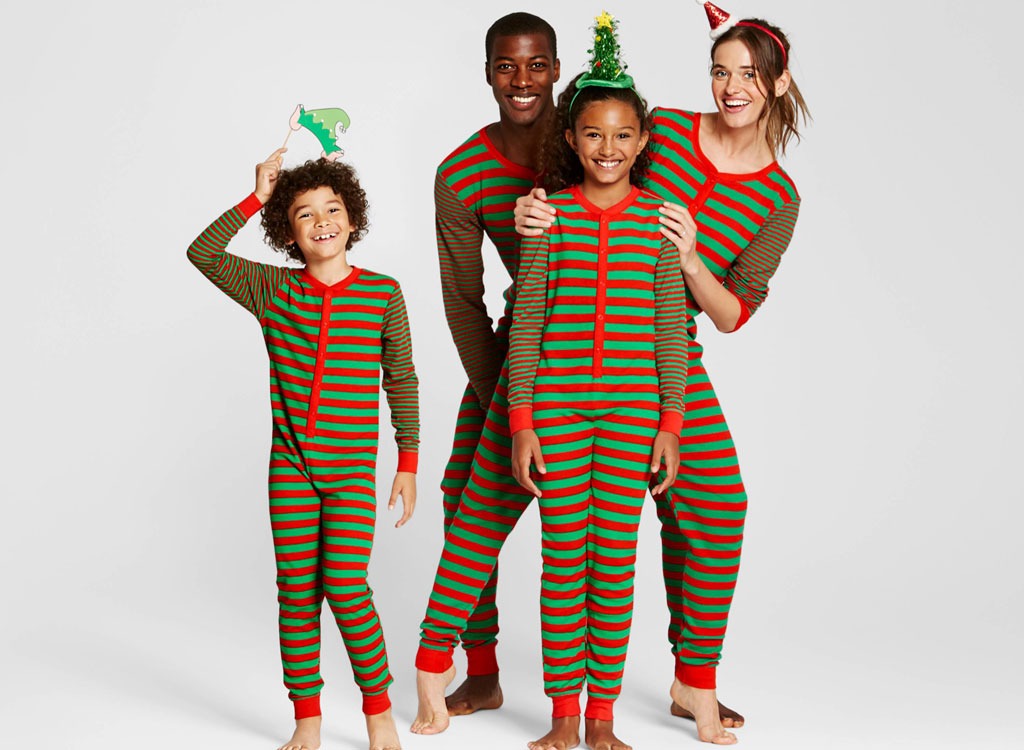 $13 – 27, Target
Like the idea of picking up matching PJs for the entire fam but not a big fan of plaid? Snag this striped set instead. Sizes range from infant to plus size, so there's something to fit everyone on your "nice" list! (Psst! Doing some last-minute shopping? These 15 Healthy Food-Themed Holiday Ornaments make great last-minute gifts.)
Midnite Black Adult Fleece Footed Pajamas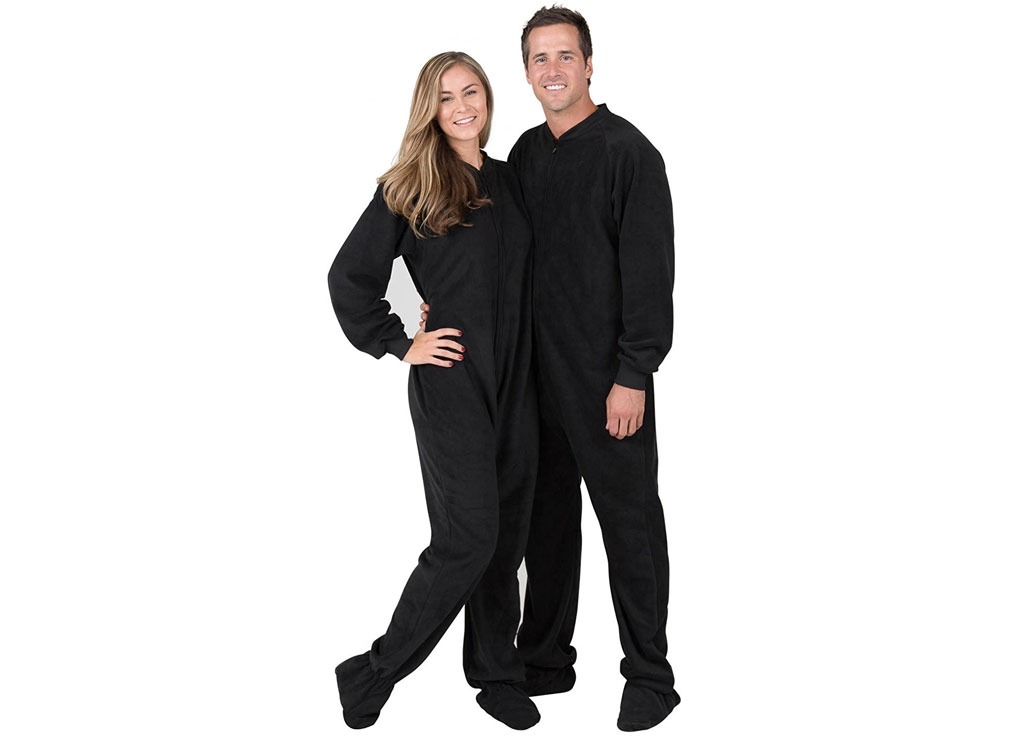 $40, Amazon.com
Black is the most slimming color on the planet, so if you're serious about hiding your post-Christmas gut, don't think twice—get your hands on this footed onesie!
Del Rossa Hooded Footed Jumpsuit Pajamas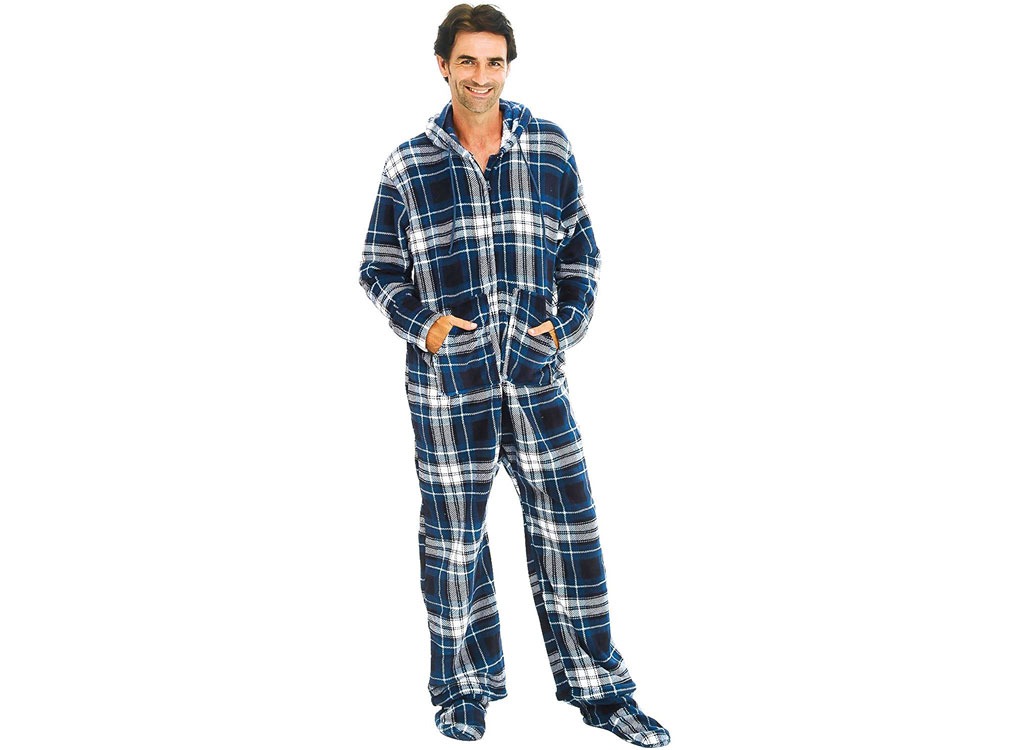 $40, Amazon.com
You can't go wrong with a classic blue and white plaid pattern. Plus, we love the idea of being able to stash a cell phone in those hoodie-style front pockets.
Kenneth Cole Plaid Flannel Pajama Jumpsuit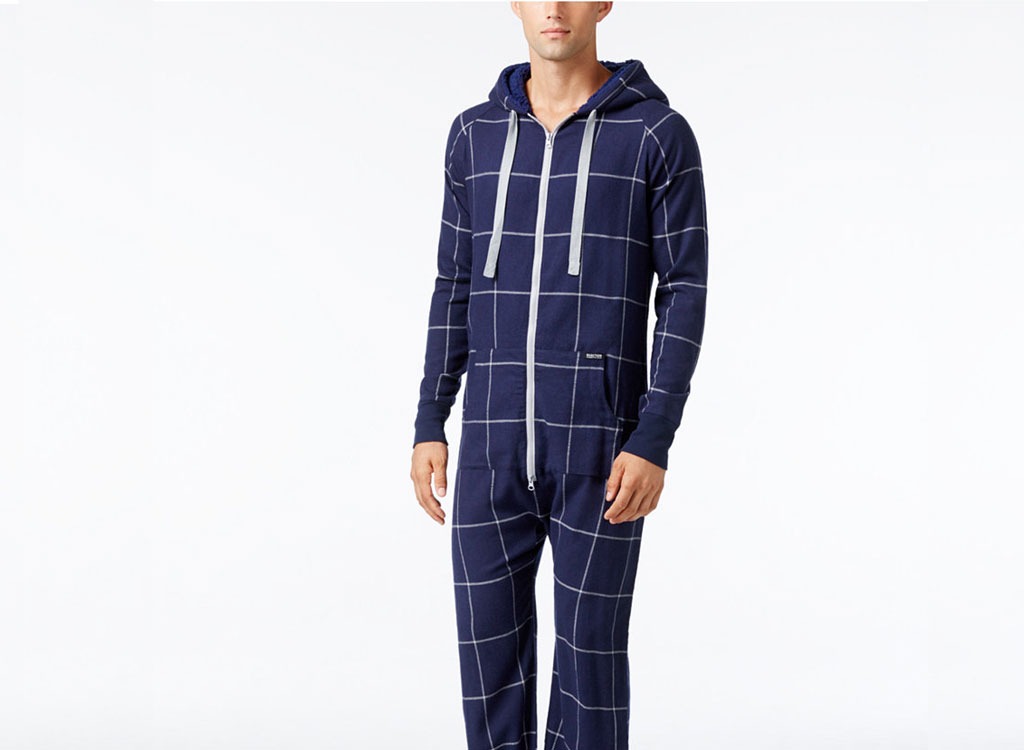 $45.99 (on sale from $78.00) Macy's
Chic on the outside, fuzzy on the inside, this windowpane plaid flannel pajama jumpsuit comes with a sherpa lining that will keep you warm through the night. And if you're looking for more ways to stay cozy on cool winter nights, don't miss these 6 Surprising Foods That Keep Your Body Warmer!
Briefly Stated Star Wars Men's Chewbacca Hooded One-Piece Pajamas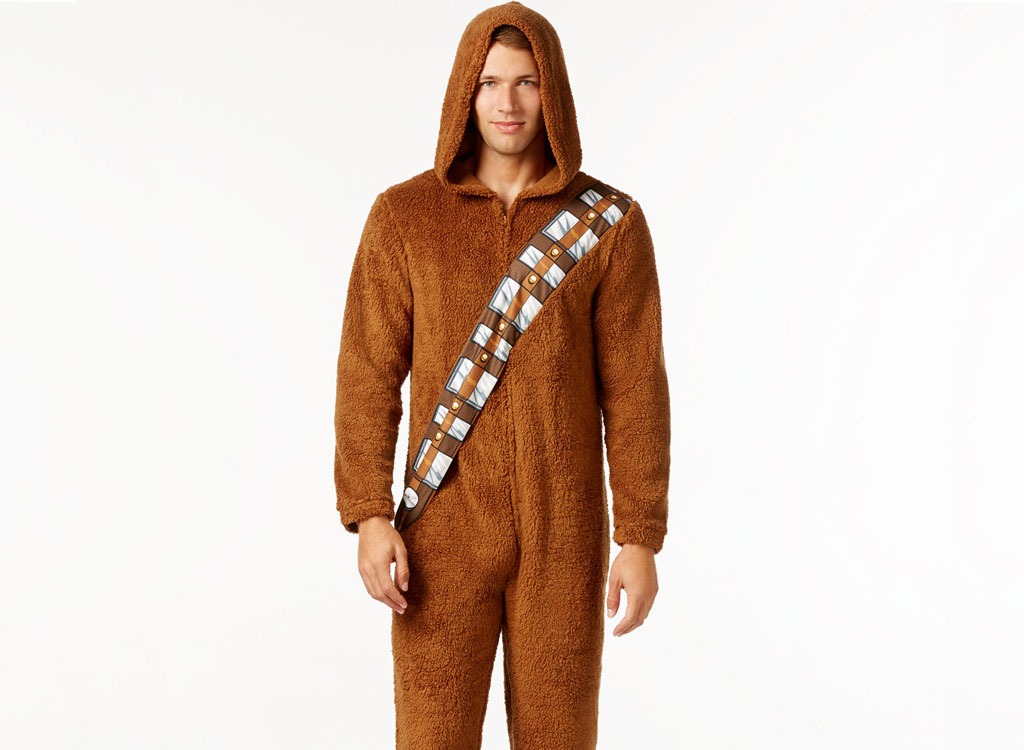 $34.99 (on sale from $70), Macy's
Thanks to Briefly Stated, Star Wars fans can hide their food baby inside a fuzzy Chewbacca jumpsuit. The brand also make a Darth Vader version, too! You can snag that one here!
Tipsy Elves Fair Isle Blue Adult Jumpsuit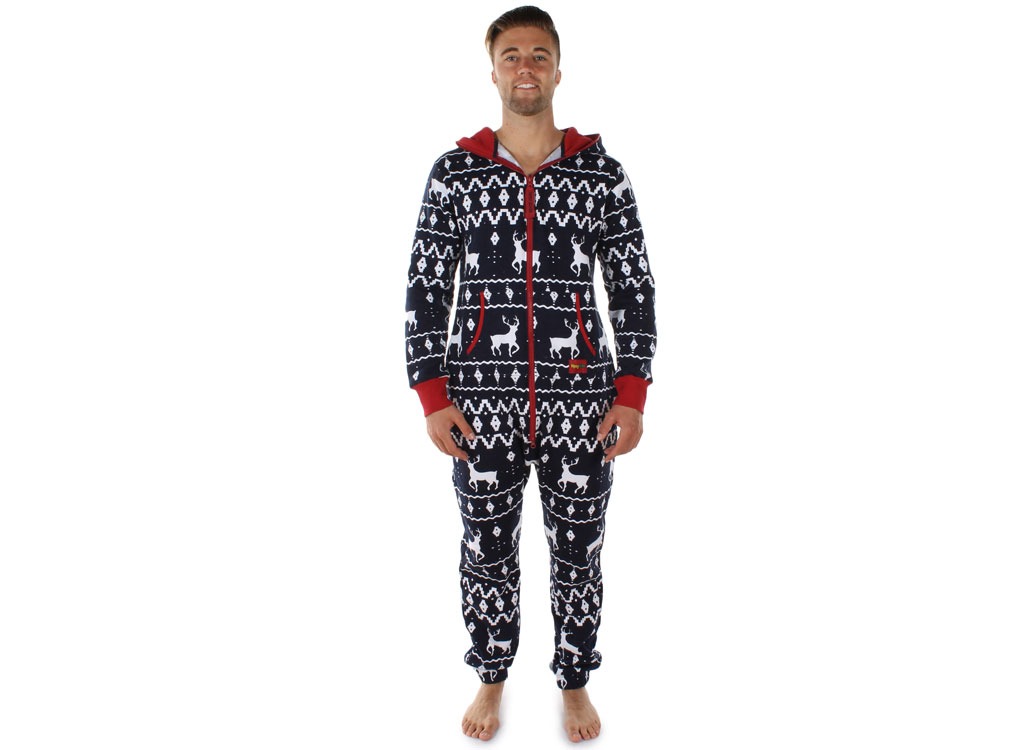 $88, Amazon.com
Tipsy Elves, the Shark Tank-backed company known for their hilarious Christmas sweaters, recently debuted their new onesie line—and it's freakin' awesome! This unisex jumpsuit is just one of the many designs you can snag. Honestly, they're all so great, it may be hard to just choose one. Click here to peruse the entire line.
Family Snowman Hooded & Footed Pajamas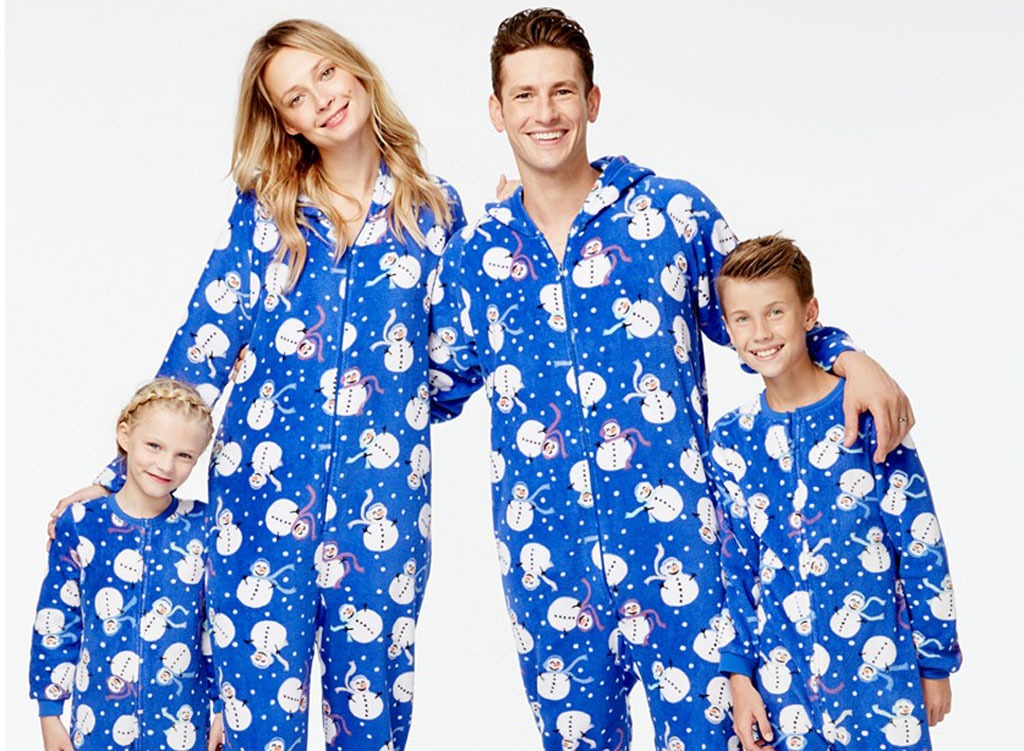 6254a4d1642c605c54bf1cab17d50f1e
$12.99 – 27.99, Macy's
Bring the frosty fun indoors with this fleece footed PJ set the entire family—your food baby included—is sure to love.
Hanukkah Fun Adult Fleece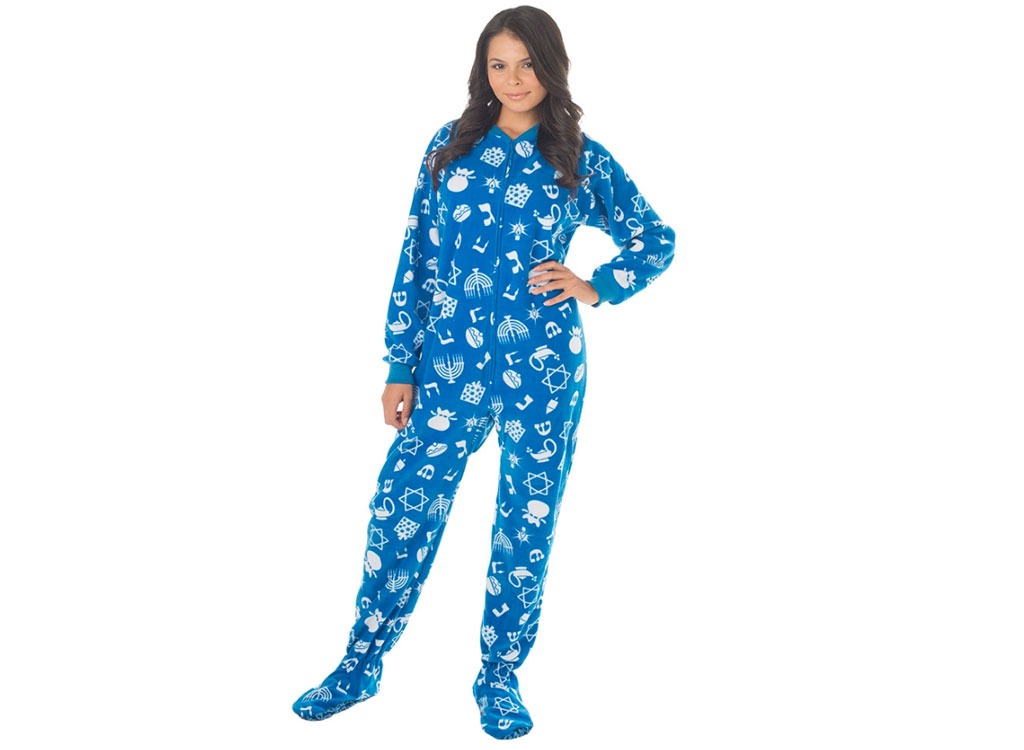 $20 (on sale from $50), FootedPajamas.com
This year, the start of Hanukkah coincides with Christmas Eve. So, there's a good chance many of us will feast on everything from gingerbread men to latkes this upcoming holiday weekend. Paired with a Santa hat, this comfy Hanukkah onesie will help you cover all your bases—and your growing belly.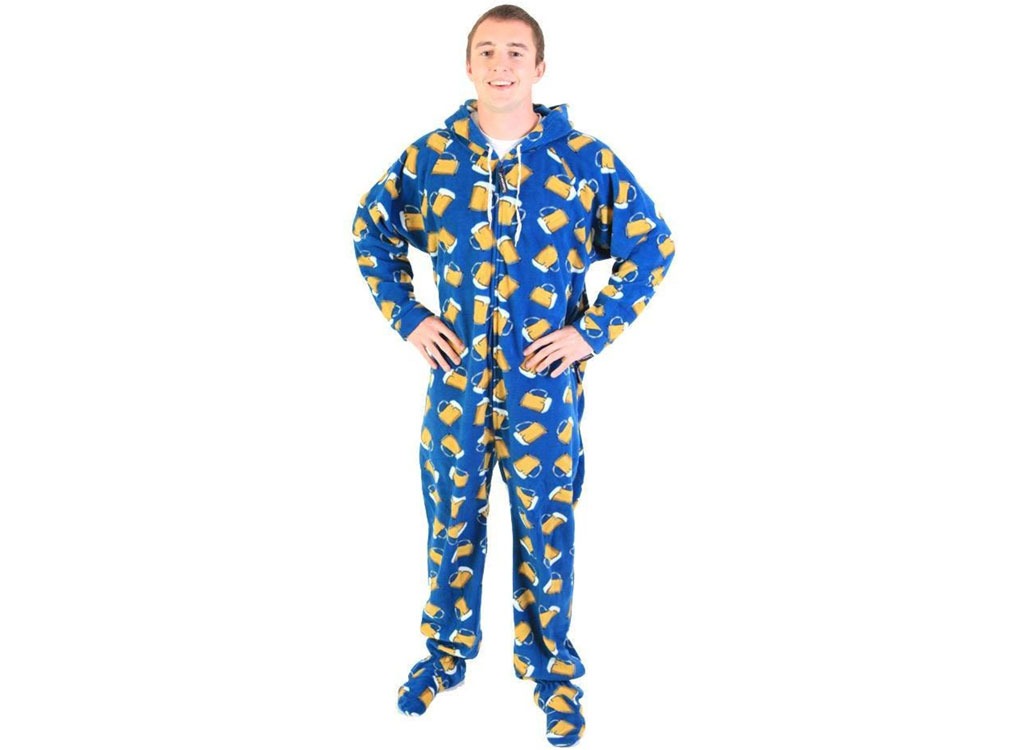 $40, Amazon.com
If you're more into spiked egg nog than fruit cake and sugar plums, consider this beer-belly camouflaging onesie your savior.