The Best Themed Restaurant in Every State
Craving a side of fun with your meal? Check these out!
There are plenty of factors to consider when choosing a restaurant—the quality of the food, the price point, and the location are typically at the top of the list. But sometimes the full experience is the real draw, which is why themed restaurants are so popular.
Of course, there are always the tried-and-true chains like Rainforest Cafe, Planet Hollywood, and The Hard Rock Cafe—but if you're looking for a more unique experience, a little digging shows that there are themed restaurant gems all over the country. Popular themes include retro (whether it's throwing it back to the 1950s or all the way to the Medieval era), but that's just the tip of the iceberg because some restaurant owners get seriously creative when it comes to choosing their theme.
Thanks to reviews and feedback from locals and tourists alike, we put together a definitive list of the best themed restaurants in every state in the U.S. Plus, don't miss our picks for The Best Food Festival in Every State!
ALABAMA: Rattlesnake Saloon in Tuscumbia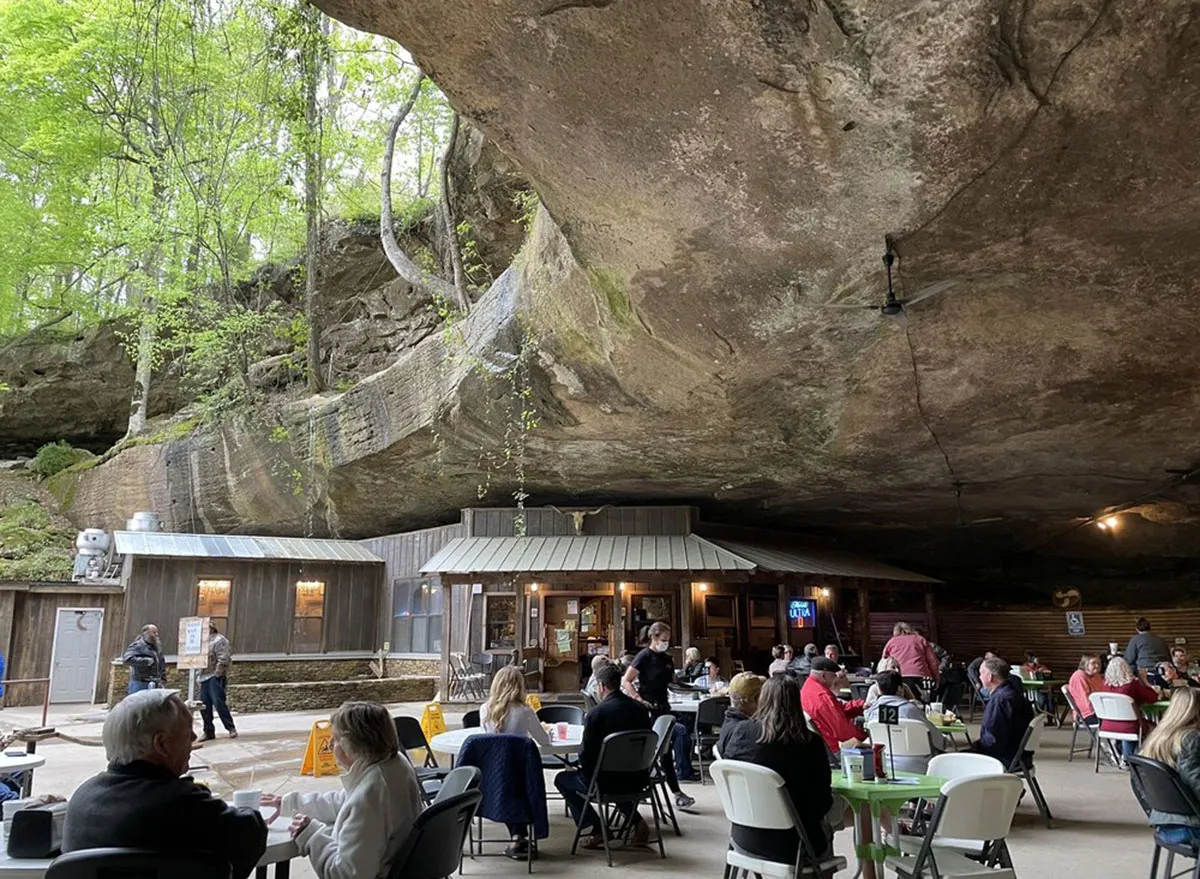 A perfect restaurant for anyone who loves all things adventurous, Rattlesnake Saloon is located in an area carved out of a 15,000-square-foot rock ledge in the Appalachian Mountains. "This is a such cool restaurant we have ever been [sic]!" wrote one reviewer. "They utilize the natural settings and incorporate it into a space for customers to experience while dining."
ALASKA: Sami's City Diner in Anchorage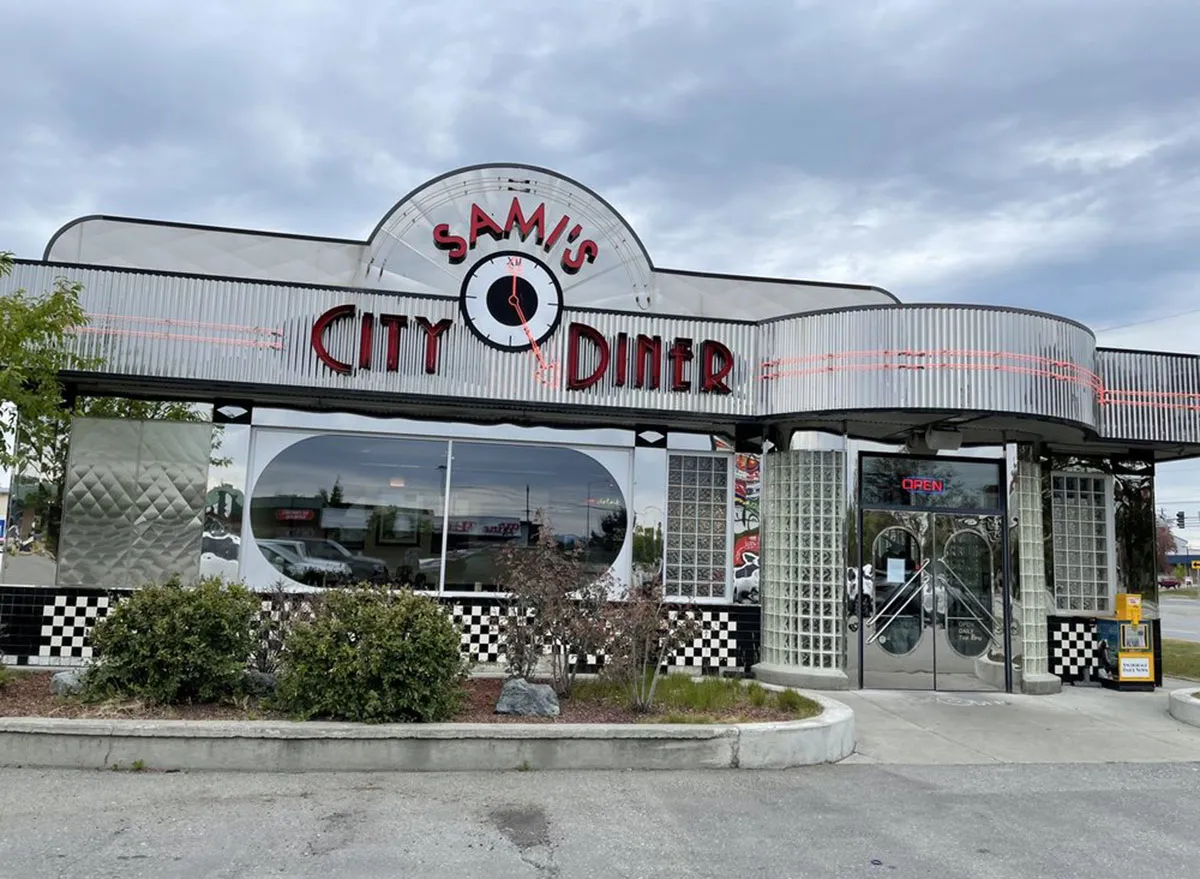 Take a step back in time—to the 1950s, to be precise. Sami's City Diner has the same decor, music, and food that you would have found at a traditional diner from the '50s. Bonus tip: if you're just visiting Alaska and want to try reindeer, be sure to order the reindeer sausage.
ARIZONA: Big Nose Kate's Saloon in Tombstone
It's located in the well-known ghost town of Tombstone, so it's no surprise that many believe Big Nose Kate's Saloon is haunted. Staff, locals, and tourists claim they've seen the ghosts of cowboys and a miner who never left the building after becoming trapped. Diners are encouraged to embrace the Wild West theme by dressing up in western attire and snapping photos at the bar or piano. There is live music every night at Big Nose Kate's and the themed menu includes brisket, burgers, and homemade chili.
ARKANSAS: The Purple Cow Restaurant in Little Rock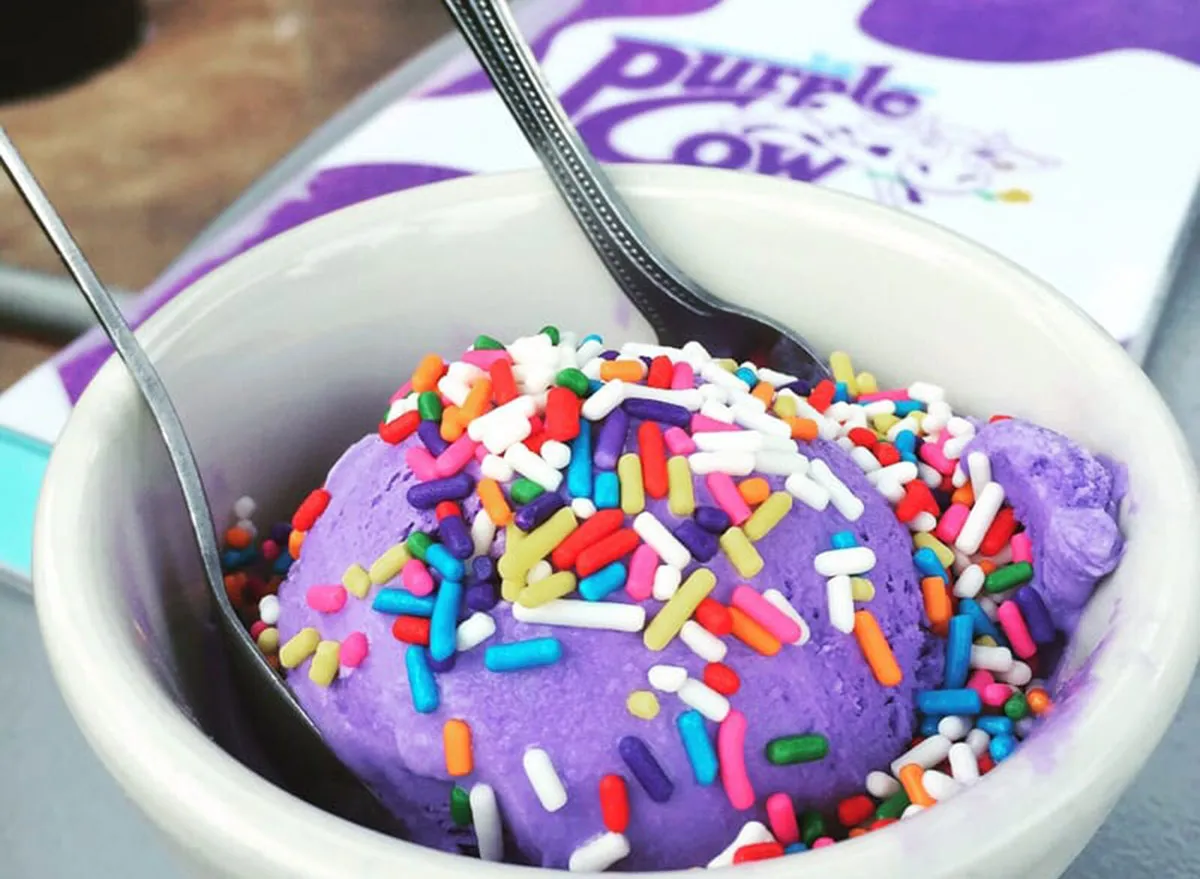 The Purple Cow Restaurant has a pretty straightforward theme: the color purple. Designed in the style of a classic 1950s diner, its features include a retro soda fountain, neon signs, and menu items including their signature purple milkshakes and desserts. Take a step back in time, this time with lavender-colored glasses.
CALIFORNIA: Tonga Room & Hurricane Bar in San Francisco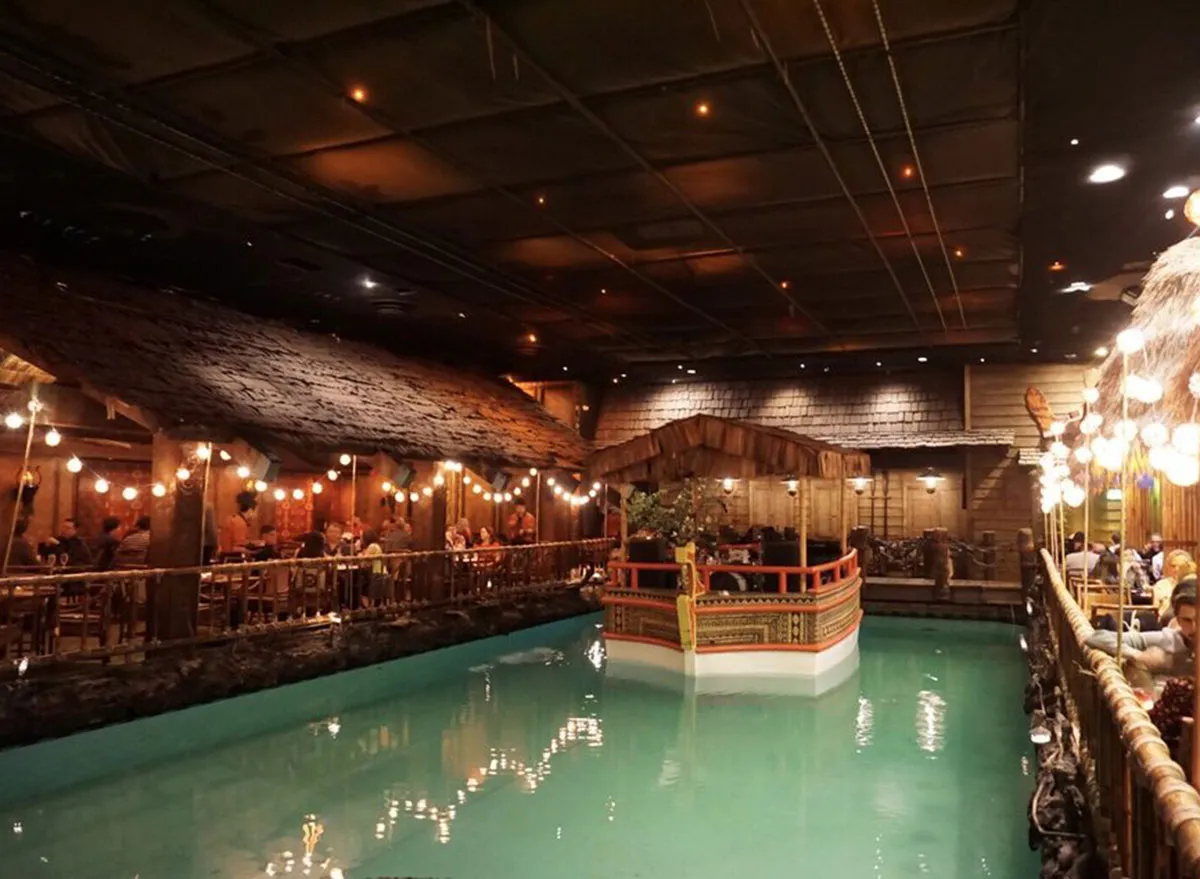 Nothing beats a great tiki bar and it doesn't get any better than Tonga Room & Hurricane Bar, which is located inside the Fairmont Hotel in Nob Hill. In addition to its killer mai tais, the ambiance and decor are absolute perfection. Using what used to be the hotel's swimming pool, restaurant owners transformed it into a lagoon that is now at the center of the restaurant. A live orchestra performs on a floating stage in the lagoon each night.
COLORADO: Casa Bonita in Denver
Casa Bonita is a Denver staple and not just because it serves up some of the best Mexican food around. The restaurant's 30 attractions include an arcade, a cave, a 30-foot waterfall, a lagoon, and live entertainment in the form of visits from pirates and gorillas. Casa Bonita even has its own diving team. Before you visit, be sure to check their website for upcoming live stage shows and musical performances.
CONNECTICUT: Mac N' Out Macaroni & Cheese in Milford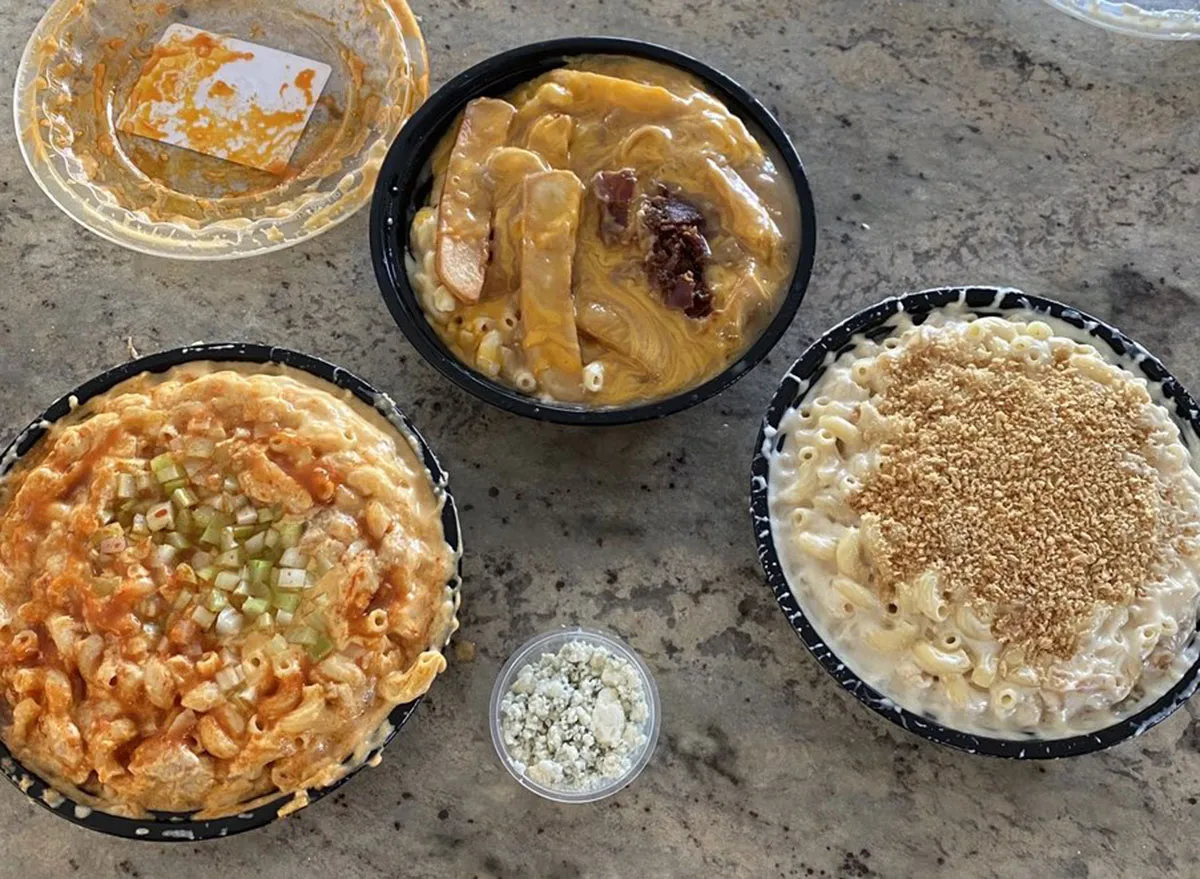 Macaroni and cheese fanatics, hold onto your hats because mac and cheese heaven is real and it's in Milford, Connecticut. Mac N' Out Macaroni & Cheese describes itself as "the place where mac met cheese" and its massive menu features every combo you could dream up. The mac 'n' cheese bowls are the most popular dish, particularly Buffalo Mac which is made with fried chicken, buffalo sauce, cheddar, and blue cheese. You can also get hot dogs that are topped with mac 'n' cheese.6254a4d1642c605c54bf1cab17d50f1e
DELAWARE: Jessop's Tavern in New Castle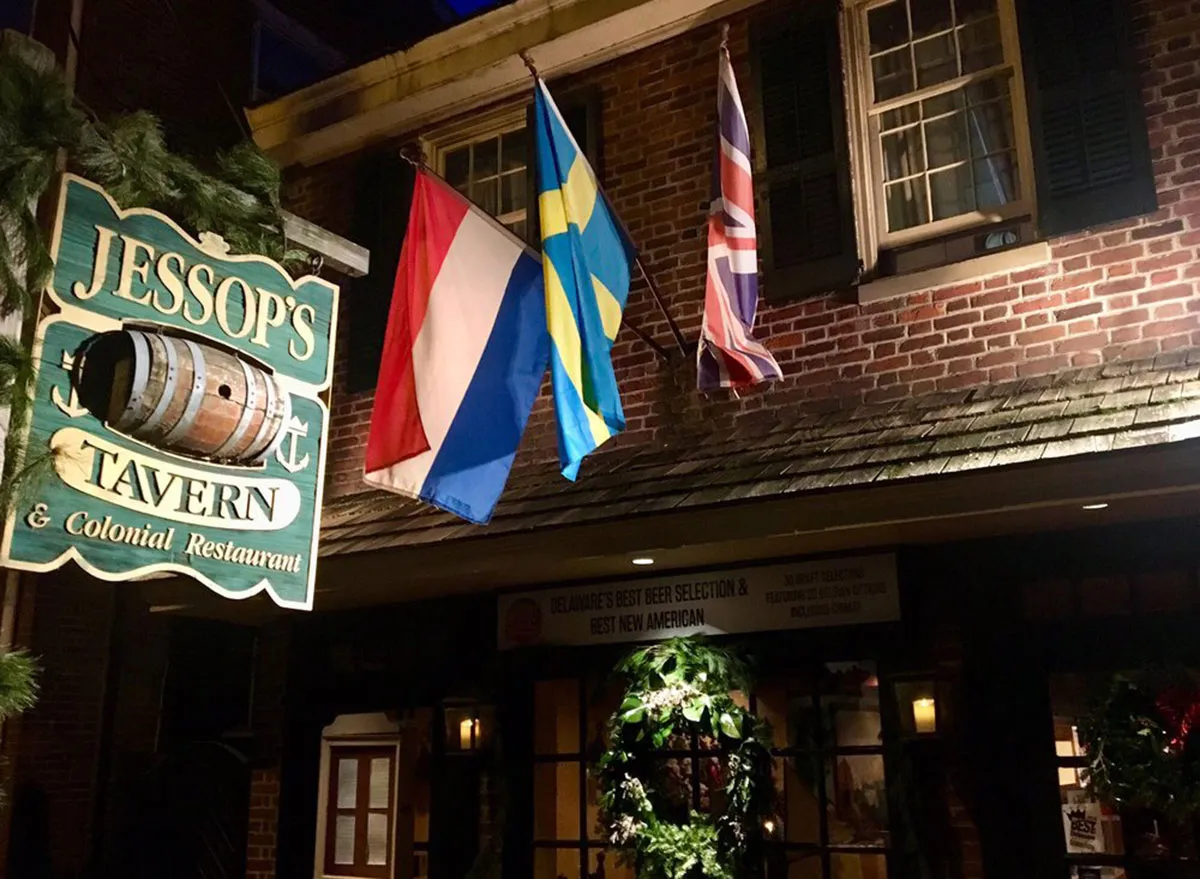 Step back to colonial times at Jessop's Tavern. The decor consists of old fireplaces, model ships, and antique oil paintings, and the food is even served on metal plates just like it would have been in the colonial era. Staffers wear period costumes and the menu also stays on theme, featuring items like Dutch pot roast and shepherd's pie.
FLORIDA: Cabbage Key in Pineland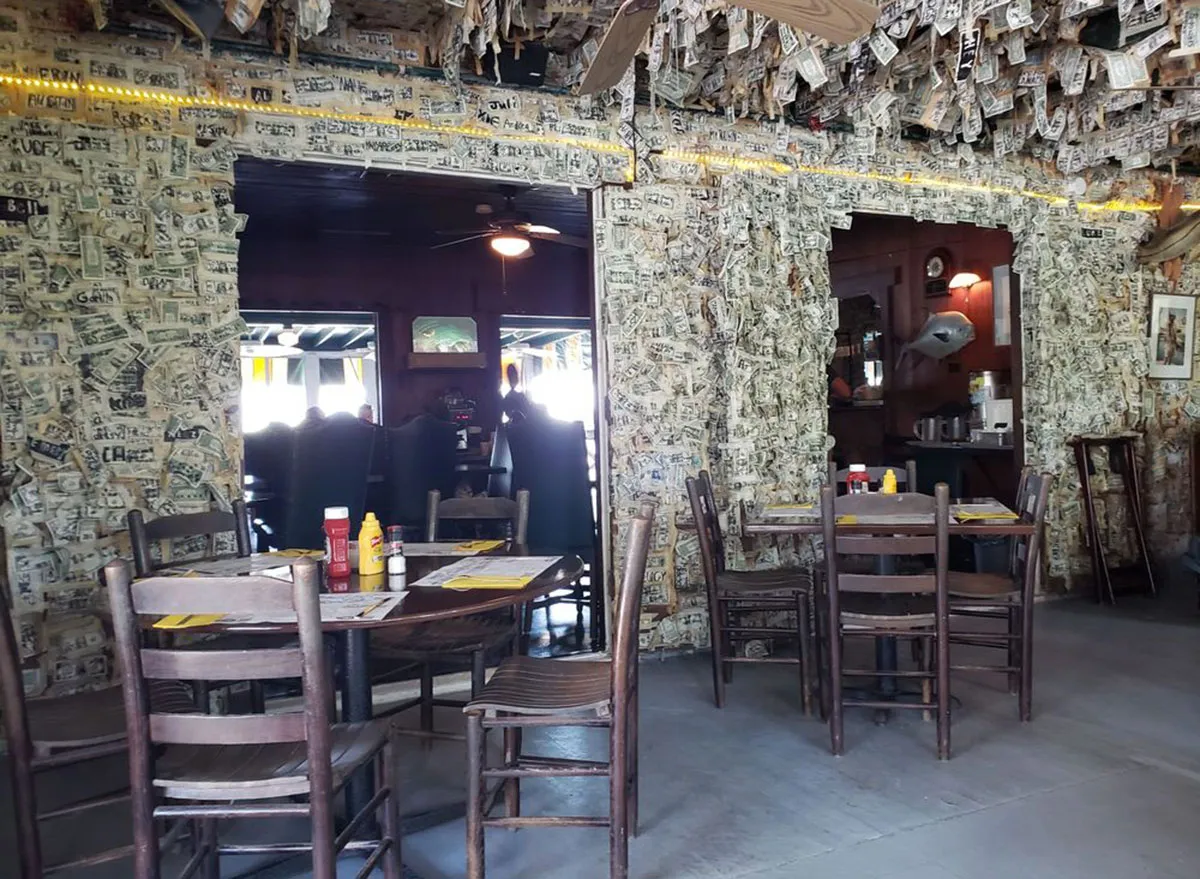 Just getting to Cabbage Key is an adventure—diners are taken by boat to the nautical-themed restaurant that serves up popular dishes like hogfish with fresh mango salsa. You won't be able to miss the thousands of signed dollar bills that are taped to the walls. The tradition was started by a fisherman who wanted to ensure he had enough money to buy his next drink, but the likes of JFK and Ernest Hemingway jumped on the bandwagon as well so keep an eye out for their signatures!
GEORGIA: The Varsity in Atlanta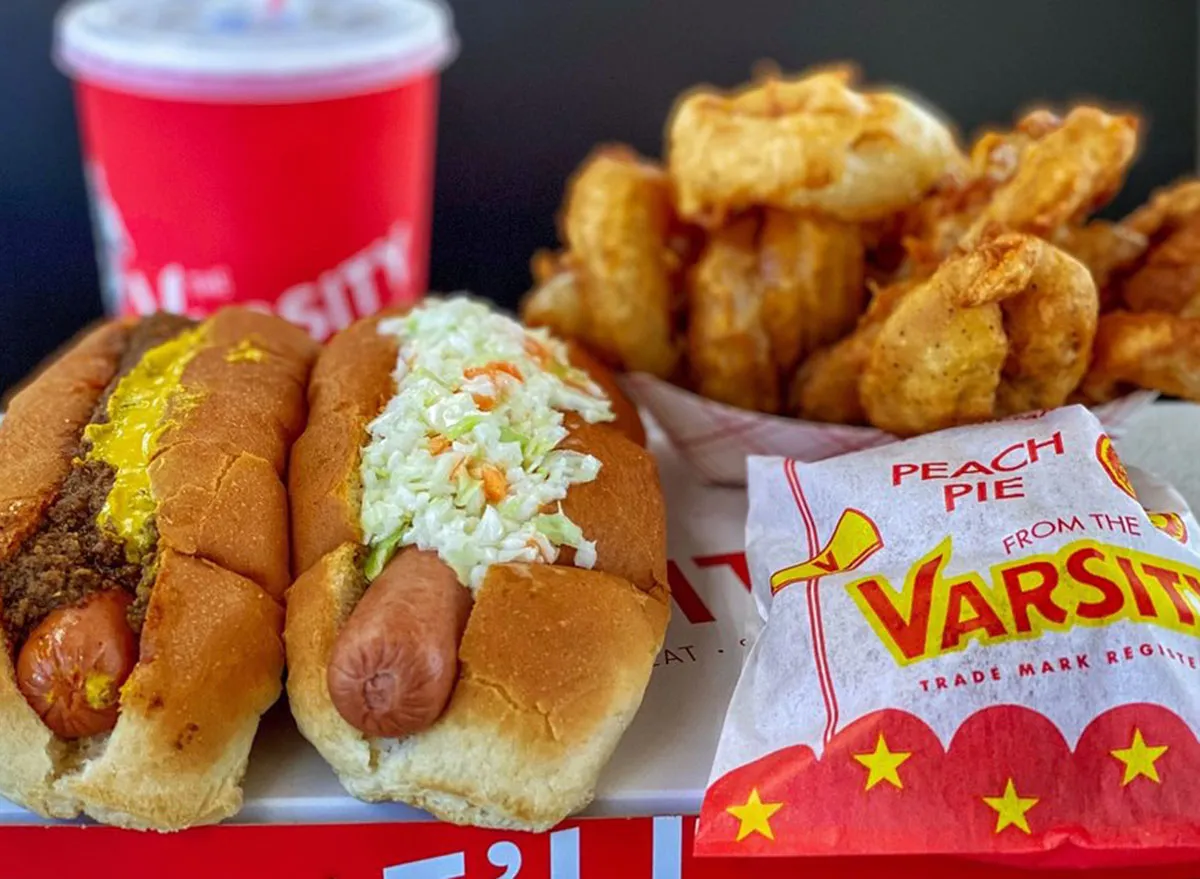 Spread across two city blocks, The Varsity is America's biggest drive-in. Its theme is quintessential Americana; you may think you've accidentally stepped onto the set of Grease. You can order from your car or dine inside at the old-school Formica tables and booths. Whichever you decide, your meal will be brought to you by a waiter dressed in a themed uniform.
HAWAII: Ka Moana Luau in Waimanolo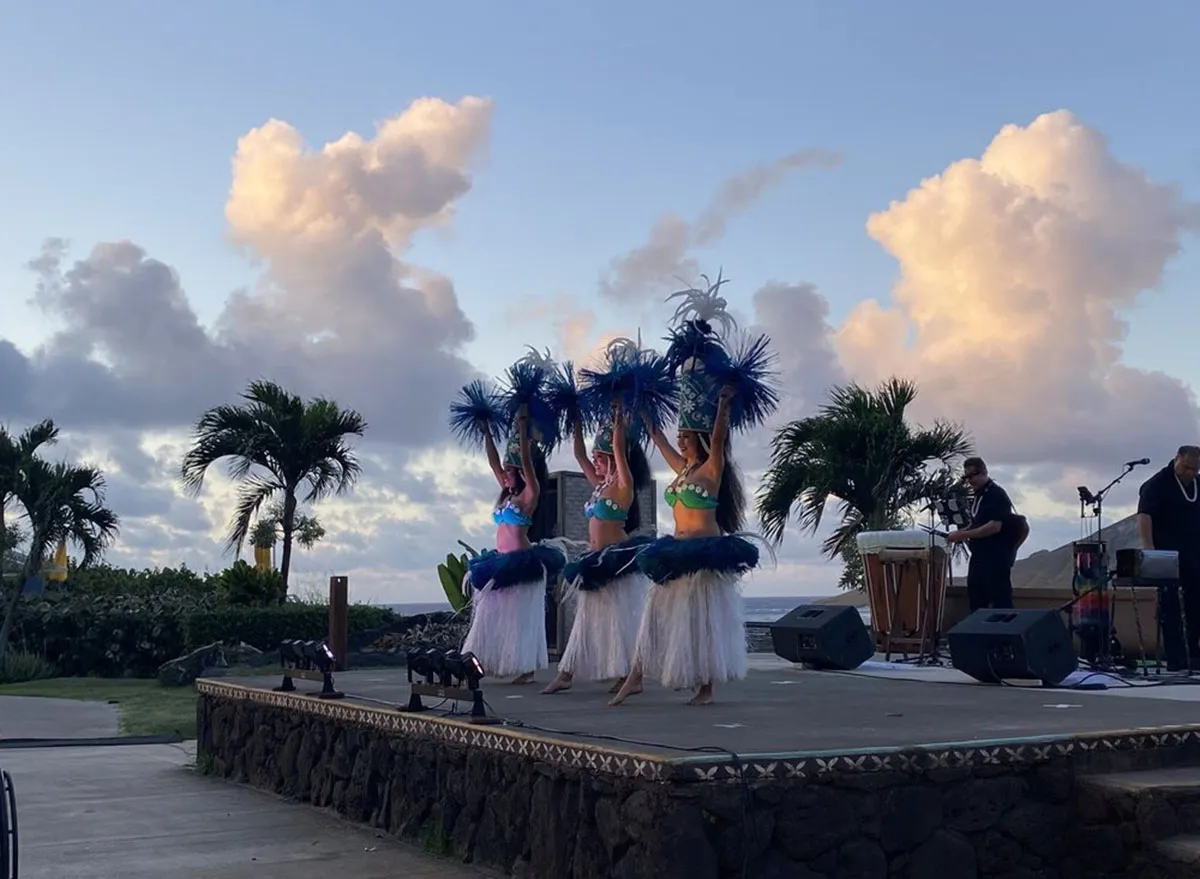 Located in Sea Life Park, Ka Moana Luau hosts open-air dinner shows. Using everything from dances to music, diners are taken on a journey through the ocean of Ka Moana to Polynesia. Prior to the show, guests can try hands-on cultural activities like lei-making, playing the ukulele, and weaving coconut headbands. The food is served buffet-style and there's no shortage of local dishes, ranging from kalua pork to fresh local fruits from the island of Oahu.
IDAHO: Pioneer Saloon in Ketchum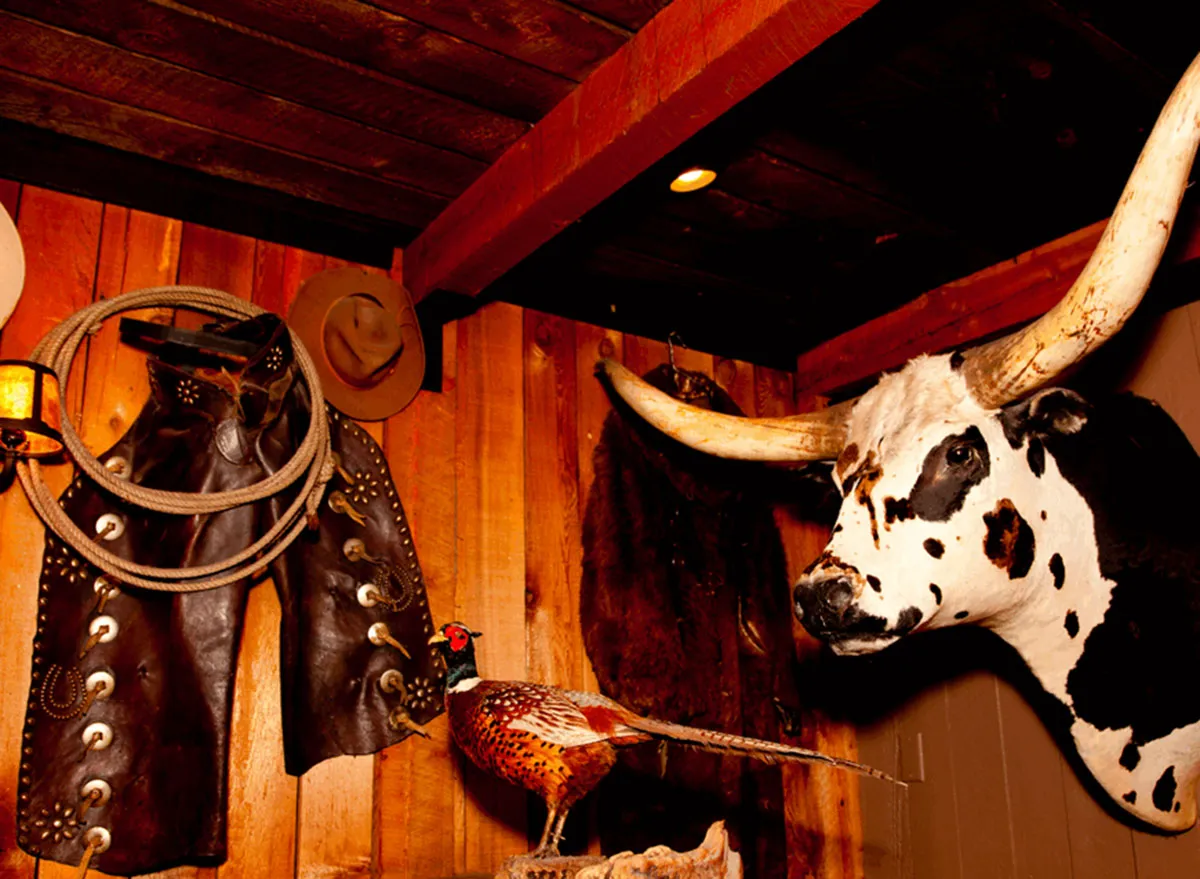 Pioneer Saloon opened its doors in the 1940s as a casino and to this day it looks as though it's straight out of a Wild West film set. You'll find decorations including antique bullet boards, deer and bull heads, and traditional Wild West posters. Pioneer Saloon also has a collection of items that once belonged to Ernest Hemingway, including one of his guns (this is the Wild West, after all).
ILLINOIS: Chicago Sweatlodge in Chicago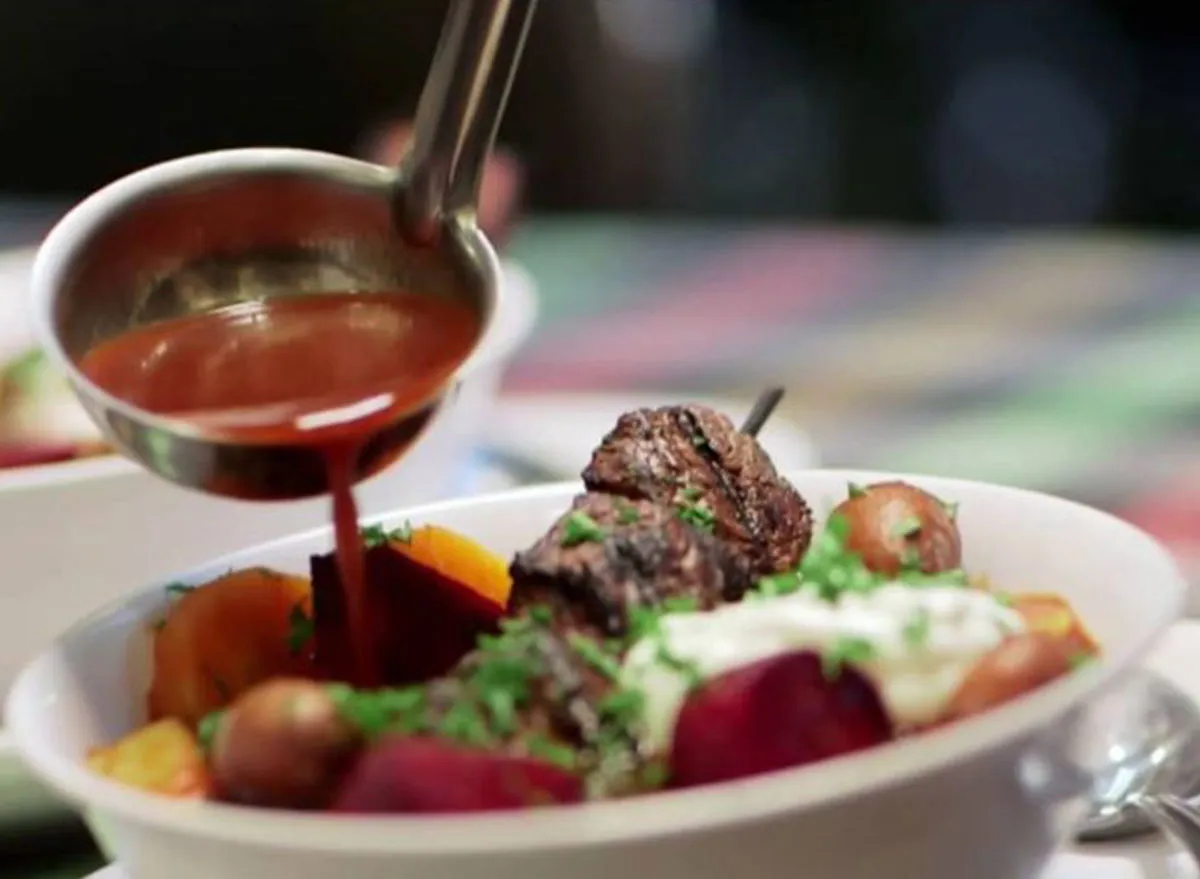 Chicago Sweatlodge combines two of the best things in life: food and a sauna. Featuring a Russian sauna, a Turkish sauna, a plunge pool, and our favorite spa treatments like massages. Once you're feeling good and relaxed, head on over to the restaurant, which specializes in Russian and Eastern European cuisine and has been featured on the Food Network. "Authentic recipes from the old world are executed with respect to tradition," the restaurant promises.
INDIANA: Industrial Revolution Eatery & Grille in Valparaiso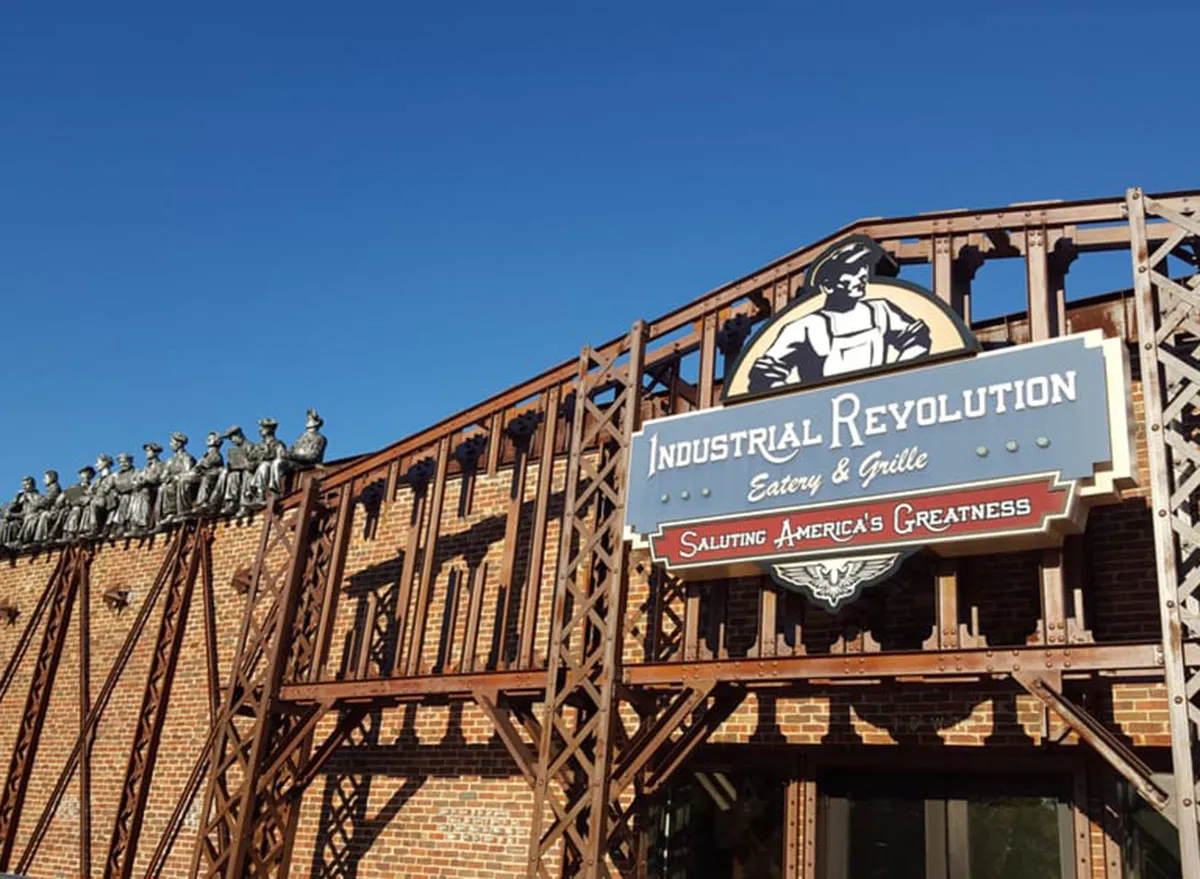 Industrial Revolution Eatery & Grille looks like a factory from the outside, which is fitting because the theme is the Industrial Revolution. The restaurant declares that its theme is "saluting all-American greatness" so you'll find all the classic American dishes from pot roast to burgers to fried pickles.
IOWA: Zombie Burger in Des Moines
If post-apocalyptic themes are your jam, don't miss Zombie Burger. The burgers all have fun names keeping with the theme, like Planet Terror and the Undead Elvis. Kitschy theme aside, reviewers sing the praises of the quality of the food and the customer service.
"The Undead Elvis was really good! They have a ton of unique burgers and shakes here and the overall atmosphere was pretty cool," wrote a customer visiting from Minnesota. "This was the highlight of my weekend trip to Iowa."
KANSAS: Fritz's Railroad Restaurant in Kansas City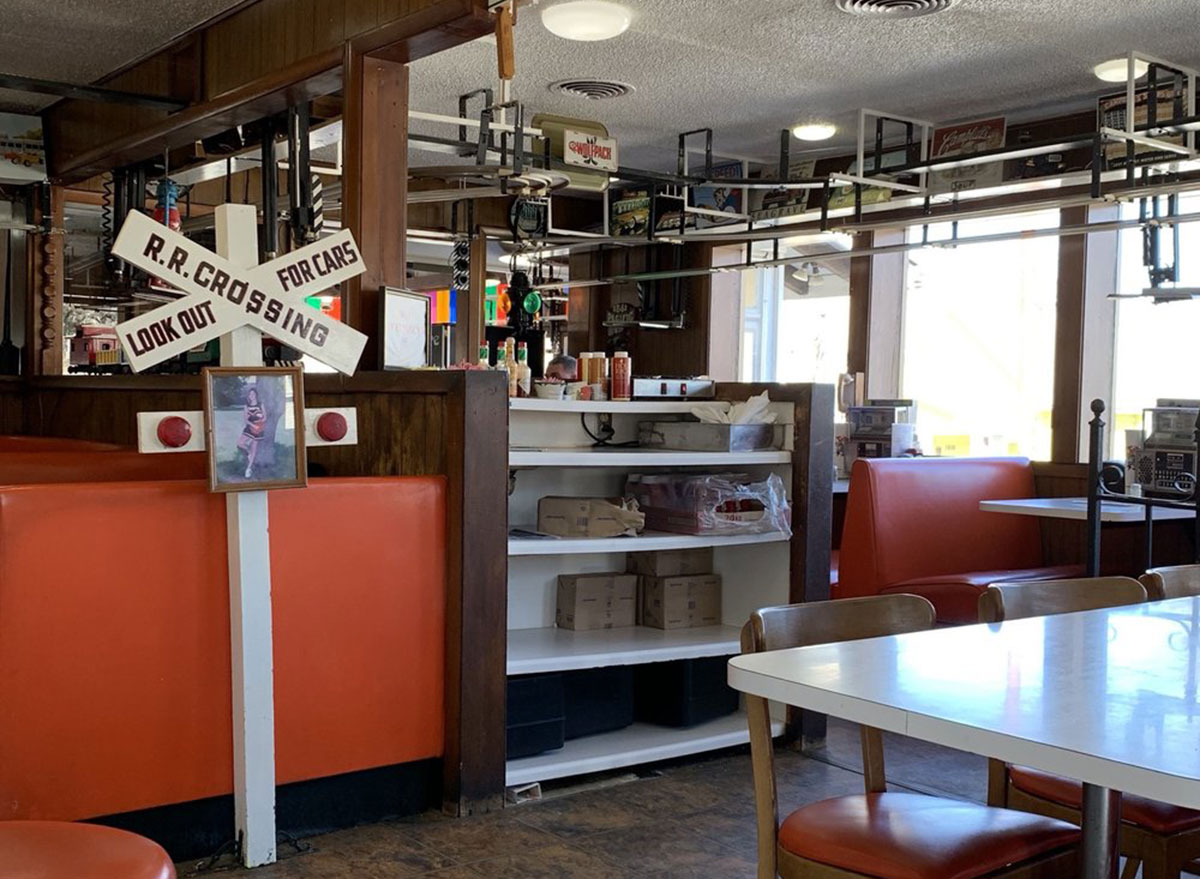 If you have kids who love trains (or you're a fan yourself), head straight to Fritz's Railroad Restaurant. The restaurant has been open since 1954 and the former owner got creative when there was a staffing shortage: he invented a mini train to carry the food around the restaurant. The train delivers burgers, fries, and milkshakes to diners to this day, and you'll also want to check out the fun train memorabilia.
KENTUCKY: Biscuit Belly in Louisville
You'll be in biscuit heaven at Biscuit Belly. The menu is full of incredible biscuits piled high with delicious fillings. A local favorite is the Rockwell Supreme, made with buttermilk fried chicken breast, cheddar, goetta sausage gravy, an over-easy egg, and bacon.
"Several great choices, you can't go wrong. We had the Rockwell Supreme and the G.O.A.T. The egg on the Rockwell literally topped this sandwich off. The GOAT was very different from anything we had tried before. A lot of different tastes working together," wrote a reviewer. "You won't leave hungry. Don't forget the Kentucky Coffee. I mean….you're in bourbon country!"
LOUISIANA: The Rum House in New Orleans and Baton Rouge
A taste of the Caribbean in the Big Easy! The Rum House is a tropical taqueria with a rum menu that includes bottles from Brazil, Colombia, Venezuela, and all over the Caribbean region. In addition to an amazing cocktail menu, reviewers say they love the relaxed ambiance, island decor, and the food.
"The jerk chicken and calypso beef tacos are a must!!!! This place had such an awesome vibe!! I wish I would have went more than once!" wrote a customer visiting from out of town. "Definitely a stop every time I am in New Orleans!!!"
MAINE: Timber Kitchen and Bar in Bangor
Timber Kitchen and Bar goes all out with its Maine "lumberjack" theme. The food and drinks are inspired by what lumbermen ate during their trips into the woods and customers frequently gather around the old school fireplace to stay warm.
"The moment you step into this place, the aesthetic and decor will blow you away. It's like fancy dining meets the outdoors. The Staff are friendly and help you out right away. Service is amazing and fast," wrote one reviewer. "The food is delicious and decently priced. The quality is good and presented in a unique manner."
MARYLAND: Mutiny Pirate Bar and Island Grille in Pasadena and Elkridge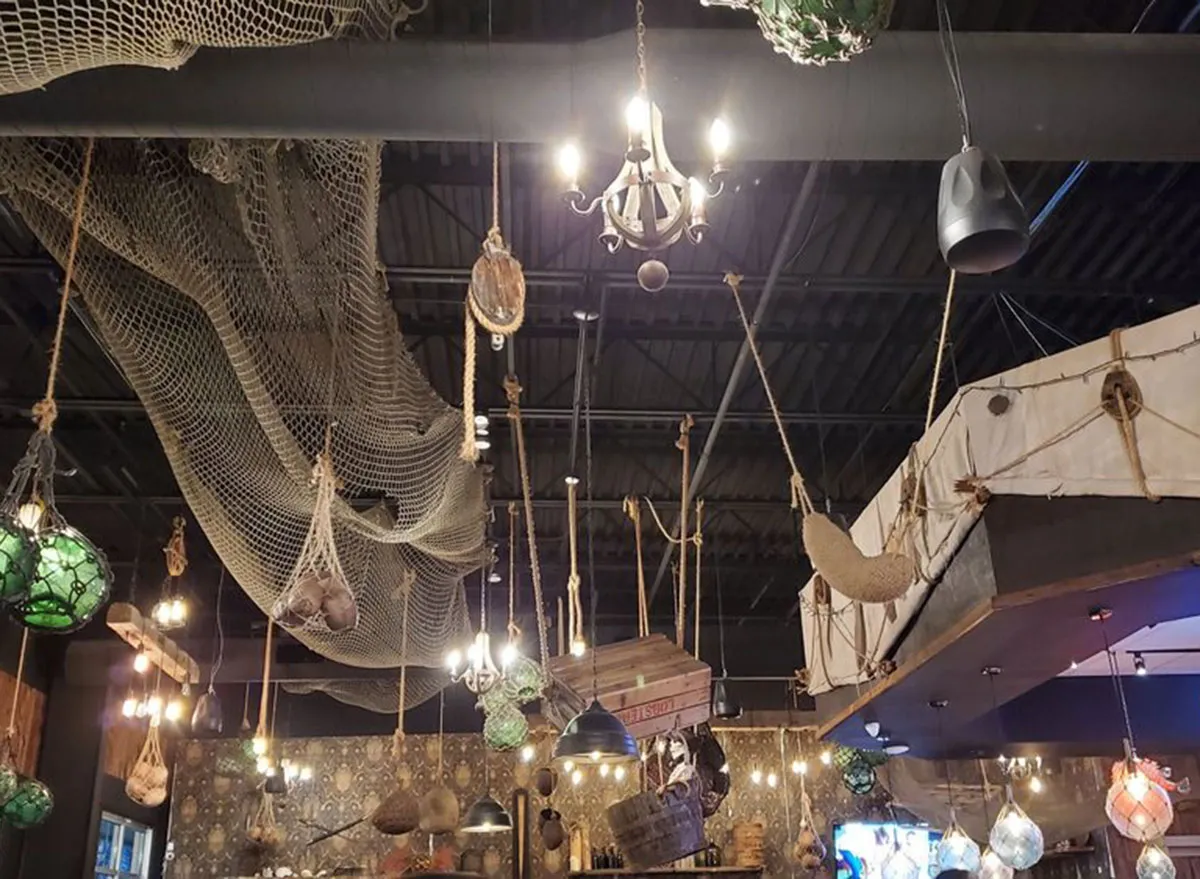 It's mutiny in Maryland at this pirate-themed restaurant. Designed like a pirate ship, Mutiny serves up classic bar food with a Caribbean twist. It also has an impressive rum list and a happy hour that reviewers say is not to be missed.
"Stopped in for happy hour without knowing it was happy hour ‍ $4 rum shots, $1 oyster, and got a jerk chicken taco plus their version of fried Mac and cheese," wrote a customer. "All were delicious. Atmosphere is nice and spacious."
MASSACHUSETTS: Miracle of Science Bar & Grill in Cambridge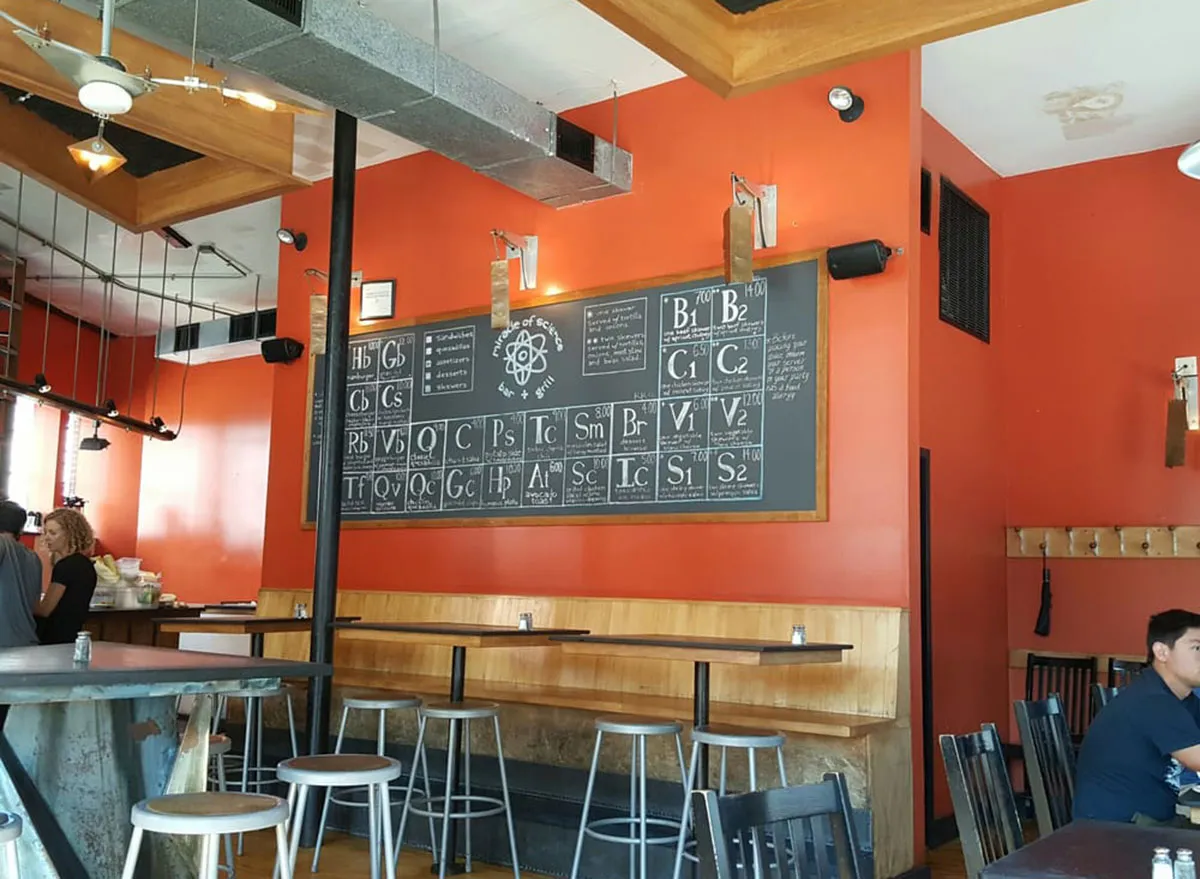 Located near MIT, Miracle of Science Bar & Grill has a quirky science theme. Reviewers praise the beers on tap and the fresh food and recommend keeping an eye out for "the little science-y 'Easter eggs' hidden around the place." The menu is laid out like a periodic table of elements, much to the delight of any science fan.
"I really enjoyed the ambiance. I was the last to arrive and one of my friends told me they didn't have a paper menu and that instead, their menu was on the wall in the form of a Periodic Table of elements," wrote another customer. "Not gonna lie, given its proximity to MIT and the name of the place I found this be so cool and dope and highly appropriate."
MICHIGAN: Mad Hatter Bistro in Birmingham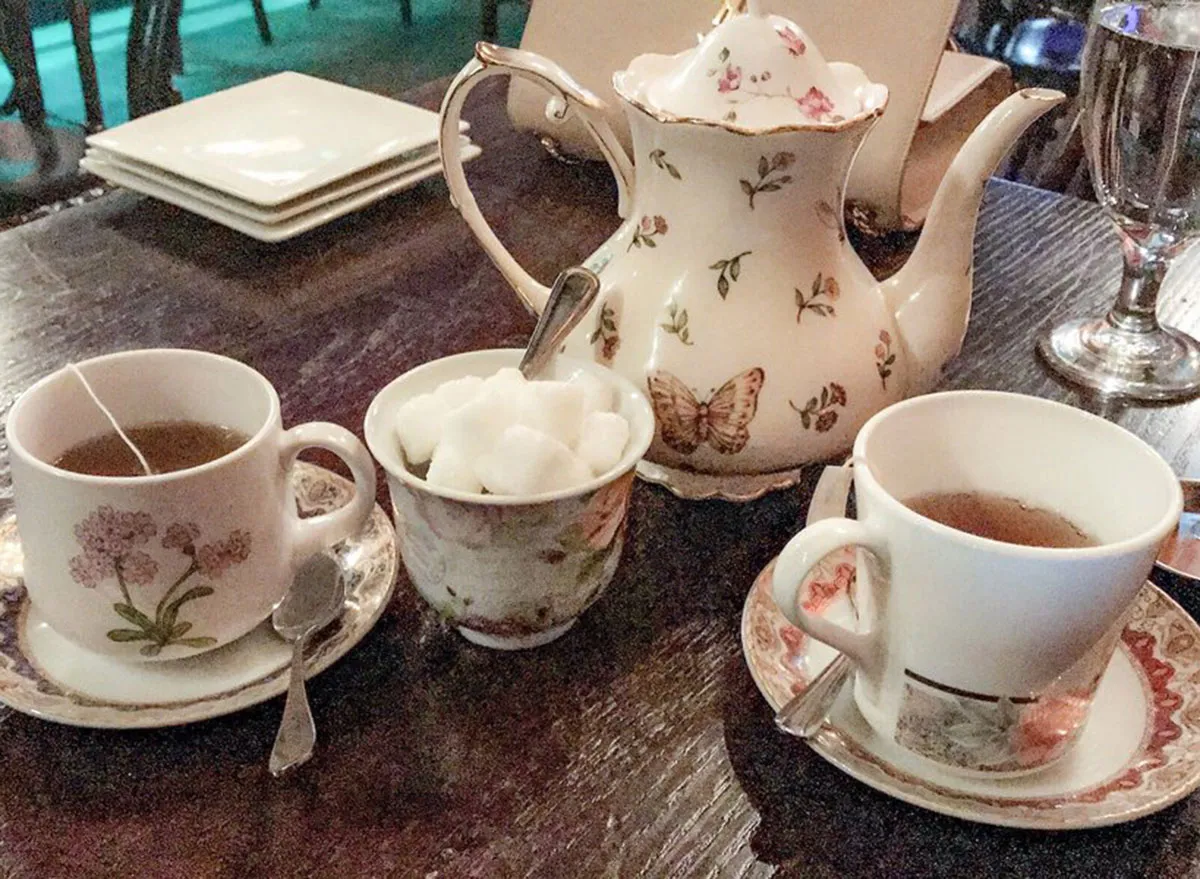 Falling down the rabbit hole never looked so good (or delicious). Mad Hatter Bistro has an Alice in Wonderland theme that includes an afternoon tea party and decor like checkered patterns, elegant mirrors, and a garden-gate mural. The Mad Queen's Chicken is a popular choice, made with whipped potatoes, artichoke hearts, mushrooms, broccolini, and lemon caper sauce.
"This place encompasses a bunch of my favorite things all into one. Alice in Wonderland has always been one of my favorite stories, and yummy teas and tiny sandwiches are another," wrote a reviewer. "For teatime, you get your choice of endless teas, including caffeinated and non-caffeinated. We got the children's menu for my goddaughters and the adult for us, which consisted of Nutella/banana sandwiches, small quiches, scones, brownies, little cheesecakes, and fruits, among others.The decor is amazing, from the walls to the floor, which is painted to look like you traveled down a rabbit hole."
RELATED: This Beloved Restaurant Chain Just Debuted a Carnival-Themed Drink Menu
MINNESOTA: Betty Danger's Animal Farm in Minneapolis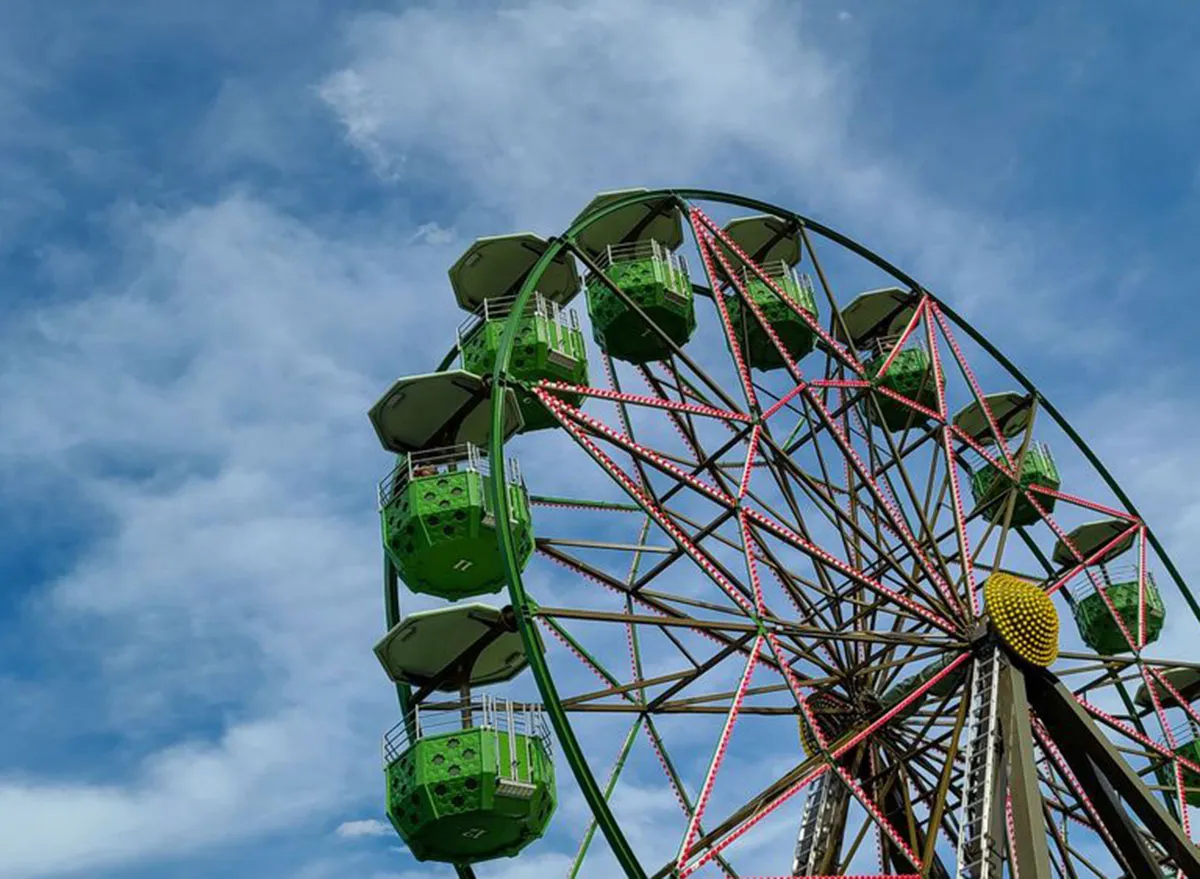 Campy dystopian decor, Mexican food, and good old Minnesota comfort food all come together at Betty Danger's, which is inspired by the George Orwell novel Animal Farm. You'll also have the option to enjoy a cocktail while riding the restaurant's Ferris wheel or play a round of mini-golf before or after your meal.
"It is part bar, part art, part restaurant, part amusement for ADULTS and mature young adults. It exists to make your life a little less dull. It's a satirical artistic interpretation of Orwell's Animal Farm and 1984," according to the website.
MISSISSIPPI: Babalu Tapas and Tacos in Jackson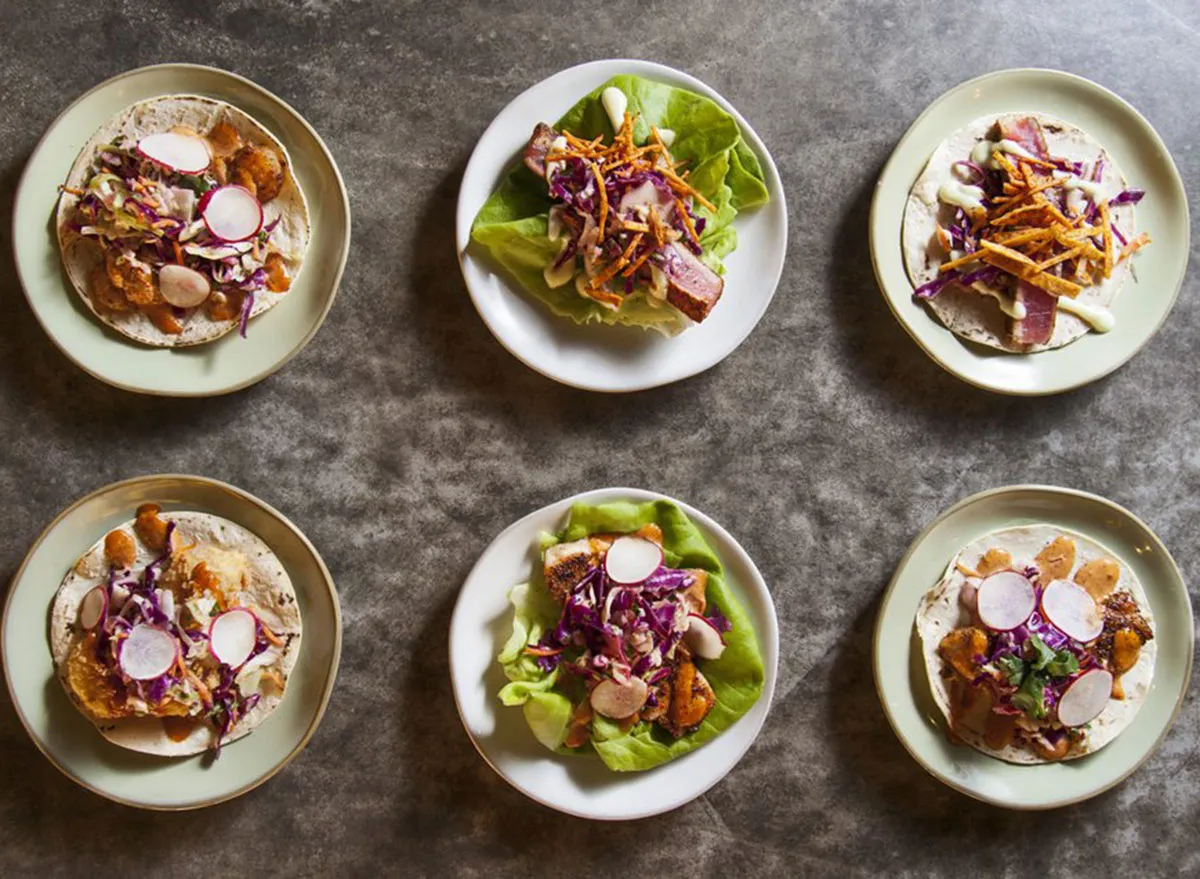 If merely hearing the I Love Lucy theme song puts a smile on your face, you'll be in heaven at Babalu Tapas and Tacos. Named for Ricky Ricardo's famous "Babalu" rendition, the restaurant's walls project vintage clips from the iconic sitcom.
"I was in a restaurant (out of state) that had a small screen that they were showing cowboy movies on," owner Al Roberts said. "When I saw that, I thought we could put 'I Love Lucy' on it." In addition to the fun theme, reviewers praise the high-quality Latin American and Spanish cuisine.
MISSOURI: Mauhaus Cat Cafe and Lounge in Maplewood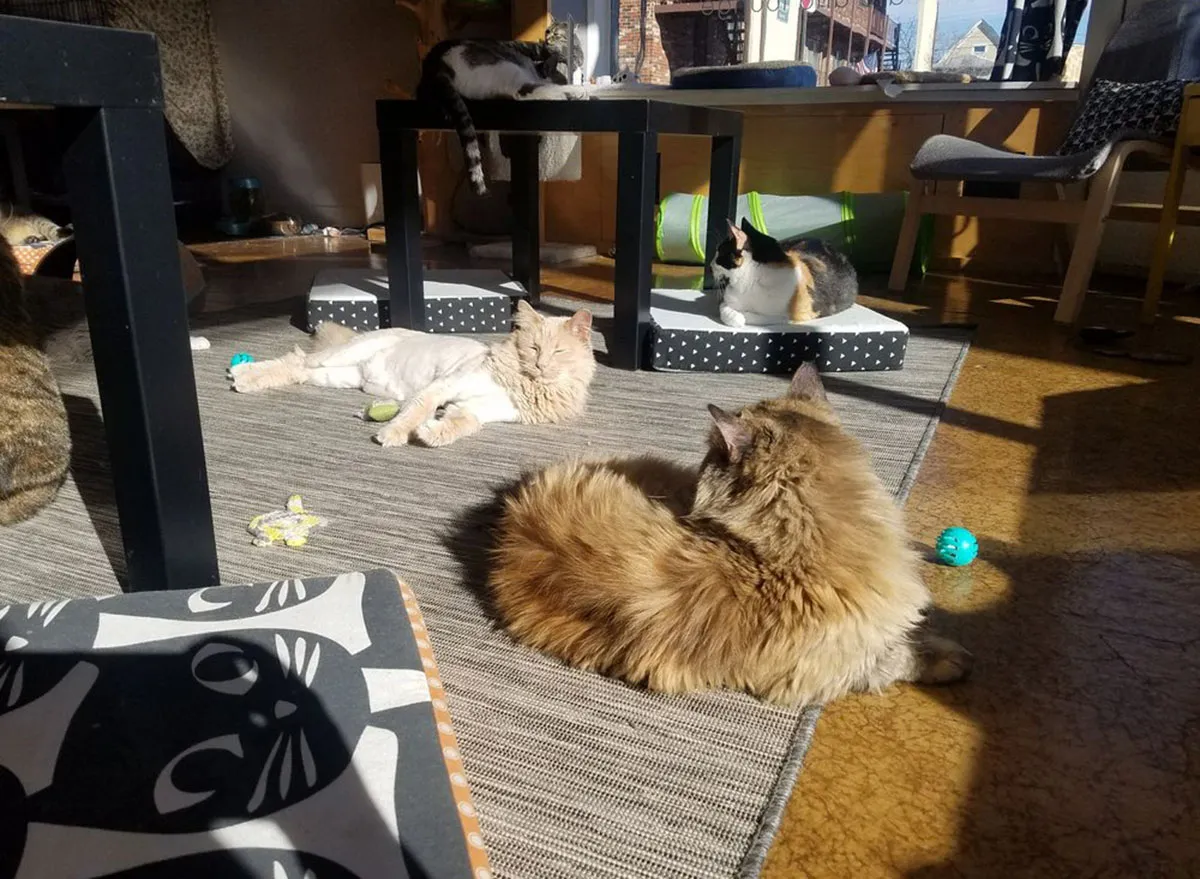 Calling all cat lovers! Mauhaus Cat Cafe and Lounge has two resident cats to greet diners, but the owners also take in strays from Stray Haven Rescue that can be adopted by customers.
The menu changes frequently but reviewers give high marks to the cookies, cupcakes, biscotti, coffees, and teas.
MONTANA: Charlie Russell Chew Choo in Kingston Junction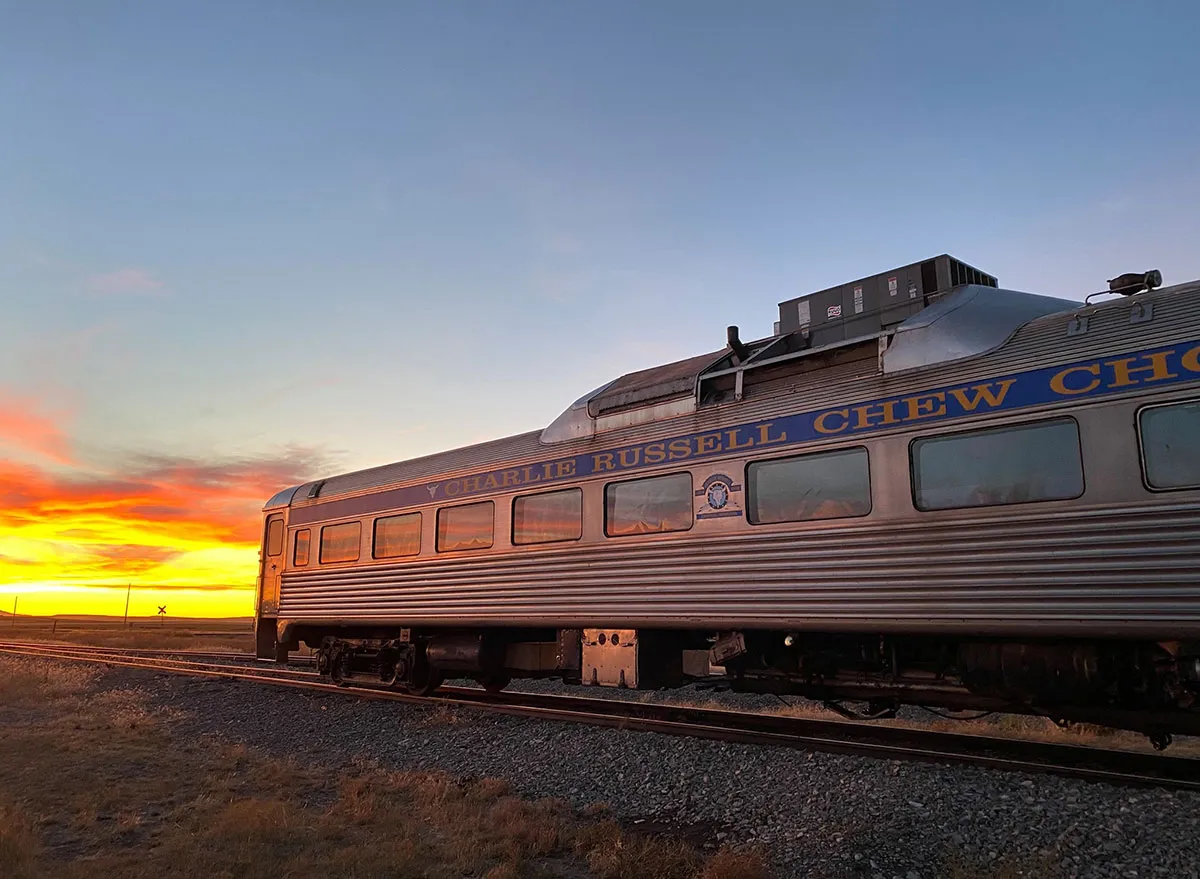 Charlie Russell Chew Choo offers a ride-and-dine experience that reviewers rave about. The restaurant is located in a five-car train from the 1950s. The train takes diners on a three-and-a-half-hour train trip with incredible views of the Montana countryside as they indulge in a cowboy-themed meal. The prime rib dinner is especially popular.
NEBRASKA: Brother Sebastian's Steak House & Winery in Omaha
Brother Sebastian's is designed to look like a Spanish monastery, complete with flickering candles, religious icons, and leather-bound books. Waiters dressed in monks' robes take your order and choral singing plays in the background as you eat. In addition to its unique, historical ambiance, reviewers say the food is some of the best in the state—especially the steak and the prime rib.
NEVADA: Picasso in Las Vegas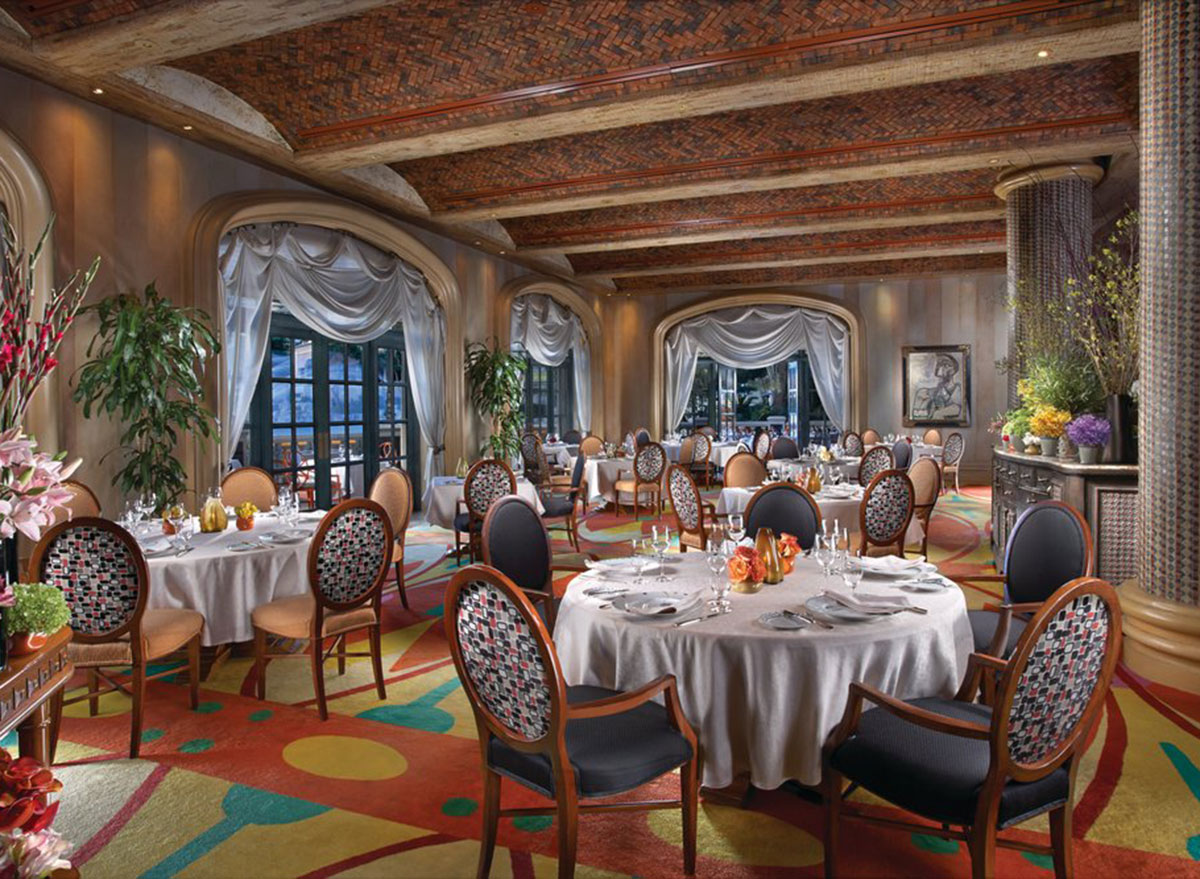 You can always count on the Bellagio for lavish, opulent themes and the Picasso restaurant is no exception. In addition to some of the best views of the Bellagio fountains, the restaurant is home to $30 million worth of Picasso paintings so you'll definitely want to carve out time to walk around and appreciate the art up close.
The food is also excellent—Picasso has two Michelin stars and is considered by Michelin to be one of the top three restaurants in Las Vegas.
NEW HAMPSHIRE: Glen Junction Family Restaurant in Glen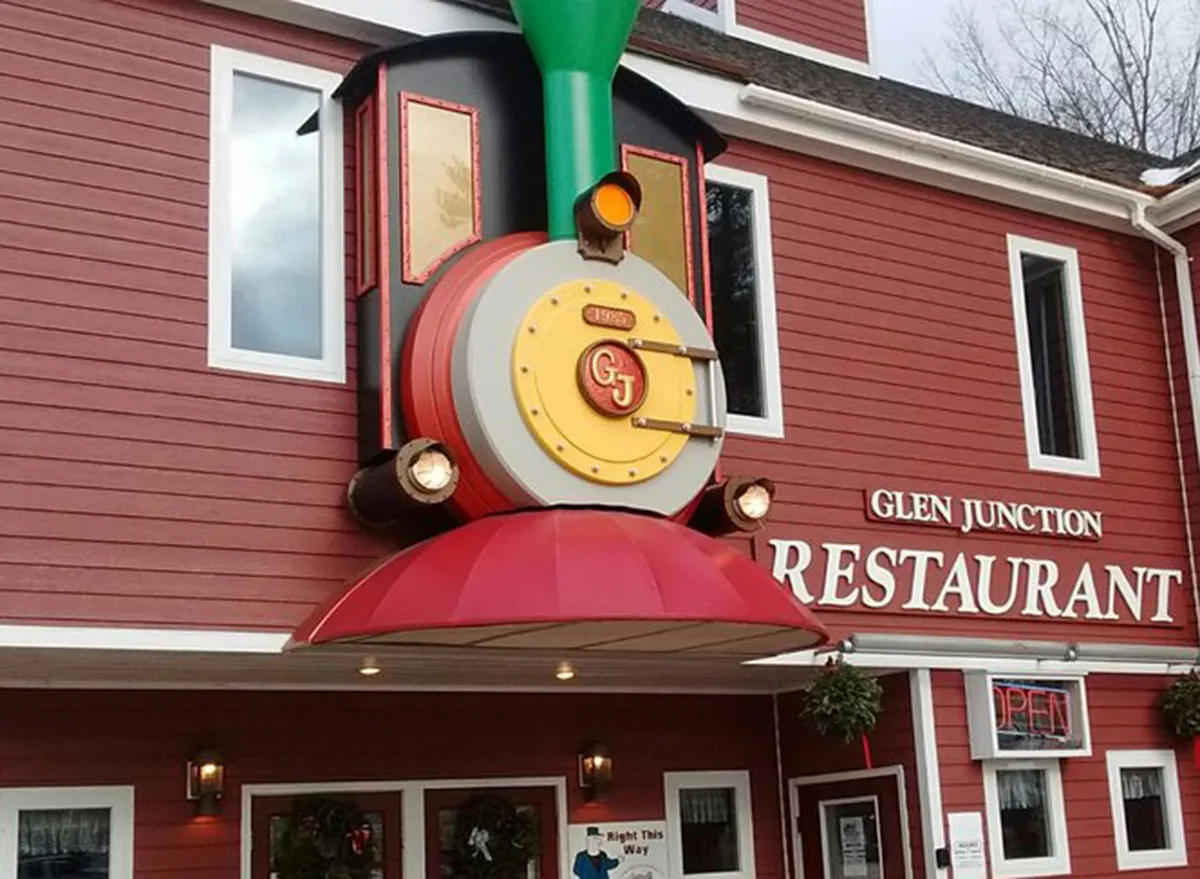 Located in a charming, rustic wooden building, Glen Junction Family Restaurant has a train theme that both children and adults love. A locomotive is placed at the entrance and the restaurant itself is full of train memorabilia. Even the menu items are train-themed, with some of the most popular being the Steam Engine Omelet, the Railroader's Benedict, and the Conductor's Special.
NEW JERSEY: Medieval Times in Lyndhurst
The medieval era comes to life in a major way at Medieval Times. Diners are seated around a jousting arena where they watch actors and horses play out a medieval jousting act.
"My boyfriend surprised me with this adventure. I absolutely loved it here! It was a great experience from the moment I was greeted at the front door. The staff were very polite, helpful and engaging. A pleasurable timing! The show was fabulous. The food was amazing. The tomato soup was the best I ever had in my life," wrote an enthusiastic reviewer. "There is always amazing shows for any type of occasion. Anniversary, birthdays, date nights and more! Save up some cash and bring the kids to the dinner and tournament!"
NEW MEXICO: The St. James Tea Room in Albuquerque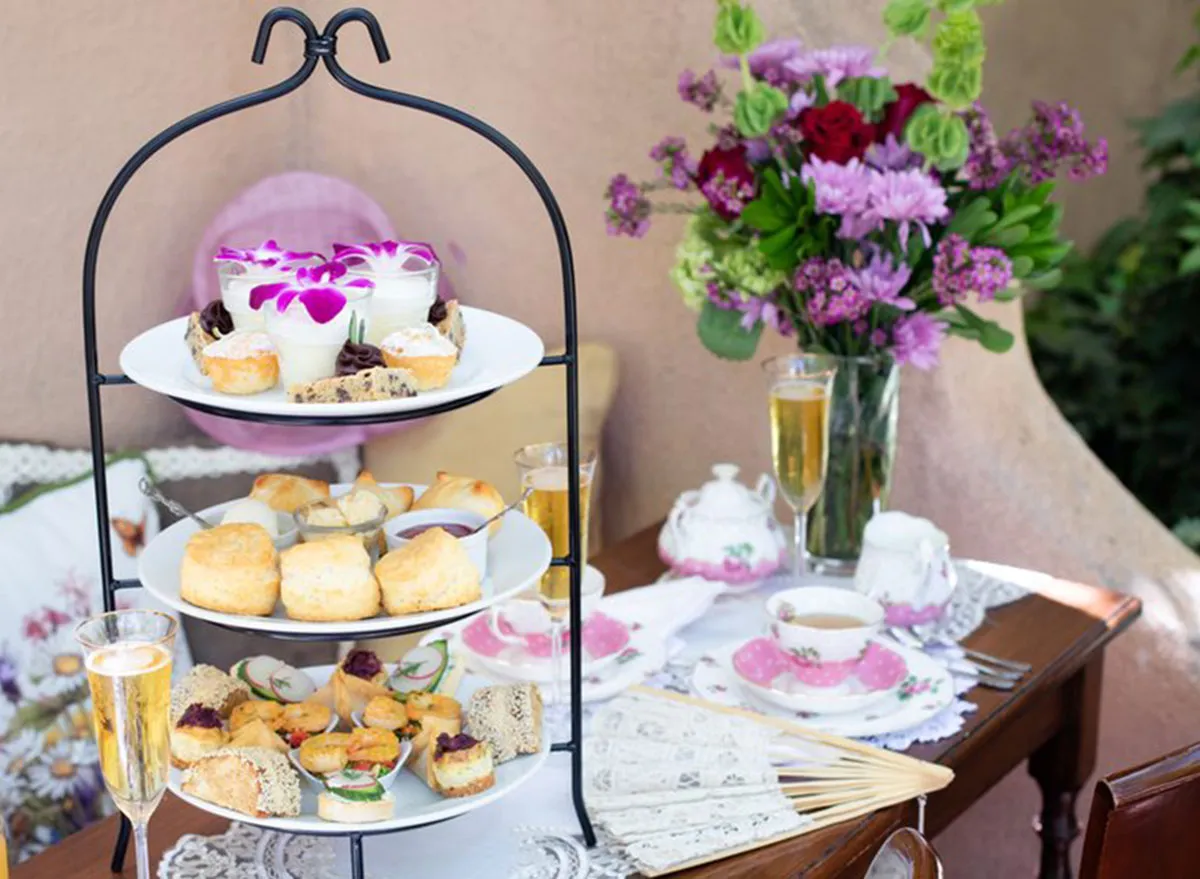 You wouldn't expect to find a taste of England in New Mexico, but The St. James Tea Room offers just that. "The St. James Tearoom provides you with two hours of comfortable elegance in which the hectic pace of the world melts away," according to its website.
This respite comes in the form of (what else?) a delightful afternoon tea complete with English scones, clotted cream, and finger sandwiches. The menu changes monthly and St. James is also a fun spot to explore as it's full of little nooks inspired by British history and literature.
NEW YORK: Jekyll & Hyde Club in New York City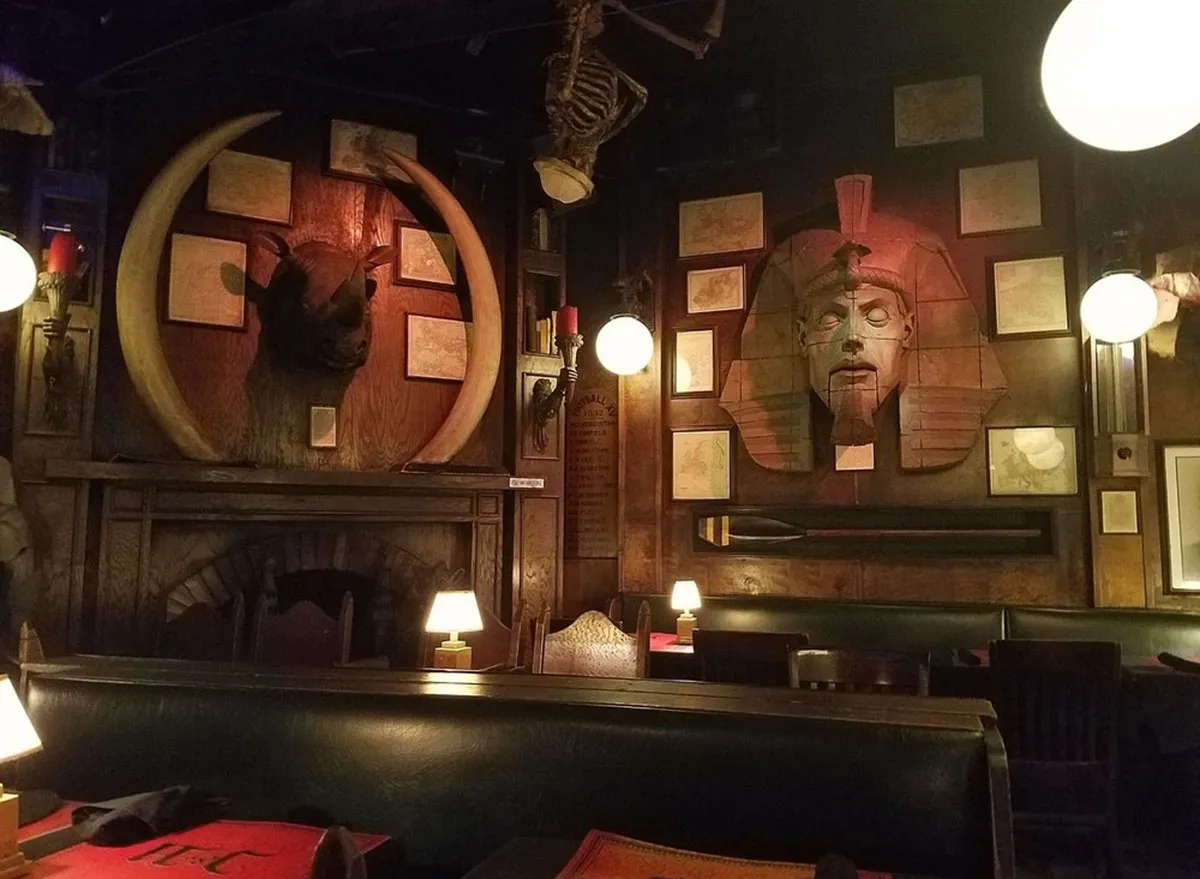 For anyone who lives every day like it's Halloween, Jekyll & Hyde Club is a dream (well, more of a nightmare) come true. The atmosphere is dark and creepy, and the special effects are constant. The restaurant's website promises that "something unusual happens every 10 minutes." With a cast of characters including vampires, mummies, werewolves, and gargoyles, and interactive decor, this club will definitely keep you on your toes.
NORTH CAROLINA: Double D's in Asheville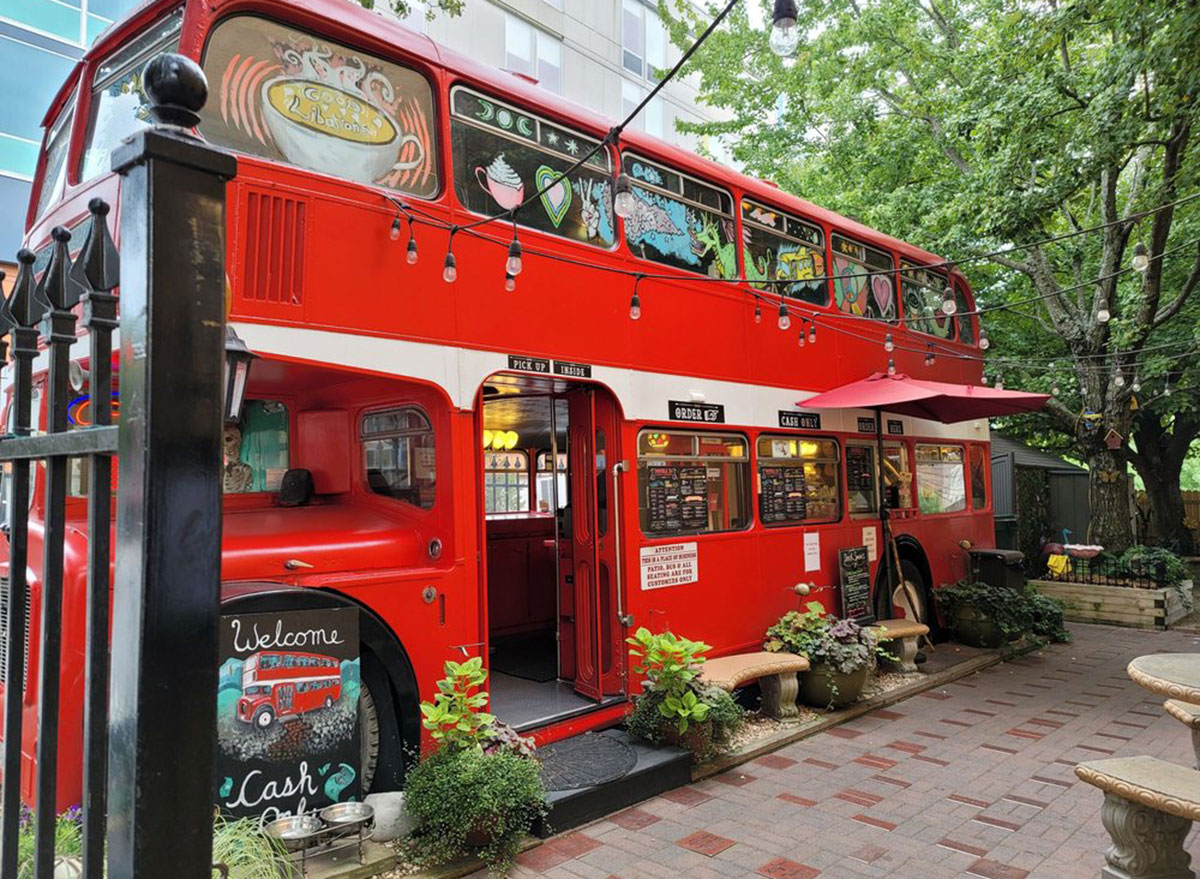 Serving up coffee and desserts, Double D's is located inside a double-decker bus that drove through the streets of London before being transported across the pond and turned into a coffee shop. Enter the red doors and you'll find a cozy, quaint dining spot with vintage decor. In addition to its fun theme, Double D's prides itself on offering the highest quality coffee, food, and customer service.
NORTH DAKOTA: Space Bar & Grill in Bismarck and Fargo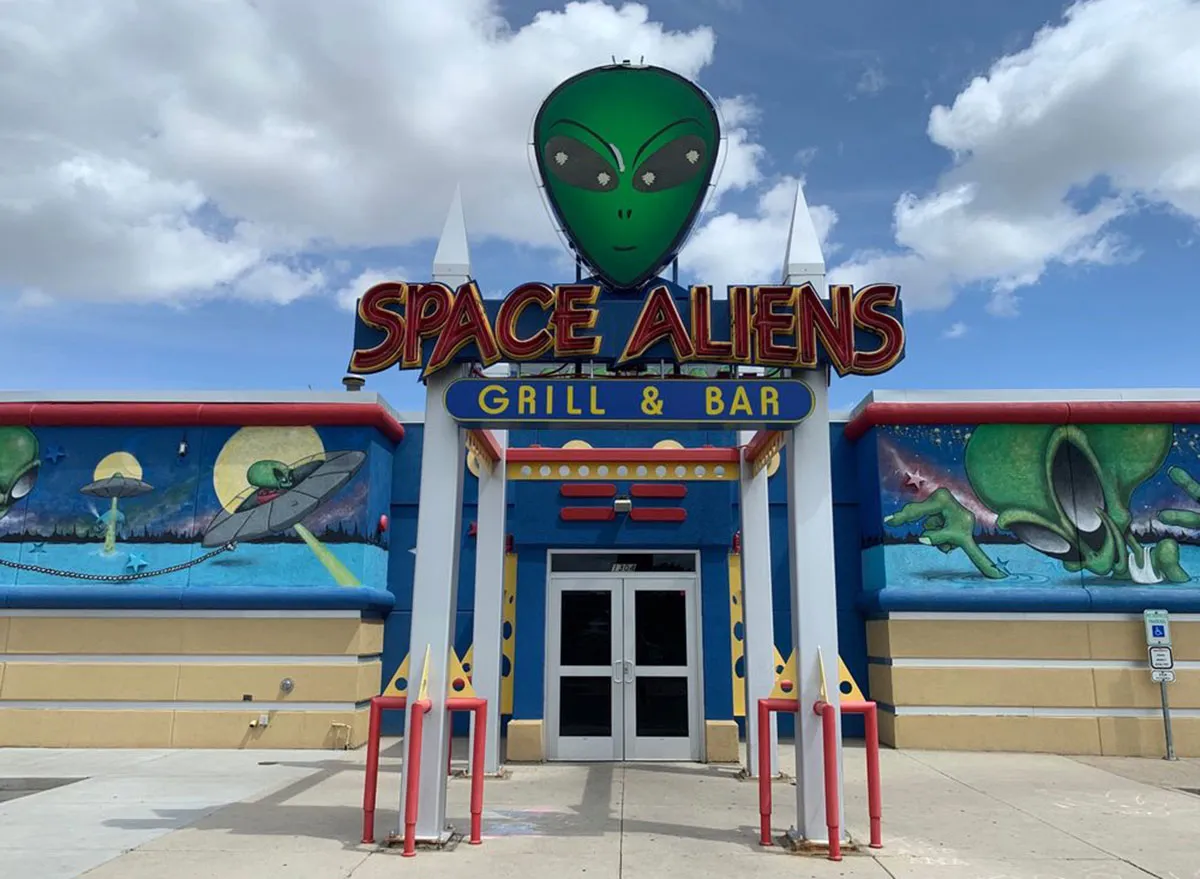 Space Bar & Grill is a popular spot for children's birthday parties, but adults enjoy it, too—especially the popular happy hour specials. This restaurant goes all out when it comes to its space theme. You'll find yourself bumping into alien sculptures left and right, and be sure to check out the 30-foot dome area where you can "look out into outer space."
OHIO: The Schoolhouse Restaurant in Camp Dennison
Going back to school never sounded so appealing. In 1962 an old schoolhouse was transformed into The Schoolhouse Restaurant. Today they serve up classic, family-style dishes like meatloaf, roast beef, and fried chicken. Diners sit in the original 1862 classroom which features the menu written in chalk on the very same blackboard that was used during the Civil War era.
OKLAHOMA: Shuffles: Board Game Cafe in Tulsa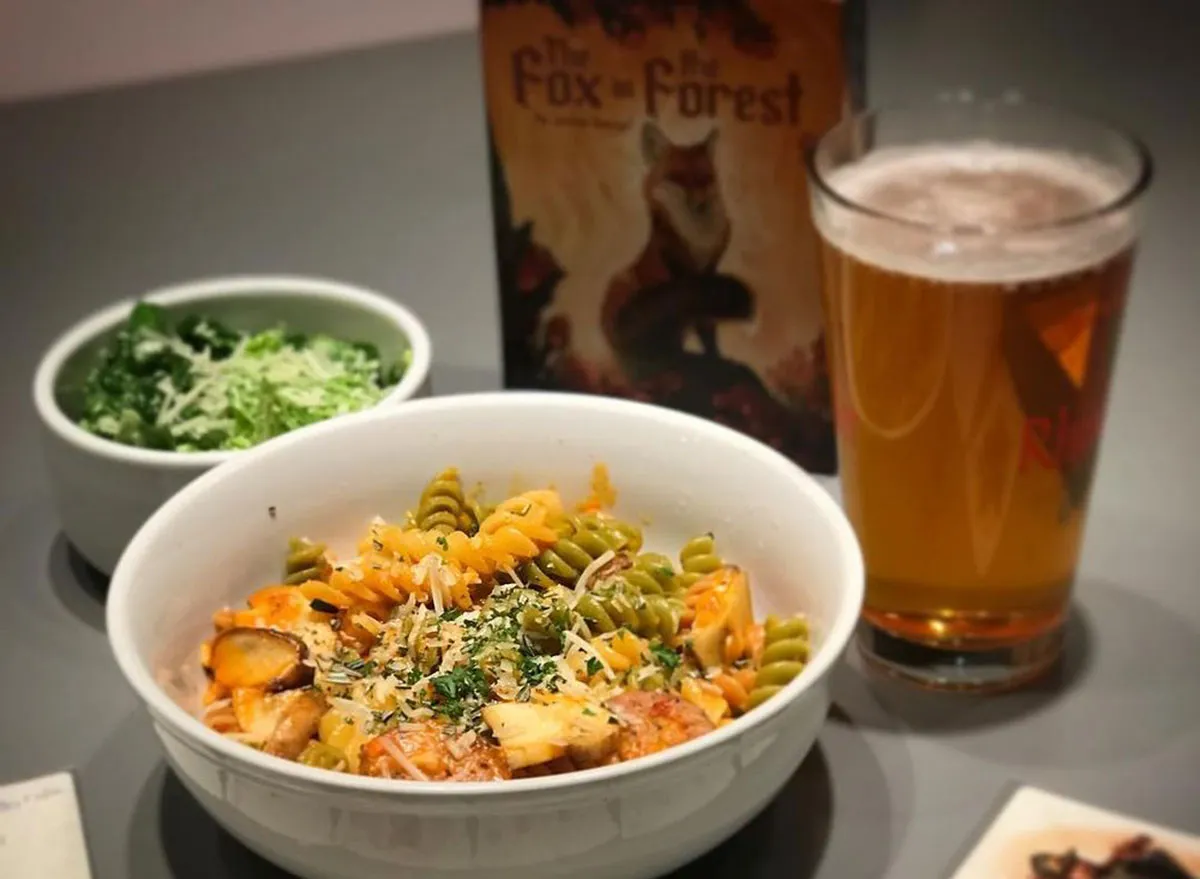 We've found board game heaven and it's in Tulsa. Head to Shuffles: Board Game Cafe and you'll find diners playing board games from the restaurant's collection of over 700.
"My favourite date night/friend night/show people around Tulsa location! Over 700+ games to choose from with a variety of levels, all different cool games – and they have cool art available for sale most of the time," wrote a reviewer who's a regular at Shuffles. "There's also a bar, and their food is SO yummy!"
OREGON: Hale Pele in Portland
A Hawaiian-themed tiki bar, Hale Pele is the perfect spot for a relaxing night out with delicious cocktails and food. Hale Pele takes its theme seriously, which is why there's no need to be alarmed when simulated thunderstorms strike or volcanic eruptions fill the dining area with "smoke" from a fog machine. Reviewers' most common advice is not to miss the Volcano Bowl, a shareable libation full of rum, pineapple, and a blend of secret tropical spices.
PENNSYLVANIA: Mad Rex's in Philadelphia
Have you ever wondered what a restaurant would look like post-apocalypse? Mad Rex's takes a stab at it. The interior can be described as "junkyard chic" and the creative cocktails and food dishes are served in tin cans and on hot rocks. Drawing inspiration from Mad Max and The Walking Dead, the decor includes fake weapons and artifacts.
If you want to take your experience to the next level, head to the Virtual Reality Lounge. You'll be labeled a "survivor" and be immersed in an alternate reality.
RHODE ISLAND: The White Horse Tavern in Newport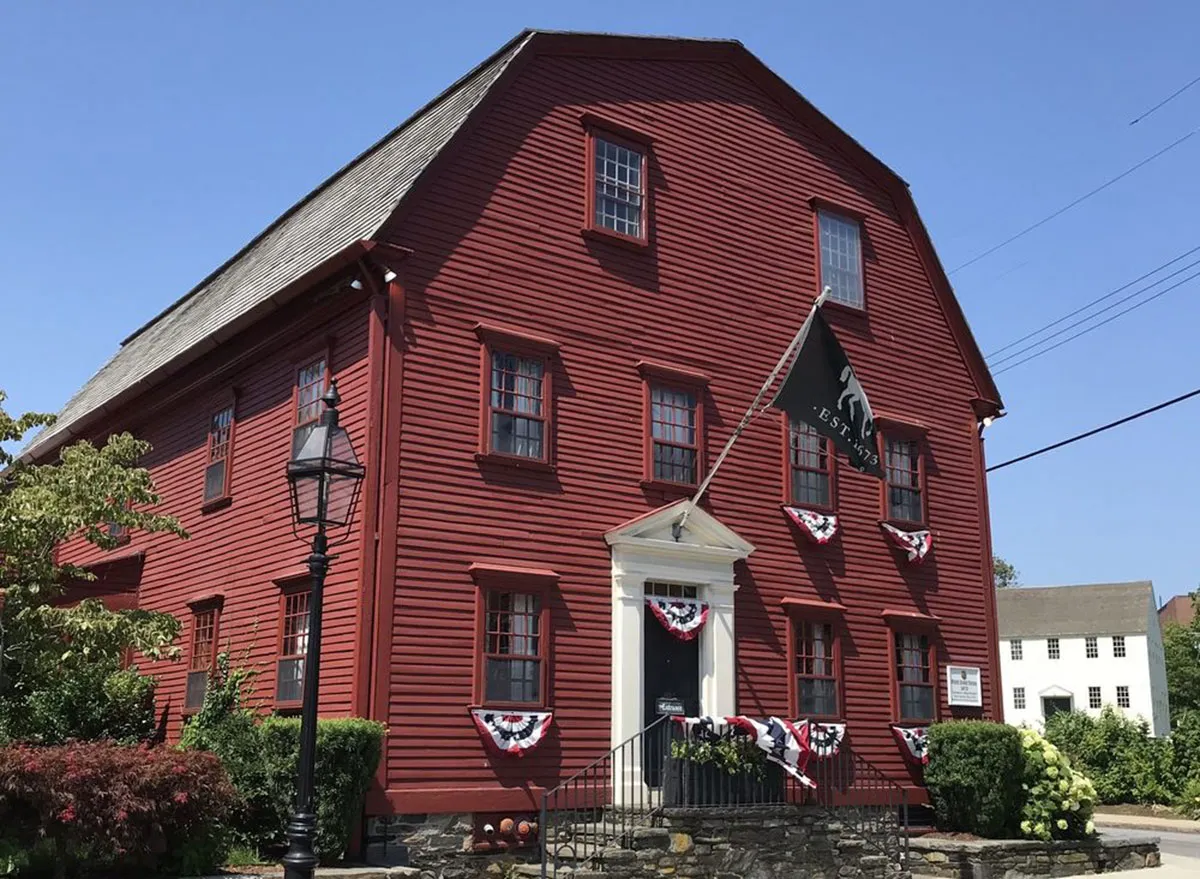 Built in 1673, The White Horse Tavern has the distinction of being the oldest restaurant in America and one of the oldest restaurants in the world. The restaurant maintains its colonial charm and decor, but the food itself is modern and sophisticated. Thanks to its location on Narragansett Bay, The White Horse serves some of the freshest fish, clams, and lobster you'll find in the country.
"I was so impressed by the White Horse Tavern. The atmosphere is authentic (like 1676 authentic, which is so cool!) and the menu was superb. We entertained my boyfriend's Mom her on a visit to Newport," wrote a reviewer visiting from out of town. "We all loved the dining room upstairs. Original floors and fixtures; the whole thing was beautiful." They also recommended the Beef Wellington and clam chowder.
SOUTH CAROLINA: The Chemist in Myrtle Beach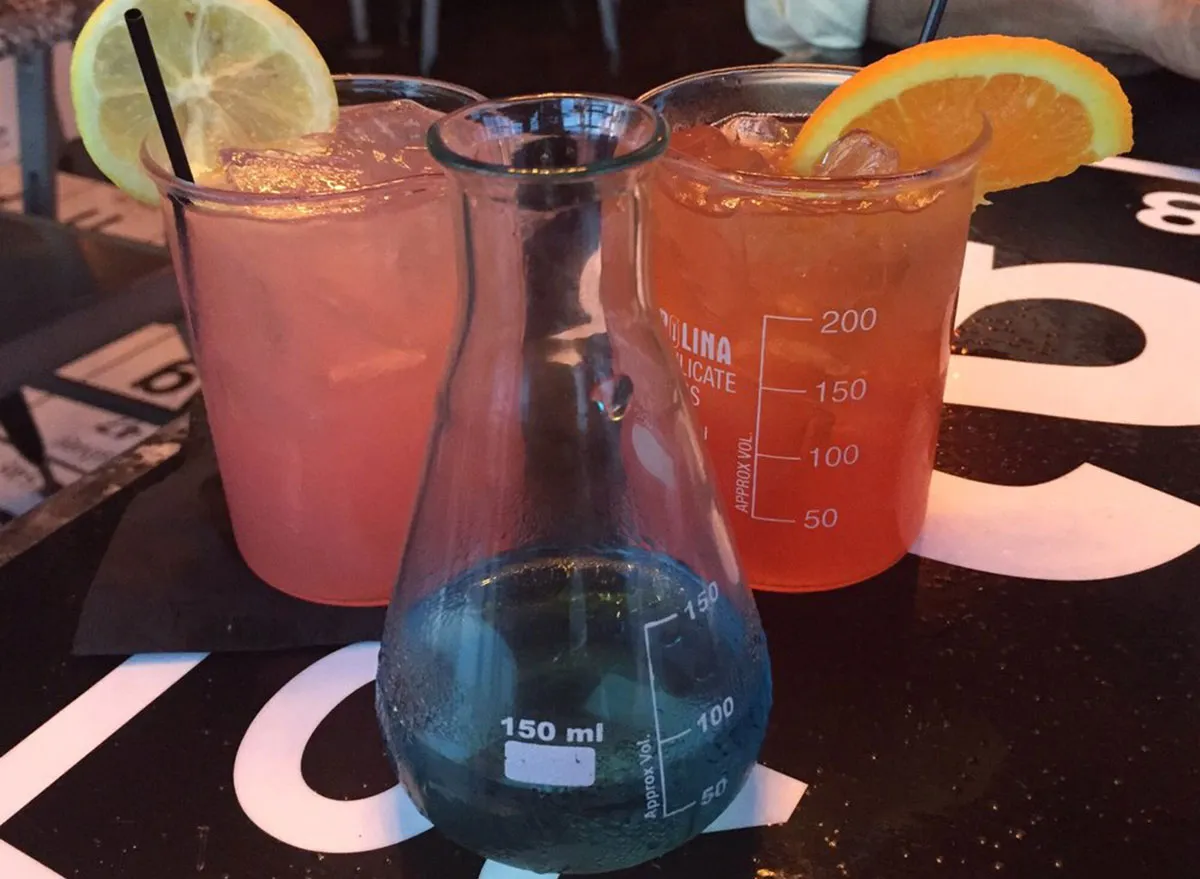 As its name indicates, The Chemist is a chemistry-themed restaurant and bar. Drinks are served in beakers by waiters dressed in lab coats and the periodic table of elements is on all the tables.
"The inside of the place was cool. It looks like a chemistry lab and my drink came in a beaker. The martinis are served with a dry ice effect. Too bad I didn't get a martini but maybe next time," wrote a reviewer. "The tables look like the periodic table too which was pretty cool and unique. I would love to come back next time when I get to visit Myrtle Beach again!!"
SOUTH DAKOTA: Desperados in Hill City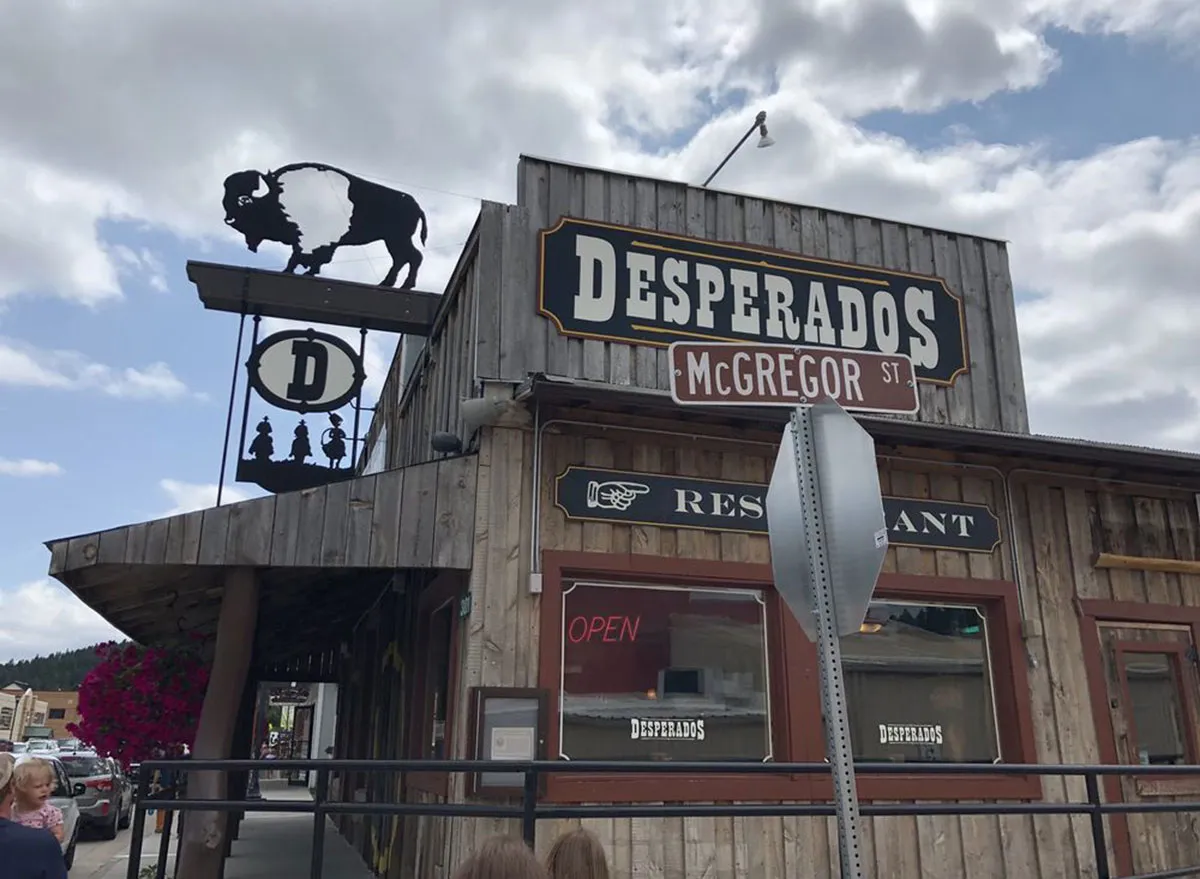 In a nod to its Wild West history, Desperados has a cowboy theme that specifically pays tribute to the state's history. The exterior looks exactly like an authentic Wild West tavern and so do the wooden interiors. The menu's theme is tried and true American classics; reviewers recommend the buffalo burger, pork chops, bison burger, and country fried steak.
TENNESSEE: Skull's Rainbow Room in Nashville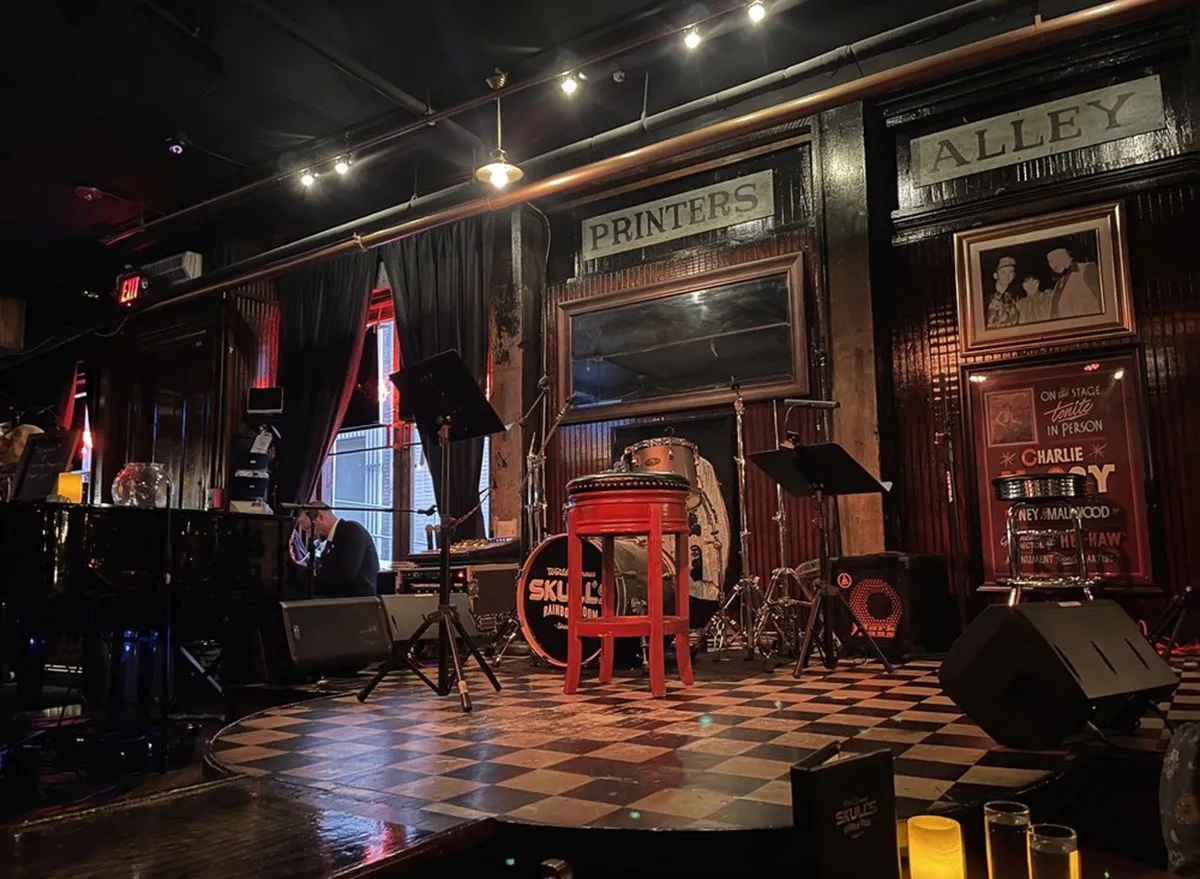 Skull's Rainbow Room has been a Nashville mainstay since it opened its doors in 1948. It has maintained its speakeasy atmosphere and ambiance so it feels like taking a step back in time. There are also nightly burlesque performances on its famous checkerboard stage where artists including Etta James, Elvis Presley, Patsy Cline, Johnny Cash, Paul McCartney, and Bob Dylan have performed. In fact, Presley and Cash were regulars at Skull's back in the day.
TEXAS: Uncle Buck's Fish Bowl and Grill in Round Rock and Harlingen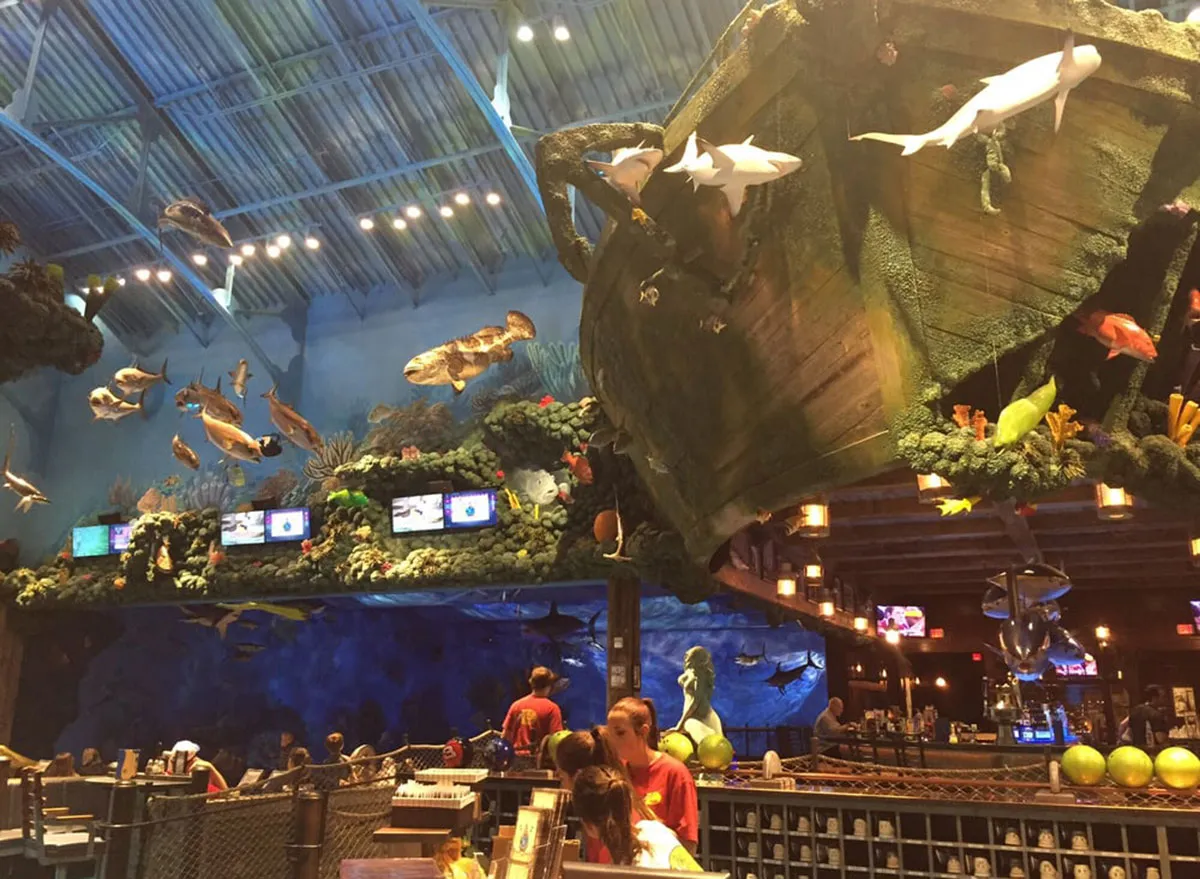 An ocean-themed bowling alley and restaurant, Uncle Buck's is a popular spot for families. The bowling alley itself is designed to create the illusion that you're in the ocean surrounded by fish and other sea creatures, and even the lanes are a bright turquoise color.
The dining area is in the form of a sunken ship, complete with barnacles, rusty chains, and exotic fish. To see the real thing, visit the big saltwater aquarium that's also located in the restaurant.
UTAH: The Prairie Schooner Steakhouse in Ogden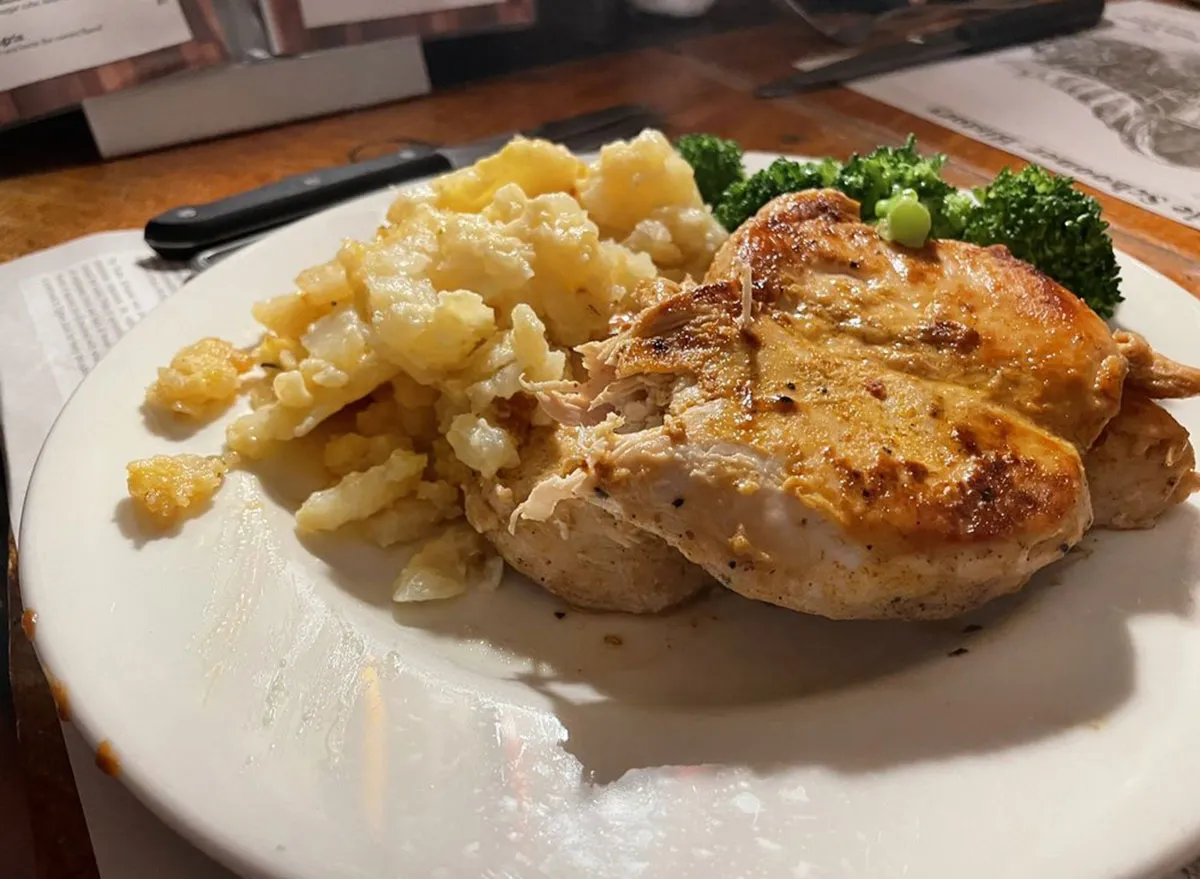 Experience a taste of pioneer life at The Prairie Schooner, where guests dine in a covered wagon next to an open prairie fire. In addition to the unique experience, reviewers rave about the food—especially the steak, au gratin potatoes, and chicken dishes.
"When you enter your wagon, you'll notice an old gas lamp that lights up the place. There's a dial underneath it that allows you to control how dim or bright you want your wagon light to be. Also along the walls are 'Wanted' posters from the old west," wrote one customer. "Tables were cool and the seats are comfortable. This is what it was like to live in the wild west era!" They added that their steak was "perfect."
VERMONT: Casey's Caboose in Killington
Named in honor of a railroad engineer who died rescuing passengers after a train crash, Casey's Caboose is a train-themed restaurant located in two former railroad cars. The restaurant is full of train memorabilia, but diners are just as enthusiastic about the food as they are about the theme and the decor.
"Wonderful restaurant with a fun vibe! The train theme is a delight and the food is creative!" wrote a reviewer from out of town. "We had the Gobble Turkey Burger, The Rueben, and the Guinness stew. All were wonderful – but the stew was the best! The Casey G&T was so fun and tasted fantastic. Our waitress… was the nicest human ever."
VIRGINIA: Gadsby's Tavern Restaurant in Alexandria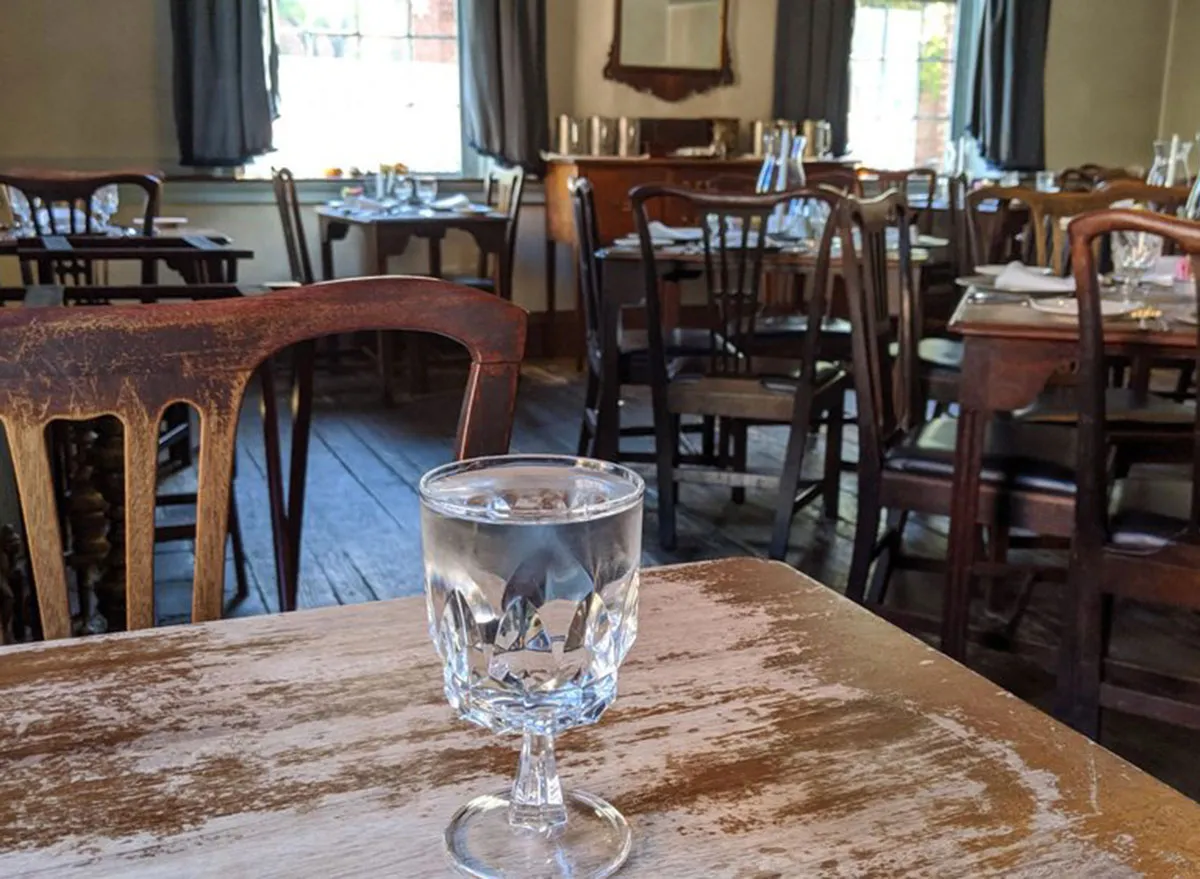 Travel back to the colonial era at Gadsby's, which has been a fine dining location in Alexandria since 1770. Customers are seated in the restaurant's elegant dining rooms which are adorned with fancy chandeliers, oil paintings, and beautiful drapery. The menu mixes contemporary and colonial dishes. For example, George Washington's Favorite meal, grilled duck breast with potatoes and corn pudding, is a popular choice if you're really looking to get into the spirit of the restaurant's theme.
"This quaint restaurant/tavern was a refreshing change and the atmosphere was very nice for gathering with family and friends or your partner for a romantic evening. The service was on point," wrote a local reviewer. "The starters—particularly the ham biscuits—will not disappoint. The grilled jumbo shrimps and chilled prawns are delicious. We enjoyed the salmon, lamb chops, and filet mignon. Definitely would recommend and come back."
WASHINGTON: Bors Hede Inne in Carnation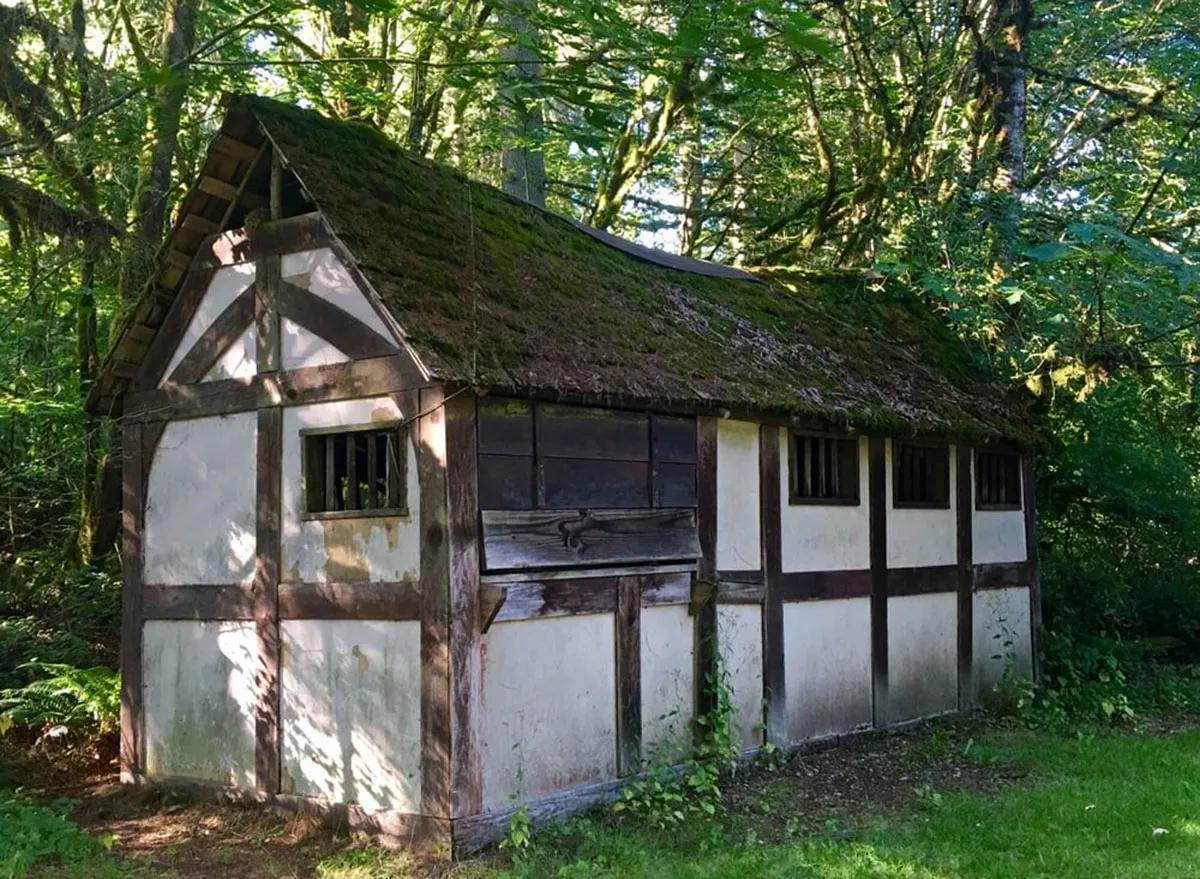 Located in the middle of the living history museum Camlann Medieval Village, Bors Hede Inne is a replica of a 14th century English village lodge. Servers are dressed in full medieval garments and remain fully "in character" as they tell diners about the location's history. There are even lute-playing minstrels who entertain diners with their music and their own stories.
WEST VIRGINIA: Hillbilly Hot Dogs in Lesage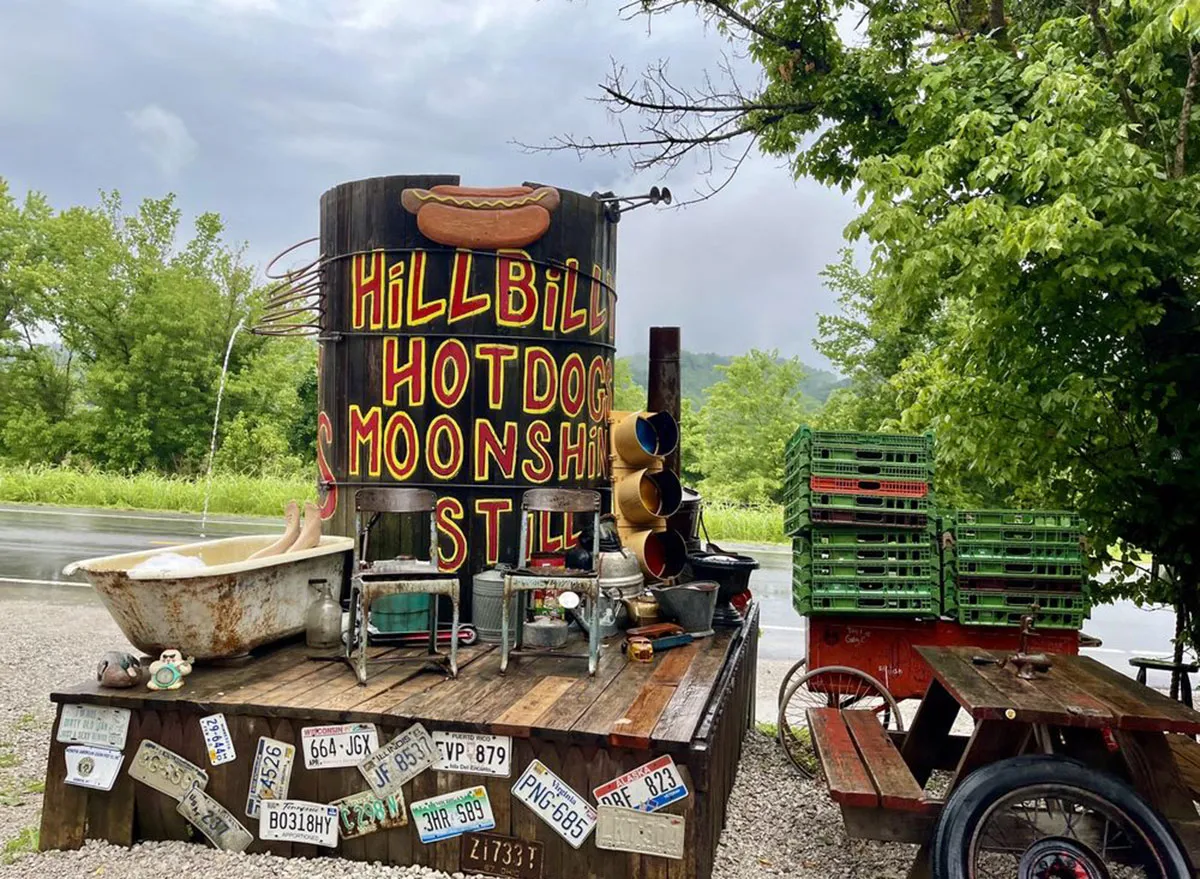 Located on the banks of the Ohio River, Hillbilly Hot Dogs is a quirky spot that's decorated with a hodgepodge of items including road signs, statues and sculptures, license plates, and even a kissing booth. Old yellow school buses serve as dining rooms. And don't worry about missing it—a giant hot dog sign on the roadside will tell you that you've arrived at your destination.
Reviewers say the hot dogs themselves are the real draw. "If you're looking for a place with quick service, cheap prices, great hot dogs and an environment you'll talk about for days, then Hillbilly Hot Dogs is for you," wrote one customer. "They have three school buses you can choose to sit in and enjoy your meal or they have plenty of picnic tables outside. You can also spend hours looking through all the eclectic items that are everywhere you look at this cool restaurant."
WISCONSIN: SafeHouse in Milwaukee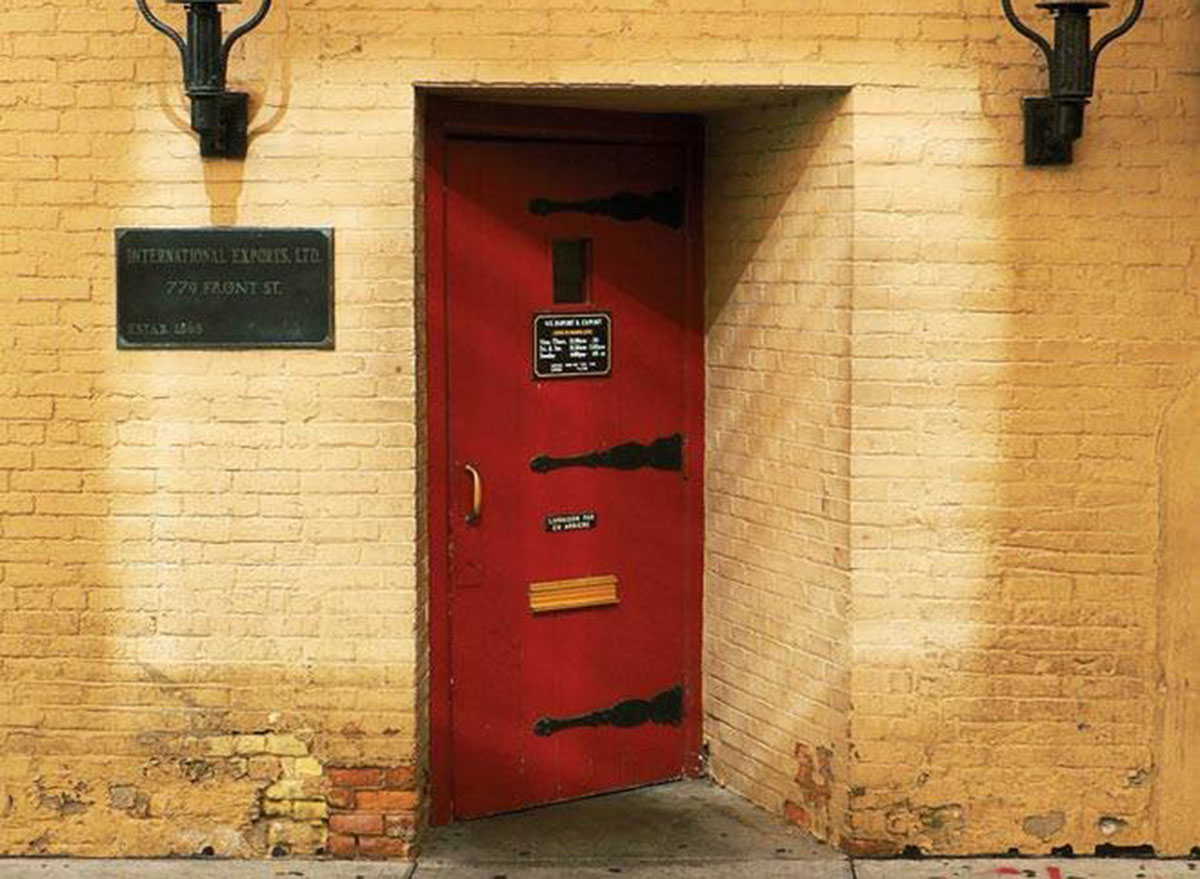 If you've ever dreamed of being an undercover agent (and who among us hasn't?), you'll love SafeHouse. This "secret spot" isn't so secret anymore, but you'll still need to do some searching to find the entrance, which is located in an alley and marked by a plaque that reads "International Experts Ltd." When you're asked for the password to enter and inevitably don't know the answer, don't fret—a silly dance will do the trick and grant you entrance through a door that doubles as a bookcase.
The interior is filled with spy-themed decor such as two-way mirrors and James Bond movie posters. It's a family-friendly restaurant which is reflected by the menu, which has options such as the "double agent burger."
WYOMING: Cavalryman Steakhouse in Laramie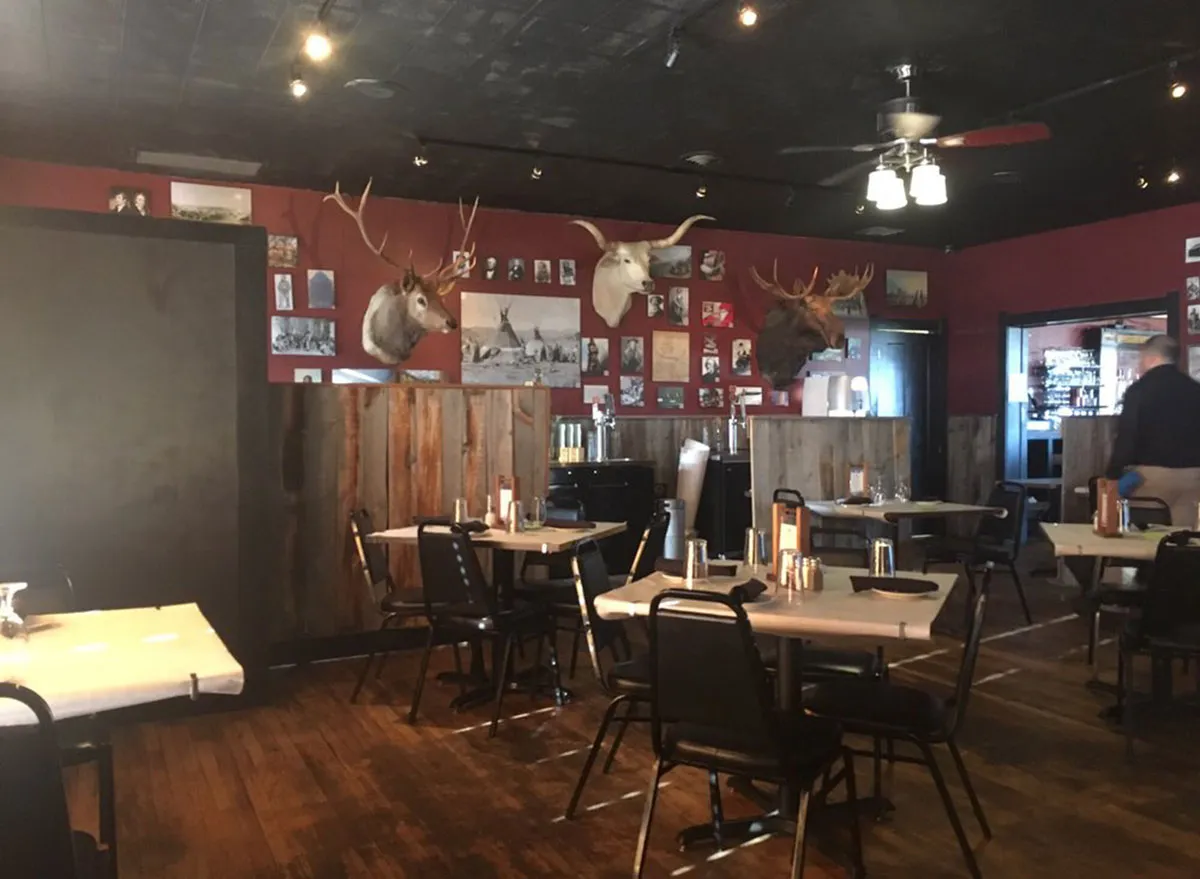 Wyoming is known as the Cowboy State and Cavalryman Steakhouse fully embraces this. Located on the parade grounds of the historic Fort Sanders, the decor includes old wagons and wood-paneled walls. There are also many black and white photos from the 1800s, which is when Fort Sanders was established.
Steak is what's for dinner at Cavalryman; the menu features a wide variety of options including local bison ribeye.
Read more:
The Most Popular Pizza Chain in Every State, New Data Shows
The Best Hot Dog In Every State
Caitlin Flynn
Caitlin Flynn is an award-winning writer and reporter who experienced early age corporate burnout in 2015 and traded New York City for the misty air and superior coffee of Seattle.
Read more about Caitlin