11 Best Post-Workout Snacks To Buy At Whole Foods Right Now, Dietitians Say
Here's your ultimate shopping list.
Many times after exercise, you've worked up quite the sweat—as well as a pretty hefty appetite. If it's not time for a meal yet, you may feel like having a snack. But don't fret, because it has never been easier to make healthy choices, even when you're seriously craving something sweet or salty (or a combo of both)! We have the very large selection of healthy and delicious post-workout snacks at Whole Foods to thank for that. They really come in clutch for moments just like this.
To help a fellow health-conscious friend out, we've gone virtual shopping with award-winning registered dietitians Lauren Manaker, MS, RDN, LDN, CLEC, CPT, and Julie Upton, MS, RD, CSSD, and have a shopping list just for you that reveals the very best post-workout snacks to buy at Whole Foods right now. There are scrumptious, nutritious snacks that fit everyone's taste. You can head to the store, or browse online (via the official Whole Foods website or Amazon Prime for convenient right-to-your-door delivery) to grab these tasty options.
Having a fun reward to treat yourself to after you wrap up a challenging workout is a total yes in our book! Read on to see our top Whole Foods picks, and next, check out The 6 Best Exercises for Strong and Toned Arms in 2022, Trainer Says.
That's it. Apple + Blueberry Fruit Bar
Manaker notes these fruit bars are super convenient to have on hand for a fast boost of energy. Whether you're out for a run or working out at the gym, this snack is ideal for a tasty pick-me-up after your sweat sesh. The bars are made with fruit (one bar contains 1 apple and 20 blueberries, to be exact) and have no added sugars. They're GMO-free and a true must for your gym bag whenever you are on-the-go.
Hippeas Vegan White Cheddar Puffs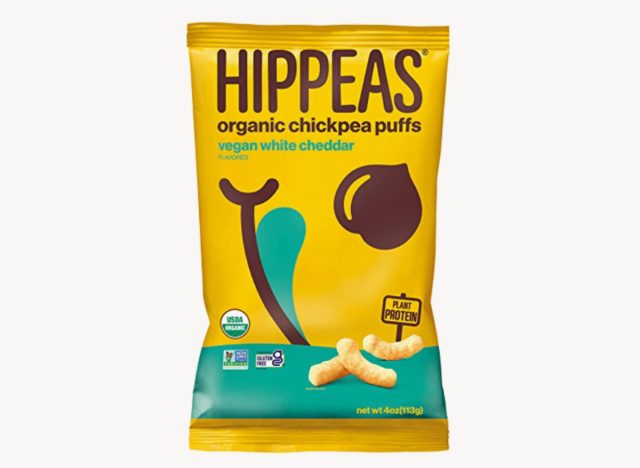 Manaker loves Hippeas at Whole Foods, and it's clear as to why. She explains, "Thanks to the chickpea flour found in these snacks, Hippeas contains 4 grams of protein per serving along with some healthy carbs, making it a crunchy snack that can be nibbled on post-workout." She recommends trying the Vegan White Cheddar flavor. Not only are they quite yummy, but they're a really good substitute for orange puff treats.
These chickpea puffs are organic, vegan, kosher, dairy-free, and gluten-free. Each serving is 130 calories and a solid 4 grams of plant protein, in addition to 3 grams of fiber. Add Hippeas to your cart ASAP.
Related: The Healthiest Snacks to Buy at Costco Right Now, Says Nutritionist
KIND Snacks Dark Chocolate Cherry Cashew + Antioxidants Bar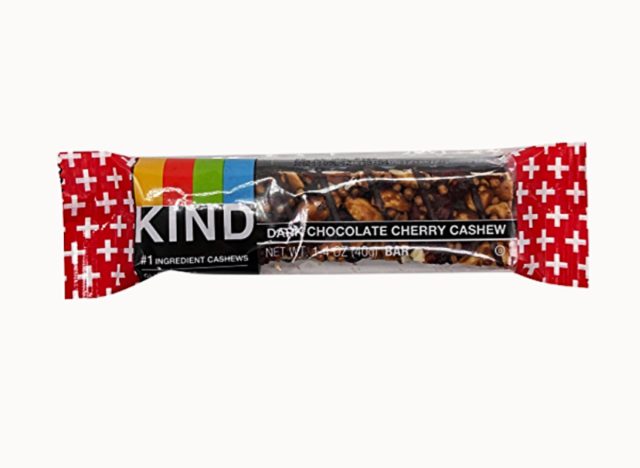 A good move that can help you recover from a tough workout is choosing antioxidant-rich foods when you're done. KIND Snacks Dark Chocolate Cherry Cashew + Antioxidant Bars will do just that with their chocolate, nuts, and antioxidants. "Plus, these bars contain fiber, healthy fats, and a slew of vitamins and minerals that supports many health goals," Manaker adds.
Organic Valley Low Fat Chocolate Milk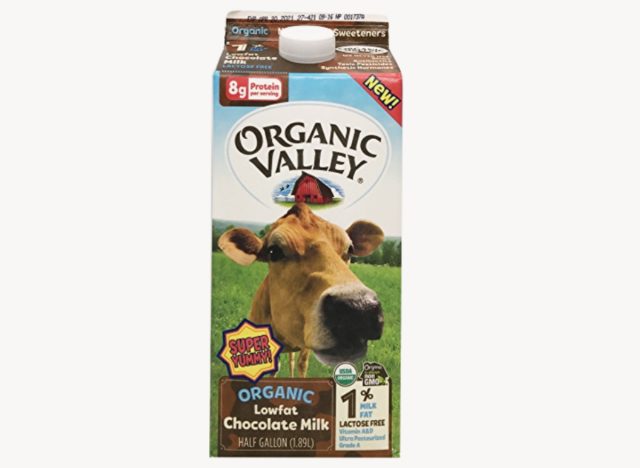 Yes, you read that correctly—we listed low fat chocolate milk on our list of Whole Foods must-haves! It may come as a surprise, but chocolate milk actually has the perfect combination of protein, carbs, and fat that make it an ultimate post-workout drink, Manaker points out. Did we just make your day (or workout) so much better? We think the answer is a big yes.
Wyman's Fresh Frozen Wild Blueberries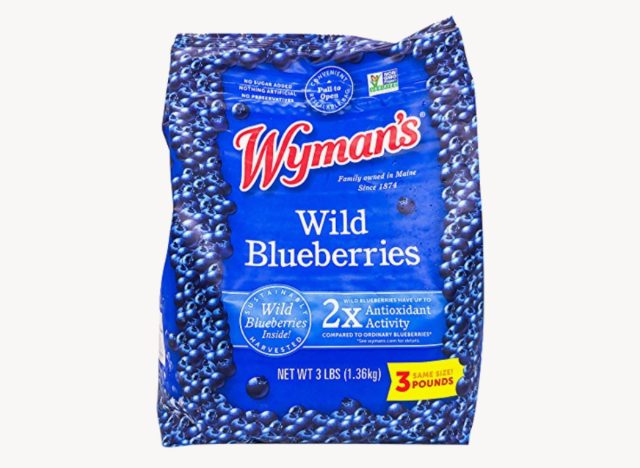 If you're a smoothie fan, you absolutely must have these frozen wild blueberries at the ready for the best post-workout smoothie imaginable. Manaker recommends combining Wyman's fresh frozen wild berries with almond milk, a bit of protein powder, and a few spinach leaves. You will have a sustainable, well-balanced, and super refreshing snack in just about no time.
Fun fact: Did you know that wild blueberries have double the antioxidant action as regular blueberries do? They're also filled to the brim with nutritional value.
Wild Planet Tuna, Bean & Corn Salad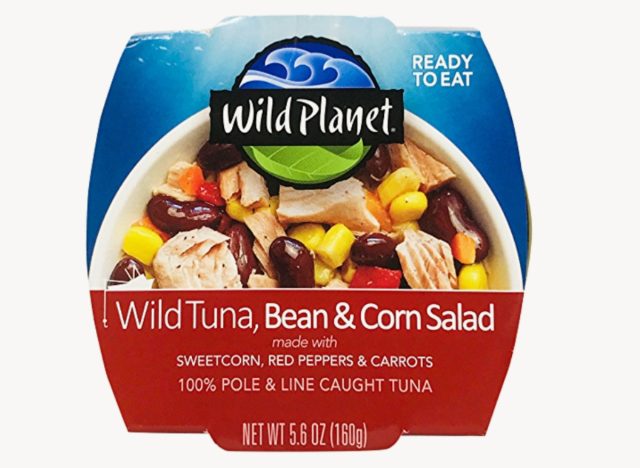 When you're looking for a little more of a lunchtime snack, this tuna, bean, and corn salad will give you a carb-protein combo, along with a major dose of nutrition. This is an amazing choice for recovery after a workout. According to Manaker, you'll also benefit from antioxidants and anti-inflammatory omega-3 fatty acids, which can provide an extra boost that's just plain old good for your overall well-being. Tuna is a perfect addition to your healthy habits, considering it's full of excellent protein and nutrients.
Related: 11 Best Healthy Plant-Based Snack Ideas
Food for Life Ezekiel 4:9 Original Bread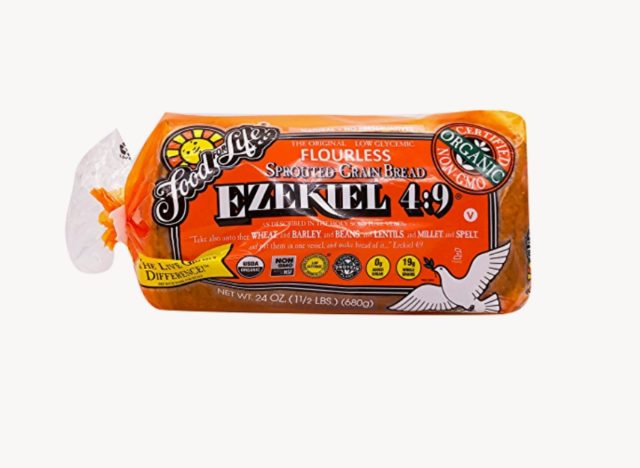 Manaker suggests topping this bread with fresh sliced bananas and nut butter for an excellent balance of protein and healthy carbs. It will also provide tons of vital nutrients that will aid in post-workout recovery. After you work out, toast your bread, and top it off with your favorite natural nut butter. This is sure to be one of your new favorite snacks to prepare!
Chomps Original Turkey Snack Stick
If you're looking for a great combination of protein and healthy carbs, Manaker recommends picking up some Chomps. This snack is prepared with free range turkey, and you can bring it with you to snack on after your workout. It's gluten-free, dairy-free, and low-fat, and it provides a whopping 10 grams of protein with each bite. That's a big dose!
Vital Farms Hard Boiled Pasture Raised Eggs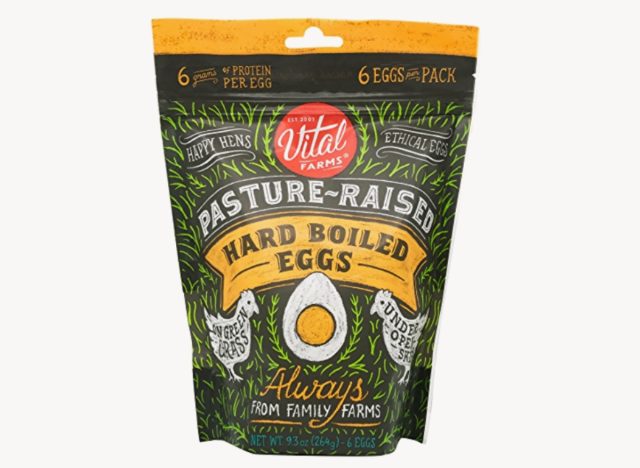 "I hate having something in my fridge that's so convenient to grab on the go," said nobody ever. These hard boiled eggs are so great to have on hand, and they are an easy snack to enjoy with fresh fruit. Manaker explains this snack will give you high-quality protein, in addition to so many other vital minerals and vitamins. Sure, you can boil your own eggs, but if you're always pressed for time, these are so versatile and tasty treats to just pull out of the fridge.
Related: The 13 Best Healthy Snacks in 2022: Eat This, Not That! Food Awards
Quest Nutrition® Protein Cookie Chocolate Chip
If one of your favorite snacks of all time is a chocolate chip cookie, you're certainly not alone. What's more, we have some pretty great news for you—the one we selected, which is made by Quest Nutrition, is a really solid post-workout snack! Upton dubs it a "sweet treat that is not loaded with added sugar and packs in 15 grams of protein."6254a4d1642c605c54bf1cab17d50f1e
Wonderful Roasted & Salted Pistachios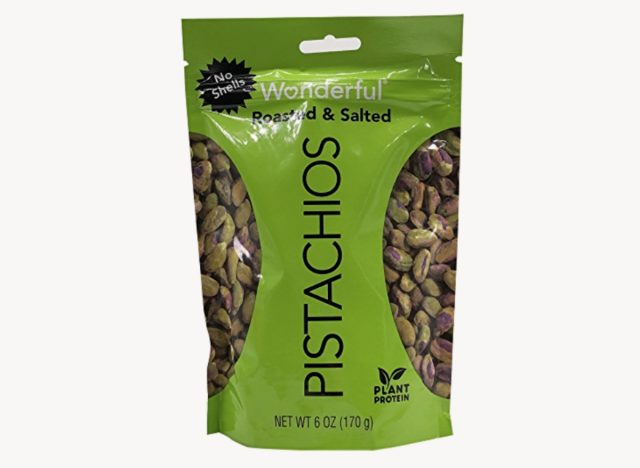 Pistachios were selected by both Manaker and Upton for good reason. After working out, it's crucial to feed your body some protein. Well get excited, because this salty snack contains 6 grams of plant protein with each bar "that help fuel your body with essential amino acids," as Manaker puts it, in addition to one of the snack nuts that's highest in protein. Upton adds, "[This snack is] a great blend of protein and fiber to keep you satisfied; they also provide antioxidants."
Alexa Mellardo
Alexa is the Mind + Body Deputy Editor of Eat This, Not That!, overseeing the M+B channel and delivering compelling fitness, wellness, and self-care topics to readers.
Read more about Alexa