The Healthiest Snacks to Buy at Costco Right Now, Says Nutritionist
Stock up on these during your next warehouse run!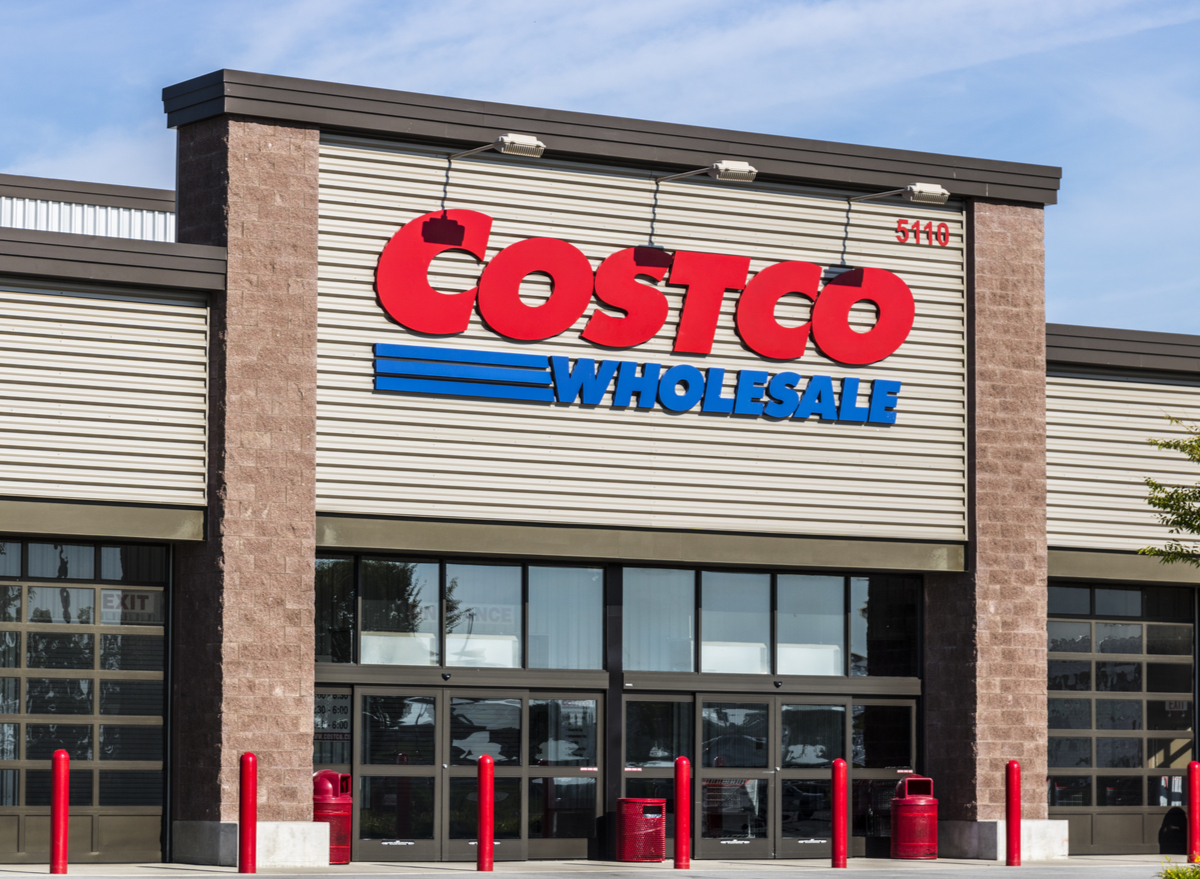 When you're working on improving your diet, mealtimes aren't the only opportunities to eat well. Snacks are also a major component of healthy eating. According to research from 2011, a whopping 25% of Americans' daily calories come from snacks. With all that between-meal noshing, it's important to choose options that won't derail your best dietary intentions.
One excellent place to stock up on healthy snacks? Costco! Among the warehouse's more indulgent offerings lie healthy (and delicious) nibbles like perfectly-portioned low-sugar yogurts, crunchy whole-grain crackers, and clean-eating fruit bars.
As a nutritionist, I say get thee to Costco for these six healthy snacks! And then check out these dietitian-recommended 5 Best New Costco Foods to Buy.
That's It Mini Fruit Bars
The name says it all! That's It's Mini Fruit Bars are made of dried fruits like apples, strawberries, mangoes, and bananas—and that's literally it. For anyone who struggles to eat enough fruit every day, these portable bars can help provide the fiber, antioxidants, and micronutrients you need in a more convenient package than a slippery mango or juicy strawberries. Costco's 24-pack features three flavors, each with just 60 calories.
Mary's Gone Crackers Superseed Everything Crackers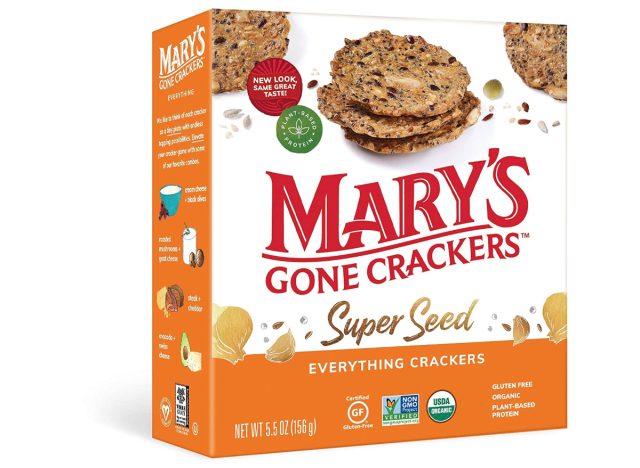 If you're feeling the need for a little crunch in your life, check out Mary's Gone Crackers Superseed Everything Crackers at Costco. They're made of wholesome whole grains and seeds, including brown rice, quinoa, pumpkin seeds, and sunflower seeds. Each serving comes with 3 grams of fiber and a surprising 5 grams of protein. These crunchy snacks are even gluten-free, so GF folks can enjoy them as a sturdy vehicle for hummus or paired with a slice of cheese.
Kirkland Cashew Clusters with Almonds and Pumpkin Seeds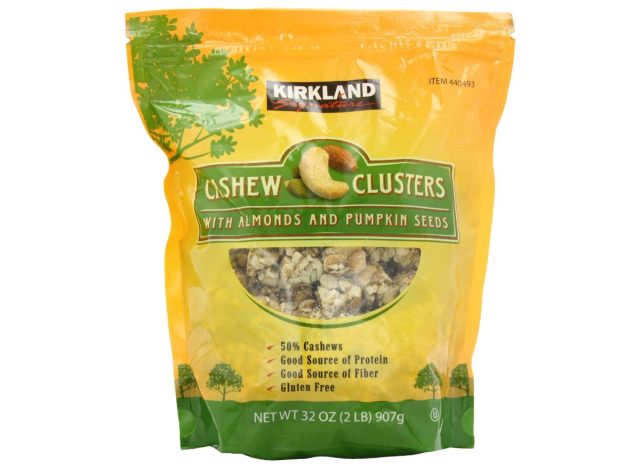 In my nutritionist opinion, nuts are a secret weapon for better health. People who eat nuts on a regular basis are more likely to live longer, have lower cholesterol, and weigh less. The small-but-mighty foods are full of critical micronutrients and healthy unsaturated fats—and they're a great way to amp up your plant-based protein.
Go nuts at snack time with Costco's Kirkland Cashew Clusters with Almonds and Pumpkin Seeds. This blend of nuts and seeds is held together in pop-able clusters with a smidge of honey and cane sugar. Good news: the sweetener used here isn't excessive. There are only 4 grams of sugar per serving.
Kirkland Organic Roasted Seaweed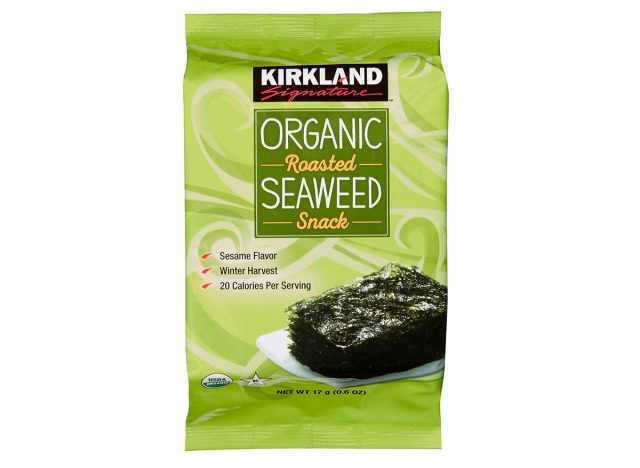 What's got only four ingredients and 20 calories per serving? Costco's Kirkland Organic Roasted Seaweed! These sesame-flavored snacks come pre-portioned in individual packs you can easily toss in a lunch box or gym bag.
Not only are seaweed snacks uber-convenient and low-calorie, but their nutrient profile may also surprise you. Roasted seaweed provides ample amounts of vitamin B6, which helps the body metabolize protein, create neurotransmitters, and can prevent morning sickness in pregnant women. It's also a good source of iodine, the mineral that helps your thyroid function properly.
Chobani Less Sugar Greek Yogurt
You've likely heard about Greek yogurt's high protein content and gut-friendly probiotics–but all Greek options aren't created equal. Some versions feature tons of added sugars (to the point of being little more than dessert in disguise). Ditch the super-sweet variety in favor of Chobani's Less Sugar Greek Yogurt, available at Costco.6254a4d1642c605c54bf1cab17d50f1e
With four flavors to choose from in each package, your taste buds won't be disappointed at snack time. Your diet goals won't fall by the wayside, either! Each 5.3-ounce cup comes with 12 grams of protein, 10% of the Daily Value of calcium, and just 120 calories.
Harvest Snaps Organic Green Pea Snack Crisps, Lightly Salted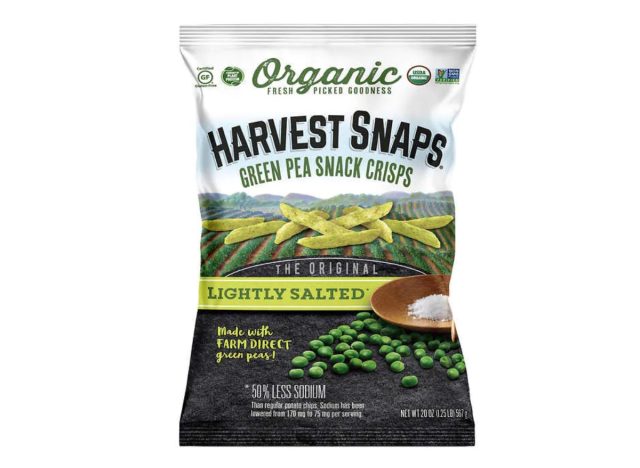 Real talk: finding a crispy, salty snack that's actually healthy can be a challenge. Enter Harvest Snaps' lightly salted pea snack crisps. Derived directly from organic green peas, these six-ingredient snacks are high in fiber and low in sodium. (Can't say the same for potato chips!) Chow down on a handful or two all by themselves, dip them in a healthy dressing, or save some to sprinkle atop salads at dinner.
Sarah Garone, NDTR
Sarah Garone, NDTR, is a registered nutrition and dietetic technician, and a health, nutrition, and food writer.
Read more about Sarah