The Best Protein Powder for Every Goal
Eating on the go? Recovering after a workout? In need of a snack that will tide you over until dinner? Look to protein powder.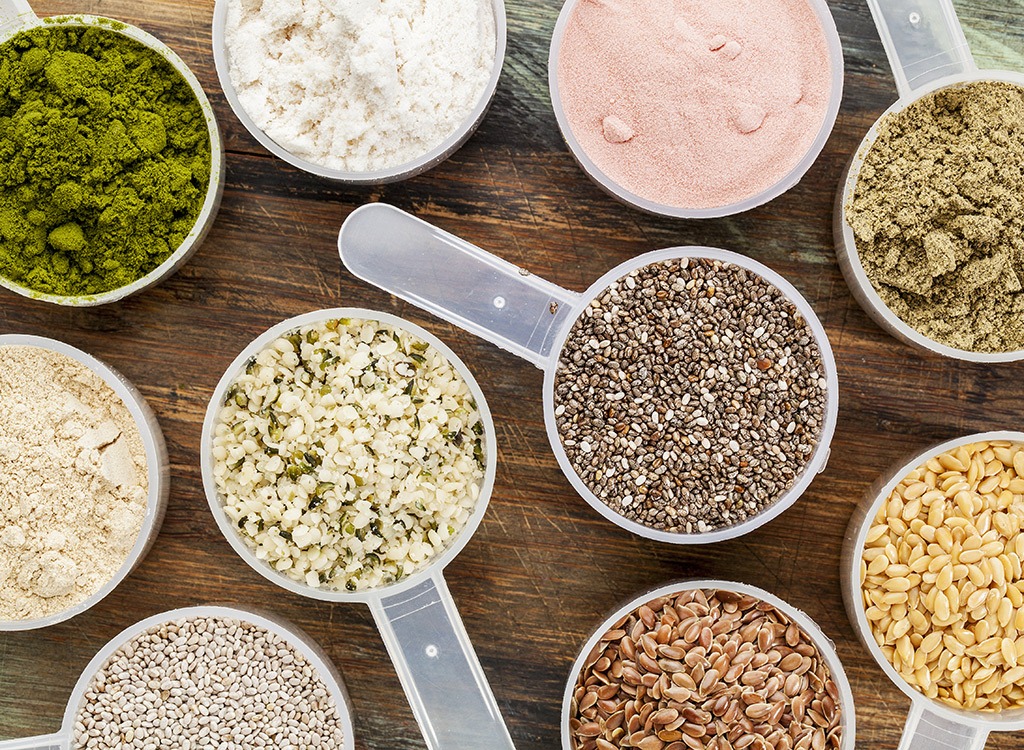 Mixing this simple powder into a shake, smoothie, or even pancakes can make your weight loss goals that much more attainable.
But here's the thing: When you walk into a health-food store, the wall of protein powders may seem insurmountable. The varieties available have radically expanded from whey into beef and egg on one end of the spectrum, and a garden's worth of plants on other: pea, hemp and rice just to name a few.
First, know this: different varieties have qualities that make them the best choices depending on your lifestyle needs. We've broken down a few of them here—use one to make 56 Smoothies for Weight Loss!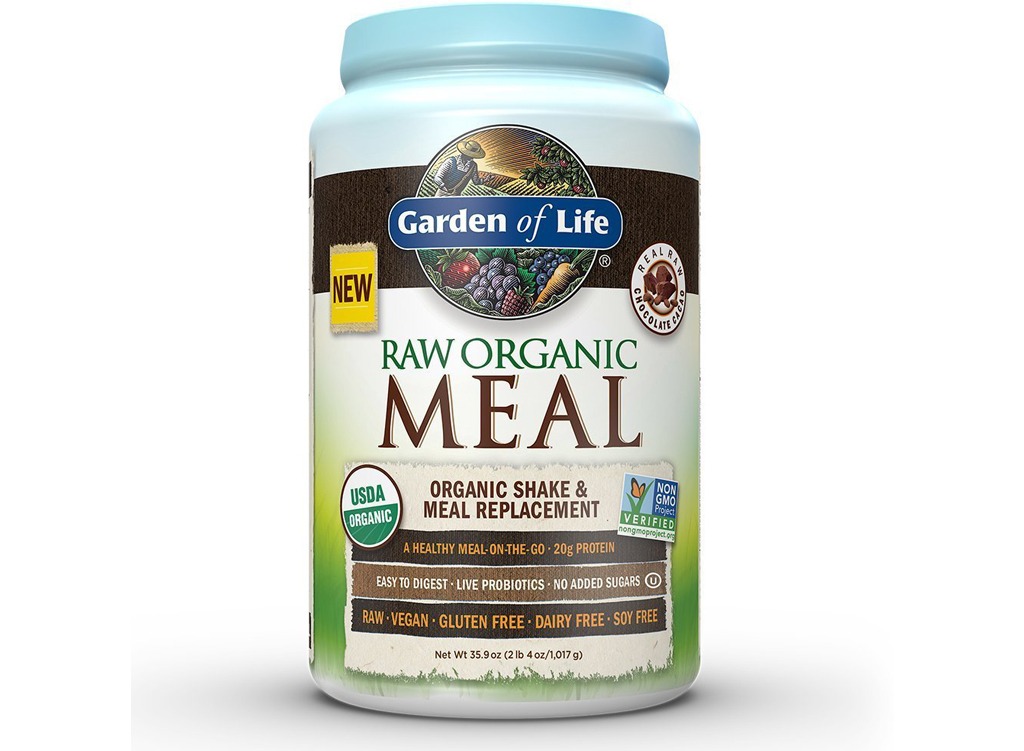 Garden of Life Raw Meal
1 scoop (36 g): 120 calories, 2 g fat (0 g saturated fat), 150 mg sodium, 8 g carbs (7 g fiber, 1 g sugar), 20 g protein
This organic protein blend is derived from belly-blasting brown rice, quinoa and beans, plus tea and cinnamon extract. With 20 grams of protein and 7 grams of fiber per serving with a reasonable 120 calories, having one of these for lunch before a workout will keep you feeling full and energized while preserving muscle.
$37.99 ($1.35 per serving) at Amazon.com.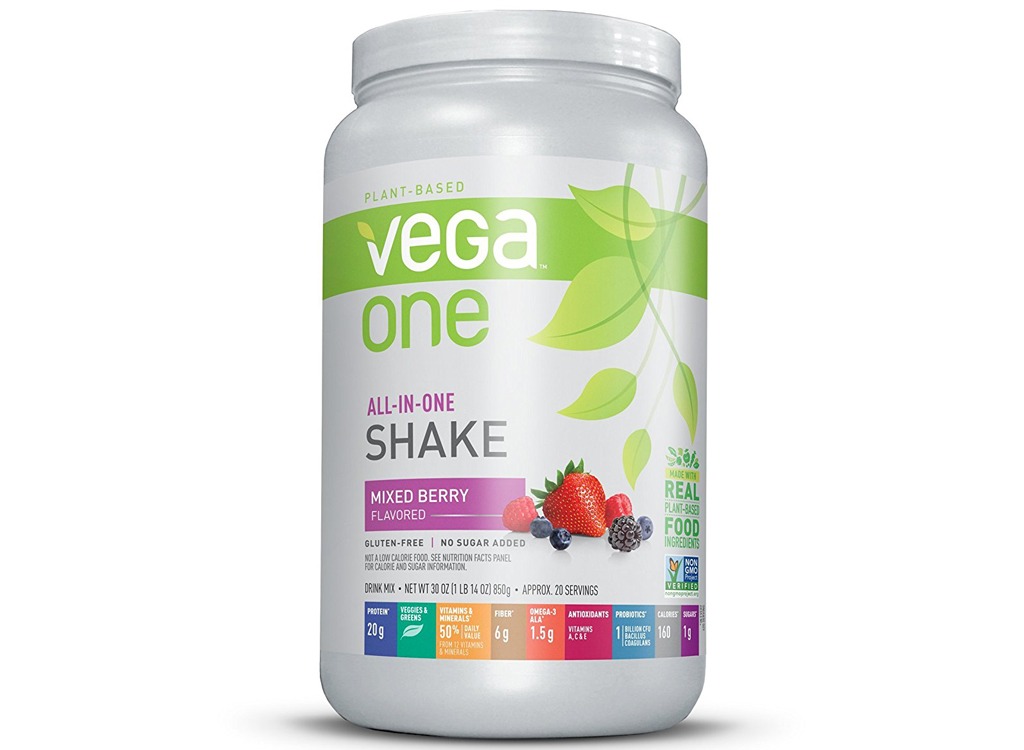 Vega One All-In-One Shake
1 scoop (42 g): 160 calories, 5 g fat (0 g saturated fat), 240 mg sodium, 9 g carbs (6 g fiber, 1 g sugar), 20 g protein
Protein powders are no substitute for eating well, but this one can offer an occasional hand with nutrition. Pea protein is rich in amino acids and is easy to digest. This variety by Vega also contains 50 percent of your daily intake of vitamins and minerals from superfoods like broccoli, kale, spirulina, and strawberries, as well as beneficial nutrients such as anti-inflammatory omega-3 fatty acids, probiotics, and antioxidants.
$47.49 ($2.37 per serving) at Amazon.com.
To Power Up Your Smoothie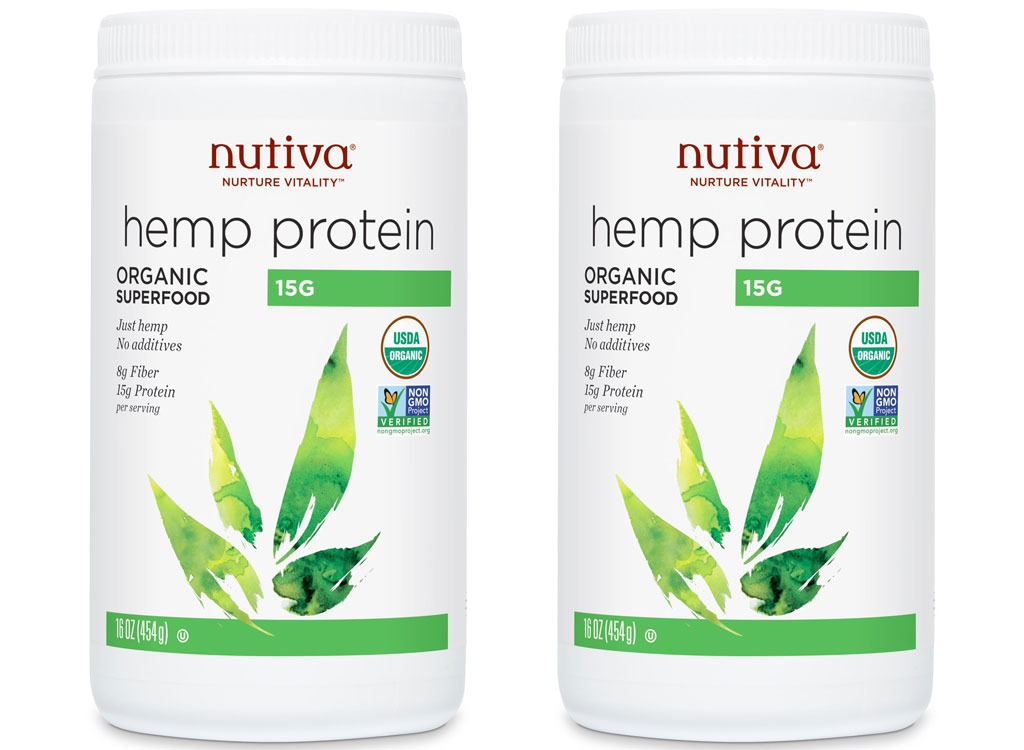 Nutiva Organic Hemp Protein
3 Tbsp (30 g): 90 calories, 3 g fat (0 g saturated fat), 0 mg sodium, 9 g carbs (8 g fiber, 1 g sugar), 15 g protein
Stifle the Woody Harrelson jokes: Hemp protein is derived from the less-fun parts of the hemp plant, offering a substantial amount of fiber (here, 8 grams) that's easy to digest. With 15 grams of protein per scoop, this organic option is an ideal mix-in for oatmeal or smoothies (or brownies, if that's your thing); the fiber will make you feel fuller longer, and it contains eight essential amino acids to build muscle.
$10.73 ($0.71 per serving) at Amazon.com.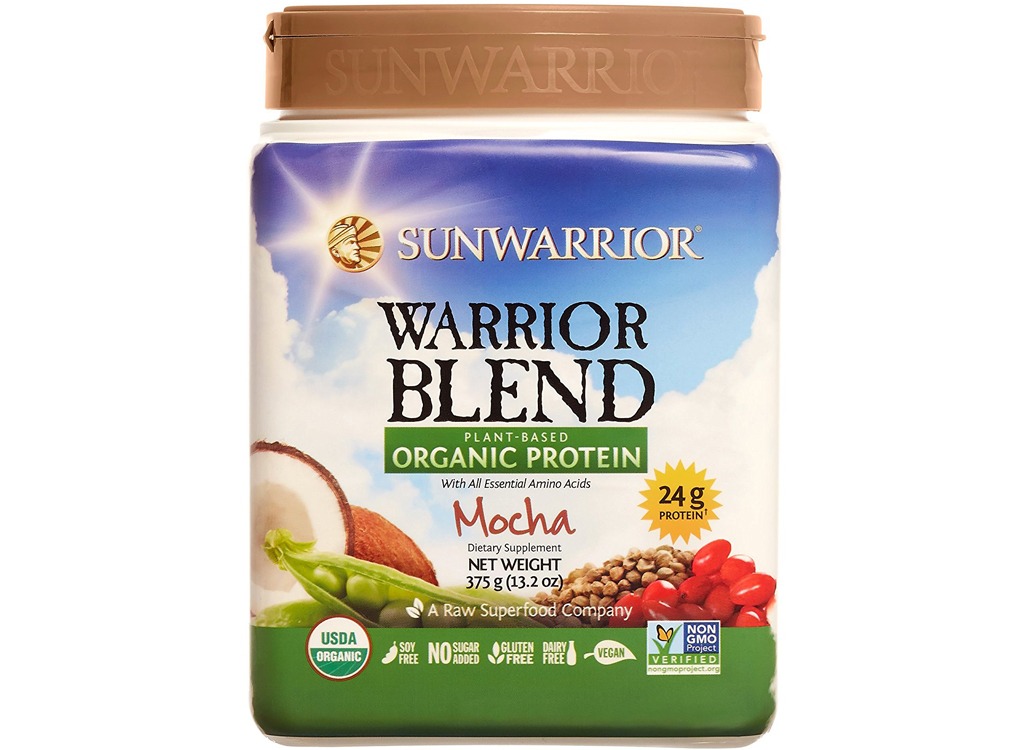 6254a4d1642c605c54bf1cab17d50f1e
Sunwarrior Warrior Blend Raw Vegan Protein
1 scoop (25 g): 90 calories, 2 g fat (1 g saturated fat), 0 mg sodium, 5 g carbs (1 g fiber, 0 g sugar), 16 g protein
With 16 grams of protein and 90 calories per serving, this organic protein is derived from peas, cranberry and hemp, with no sugars, gluten or artificial sweeteners to cause a metabolism-confusing midday crash. But it's tasty enough to take on its own. If you down some pre-workout, the branched-chain amino acids can give your gym session a boost.
$22.73 ($1.51 per serving) at Amazon.com.
To Stop Late-Night Snacking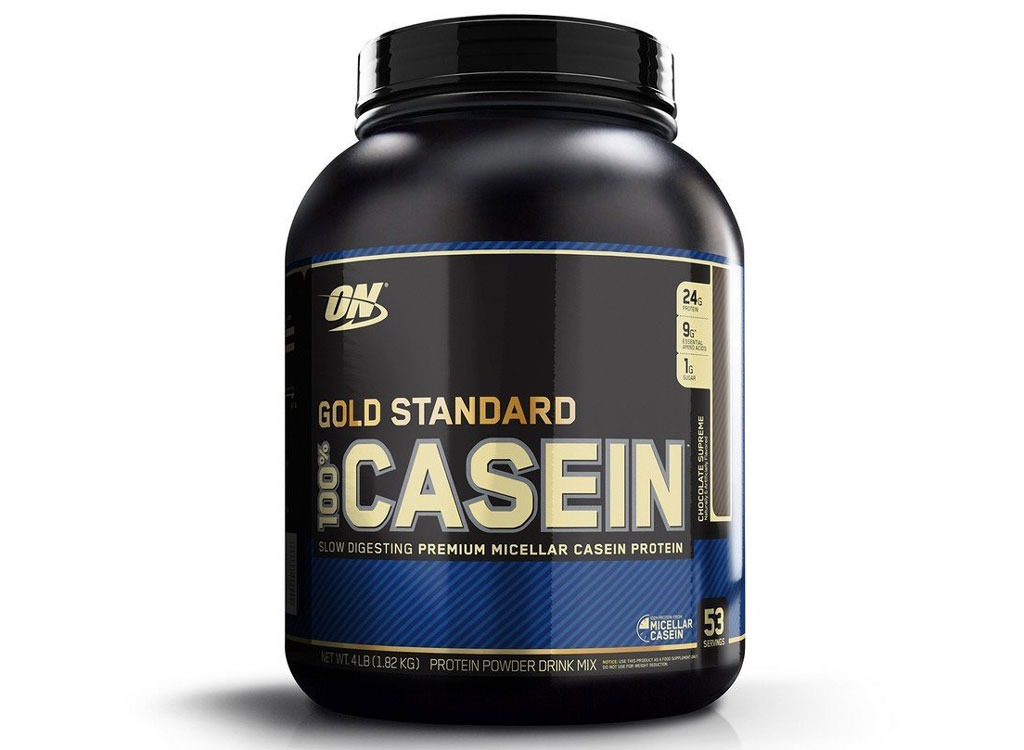 Optimum Nutrition Gold Standard Casein
1 heaping scoop (34 g): 120 calories, 1 g fat (0.5 g saturated fat), 280 mg sodium, 3 g carbs (1 g fiber, 1 g sugar), 24 g protein
If you don't suffer belly bloat from milk-derived protein, pick casein before whey—the former digests more slowly (it's the same principle as low-glycemic-index "slow carbs") and stays in your system longer to nourish muscles. This makes it a good option if you need a nighttime snack on workout days: It'll help kick-start recovery and build fat-burning muscle. This option has 24 grams of protein and only one gram of fat per serving. (If you do want to drink whey, do it in the PM: A study published in 2014 in the British Journal of Nutrition found that active men who consumed whey at night increased their next-morning metabolism.)
$50.36 ($0.96 per serving) at Amazon.com.
Garden of Life SPORT Certified Grass Fed Whey
1 scoop (33 g): 120 calories, 0 g fat (0 g saturated fat), 130 mg sodium, 6 g carbs (2 g fiber, 0 g sugar), 24 g protein
To help you bulk up only in desirable areas, try grass-fed whey protein from Garden of Life, a brand whose first foray into animal-based protein powder is a homerun. This option has 24 grams of hormone-, antibiotic-, and GMO-free protein per serving. On top of whey protein isolate, Garden of Life adds in a bit of milk protein to provide some of the beneficial components found only in whole milk, such as immunoglobulins and beneficial growth factors. This powder will fill you up with all the essential amino acids that are important to help promote muscle repair and rebuilding.
$36.55 ($1.82 per serving) at Amazon.com.
If you're looking for the perfect shake for your favorite protein powder, don't miss this easy and incredible video recipe, compliments of Zero Belly Diet!